I have always been a fan of Aston Martin cars although I'm passionate about Lamborghini cars, Aston Martin just always reminds me of James Bond, 007, the secret agent employed by the British secret service … I know the character has driven some other makes in the various Bond movies, but for me, Bond drives an Aston Martin, period … so whenever I find something new about this elegant car builder, it draws my attention, and this time is no different, and we're looking at something truly spectacular now, a supercar not often seen, the V12 Vantage, but now as a Roadster, which is a double take for me as I like driving convertibles, so a top-down Aston Martin with a massive V12 over the front axle … sign me up.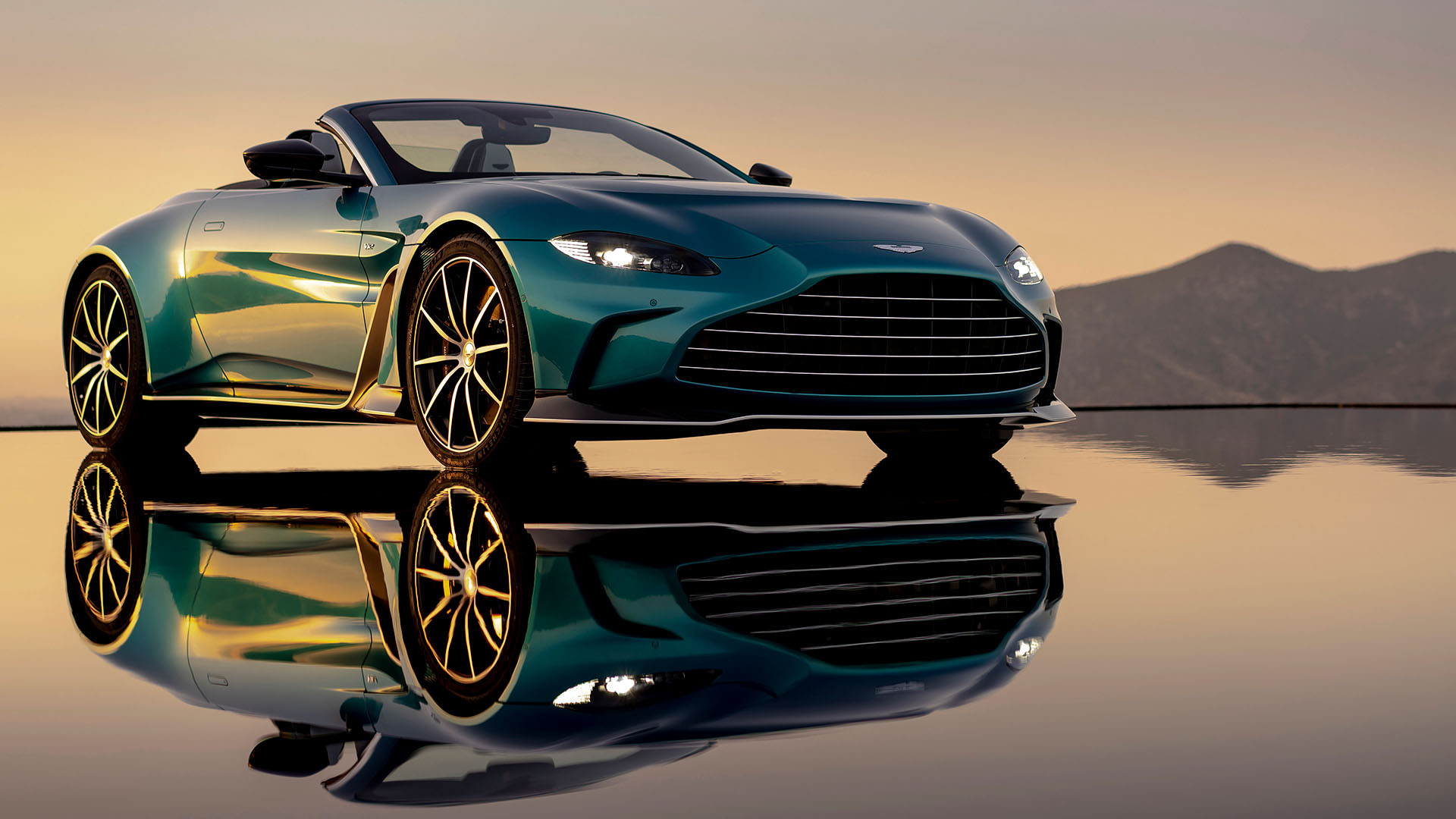 But there's an issue, Aston Martin is only building 249 units of this amazing-looking V12 Vantage Roadster, and the order book is already closed, they sold out due to unprecedented demand, and it seems there were more customers than they expected for this dramatic wide body design Roadster that packs 700PS and 753Nm of torque underneath that long front hood from the 5.2-Liter Twin Turbo V12 engine, with a top speed of 200 mph and an acceleration from 0 to 60 in just 3.5 seconds, you might want to hold when the pedal goes to the metal in this stylish convertible.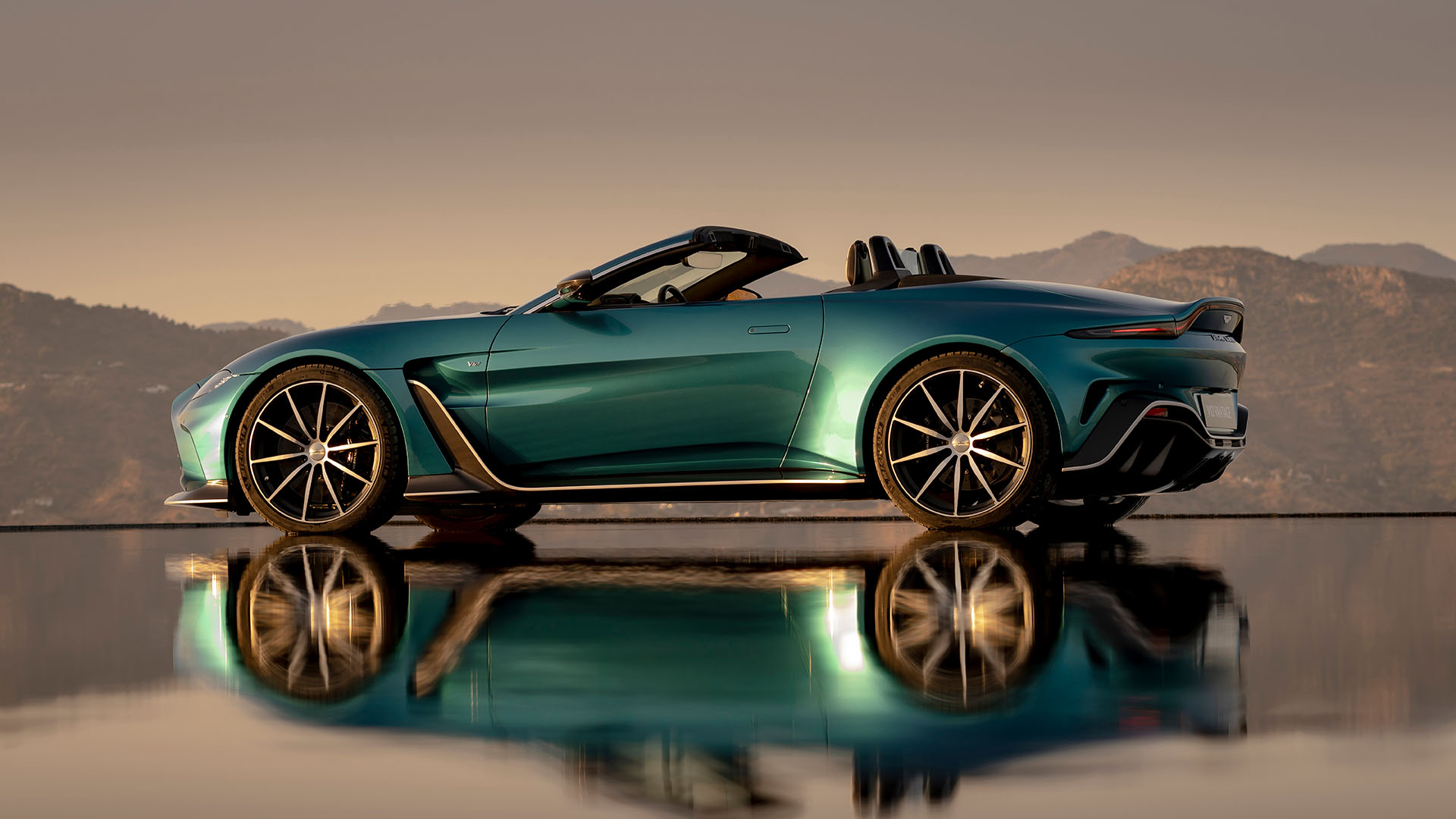 Roberto Fedeli, Aston Martin Chief Technical Officer, said: "We have worked extremely hard to ensure the V12 Vantage Roadster possesses the same potency and dynamism that characterizes the V12 Vantage while surpassing it in terms of raw sensory excitement that you only achieve with roof down driving. With more power and torque than any Vantage Roadster before it, a wide-track chassis with precisely tuned suspension calibration, and up to ten times the downforce of the series production Vantage Roadster, this is a breathtaking machine created for our most enthusiastic customers"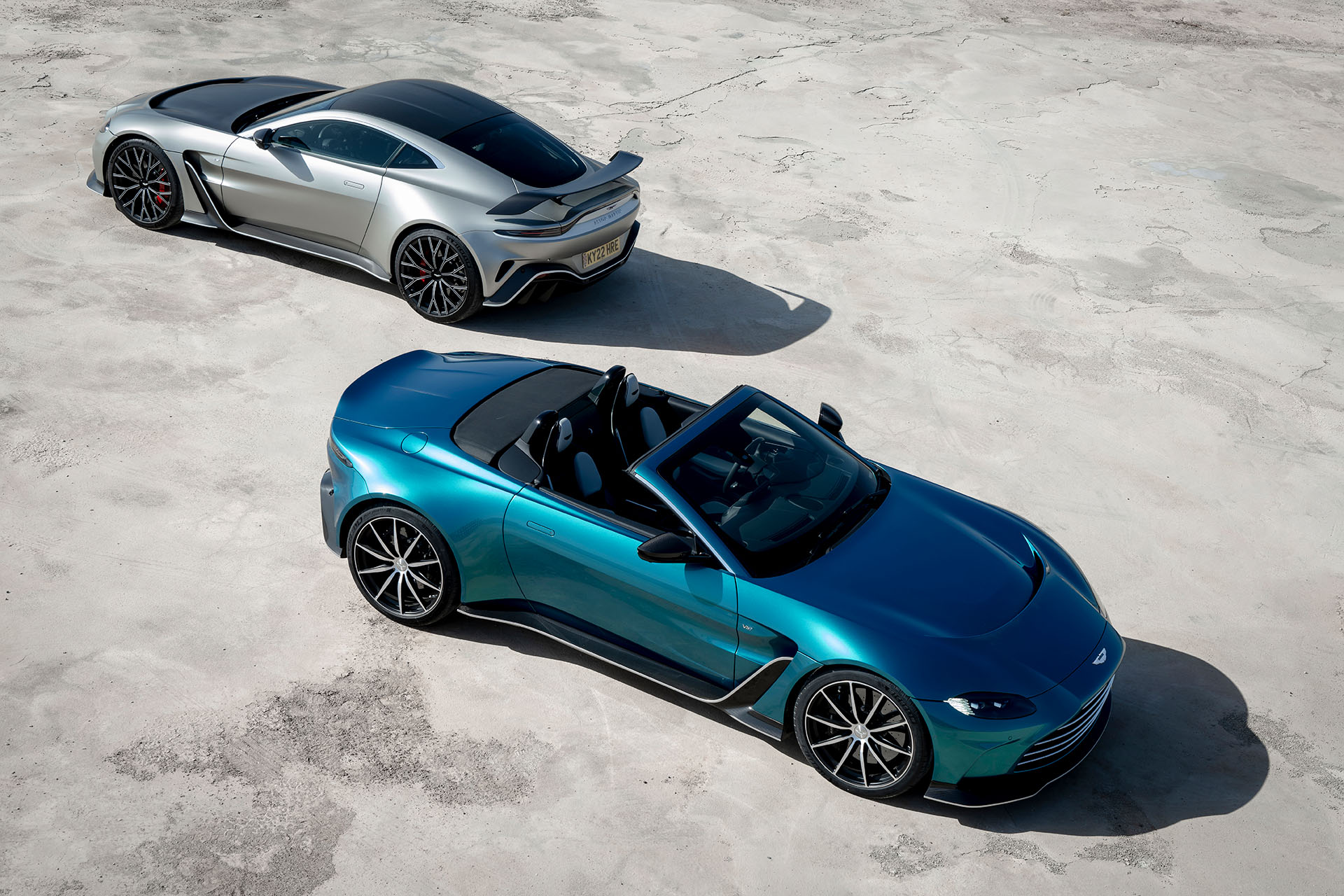 The suspension on this Roadster version is similar to the V12 Vantage coupe, but the adaptive dampers have been tuned specifically for this roofless version, braking power comes from the standard CCB, Carbon Ceramic Brakes, massive 410×38 mm disks at the front, and still large 360×32 mm at the rear with six and four pistons respectively, and to keep the overall weight down even further, on the V12 Vantage Roadster the front bumper, clamshell bonnet, front fenders, and side sills are all made from carbon fiber while the rear bumper and deck lid are made from weight-saving composite material. Fitting a lightweight battery and a special center-mounted twin-exit exhaust system fabricated from lightweight 1mm stainless steel also aids in keeping weight down.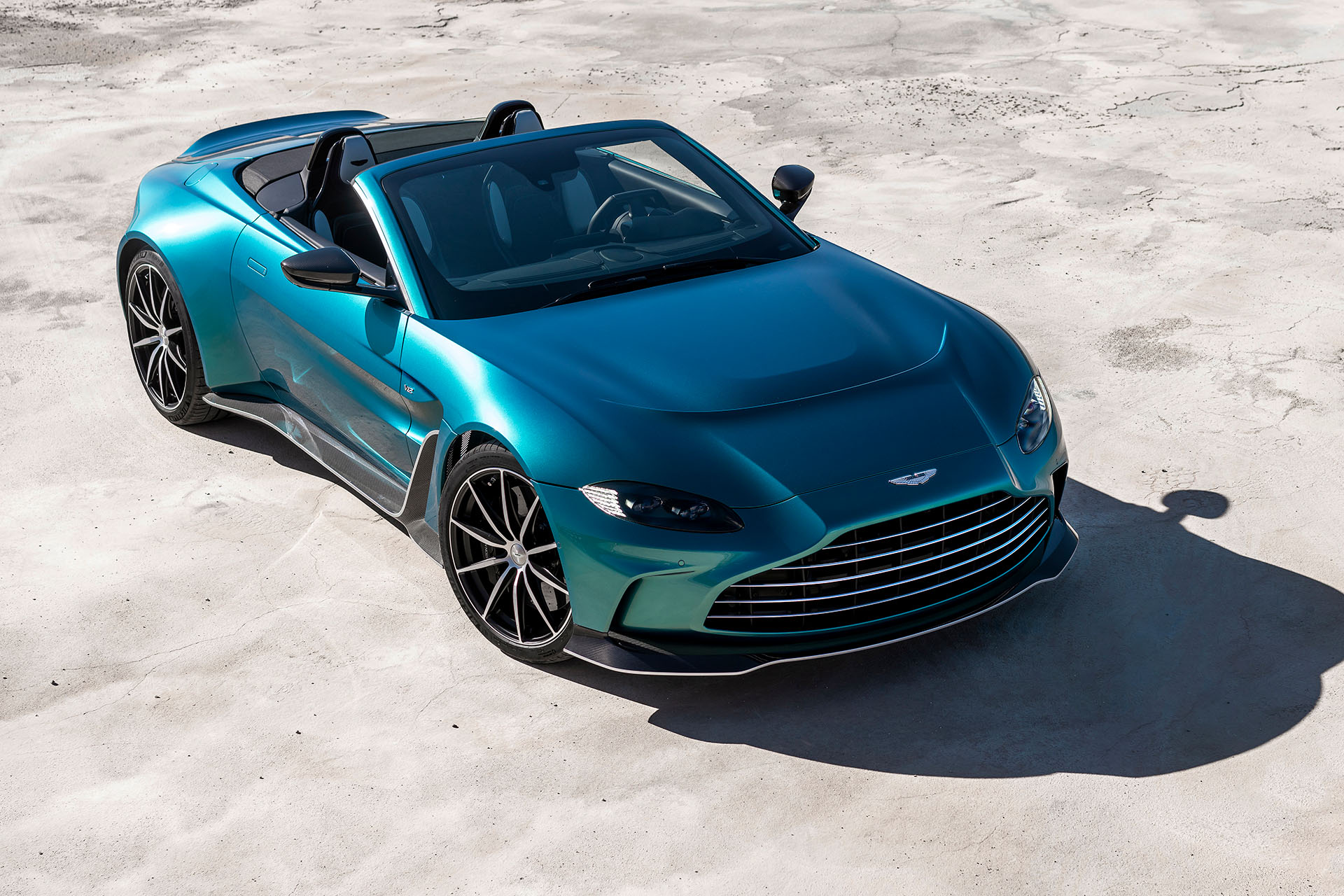 On supercars like this, performance is one thing the engine can provide, but weighing as little as possible and having some great aerodynamic efficiency is really important too, the wide body is required because of the 40mm wider track on this V12 Vantage Roadster, this also comes with a wider front air intake and a fully integrated diffuser in the rear bumper, but unlike on the V12 Vantage coupe, there is no rear wing on the Roadster fitted, but if you really insist, Aston Martin will fit it as an option for that really dramatic look.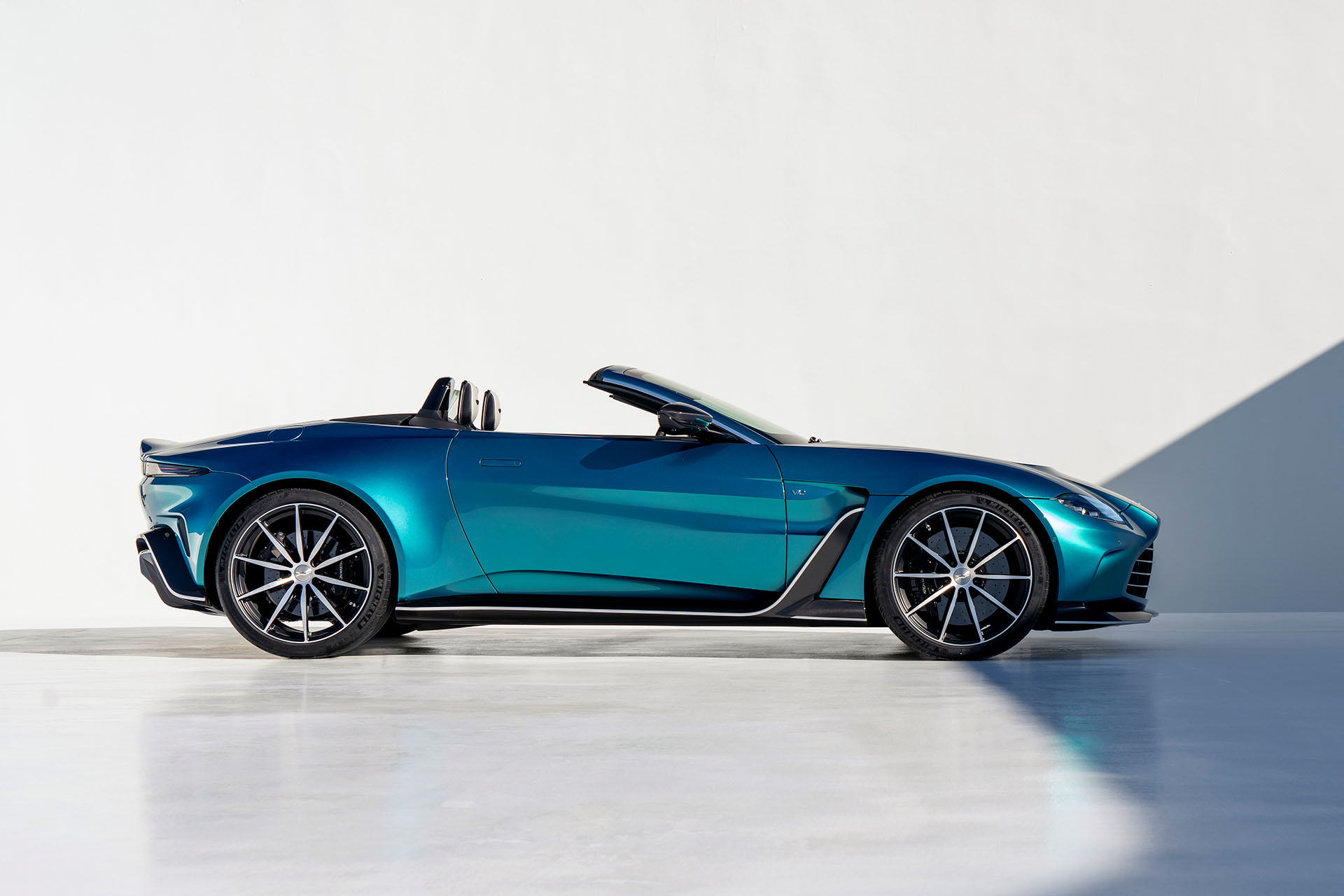 The Aston Martin V12 Vantage Roadster comes with 21-inch alloy wheels as standard, either in satin black or in a satin black diamond spoke finish, as an option you can go for an even lighter forged wheel in the same finishes, this will shave another 8kg of unsprung mass, no matter which option the client selects, they all come fitted with renowned Michelin Pilot 4S high-performance tires, wide 275/35 R21 to the front axle and even wider 315/30 R21 on the rear axle.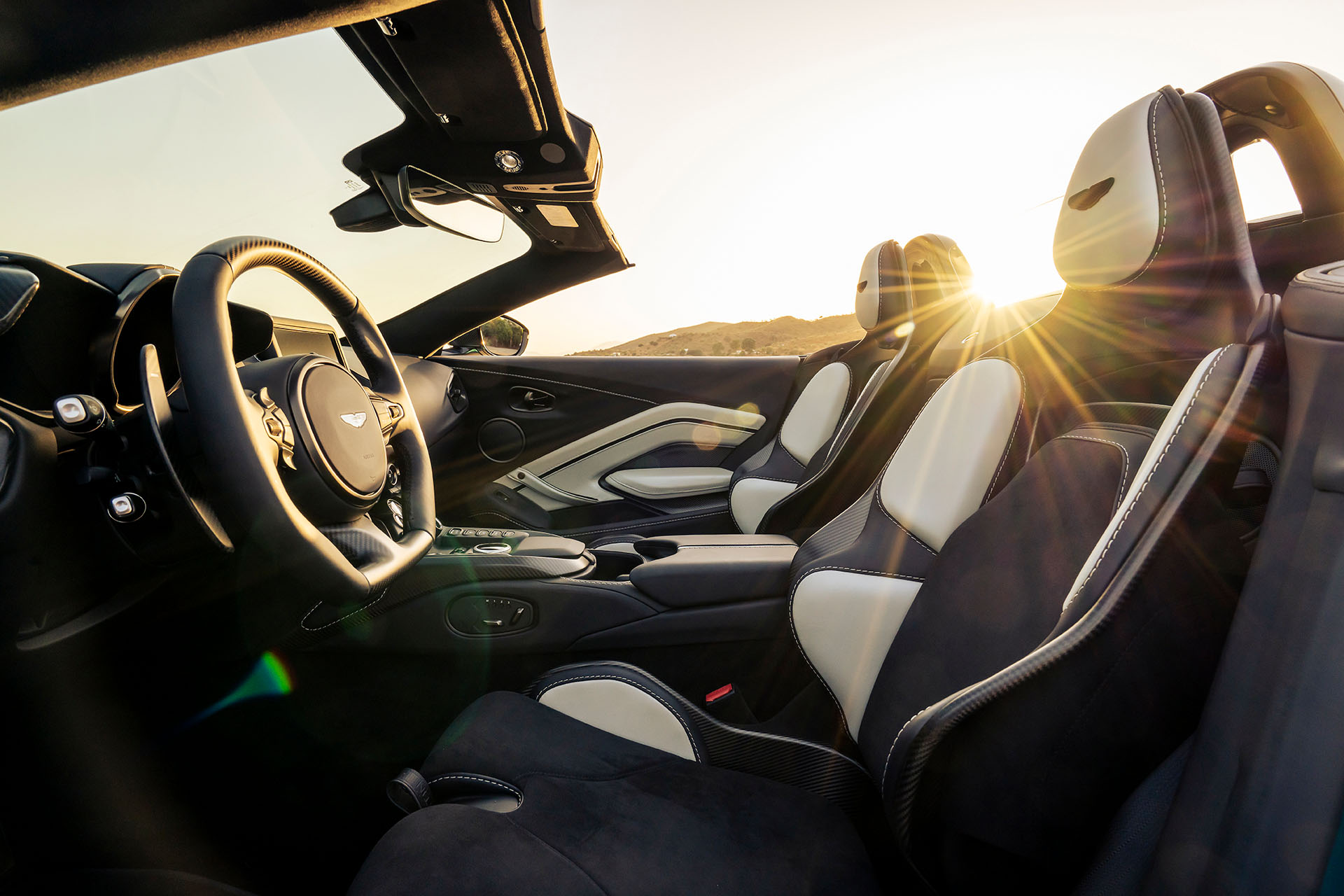 Inside the cockpit, we find Aston Martin's Sports Plus Seats with full semi-aniline leather upholstery featuring both a 'Wings' quilt and an absolutely stunning perforation pattern as standard fitment, but if you really want to go all-out, you should tick the carbon fiber performance seat option which comes with an exposed twill carbon fiber shell, but loses the electrical adjustment and just offers a 6-way manual adjustment instead, which not only looks aggressive, but also offers the ultimate in dynamic design and maximum support for those high-spirited stints on the coastal highway,  and as an added bonus, they save 7.3kg without skimping on occupant comfort.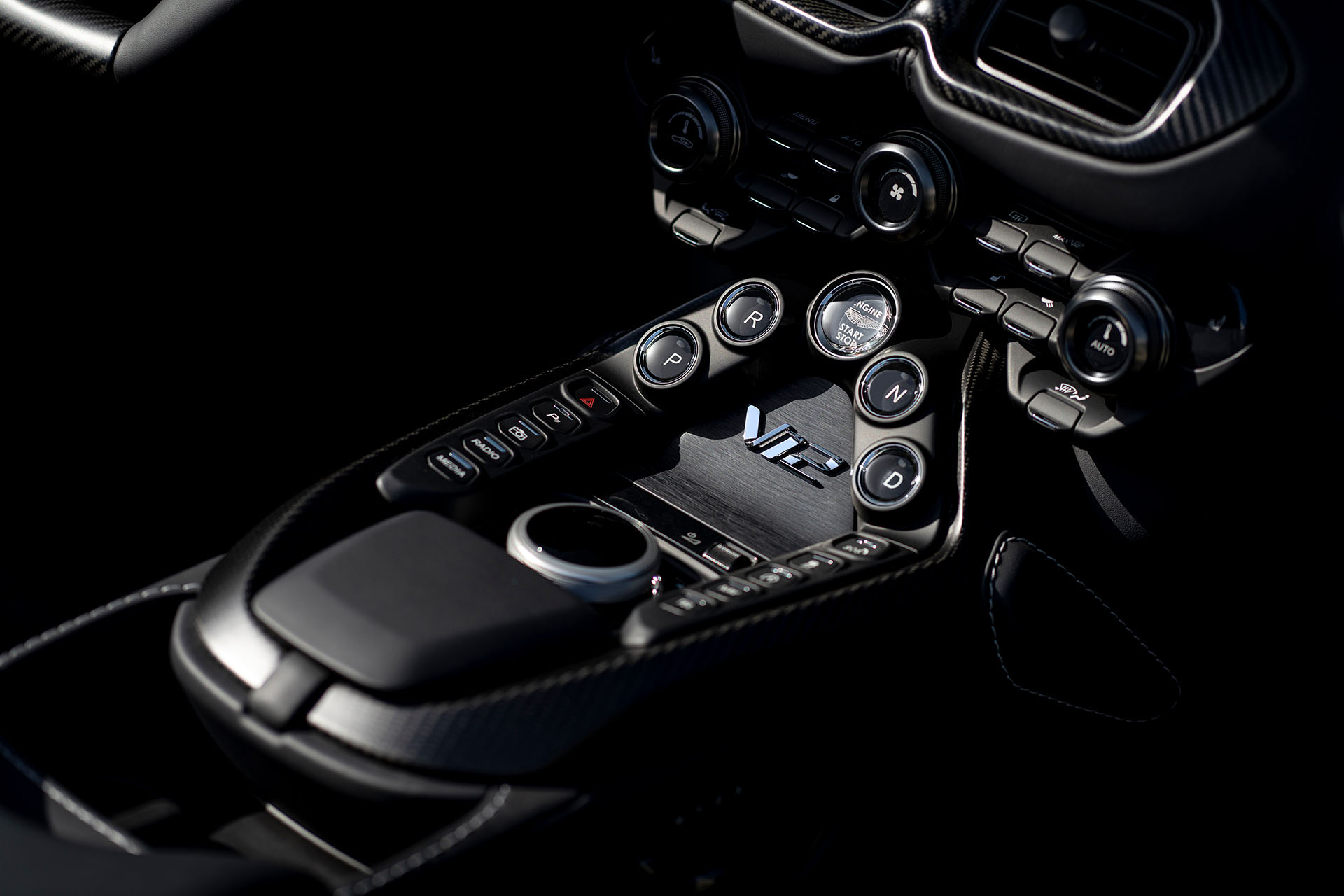 And if you just can't seem to find what you are looking for in the regular options list and shades for the exterior and interior, there is always the option to create your bespoke V12 Vantage Roadster by requesting the services of the marque's bespoke personalization service, Q by Aston Martin, which can do just about anything you can dream up, like some unique exterior graphics and liveries, or how about custom woven leather on the interior. And because there is so much exposed carbon fiber all around the V12 Vantage Roadster, she's a perfect match for Q by Aston Martin: Commission's range of tinted lacquers that change appearance under different lighting conditions to make a spectacular feature of the hand-laid carbon fiber panels.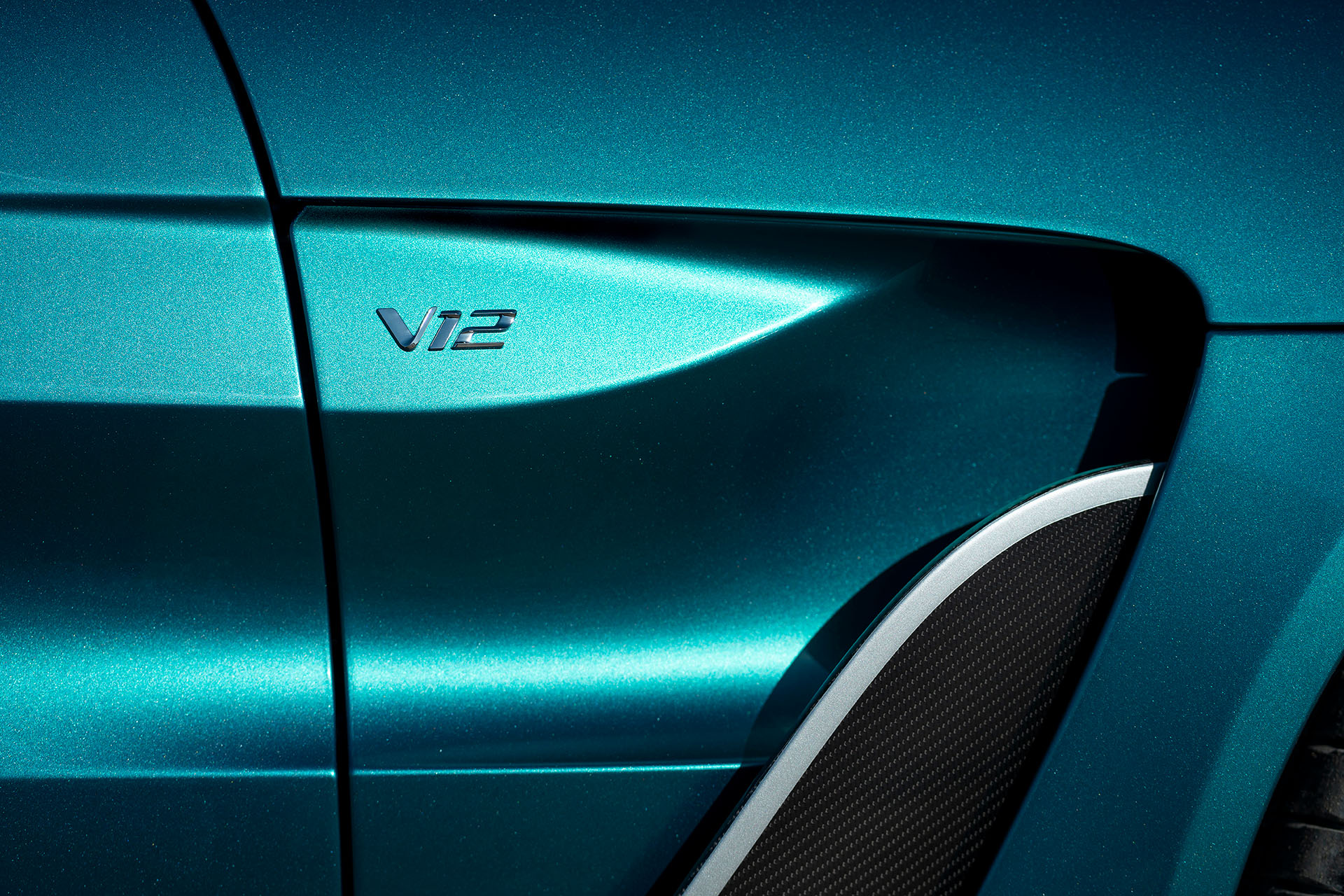 Marek Reichman, Aston Martin Chief Creative Officer, adds: "From a design perspective, V12 Vantage Roadster is a combination of living sculpture and physiology, such as the functions of an elite runner or thoroughbred racehorse. On one hand, much like the way their systems are developed to handle the stresses of peak performance and trained to work together to increase efficiency and power using oxygen, V12 Vantage Roadster was designed to maximize the benefits of airflow into, throughout and around the car. And on the other, for our Drivers, we created this explicit open-top sports car for those craving excitement and drama. The platform presented us with a design opportunity to make a contemporary visual statement of intent. The result is a living, breathing, driving sculpture with a level of control that sits at the fingertips"
James Bond Indicia © 1962-2022 Danjaq, LLC and Metro-Goldwyn-Mayer Studios Inc. All Rights Reserved.
007 © 1962 Danjaq, LLC and Metro-Goldwyn-Mayer Studios Inc.
007 is a trademark of Danjaq, LLC. All Rights Reserved.