I don't know about you, but I rather like the idea of shoehorning a massive V8 engine into a small, lightweight car to create a supercar, and that's exactly what happened when Caroll Shelby created the 427 S/C Cobra Semi-Competition model back in the Sixties, we've covered a few of these cars earlier already, but now we came across something a bit different.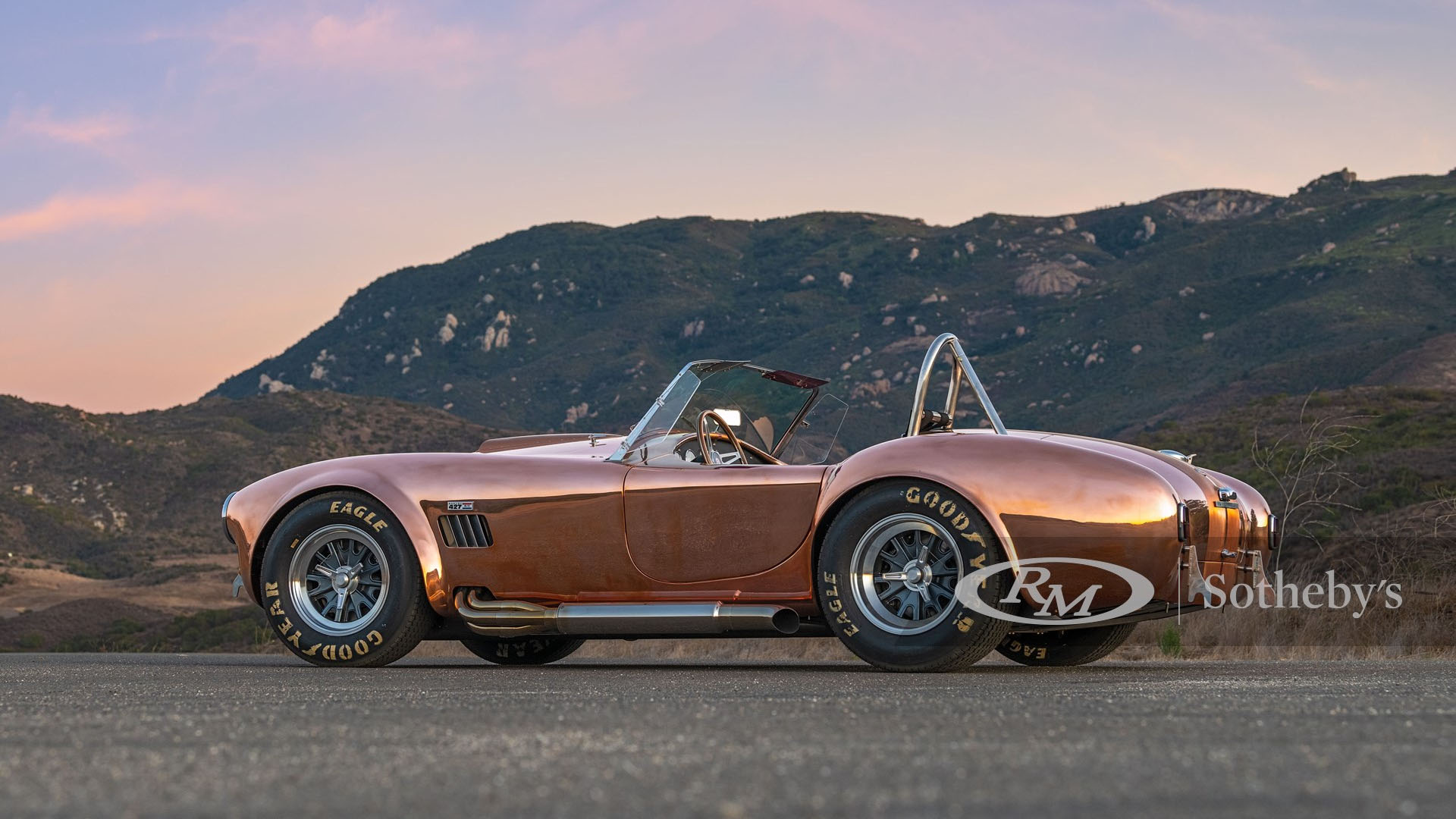 You might wonder about the chassis number listed here, CSX 4602, that seems a bit high no? Well, it isn't, because in the 90s Carroll Shelby started building 'continuation' cars, new Cobra models that came with a CSX 4xxx chassis to distinguish them from the classic 1960s originals, but still recognized as 'real' Shelby Cobra cars.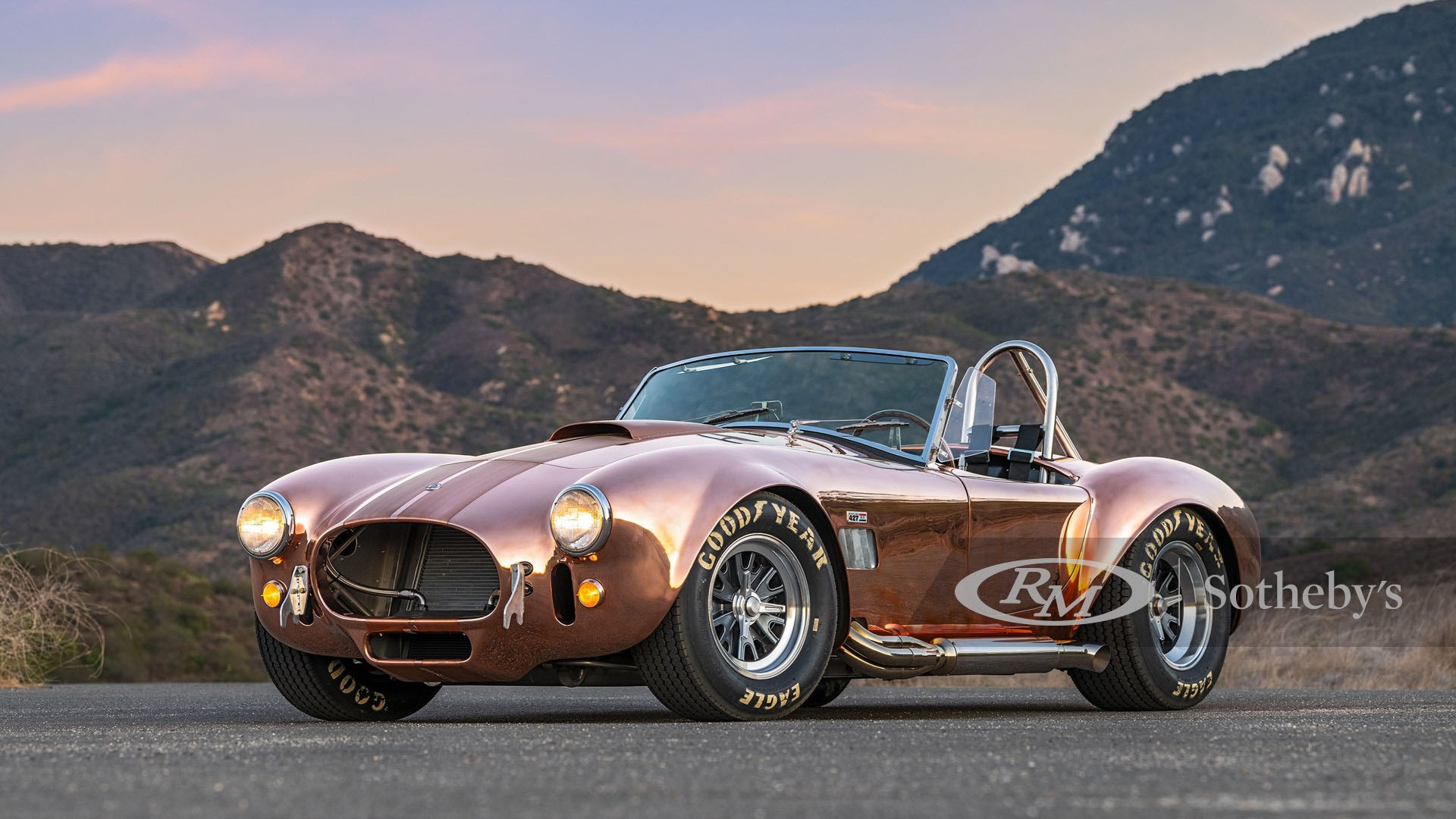 These continuation Cobra were built in Las Vegas, Nevada, on brand new frames to be fitted with either a fiberglass or an aluminum body, before being painted and usually fitted with those trademark racing stripes running from the front to the rear … but there were exceptions, as is evident on chassis CSX 4602 we see here.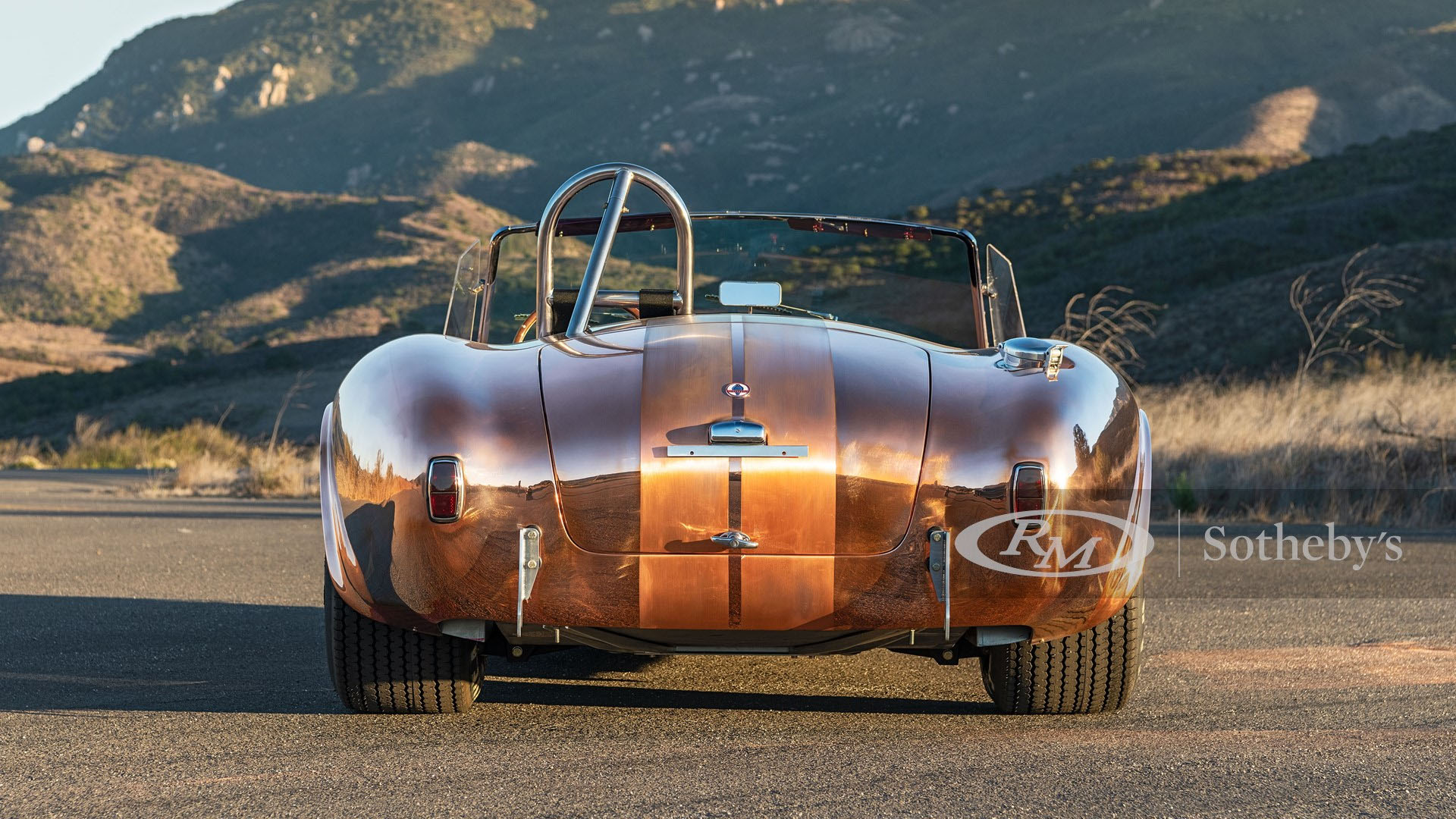 This one is made strictly on commission by Kirkham Motorsports of Provo, Utah, which takes a rolling chassis from Shelby and builds his own body, still in the style of the original 60s cars, but made from copper instead of the usual aluminum … painstakingly hand-formed, this Copper Cobra uses 17 panels joined together to create this famous shape, and it's done at such a high level of craftsmanship you can't even see the seams anymore.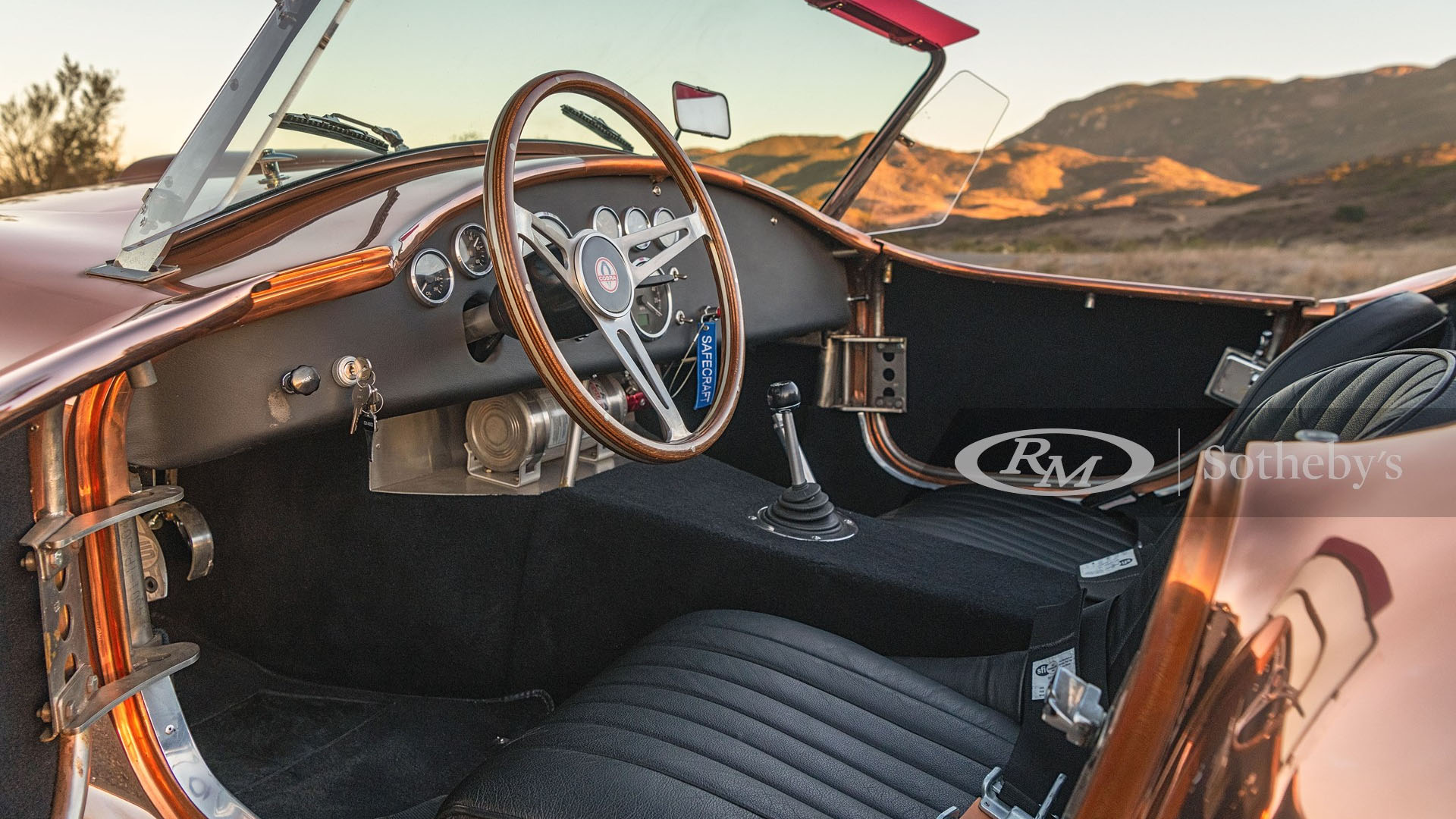 Chassis CSX 4602 is finished in a high-gloss, polished copper body, but Kirkham had the famous pair of LeMans stripes brushed to offset them from the glistering body, extremely nice, this is also known as 'ghost stripes' I've been told, and while your fellow drivers on the open road might not like you very much on a sunny day, this is a stunning car nonetheless.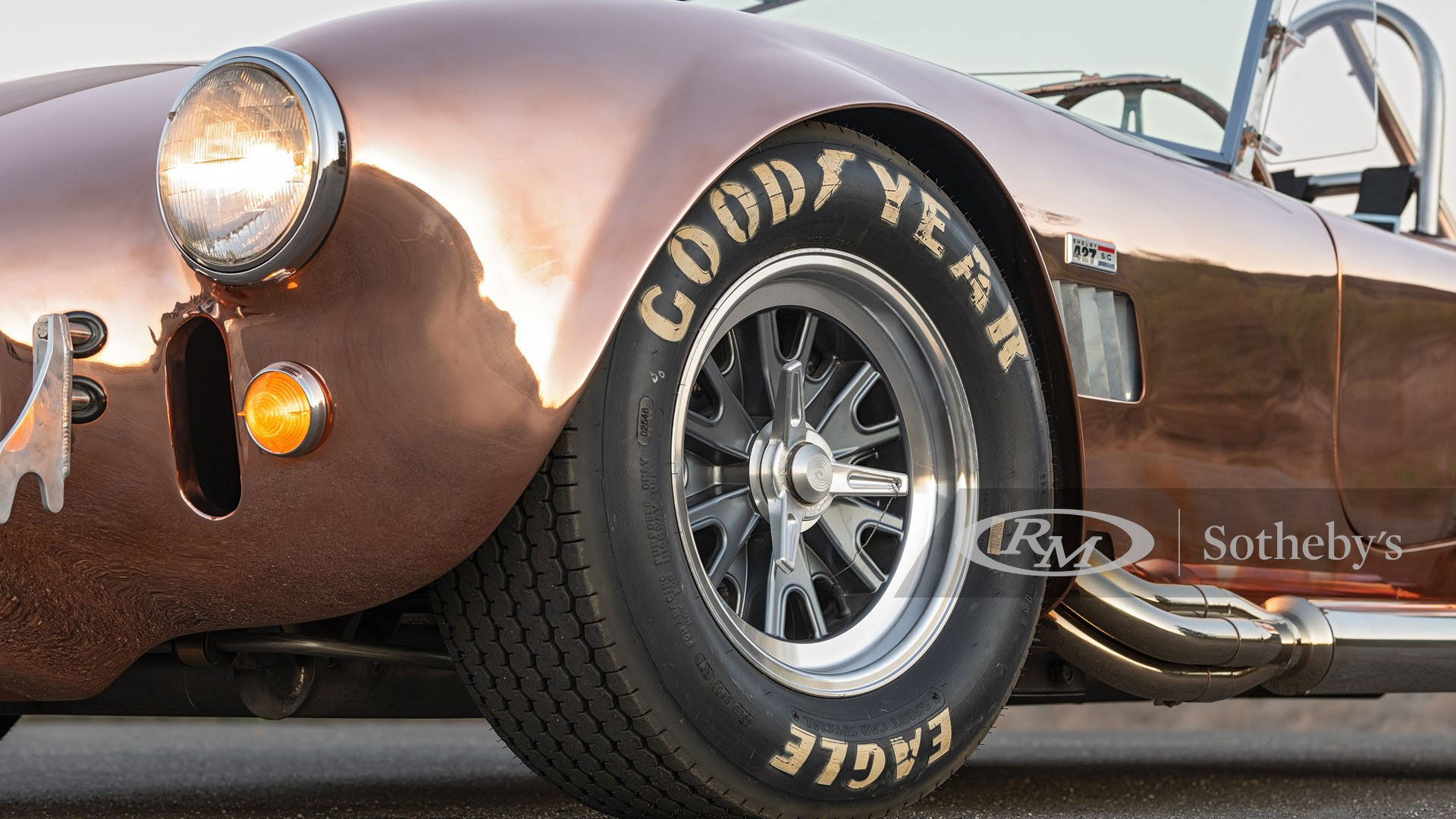 Naturally, the car rolls on the classic, 15-inch Halibrand-style wheels with the required knock-off fitting, and to make the classic look complete, a set of 'billboard' Goodyear Eagle tires with the massive scripting on the side, this isn't a restomod look, this is the original 1960s look they are going for here.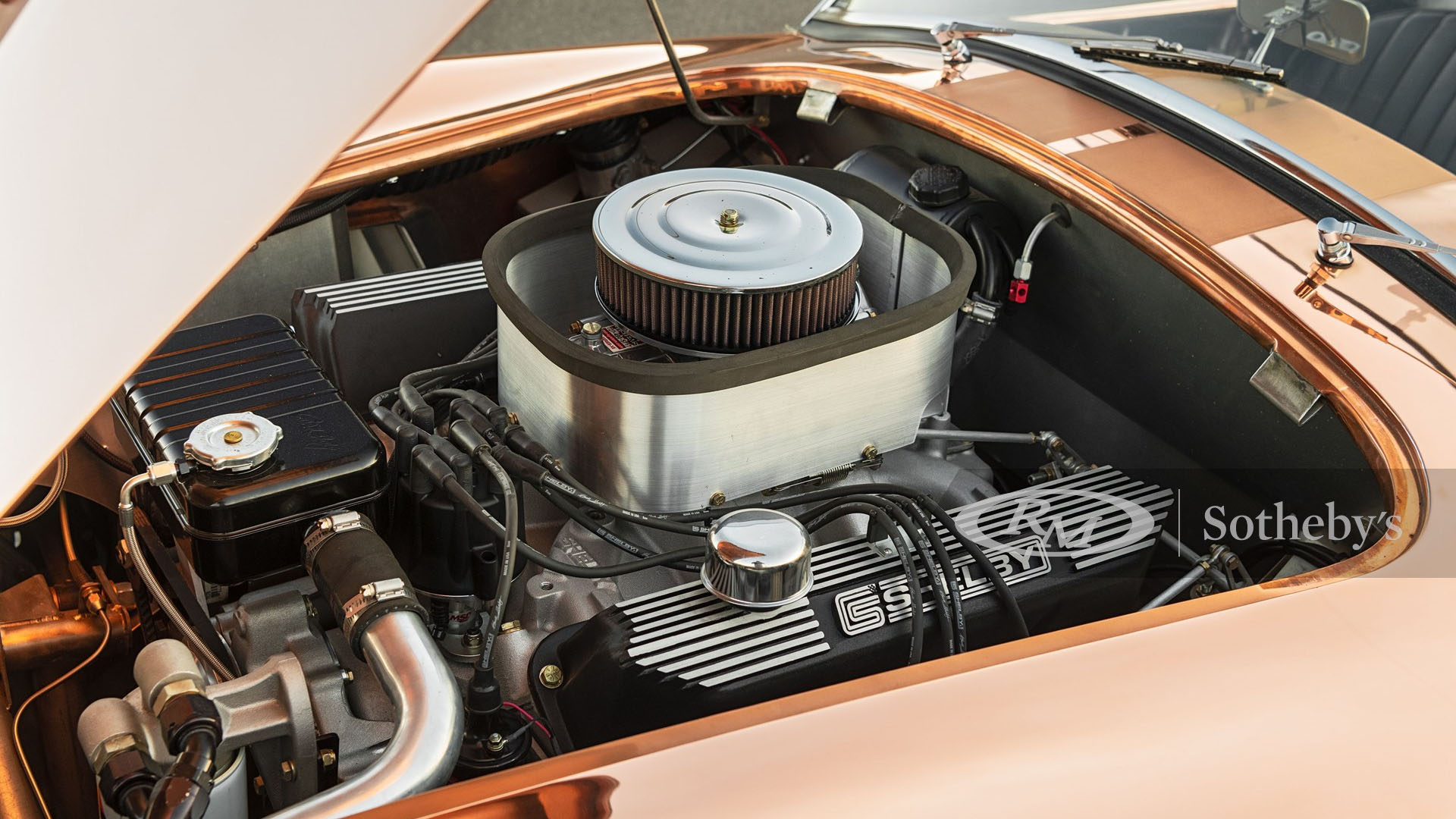 But there is nothing '1960s' about the engine, chassis CSX 4602 comes with a brand new Carroll Shelby Engine Company, hand-built 468-cubic inch '427 FE' V-8 engine that delivers 550 hp (580 lb-ft of torque) via a 5-speed transmission to the rear wheels, given this Copper Cobra weighs in at only 2,400 pound, you are happy to learn they fitted some strong disk brakes to help master that much power on so little weight.
This amazing, shiny Copper Cobra is currently listed for private sale via RM Sotheby's at $475,000, located in New York.