Ferrari's Most Powerful and Highest-Revving V12 Engine. Ever.
In the face of the global pandemic, Ferrari is holding no punches as it continues to roll-out newer, wilder and faster models with aplomb. The latest of these to be (partially) revealed is the Ferrari 812 Superfast Versione Speciale. The "Limited Edition" and "Versione Speciale" monikers currently being associated with this hardcore 812 Superfast variant are said to be unofficial – a complete unveiling of the car will take place on May 5, 2021 via livestream, where all of the final details will be hashed out. For now, we'll amicably refer to it as the Ferrari 812 Superfast VS.
Now, on to the stuff we already know for sure… and oh boy, is it juicy. The Ferrari 812 Superfast VS will continue to be equipped with a 6.5L naturally-aspirated V12 engine sending power to the rear wheels via a 7-speed dual clutch transmission. This version however, has been upgraded to produce 819 hp and revs all the way up to 9,500 rpm – up 30 hp and given an extra 500 rpm of vocal range over the standard model, thanks to some valve timing and exhaust flow wizardry. The math says that's good for 125 hp per liter. And not a single turbo in sight.
Though torque figures are still a mystery, we're still inclined to suggest that this should make the VS a better all-around performer; allowing it to surpass the standard car's 0-60 mph time of 2.7 seconds and a top speed of 340 km/h, if only by a smidge. The 812 Superfast VS will continue to embrace Ferrari's most impressive tech, with familiar features such as the Side Slip Control (SSC) traction and stability control system, and rear-axle steering coming standard. However, we wouldn't be surprised if Ferrari engineers had decided to tweak the electronics to be better optimized with the revisions made elsewhere on the car. Aerodynamics and weight reduction will obviously play a huge role in this as well, so let's dive into that next.
The visual differences between the 812 Superfast and the VS are immediately obvious, with the latter cutting a much more aggressive figure. One of the most notable changes takes place at the back end of the car, with the rear glass being replaced by a body-colored panel which could be best described as a "super-louver" made from carbon fiber and aluminum. This is one element of the VS's extreme-downforce mandate, which comes at the loss of some of the regular car's utilitarian demeanor.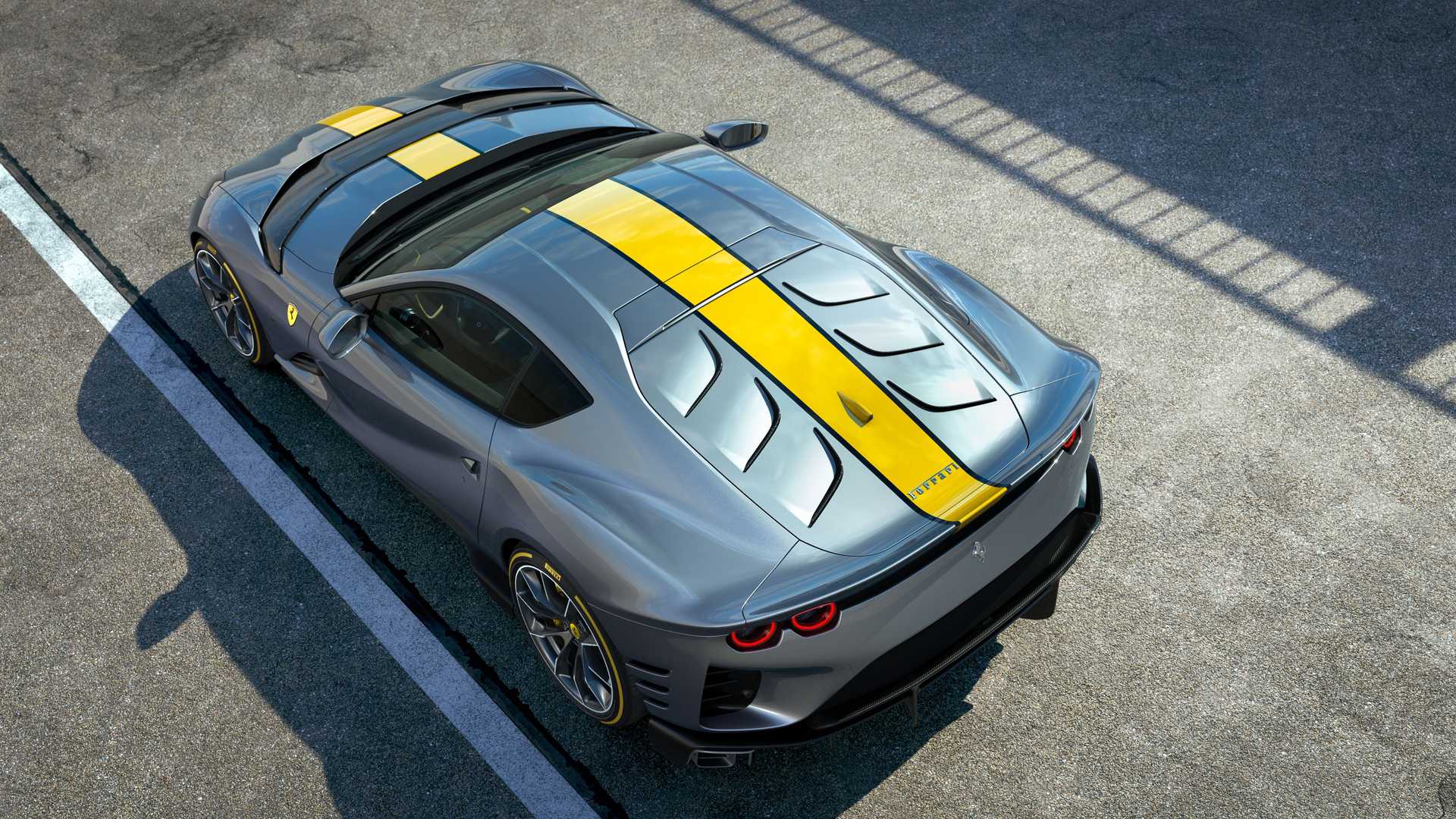 Other displays of the car's aerodynamic effectiveness are less intrusive, but just as wild. At the front, larger air intakes flank the grill, which is enclosed by a more aggressive bumper with fins at each end appearing to function as integrated canards; a massive front splitter is then added for good measure. Air vents right behind each of the rear wheels and a reimagined carbon fiber diffuser also form part of the organism responsible for optimizing any air flow going under, through or over the VS's silhouette.
Typical of just about every performance-biased special edition car ever produced by Ferrari, is a strict carbon fiber diet – and this is no different for the upcoming Ferrari 812 Superfast VS. Owners should expect a healthy serving of the carbon fiber good stuff – inside and out – which not only upgrades the car aesthetically, but also allows for the just-as-important art of weight reduction. It's a given that the VS will weigh less than the standard Superfast's 1,525 kg, but by how much, we will have to wait and see.
Similarly, there can be absolutely no doubt that the VS will command a "not insignificant" amount more than the regular car's $340,000 base price. Likewise, the May 5 world premiere will provide more insight and specifics into what is shaping up to be an absolute riot of a car – we will be providing our coverage of the event as soon possible, so stay tuned!
Image Gallery