Occasionally, a unicorn pops up on the popular automobile auction site Bringatrailer. An example is this 1996 Porsche 911 Carrera (993 Series) modified by Gunther Werks. Dubbed the 'Chelsea Grey Commission,' a reference to its exterior colour, the boutique creation is already attracting a lot of attention with over 30,000 views, 2,900 watchers and a high bidding of $1,000,000 as of the time of this writing.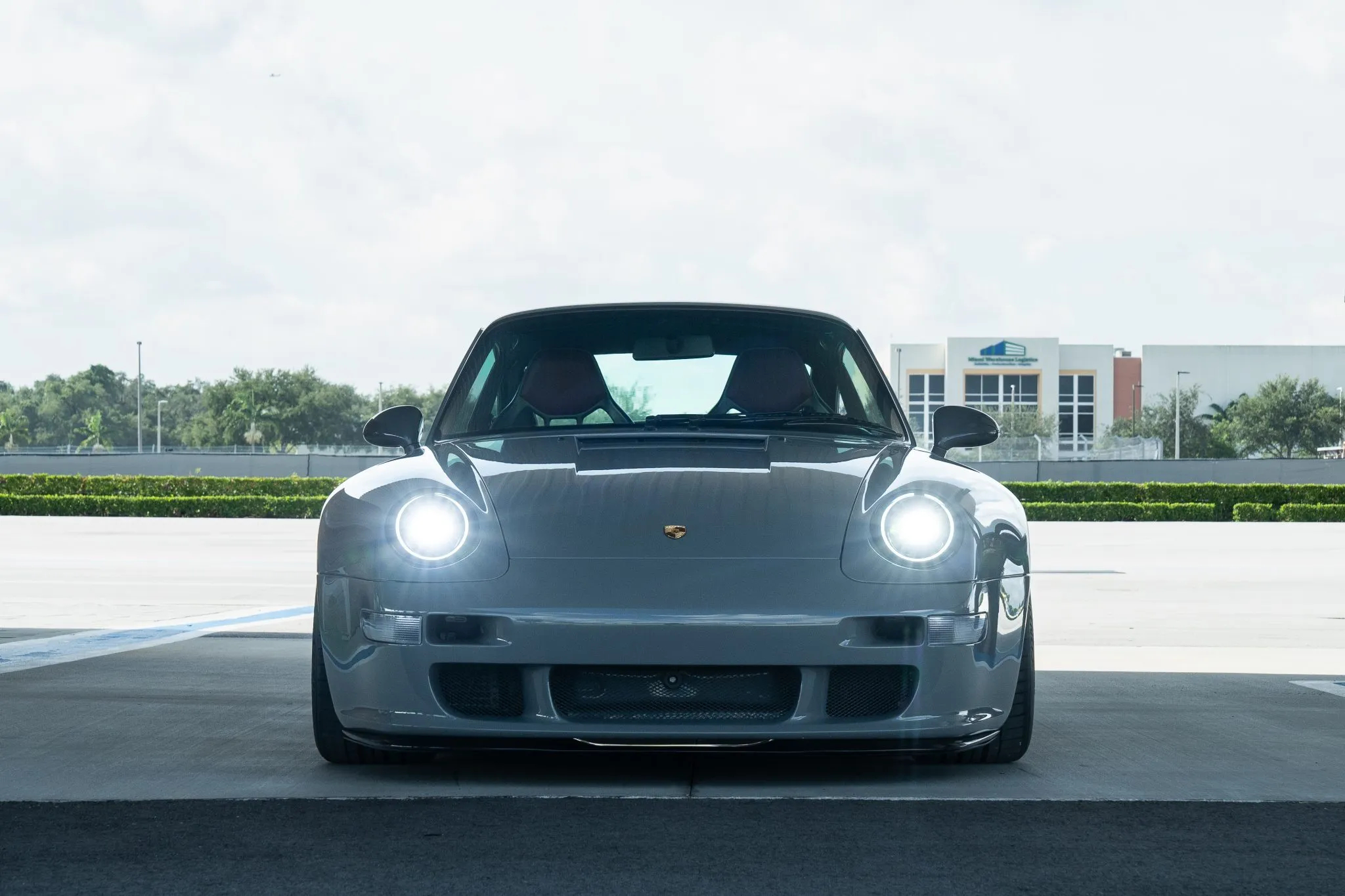 Gunther Werks is a California-based specialist outfit that restores and reimagines Porsche 911s, particularly the 993 series. The bespoke performance cars are a tribute to the 993 Series Porsche 911s, a hardcore analogue sports car manufactured between 1994 and early 1998.
The process begins with a base 993-Series Porsche, which is then completely taken apart to expose its steel unibody. It is then seam-welded and rebuilt using carbon-fibre body panels. 
The Gunther Werks Porsche featured here debuted at the 2018 Quail event, an annual car gathering in California. It is even more exclusive as it was the first customer commission from a limited production run of 25 examples. 
The body panels are finished in Chelsea Grey with ghosted side stripes and red 'Porsche' lettering. Clear film has also been applied to protect the paint. The Gunther Werks 400R stands out with its ducktail rear spoiler, exaggerated fenders, bronze-finished 18-inch wheels and a mesh grille set within a satin black X-frame.
The interior is trimmed with red leather, generously applied over the lower dash, console, rear side panels and carbon-fibre bucket seats. Other add-ons include an Alcantara headliner, red leather floor mats, door handles with leather pull straps and Porsche Classic Radio updated with Apple CarPlay compatibility.
In 2022, the car was sent to Gunther Werks for a comprehensive service. It included an interior refresh and updates to the hydraulic lift system and rear suspension setup. 
At the heart of the sports car is an air-cooled Flat-Six extensively tweaked by Rothsport Racing. Among other things, the displacement has been widened to 4.0 litres, with induction now managed via individual throttle bodies and a custom intake plenum. The engine is rated at about 430 hp and 312 lb-ft of torque, with all of it fed to the rear wheels via a Getrag G50 six-speed manual transmission.
The Porsche 911 Gunther Werks 400R currently has 2,400 miles on the odometer and is offered with a record of the 2022 service, a Carfax report and a clean Montana title.
Source: Bringatrailer