An Opportunity To Purchase Your Own Piece Of Motorsports History
Introduction
In our line of work here at supercars.net, we have the privilege of interacting with some of the automotive world's most interesting individuals and groups (and with that, some amazing cars along the way as well). One such person is our good friend Hugh, owner of Old Stone Garage – a licensed independent dealer located in Palm Beach, Florida in the United States. Hugh specializes in sales and acquisitions of classic/collectible automobiles, and has helped clients around the world build some very notable car collections.
Recently, Old Stone Garage was able to add a very special car to its own collection – a 1956 Austin Healey 100M Le Mans – and yes, it's up for sale! Hugh was so excited about it, that he contacted us to see if we would like to do a feature on this iconic car and share it with our international audience. We love what we do here, and when we're given the opportunity to tell the story of a Motorsports Hall of Famer's personal car, we can't help but be obliged.
The Augie Pabst Story
Motorsports Career
Born in Milwaukee, Wisconsin, Mr. Augie Pabst was inducted into the Motorsports Hall of Fame America (MSHFA) in 2011. While Pabst's racing career didn't span over as long a period as some of his contemporaries, the impact he left on those involved with the sport was ultimately deserving of this honor.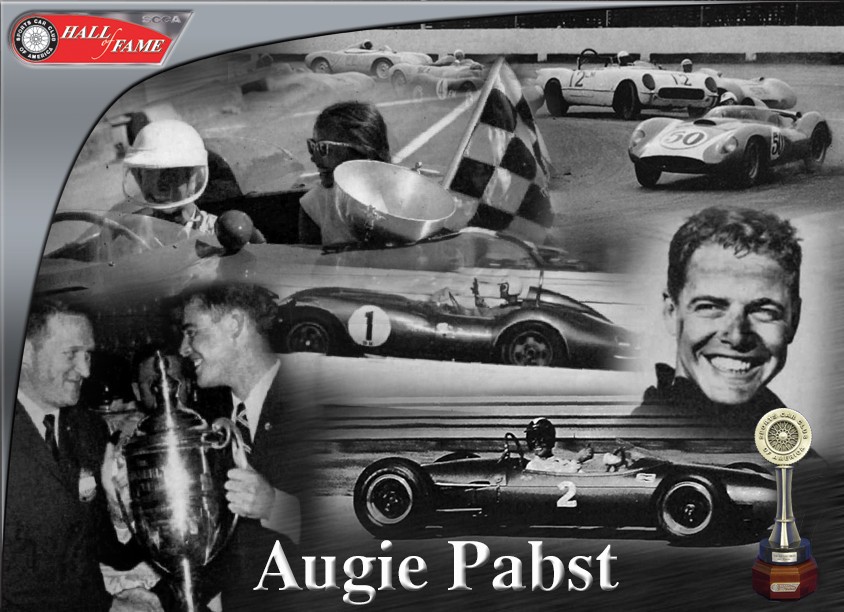 He first began competing during the mid-1950s ; a period when road racing was at the pinnacle of competitive sports in the United States. Pabst also owned a Triumph dealership at this time, and this is said to be the catalyst for kick-starting his career as a race car driver. He started racing a Triumph TR-3 in 1956, then made the transition to an A.C. Bristol the following season.
Before long, Pabst would be piloting a Ferrari 500 Testa Rossa he purchased for $5,000 using his own money. Powered by a 2.5L 4-cylinder engine specially built by Ferrari for Le Mans racing, Pabst was able to compete successfully against Porsches, Maseratis and other Ferraris at renown tracks such as his home turf at Road America. He would go on to win the 1959 USAC Road Racing Championship while driving the Testa Rossa, as well as a Scarab MK II.
More legendary Ferrari cars would be raced by Pabst throughout his career, where he would drive at the 1960 24H of Le Mans in a V12-powered Ferrari 250 GT SWB and then again in 1963, where he co-drove a Ferrari 250 GTO (with Roger Penske) and achieved a GT-class win at Sebring.
After Racing
After just a 10-year stint in racing, Pabst would call it quits on his illustrious motorsports career. Despite it being a relatively short one, he looks back on it with a real sense of fondness and always remarks about how fortunate he was to be surrounded by the greatest people in the industry.
Pabst was offered a job at the family-owned business, Pabst Breweries – named after his grandfather – where he would work his way up to an executive role before the company was sold. Part of the condition of his employment at Pabst Breweries was that he would have to quit racing for good, and also sell the car dealership he had continued to operate while he competed. As such, there were not even any part-time motorsports opportunities for Pabst, though he did not seem to mind.
After moving into the role of running Pabst Farms for a while, he would officially retire. More recently, Pabst rekindled his involvement with motorsports by serving on the Board of Directors at Road America – Wisconsin's internationally renown road racing track – where he retains emeritus status.
Other Highlights & Colorful Moments
Pabst Blue Ribbon had been around long before Pabst started his racing career, so his association with the business was well known in the industry. However, he would eventually pilot a Scarab race car owned by Harry Heuer. This particular car was sponsored by Meister Brau – a brand under the Peter Hand Brewing group of companies, which by all accounts, was one of Pabst Breweries' biggest rivals. He would race under the Meister Brau banner for two years, before the controversy proved too much for the partnership to continue.
As a successful Ferrari race car driver, Pabst was able to get an audience with Enzo Ferrari in 1964. During their meeting, Mr. Ferrari (through a translator) asked Pabst and co-driver Walt Hansgen if they could win the upcoming Road America 500 using a brand new Ferrari 250 LM. They reckoned this should be very possible, so John Mecom Jr. bought the car for them and had it shipped to Wisconsin. Pabst and Hansgen would go on to win the 1964 Road America 500 in the Ferrari 250 LM.
Pabst's most famous incident away from the race track would occur in 1961, when he drove a Ford Falcon rental car into a hotel swimming pool in Monterey, California as part of a dare with Cunningham team manager Alfred Momo. Witnesses recount the event with some slight variances from person to person, but everyone agreed that Pabst certainly held his end of the bargain and was fully entitled to the wager!
1956 Austin Healey 100
Model Summary
The Austin Healey 100 was an open 2-seater sports car produced in England from 1953 to 1956.  The brainchild of Donald Healey, the 100 was originally produced in-house in a relatively small Warwick factory owned by his company, Healey motorcars. Healey used a variety of low-cost parts and components to build the car, many of which were produced by Austin.
When Healey presented a developmental version of the car (called the Healey Hundred) at the 1952 London Motor Show, the design had impressed Leonard Lord – an Austin Motor Company bigwig – so much that he was convinced that it should become the successor to Austin's rather underwhelming A90 model.
Thus, a partnership was forged and through it, the creation of the Austin Healey 100. Assembly would be moved to Austin's much larger factory located in Longbridge, with the body and chassis of the car provided by coachworks company Jensen Motors in West Bromwich.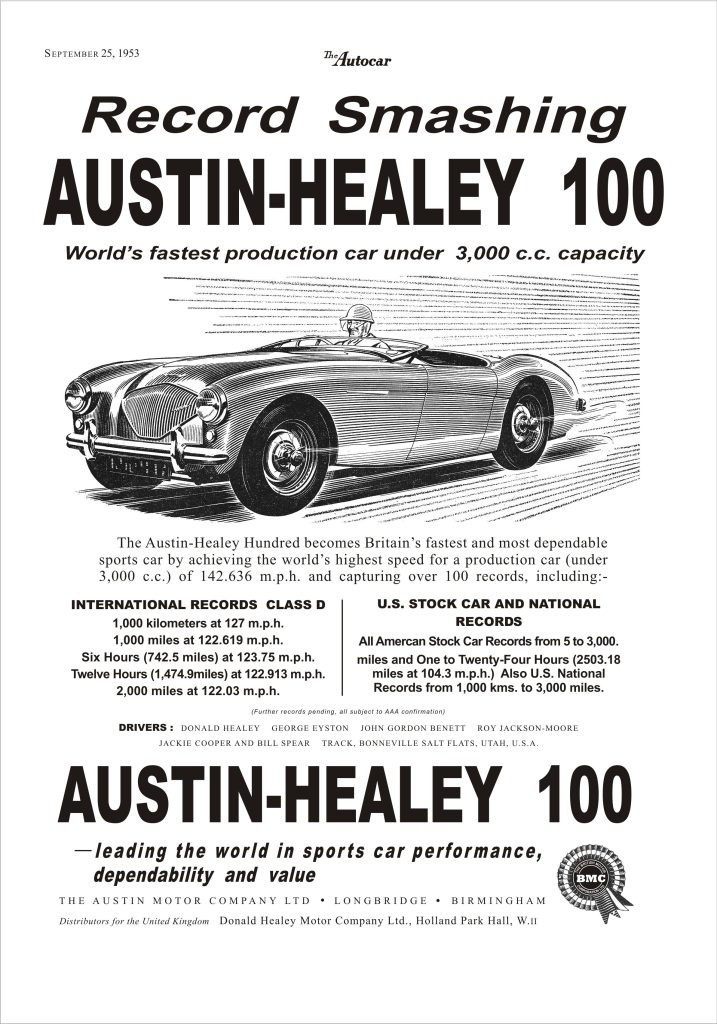 The 100 was given its name due to the fact that it was able to reach 100 mph. This was before many motor companies – including Austin Healey with successive models – began to commonly derive their model nomenclature using engine displacement instead. Earlier models (1953-1955) are designated as BN1-series cars, while those produced from 1955-1956 (known as BN2) were refreshed with improvements which included a 4-speed manual transmission with overdrive. Other upgrades available for the BN2 included an 'M' kit which improved engine performance. These parts were available as part of the Le Mans package and could be ordered and installed on any Healey 100.
In total, 14,634 Austin Healey 100 examples were produced over its 3-year production run which concluded in July 1956. Of these, 4,604 are BN2-series cars.
100M 'Le Mans'
Following the release of the competition-spec 100S variant, Austin Healey would produce an upgraded version of their road-going model known as the 100M, with the privateer racer as its target customer. This upgrade package (known as the Le Mans package) mainly consisted of engine modifications which raised power from 90 bhp to 110 bhp, even exceeding the performance of 6-cylinder models the company would go on to produce.
To achieve this modest power increase, a high-lift camshaft was fitted, along with larger carburetors, higher-compression pistons, a free-flow intake manifold, a special distributor and a cold air box. Other upgrades included larger anti-roll bars, while the louvered bonnet was retained by a Le Mans-spec leather strap. Available for the first time was an optional two-tone package which paired White-Black, Reno Red-Black, Healey Blue-White, Black-Reno Red and Florida Green-White.
Only 640 examples of the factory-built 100M were produced and of these, 544 were shipped to the United States. These are distinct from 100 models which had the Le Mans package added to them after-the-fact (usually through the dealer) – such cars do not contribute towards this total.
What a 100M Le Mans Typically Trades For Today
After scouring the online classifieds sections at some of the more renown auction/consignment establishments, values appear to vary quite substantially. Some examples are asking well under US$100,000, while just as many crest over the US$200,000 mark. Both median and mean asking prices appear to be hovering around the mid-high $100k mark.
We're the first to admit that we're no experts when it comes to appraising classic cars, so we refer to Hugh of Old Stone Garage for his expertise and insight:
"When looking into values, they appear all over the place. This is because you had dealers in the period install the 100M Le Mans kit (or individual upgrades) on regular 100 models, and these sell for half the price of a real 1 of 640 factory example. They range from $160k-$240k depending on condition."
Naturally, factory-built 100M examples are considered much more desirable and command at the higher range of prices as outlined above by Hugh. Fully and properly restored factory-built examples like this 1956 Austin Healey 100M 'Le Mans' fall within that category.
The lower priced "100M" examples you may come across, are most likely to be (the much less sought after) dealer-installed versions. As mentioned earlier, dealer-installed versions are not part of the count which determined that only 640 units of Le Mans versions were ever built from the factory. Furthermore, those with asking prices at the very bottom of the curve tend to be afflicted by sub-par restoration jobs or are in a generally poor state.
Unique Character of the "Augie Pabst" 100M
Factory-built 100M 'Le Mans'
As mentioned earlier, the factory-built Austin Healey 100M 'Le Mans' models are the most rare of any of the 100 models. The "Augie Pabst" 100M is indeed a factory-built example, being just 1 of 640 ever built (and only 1 of the 544 that made it to US shores). This in itself makes it a very unique automobile, even if you put aside the fact that it was once owned by Pabst himself.
A Real Connection to Augie Pabst
Pabst never raced this 100M (even though it comes with a racing harness), as it served him as his personal car during the time he owned it; unfortunately, there won't be any photos of him bombing it around Road America! However, there is documentation – which will be provided to the new owner – confirming that he owned this particular example. The car has been serviced throughout its lifetime by Tom Kovacs of Fourintune –  an Austin Healey specialist located in Cedarburg, Wisconsin – who is familiar with the car and confirms that it was serviced at Fourintune a number of times while it was owned by Pabst.
The Restoration Story
This Austin Healey 100M was acquired by its current owner on the Father's Day weekend of 2016. He happened upon it at a classic car auction which was running concurrently with a vintage Alfa Romeo racing event he was participating in. Remembering the car vividly from his high school days, he was immediately drawn to it and would soon discover that it was owned by Augie Pabst.
The car's more recent history would reveal that it was owned, at the time, by Robert Pass of Passport Transport, who had successfully completed the inaugural edition of the Colorado Grand in 1989 while driving this 100M (plus the following year's event as well). The moment arrived for the 100M to go up on the block, and before long, the current owner won the right to purchase the car from Pass.
While the car showed well as-is, he felt that it was overdue for a restoration. So in the fall of 2016, the 100M was sent back to Tom Kovacs and his team at Fourintune to undertake this project. The current owner opted for the car to be presented in a bolder "motorsports" theme, which most notably adds rally lights and the removal of the original chrome front bumper (which also lends itself to the car's distinctive "stealth" appearance).
On the performance side of things, larger brakes were fitted along with a dual-electric fuel pump system to ensure that the car would be ready for the demands of vintage driving events, and for a general improvement in reliability and safety. All of these changes are 100% reversible back to factory-spec, as was required in order to obtain a FIVA 'passport' – which has already been done (more on that later).
When it came time for the paint job, the current owner and Fourintune were initially perplexed on how they should proceed. That's because the original build sheet for this 100M indicated that the car was "Black with Reno Red trim" from the factory. Kovacs advised that this most likely meant that the original car wore a black exterior over a red interior (including the trunk trim).
What was casting some doubt over this, was the fact that in the condition it was purchased, the car also had the lower flanks painted in red. We reckon that car liveries were often modified during the era to fit in with the popular looks of the time, and that this might've been the case with this example.
Mystery Solved
Wanting to stay true to the original state of the car for this aspect of the restoration, the current owner decided to do some digging. Being a friend of the Pabst family was certainly a good head start, so he contacted Augie Pabst III (Pabst's son) to see if he could provide any insight. Unfortunately, Pabst himself was not able to recall the details personally, so Pabst III tried to find some color photos that could be used as a reference, but to no avail.
The current owner would eventually find his answer after running into his friend, Bill Wuesthoff, who also happens to be Augie's former racing teammate and close friend. Over casual chit chat, the pair would eventually discuss the current owner's Austin Healey restoration project. Upon being told that the car once belonged to Pabst, Wuesthoff distinctly remembered this particular 100M and shared his own experience with it; one he retells with a great fondness.
Wuesthoff really wanted to impress his future wife-to-be for what was at the time, their first date. He felt he needed something special – something along the lines of a beautiful sports car – to pull this off with aplomb. So he borrowed Pabst's Austin Healey 100M; and the rest as they say, is history. To the current owner's delight, even the finest details of this once-in-a-lifetime event were so vividly recalled by Wuesthoff. "Jet black with a gorgeous red interior" he declared without hesitation. Off to the paint booth it went.
Instant Success
As the photos accurately depict, the car was thus restored in a beautiful black exterior finish with a deep-red leather interior, which really pops. The current owner also decided to paint the wheels gloss black, to further accentuate the car's stealthy motorsports-derived silhouette. It is quite simply, a stunning work of art. This sentiment is shared with vintage car experts too, having received distinctions beginning at the very first show it attended.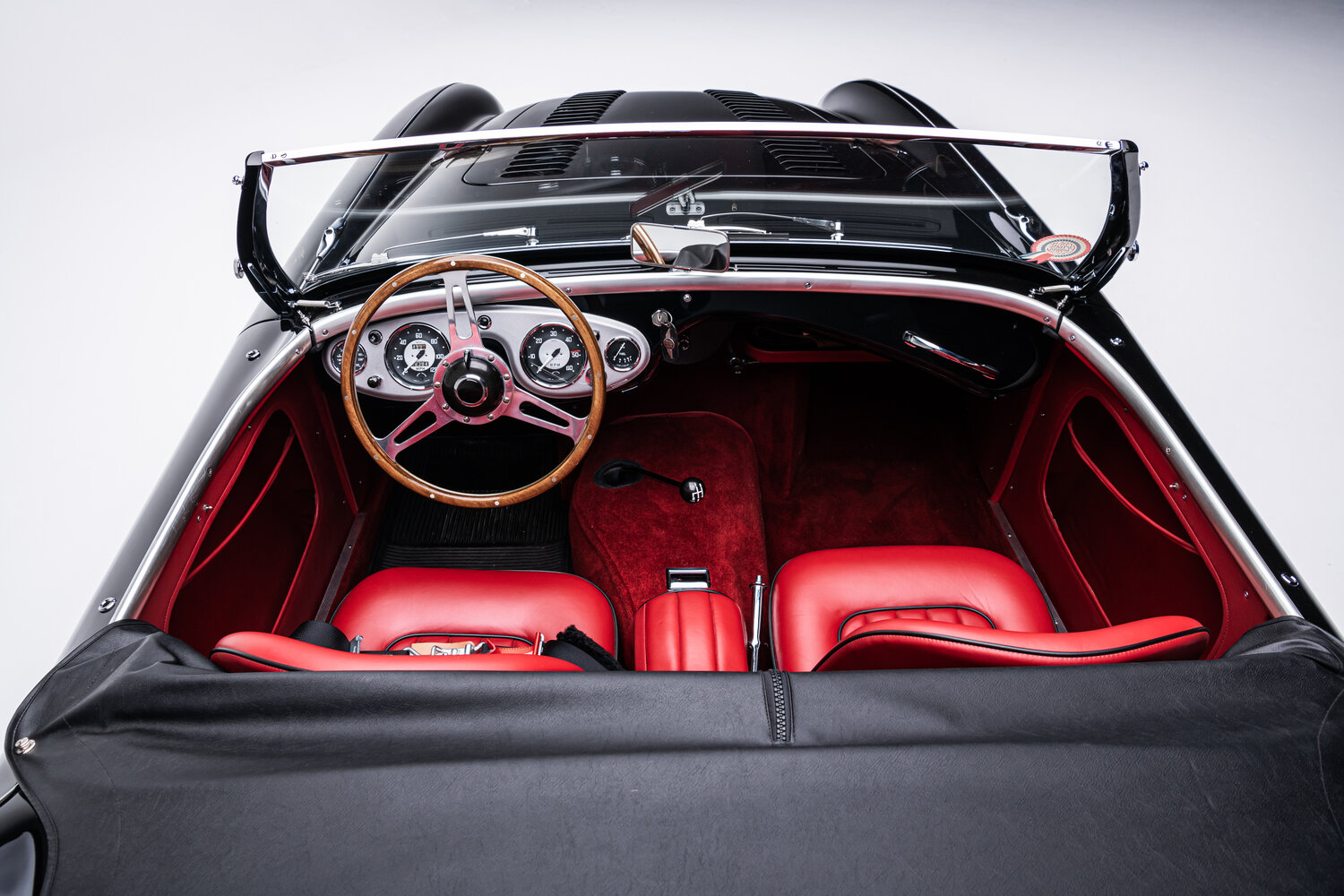 This would be a class-win at the 2018 "Gather on the Green" Concours d'Elegance event, which took place on the back lawn of the Osthoff resort. The trophy was presented by former rally and formula one race car driver, 'Quick Vic' Elford. In 2019, the current owner returned to Road America and had the 100M shown at the Vintage Concours d'Elegance taking place at nearby Elkhart Lake. The car would secure another win in its class, and also advanced to the "Peoples Choice and Best in Class" awards the following day where it won Best of Show!
Proliferation of Classic Car Ownership
Why You Should Consider a Classic Car (Like This 1956 Austin Healey 100M) As Your Next Purchase
The typical modern supercar and hypercar owner these days faces a conundrum; driving their 6-figure-valued (sometimes, even 7-figure) cars on the city streets often yields very little enjoyment in relation to what was spent to acquire the car. There's no doubt that newer automobiles such as these do offer a redeemable level of "bang-for-buck" when it comes to the outstanding performance these advanced machines have on tap, but therein also lies the problem. Collectors are a bit of a different story, but the principle still applies.
It doesn't take long before some of these owners start wondering why they've tied up all those funds to drive a car at 5% of its performance potential, 99% of the time. Cars like this are invariably pigeon-holed by road laws and infrastructure that has remained static for many decades, originally made to cater to the available technology at the time when they were first introduced or built. While limits can be explored on race tracks, most (if not, too many) owners opt not to; or at best, they are content with a few parade laps around a local raceway once every so often. This is usually done with the intention to preserve resale values and minimize additional costs, which nevertheless makes things difficult to justify.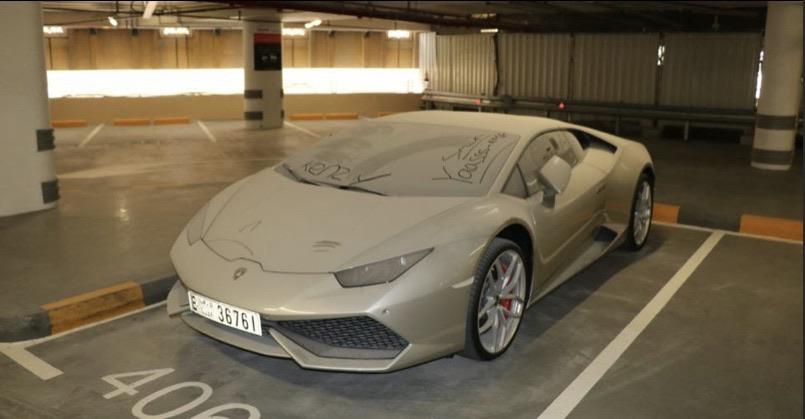 There may be a shift in thinking that is starting to gain momentum, however. It has been noted that a growing demographic of younger car enthusiasts are picking up classic cars to enjoy, drive and exhibit. In the recent past, younger buyers with the means would almost always gloss over opportunities to purchase anything that wasn't the latest and most flashy Lamborghini or Ferrari. Now, the nuance, appeal, benefits and advantages of classic car ownership are starting to catch the eye of this demographic for the aforementioned reasons – and also because cars like this 1956 Austin Healey 100M exist.
Particularly with the relatively younger crowd – who have had little to no opportunity to enjoy cars of more vintage and simple technologies – this 100M would be a breath of fresh air and in many ways, an entirely new and eye-opening experience. Many classic cars of this ilk can be driven spiritedly and rewardingly, without having to be egregious with public road laws and speed limits. Free of the countless electronic aids needed to tether the typical 600+ hp modern sports car, this 1956 Austin Healey 100M offers one of the most pure driving experiences a car enthusiast could possibly have; dare we say it could be life-changing and forever transform one's perspective (for the better).
Not a Garage Queen!
What we love about this Healey – aside from its storied history – is that it is ready for a new owner who will have no qualms driving it, as any car is meant to be. With a proven and documented history of being roadworthy, this properly built and cared-for 100M is as "turn-key" as it gets, with many more memorable and exciting miles lying ahead.
It has already obtained a FIVA 'passport', which also allows it to participate in the largest and most recognized historic car events around the globe. The sections below provide more detail on the benefits this 100M has as a FIVA-certified vehicle, and the process it had to go through to achieve this status.
This provides plenty of incentive for the new owner to take this 100M on some road trips and truly enjoy the car – as it has been by all of its previous owners, including Augie Pabst. This 100M has already successfully participated in events such as the Colorado Grand charity car tour.
Mille Miglia
As the Austin Healy 100 was raced in the original Mille Miglia endurance series – which took place between 1927 and 1957 in Italy – this 100M is also eligible for the famous 1000 Miglia event. This immersive experience is essentially a re-enactment of that race (known as the Red Arrow), which has been an annual tradition since 1977. It is not a competitive series, but rather a 'regularity race' reserved for classic and vintage cars produced no later than 1957. The route for the 1000 Miglia event is similar to that of the original race, which traverses through a variety of beautiful Italian landscapes as part of a round-trip between Brescia and Rome.
"The 2021 competition will follow the tradition of the route, from Brescia to Rome and back, with legs in Viareggio and Bologna, but this edition will introduce an absolute novelty for the re-enactment of the 1000 Miglia: for the first time ever, the competition will take place in the opposite direction of the recent editions, taking up the counter-clockwise direction of many editions of the original speed race. From Brescia, the crews will head towards the Tyrrhenian coast and stop in Viareggio, leaving the next day for Rome. The third leg will start there, go up north and end beyond the Apennines, in Bologna. The fourth and last leg, from Bologna, will take to the traditional arrival in Brescia. A new route will lead the crews to face, for the first time, three mountain passes: Passo della Cisa in the first leg and Passi di Futa e Raticosa in the third day of the race. A new feature that will satisfy many fans of the competition." –  from 1000 Miglia website
This year's edition of the 1000 Miglia took place from June 16 to June 19, so you've just missed it; that provides plenty of time to plan for next year's trip, however.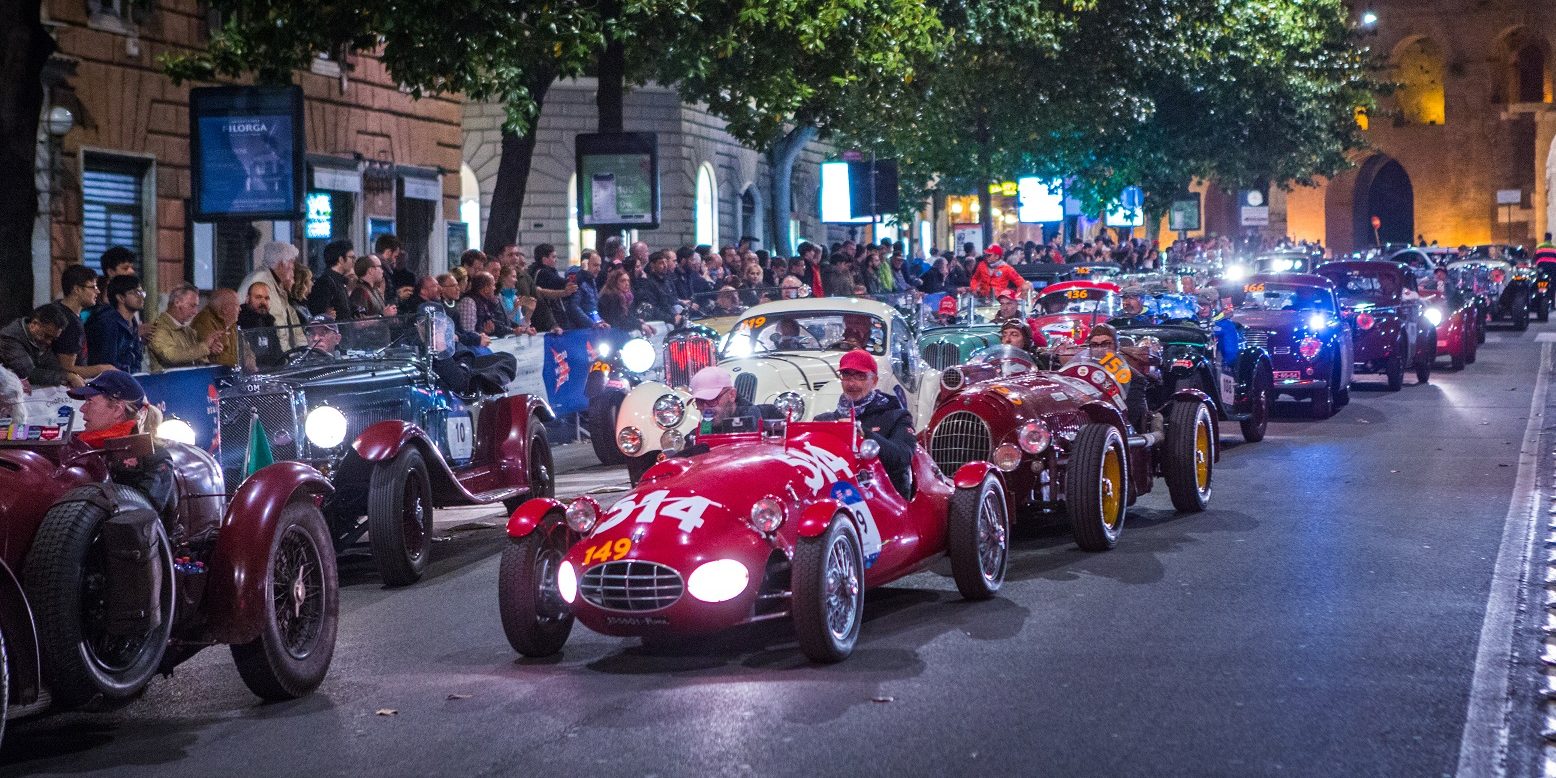 FIVA Card*
The FIVA Identity Card is an international vehicle 'passport' issued by the international federation of historic vehicles, FIVA (Fédération Internationale des Véhicules Anciens), that applies to mechanically driven vehicles built at least 30 years ago and are in a historically correct condition.
FIVA's primary objective is to encourage the safe use of self-propelled, mechanical vehicles, more than thirty years old, on the roads for the benefit of both their owners, dedicated enthusiasts and the general public. To that end FIVA, through its Events' Commission, has devised its own code for the safe promotion of rallies or mildly competitive events, and in concert with the European Commission, has recently published a Drivers' Code for more general guidance of historic vehicle users, which can be downloaded from the link below.
Vehicles and issued FIVA-Card data are stored in a unique encrypted and well-protected database. Furthermore, each vehicle is allocated a FIVA Registration Number – FRN, generated from that vehicle's individual parameters and unique to the vehicle for its lifetime.
Top events for which your vehicle requires a FIVA identity card before it can compete include Concorso d'Eleganza Villa d'Este, the Mille Miglia and the Peking-to-Paris Motor Challenge.
For a full list of International FIVA-sanctioned events requiring an ID card, click here.
*from FIVA website
Certification Process*
A team of independent specialists, usually Concours judges who possess significant historical and technical skills, will be inspecting, documenting and confirming that the vehicle's configuration, physical condition, chassis, engine and body serial numbers match the documentation provided. If there are modifications, the scrutineer will typically require proof that they can be easily reversible to original.
If the forms have been completed as required, the process should typically be completed in 30 minutes. The scrutineers will also examine and appreciate any relevant documentation that the vehicle owner has (photocopies are always greatly appreciated). It is an informal and friendly experience, unlike the nerve-wracking experience of Sunday morning on the 18th fairway at Pebble Beach.
The scrutineers make a visual inspection similar to the judges at Concours events. The items covered include the chassis or frame, front and rear suspension and axles; this may require a wheel to be removed to facilitate the inspection of the braking system to see if it is mechanical, cable or has been converted to hydraulic. From the top side a visual inspection of the engine, gearbox, ignition system, fuel system, wheels, tires, upholstery/trim, instruments and lights will be performed.
*from Hagerty website
Image Gallery
Photo credit: Jeremy Cliff / Motive Archive
Additional photos can be viewed at the Old Stone Garage website