1998 Greenwood G5R Corvette
Not too dissimilar from this fourth generation Greenwood Corvette was this G5R. Again it was a performance resin bodykit that usually came along with a host of performance upgrades. Included was a front splitter, high rise hood, rear tunnel, rear wing, and windshield fairing.
Greenwood Description
Greenwood has always been the leader in high performance aerodynamics and we are proud to offer the finest and most effective designs for your C5 Corvette.
All of our parts are made with vinylester resins, e-glass and kevlar cloths, and aircraft grade aluminum for our optional brackets. The G5R and RS Wings are mounted directly to your C5's frame for the most effective transference of downforce. Our Front Splitter has the flexibility to move upward on impact, and not deflect downward at high speeds. The Side Rockers are designed to produce downforce and feed the functional rear brake ducts. Our Rear Tunnel and Quarters reduce drag and vector exhaust gases away from the rear of your C5. The Windshield Fairing helps smooth the airflow over and around the C5's windshield, helping to reduce buffeting and wind noise.
With a complete Greenwood G5 Series aerodynamic package installed you will notice a significant improvement in handling at as little as 50mph. With performance foremost in mind, all of our aero pieces are designed to perform by reducing drag, managing airflow and creating downforce. The superior materials and processes we use ensure that your Greenwood G5 Series aero pieces will maintain their shape and quality for years to come. We guarantee all parts to be free from defects for the life of your Corvette.
Prototype Auction
At their 2010 Kissimmee, FL Auction, Mecum solf the sole 1998 Greenwood Prototype for $58,000 USD. It was described as:
*G5R Greenwood Corvette prototype hand crafted and design by John Greenwood
*This Corvette is certified by Greenwood as #0000 prototype
*G5R super wing, G5R twin splitters, G5R rockers, G5R rear tunnel quarters, G5R windshield fairing, G5R raised twin nostril Ram Air hood
*This is a truly functional and rare Corvette crafted by John Greenwood
Auction Sales History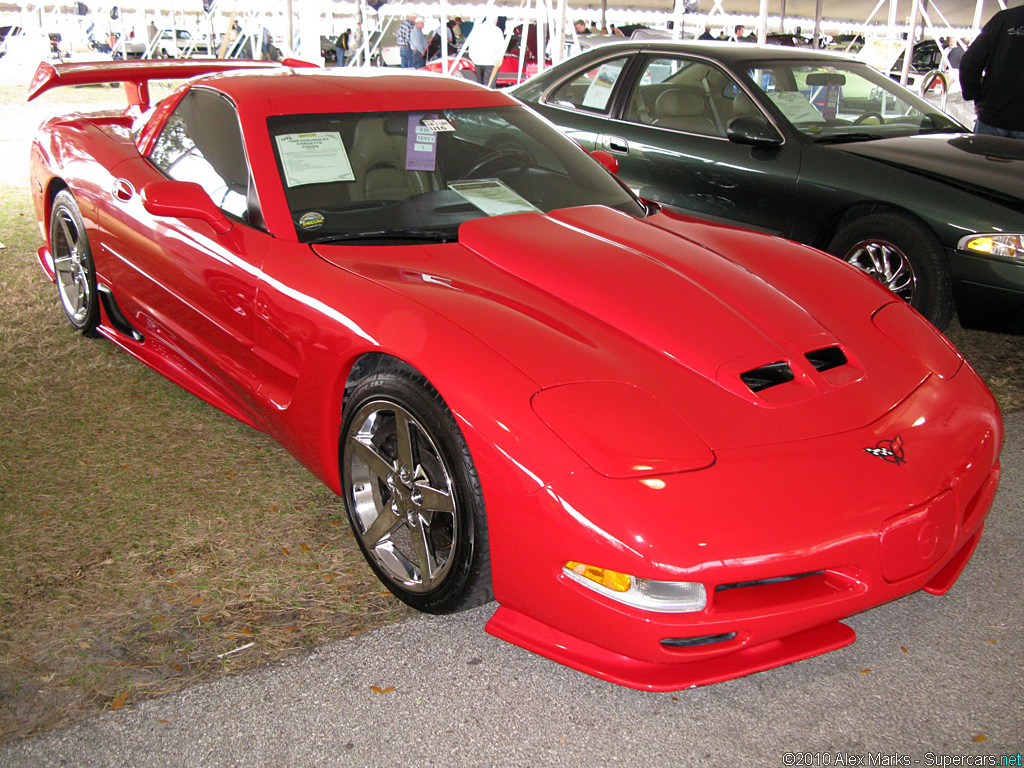 1998 Greenwood G5R Corvette – sold for $58,000 – G5R Greenwood Corvette prototype hand crafted and design by John Greenwood – This Corvette is certified by Greenwood as #0000 prototype – This special package creates the ultimate in handling and stability
Auction Source: 2010 Mecum Kissimmee, FL Auction