Kourosh Mansory, located in Brand, Germany, is a well-known manufacturer of exclusive cars, most of which might be designed with Far-East, or Asian customers in mind, but their workmanship is at such a level you can't resist admiring their creations, even if they aren't always to your exact taste.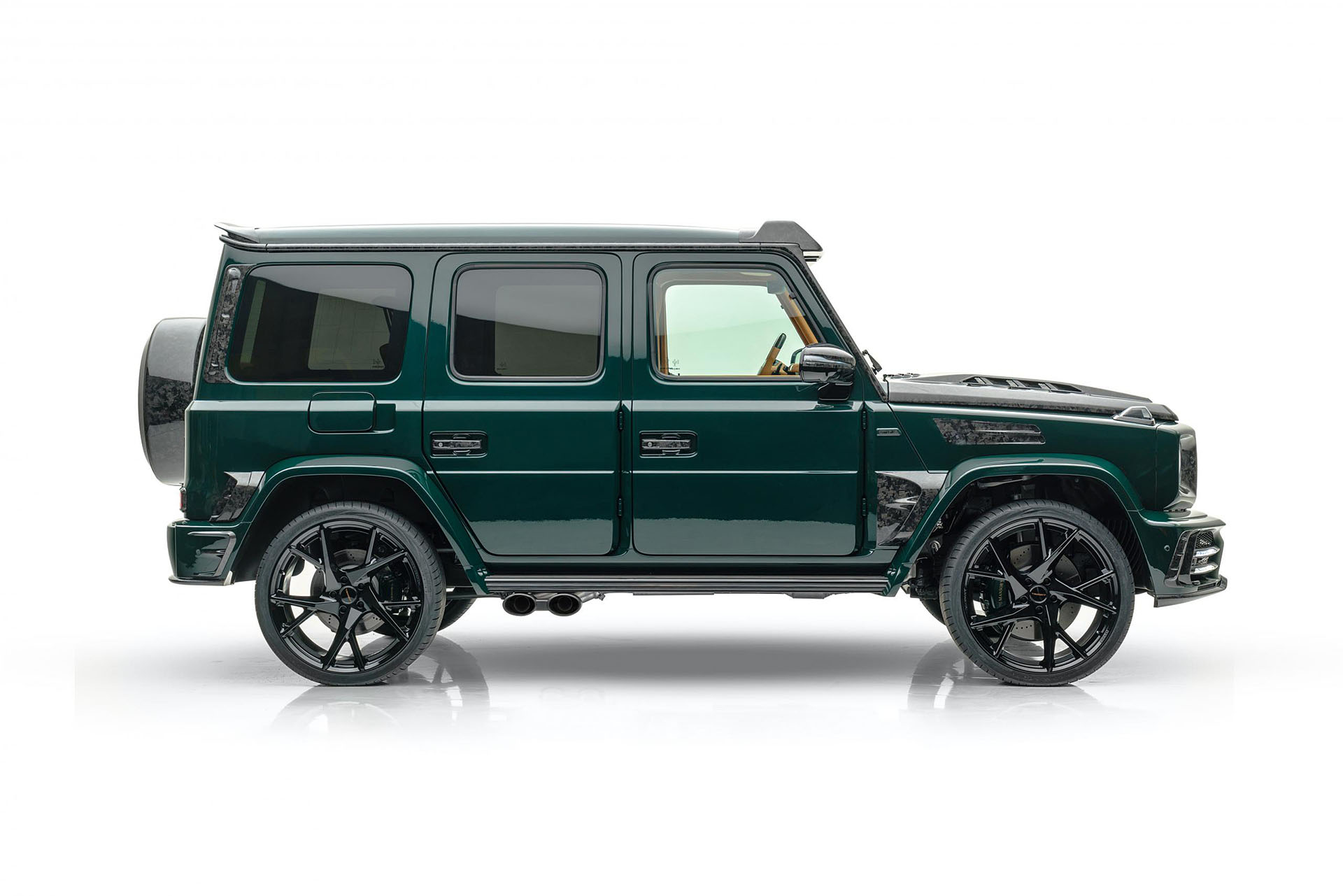 In 2013 MANSORY revealed the Gronos, a complete vehicle conversion taking Mercedes-Benz G 63 AMG and G 65 AMG and completely transforming it into a beast, called the Gronos after the god Cronos who led the twelve Titans. The interior of the original Gronos didn't have seats anymore, MANSORY calls them thrones now, upholstered in the finest leather possible, with amazing, bespoke stitching patterns. Together with perfect carbon fiber, made in-house in MANSORY's own autoclave.
Back in 2013 MANSORY mounted 23-inch wheels with 305/35ZR23 tires, the original V8 engine is taken apart by MANSORY and gets rebuilt, together with a custom, stainless steel exhaust system, power output was 840 hp with an electronically limited torque figure of 1,000 Nm.
But MANSORY wasn't finished with the Gronos, they also made a 'Black Edition' that had a full carbon fiber body, later a Gronos Facelift was released, with a carbon fiber redesigned body, wider fenders, new front hood, new front spoiler … and still with 840 hp.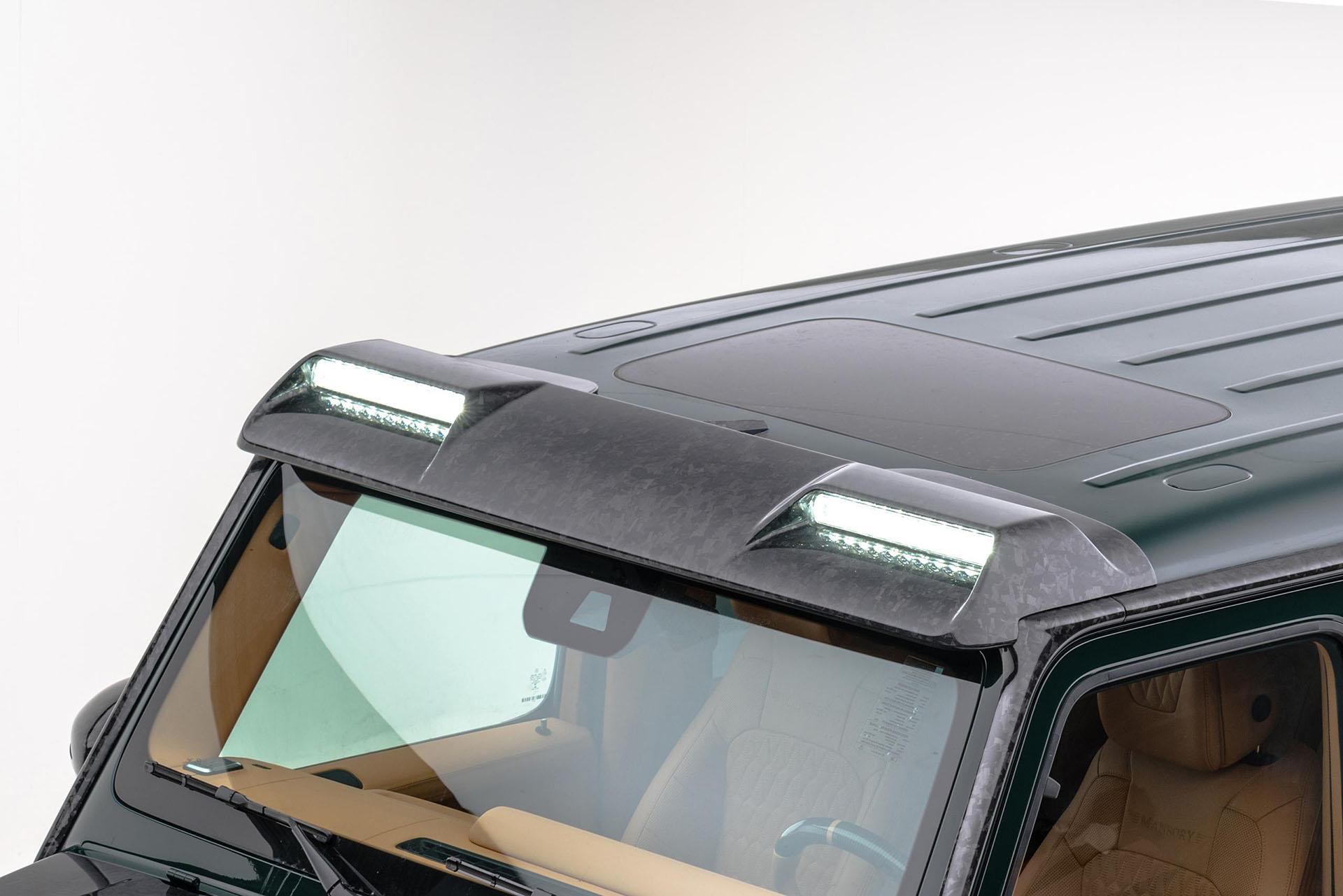 Last year MANSORY came up with two new models based on the Mercedes G-Class, the 'Star Trooper Pickup', which was created in collaboration with Philipp Plein, and a 'special protection' version that is in line with the 'invisible armoring' idea from MANSORY, people that can afford this kind of exclusivity need to feel safe inside their car after all.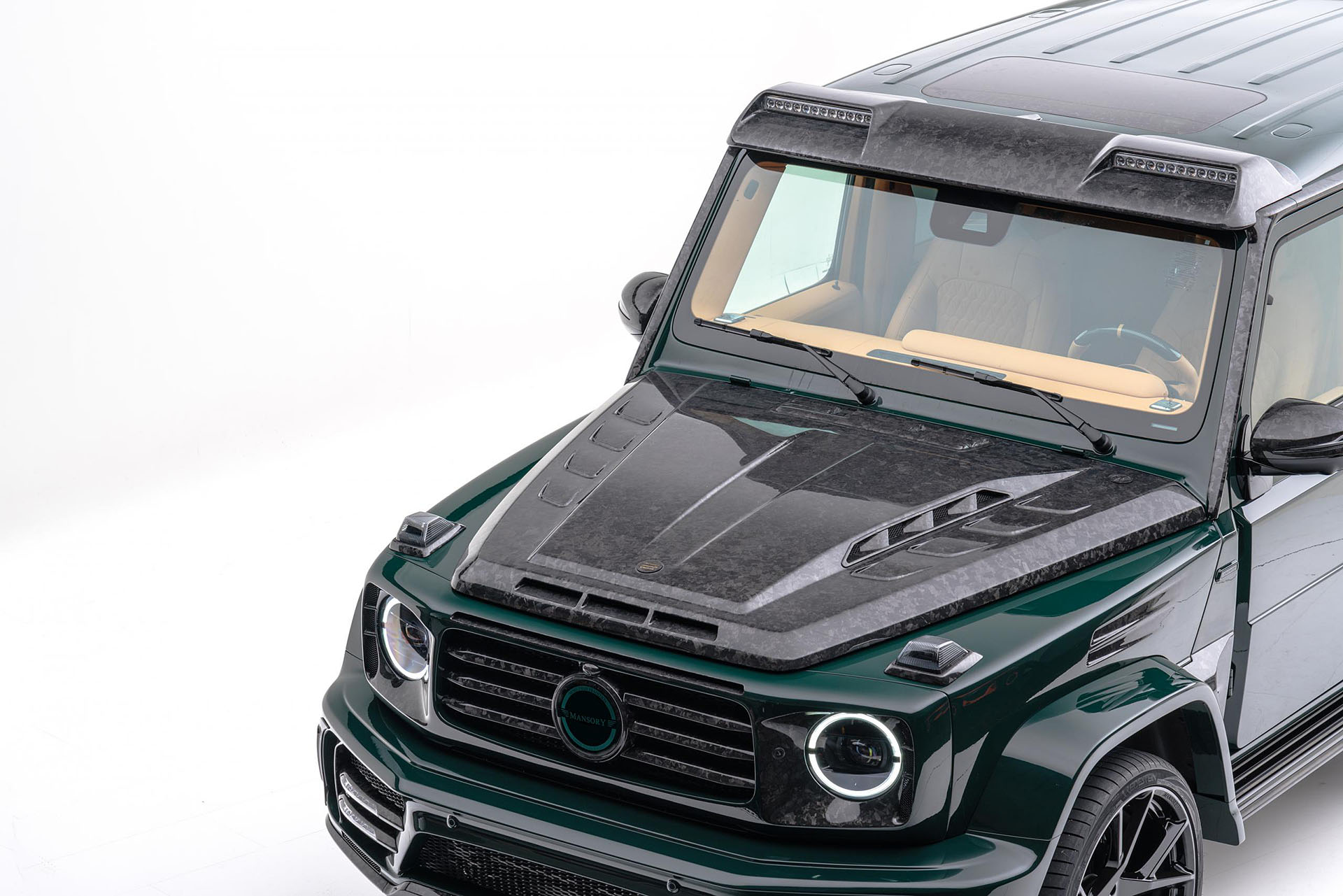 Now it's time to take the Gronos into 2021 with a new evolution that takes the original design and modernizes it for the current market requirements. The entire aerodynamic program from the previous Gronos has been redesigned, a new front bumper and lower spoiler, even more exclusive, wide fenders, and a new rear diffuser. Note that all MANSORY aero parts are made from carbon fiber, and they even show special 'Forged Carbon' details finished in high-gloss.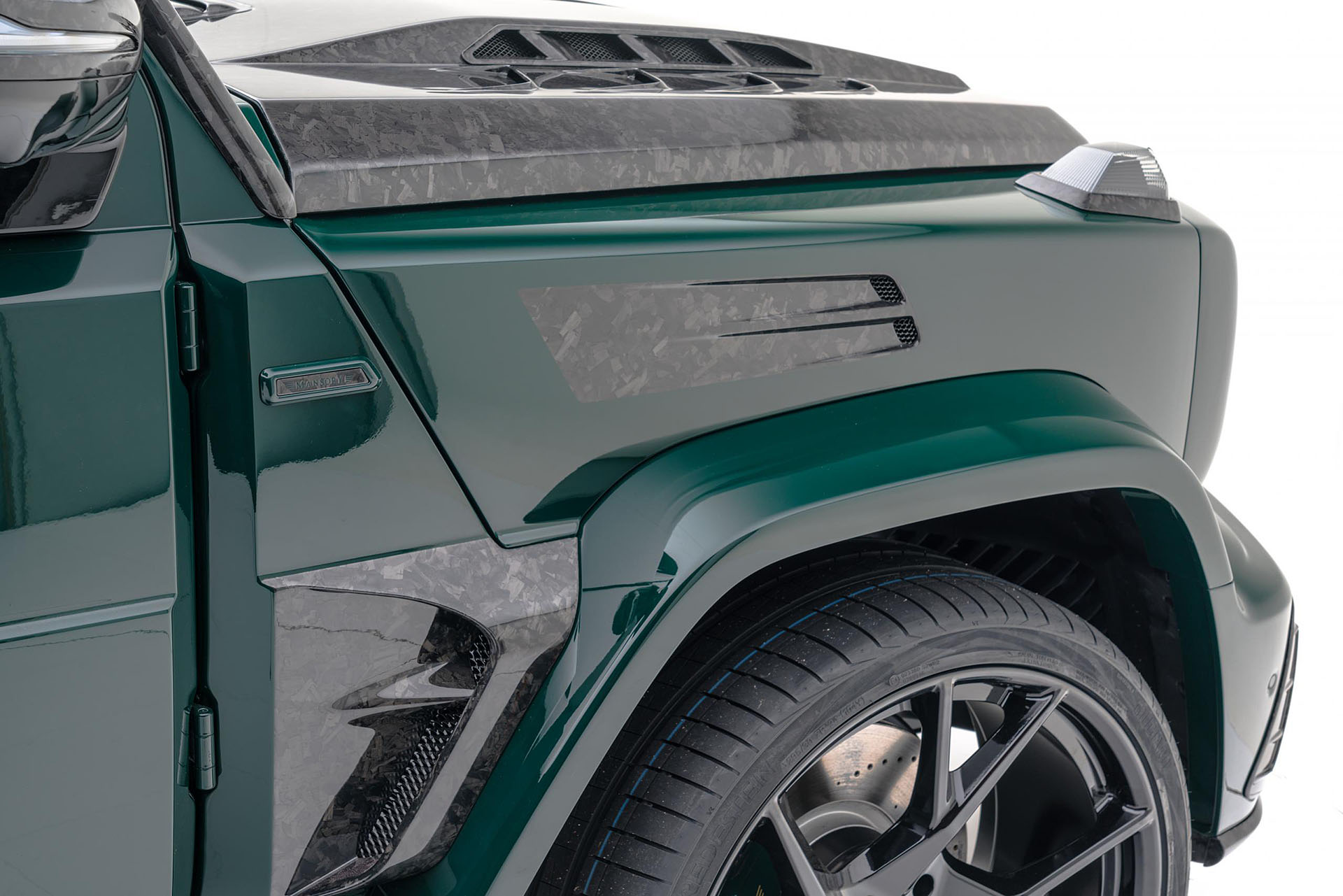 While the car's exterior is finished in a stunning, dark green shade referred to as 'British Racing Green', the front engine cover stays unpainted to display the perfect finish of the carbon fiber it's made of, additional cooling vents just finish the amazing look. Additional DRL, daytime running lights, complete the aggressive look of the front and let's not forget the extra, very bright, LED added to the roof above the windshield.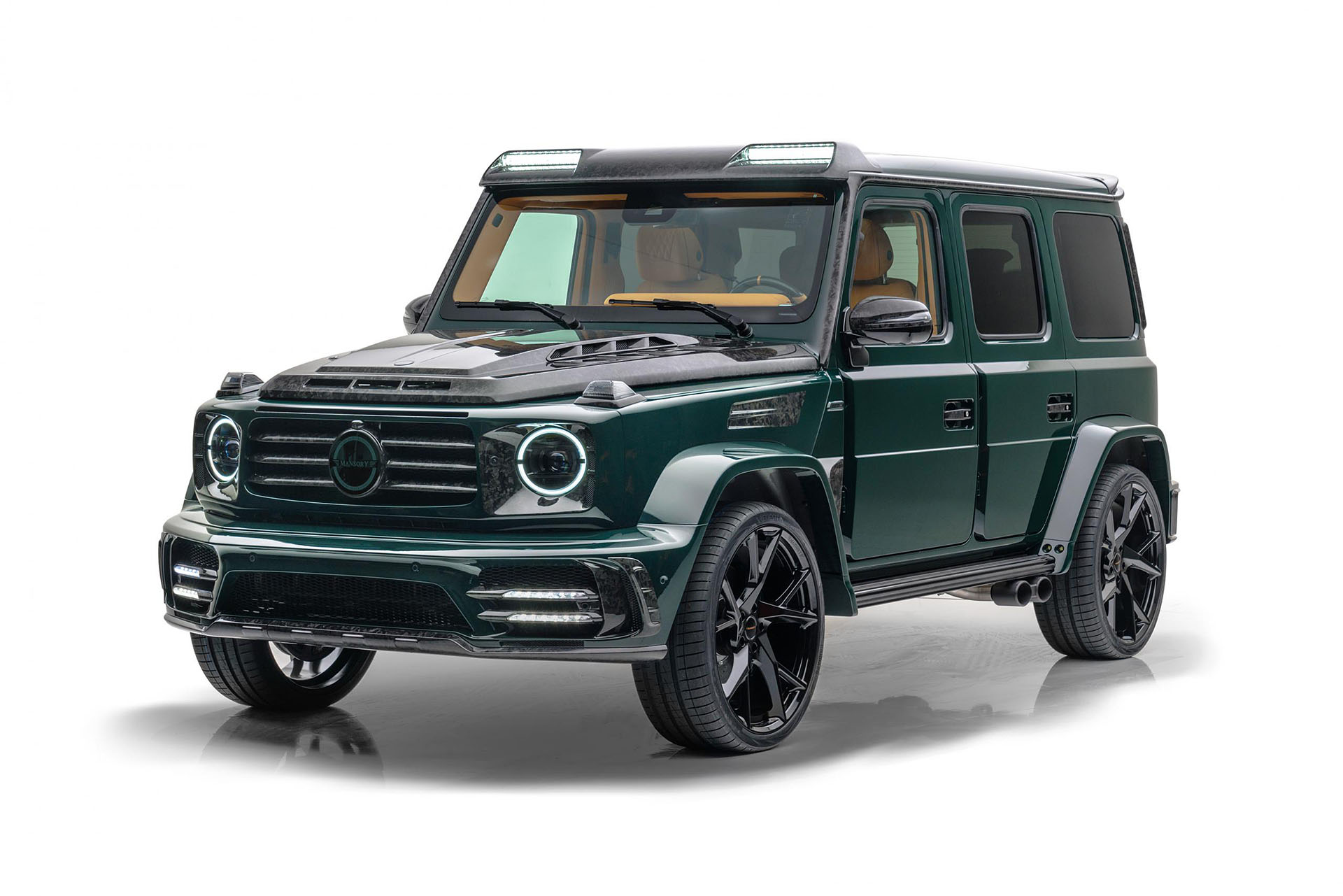 The Mercedes G-Class is one of those SUV that keeps the spare tire on the outside, on a large door, on this MANSORY Gronos 2021 the cover for this spare is made from Forged Carbon naturally, what else would you expect, and it matches numerous other parts on the exterior of the 2021 edition of the Gronos.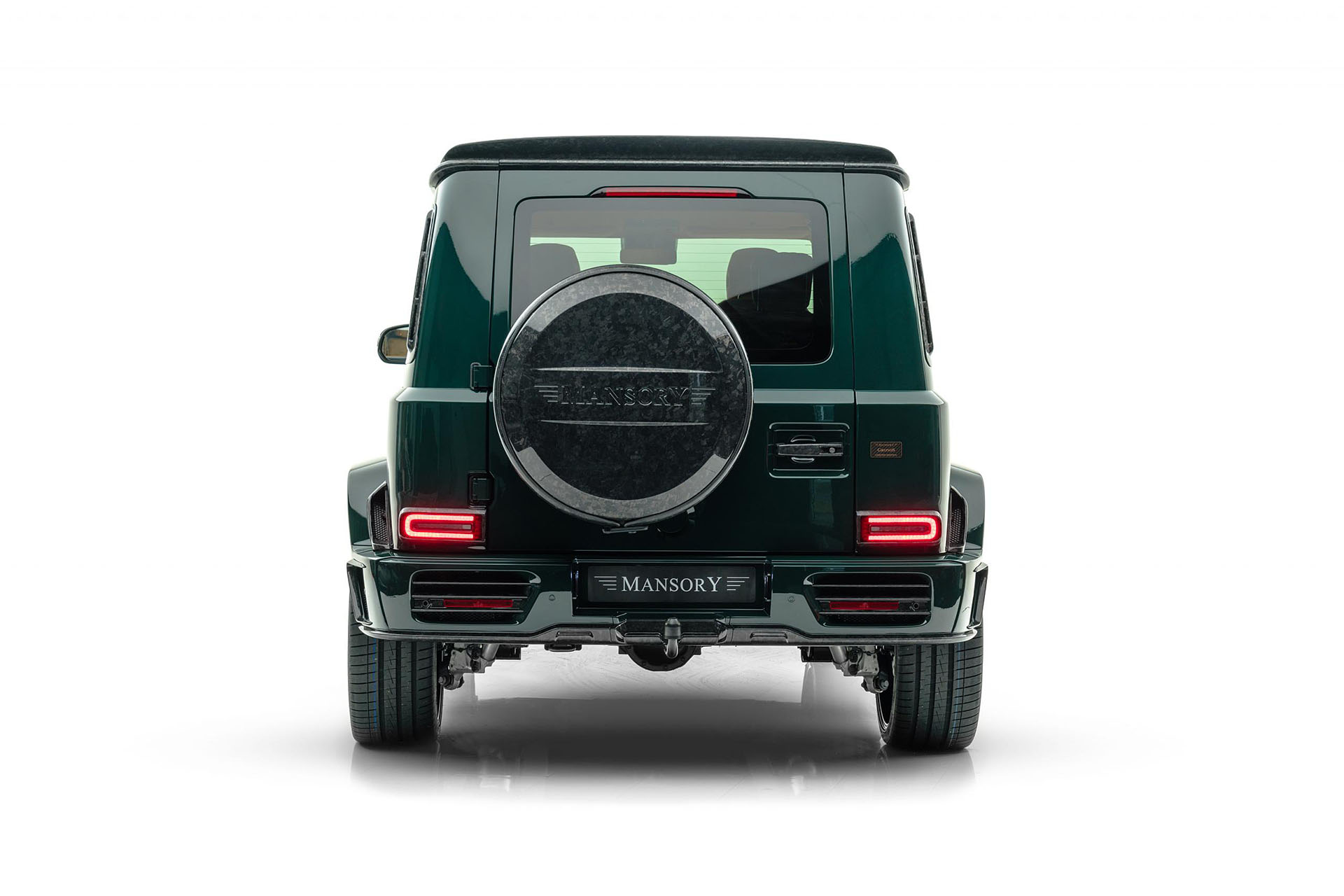 The factory standard Mercedes G63 AMG can't be called underpowered with a healthy 585 hp available from the turbocharged V8 engine, still, MANSORY takes it apart and modifies the ECU, adds larges turbochargers, new downpipes, and a bespoke exhaust system. After MANSORY dials in the engine, the power output is raised to an impressive 850 hp, torque goes from 850 Nm to 1,000 Nm … acceleration is now only 3.5 seconds to reach 100 km/h from standstill, and the top speed is limited to 250 km/h.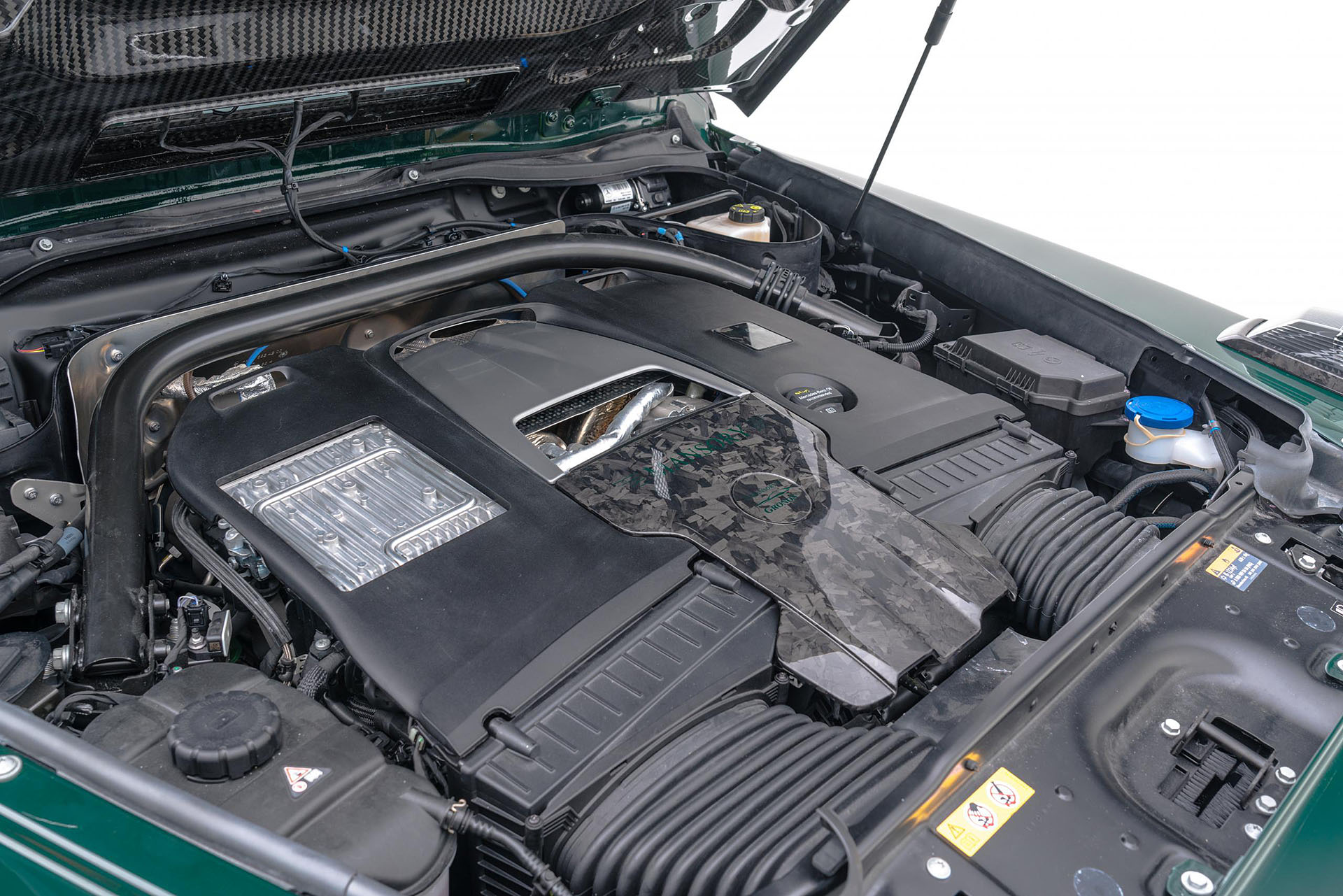 With all that power and torque, those massive 295/30R24 tires might need changing quicker than you think, but those forged YN.5 MANSORY wheels, finished in glossy black, are just a feast to admire, so who cares about four new tires on a car like this. Just be careful when exiting the rear of this Gronos 2021, the two massive, round exhaust pipes exit just ahead of the rear wheels, and they might be burning hot!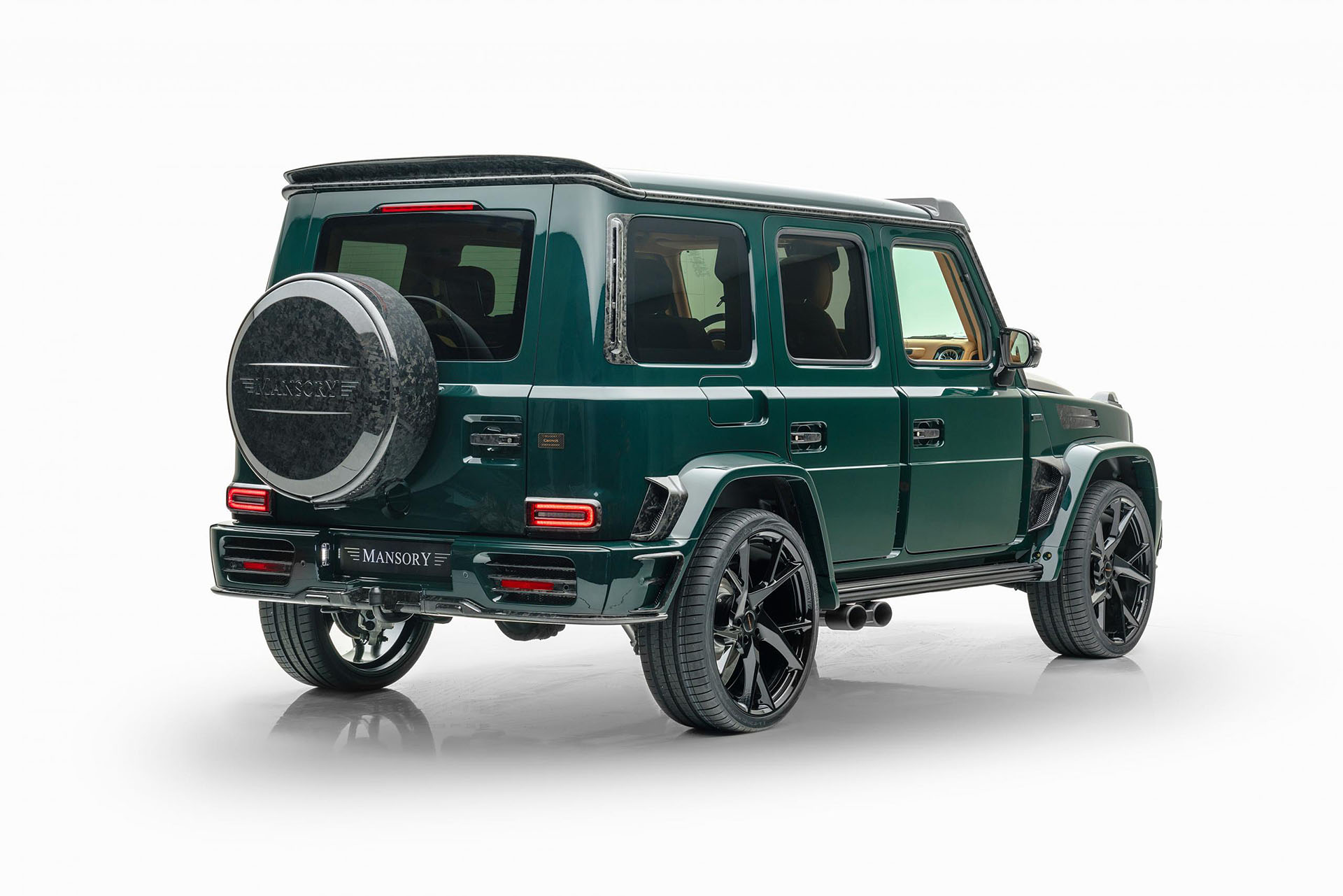 And that brings us to the interior, if you think the exterior of this Gronos 2021 looks impressive, just admire that brown leather interior, MANSORY calls it 'Fawn Brown'. And when you think about some of the other MANSORY creations, like a yellow Lamborghini Urus with a bright yellow leather interior, or a blue Rolls Royce with … you guessed it, a blue leather interior … this Gronos 2021 actually looks rather timid.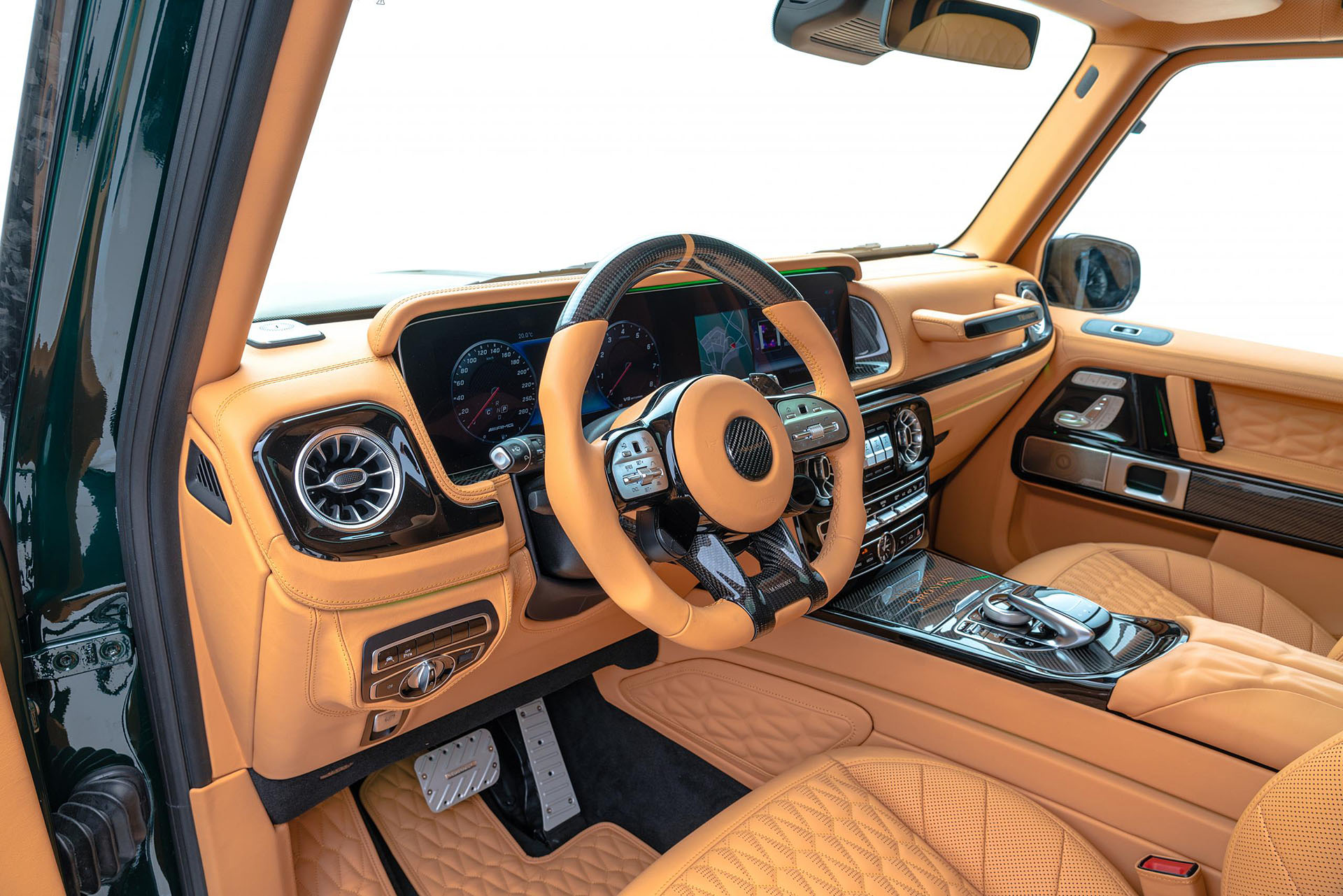 And this shade of brown leather complements the British Racing Green exterior perfectly, and if you look closely, you'll notice MANSORY didn't leave anything untouched inside this Gronos 2021, a new steering wheel, naturally with visible carbon fiber, dark carbon fiber inlays all over the interior. And that bespoke stitching pattern is executed to perfection, complete with embroidered MANSORY logo on the seats and floor mats.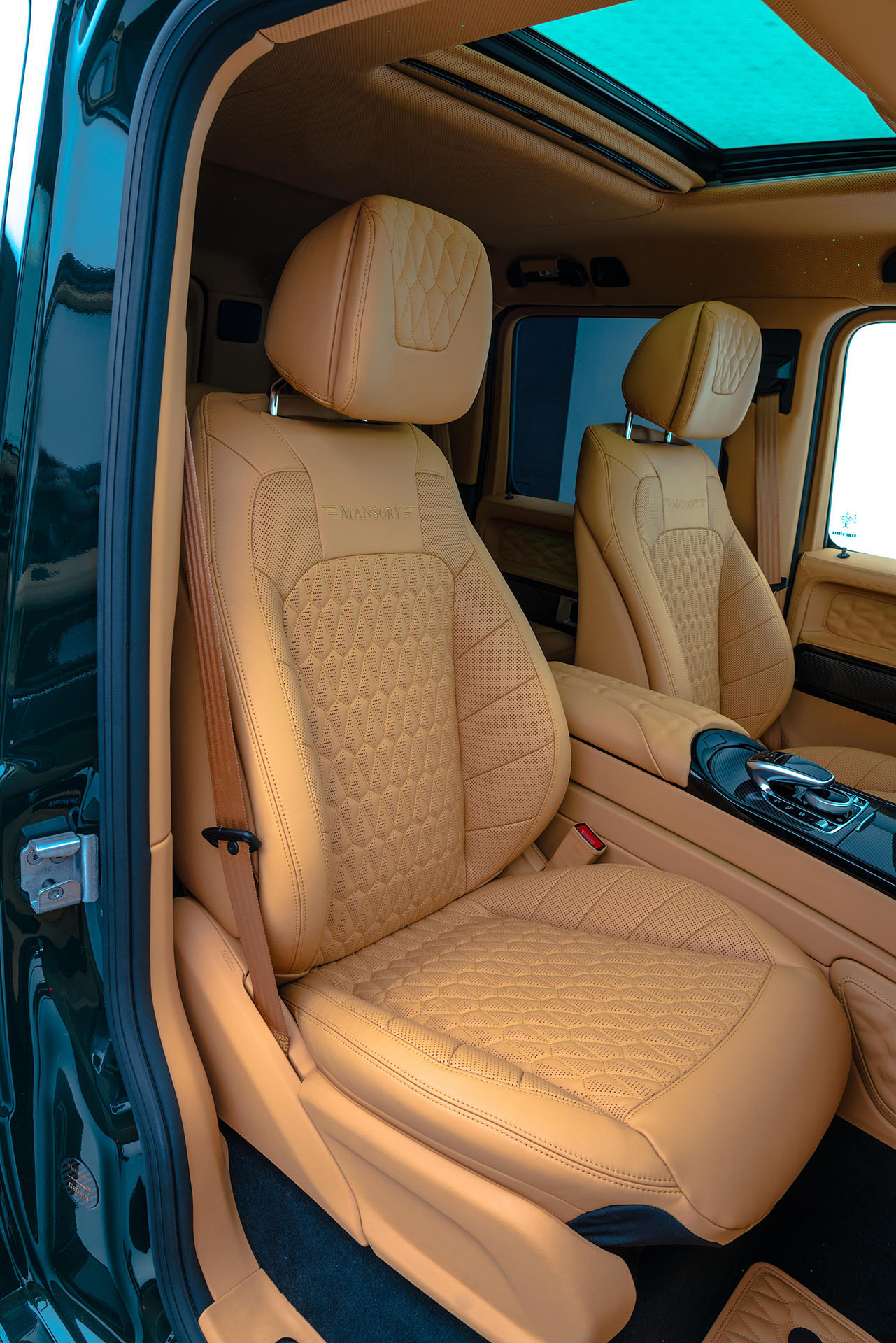 The carpet in the MANSORY Gronos 2021 is finished in black for a nice contrast, but they added finely made floor mats that match the leather on the seats, even the inner door panel of that large, rear door gets the MANSORY treatment, and a custom floor mat just had to be added to the luggage space … even the entire headliner is replaced with the finest 'Fawn Brown' leather, how's that for attention to detail?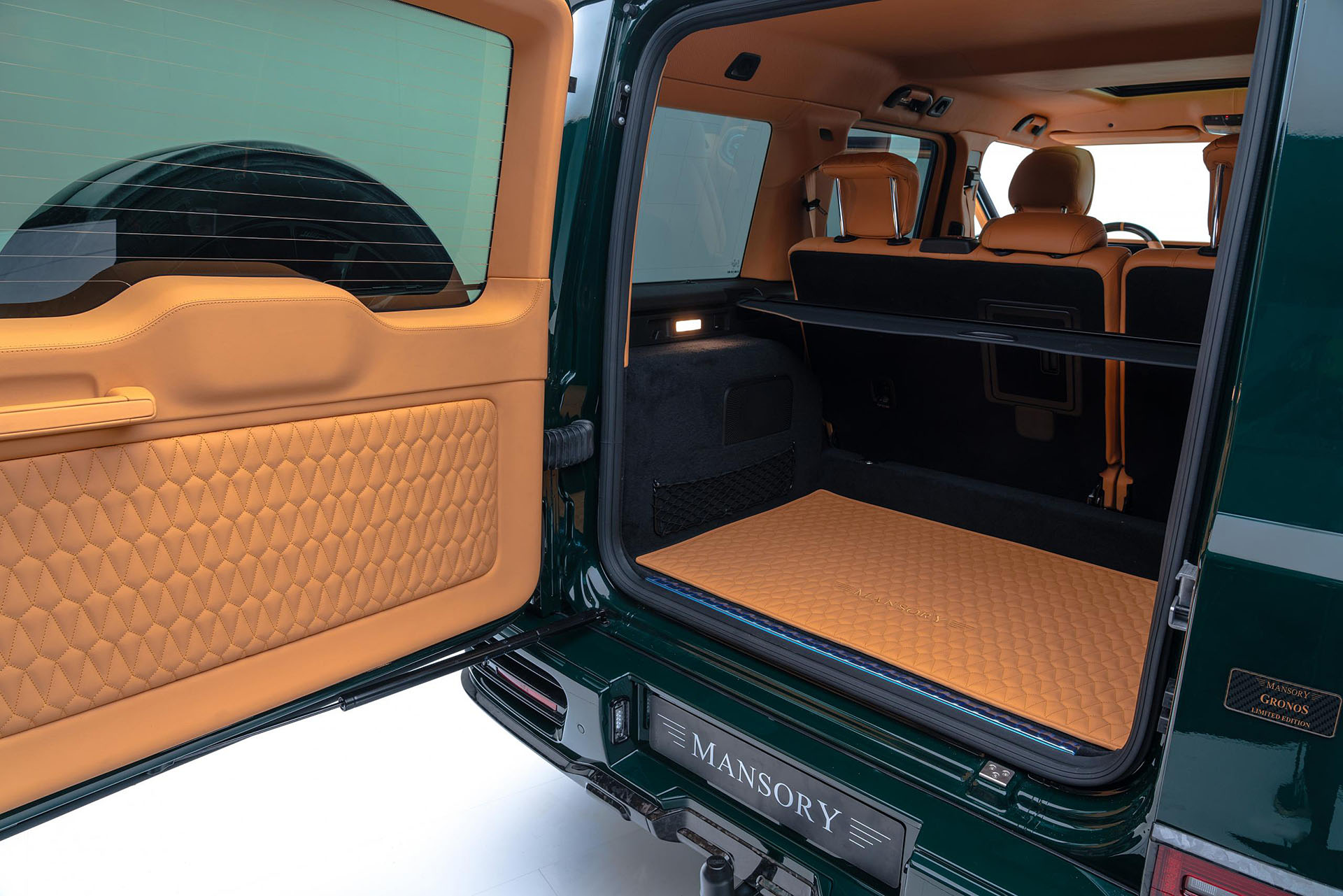 But now comes the bad news … and no, it isn't the price, because customers for this kind of total conversion don't even have to ask 'how much', they just sign a blank cheque. No, the really bad news is that MANSORY will only make 10 units of this Gronos 2021, and while the CO2 emissions are 312 g/km and fuel consumption is a combined 13,6 l/100km … I don't think this will deter people from buying the MANSORY Gronos 2021 … heck, most of MANSORY's customers have their own oil fields anyway.