1964 Iso Grifo GL Series I
Known as the Grifo GL or A3/L, this Coupe was designed as a road-going version of Giotto Bizzarrini's race cars. Released in 1965, its Bertone styling and race-bred pedigree made this model one of the little known treasures in the Italian market.
Well before Giotto Bizzarrini ever made a car under his own name, he gained a reputation working with companies such as Ferrari and Lamborghini. His aim was to beat these past employers on the track, but that also meant selling road-going versions to help pay the bills.
The 5300 GT stems from a long and complicated relationship between Bizzarrini, Giugiaro at Bertone and Renzo Rivolta. These three worked together to create the Iso Rivolta 300, a flagship car for Iso, having a welded sheet steel monocoque and Corvette V8. Due to sporting nature of the chassis and the reliability of its American power, Bizzarrini wanted to go endurance racing but Rivolta, who owned Iso, did not agree.
Fortunately, by 1963, Rivolta was finally convinced to finance the development of a more sporting Iso Rivolta. The result was the precursor to the 5300 GT, the Iso Grifo.
Both Bizzarrini and Bertone worked extensively on two cars which debuted at the 1963 Torino Motor Show. To satisfy Rivolta, both a competition Grifo A3/C and a 2 + 2 Grifo A3/L were displayed. These cars had distinctly different bodies and different design objectives, but were in many ways the same. Both Grifos were styled by Giugiaro at Bertone, used the same chassis and the same engine. Immediately after the successful show, both versions of the Grifo were put into production.
All of the chassis were built in Bizzarrini's workshop at Livorno. Iso provided the engine and other components. Drogo manufactured and delivered bodies for the competition cars to Livorno for final assembly. The A3/Ls, the 2 +2 grand tourers, were finished at Bertone where Bizzarrini shipped bare chassis.
In total around 475 cars were completed.
Iso Grifo GL Series I Gallery
See Full Iso Grifo GL Series I Image Gallery here
In Detail
| | |
| --- | --- |
| type | Series Production Car |
| built at | Italy |
| body stylist | Bertone |
| coachbuilder | Bertone |
| production | 471 |
| engine | Chevrolet V8 |
| position | Front Longitudinal |
| block material | Cast Iron |
| valvetrain | Pushrod OHV, 2 Valves per Cyl |
| power | 261.0 kw / 350 bhp @ 5500 rpm |
| front brakes | Discs |
| rear brakes | Discs |
| f suspension | Wishbones |
| r suspension | De Dion Rear Axle with Links and Coil-Springs |
| transmission | 4-Speed Borg-Warner Manual Gearbox |
Auction Sales History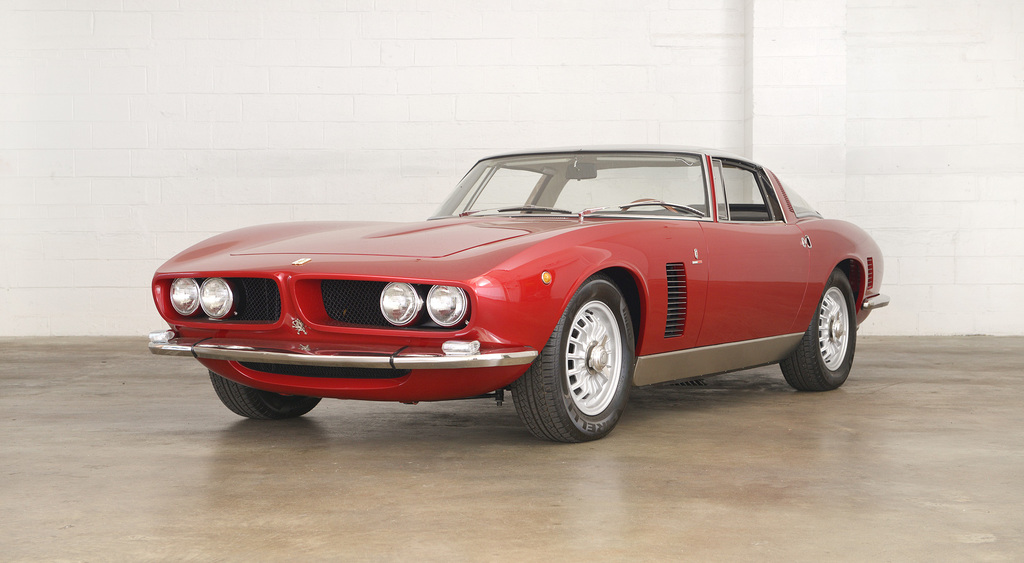 1965 Iso Grifo GL GL*650009 – did not sell for $460,000 2010 – 2012Complete restoration by a multiple-award-winning restoration shop in California. Iso Class, First Place – The Quail, August, 2012. First In Class – Concorso Italiano – August, 2013. Best In Show – Danville D'Elegance – September, 2013. First In Class – Carmel-by-the-Sea Concours – August, 2014.
Auction Source: 'Rolling Sculpture' 2015 NYC by Keno Brothers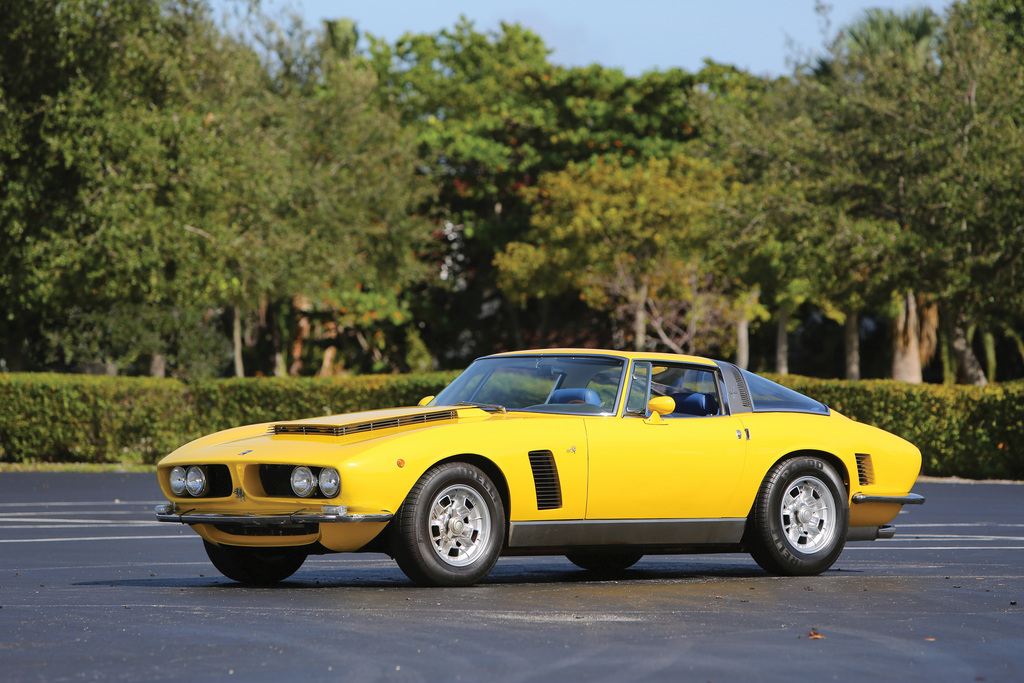 1968 Iso Grifo Series I GL810191 – sold for $385,000 Restored by marque experts Roberto and Federico Negri. Tastefully upgraded to 7.0-liter specification. One of only six built with a Pavesi sunroof. Equipped with factory air conditioning.
Auction Source: Arizona 2015 by RM Auctions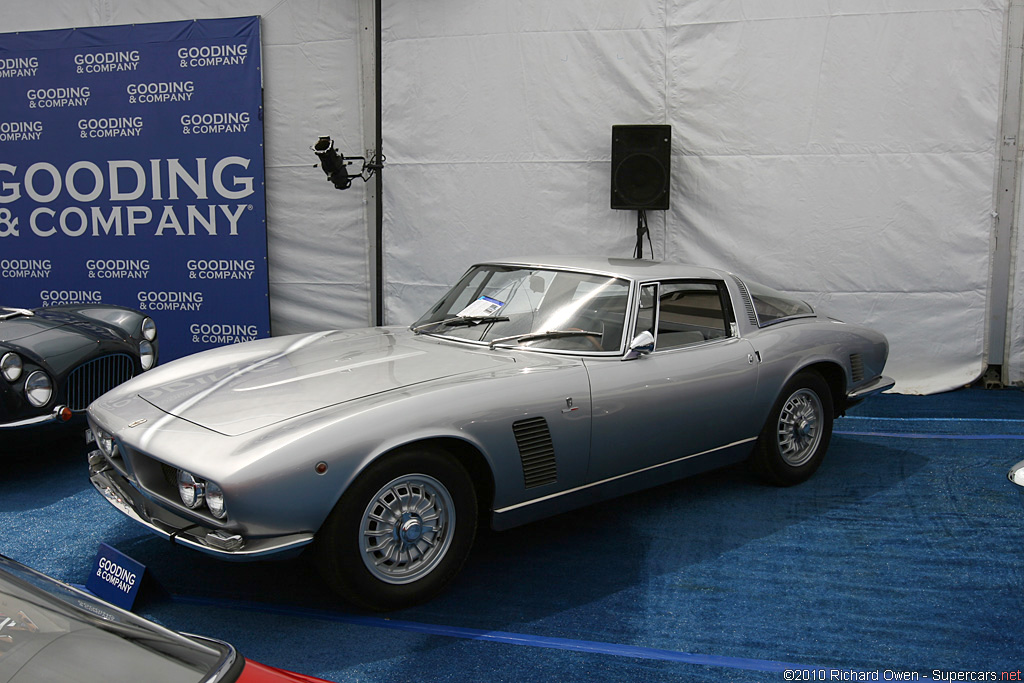 1967 Iso Grifo GL Coupe GL*65007B* – did not sell for $137,500 One of only 471 Grifos built, this dramatic GL Coupe was one of the few to make its way across the Atlantic and was originally sold to Dr. John Garizio of New York. After eight years of memorable ownership, the Bertone-bodied Coupe was sold to Gary Lee of California, who treasured and zealously protected the car for over 33 years. A copy of the original cashier's check from Mr. Lee to Dr. Garzio accompanies the sale of this car. After being fastidiously maintained by Gary Bobileff of Bobileff Motorcars in San Diego, the current owner acquired the Grifo, adding it to his impressive collection of some of the finest examples of coachbuilt Italian sports cars. Auction Source: 2010 Gooding & Company Pebble Beach Auction