1965 Iso Rivolta Daytona
Renzo Rivolta was making appliances and scooters in his Bresso factory before he branched out and made his own Iso Rivolta. In the brochure it was described as a "new concept of high-performance motoring" that combined Italian engineering and Bertone styling with a cheap and reliable American V8. While the original concept was a large four-seat, road-going tourer, several early chassis were converted into lightweight sports cars. One of these was the Rivolta Daytona.
The Daytona followed the Iso Grifo which was designed by Giotto Bizzarrini as both a race and road-going car. By 1965, Bizzarrini and Rivolta parted ways, but Renzo wanted to continue making race cars and contest Le Mans. He persisted with the Rivolta chassis. To make it race-worthy, a specially prepared body was made from aluminum and only had room for two seats. The work was executed by Bonaccini de Modena from early design sketches by Bizzarrini.
The first car, finished in a light color, was nicknamed the Nembo I. It looked like short-wheel-base Grifo A3/C with a similar tail and windscreen but it had a huge front grill. A unique feature was the roll-down rear windscreen.
Performance of the initial car, with its 383 Chrysler V8 must have been tremendous. At least one production version was made in 1965 for Carlo Bernasconi of Milan. Details included a Corvette V8, a four-speed close ratio gearbox and a Power-Loc equipped Salisbury differential. Suspension was double wishbones upfront but the rear was quite complex. It used a de Dion-type axle with trailing arms and Watts link with inboard disc brakes.
Bernasconi retained the car until 1991 when it was 'discovered' and sold to Binie William. It was then fully restored Paul Lanzante in England included knock-off Campagnolo alloy wheels. In this well-prepared state it won the 1997 Italian National Hill Climb Championship for the GT Prototype Class and placed 7th in the 6 hours of SPA in 2000.
In 2000, the car traded hands at a Coys auction for $857 640 USD was sent to its new owner in America who commissioned a thorough ground up restoration. This included a splendid and lavish interior, complete with matching gauges and tan leather upholstery. Some body alterations were made: the front hood scoop was changed, two new scoops were added for cockpit ventilation, a side mirror was added and the windows were changed from sliding to a pull up system. The engine was reworked by Ron Shaver with a crossover manifold and 48 DCO 2SP Weber carburetors to produce 490 bhp. The freshly done car appeared at the 2004 Monterey Historic Races to much surprise and acclaim.
In 2007 the car again appeared at the Monterey Pre-Historics to test out its new Canepa Design suspension. The extensive work included new suspension pickup points for new shock mounts and roller spline axles. Adjustable Koni shocks were fitted and offered a lower ride height.
Sources & Further Reading
Goodfellow, Winston. Iso Rivolta The Men, The Machines. Giorgio Nada Editore, Milano, 1995. Vandergeld. The history of Iso Rivolta http://home.tiscali.nl/isorivolta/isopage1.htm . 2008. Unknown. 'Nembo I', Road & Track. May 1966. Unknown. 'Nembo II', Road & Track. Aug 1966.
In Detail
| | |
| --- | --- |
| engine | Chrysler V8 |
| position | Front Longitidinal |
| aspiration | Natural |
| valvetrain | Pushrod OHV, 2 Valves per Cyl |
| fuel feed | 4 48DCO2SP Weber Carburetors |
| displacement | 6276 cc / 383.0 in³ |
| power | 365.4 kw / 490 bhp |
| specific output | 78.08 bhp per litre |
| torque | 588.42 nm / 434 ft lbs |
| driven wheels | RWD w/Jaguar Differential |
| wheel type | Campagnolo Wheels |
| front tires | Good Year Blue Streak 600×15 |
| rear tires | Good Year Blue Streak |
| front brakes | Discs |
| f brake size | mm / in |
| rear brakes | Inboard Discs |
| r brake size | mm / in |
| f suspension | Double Wishbones |
| r suspension | De Dion Axle w/Trailing Links, Watts Link |
| gear ratios | :1 |
Auction Sales History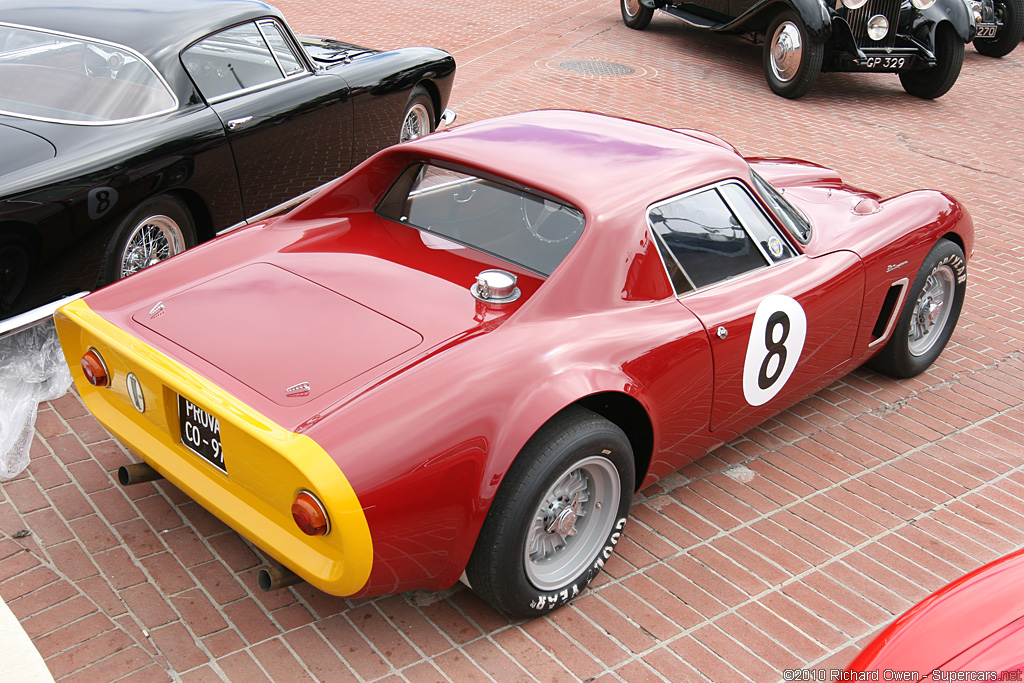 1965 Strale Daytona 6000GT Prototype (Iso Daytona) – sold for $522,500 With its Iso, Bizzarrini and Nembo DNA ("nembo" means "up in the sky" in Italian, a common reference to Superman), this historic and unique dual-purpose GT, resplendent in Bizzarrini Rosso livery, is ready to continue its successful historic competition career or perhaps make an immensely satisfying and thrilling return to the road for any of the popular rally/tour events such as The Colorado Grand.Auction Source: RM Auctions' 2010 Sports & Classics of Monterey