McLaren 720S (Ultimate Guide)
While romping around in the new McLaren 720S, things around you quickly become a blur as you accelerate from 0-60 mph in 2.5 seconds. Pavement markings aren't the only lines being blurred though – thanks to the 720S, so too is the line between supercars and hypercars.
These days, the McLaren 720S is leading the charge of a growing number of cars – a raucous gang of automobiles which are causing a disturbance to the metrics in which we define what a hypercar is. Government restrictions and traffic laws put a ceiling over just how far a road-worthy car can go, and the 720S – a supercar – pushes ever closer to that limit.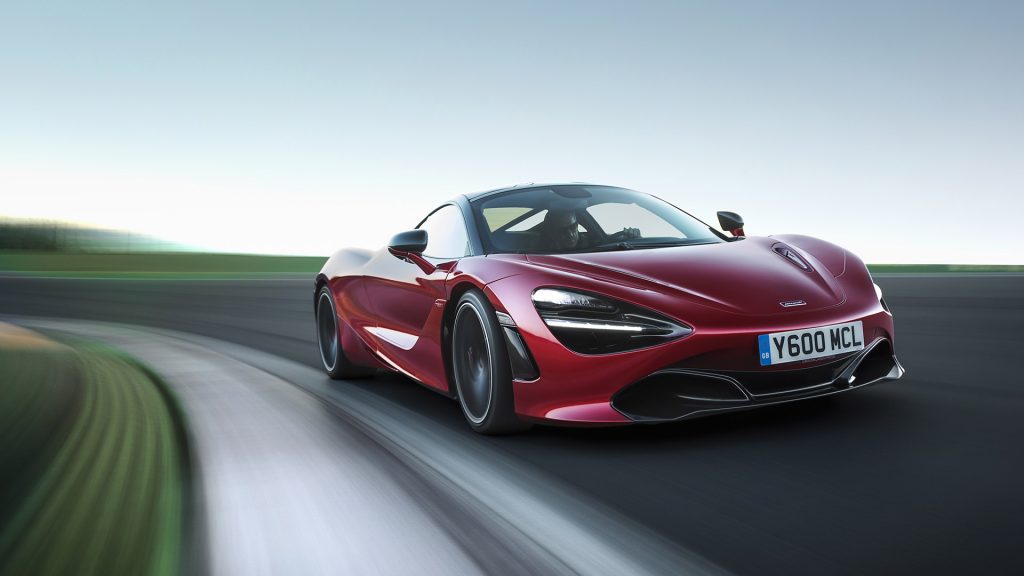 Summary
The great thing about the McLaren 720S is that it perfectly blends the best of both the supercar and hypercar worlds – you get all the performance (if not more) of today's ridiculously expensive hypercars, but at a relatively low supercar-price.
Starting at $288,845 USD the 720S looks like the bargain of the century, as you quickly realize that a million-dollar budget won't necessarily net you a more capable car. In fact, even when fully optioned out, it remains less than a third of the price of most "entry-level" hypercars.
With such pedigree, the successor to the 650S gets to rub shoulders with some very elite company. It completes the quarter-mile in 10.1 seconds (227.7 km/h) – faster than a Bugatti Veyron – and according to Motor Trend, is the fastest purely gasoline-powered car they've tested.
Only hybrid hypercars such as the Porsche 918 Spyder and Ferrari LaFerrari are running the stretch just fractions of a second quicker.
It is also remarkably refined and amenable, making it comfortable enough for daily use. McLaren engineered the 720S to be a supercar which begs to be driven under all circumstances and conditions while precluding any notion of being a 'garage queen'.
The McLaren 720S could very well be the new template for the modern (and future) supercar.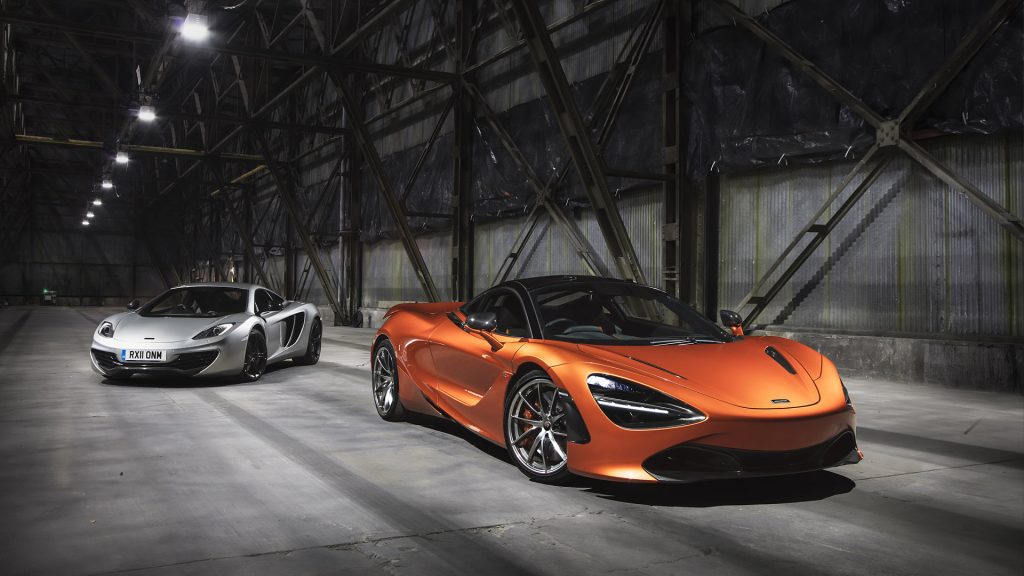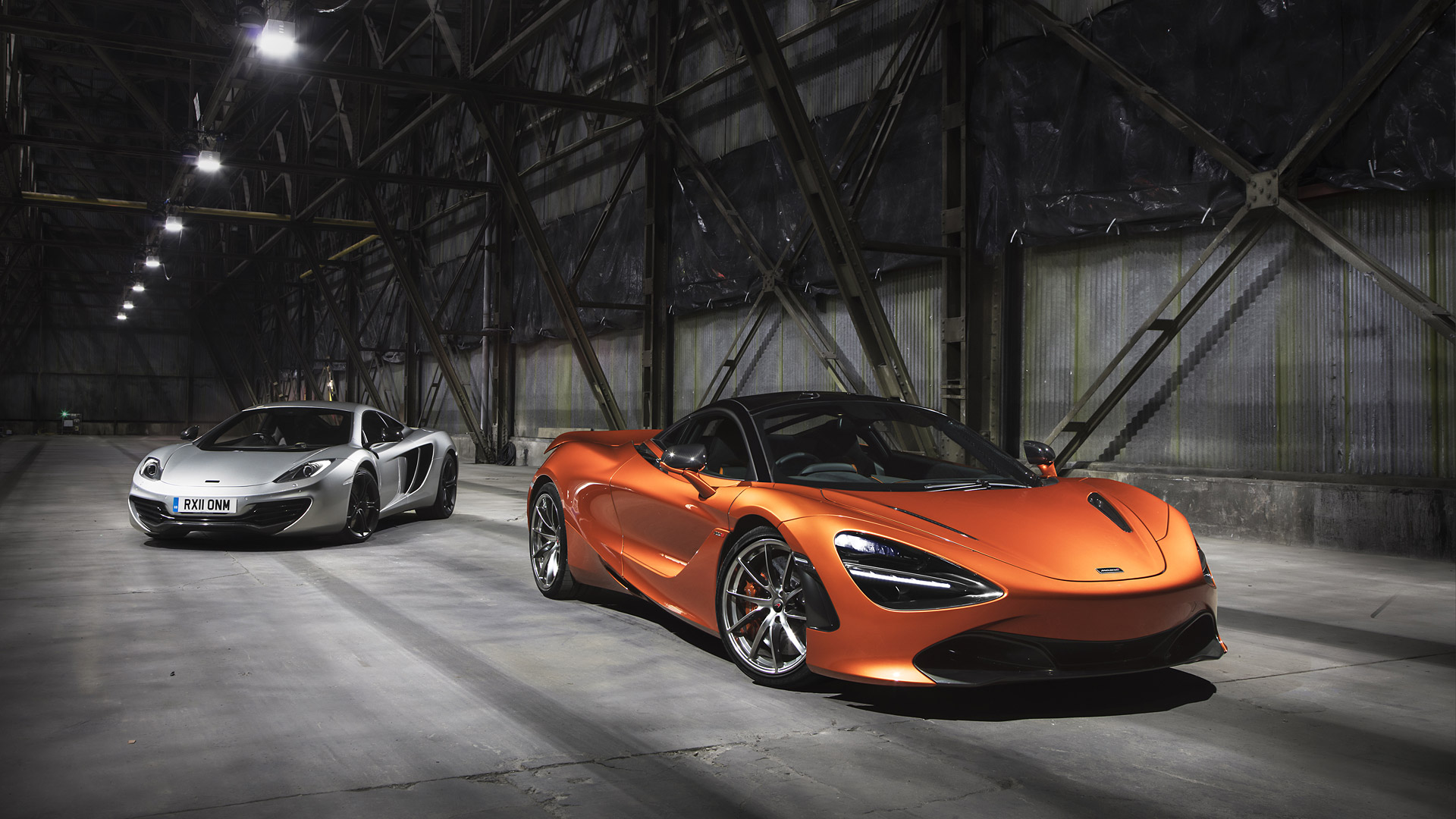 Features And Highlights
Engine
The 720S employs a twin-turbocharged 4.0L V8 engine, which produces 710-horsepower @ 7,500 rpm and 568 lb-ft of torque @ 5,500 rpm.
As the numbers suggest, you do need to keep the revs above 5,000 rpm to really get the most from the engine. That is not to say that the car feels in anyway gutless in the lower range – the 720S surges forward with smooth linearity throughout the rev range, transitioning into peak power in a progressive, yet dramatic way.
Chassis
The engine is mated to a 7-speed dual-clutch transmission. This gearbox is a technological marvel – upshifts and downshifts are completed in the blink of an eye in either automatic or manual shifting mode.
McLaren engineers also delivered some programming ingenuity into the transmission's behavior while in Track mode. Dubbed 'Inertia Push', the clutch slams shut for the next cog during high rpm upshifts, enabling the engine to spin slightly faster than the input shaft. According to McLaren, this "uses the inertia of the rotating engine components to deliver a torque pulse to the wheels that improves acceleration".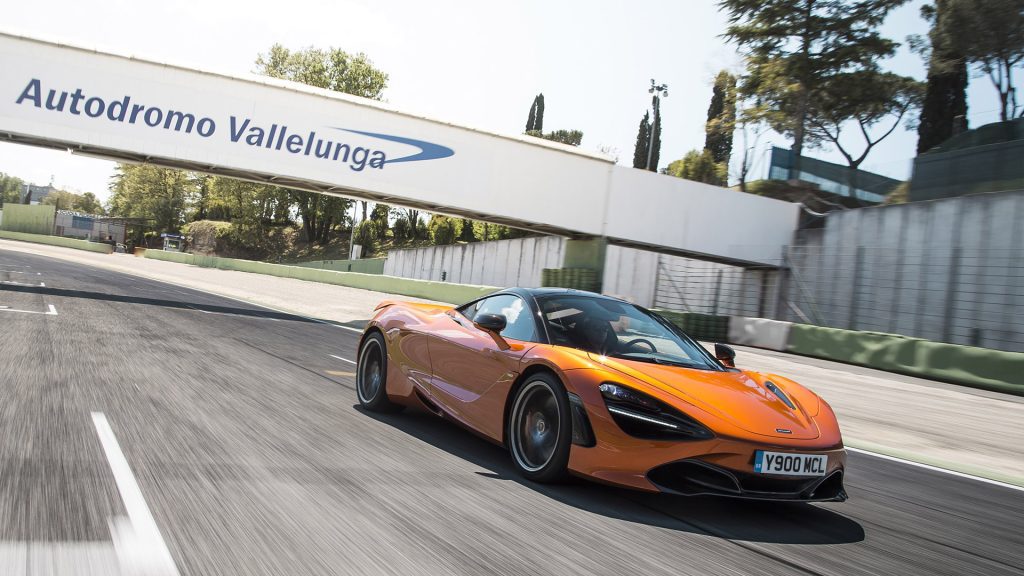 The 720S' Comfort mode allows for a car that feels just as capable of daily driving as it does for track use. Suspension dampers are hydraulically linked and each has two pressure sensors. There are twelve additional sensors which analyze data in real-time for each of the car's driving modes to determine the best damping settings in each situation.
Carbon-ceramic brakes and Pirelli P-Zero Corsa tires respectively provide the stopping power and grip required to harmonize with the overall performance of the car, while perfectly weighted and world-class steering feedback allows the driver to conduct the chassis with true precision.
Design & Interior
The 720S is inundated with functional exterior body parts which improve aerodynamics, air-flow efficiency and cooling – the aggressive front spoiler, bonnet gills and active rear wing amongst the many parts working in harmony to generate up to 50 percent more downforce, double the overall aerodynamic efficiency and 15 percent more efficient cooling over its predecessor, the 650S.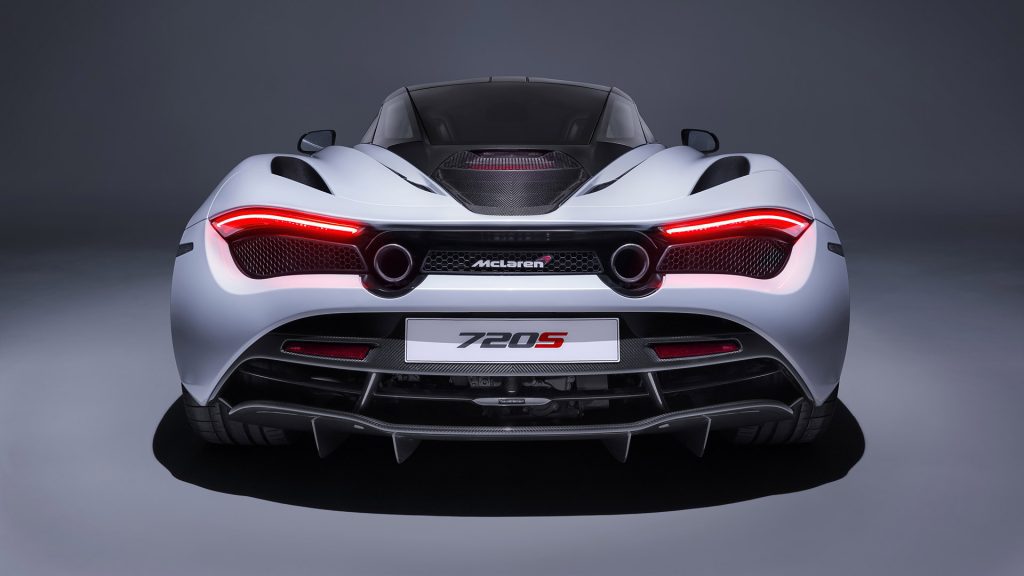 Underneath the cornucopia of its predominantly carbon fiber shell, is the 'Monocage II' chassis structure which incorporates an upper structure and windscreen surround, making it more rigid than the 650S. It also lowers its center of gravity by 3 percent and is the lightest of the Super Series cars, with a dry weight of 1,286 kg – over 135 kg lighter than a Ferrari 488 GTB.
Inside, the 720S is deftly ergonomic and comfortable, while the driver's seating position and visibility are terrific. This is thanks in part due to the bubble-style cabin and A-pillars with transparent roof panels. The butterfly doors and center cutouts also make it easier for driver and passenger to enter/exit the vehicle.
The interior is adorned with high-quality Nappa leather, carbon fiber and Alcantara trim finishing. Cleverly appointed digital instruments provide key vehicle data and infotainment for the driver.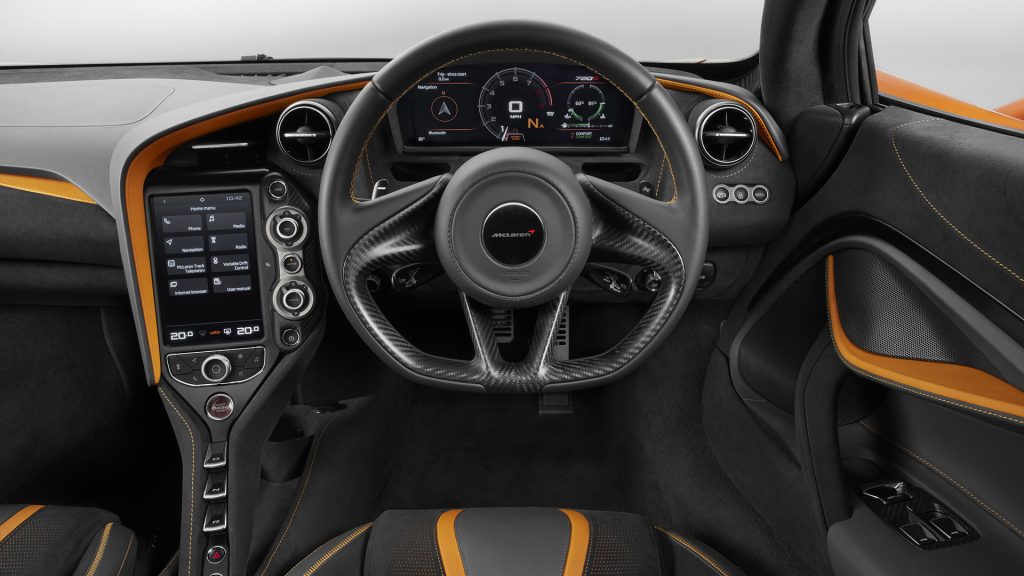 Verdict
Compared to its most obvious rivals – the Lamborghini Huracán Performante ($274,390 USD) and the Porsche 911 GT2 RS ($294,250 USD) – the McLaren 720S is priced right in the middle at $288,845 USD.
In my opinion, the 720S offers the most daily-usability and its performance, to put it lightly, is not lagging behind its competition. This makes it more approachable and all-around-capable than any other supercar in its class.
Then we also must remember how it fares against cars that should be out of its league. Million-dollar cars (in some cases, twice over) barely manage to cope with the 720S' performance arsenal.
If not for an undying loyalty to the more historic marques, or a decades-long love affair with a certain poster car, the 720S is the pragmatist's choice.
The McLaren 720 is the complete supercar.
Specifications And Performance Summary
Pricing And Model Info
| | |
| --- | --- |
| Make | McLaren |
| Model | 720S |
| Generation | 2017 – Present |
| Car type | Coupe |
| Category | Series Production Car |
| Built At | Surrey, UK |
| Base Price (USD) | $288,845 |
Chassis And Powertrain
| | |
| --- | --- |
| Curb Weight | 1,434 kg (3,161 lbs) |
| Layout | Mid-engine |
| Driven wheels | Rear-wheel drive |
| Engine | V8, aluminum block and heads |
| Aspiration | Twin-turbocharged |
| Displacement | 4.0 Litres |
| Transmission | 7-speed DCT |
Engine Output
| | |
| --- | --- |
| Power | 710 hp @ 7,500 rpm |
| Power / litre | 177.5 hp / litre |
| Power-to-weight ratio | 4.45 lb / hp |
| Torque | 568 lb-ft @ 5,500 rpm |
Performance
| | |
| --- | --- |
| 0-60 mph | 2.5 seconds |
| 0-100 mph | 5.3 seconds |
| ¼ mile | 10.1 seconds |
| Top Speed | 212 mph (342 km/h)m |
Photo Gallery
Video Reviews
Press Release
7 Mar 2017
McLaren 720S introduces the second-generation Super Series, the supercar product family at the heart of the McLaren brand
Stunning new interpretation of McLaren design language and dedication to aerodynamic principles, personifying the brand's extreme performance DNA
Carbon fibre chassis based around Monocage II central structure  key to the 1,283kg lightest dry weight and unparalleled interior space and visibility
Luxurious, driver-focused cabin, featuring the finest leathers and aluminium switches
New 720S delivers outstanding driver engagement, with best-ever Super Series aerodynamic efficiency and new generation of McLaren's active chassis system, Proactive Chassis Control II
Widest breadth of dynamic capability of any McLaren, ranging from precise, controlled comfort to the most extreme handling prowess
New, twin-turbocharged 4.0-litre V8 engine produces 720PS and 770Nm, with power-to-weight ratio of up to 561PS per tonne
0-60mph in 2.8 seconds (0-100km/h 2.9 seconds), with 0-200km/h (124mph) reached in 7.8 seconds and maximum speed of 212mph (341km/h)
Braking from 200 km/h to standstill in 4.6 seconds, covering 117m
Deliveries of McLaren's new supercar will commence in May: prices start at: £208,600 (UK)
The new McLaren 720S makes its global debut today (March 7) at the 87th Geneva International Motor Show, introducing the second-generation of McLaren's Super Series and simultaneously raising previously accepted limits of performance in the supercar sector.
"Super Series is the core of the McLaren business and personifies the blend of extreme performance, crafted luxury and unparalleled driver involvement that is the McLaren heartland. This is the first time we have replaced a product family and the new 720S is absolutely true to McLaren's pioneering spirit in being a revolutionary leap forwards, both for our brand and the supercar segment."
Mike Flewitt, Chief Executive Officer, McLaren Automotive
The unveiling of McLaren's new supercar confirms both the 720S name and 720PS horsepower of the first model in the second-generation McLaren Super Series, details which have been teased online in recent months. The Surrey, England-based manufacturer of luxury, high-performance sports and supercars, has issued a series of six press releases since January, each accompanied by an image or film containing a numerical reference – and it can now be revealed that 1 x 2 x 3 x 4 x 5 x 6 equals 720…
The new 720S is lighter, faster and even more dynamically capable than its McLaren 650S predecessor, with unparalleled levels of interior space and sophistication and a breadth and depth of abilities that will engage and exhilarate the driver.  One glance at the 720S identifies it as a bold reinterpretation of McLaren's design language; rooted in aerodynamic principles, the beautiful form has nothing superfluous about it: immediately and undeniably a McLaren, the new 720S is arguably the most distinctive and remarkable McLaren yet.
One of the key points in the design of the new Super Series is the absence of radiator intakes on the side of the car; this function is carried out instead by the unique 'double-skin' aerodynamic form of the dihedral doors, which channel air to the high-temperature radiators that cool the mid-mounted engine.
The new M480T engine powering the 720S continues the lineage of McLaren's multiple-award-winning, twin-turbocharged V8 engine series. The 4.0-litre engine, which has 41 percent new part content compared to the 3.8-litre engine that continues to feature in the McLaren Sports Series, generates a maximum of 720PS and 770Nm of torque.
Performance is truly astonishing: standstill to 100km/h (62mph) takes less than 3 seconds and just 5 seconds later the car has passed the 200km/h (124mph) mark on its way to a maximum speed of 341km/h (212mph). Braking is equally impressive, the new 720S coming to a halt from 200km/h (124mph) in just 4.6 seconds, covering 117m. Additionally, the extreme efficiency of the engine also goes beyond mere velocity: the new McLaren 720S delivers 10.7 litres/100km combined fuel economy and CO2 emissions of just 249g/km in the New European Driving Cycle (NEDC).
McLaren's expertise in carbon fibre structures – every road car built by the British manufacturer since the McLaren F1 in 1993 has had a carbon fibre chassis – underpins the construction of the new 720S; the architecture of the car is based around a new carbon fibre 'tub' and upper structure, the McLaren Monocage II. This technology delivers extreme strength and rigidity in a lightweight structure and is the ideal base for any supercar. A range of aluminium alloys are also used extensively in the chassis, as well as for some body panels.
A new generation of McLaren's Proactive Chassis Control, new suspension and the established excellence of McLaren's power-assisted, electro-hydraulic steering, all combine to deliver huge reserves of grip, balance and performance and an unmatched breadth of dynamic capabilities.
The hand-crafted luxury inherent in a McLaren, with the authenticity of fine leathers and machined aluminium, is complemented by the revolutionary new McLaren Driver Interface, which comprises a Folding Driver Display and Central Infotainment Screen. In combination with a cabin environment that establishes new standards in the supercar segment for visibility, space and comfort, these attributes give the new McLaren 720S an incredible degree of usability and validate its claim to be the most complete supercar on sale today.