ALPINA has been around for over 50 years now, founded by Burkard Bovensiepen in 1965 in Buchloe, Germany, ALPINA is synonymous with some of the world's most renowned BMW based automobiles, in 1983 ALPINA became an automobile manufacturer, registered by the German Ministry of Transport, the Kraftfahrtbundesamt, so this new ALPINA B8 isn't just a tuned BMW, it's an ALPINA.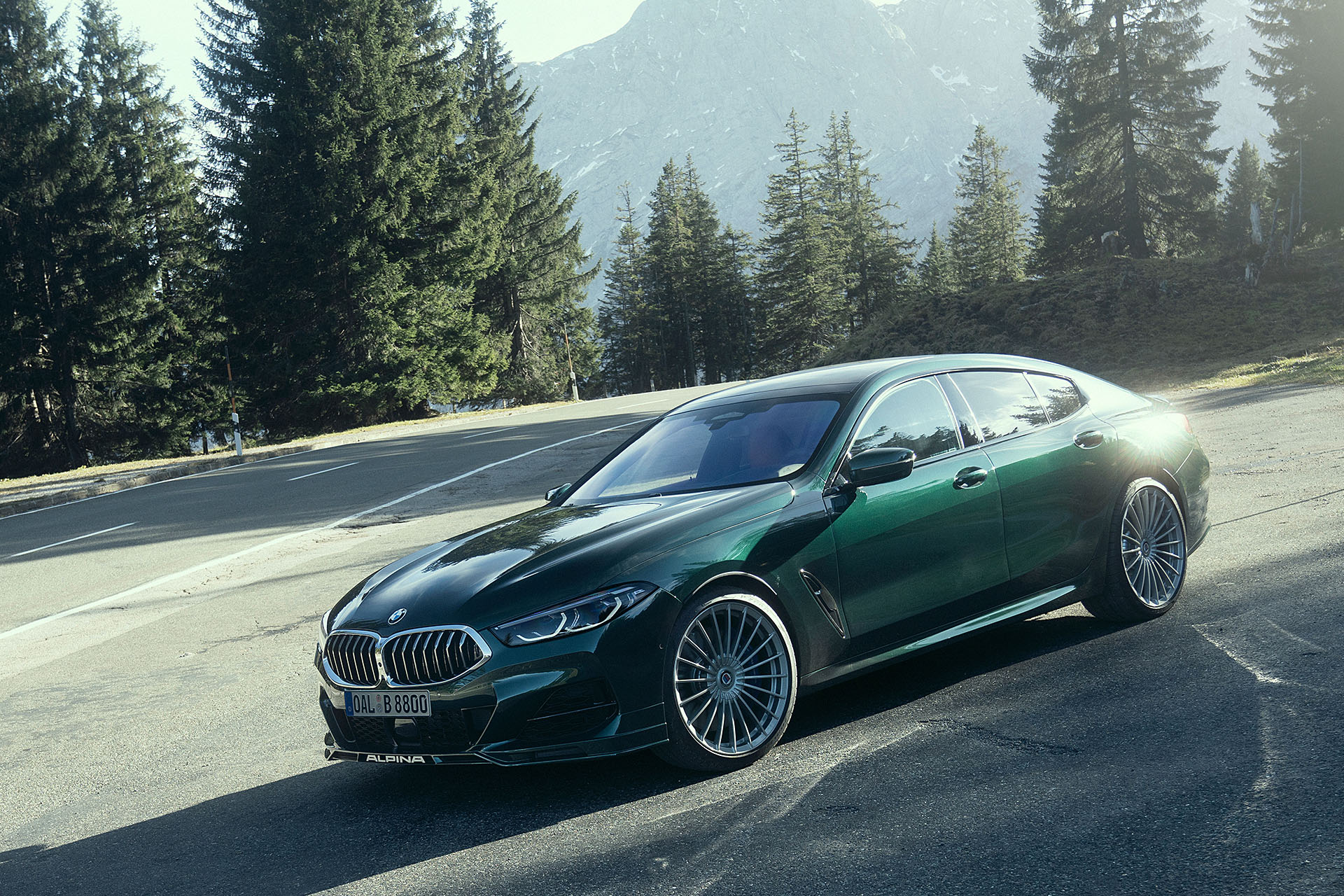 Deliveries of the new ALPINA B8 are foreseen to start in July 2021, at a base price of €161,200, which includes the 19% German VAT (this is a little over US$ 190,000 at today's exchange rates), but this does give you a ticket into a very exclusive club of ALPINA owners, with the new B8's 4.4-Liter V8 twin-turbo engine delivering 621 bhp (457kW) and 800 Nm (590 lb-ft) of torque, a top speed of no less than 201 Mph (324 Km/h) is reached, and acceleration from 0 to 100 km/h only takes 3.4 seconds … that's supercar territory.
And because we all appreciate a good sounding car, the ALPINA B8 comes with a new sports exhaust system with dual, twin tailpipes in stainless steel, in COMFORT mode the sound is sophisticated and restrained, while in SPORT mode the valves inside the exhaust open up and the V8 soundtrack becomes emotional and sonorous.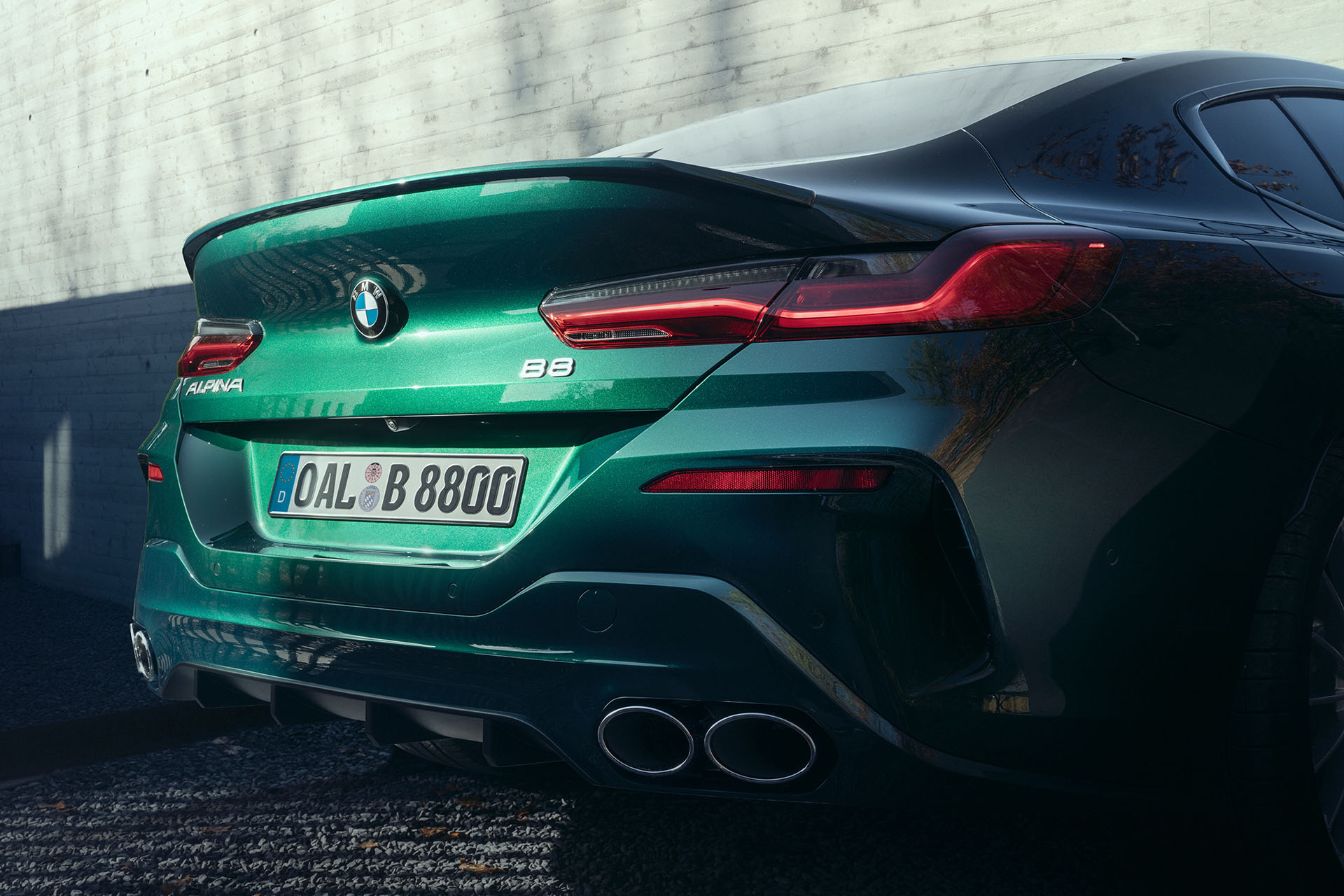 The new ALPINA 8-speed Switch-Tronic Sport Automatic Transmission takes the latest 8HP76 from ZF to the next level, with raised shift dynamics to offer a new level of smoothness and comfort ALPINA stands for, settings from COMFORT and SPORT mode influence the driving performance, while in SPORT mode the gear shifts are more dynamic, in MANUAL mode you can shift gear with buttons on the back of the steering wheel, or you can reach for the optional ALPINA shift paddles milled from a single piece of aluminum.
The BMW ALPINA B8 impresses in a myriad of driving situations with its harmonious, balanced chassis and a high sense of safety thanks to Eibach springs, and this car also comes with Integral Active Steering, so the rear wheels also steer to improve overall agility thanks to the ZF Active Kinematics Control System, naturally, the B8 comes with BMW's xDrive all-wheel-drive, while the rear axle limited-slip differential lets the BMW ALPINA B8 tap into its full dynamic capabilities.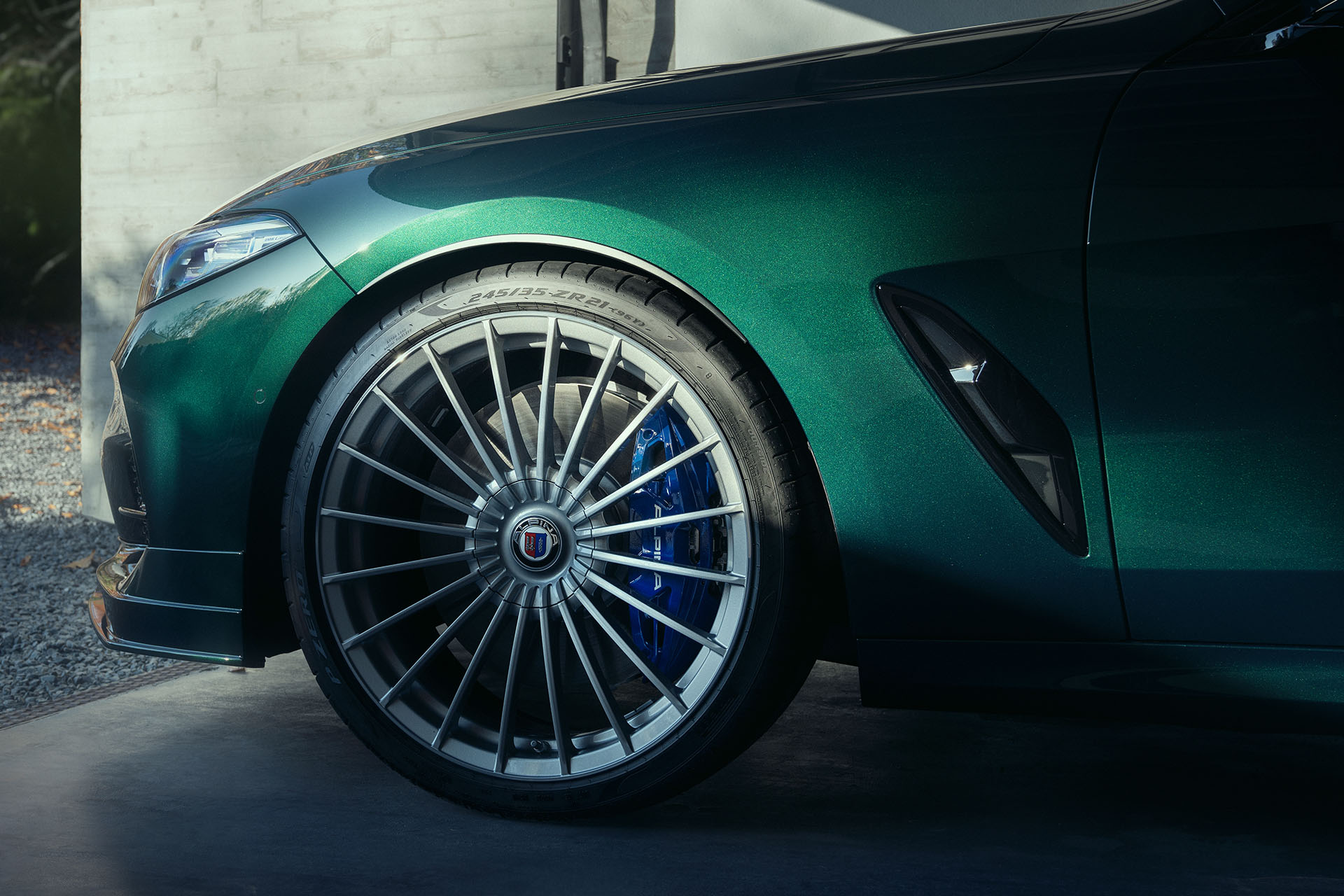 Pirelli developed tires specifically for the new ALPINA B8, 245/35 ZR21 for the front, and even wider 285/30 ZR21 for the rear, and it wouldn't be an ALPINA without their trademark look, 20 spoke custom wheels that come with a  lockable wheel hub cover with the ALPINA emblem to protect these lightweight forged wheels from being 'borrowed'.
You know you are looking at a full-blown ALPINA B8 when you see the blue brake calipers with their white script, over massive, drilled Brembo disk brakes, 395mm (15.6 inch) at the front, and 398mm (15.7 inch) at the rear.
ALPINA Blue Metallic and ALPINA Green Metallic are exclusively reserved for BMW ALPINA automobile, but you can also opt for any shade from the BMW or the BMW Individual line to cover your amazing B8, that comes with the typical front addition under the bumper that incorporated a large air intake, but also a new rear diffuser and a very distinct rear wing, all in the well-known, understated ALPINA style.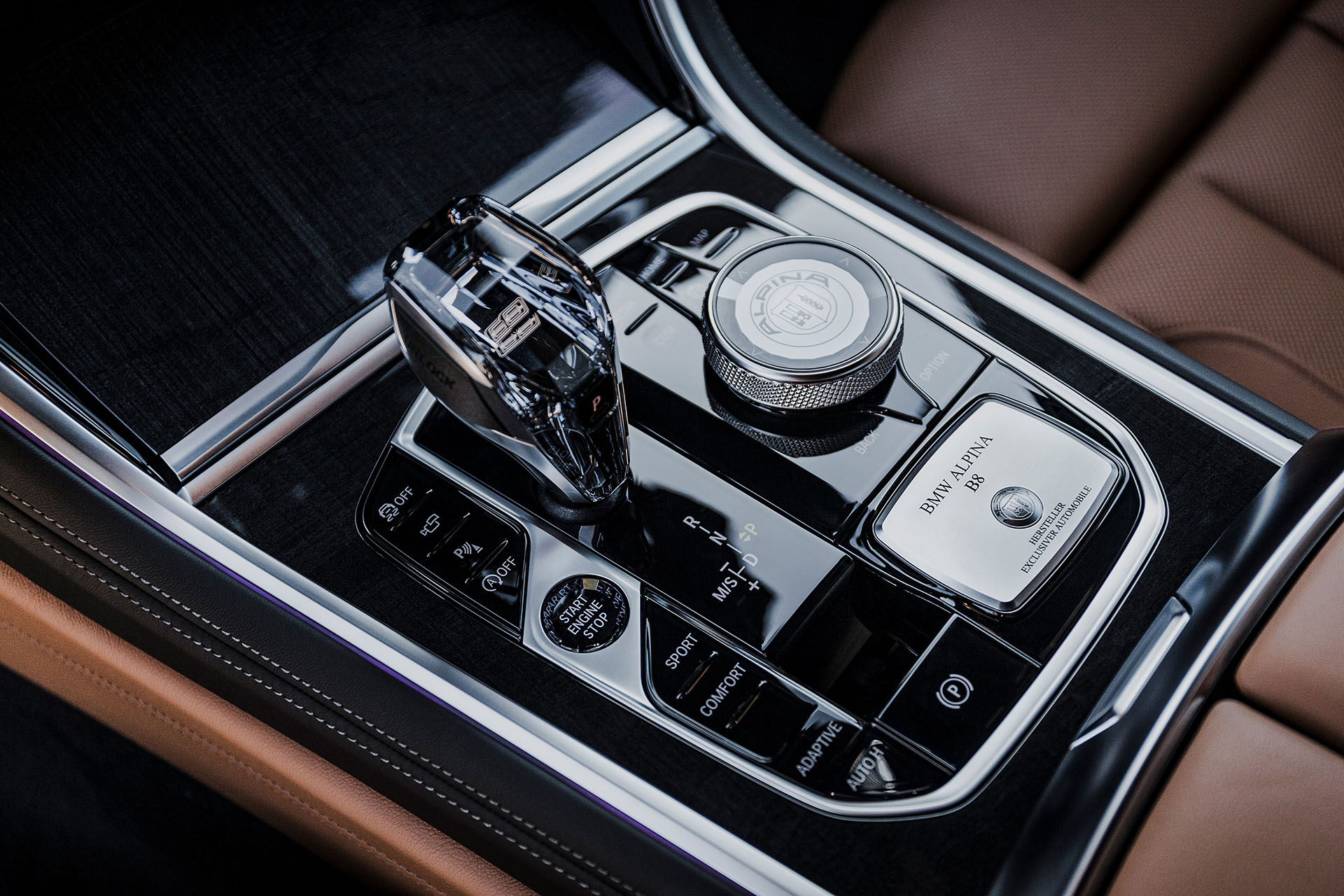 Naturally, the amazing workmanship from the ALPINA artisans is also visible on the interior, with the standard Walnut Anthracite high-gloss trim, illuminated ALPINA door sills, or that stunning, crystal glass iDrive Controller with a laser-engraved ALPINA logo, while the custom steering wheel is finished in untreated LAVALINA leather for an incomparable tactile experience on every journey.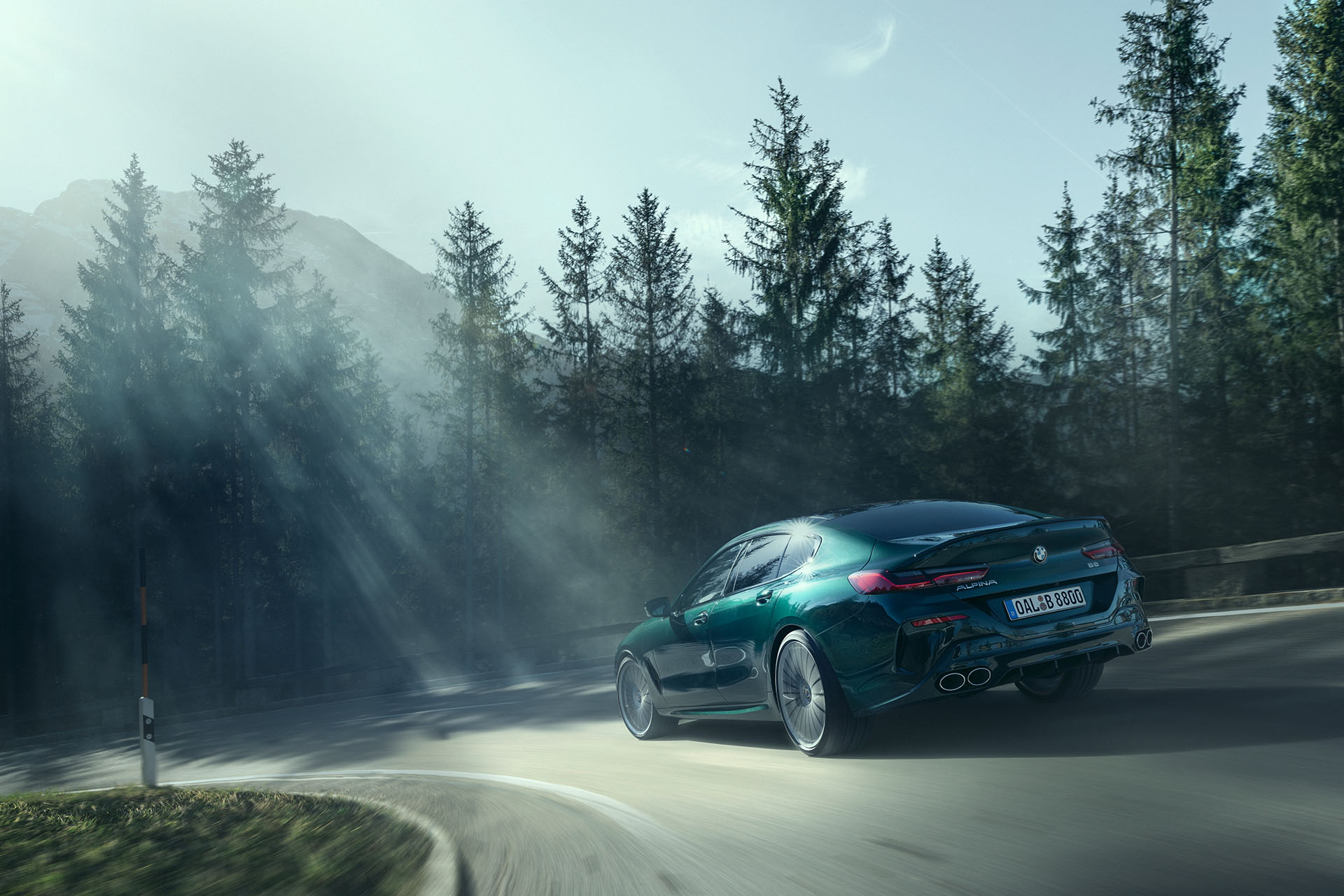 An ALPINA is a car made specifically to fulfill the customer's wishes to drive something more special than a full option BMW model it is based upon, exclusivity comes with a price, but seeing this amazing green metallic B8 might just make it worth every cent spent.