Noble M600 Specifications, Photo Gallery, & History
At the 2009 Goodwood Rivival, Noble will unveil the M600 Supercar. This mid engine design uses a steel tube chassis to support a 4.4-liter V8. The body is made from carbon fibre and is an evolution of previous styles from Noble.
The M600 engine uses a 4439 cc 60-degree Yamaha-derived Volvo B8444S V8 engine which is also used in the Volvo XC90 and S80, but with twin Garrett turbochargers equipped with variable boost. This allows the occupants to choose from 450 bhp (336 kW; 456 PS) (Road setting, 0.6 bar pressure), 550 bhp (410 kW; 558 PS) (Track setting, 0.8 bar) and 650 bhp (485 kW; 659 PS) (Race setting, 1.0 bar) through the use of a switch in the interior. The engine also features electronic fuel injection via a Motec M600 and Injector Dynamics ID725's. It has a compression ratio of 9.50:1. It uses an Oerlikon Graziano transaxle six-speed manual gearbox and has the RPM redline set at 7,000.
See Full Noble M600 Image Gallery.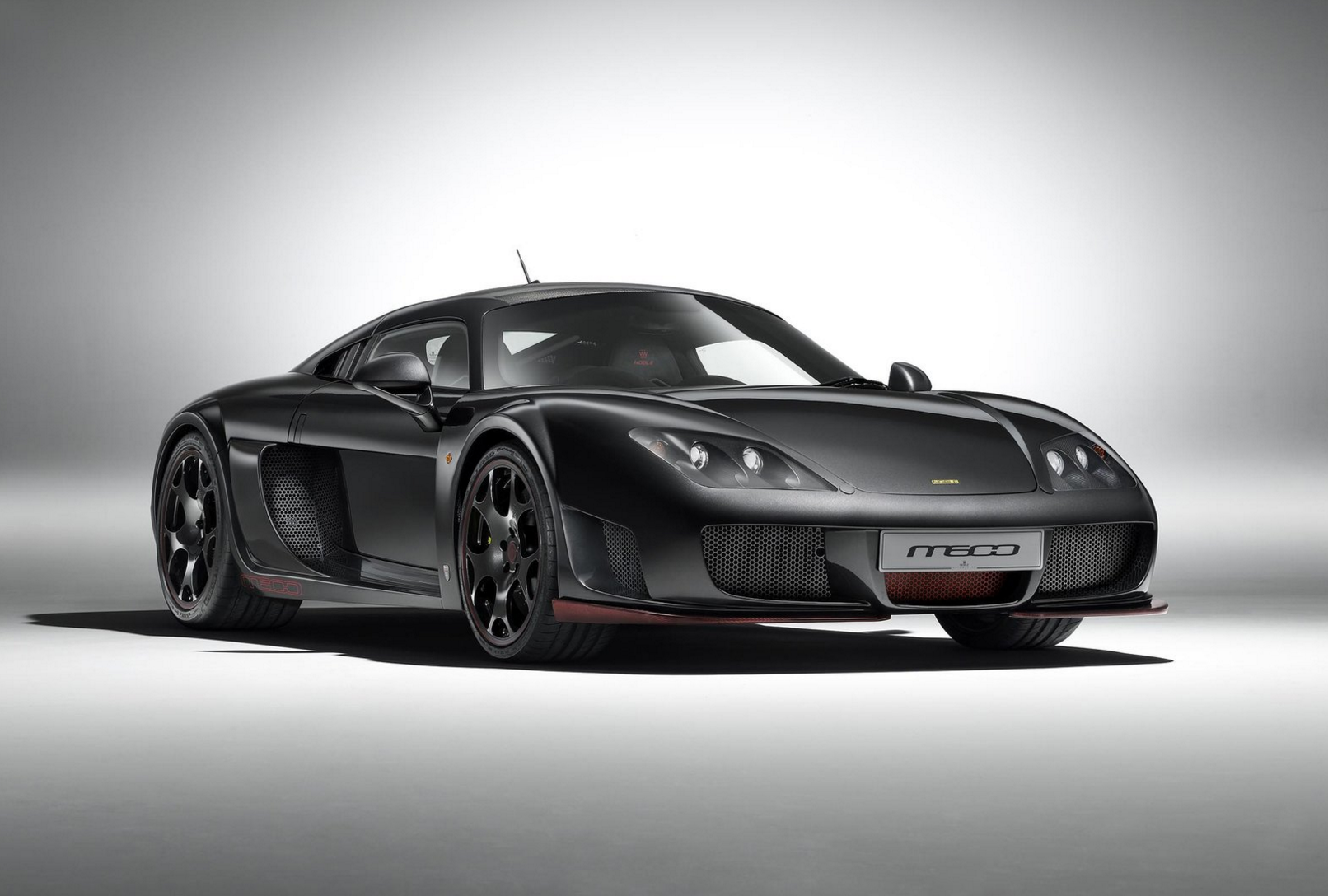 From Top Gear Noble M600 Review
One of the more surprising facts about the M600 is where its engine comes from: a Volvo XC90. The Yamaha-designed 4.4-litre V8 has been transformed though, picking up two turbochargers along the way to see it produce a hefty 650bhp. With a kerb weight of around 1,250kg, this gives a power to weight ratio of 530bhp per tonne. Cue the inevitable reference to something Bugatti-shaped and fast.
And boy, is it fast. Noble reckons it'll hit 60mph from rest in three seconds, 120mph in 8.9 seconds, and then go on to 225mph. Acceleration from 40-60mph takes one second; 100-120mph takes two seconds. It is fearsomely rapid: genuine hypercar territory. However, with no ABS and no stability control, it takes no prisoners. The sole electronic aid is traction control: to make sure you don't accidentally turn it off, the button is covered by a genuine flip-up cover from a Tornado fighter jet.
Noble also wisely offers three modes of engine power: 'road' gives a relatively sane 450bhp, 'track' bumps it up to 550bhp, with 'race' releasing the full 650bhp.
From Autocar Noble M600 Review
Noble M600 is an excellent machine, but is it enough to tempt McLaren, Lamborghini or Ferrari buyers? There are so many adjectives that can be used to describe the Noble M600's astounding performance that it would be easy to get completely carried away. So instead we're going to let the numbers do most of the talking.
See Full Noble M600 Image Gallery
Take, for example, what it can do in fourth gear, and from as little as 40mph. In most supercars you need to wind many more revs into the crank before anything interesting happens, but in the M600 it takes just 2.2sec to go from 40-60mph in cog four. Even in a McLaren F1, which has no turbochargers to spin up, it takes 2.3sec.
Its surprising ABS isn't offered. Noble says it would rob the brakes of feel. Drop to third and the M600 is closer to full boost, which is why it'll cover the same increment in a mere 1.4sec. But if you really want to feel the full effects, hook second. That's when the M600 feels at its most wild, generating just enough traction to catapult itself from 40-60mph in an incredible 1.1sec.
More impressive is the Noble's lack of off-boost lethargy in the higher gears. Even when pottering along in sixth, the M600 is well mannered enough to pull cleanly from under 1000rpm. Its cause is helped further by the light clutch and a swift, precise gearchange.
From a standing start the M600 is actually quicker than the F1 to 30mph (1.6sec vs 1.8sec), but due to the fact that during the two gearchanges needed to reach 100mph, you have to lift slightly to avoid lighting up the rear tyres, it's slightly slower to 100mph. The Noble is still only 1.8sec behind at 200mph (29.8sec). This is perhaps the clearest indication of all as to how rapid the M600 really is.
And what of the brakes? Apart from the system's lack of anti-lock, they're excellent, not just in their outright power but also for feel from high speeds. On the road, a touch too much pedal effort is required at lower speeds, but the trade-off comes when you're going for it, when the feel is fantastic. A big black mark for the lack of ABS, however, which would give the driver a welcome safety net.
Noble M600 Videos
Specifications
| | |
| --- | --- |
| type | Series Production Car |
| built at | England |
| price £/td> | £200,000 |
| engine | V8 |
| position | Mid Longitudinal |
| displacement | 4439 cc / 270.88 in³ |
| power | 484.7 kw / 650 bhp @ 6800 rpm |
| specific output | 146.43 bhp per litre |
| bhp/weight | 541.67 bhp per tonne |
| torque | 818.9 nm / 604 ft lbs @ 3800 rpm |
| body / frame | Carbon Fiber Body over Steel Tube Chassis |
| driven wheels | RWD |
| front tires | 255/30ZR-19 Michelin Pilot Super Sport |
| rear tires | 335/30ZR-20 Michelin Pilot Super Sport |
| front brakes | Ventilated Cast-Iron Discs |
| rear brakes | Ventilated Cast-Iron Discs |
| front wheels | F 48.3 x 22.9 cm / 19 x 9 in |
| rear wheels | R 50.8 x 30.5 cm / 20 x 12 in |
| f suspension | Double Wishbones w/Coil Springs, Anti-Roll Bar |
| r suspension | Double Wishbones w/Coil Springs, Anti-Roll Bar |
| curb weight | 1200 kg / 2646 lbs |
| transmission | 6-Speed Manual |
| top speed | ~362.02 kph / 225 mph |
| 0 – 60 mph | ~3 seconds |
| 0 – 100 mph | ~6.5 seconds |