2017 Porsche Panamera
The new Porsche Panamera was announced yesterday. We like it. It's one hell of an upgrade vs the prior generation. The four-door super saloon has a fresh new look, more powerful turbocharged engines, a smooth eight-speed PDK transmission and performance on another level.
Porsche has sold more than 150,000 Panameras since 2009, and we know the profits from Panameras (and Cayennes) give Porsche the freedom to make sports cars like the Porsche GT4 and GT3 RS. This car is a totally new version – "completely redeveloped automobile," according to Porsche. A lot is riding on this new Panamera.
The new Panamera will initially be available with three engines: a heavily revised and more powerful version of the current 2.9-litre, twin-turbocharged V6 petrol engine, a more powerful version of the ground shaking 4-litre twin-turbocharged V8 petrol and, for the first time in a Panamera a V8 twin-turbo diesel engine.
It looks nice too. The styling is very reminiscent of the new 911 which is a great thing compared to the ugly Panamera we are used to. This car is somewhat sexy for a big four door sedan. The most obvious design change is that the 2017 Panamera has a sportier look and coupé-like roof line, reshaped side window sections and narrower taillamps. Overall, it looks tighter and sharper than its predecessor.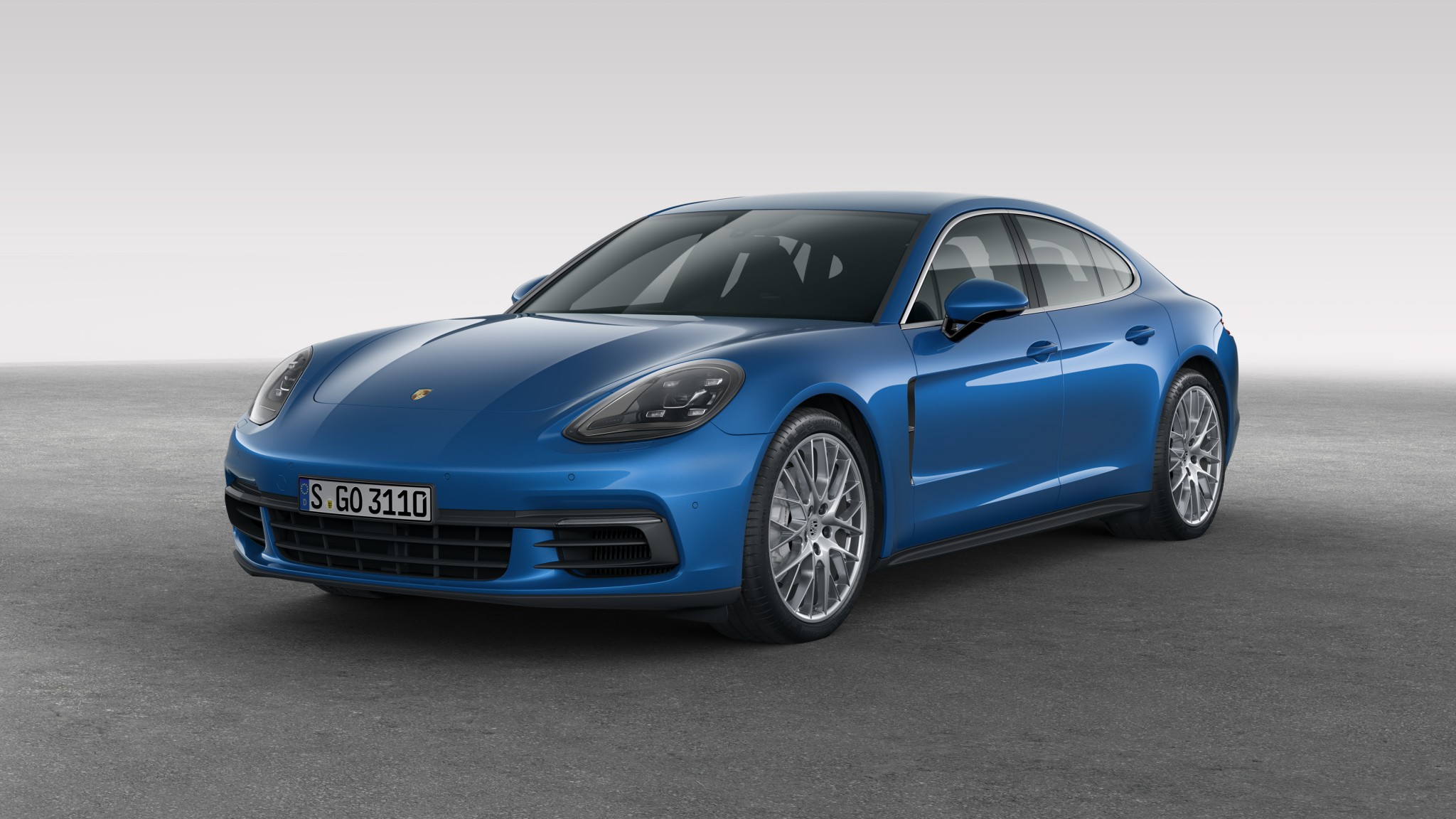 Press Release
ATLANTA, June 28, 2016  — On Tuesday, June 28th, Porsche celebrated the world premiere of the new 2017 Panamera in Berlin accompanied by a spectacular display of lights, music and choreography. Over 300 international media representatives – as well as guests from business, sports and the entertainment industry – were able to view the second generation of the sports sedan for the first time. The new 2017 Porsche Panamera, which has been redeveloped from the ground up, combines two contrasting characteristics better than ever before: it offers both the performance of a sports car and the comfort of a luxury sedan.
"We have tapped into the segment of luxury sport sedans with the Panamera. Since it launched in 2009, over 150,000 units of the Panamera have been sold. The new model represents a completely redeveloped automobile – with new engines, a new design and new technologies. Furthermore, we are now manufacturing the second generation of the vehicle entirely at our Leipzig production site. To this end, we have invested a sum of 500 million Euros – which includes a completely new body manufacturing facility," Oliver Blume, Chairman of the Executive Board of Porsche AG, emphasized.
The design language of the new Panamera creates a link to the Porsche 911 through its even more dynamic flyline and by using specific design elements of the iconic sports car. "An observer will immediately recognize the coupé-like roof line, but it is much 'faster', even more dynamic and includes a new side window look that emphasizes the coupe-like side view even more," said Michael Mauer, Head of Style Porsche AG, who explained the design objectives that were set for the new model. "The new Panamera can be identified as a Panamera at first glance, but also as the new Panamera. Its strengths have been reinforced, its weaknesses have been eradicated and above all its distinctive character has been preserved."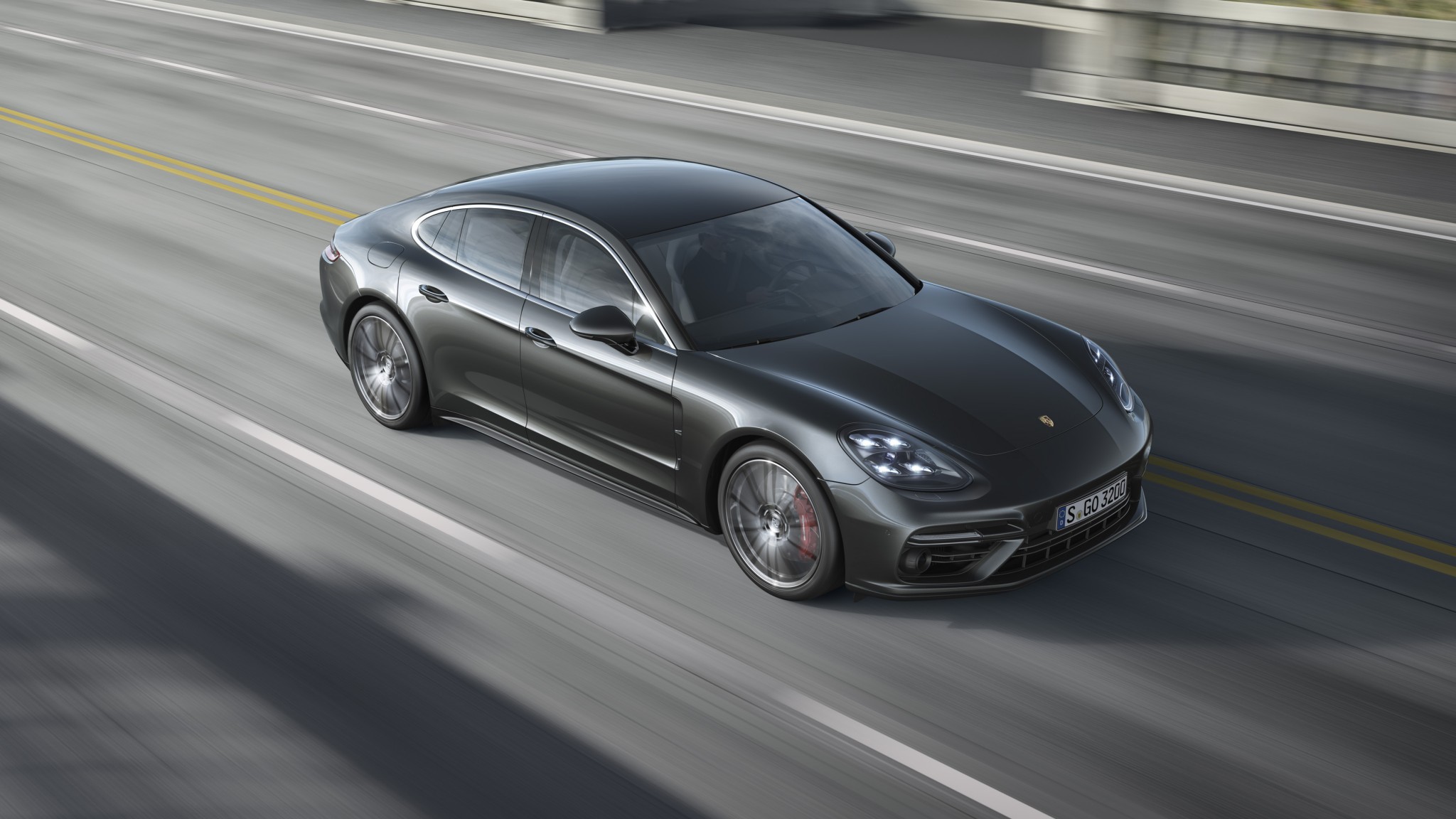 The new twin-turbo engines of the Panamera are more powerful than before, and thanks to the new eight-speed dual-clutch transmission (PDK II) they are up to 16 percent more fuel-efficient according to the New European Driving Cycle. The Panamera will launch with two engines: the 550 hp Panamera Turbo and the 440 hp Panamera 4S. Both models will be equipped with all-wheel drive as standard.
To provide an even larger spread between supple ride comfort and agile handling, the Panamera now offers features such as the new three-chamber air suspension, rear axle steering and the new electronic 4D Chassis Control chassis management sys-tem. Many new assistance systems also enhance ride comfort as well as safety.
In the new Panamera, Porsche is also introducing a future-oriented display and control concept. The new Porsche Advanced Cockpit with its smartphone-like user interfaces and configurable LED screens impresses with its intuitive functionality. Furthermore, the new Porsche Communication Management (PCM 4.1) offers an entirely new range of connectivity by its intelligent digital functions and online services. In the new Panamera, Porsche Connect is being introduced in all models. It extends existing vehicle functions by adding digital services and apps such as those used to control certain vehicle functions remotely by smartphone – and others to make more efficient use of the driver's time on the go.
About Porsche Cars North America, Inc. | One Porsche Drive, Atlanta, GA 30354 USA
Established in 1984, Porsche Cars North America, Inc. (PCNA) is the exclusive U.S. importer of Porsche 911, Boxster, and Cayman sports cars, the Macan and Cayenne SUVs, and Panamera sports sedans. Headquartered in Atlanta, Georgia since 1998, PCNA is also home to the first Porsche Experience Center in North America featuring a module-based 1.6 mile driver development track, business center, human performance center, and fine dining restaurant. PCNA employs approximately 300 people who provide parts, service, marketing, and training for 188 dealers. They, in turn, work to provide Porsche customers with a best-in-class experience that is in keeping with the brand's 65-plus year history and leadership in the advancement of vehicle performance, safety and efficiency. PCNA is a wholly-owned subsidiary of Porsche AG, which is headquartered in Stuttgart, Germany.
At the core of this success is Porsche's proud racing heritage that boasts some 30,000-plus motorsport wins to date.
2017 Porsche Panamera Gallery