The Verdict Is In
What The Experts Said…
The world is full of armchair commentators when it comes to cars. At Supercars.net we have a number of journalists and automotive publications we rely on when we want to get unbiased opinions from people we admire.
Below, we've outlined some of the things these experts had to say about the Cayman GT4. We have included snippets only so definitely dive deeper into their content for find out the details behind their assessments. Please support these awesome publications because they invest a lot in the details, amazing product photographs and great writers.
Broadly, there is consensus on the 2015 Cayman GT4. Quite simply most publications and journalists believe this is one of the greatest sports cars ever made and a Porsche icon.
Autocar – "It Just Feels Right"

When Matt Prior from Autocar wrote about the Cayman GT4 he was focused on the fact that this was the first time the 'GT' moniker has been applied to the sub-911 mid-engined coupé, but it is also the first time a Cayman has been granted more power than a contemporary 911. He liked the old school look of the car especially compared to the already handsome Cayman GTS.
it thrives on revs and it sounds magnificentMatt Prior
His testing clocked the GT4 at "at 4.6sec for the 0-60mph sprint and covering the standing quarter mile in 12.9sec" with a full tank of gas and two people onboard, slower than Porsche's claimed 4.2 second time.
Matt loved that "this is an engine that revs to almost 8000rpm and makes its power peak at 7400rpm. It thrives on revs and it sounds magnificent and displays a fabulous throttle response when it's given them". Like other journalists, he described the GT4 is one of those cars that "just feels 'right'. Its control weights are spot on, the gearshift precise and the brake feel exemplary". 
Not surprisingly, the Cayman GT4 did enough to get a five star rating from Autocar.
The Good
Sublime handling and body control
Limited-run, GT-lite feel
Fine performance
The Bad
Leggy gearing
Some option prices are high
Not the full 'GT' engine experience
More: Read the Full Review
---
EVO – "The Cayman we've all been waiting for"

We love the guys at evo because they are just like us, just huge car guys who can appreciate just getting into a car and going for a drive whether it be a fun hot hatch or hypercar.
notable for the quality of its performance more than the quantityDan Prosser
Evo starts out by being frustrated (like most of us) that the Cayman GT4 is the car we've all been waiting for and yet so few are being made that very few people will get to enjoy this Porsche Motorsport masterpiece.
We think that Dan Prosser at evo described the GT4's performance best as "notable for the quality of its performance more than the quantity – even if it lags a 911 GT3 on both". This is a quality over numbers kind of car. Sure it is quick but as Dan suggests, it is not that fast. Like other reviewers Dan loves the six-speed manual but laments the long gearing.
On the ride and handling side, Dan calls the GT4 "sublime". As sweetly-balanced as a standard Cayman, but response and grip are increased by a rather large notch over even a Cayman GTS. Given how much we loved the GTS thats a big compliment.
The Good
Looks & Attitude
Exquisite chassis balance
'That' manual gearbox
The Bad
Gear ratios still feel too long
They've all been sold
More: Read the Full Review
---
Car & Driver – "infused with GT3 goodness"
"It's a Cayman with the 911's engine for base-911 money". Many have heralded this as fratricide. But here's why the Grand Cayman won't kill the 911: Not many GT4s will be made, the GT4 is manual only, and 911s sell because they are 911s.
You're flooded with information about the surface, the tires, and the available gripTony Quiroga
Unlike the other journalists, Tony Quiroga from Car and Driver talks about the fact that you have a 3.8-liter flat-six out of the Carrera S that is humming along, mere inches behind your head. With a 90 decibels peak sound he says the sounds is nothing but awesome (our words, not his).
Not surprisingly, Tony mentions the GT4s achilles heal: "we're not at the redline very often. First and second gears are incredibly tall—second is good for nearly 80 mph". His assessment is that the GT4 becomes a little less fun to just run around town in and we happen to agree. Car and Driver spends some time comparing the GT4 to the amazingly competent Cayman GTS. The GT4 "meas­ured a zero-to-60 time of 4.1 seconds, identical to a manual Cayman GTS we'd previously tested. Beyond 60, though, the GT4 pulls away from the GTS. By 110 mph, it's a second ahead. In the quarter-mile, the GT4 posts 12.3 seconds at 117 mph". Car and Driver wanted to see a little more performance from the ultimate Cayman.
While straight line might not make Tony happy, he says that the chassis in the GT4 makes all the difference in dynamics, with the "GT4's chassis eagerness and steering feel are infused with GT3 goodness. At speed, it's almost as if the electric power steering is completely unassisted. You're flooded with information about the surface, the tires, and the available grip."
The Good
T3 steering feel
Manual only
Flat-six song
Easy fun
The Bad
Getting in and out without looking injured
We thought it'd be quicker
More: Read the Full Review
---
Top Gear – "Jack of all trades, master of fun"

it has its priorities on sensations, not speedTop Gear
Top Gear immediately lets us know why the GT4 won its car of the year honors by saying that "excelling on both road and track is a rare quality, but sometimes a special car comes along…" and you guessed right that the Cayman is that kind of car.
The team at Top Gear describes their perfect car and says that the GT4 ticks all the boxes. Rather than going into lots of the details like we did with the other publications, we're simply going to let them describe their perfect car:
…"has its priorities on sensations, not speed, so you can get away with one of those quaint old gearboxes that requires limbs, not fingertips, to operate. It'll have a low driving position, but the car isn't preposterously, intimidatingly wide. It's going to need to keep you busy too, so you'll be after rear-drive and a turbo-free engine that doesn't generate torque like talent shows create music, wrapping it up soullessly and cramming it out of the door as quickly as possible". 
That sounds like a Cayman GT4. 
The Good
Looks & Attitude
Exquisite chassis balance
'That' manual gearbox
The Bad
Gear ratios still feel too long
They've all been sold
More: Read the Full Review
---
Car Magazine – "It never seems to run out of revs"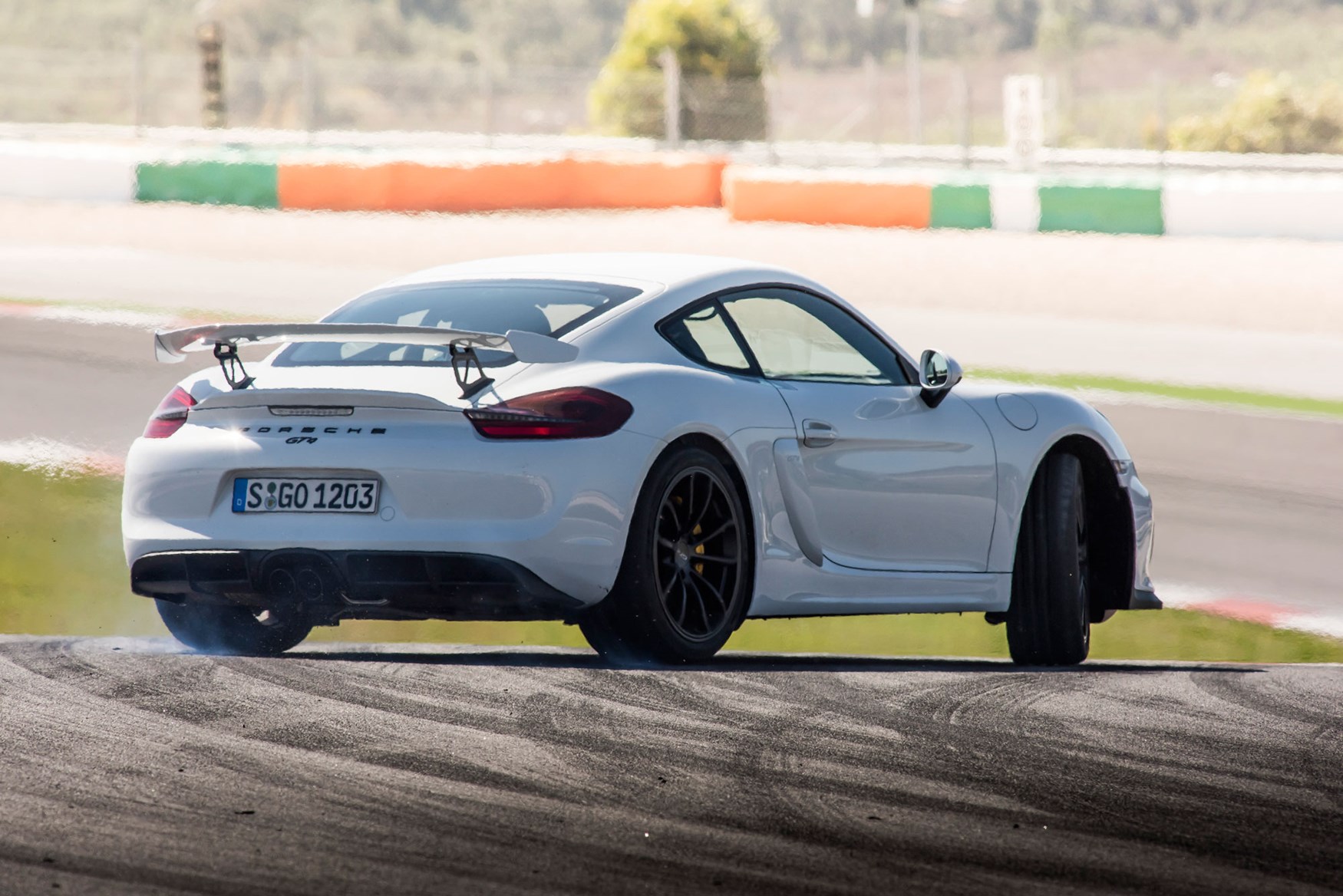 Georg Kacher is one of our favorite automotive journalists. His honest, seat of the pants combined with technical know-how explanation of cars is pretty unique.
its note is the stuff goose pimples are made oGeorg Kacher
Georg dives straight into the things that make the GT4 different from  the rest of the Cayman range. From "extra bodywork, along with the unmissably lofty wing at the rear" and "rear suspension's changed too, now featuring 'helper' springs to pre-load the main springs under full rebound, and it's attached to new 20-inch wheels with seriously fat, seriously grippy Michelin Pilot Sport Cup 2 tyres". For those not steeped in Porsche technical details, the Cayman GT4 gets some tasty Porsche 911 GT3 tech (front axle and suspension, wheel bearings, ball joint mounts, shock absorbers, front tires and optional carbon-ceramic brakes).
Does it all work?
"For starters, there's the engine. It never seems to run out of revs, and when it eventually does, chances are you're about to run out of road. With the mid- to high-end shove of a big bore V8 but the spine-tingling soundtrack of a flat six, it hits its stride at 4000rpm and revs freely and eagerly until the redline at 7800rpm – at which point its note is the stuff goose pimples are made of."
So Car magazine has a now familiar verdict, this is one really is quite special car. "Its rare combination of huge grip and traction yet involving, intuitive handling make this car a remarkable drive, even by Porsche standards. Is it really worth £9k more than a Cayman GTS? In a word, yes."
The Good
Tasty GT3 Tech
Spine tingling engine
6-speed manual gearbox
More: Read the Full Review
---
The Cayman GT4 is Perfect For…
Every car guy will love the Cayman GT4 but it isn't perfect for every use case or buyer.
The Cayman GT4 is a future icon that will hold its value. The upside is that this is a solid investment. They (as of mid 2018) were still trading at well over the original sticker price and had held steady at that price range for over a year (yes, I spend way too much time looking at used GT4s for sale). This is good news if you are looking for a sports car that is a limited edition model that will depreciate very little over time. You won't go wring picking up a GT4 if your goal is a solid investment.
The downside with this kind of collector car is that the more miles you pile on the more chance you miss out on making money (or not losing money). The other downside is that this car is way too good to sit in a garage collecting dust. We would happily take a small hit on residual value in order to enjoy what really is one of the greatest cars of our generation. And ultimately that's who this car is perfect for. It is for that car person who wants to get out once a week and enjoy shifting their own gears and revving the engine all the way to 8,000 rpm with the windows open and enjoying a chassis that is the best in the business. It is a car to be enjoyed.
Alternatives & Rivals
This is the hardest part of our deep dive into the Cayman GT4. Here we are trying to find rivals to a limited edition Porsche Motorsports icon that we thought would never be built. Our competitive set is pretty obvious because we focused on a few key cars that we'd personally consider if we were in this market.

It is impossible to beat a Carrera S for everyday usability and sporty prowess at the same time. It looks great, is absolutely brilliant to drive and it is pretty practical (you can even put two kids in the back seats). Downsides are that they are a dime a dozen these days and they aren't exactly cheap. You would opt for the Porsche 911 over the Cayman GT4 because you want a fast sports car that you can use every day and need some practicality. Spec-wise, stick with a Carrera S or if you can swing it go for the Carrera GTS. While the current 991.2 is a solid choice, don't shy away from the naturally aspirated 991.1 models.

The Lotus Evora 400 is finally great. With its bulletproof 400hp supercharged V6 engine and the best chassis in the business, it is the closest true rival to the GT4. The 0-62mph sprint time is right inline with the GT4 at 4.1 seconds so this car can definitely hang. While it doesn't sound as good as the Cayman, it has better midrange punch thanks to that supercharged motor that easily makes up for it. The Evora is a little bit better at the day to day than the GT4 with its (Lotus magic) supple ride. Handling is also impressive and Lotus has also fixed a lot of the gearbox gripes we had. Quality is also up in the last few years.

The Porsche Cayman GTS is a car you buy because you can't quite stomach the price of a Cayman GT4. It is great to drive, really quick and even has a decent amount of space. The new 718 Cayman has boatloads of torque but we hate the lack of charisma in its turbocharged four engine. We'd buy a used 981 Cayman GTS with a naturally aspirated flat six and manual box.

Porsche's own 999.1 911 GT3 is a good place to start as a rival to the Cayman GT4. While the GT3s still trade for $20k more in the U.S on the used car market, lets not forget that this is a GT3 and that's a whole other level to the GT4. It's more powerful, faster, louder and a genuine race car in road car body. Is it worth the premium over the GT4? In our minds yes. If you want the ultimate, this is it.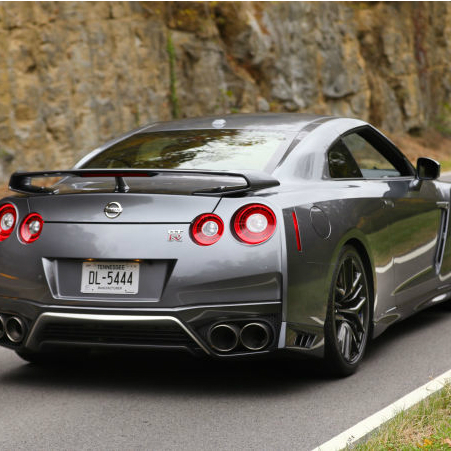 Press the Nissan GT-R accelerator and you feel more than raw power these days. The 565-hp twin-turbo V6 may be massive in strength but the GT-R is now a little more refined and that means it goes from brutally quick sports car to usable every day without needing back surgery every six months. We always loved the GT-R and all these years later it is still such an experience every time you step behind the wheel. The GT-R is a very engaging sports car that defies physics. While it lacks the GT4s dynamics and purity it is an adrenaline hit that delivers every single time. Loads of fun.

The alarmingly fast Audi R8 V10 Rear Wheel Series is the supercar you'll want if you find the standard model's grippy four-wheel-drive system dampens your fun. The rear-wheel-drive Audi R8 V10 RWS is lighter and more challenging to drive than the four-wheel-drive model it is based upon, but on slippery roads it has the potential to catch out the unwary. If you're used to driving the regular Audi R8, sitting in the RWS model's driver's seat will be like settling down in your favorite ergonomic office chair – assuming your office chair has a huge engine strapped to the back of it.
Others Rivals:  Jaguar F-Type, Aston Martin V8 Vantage, Mercedes AMG GT, Chevrolet Corvette Z06
---
Our Final Verdict
The Porsche Cayman GT4 isn't just a great car, is one of the best cars I have ever driven. I want one. It isn't the fastest in a straight line and it isn't the fastest around a track but it feels special and perfect and is more than fast enough. With the right balance of speed, feel and intimacy it has oozes that specialness you expect of a limited edition Porsche Motorsports car like this but at the same time it is approachable and not at all intimidating. You fall for the GT4 the minute you get in and drive a few miles and as the time passes it gets better and better. The manual gearbox is a gem, the motor is epic, the steering is full of feel and the whole package just works together so well. This is a future icon and my favorite Porsche ever.
---
Find A Cayman GT4 for Sale
If you are anything like us now is about the time where you start to searching for a used Cayman GT4 to buy. To save you some time you can click on our recommended providers below to search GT4 inventory. Please note that we do not have any relationship with the companies below and simply provide them to make life a little easier. If you're based in Europe or other regions let us know which local marketplaces we should add to our list below.
< Back To The Beginning