If you are a Ferrari purist … I advise you to click away from this article, you might not like what you are seeing, but if this intrigues you, read along as we're talking about a car that has been recently unveiled at the Tokyo Auto Salon by non-other than Liberty Walk, and we all know what Kato-san is famous for … exactly, bolted-on wide fenders, massive wings and dropped to the ground air-ride suspensions, and while the Lamborghini Miura Liberty Walk we've seen before was actually a replica, a kit car, it seems his latest creation is based upon the real deal, one of only 1,311 units of the 1980's Ferrari F40.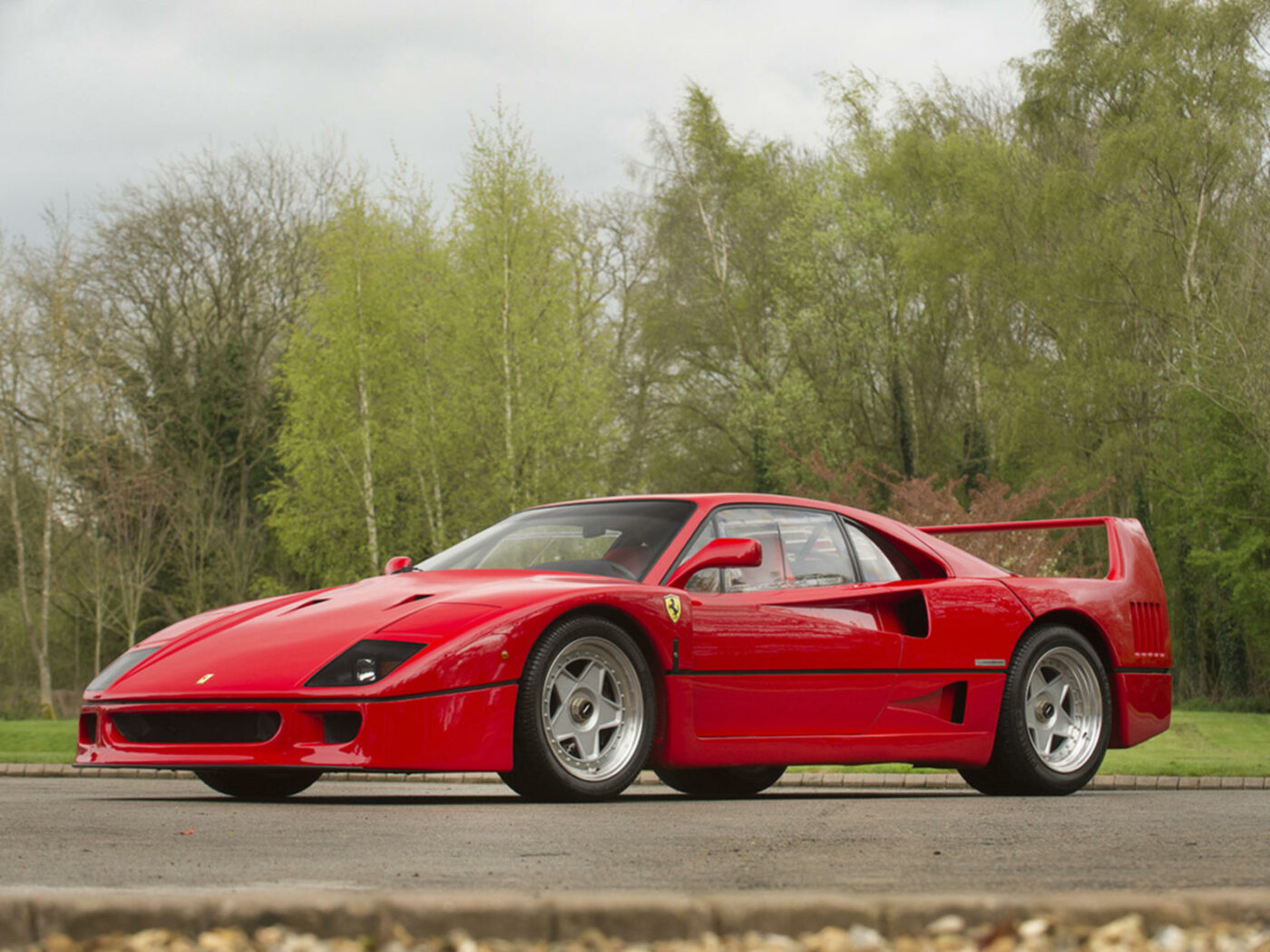 Yes, you are reading this right, Kato-san from Liberty Walk in Japan took apart a Ferrari F40 and transformed the icon into a low-riding, wide-body, almost LM look-alike, finished in bright white with the obligatory red circle on the door and some other decals, but let's take a look at what he really changed. Like the entire front clip of the original car, now with dual exposed headlights under a Lexan cover, additional air vent above the front wheels, a wide air extractor just ahead of the windshield, and naturally large fins on the corners of this unit, all very impressive, and naturally a lot wider compared to the original unit.
And the complete kit also consists of a new set of side skirts to take the design from the wider front clip onto the rear, which as you might have guessed has been enlarged even more with massively wide 'bolt-on' style fenders that actually work quite well in the overall scheme of this very special LBWK F40, subsequently, we swing around to the rear, with a new rear diffuser but also an imposing rear wing to replace the original unit, and while it might not be an exact replica of the famous Ferrari F40 LM version, at first glance this new Liberty Walk kit sure reminds me of that one.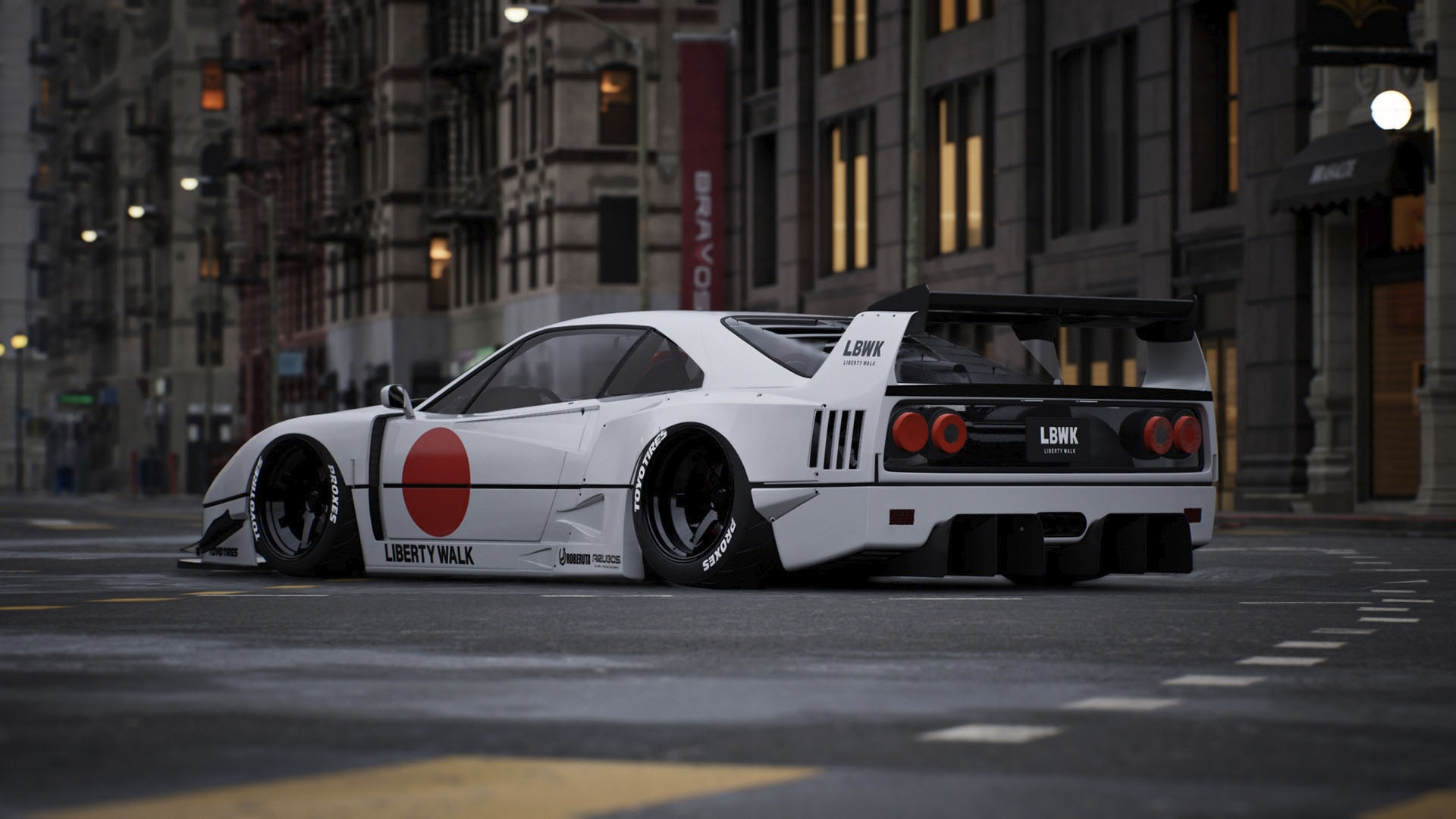 It is obvious from these photos the car is now sitting on some kind of air-ride suspension kit, the wide wheels are tucked into the wheel arches way too much to be able to be driven like that, and at the bottom of this article you'll find a video where they move the car away from the podium after the Tokyo Auto Salon ended, and you clearly see it rising up before going forward, and while we all know a wide-body conversion needs some massively wide wheels to fit, there isn't really any official information on the size of wheels Liberty Walk fitted, the original Ferrari F40 had some beautiful 8 inches and 13 inches wide, 17-inch tall wheels, so did Liberty Walk stick to those measurements and fitted spacers to fill the wider wheel arches, or did they make custom offset wheels that move out further? Whichever the case, these all-black wheels look amazing on the white LBWK F40 with Toyo Proxes tires.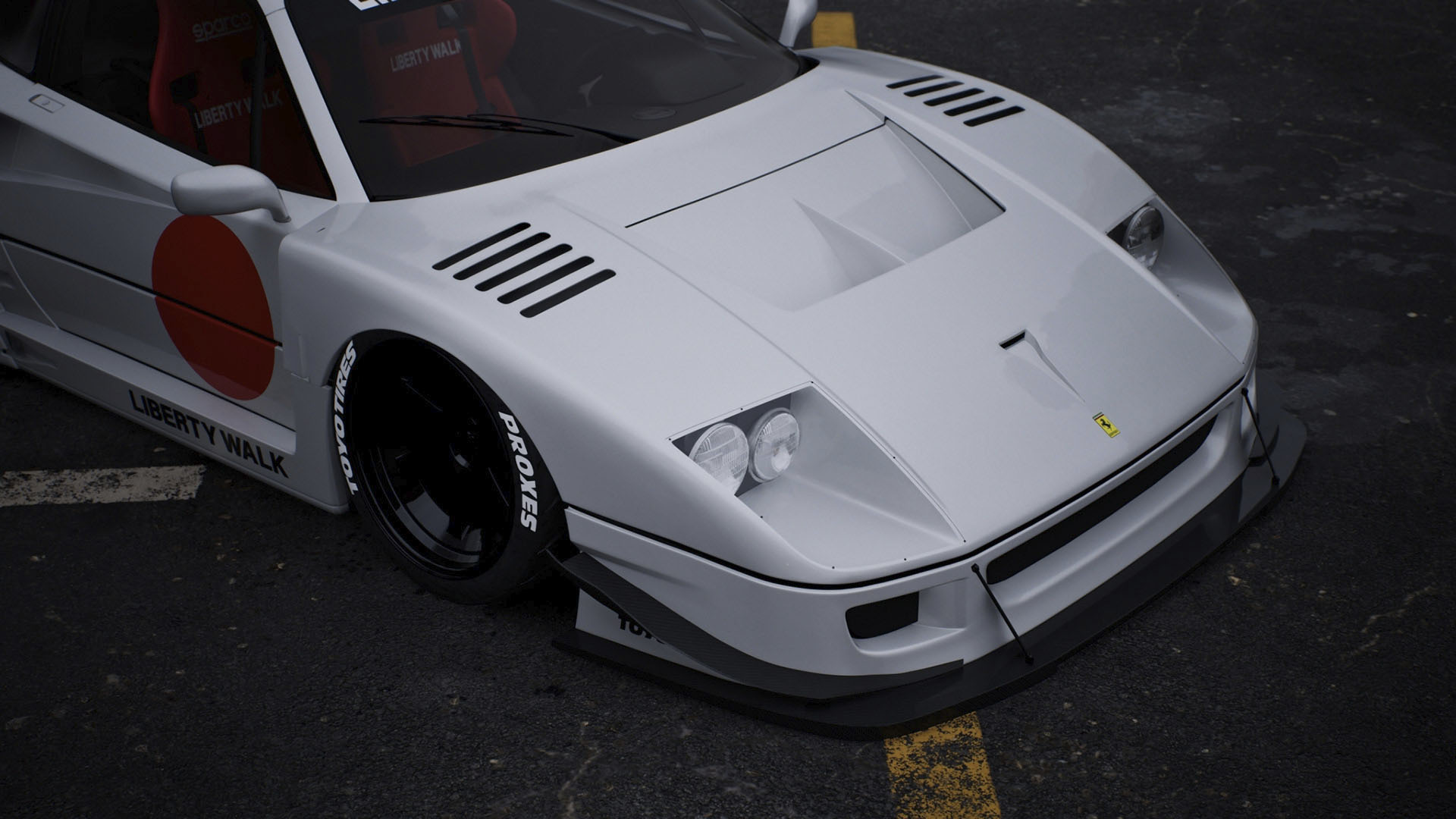 Another uncertainty is about the engine, originally the Ferrari F40 would come with a twin-turbo V8 engine, 3-liter with a power output of 471 hp and 425 lb-ft of torque, figures that might not be very impressive today, but back in 1987 those were some hefty numbers, and usually Liberty Walk isn't known for engine tuning, so my guess is that they didn't change anything on this LBWK F40, I do know it isn't too difficult to upgrade the turbochargers on an F40, but if they wanted to go down that route hasn't been mentioned anywhere, so, for now, I'm going to state this white wide body still comes with 471 hp.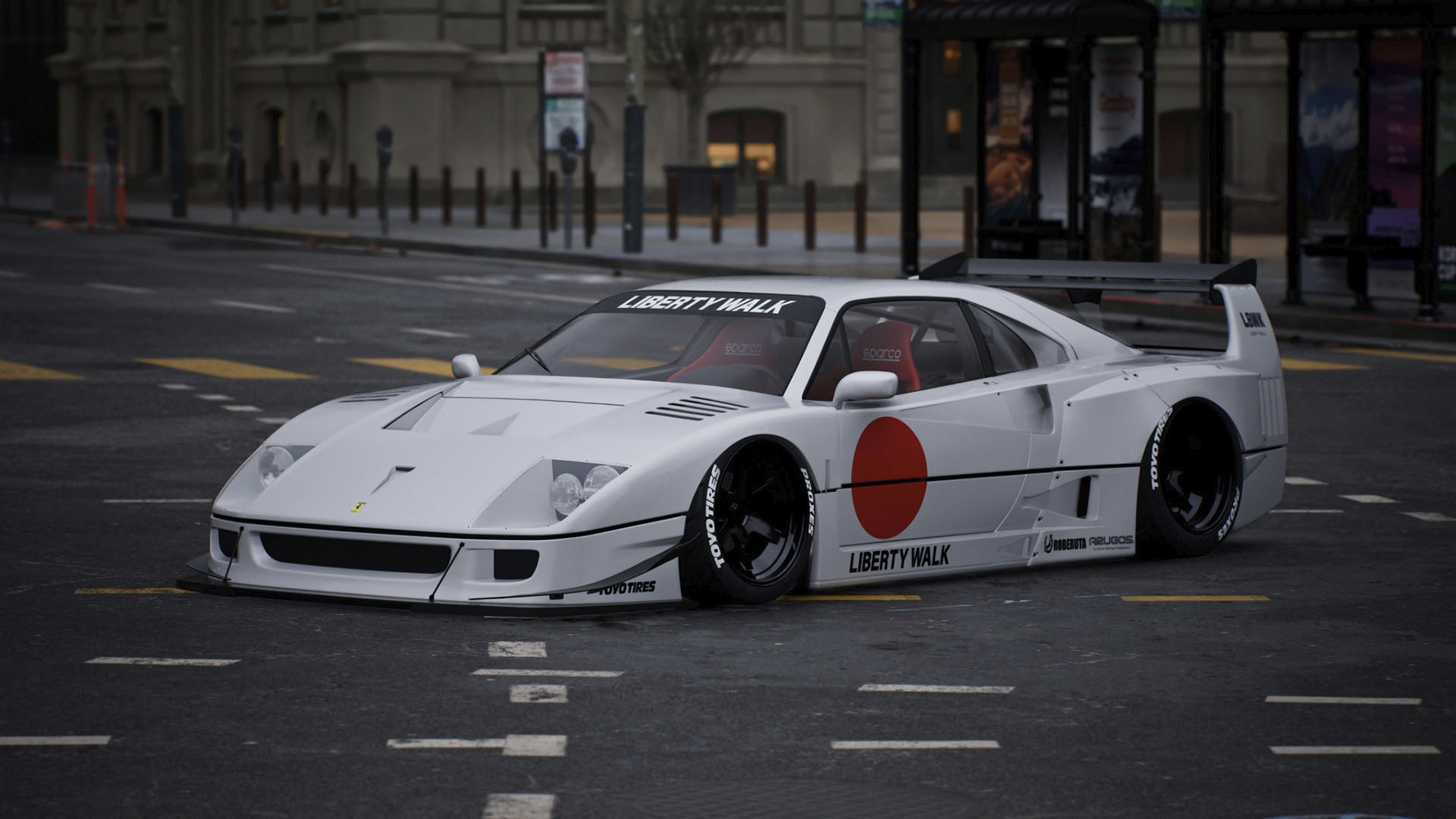 And that also seems to be the case for the interior, which still boasts bright red Sparco seats, they do come with a Liberty Walk script on the backrests, but originally the car already came with lightweight race-style seats, and they look a lot like the ones we're seeing on this LBWK F40, now they might have been replaced with more modern units, but again, that isn't mentioned anywhere, also the dashboard pod seems to be very similar to the original 80s unit too, so personally, I think Liberty Walk only changed the exterior of the base car, and they changed it considerably, and it sure isn't to everyone's taste, but Kato-san is used to that, his creations are loved by some and hated by others, but it does seem there is a market for these imposing wide body conversions, both in Japan and in other parts of the world.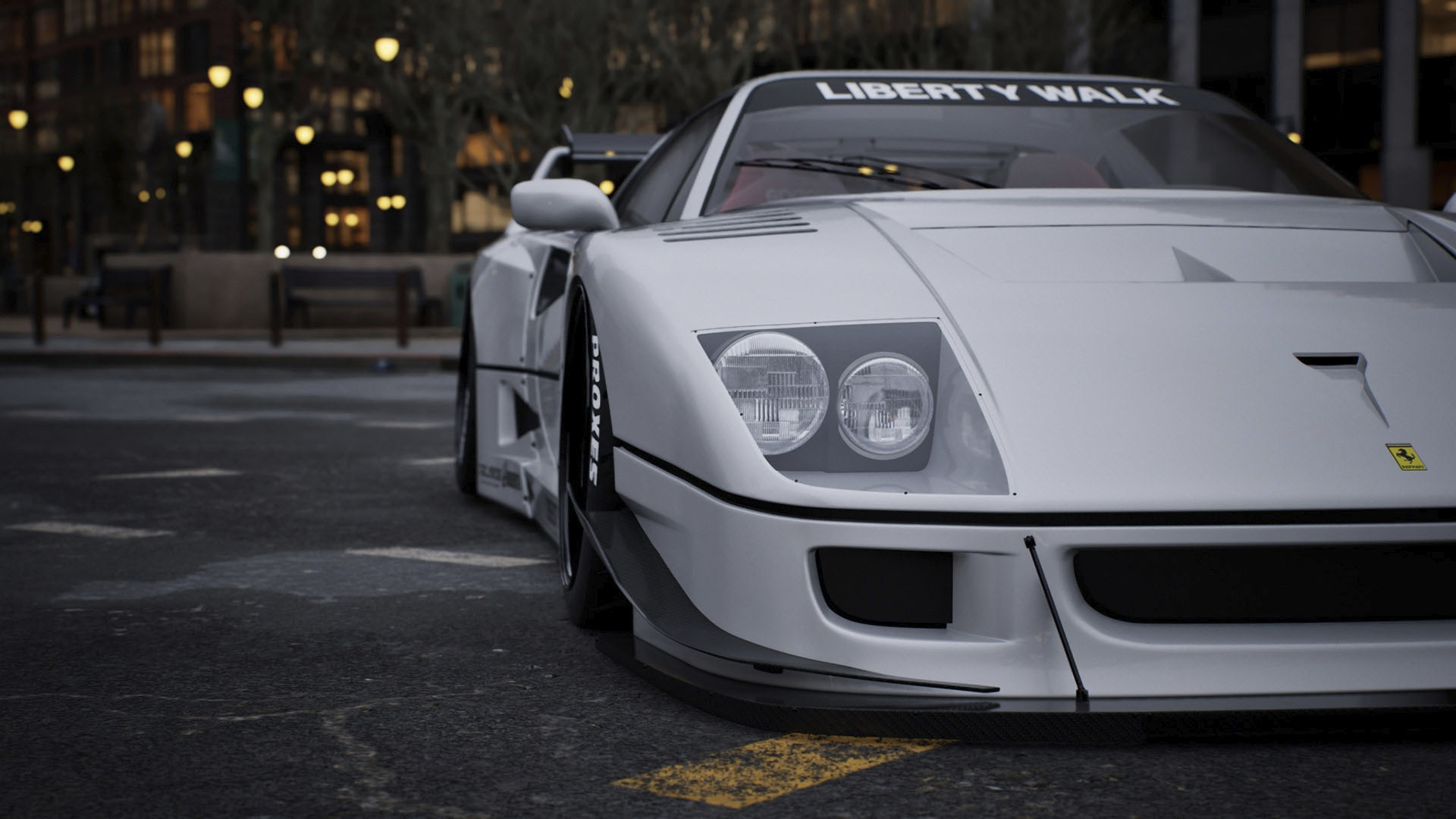 One thing is for sure, whether you like it or not, there will be people out there that actually would like to buy this brand new kit from Liberty Walk, and they already have it listed on their official website, made from FRP, they list the individual parts, but as for pricing, it is 'on demand' only, so you'll have to get in touch with them to know just how much it takes to convert an original Ferrari F40, which isn't going to be cheap on its own, into this wide-body, low-riding LBWK F40, but if I would have to make an educated guess since it is an FRP kit, not a carbon fiber one, pricing could be around the $50,000 to $60,000 mark, but that is without the wheels, the suspension, and fitting this intricate kit, which will take a lot of hours to get right, and subsequently even more money to paint to a show car finish, so when all is said and done, I think you'll be looking at $100,000 or more.
Let's take a look at a video of the unveiling of the Liberty Walk F40 at the 2023 Tokyo Auto Salon:
The video below shows the car, and several other Liberty Walk creations during the Tokyo Auto Salon, and when they wrap up the show and drive the cars away: