Imagine you are a wealthy individual back in the late Eighties, you've got some money to spend on cars, and you already have a nice collection of Prancing Horses in your garage you've all bought brand new since the Seventies when Ferrari unveils their F40 in 1988, the top of the line V8, a stripped-down, street-legal race car almost. So you think about it for a while, not too long, and you head over to your local Ferrari dealership to put your name on an order sheet … which is exactly what happened in Belgium back in June 1989, at the famous Garage Francorchamps, where this specific F40 got ordered, albeit with some creature comforts, the client requested the optional airconditioning and regular, wind-down side windows for practicality.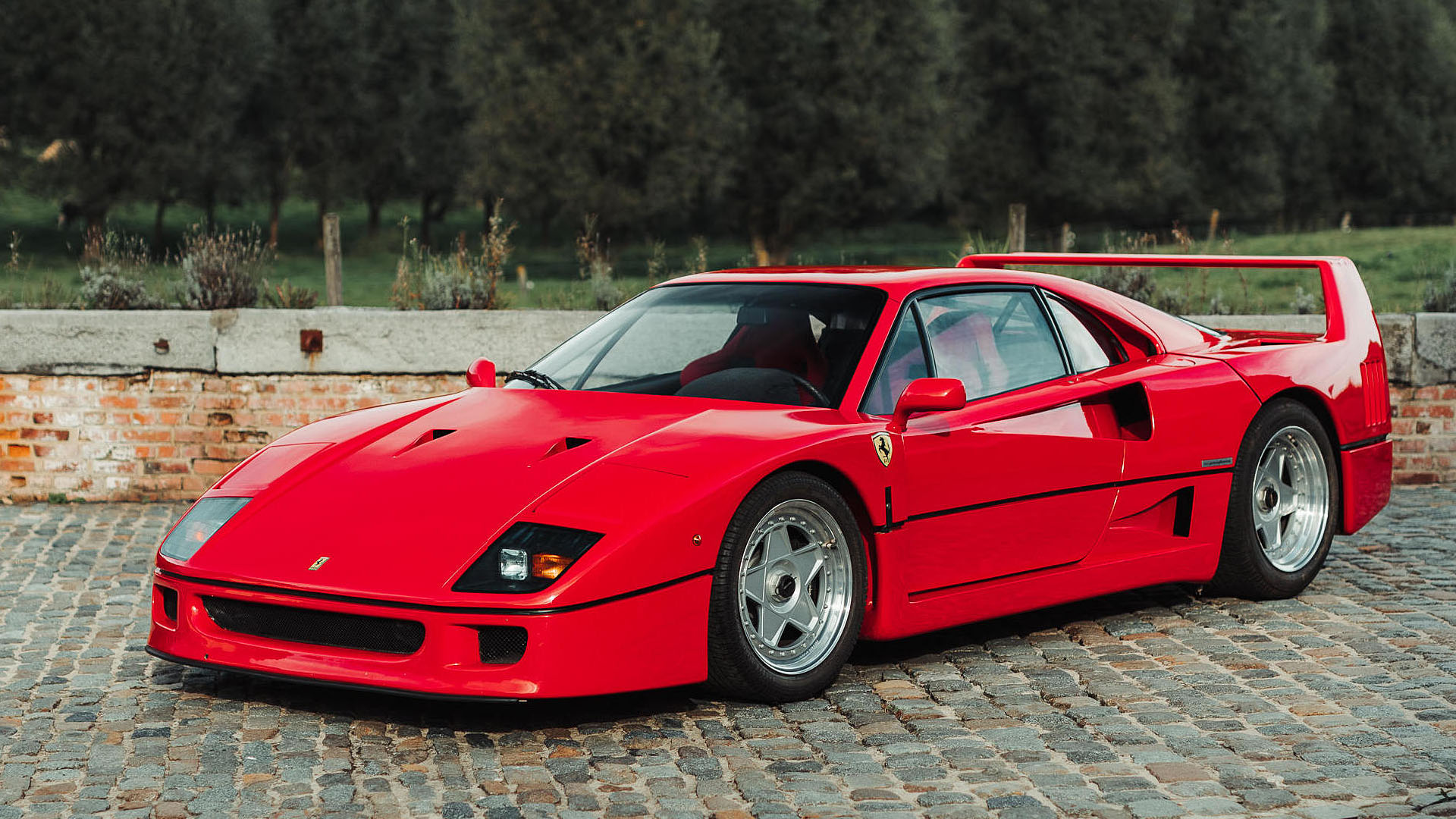 To make it even more interesting, business-wise, the car was put into a lease agreement for the owner's company in mid-December 1989, making this a very late 89 model, but the story gets a lot more interesting when the lease is canceled in 1992 and the car is stored in a heated facility, never to be registered nor driven for the next 29 years, with just 1,790 km on the odometer, barely broken-in I guess.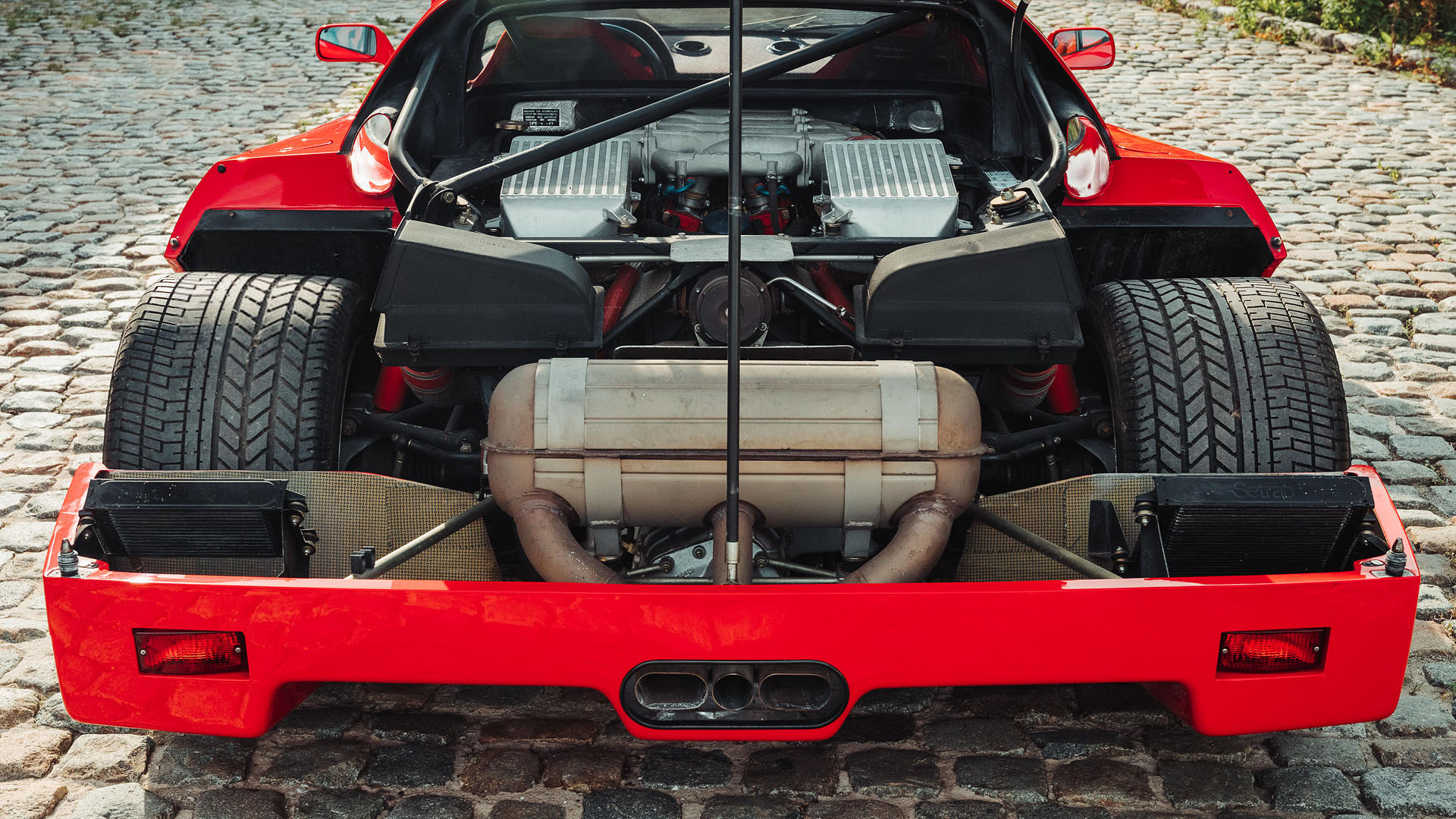 Now we are talking about a 'non-cat, non-adjust' model of the rare Ferrari F40, one the most sought-after, pure versions of this legendary supercar from the Eighties, this was the car that came with a top speed in excess of 320 km/h, in 1988! Powered by a 3-Liter V8 four-valve per cylinder engine with dual IHI turbochargers, the F40 delivered 478 bhp in standard trim, while another 200 bhp could be added with a factory tune.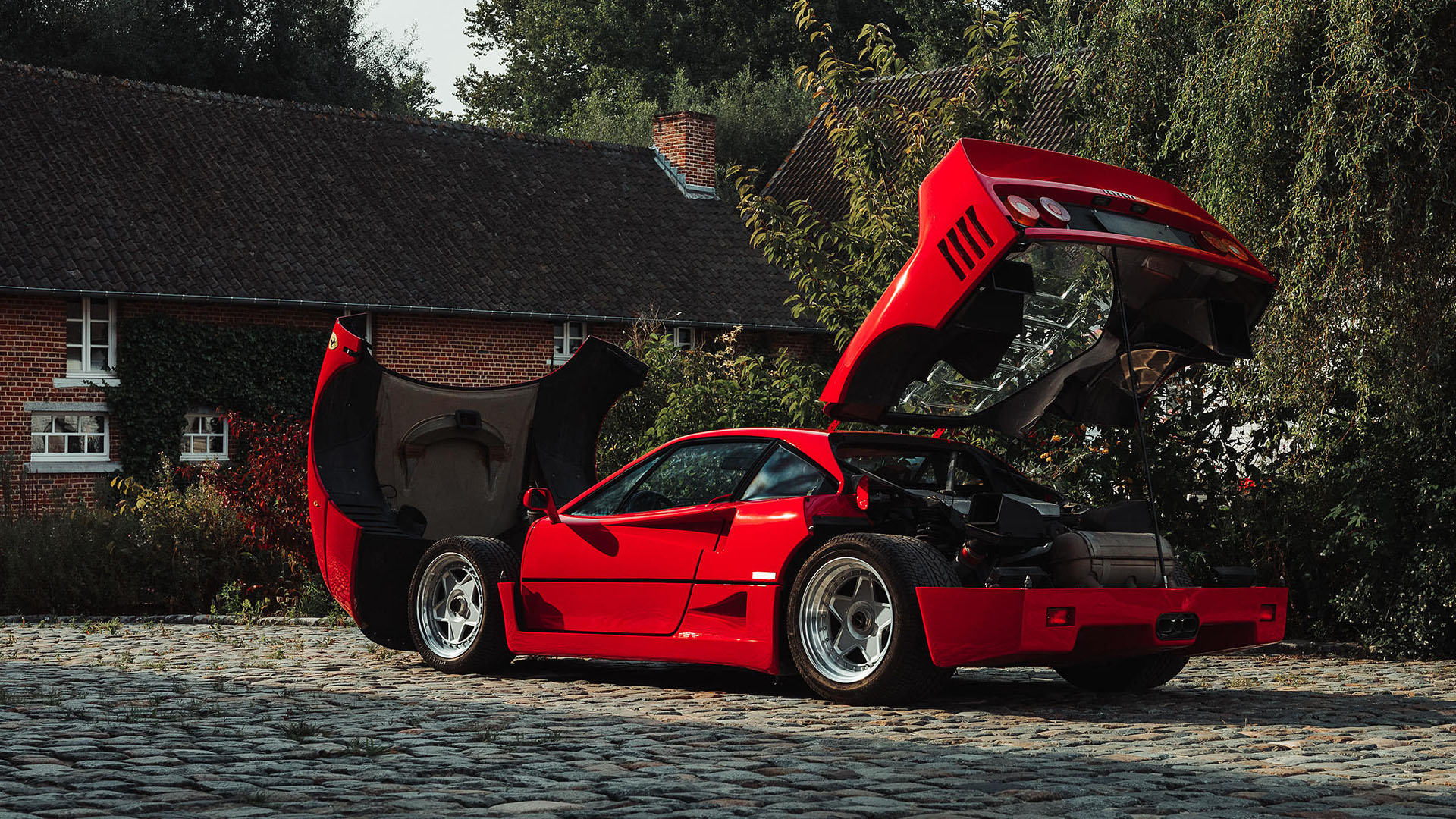 The Ferrari F40 took Formula One experience onto the road by using composite technology, the body was a single-piece molding that would be bonded onto a tubular steel chassis while the doors, front hood, engine cover, and various add-on panels were made from lightweight carbon fiber styled by the legendary Pininfarina with the entire front section tilting upward (much like the current Lamborghini Huracan STO) while most part of the rear section, including that massive, integrated rear wing, is also hinged at the back of the roof, and you didn't even have to open the engine cover to admire that impressive V8 because the F40 came with a transparent cover so you could admire the engine 'as-is'.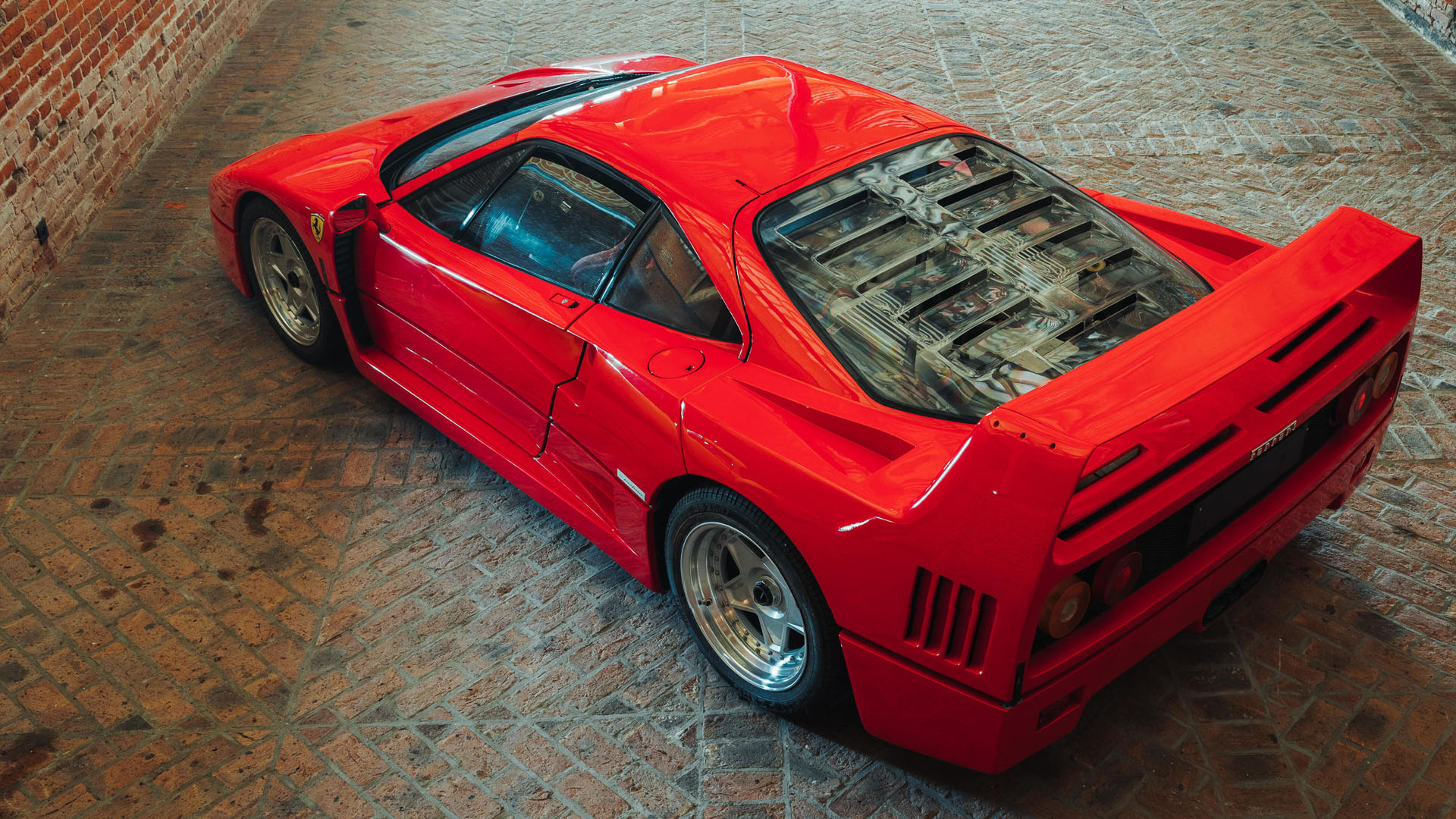 The Ferrari F40 was built up to 1992 as production reached 1,315 units, and apart from some special order models, all of them were left-hand drive and came in red, just like chassis ZFFGJ34B000083620 we now see listed for auction by Bonhams during their The Zoute Sale in Knokke-Heist, Belgium, where this very special Ferrari F40 has been hiding for so long, because this is such an important, early production car, the estimate on this specific car is set at €1,000,000 to €1,500,000 (US$ 1,155,000 to $1,734,000).
What makes these early Ferrari F40 even more interesting compared to the later production versions is the fact these are still the pure performance models Ferrari intended the F40 to be, uncompromising with a focus on speed and performance, without too much comfort and without electronics to watch your back when your experience can't keep up with the car, these F40 were rather unforgiving. Later during production, the F40 got a little more refined, Ferrari added ABS, catalytic converters, and adjustable suspension.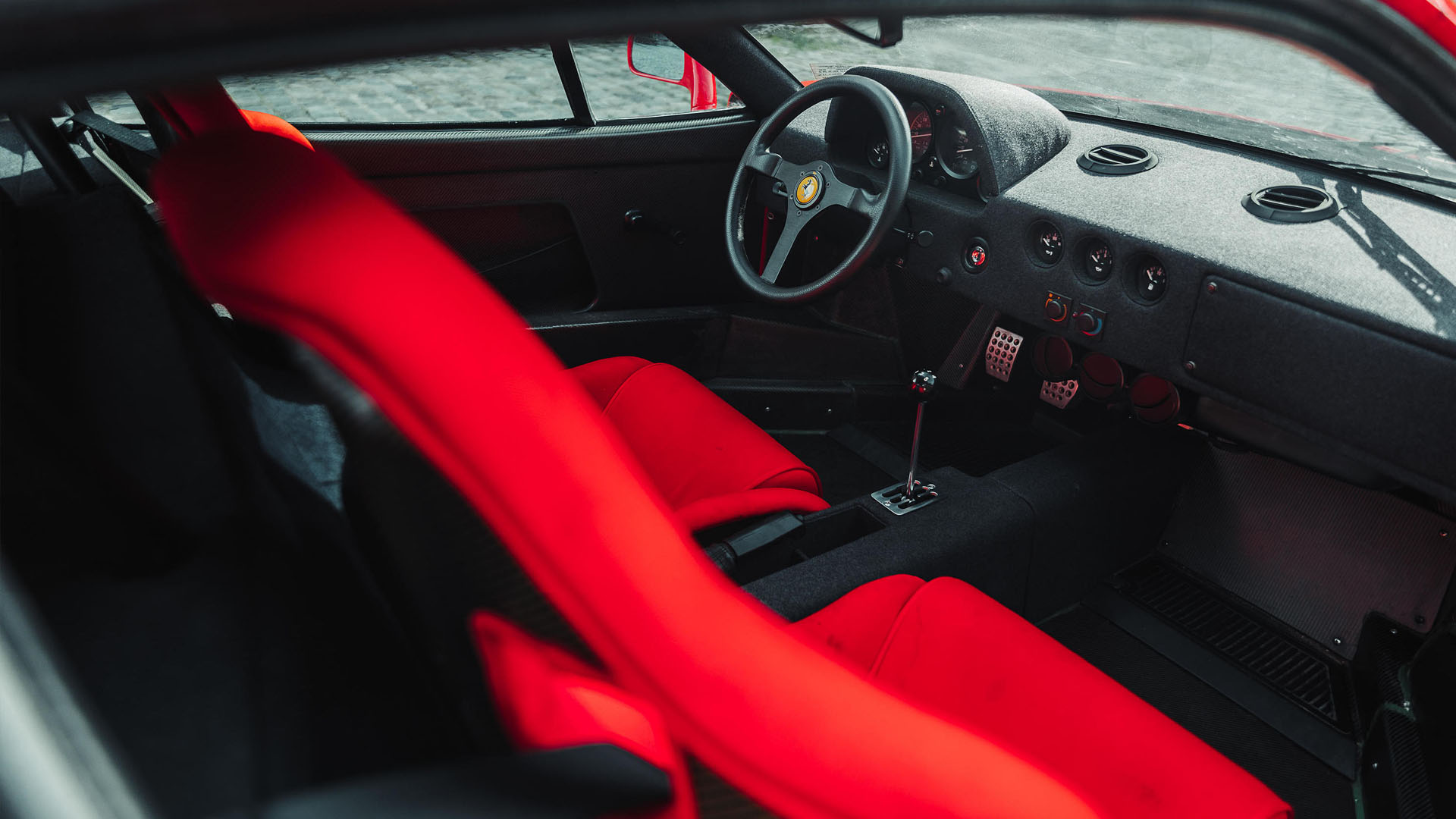 Keep in mind this Ferrari F40 has been sitting in a garage for almost 30 years, the maintenance records even show the car was expected for her second visit in the Garage Francorchamps workshop when she reached 6,000 km, which they estimated would be 1993 … that didn't happen as the car was unregistered since 1992, this probably means this is not a driver at this point in time. A major overhaul will be required, including some new tires for this beauty, but in return, you will be able to obtain a car so close to new the red seats show virtually no wear at all, neither does the entire interior, as matter of fact the entire car, both inside and outside, looks like she was just delivered a few weeks ago, this is a time-capsule Ferrari F40 and I'm sure the next owner will enjoy adding this beauty to the collection.