Singer Porsche
Our ultimate guide to the restoration shop with the motto "everything is important" and how they build the best custom Porsches in the world by sweating the little details.
A strange thing happened last week. We created two posts, one about the best restomod Porsche companies and one that included over 60 of the coolest restomod Porsches we loved. Porsche fans immediately knew what we were talking about and have followed a lot of the restoration and aftermarket scene for years, but for regular Supercars.net fans they were left a little confused, having never have heard of companies like Singer or Rob Dickinson or the Singer Vehicle Design DLS. So we decided to give you the ultimate guide to Singer Porsche and this is it right here.
Some call them the best air-cooled Porsches ever, others the best cars in the world. They are Porsche 911 sports cars that have been restored, reimagined, and reborn by Singer Vehicle Design. Each commission represents a unique collaboration between the customer and Singer, combining bespoke carbon fiber body panels, the finest in optimized mechanical and electrical components, superlative materials and finishes, and the spirit of the golden age of the iconic air-cooled 911. Every Singer-restored car is an incomparable work of impeccable craftsmanship.
Singer Vehicle Design is driven by the singular vision of Rob Dickinson, an ex-car designer and rock musician who came to be one of the world's foremost distillers of the essence of air-cooled Porsche. Rob's lifelong obsession with the most important sports car on the planet began on an autoroute in France in the '70s and now finds a home on the concours lawns and racetracks of the world's most prestigious automotive events.
Rob Dickinson – Founder, Singer Vehicle Design
It sounds like a Hollywood movie. The singular vision of an obsessed an ex car designer who then became a rock musician who now stands as one of the world's foremost distillers of the essence of air cooled Porsche. This is the story of Rob Dickinson and Singer Vehicle Designs.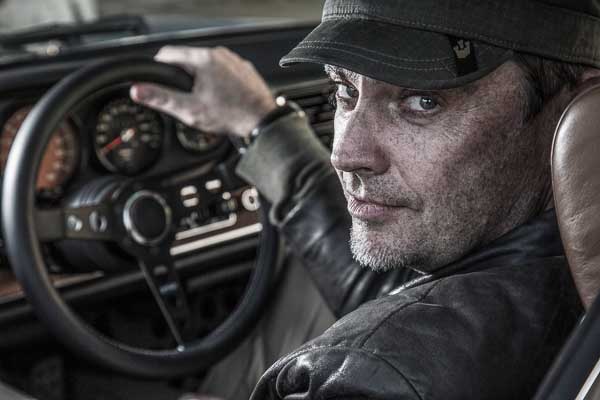 Companies like Singer Vehicle Designs are as much about their amazing founders as they are about the spectacular cars so we want to tell you about Rob Dickinson, the founder and CEO of Singer Vehicle Designs. Rob Dickinson is an overachiever. Born 23 July 1965 in the UK (a native of Norfolk, England) he is a singer, songwriter and entrepreneur who has seen tremendous success in his life.
Rob's infatuation with cars began in 1970 on a family vacation in France. As he had told it in numerous interviews, his father pointed out a fast approaching 911 Targa while travelling on the Autoroute and he was hooked forever. In college he studied Automotive Design at Coventry University and on graduation went on to work with the Peter Stevens (designer of the Mclaren F1) and Julian Thompson at Lotus. A few years later he decided that car design was not his future mainly because he saw rock 'n' roll as my way out of Norfolk. He picked up a guitar and took inspiration from his cousin (Iron Maiden singer Bruce) and off he went.
He decided to focus on his music and that is where most of you may know him from. Rob Dickinson first became known worldwide as singer and guitarist in the band Catherine Wheel. While a member of Catherine Wheel from 1990 to 2000, Dickinson proved himself as a talented songwriter and vocalist, however, after the 2000 release of Catherine Wheel's last album, Wishville, the group disbanded.
He moved in Los Angeles in 2003 to make a solo album. While in LA he also focused on creating his dream 911, "the ultimate hybrid of all the lightweight, racing 911s I loved, mashed up as a cafe racer hot rod".
Enter a 1969 Porsche 911 that became known as the "Brown Bomber". Restored to serve as a lightweight daily driver that Rob used all the time, it wasn't long before people would hound him to buy it. He thought he may be onto something special. In his own words he started to ask, "Why can't we take an old 911 and present it as the definitive air-cooled 911? The best-looking, the best driving, the best spec, built like a Rolex…"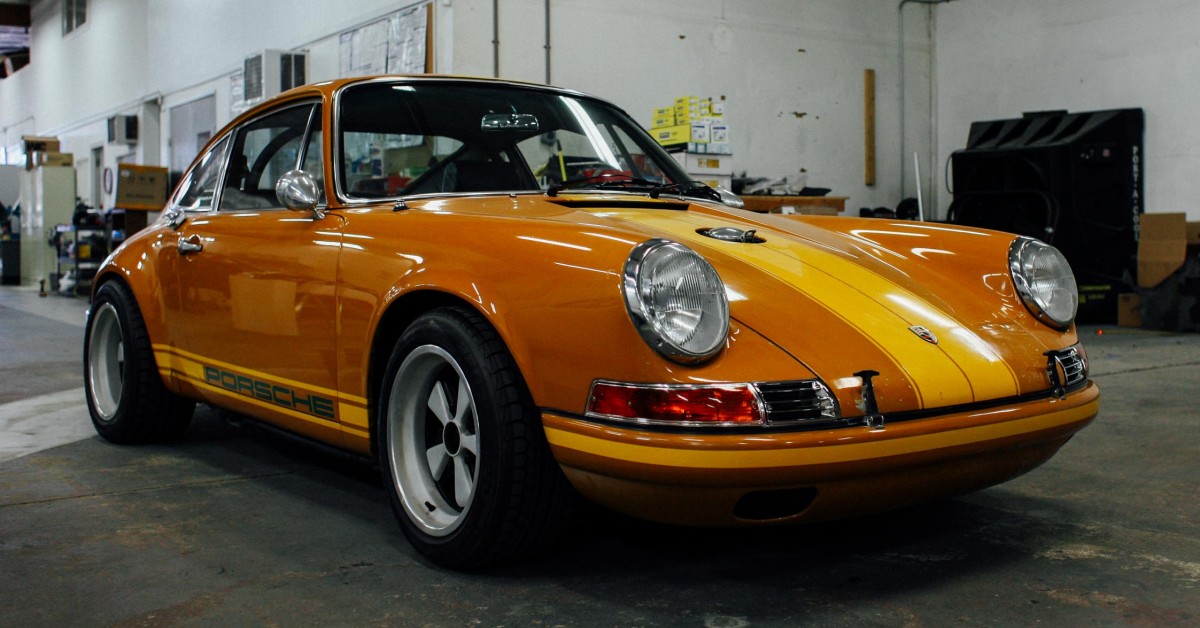 In 2009, after a decade as a touring rock-n-roll frontman, Dickinson returned to his automotive passions full time and founded Singer Vehicle Design in Los Angeles (where it is still headquartered). It became a new outlet for his creativity and lifelong love of the Porsche 911. Singer Vehicle Design started by restoring and modifying the 964s and continues to innovate and grow, including a new Swiss watch and the ultimate 911 in the DLS. As for the Singer company name, it is both in honor of renowned Porsche engineer, Norbert Singer, and Dickinson's other career as a singer himself.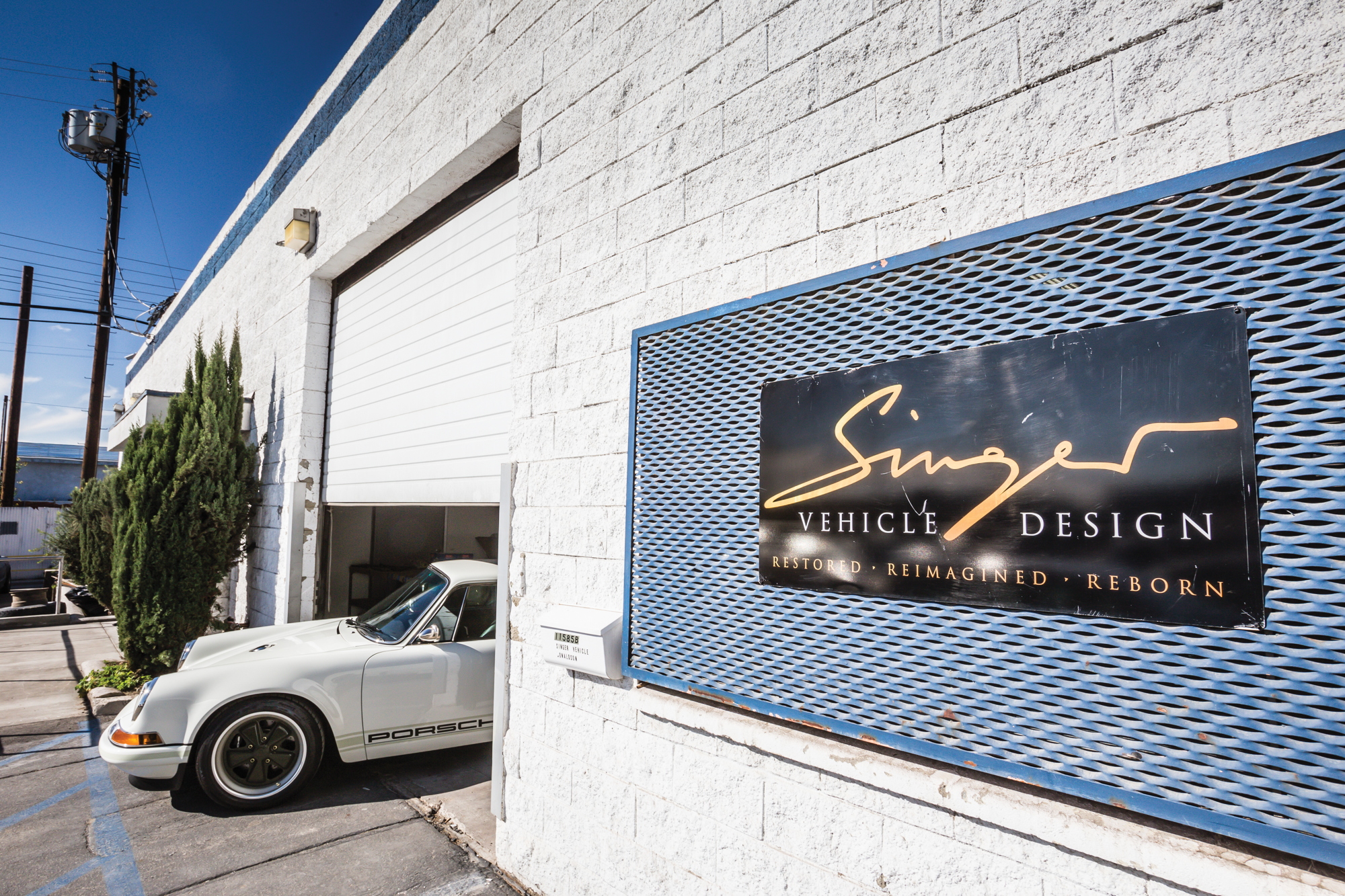 What Is a Singer Porsche?
This may seem like an obvious question, but the answer is nuanced. Is a Singer Porsche a restored Porsche 911? Is it a customized classic 911? Is it a hot rod outlaw Porsche? It is a totally unique model? Maybe all of the above.
Singer Vehicle Designs restores air-cooled 964 911 Porsches, turning them into the "ultimate 911." The final product name sums it up best, it is a Porsche 911 "reimagined" by Singer. It focuses its restoration efforts on 1989-1994 Porsche 964s (about 60,000 units were produced by Porsche so there are lots of them around, although values have skyrocketed because of their popularity as a base for restomodding).
The 964 is the perfect foundation for a Singer restoration. The 964 has classic air cooled 911 proportions, an air-cooled flat six engine, modern day technology in terms of safety, braking, suspension and steering.
Singer takes these tired 964s and restores them from the ground up while simultaneously optimizing every facet of the car and evoking the classic lines of the original 911. Each Singer Porsche is unique and no detail is unattended ("everything is important") in a Singer build, the attention to detail is amazing. A new engine, drivetrain, and suspension improves performance, while painstakingly refurbished bodywork and stunning interiors complete the cars. 4,000+ hours go into into restoring, tuning, and customizing a Singer Porsche.
A Singer Porsche is the ultimate 911.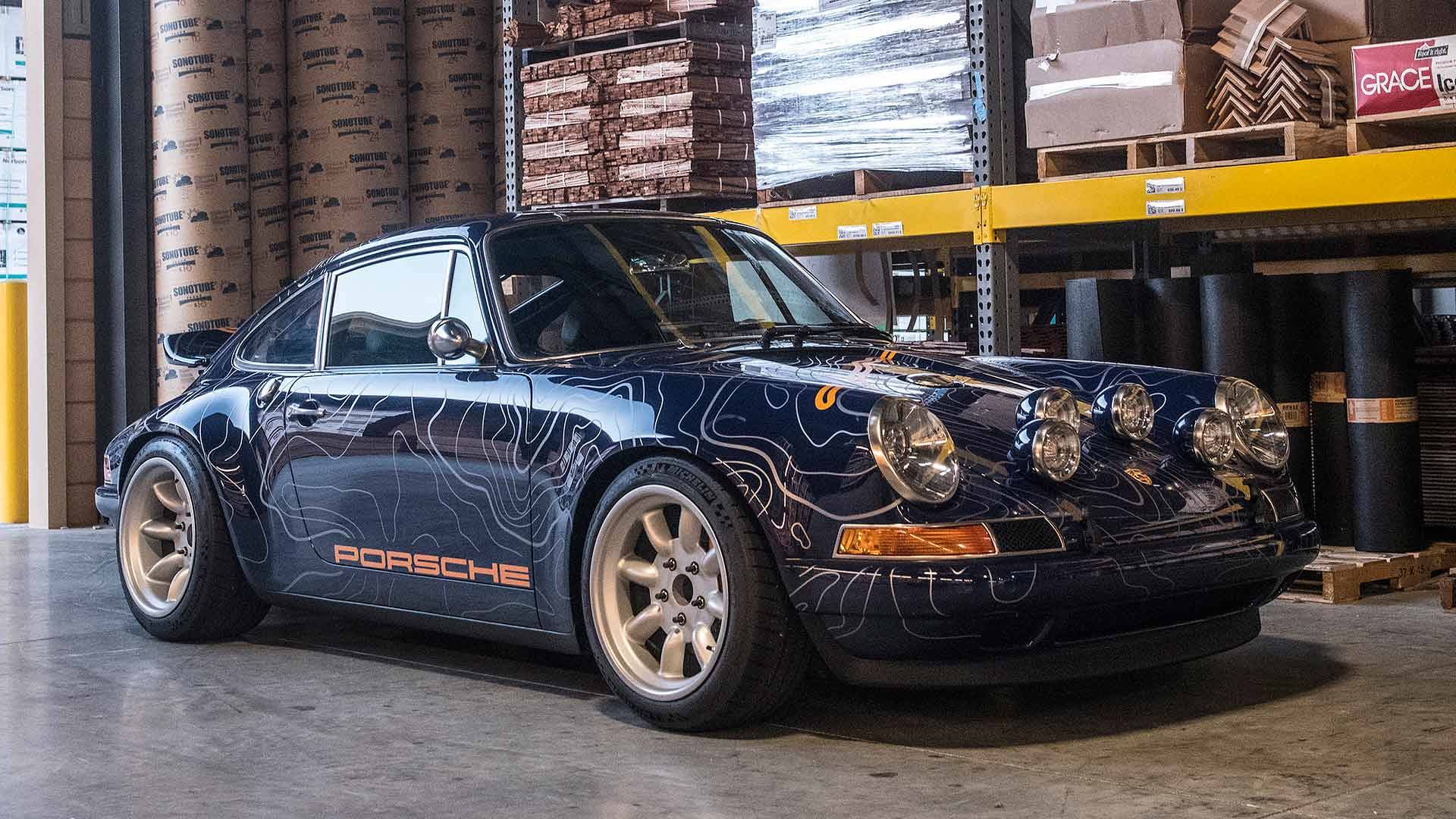 Where is Singer Vehicle Design Located?
A company like Singer could only happen in sunny California. Los Angeles and California are a fundamental part of the DNA of Singer Vehicle Design and Singer Reimagined. California loves entrepreneurs trying to change the world and it is the heart of the classic Porsche tuner market. Combining the history the iconic 911 with California's hot rod culture and a willingness to support the guy saying f**k you to the classic car establishment it was a marriage made in heaven.
In addition to their headquarters in Los Angeles, Singer had built a base of suppliers and specialists across California who work closely with them and help them think through thorny problems and create. More recently Singer has expanded its partnerships globally. They worked with Williams in the UK and Singer Reimagined in Geneva has helped them grow that network in those countries too.
Demand has meant that the company continues to grow. From a small beaten up workshop in Los Angeles in 2009 to two sites in California, teams in the UK and Switzerland and representatives around the world. Not bad for a single guy who was just trying to build his own perfect car.
Singer Porsche Price – How Much Is A Singer Porsche?
This is where we need to break the bad news to you. It is not cheap to have the ultimate reimagined Porsche 911. Singer Porsche restorations start at $395,000 plus the donor car, but most customers usually go well over $600,000. Singer says the most recent restoration commissions have been in the $600,000 to $650,000 range.
At the top of the range is the Singer and Williams collaboration in the form of the wildly reimagined 500 horsepower Singer Vehicle Design DLS. That sells for $1.8 millions, with 75 examples of this restoration being made available to customers (as always every single one is personalized for every individual buyer).
If all of this sounds absurdly expensive, think about the work that goes into these builds and the custom high end materials. A "normal" build is upward of 4,000 in man hours alone. A story Rob often tells is he first started out (in 2009), Rob charged one of his first customers $300,000 and ended up spending $800,000 on the restoration. Since then the company has worked hard to find the right balance between reasonable pricing with how absurdly expensive it is to do the work right.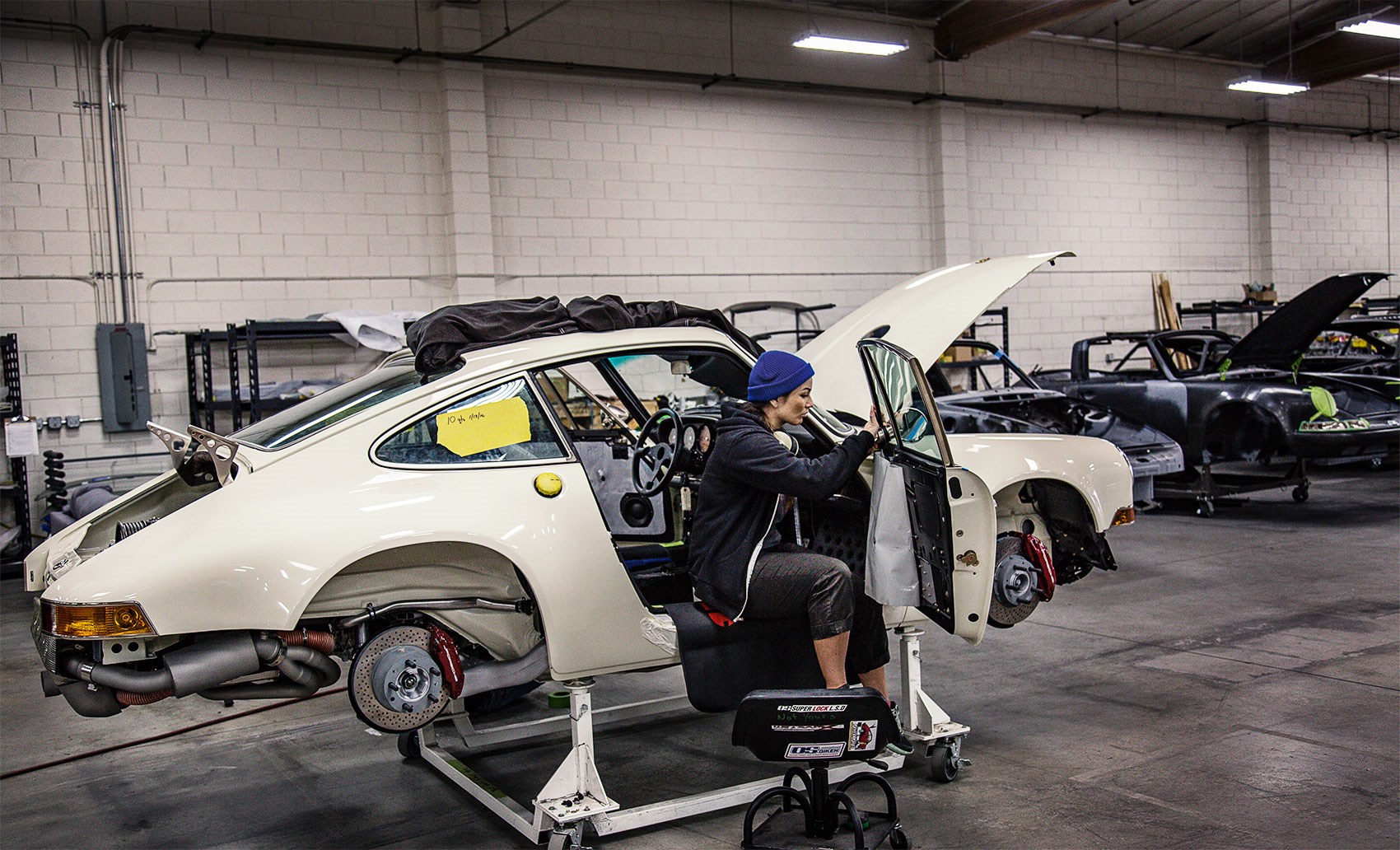 Buying & Building A Singer Porsche – The Process
The process for getting your own Singer car is more than just rocking up and dropping money. Sure, each Singer Porsche starts with the owner putting down a big deposit and then working on their dream spec list but they also need to find a 964 donor car (so we are talking 1989 to 1994 Porsche 911 for non-nerds). Once they are called up they send their car to Singer and the team goes to work, completely disassembly the car, media blasting to bare metal, adding carbon fiber bodywork and then technicians at Singer each wait their turn to transform the 911 into the final form. Engine assembly is handled by Ed Pink Racing Engines and paint is outsourced, for now, but the suspension, trim, interior, assembly, and final fit and finish are all done inside a surprisingly small shop in Sun Valley, California. We go into more details below on the whole thing if you want to learn more.
Buying a Singer Porsche – Get on the Waitlist
As of June 2018 Singer had built 100 cars. We scour the classifieds to see if anybody is selling their Singer car and unfortunately we have yet to see one come up for sale. Too bad because we would totally buy a Singer car if it came up for sale (we wish).
So what is the waitlist and process if you are one of the lucky ones who just sold your tech startup or your hedge fund had a great year and you wanted to buy the ultimate, reimagined Porsche by Singer. You will need to work directly with Singer and you better get in line because there is a long wait.
After a deposit has been placed and the specifications have been determined, the restoration can take from 8-10 months, while a typical waiting period from deposit to delivery is approximately 18 months. You are looking at an almost two year wait for your Singer Porsche, but is that really too long when you consider each donor 911 goes through Singer's complete ground-up customization process, ending up as the ultimate re-imagination of the 964-generation Porsche 911, with no detail overlooked and totally personalized to your tastes. Don't wait then, write that check for the deposit and get on the waitlist.
Speccing Your Reimagined Porsche
Singer really allows a lot of personalization on these cars. Broadly you can have your Singer be sports-driving focused, luxurious, flamboyant or simple and understated. Every restored car is unique to their owner and has its own story. In saying that we did find some broad options that Singer talks about on their site that will help you with your (probably imaginary) options list.

Chassis & Body
You supply your own fully road legal 1989-1994 Porsche 911 Coupe or Targa so that it retains its Vehicle Identification Number (VIN), odometer reading and is legally registered, operated and licensed in the same manner.
The cars are comprehensively disassembled and all bodywork to be replaced is removed from the car. The monocoque (unibody) is media-blasted to bare metal and then treated for rust prevention. The monocoque receives additional welding strengthening and fabrication in preparation for its new bodywork. After that almost every panel on the car is replaced by carbon fiber bodywork (doors stay as steel to keep strength in side impacts).
In terms of colors, Singer has 75 colors which they feel complement the classic curves of our machines and recall some of the vivid hues pioneered in the 1960s and 70s. The doorframes, and all exterior and interior bright work is nickel-plated.
In addition there are options like getting a fully integrated roll hoop upholstered in padded leather or adding front strut bracing, adding a sunroof and even a Touring Package Option (not sure what that gets you).
Aerodynamics on the cars are optimized for high-speed stability via a set of custom designed and tested front and rear spoilers. The front spoiler is a fixed, flexible urethane unit while the rear spoiler is an active, speed-sensitive unit (automatically raises up and down depending on speed). The rear spoiler boasts a 60's inspired delicate plated grill under which a tinted acrylic screen allows views of the engine.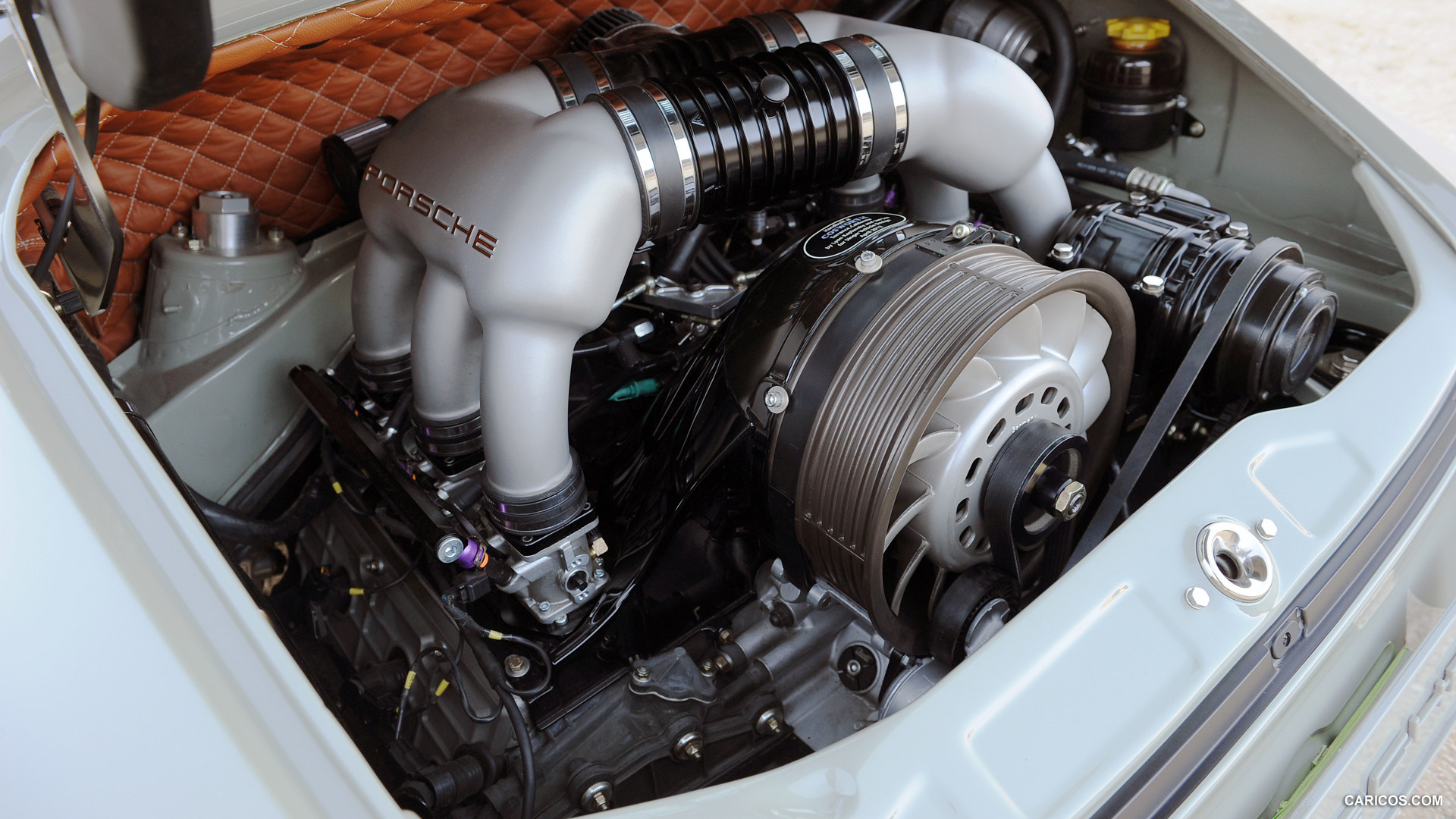 Engine, Exhaust & Transmission Options
Donor car engines are completely disassembled then meticulously blueprinted, balanced and hand-built using new or state of the art components. Customers are offered a choice of three engines, each with a unique output and character, designed to match the dynamics of their car.
Engine Option – 3.8-liter, 300 horsepower. There is a 3.8L flat six with 300 horsepower. It has a Bosch engine management system, exhaust and ancillaries, therefore retains the engine's original emission calibration.
Engine Option – 3.8-liter, 350 horsepower. There is a 3.8 liter flax six with 350 horsepower. The engine was co-developed with Cosworth and is built by Ed Pink Racing Engines. Singer says this engine option is a nice balance between a high-revving, high horsepower Porsche racing engine and a torque rich, tractable and durable engine for the road.
Engine Option – 4.0-liter, 390 horsepower. There is a 4.0 liter flax six with 390 horsepower. Ed Pink Racing Engines developed and builds this unit and it takes cues from the Cosworth unit. This is the most popular engine option. In addition to almost 400 horsepower it has a healthy 7,200 rpm redline and about 315 lb/ft of torque. Performance is amazing for an air-cooled, non turbo engine with an estimated 0 – 60 mph time of 3.3 seconds.
Custom Exhaust. One of the coolest features on the Singer Porsche is the cool ceramic coated, matte titanium gray exhaust. The exhaust is more than just show. It is made of a lightweight stainless steel and Singer says the it improves throttle response, torque distribution, and top-end power.
Transmission. The original Porsche/Getrag G50 units can be used. If you choose this option the units are stripped and rebuilt. Ratios are changed to match whether you want more sporting or touring like characteristics. The shift linkage is also rebuilt to remove sloppiness and give you 'rifle bolt' tactility. You can also choose to have a close ratio 6 speed Getrag G50/LSD unit or a close ratio 6 speed Getrag G50/LSD 993 derived 4WD system. The latter is designed to give you great power delivery in all road conditions while the former is for guys looking for a really sporty drive from their Singer 911.

Interior Options
Your Singer 911 comes with a customized interior. The attention to detail is amazing. There are too many interior options to name here but suffice to say this is where you can really go nuts in making your car your own. Materials, fittings, seats, steering wheel, gauges, rear seating, interior paneling and much more can be completely customized.
Singer Porsche Engine Builder – Meet Ed Pink Racing Engines
Ed Pink Racing Engines has been located in Van Nuys, California since 1965. In their 50 years of experience they have built every type of racing engine. Frank Honsowetz is the General Manager of Ed Pink Racing Engines and he isn't a Porsche guy. He prefers to build drag racing engines and yet this is the only guy that Singer trusts to build their engines. He must be good.
The core engine in most Singer Porsches is a 4 liter air-cooled flat six engine built by Ed Pink Racing Engines team.
Each engine is brought into their Van Nuys facility, disassembled, hot tanked, machined, and fitted with a completely new rotating assembly, set of cylinder heads, and valvetrain components. All engines keep the case of the 964 and employ a bespoke crankshaft, oil pump, pistons, cylinders, connecting rods, cams, cylinder heads, throttle bodies and intake system. These are not off the shelf units with the engines benefiting from state-of-the-art innovation and breakthroughs in intake design, cylinder head, piston, cylinder and rod design, plus fuel injection and engine management advances.
We cannot do justice to the craftsman and the engines themselves in this short post so we encourage you to spend five minutes watching the informative Hagerty video below that shows the Ed Pink team taking you through their Singer engine builds. You will see the perfection the aim for, the attention that is paid to even the most minor details.
What is a Singer Porsche Like to Drive? The Reviews…
We have never driven a Singer Porsche so we are not going to pretend we can accurately describe what one is like to drive. Luckily, some of our favorite automotive journalists and car magazines have gotten their mittens on one and filmed it for our (and now your) pleasure. Watch some of the Singer Porsche reviews…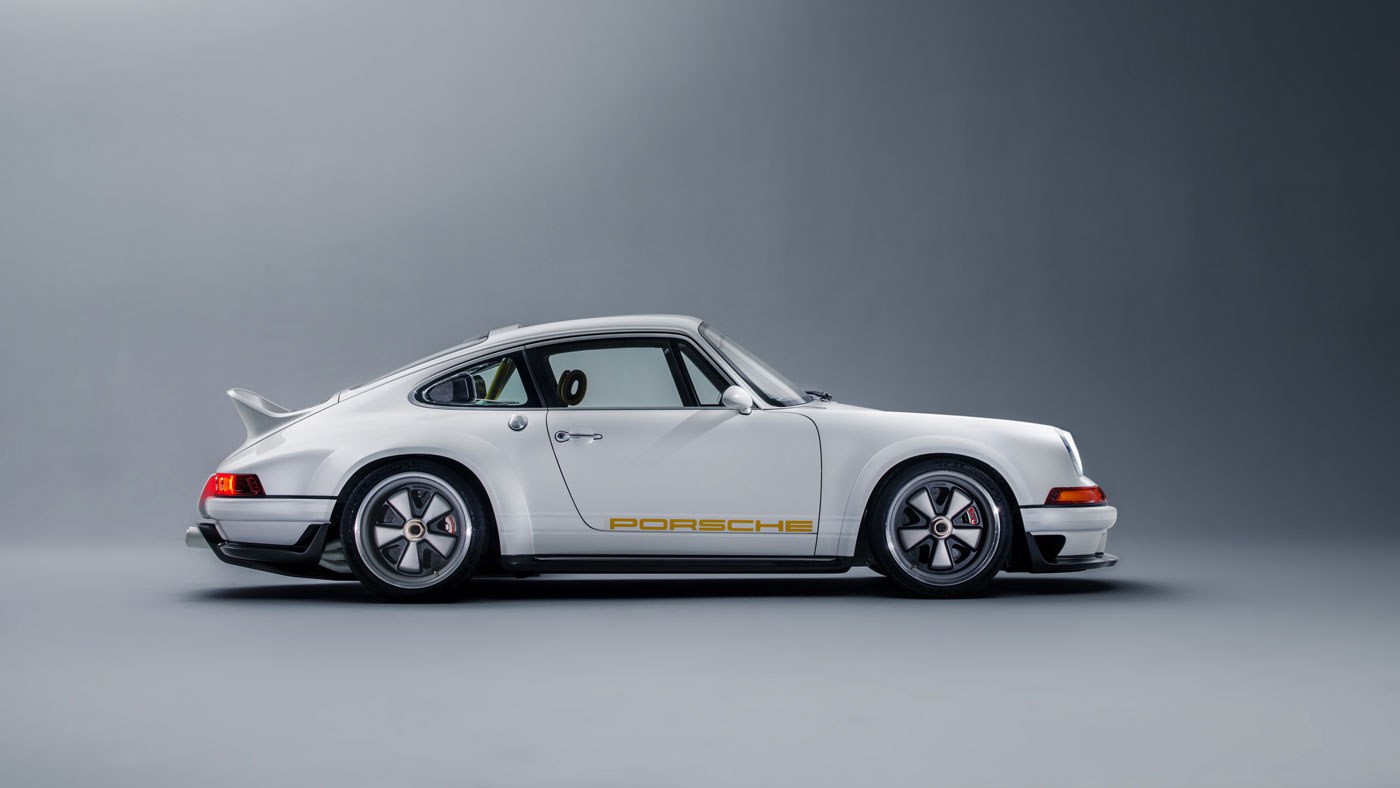 Ultimate Singer 911 Car – Singer Vehicle Design DLS
The Singer Vehicle Design DLS won our best restored and custom Porsche 911 list but many would argue that Singer and Williams succeeded in actually creating the most advanced air-cooled Porsche 911 in the world, period. The ultimate, perfect 911.
Called the Singer Vehicle Design DLS (DLS stands for "Dynamics and Lightweighting Study"), the opportunity came up to create this car thanks to a repeat customer who wanted his 1990 Porsche 911 to be taken to the "next level". The company began the "dynamics and lightweighting study" with Formula 1's Williams Advanced Engineering. The results are amazing, the DLS is an absolute masterpiece. Price point is a cool $1.8 million and 75 will be made for customers.
At a quick glance, the bodywork looks like it could've come from a 911 RSR, but it's all bespoke to this car, made from carbon fiber. It's all aerodynamically optimized, too, with a small air channel at the rear window designed to work with the ducktail spoiler and diffuser, making real downforce. Norbert Singer, the legendary Porsche Motorsport engineer who ran the company's Le Mans program for decades helped with the aero.
Williams worked on balancing the weight of this 911 as much as possible, moving the engine forward slightly and relocating other components to the front trunk. Speaking of the engine, it is a 4.0-liter naturally aspirated flat six worked on by Williams and is good for 500 horsepower at 9,000 RPM. The motor boasts lightweight throttle bodies with F1-inspired upper and lower injectors, a unique oil lubrication system and it has dual overhead cams and four valves per cylinder. The engine breathes through two ram-air intakes integrated into the rear quarter windows, while a vent in the spoiler helps expel air.
The suspension was also optimized by Williams. Williams designed the suspension, which is equipped with remotely adjustable dampers, and the tires are Michelin Pilot Sport Cup 2s in a custom size. The ABS, traction, and stability control brains come from Bosch and it has switchable driving modes. Completing the package is a six-speed manual designed by Hewland—no autos or dual-clutch transmissions here.
The interior is absolutely stunning, the body is perfect, the nuts and bolts and little things are just outstanding. Everything else here was made specifically for this car, completely custom. The seats? Custom carbon-fiber Recaro buckets. Steering wheel? Custom carbon-fiber Momo Prototipo. Brakes? Carbon-ceramic Brembo discs with monobloc calipers. Wheels? 18 inch center-locking BBS magnesium made to look like old Fuchs alloys.
Singer Porsche Galleries
We tried to break out the Singer car picture gallery by a few categories.
Singer Car Pictures
Singer "Look at the Attention to Details" Pics
Singer Interior Pics
Singer Engine Pics
Singer Vehicle Design DLS Gallery