Introduction
It is by no means a stretch to say that when McLaren releases a new car, that car becomes the best they have ever made. The British supercar maker has an impeccable track record in this regard, thanks in huge part to its unclouded focus on producing only exotic sports cars; no dubious SUVs, no ornate saloons, no cumbersome grand tourers – only performance-extraordinaire.
The new 600LT is based on the McLaren 570S, and is the latest rendition of the "Longtail" Sports Series cars, hence the moniker. Essentially, the 600LT is designed to possess nearly 3 inches longer of aerodynamic bodywork and is given a slight power bump, weight reduction, and other performance upgrades. While these changes may appear to be rudimentary, the intricacies of each improvement sum up to make the 600LT a car in its own right.
In fact, the McLaren 600LT is considered by many to be gateway car to the top of the line Senna, providing drivers with the sensation of its driving dynamics, at one-quarter of its price. After all, upgrades such as the electric vacuum pump and carbon bucket seats, are borrowed from the Senna.
If we were to create a reference point for this car – in a comprehensive line up of McLaren sports cars, exotics and halos – the 600LT would be more akin to a Senna-lite than a 570S-plus. With a base price of $242,500 USD, eyebrows will certainly be raised; not for its outright price, but for its inherent value considering what you get for that kind of money.
These credentials certainly put the 600LT in the running to be the 'best McLaren ever made'.
Engine & Performance
At the heart of the McLaren 600LT is an evolved version of the 3.8L twin-turbocharged V8 found in the 570S. An extra 30-horsepower and 14 lb-ft of torque are wrung out this industrious engine, bringing the 600LT's final figures to 592-horsepower and 457 lb-ft of torque. Not an astronomical change by any means, which gives you the hint that this relatively modest, but important upgrade is a part of something greater and is nothing to balk at.
This boost in power along with a more instant throttle response is greatly attributed to its shortened exhaust which greatly reduces back pressure. Inspired by the Senna, this exhaust is actually even shorter and more extreme than the one used by its role model.
Delivering the power to the wheels is a 7-speed dual clutch transmission. While the transmission is a robust unit which slots into each gear like a race car, its overall brutality in doing so precludes it from any sense of refinement at lower speeds where drivers will experience some jerkiness.
Overall the numbers are ultimately impressive, with the McLaren 600LT achieving a power-to-weight ratio of 481-horsepower per tonne (with every weight reduction option added) and a 0-62 mph time of 2.9 seconds.
Chassis & Handling
It is in these areas of the car where the more significant changes were made over the 570S. No consideration was spared with particular regards to weight reduction, braking, and suspension. At the heart of it all is McLaren's carbon fiber MonoCell II chassis and lightweight aluminum body panels.
Naturally, a carbon fiber diet is a huge part of the order with new sport bucket seats, and much of the front and rear bodywork made of the lightweight good stuff. Other servings such as new 10-spoke ultra-light wheels, A/C delete, a stainless steel top exit exhaust and suspension components borrowed from the 720S, combine for over 96 kg in extracted mass. This is quite significant in the grand scheme of things, considering that the 570S was no porker, to begin with, and now has a more powerful engine to boot.
The 600LT has a wider track and lower ride height than the car it has now become loosely based on. Thanks to components such as redesigned dampers with forged double wishbones, upgraded anti-roll bars, and firmer engine mounts, the car has become lighter, stiffer and more precise in its handling. Spring rates have been increased 13 percent in the front and 34 percent in the rear, though McLaren insists that streetability and comfort in this regard have not been compromised.
The standard carbon-ceramic brakes are borrowed from the 720S, measuring 390mm and 380mm and accompanied by six-piston and four-piston aluminum calipers in the front and rear respectively.
This braking system is a perfect match for the Pirelli Trofeo Tires which should instill an extraordinary level of confidence in the driver. The overall transformation of the chassis allows the car to change direction and speed with such favorable track manners, making for a more balanced vehicle than the 720S, and a less overwhelming machine than the halo Senna. It remarkably gives you the best of both worlds, or more accurately, the best in one McLaren.
Design, Styling & Interior
The most notable design cue in the 600LT would likely be the exhaust exits at the top of the engine cover, rather than through the rear bumper. Far from just being a crowd pleaser, this setup also saves weight and allows room for a larger rear diffuser which works in conjunction with the rest of the car's aero pieces to produce over 220 pounds of downforce at 155 mph.
McLaren was preemptive in cooling any areas of concern, quite literally, by coating the rear wing in a ceramic material which deflects heat – very necessary as that area of the car can get as hot as 210 degrees Celsius when the exhaust is on full blast. A more aggressive front splitter, side skirts and "aero planes" more efficiently channel airflow across the body and assist with downforce.
With weight reduction being a key design philosophy for the 600 LT, amenities such as A/C, interior carpeting and a sound system are forgone; they can be added as no-cost options. Should buyers opt for such practicalities, they would have to do with about 16 kg of added weight. To offset some of this weight, or take the base car to the next stage, the MSO (McLaren Special Operations) Clubsport Pack adds a carbon fibre roof and fenders, titanium wheel lugs, the same bucket seats used in the Senna, and other lightweight fixtures which altogether cost $25,000 USD and shed around 5 kg.
The McLaren 600LT with every lightweight option fitted, measures in at just 1,247 kg.
Pricing
Base price of the 2019 McLaren 600LT is $242,500 USD and should be well within the $300k mark even when specced with some of the pricier options.
This means that in terms of pricing, the 600LT slots in between the Porsche 911 GT3 RS and the Lamborghini Huracan Performante – both naturally aspirated cars. For buyers who have a soft spot for high revving turbo-less engines, both those cars may become tough competitors.
The GT3 RS can be had for $40k less. Although the Porsche may lack the wow-factor of the more exotic 600LT, this is something that can be remedied by spending an extra $30k for the V10 Lamborghini.
At the end of the day, it is no secret that McLaren's Sport Series range of cars, which now includes the new 600LT, can tussle with cars that are well above its price point – even within the McLaren line-up. In current times, this includes the likes of the Ferrari 488 GTB, the aforementioned Lamborghini Huracan Performante and McLaren's own 720S and million-dollar Senna, which it mimics with considerable veracity.
For those who know exactly what they want in a car, the McLaren 600LT would be a bargain if all the right boxes are checked; and considering everything the car has to offer compared to its competition.
Performance & Specifications Summary
Model & Price Info
| | |
| --- | --- |
| Make | McLaren |
| Model | 600LT |
| Generation | Sport Series |
| Sub-Model | Longtail |
| Car type | Coupe |
| Category | Series Production Car |
| Built At | Woking, UK |
| Introduced | 2019 |
| Base Price (US) | $242,500 |
| Base Price (UK) | £185,500 |
| Units built | TBD |
Chassis, Suspension & Powertrain
Curb Weight
1,356 kg (2,989 lbs)
Layout
Mid-engined, rear-wheel drive
Body / Frame
Carbon fibre MonoCell II monocoque, with aluminium front and rear crash structures
Suspension
Independent adaptive dampers, dual aluminium wishbones. Normal, Sport and Track modes
Steering
Electro-hydraulic; power-assisted
Brakes
Carbon Ceramic Discs (390mm front; 380mm rear); Aluminium Calipers (6-piston front; 4-piston rear)
Tires

Pirelli P-ZERO™ Trofeo R (P-ZERO™ no-cost option)

Front: 225/35/R19; Rear: 285/35/R20

Transmission
7 Speed SSG. Normal, Sport and Track modes
Engine & Output
| | |
| --- | --- |
| Engine | V8 |
| Displacement (Litres) | 3.8L |
| Position | Longitudinal |
| Aspiration | Twin-turbocharged, intercooled |
| Power (hp) | 592 hp @ 7,500 rpm |
| Power (hp) / litre | 155.8 hp / litre |
| Power (hp) / weight | 0.44 hp / kg |
| Torque | 457 lb-ft @ 5,500-6,500 rpm |
| Average Fuel Consumption | 11.7 L/100 km (combined) |
Performance, Acceleration & Braking Stats
| | |
| --- | --- |
| Top speed | 204 mph |
| 0 – 60 mph | 2.8 s |
| 0 – 62 mph | 2.9 s |
| 0 – 124mph | 8.2 s |
| 0 – 186mph | 24.9 s |
| ¼ mile (standing) | 10.4 s |
| 124 mph – 0 | 384 ft |
| 62 mph – 0 | 102 ft |
Gallery & Videos
Image Gallery
McLaren has taken the 570S to the next level, with some reimagined design elements to set the 600LT apart from its donor. Weight savings, aerodynamics, cooling and a bit of showmanship are all emphatically bundled into this package.
In my opinion, the McLaren 600LT's extroverted looks are as beautiful as they are functional – making for a car that radiates the pinnacle of McLaren's current offerings.
Video Review Gallery
Here are some YouTube video reviews from some of my favorite car reviewers and auto personalities. All of them provide feedback from an "everyday guy" perspective – but aren't afraid to thrash the car around a racetrack when given the opportunity – providing commentary that is both technical and easy to absorb.
First up is Top Gear Magazine's Jack Rix, providing his expert opinion on the 600LT. He goes into detail about what makes this car so great.

Next, Steve Sutcliffe from Auto Express takes the 600LT around the Hungaroring GP circuit. It is clear that he thinks that this car is something quite special.
Here we have Carfection's Henry Catchpole having a chance to take the McLaren 600LT on the track in Portugal. His commentary is both technical and emotionally engaging.

Last but not least is McLaren's beautifully cinematic official ad for the car.
Original Press Release
World debut for new McLaren 600LT at Goodwood Festival of Speed, plus full technical details and new images of the quickest, most extreme road-legal Sports Series McLaren
11 Jul 2018
The lightest, most powerful and quickest road-legal Sports Series McLaren makes its world dynamic debut on July 12 in the UK, at the Goodwood Festival of Speed
600PS and 620Nm ensures blistering acceleration: 0-100km/h (62mph) is the equal of a McLaren 675LT at 2.9 seconds (0-60mph in 2.8 seconds); 0 – 200km/h (124mph) in just 8.2 seconds
New aerodynamic carbon fiber bodywork – including front splitter, side sills, extended diffuser, and fixed rear wing – contributes to 100kg of downforce at 250km/h (155mph)
100kg lighter* than 570S Coupé DIN kerbweight, with a lightest dry weight of 1,247kg giving a power-to-weight ratio of 481PS/tonne
Optional Clubsport and Clubsport Pro packs available from McLaren Special Operations (MSO) for even lighter weight and more track-focused features
Nearly a quarter of McLaren 600LT parts new compared to McLaren 570S Coupé, including unique top-exit exhaust system and two all-new, ultra-lightweight alloy wheel designs
Forged aluminum double wishbone suspension derived from the McLaren Super Series combines with stiffer anti-roll bars and an 8mm reduction in ride height to help deliver enhanced dynamic performance and new heights of driver engagement
Bespoke Pirelli P Zero™ Trofeo R tires work in harmony with increased downforce to generate circuit cornering speeds that exceed those of a McLaren 675LT
Latest-generation lightweight brake calipers, carbon ceramic discs and a McLaren Senna-inspired brake booster ensure precise pedal feel and phenomenal stopping power: 200km/h to standstill in just 117 meters
600LT opens next chapter in the McLaren 'Longtail' (LT) story; production volume strictly limited
Available to order now, priced from £185,500 with taxes (UK), which includes** a Pure McLaren Road Owner Track Day experience with driver training
The quickest, most powerful and most track-focused – yet road legal – Sports Series McLaren will make its dynamic world debut tomorrow (July 12) at the 2018 Goodwood Festival of Speed. The arrival of the new 600LT, which is built to excel on roads and race circuits alike, marks both the beginning of the next chapter in the McLaren 'Longtail' (LT) story and the setting of a new benchmark for super-sportscar performance.
"The new McLaren 600LT is our most extreme road-legal Sports Series model and possesses the optimized aerodynamics, increased power, reduced weight, track-focused dynamics and enhanced driver engagement that are the hallmarks of any McLaren LT. Only the fourth McLaren in more than two decades to be designated a 'Longtail', the 600LT redefines expectations of super-sportscar performance, delivering astonishing acceleration and outstanding track cornering speeds with a truly extraordinary dynamic connection between driver and car."
Mike Flewitt, Chief Executive Officer, McLaren Automotive
The new McLaren 600LT epitomizes the McLaren philosophy of producing lightweight super-sportscars that deliver extreme performance and are exceptionally rewarding to drive. With the engine management system of the 3.8-litre twin-turbocharged V8 recalibrated and less back pressure from a top-exit exhaust system that is even shorter and more extreme than that of the McLaren Senna allowing the engine to breathe more freely, the 600LT can call on peak power of 600PS (592bhp) at 7,500rpm and a maximum torque output of 620 Nm (457 lb ft) at 5,500-6,500rpm.
These outputs deliver astonishing levels of performance: 0-100km/h (62mph) takes just 2.9 seconds, matching the acceleration of the revered McLaren 675LT Super Series model. 0-200km/h (124mph) is achieved in a remarkable 8.2 seconds and the 600LT can continue gathering speed to a top speed of 328 km/h (204 mph).
Inspired by the renowned McLaren 675LT models and their iconic 'Longtail' McLaren F1 GTR racing predecessor, the new addition to the LT family has all the physical hallmarks of a true McLaren 'Longtail', including an extended front splitter, lengthened rear diffuser, fixed rear wing and elongated silhouette – in this case by 74mm compared to a McLaren 570S Coupé.
The unique bodywork optimizes aerodynamic performance, working in conjunction with the flat carbon fiber floor of the 600LT to produce the 100kg of downforce at 250km/h (155mph) that generates more grip and greater high-speed stability and is a significant contributor to the car's excellence on a track.
Extensive use of carbon fiber – including for the monocoque chassis that is some 25 percent stiffer than a comparable aluminum chassis and for the new aerodynamic features– together with lightweight materials throughout the track-focused cockpit, helps the McLaren 600LT to achieve a lightest dry weight of 1,247kg and equivalent power-to-weight ratio of 481PS/tonne. With the optional Super-Lightweight Carbon Fibre Racing Seats developed for the McLaren Senna fitted, the 600LT weighs 100kg less than a 570S Coupé – a remarkable reduction that delivers tangible benefits in every aspect of the car's performance.
McLaren 600LT buyers wanting to go to another level of weight-saving can specify the MSO Clubsport or MSO Clubsport Pro packs from McLaren Special Operations. The MSO Clubsport Pack, which adds £24,170 to the price of a new 600LT, features the Super-Lightweight Carbon Fibre Racing Seats; a Carbon Fibre Interior Upgrade that includes extended gearshift paddles and steering wheel spokes and switches and IRIS display surrounds in the lightweight material; Carbon Fibre Roof and Cantrails, Visual Carbon Fibre Fender Louvres in gloss finish; and titanium wheel bolts.
The MSO Clubsport Pro Pack, which adds an MSO Defined Harness Bar and 6-Point harness for track use, in either black, blue, red or McLaren Orange, is priced at £28,480. The Super-Lightweight Carbon Fibre Racing Seats are available as a stand-alone option, costing £4,990.
The remit of any McLaren 'Longtail' model is to engage and excite to the absolute maximum, encouraging – and enabling – drivers to fully exploit the dynamic performance inherent in the car. The ethos underpinning every aspect of the development of the McLaren 600LT was, therefore, a determination to deliver the purest possible connection between car and driver.
To this end, the 600LT has lighter and stiffer suspension components from the McLaren 720S, the adoption of the forged aluminum double wishbones and uprights not only improving dynamic capabilities but also reducing weight by 10.2kg. Ride height is reduced by 8mm over other Sports Series models and front track is increased by 10mm, to deliver a more precise driving experience.
The independent, continuously variable adaptive dampers and front and rear anti-roll bars featuring on all McLaren Sports Series models have been retained but are significantly re-engineered to work with the new suspension geometry and create the track-focused performance demanded of the new 600LT.
The adoption of the braking system from the McLaren Super Series, which features lightweight aluminum calipers and stiffer carbon ceramic discs, reduces weight by 4kg, working in conjunction with an all-new brake booster developed using learnings from the McLaren Senna, the result is incredibly responsive and progressive pedal feel during braking and a 200km/h (124mph) to standstill distance of 117m – just 1m more than a McLaren P1™.
Two new designs of ultra-lightweight aluminum alloy wheels – 10-spoke as standard and a 5-spoke alternative as a £4,080 option – are the lightest wheels ever fitted to a Sports Series, the reduction in unsprung weight bringing a noticeable benefit to the dynamic qualities of the car.
Bespoke P Zero™ Trofeo R tires – developed with McLaren Technical Partner, Pirelli – feature for the first time on a Sports Series model and this unique track-focused tire is a crucial element in the enhanced dynamic abilities of the McLaren 600LT. Tuned to deliver the immediacy and steering feel for which McLaren is renowned, as well as excellent rear axle stability, the ultra-high-performance tire features a softer sidewall structure than is usual to improve compliance and so grip levels by ensuring the contact patch with the ground is maintained, even on less-than-perfect surfaces. By contrast, the belt construction of the Trofeo R tire is stiffer than on any previous Sports Series, to enhance lateral acceleration and improve cornering ability.
The cockpit of the McLaren 600LT exemplifies both weight reduction and a driver-focused environment. Lightweight Alcantara® trim material is used extensively throughout and the absence of carpet in the driver and passenger footwells and beneath the seats saves 5.7kg, while also exposing the carbon fiber beauty of the MonoCell II chassis construction.
The glovebox has been removed and the door pockets replaced with lightweight nets; air-conditioning, satellite navigation, and an audio system are all available as no-cost options, not being fitted as standard. Carbon fiber Racing Seats, first seen on the McLaren P1™ and subsequently used in the McLaren 675LT, are standard-fit and save a remarkable 21kg.
Production of the 600LT Coupé will begin in October 2018 and last for around 12 months, with build slots scheduled around existing Sports and Super Series models, as well as the sell-out Senna, Senna GTR and BP23. Availability will be strictly limited, the carbon fiber body panels that require specialist tooling just one of the reasons that the new 'Longtail' will be rarer than its Sports Series brethren. Available to order now from McLaren retailers – subject to availability – the 600LT Coupé is priced from £185,500 with taxes (UK), which includes** a Pure McLaren Road Owner Track Day at a race circuit, with expert driving tuition.
To discover more about the new McLaren 600LT, visit McLaren.
A film showing the car in action can be viewed here:

Ends
* with optional Super-Lightweight Carbon Fibre Racing Seats fitted
**Included in North America and European markets (including UK). Please confirm further details with a McLaren retailer.
Final Verdict
As my fellow Supercars.net colleague, Nick Dellis once remarked, "The world is full of armchair commentators when it comes to cars. At Supercars.net we have a number of journalists and automotive publications we rely on when we want to get unbiased opinions from people we admire."
Below are snippets from some of our favorite car reviewers and automotive personalities regarding the McLaren 600LT. As always, we ask that you support the amazing publications they release, so that the automotive community continues to benefit from the hard work and enthusiasm they put into providing us with content that we love.
Evo – "More powerful, more raw, more pure – McLaren's Sport Series at its best yet." – 5/5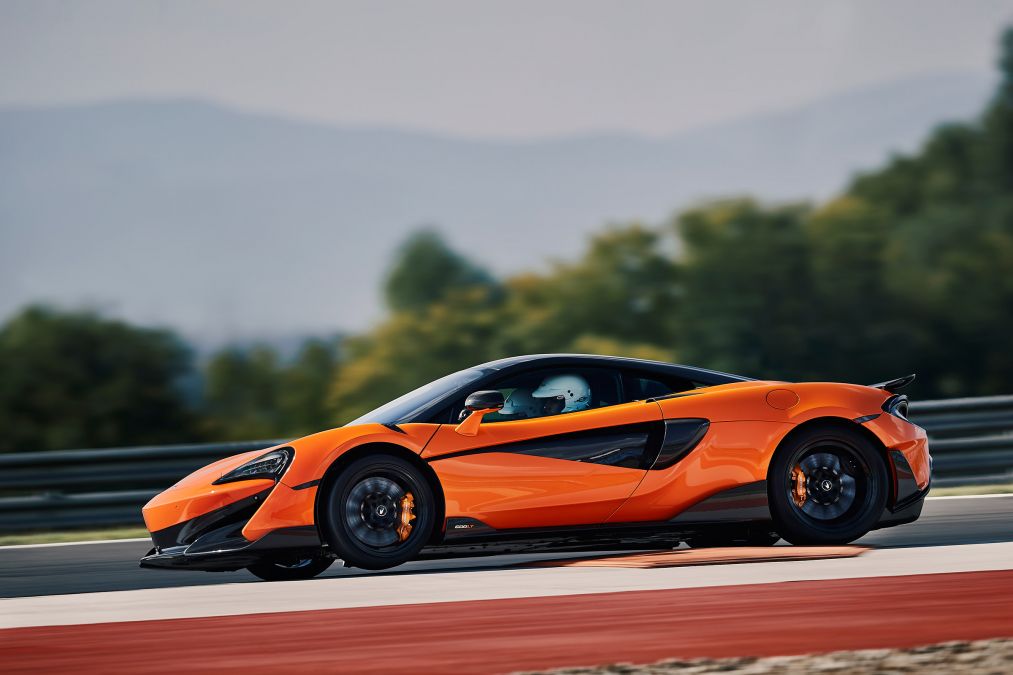 Adam Towler from Evo had high expectations going in, despite the 720S rewriting the supercar rulebook and being awarded 'Evo Car of the Year' in 2017. The 600 LT's "increased focus on driver thrills might just make it our favorite McLaren yet.", he says.
Direct comparisons to the car it is based on – the 570S – were always going to be made, and Adam remarks that "impressive as a 570 is, every aspect of that car feels tempered with a nod to usability. With the 600LT this restraint has been removed and you feel as if you are gaining access the Sports Series' raw ingredients. There's no hint of vagueness, of squidge and imprecision, instead, everything the 600LT does is ruthlessly, but delightfully, transparent and true."
He goes on to summarize that based on its price and offerings compared to its competition, that "McLaren has, therefore, found a rather handy niche for the 600LT, and has filled it with an extremely desirable and capable supercar. "
The Good
Natural, sharp and transparent driving connection
Beautifully balanced cornering attitude
Top-mounted exhaust that spits flames
The Bad
There's nowhere to store your travel sweets
Almost too fast for the streets
More: Read full review
Motoring Research – "It's very probably the best driver's car of the year" – 5/5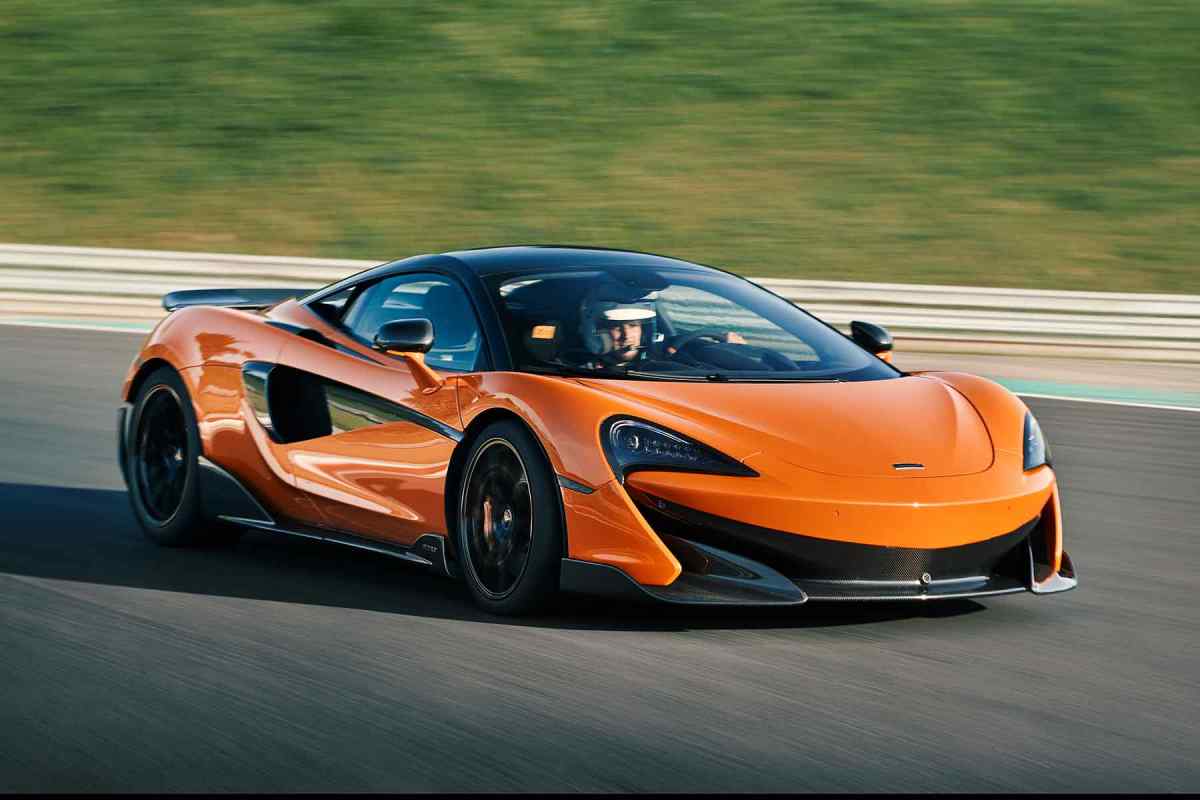 Tim Pitt from Motoring Research was one of a few lucky journalists to track the 600LT on the Hungaroring. He can't help but note that "Even for a supercar, it looks special. Forget the joy of specs for a moment: the 600LT looks sensational. From upwards-opening dihedral doors to an exuberant paint palette, its styling screams 'supercar'. An Audi R8 seems plain by comparison."
At the end of the day, Tim, who is an obvious Porsche fan and admits that "the obvious stumbling block here is the Porsche 911 GT3 RS, with its equally talented chassis and fearsome, 9,000rpm flat-six." However, he goes on to say "But since you can't actually buy a '991.2' RS unless you're one of the favored few – or prepared to pay vastly over the odds – the McLaren claims victory by default. Well played Woking".
The Good
Ultimate driver's car
Special looks
Both agile and docile
The Bad
Rudimentary media system and creature comforts
Expensive options for a tiny bit of extra weight reduction
More: Read full review
Auto Express – "McLaren's best road car yet" – 5/5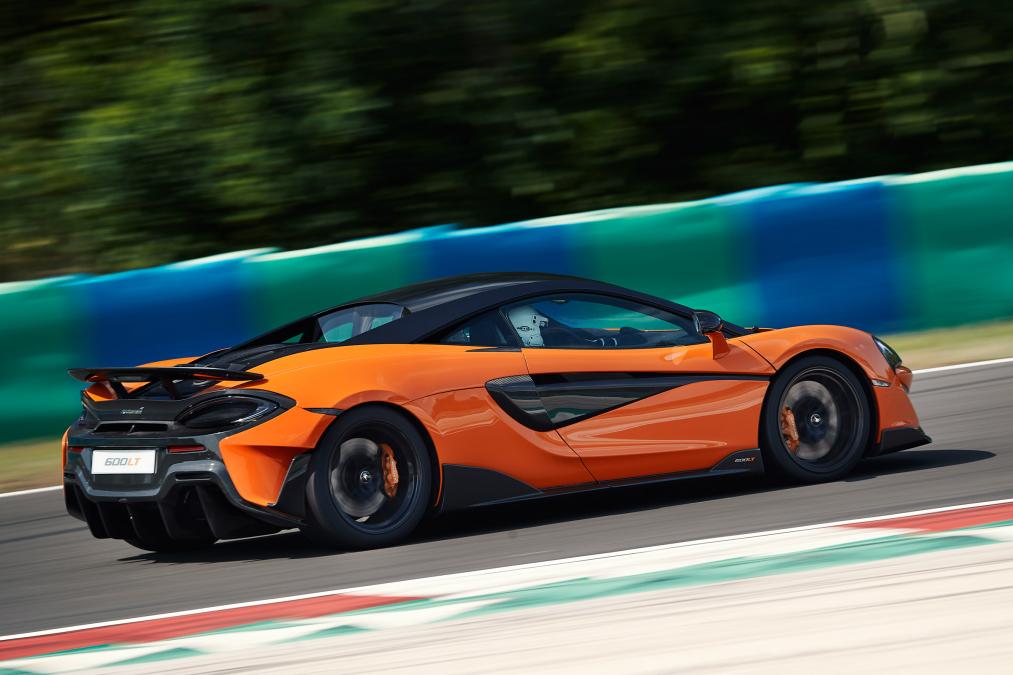 Steve Sutcliffe from Auto Express is another reviewer who believes that the 600LT is the best car McLaren has made to date.
"The new 600LT is sensational on a track and far sharper than the regular 570S. But it also appears typically usable and impressively civilized. While we're yet to try the car on the road, it's immediately obvious the 600LT is more than just a sometime track-day weapon. McLaren has hit the bullseye once again."
The Good
Best McLaren road car ever made
Not too hardcore or over the top
The Bad
Could still be mistaken for a 570S from afar
More: Read full review
My Final Verdict – 5/5
There is no doubt that amongst contemporaries, the McLaren 600LT is quite simply the best McLaren road car, and arguably the best driver's car on the market.
McLaren improves its remarkable track record of producing progressively better cars, with a focus on designing them to deliver at the highest echelons of performance while being refined enough for daily driving.
The McLaren 600LT does all that, pretty much to perfection. This is all without yet mentioning that with pricing considered, the 600LT can be likened to a giant-killer with its relatively modest costs, which allow it to punch above its weight class.
Perhaps the biggest compliment that is being paid to the 600LT is its likeness to the Senna – McLaren's million-dollar halo car. The 600LT delivers the same driving dynamics and arguably more fun factor, at a third of the cost of the aforementioned. Knowing that someone would have spent a million-plus to keep up with you and have as much fun as you on the race track, says that this car is something quite groundbreaking indeed.
In my opinion, the McLaren 600LT is a car that is really going to shake up the $200,000-ish supercar segment. Competitors are going to have to step up their game and look very closely at their strategies if they don't want McLaren to become the de facto car of choice for pragmatic supercar buyers. The McLaren 600LT might not just be the best McLaren ever made – it may also be the best supercar ever made.
Rivals
Lamborghini Huracan Performante
Ferrari 488 Pista
Mercedes AMG GTR
McLaren 720S
Porsche 911 GT3 RS