TECHART has been known for some of the most impressive Porsche modifications we've ever seen, and now they've released their GrandGT into the wild, based on the Porsche 971 series, better known as the Panamera and Panamera Sport Turismo, the TECHART GrandGT comes with a significantly modified exterior, custom made interior, and more importantly, a massive power boost.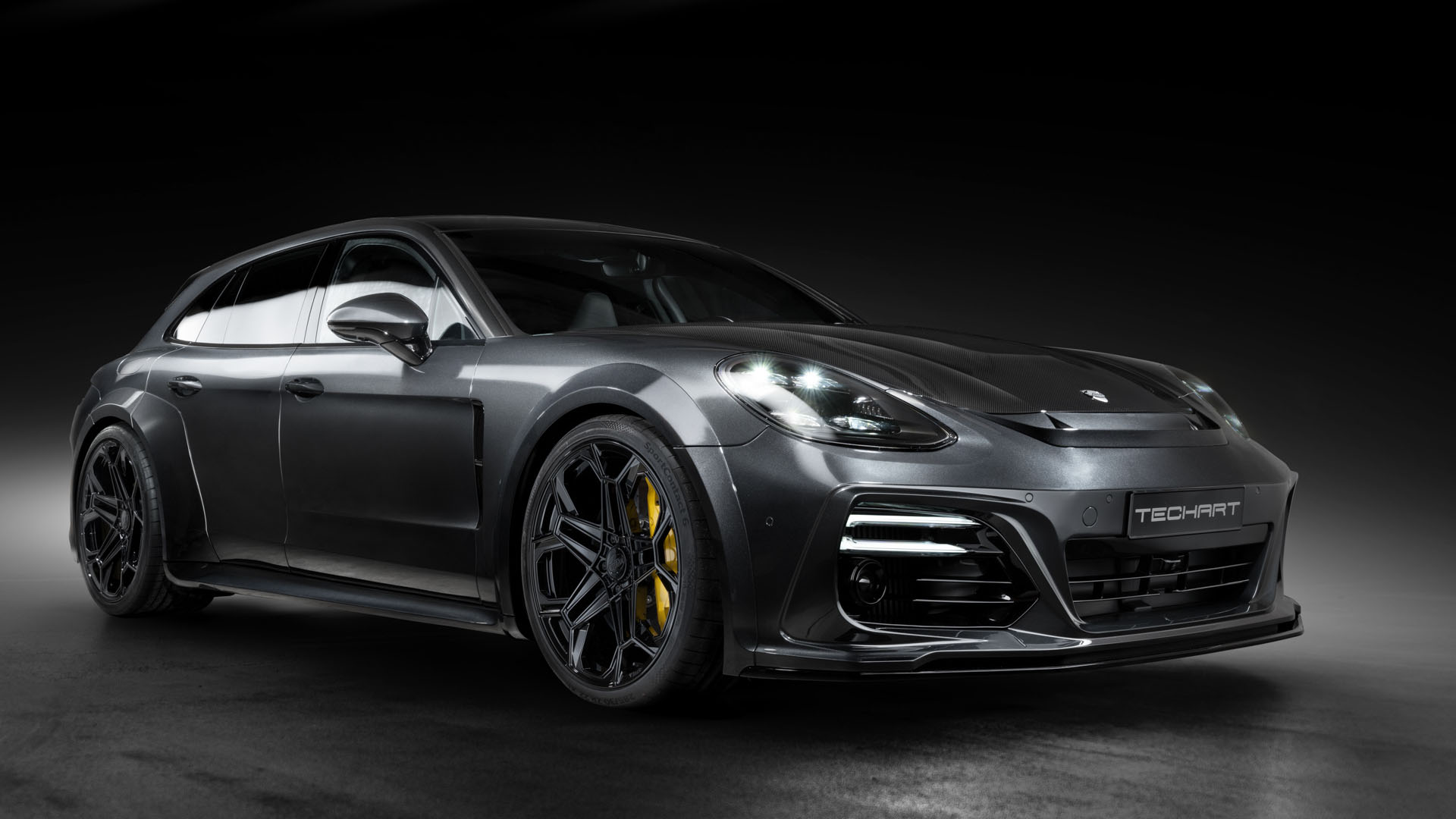 If your base Porsche is the Panamera GTS version, TECHART will boost power by no less than 180 hp and 150 Nm of torque, on the Porsche Panamera Turbo S the increase is still 90 hp and 130 Nm of torque. This boils down to a healthy 660 hp in the GTS edition, while the Turbo S goes up to a massive 720 hp, in the latter this offers acceleration from 0 to 100 km/h in 3 seconds flat, reaching 200 km/h only takes 10,5 seconds while the Panamera Turbo S GrandGT runs out of breath at 315 km/h … that's Ferrari and Lamborghini territory, in a four-door, four-seat GT car.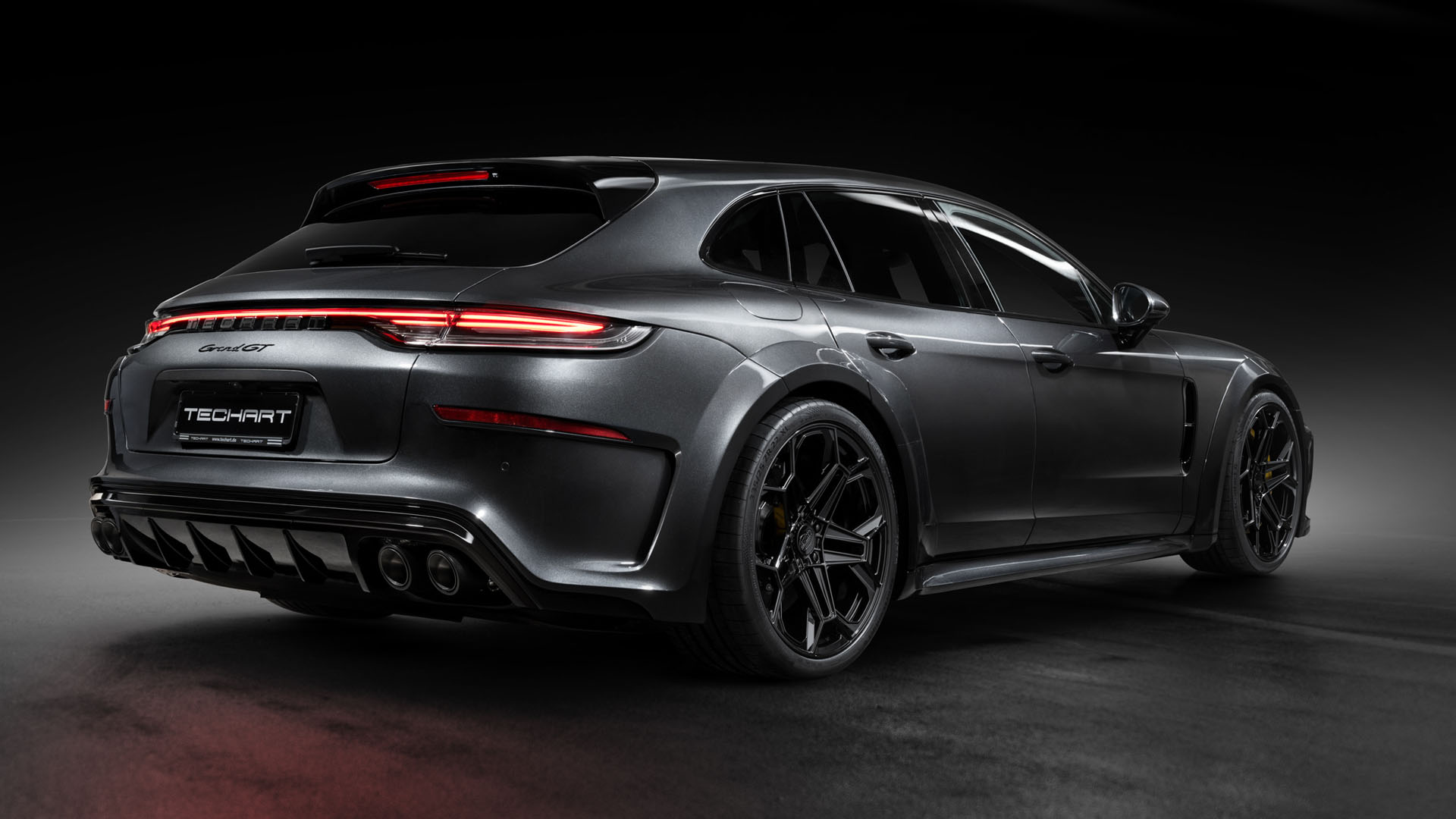 With that much power available, we wouldn't be looking at a TECHART GrandGT if she didn't come with some serious body modifications too, so for starters, you'll get a new front bumper that completely replaces the factory unit and flows neatly into a set of wheel arch extensions and wider side skirts, we're talking about adding 50mm (2 inches) width to the front and 80mm (3.15 inch) at the rear.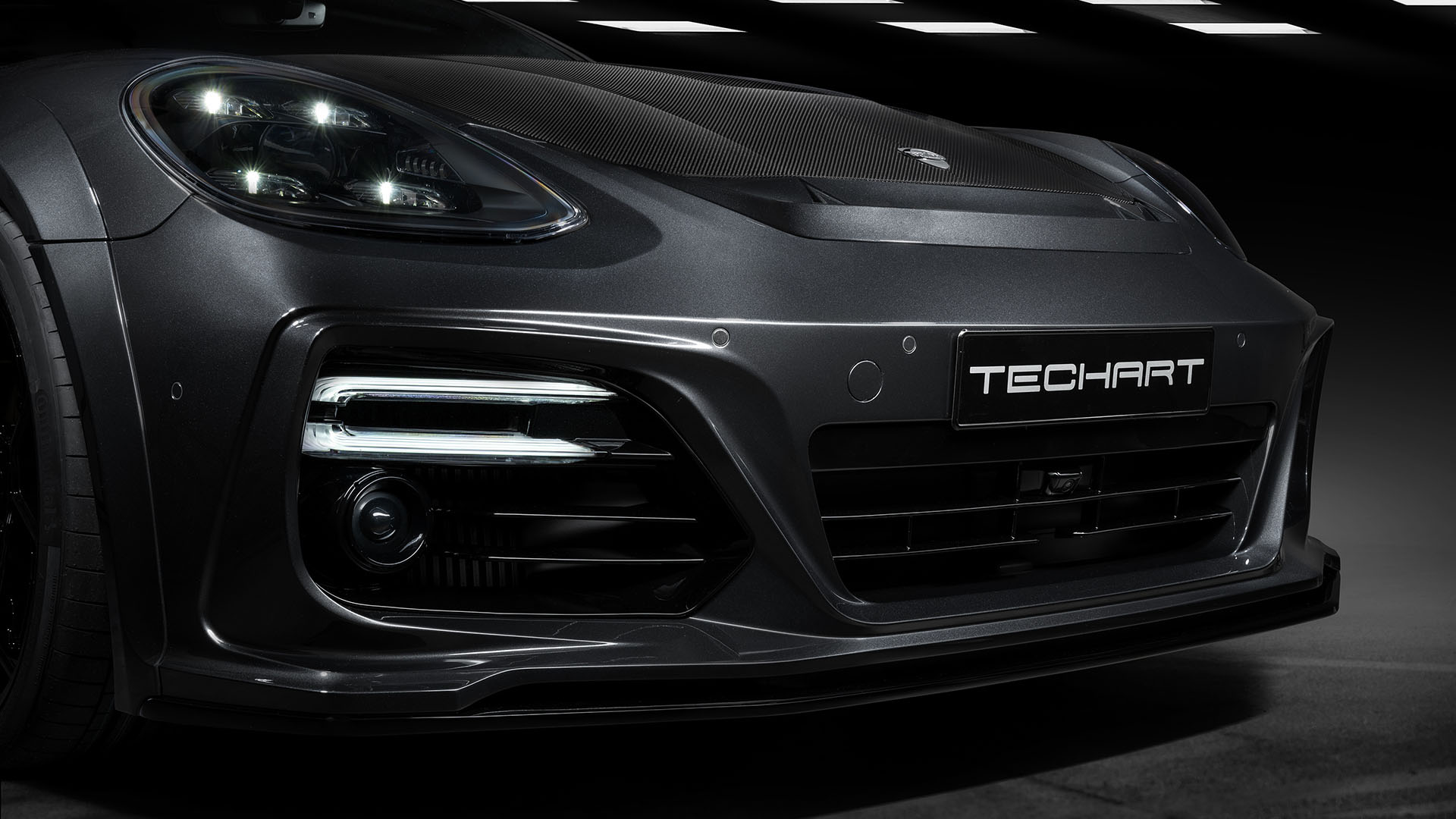 And the fun continues at the rear with a new bumper at the back too, with air vents behind the wheels, vertical fins for stability, and a quartet of titanium carbon-fiber tip exhausts, two on either side, for that thundering sound from the tuned Porsche engine at the front. And we've saved the best for last … how about a lightweight, carbon-fiber replacement front hood in a new design with an impressive power dome and functional air vents? You can order this front hood in either glossy or satin-finished carbon-fiber, or painted to match the rest of your TECHART GrandGT.
With a body style as aggressive as this, you need a set of matching wheels, and to make the choice even harder, TECHART has come up with three different styles, all in massive 22 inch, to cover the large disk brakes. Also, note TECHART can change the color of the massive calipers into any shade you might desire, either to match the wheels or to contrast them even more, and just in case three different wheel styles isn't enough, you can opt to have these wheel painted to match anything you like, or go for a diamond polish rim even.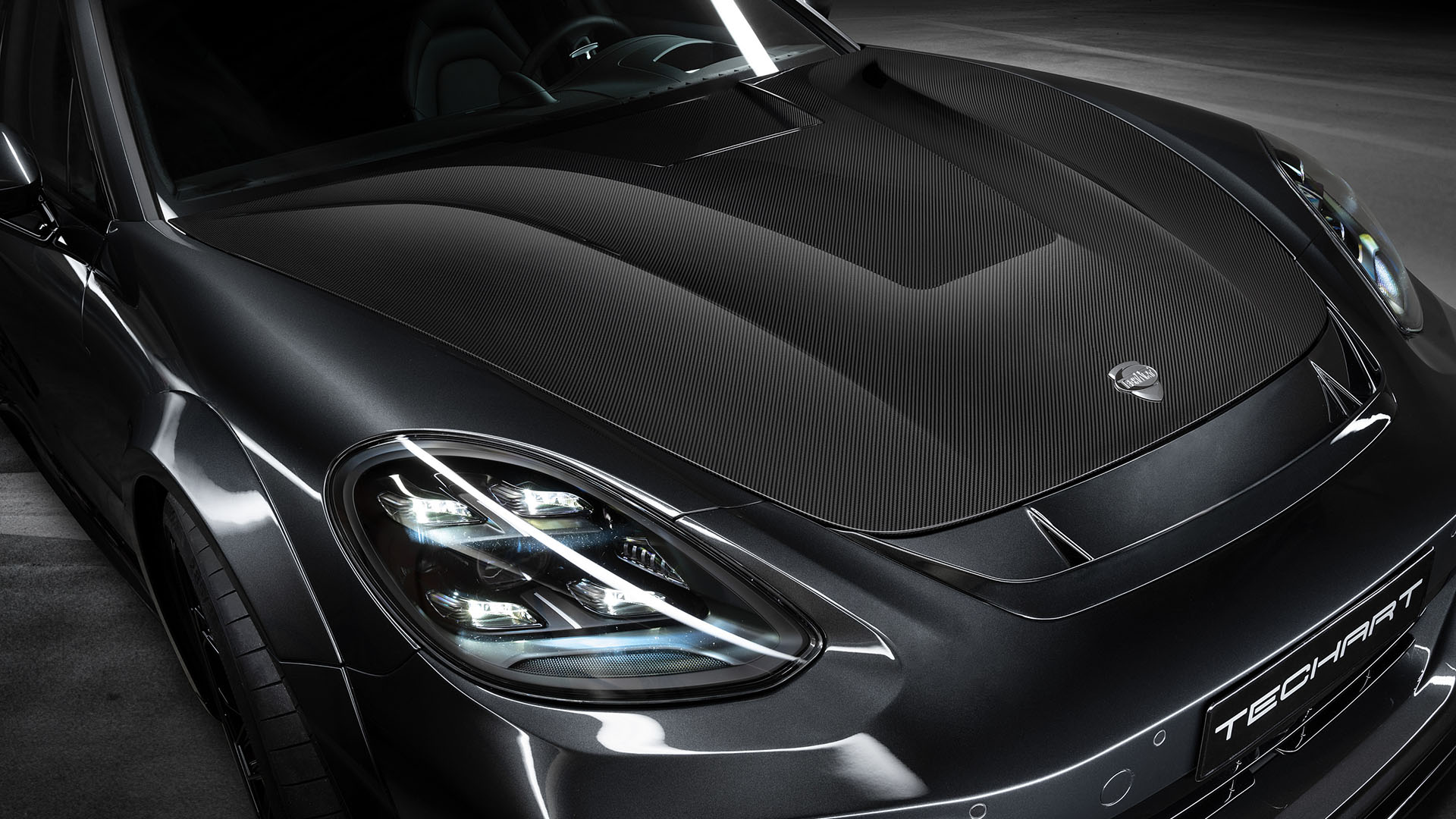 The TECHART Formula V wheel is a classic-looking, multispoke turbine-look design, a total of 20 spokes make this an unmistakable design that never gets old. If you want something more contemporary, the TECHART Formula VI might be more to your liking, thin spokes on this forged aluminum wheel make the GrandGT look very different from the factory original Porsche Panamera.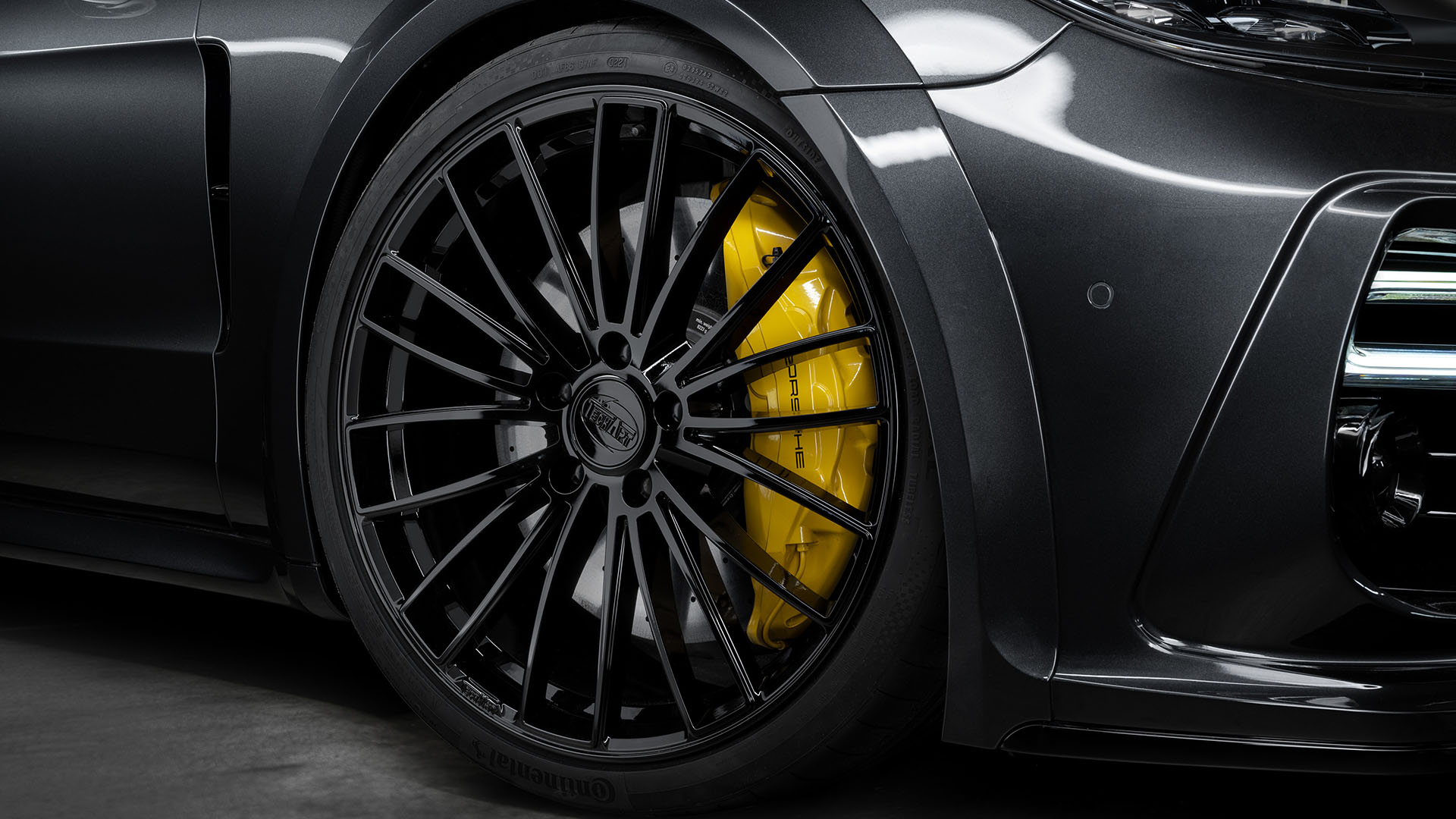 But probably the most striking design comes with the TECHART Daytona II wheel, an evolution of the classic TECHART wheel, it has been engineered in modern forging technologies. Tires come in 285/30 ZR 22 at the front and 335/25 ZR 22 at the rear, it doesn't get much wider than these on a road-going car.
And that's only the exterior, let's take a look at the interior inside this imposing black TECHART GrandGT, with their in-house saddlery, TECHART can create just about any bespoke look for the luxurious interior of the Porsche Panamera by using smooth leather, perforated leather, and Alcantara in a stunning combination.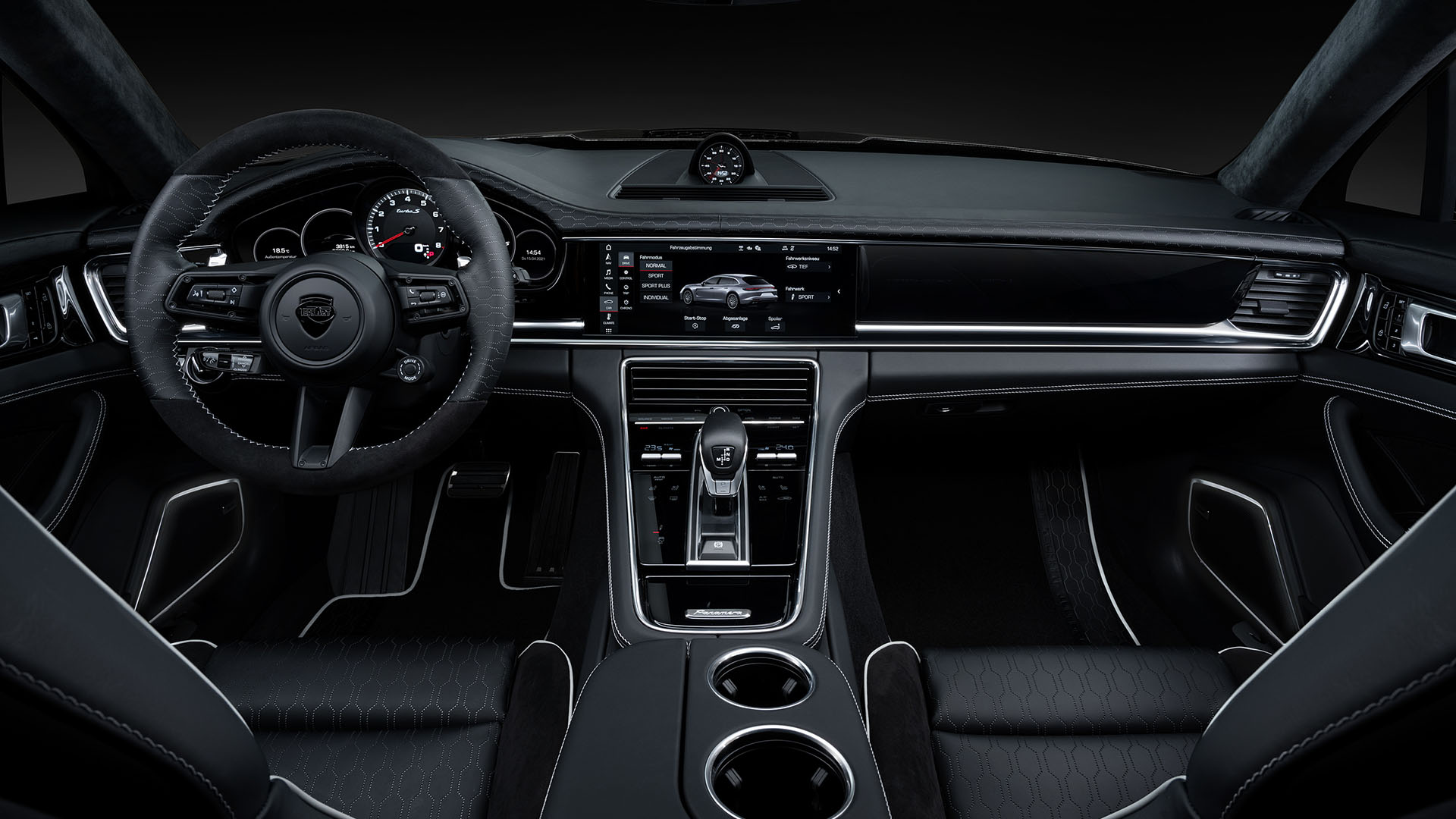 A really impressive look is achieved by the meticulous perforation executed on leather parts of the seats, doors, dashboard, and the steering wheel, by using a contrasting color underneath this perforated design you get a kind of 'glimmer' effect, the shade is visible through the perforation in a very special way, making it look almost magical. The pattern for this perforation can be bespoke for the client, which could make for some really amazing designs in the future.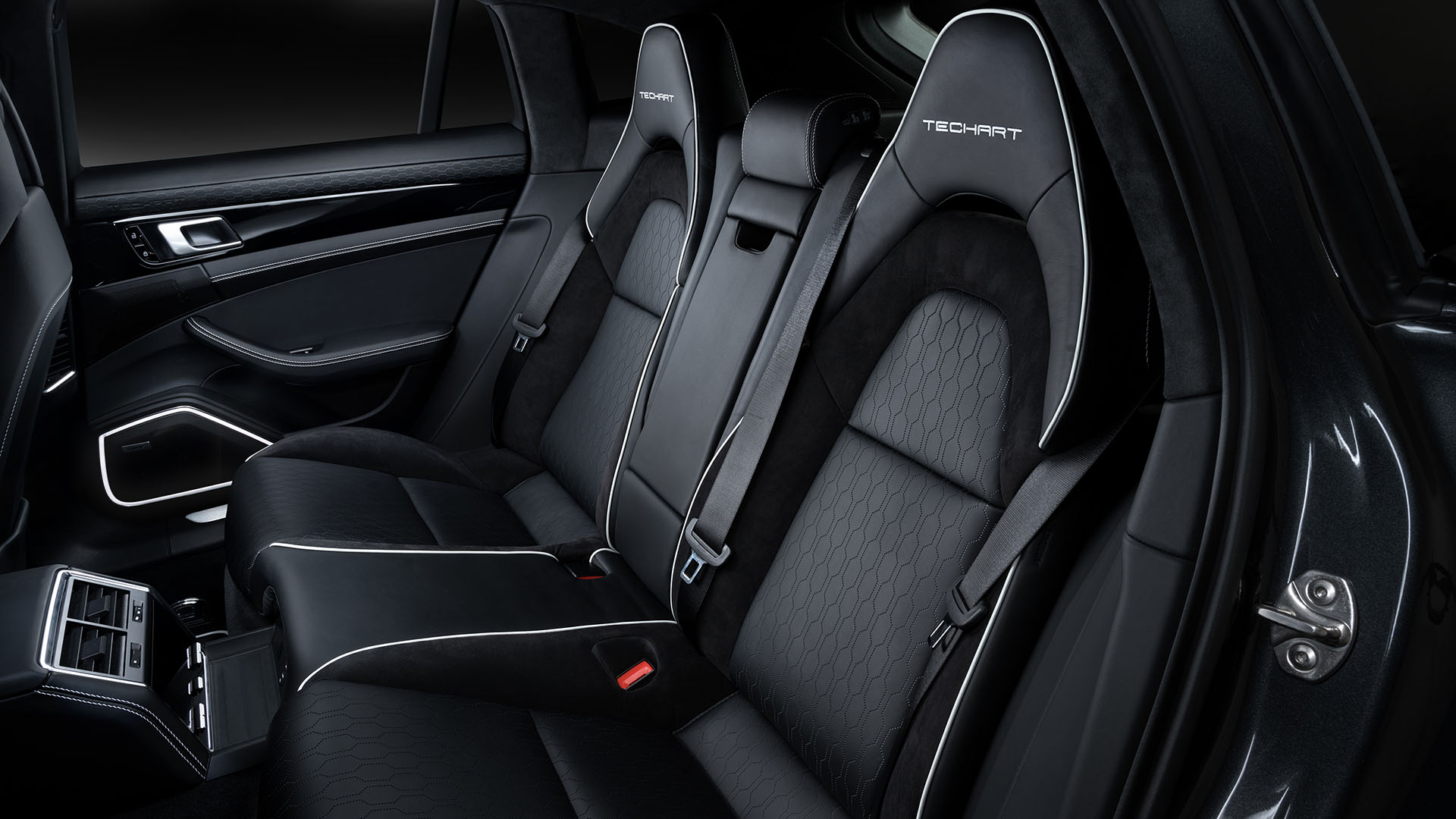 Naturally, you can also go down the more classic route of contrasting stitching, special piping on the seats, central console, doors, and dashboard, or go for color matching trim around the personalized floor mats, both for the front, the rear, and even inside the trunk … just to make sure you know you are driving in a bespoke TECHART build, their logo gets embossed on the door panels, in the floor mats, while both front and rear seats get a TECHART logo embroidered on the headrests, preferably in a contrasting color.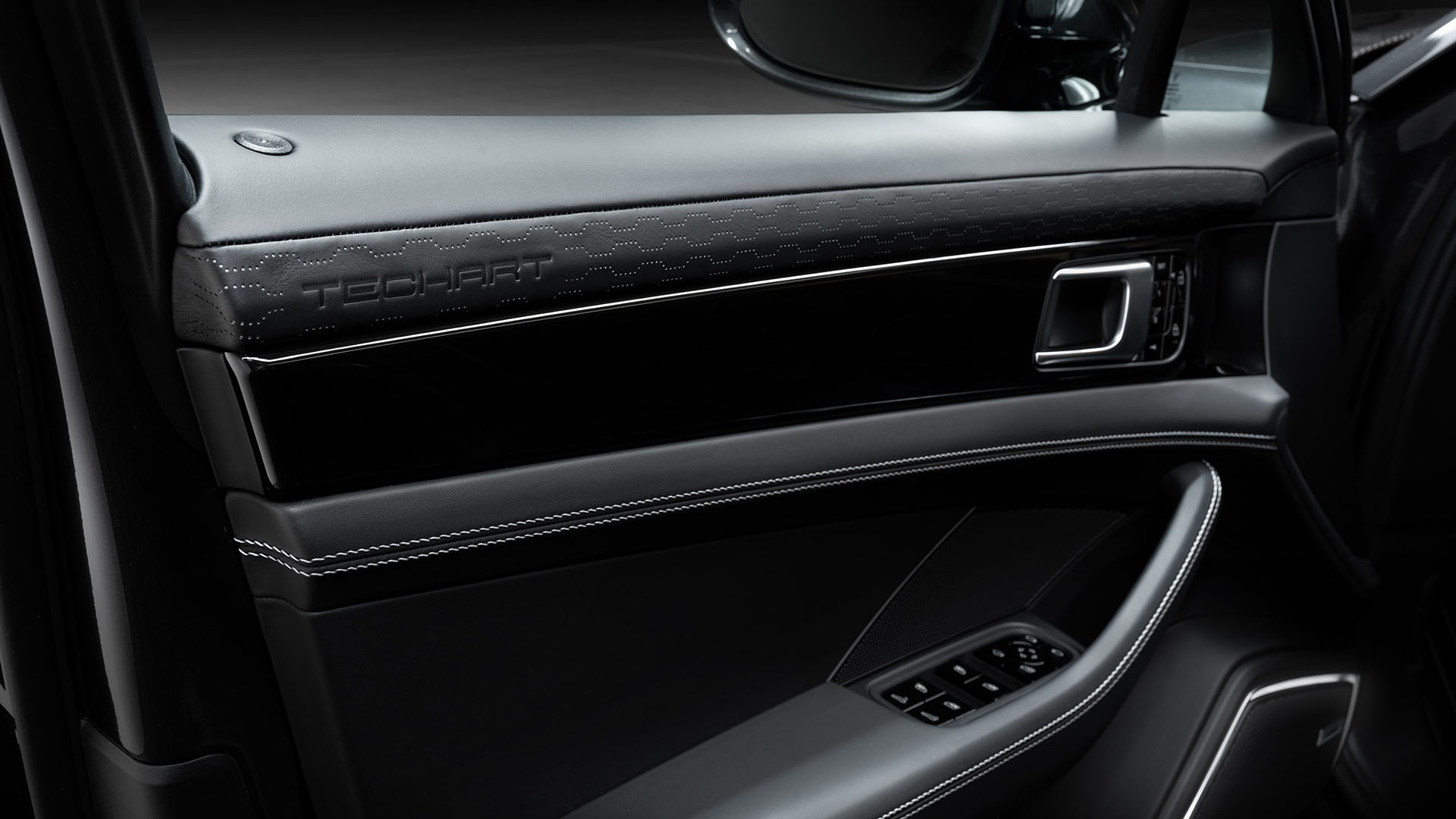 A completely custom-made steering wheel is on your request list? No problem at all for TECHART, a bespoke 'driving mode' switch, for instance, color-matched painted sections, perforated leather with that 'glimmer' look combined with Alcantara, a splash of carbon-fiber, contrasting stitches … everything is possible from TECHART, and the factory original items like multifunction buttons, paddle shifters, and even the steering wheel heating are kept fully functional for your comfort.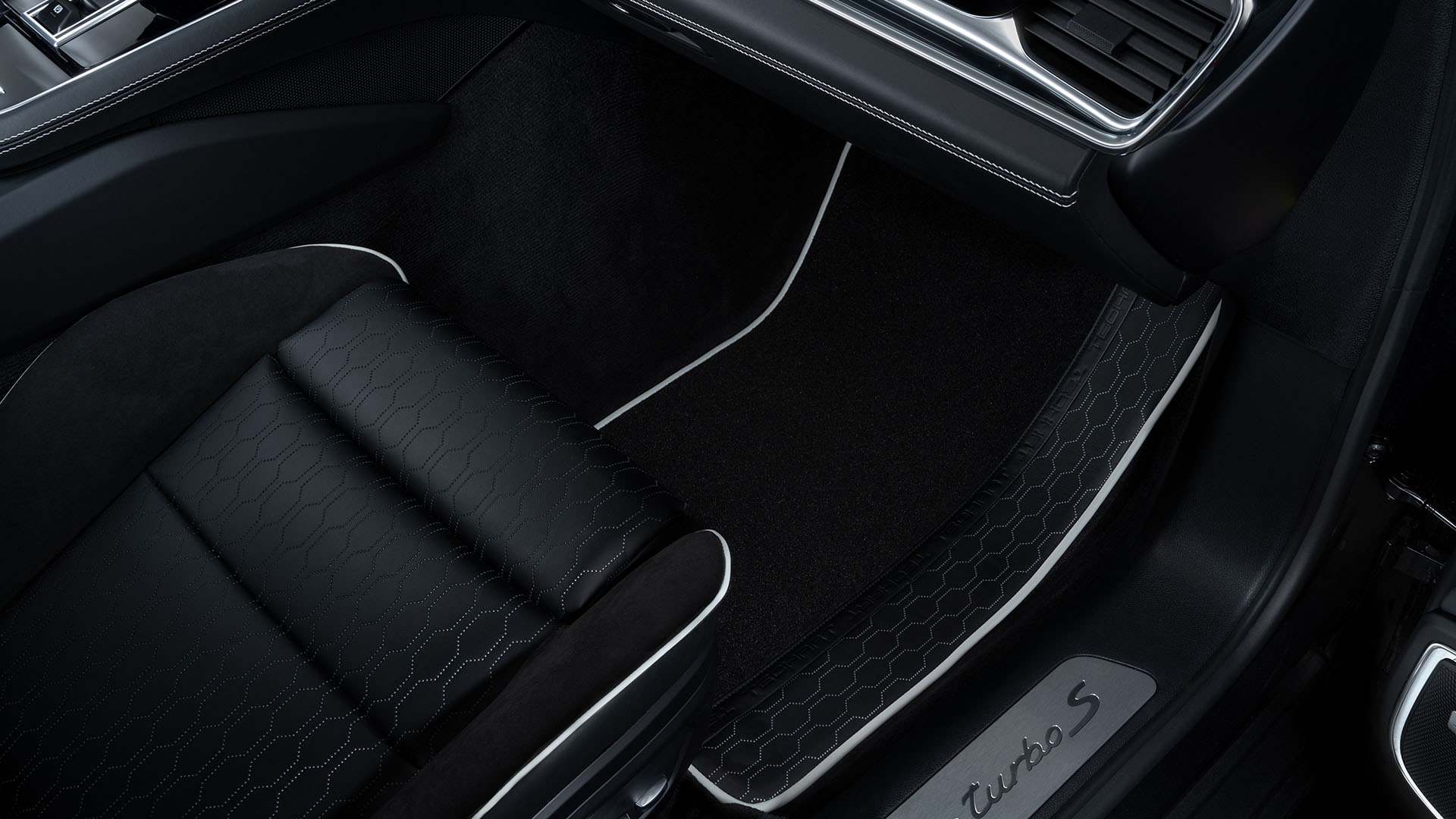 If you really want a Porsche Panamera you don't see on every corner of the street (in some regions), you should get in touch with TECHART and have them build a bespoke GrandGT just for you …