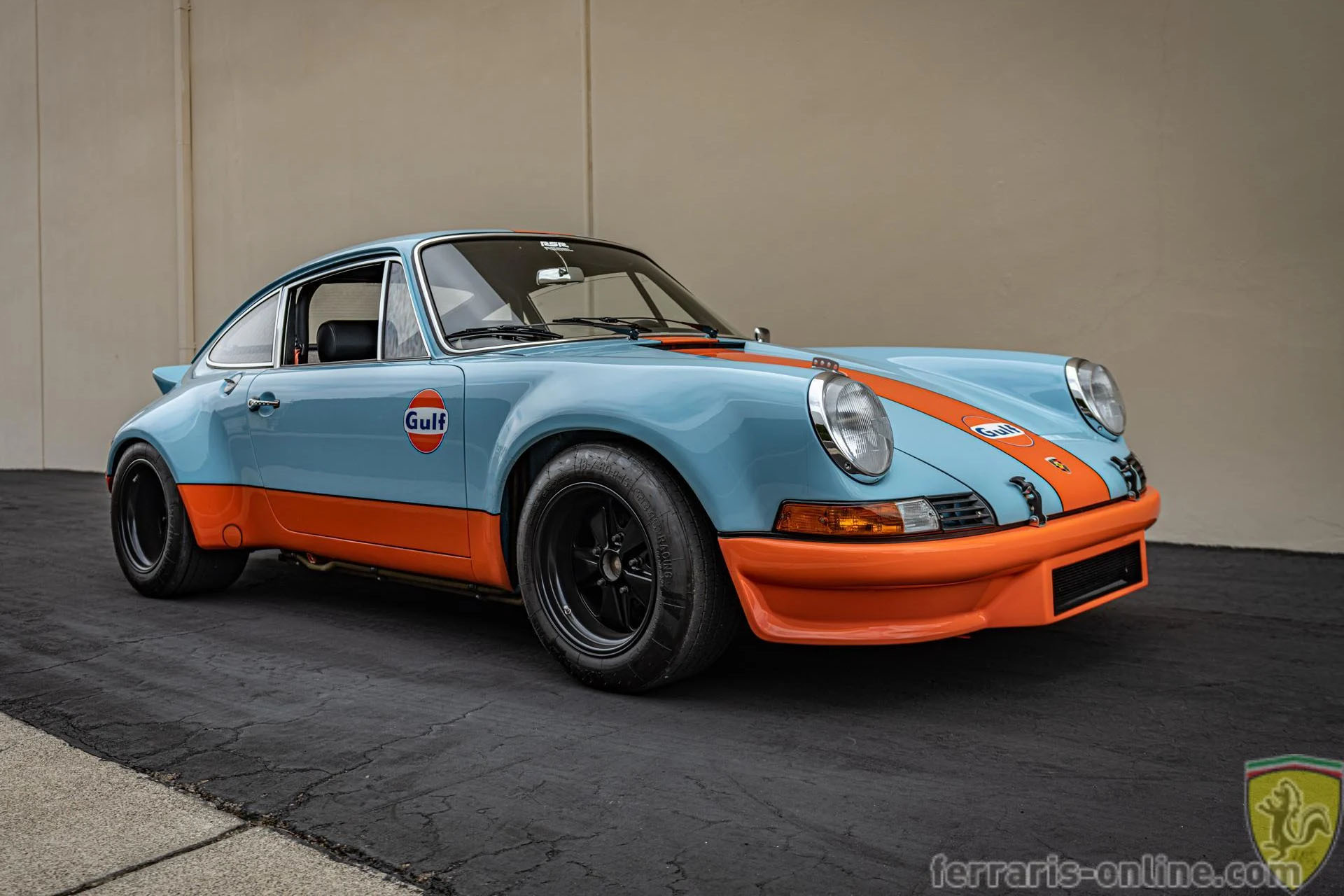 Adding a genuine 1973 Porsche 911 RSR to your collection at this point in time will set you back several million, but there is another option … how about a 1973 Porsche 911 RSR Rebel Gulf Porsche tribute for less than $300,000?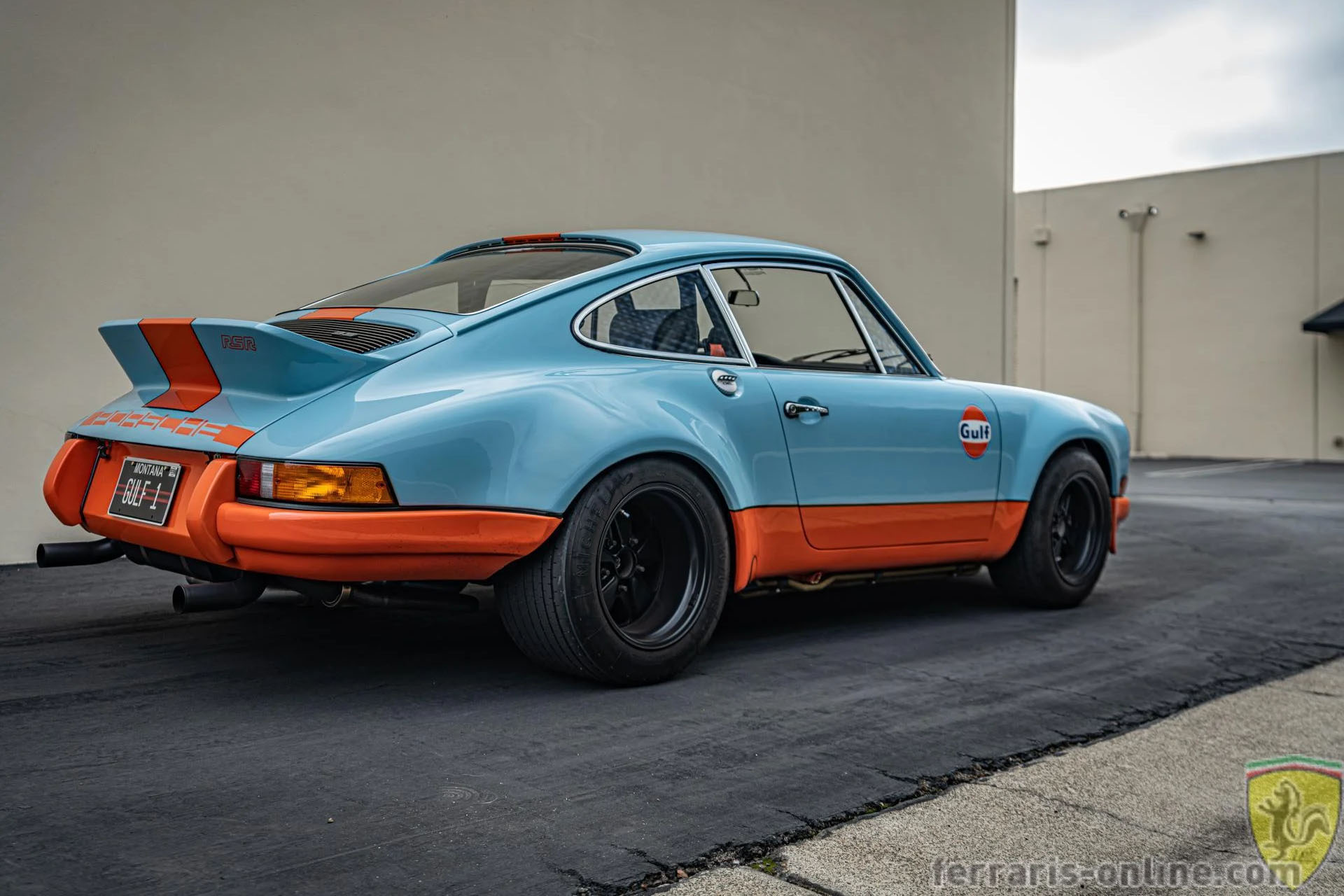 Ok, I admit, it's not a real '73 RSR, but it's also only about 10% of the price, and it comes with a bigger engine. The car in question is listed for sale at Ferraris Online and has chassis number 102808, it is the first of only three Porsche RSR 'Art Cars' built by Jon Gunderson, renowned for ground-up Ferrari 246 GT and 246 GTS rotisserie restorations.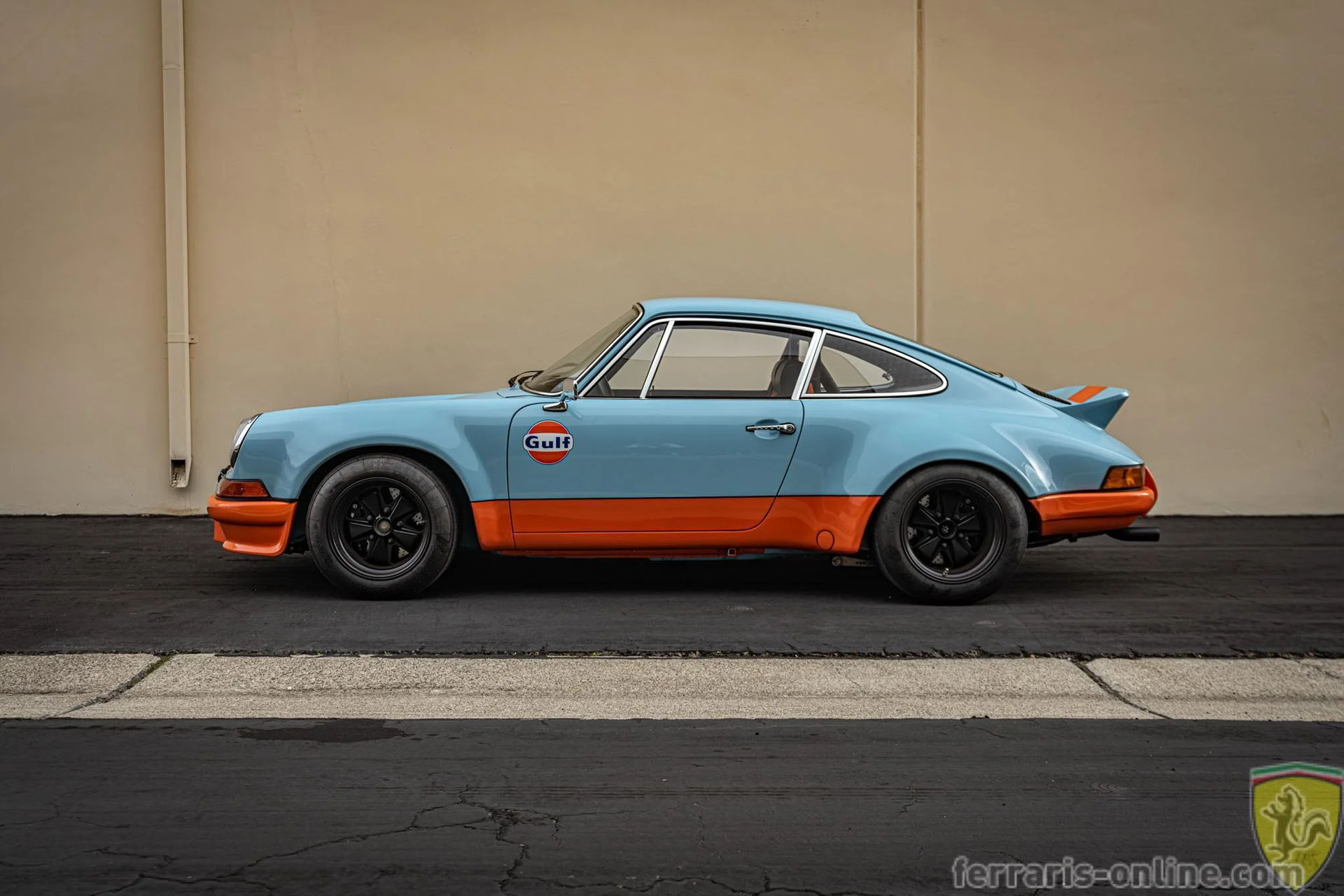 Chassis 102808 comes in the classic 917 Gulf livery combining light blue and orange on the exterior … note that this Porsche RSR Tribute scheme is completely painted, there is no vinyl used anywhere, every detail is painstakingly painted by hand, even the famous Porsche crest on the hood, and this attention to detail is visible throughout this amazing looking 911.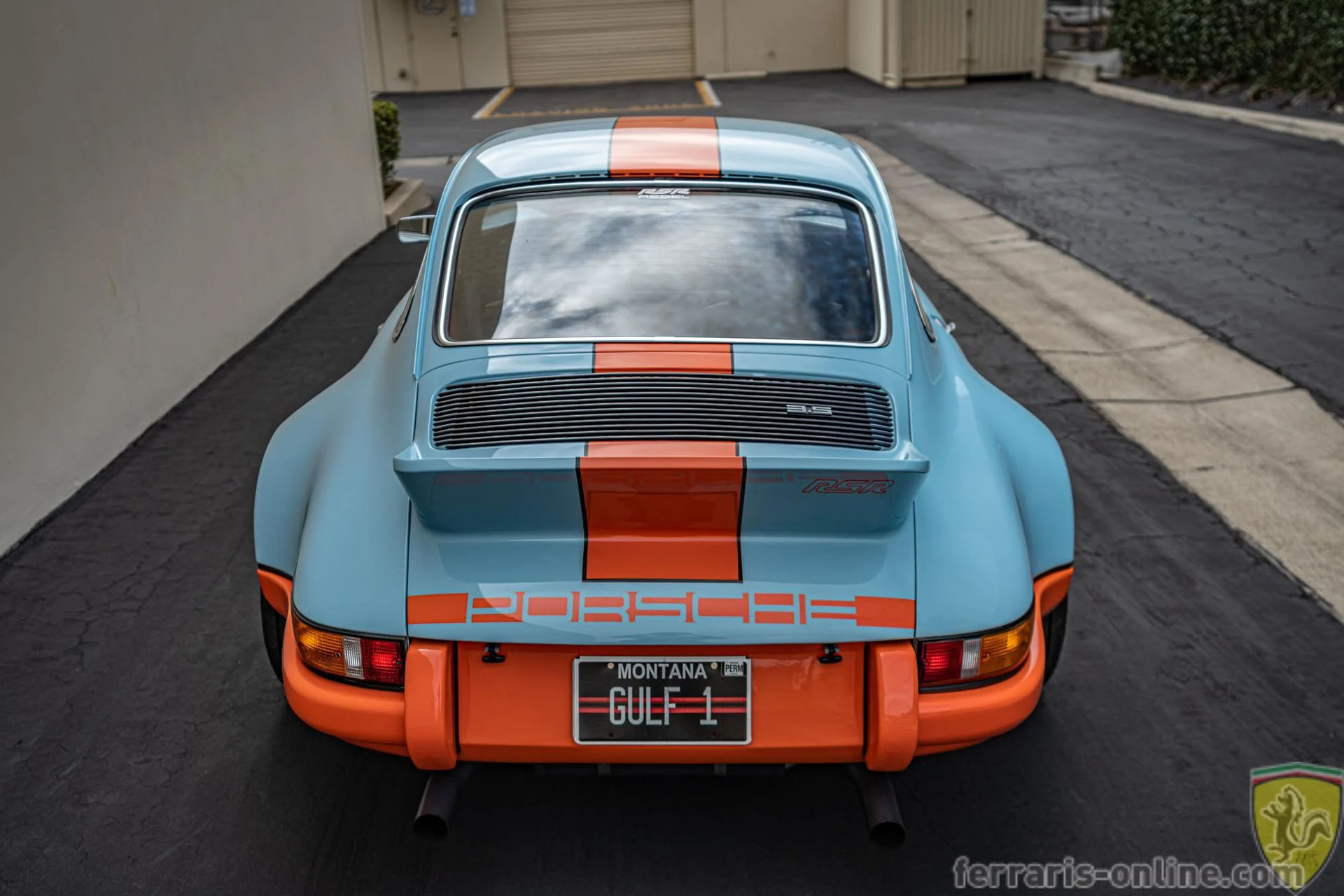 Both the front and rear bumper have been formed manually, as is the new front hood that has a center-mounted fuel-filler, machined from a single metal piece, to fill up the 100-liter tank underneath.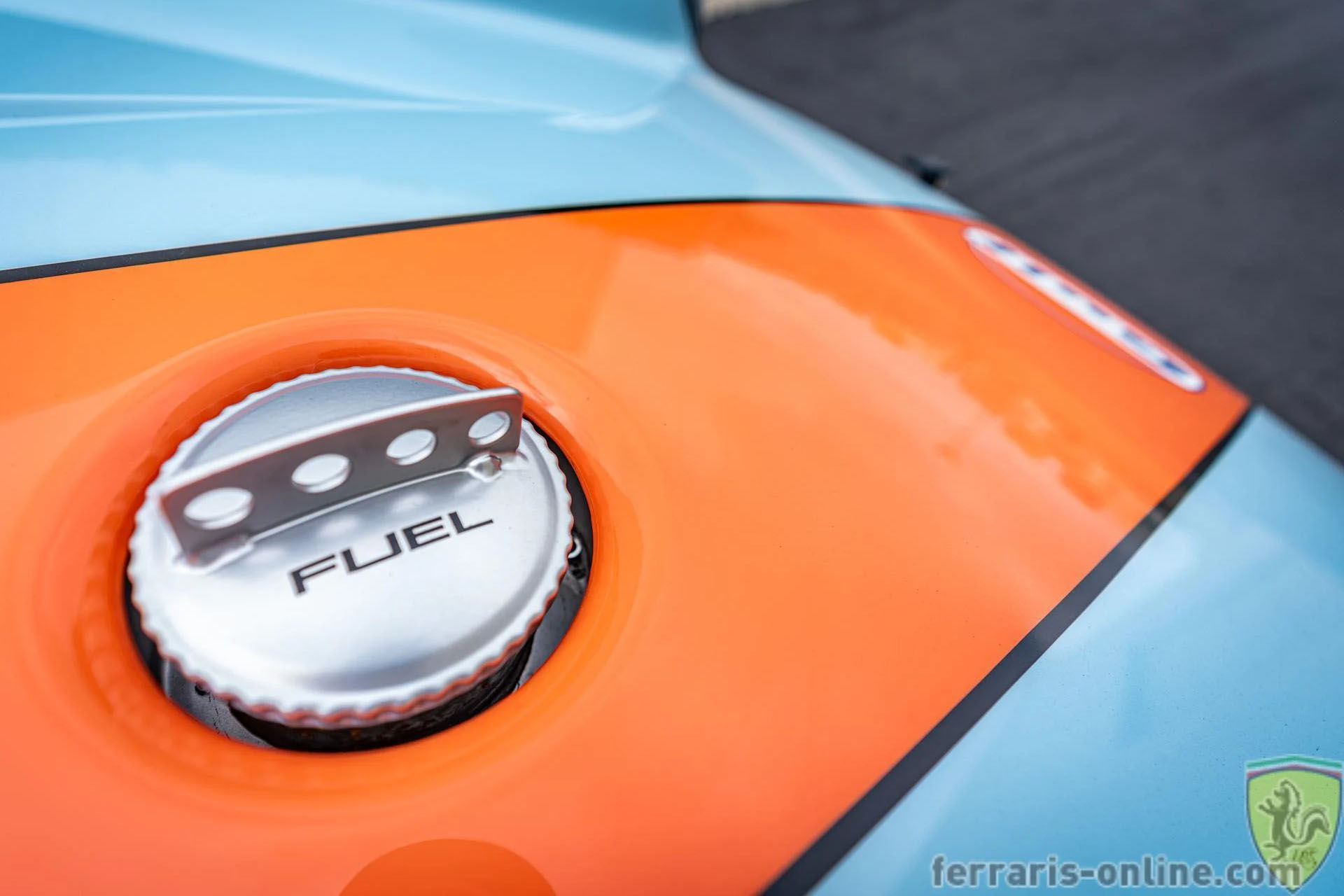 The traditional 'Ducktail' rear wing on this RSR tribute has been made by hand too, and on the grille, the 3.5 badge indicates this car isn't using the 2.8-liter engine found in the genuine 1973 RSR, but a completely rebuilt 3.5-liter version.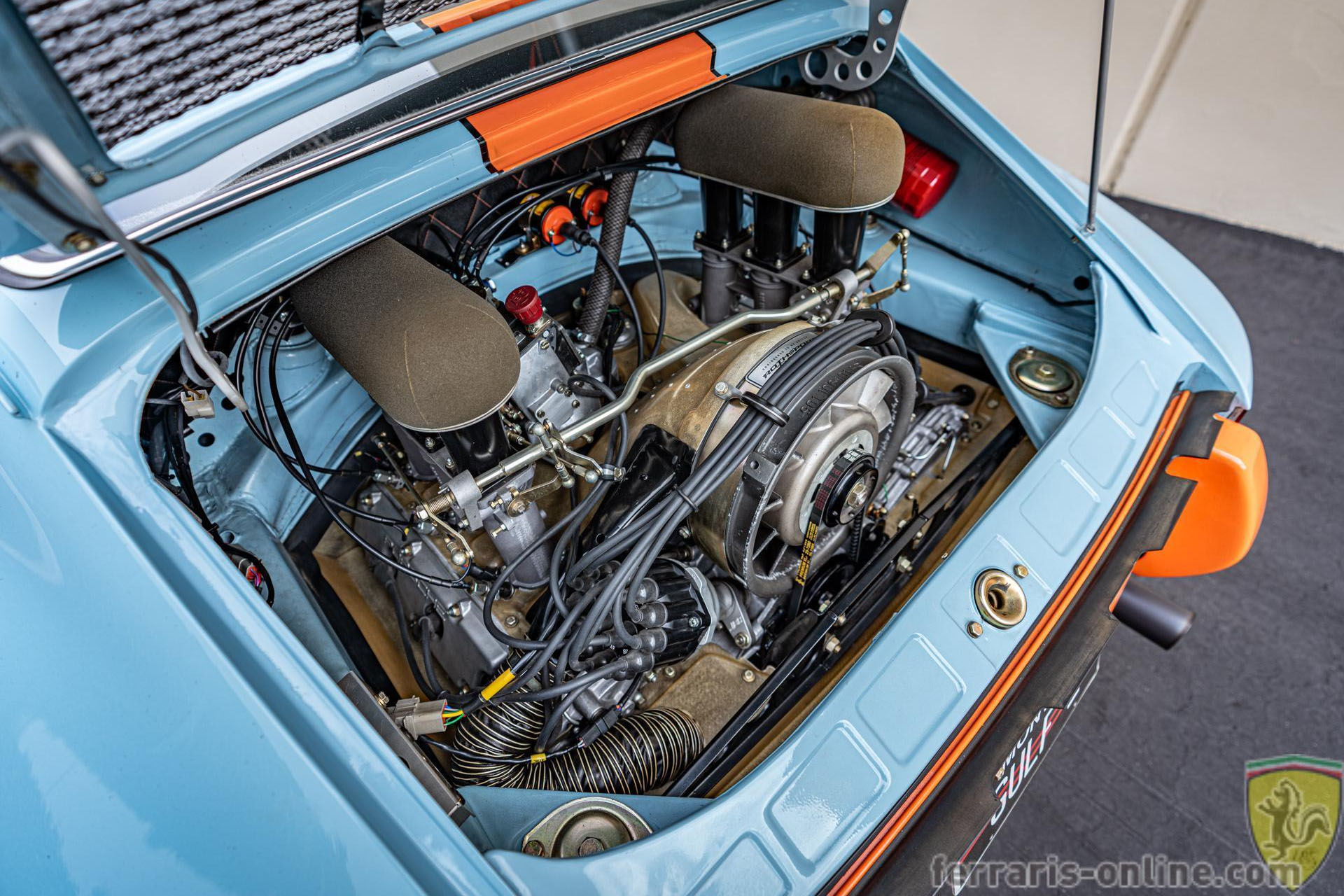 The engine inside this RSR tribute is built from the ground up as a fuel-injected Rothsport Racing 3.5L flat-six combined with a Type 915 5-speed manual transaxle with a Giken limited-slip differential … work started in 2017 and took three years to complete … to date this engine has little over 3,000 miles on her. Instead of the original 280 hp from the 2.8-liter engine, this new 3.5L Rothsport Racing version was dyno-tested after tuning by Sakata Motorsports at 355 hp.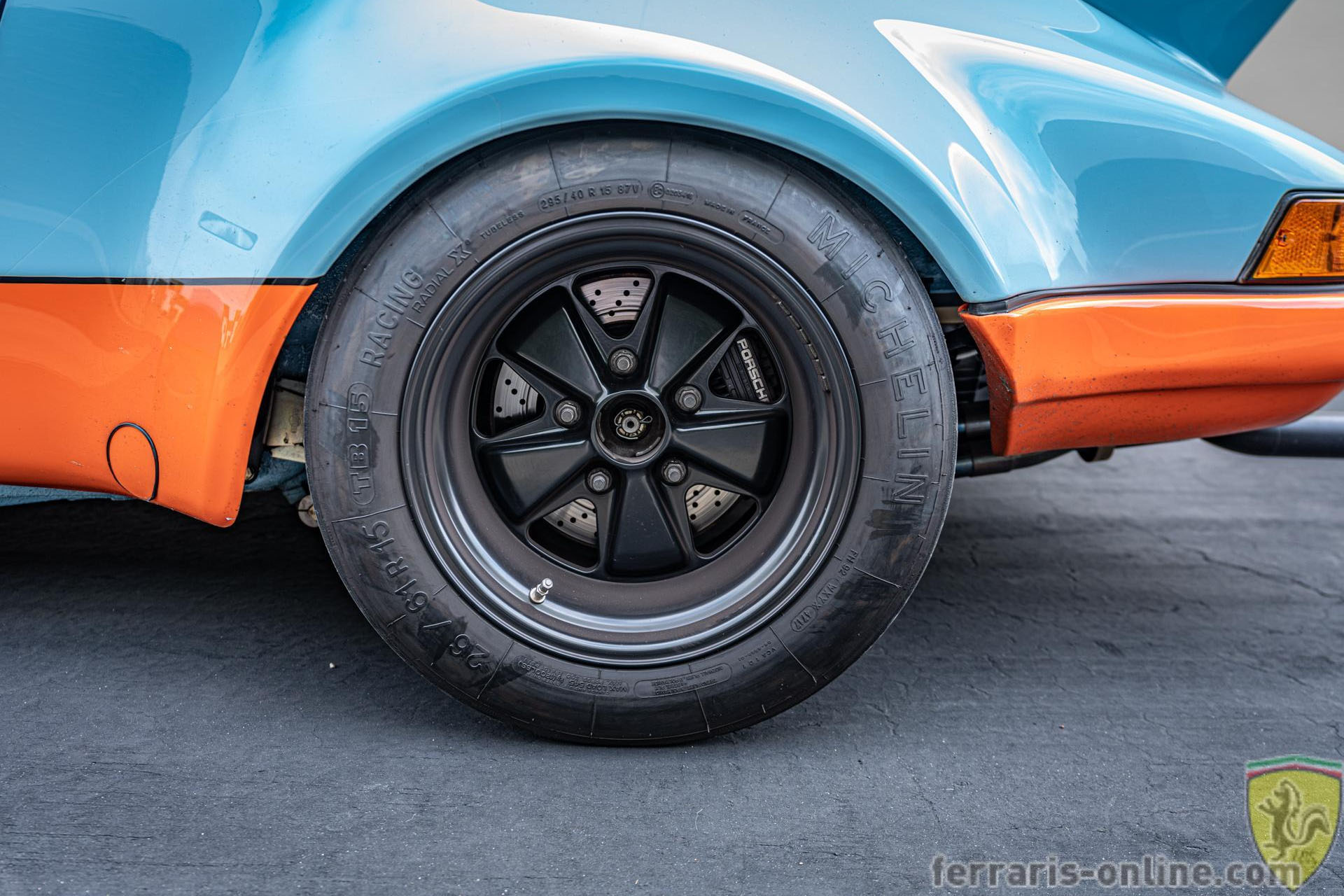 The impressive black wheels on this Porsche RSR tribute are 15-inch Braid units. Michelin TB5 Racing Radial X tires are fitted, 215/55 R15 for the front wheels (9×15″) while wide 295/40 R15 was fitted to the rear wheels, which measure a massive 11×15 inches, they are almost square. The chassis is fitted with Elephant Racing suspension components including Poly bronze bushings, sway bars, shock mounts, and a matched set of torsion bars and Von shocks. Porsche 930 trailing arms have also been added. Porsche 930 finned brake calipers and cross-drilled and vented 930 rotors at all four corners haul it down from high speed. RSR tribute s/n 102808 was corner-balanced by Rothsport Racing after the engine was installed.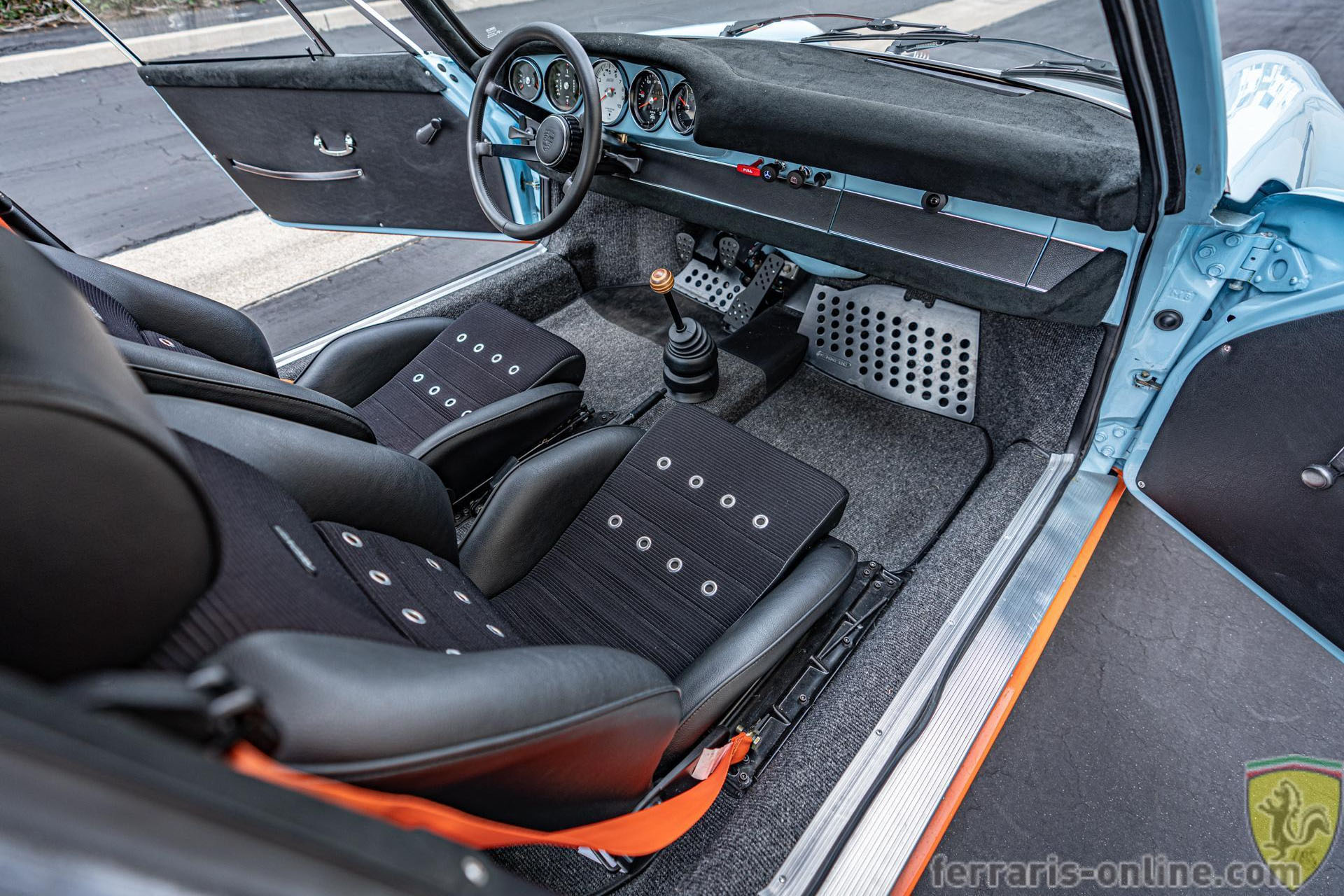 Autos International, a well-known shop for Porsche interiors, created the beautiful black interior for this tribute car combining black Alcantara and leather. The dashboard and door panels received black Alcantara while the steering wheel and adjustable Recaro RSR seats got leather wrapped around them.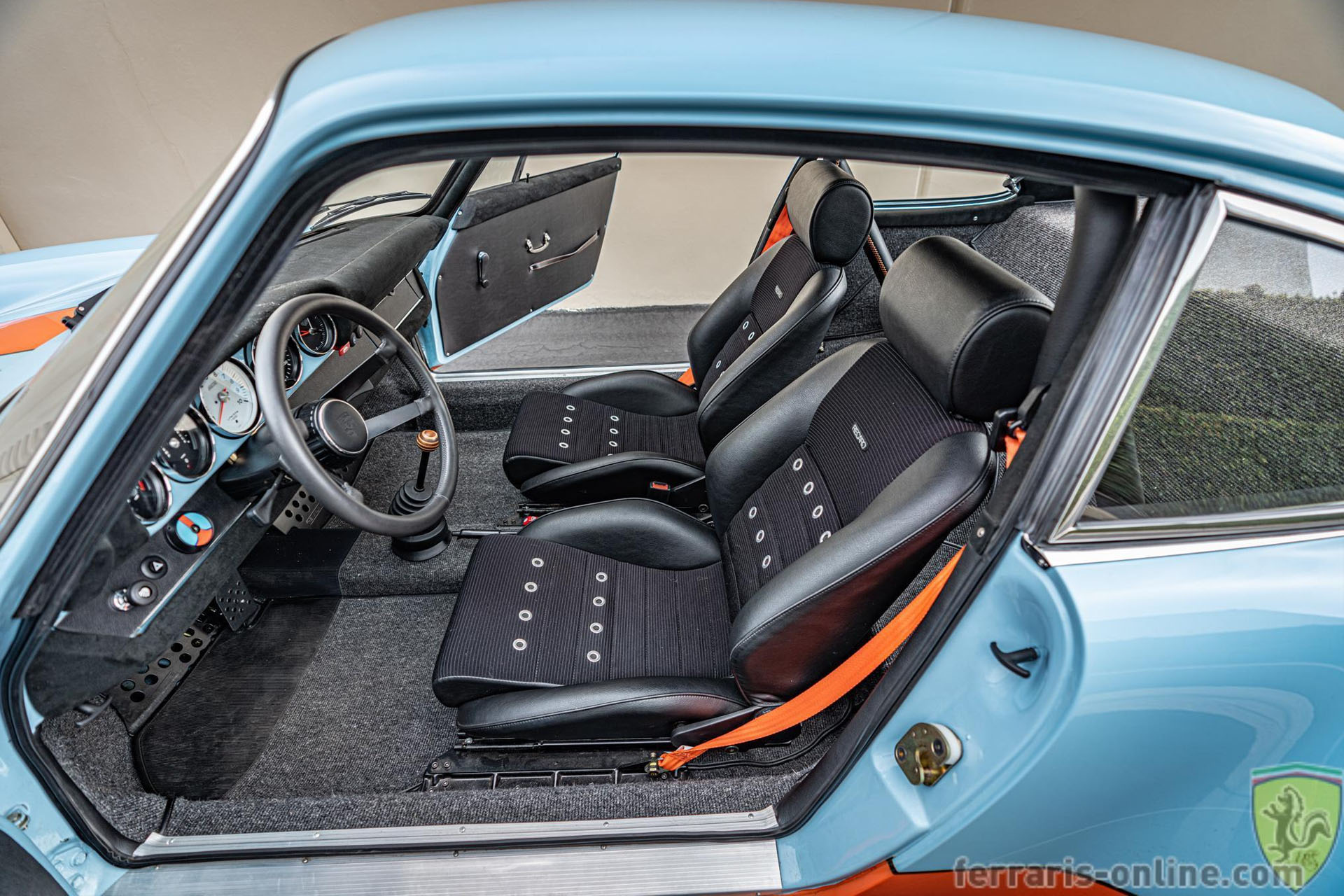 Same with the built-in roll bar, black leather with contrasting orange stitching to match the seatbelts, while the headliner comes in black Alcantara, the dials consist of a single, white tachometer flanked by black auxiliary gauges, all rebuilt by Joe's Speedometer. Weight saving is visible everywhere with thin side windows and a special wiring harness, if you look closely at the door handles, they are even cross-drilled to safe weight, while on the door panels, you'll notice RSR leather door pulls.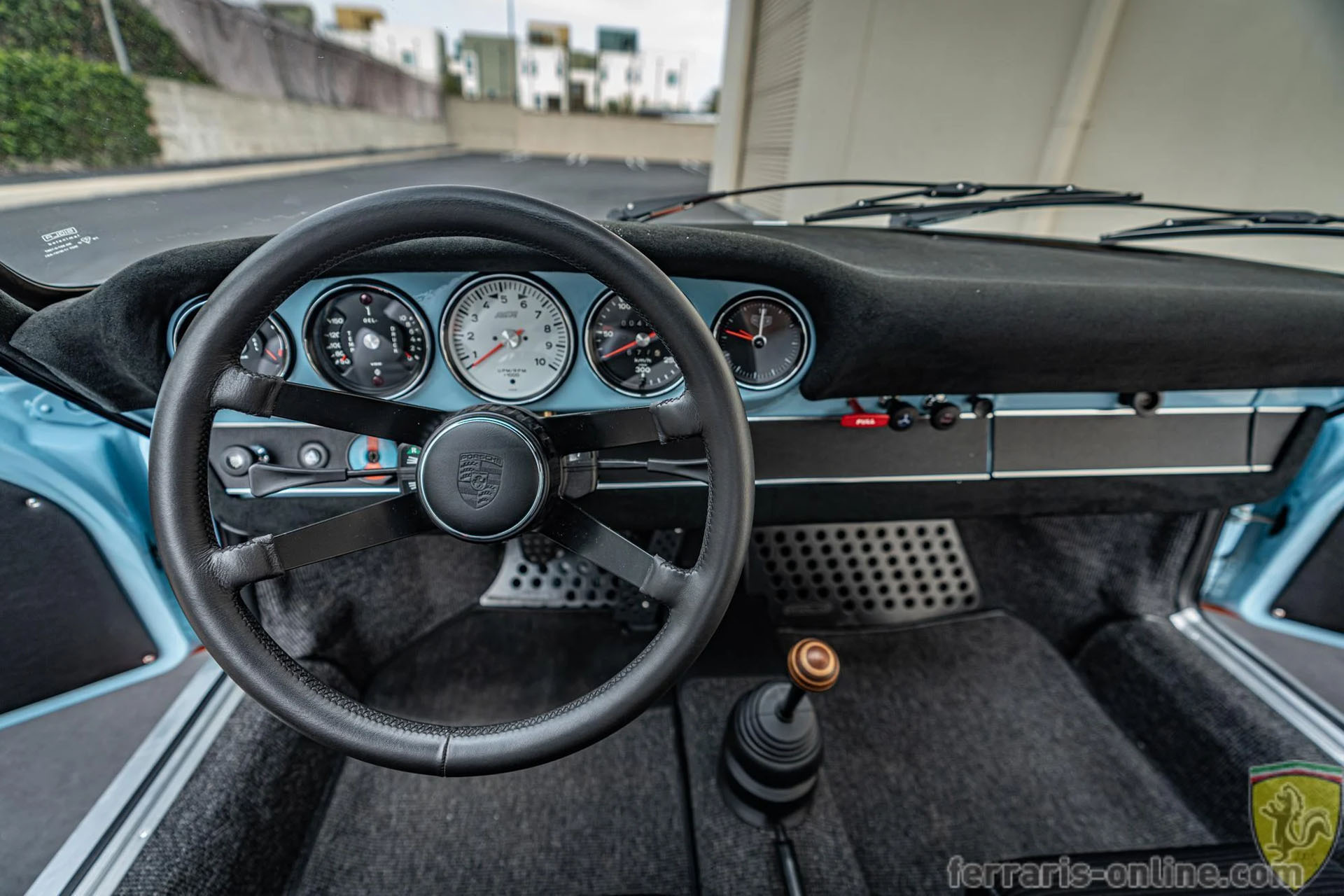 Built as a passion project, no expense was spared and no budget was set, so the attention to detail is on par with the bespoke quality of a Singer, this car cost over $500,000 to build, but it's now listed for a quick sale at $299,500.