If you ask Mercedes, their AMG GT Black Series is still the undisputed 'King of the Ring', with a time of 6 minutes 43 seconds to complete the 12.8-mile track of the Nordschleife, better known as 'the Green Hell', or the Nurburgring in Germany, despite what Porsche claims with their 911 GT2 RS fitted with Manthey Racing components that completed the same track in 6:38 seconds, a full 5 seconds faster.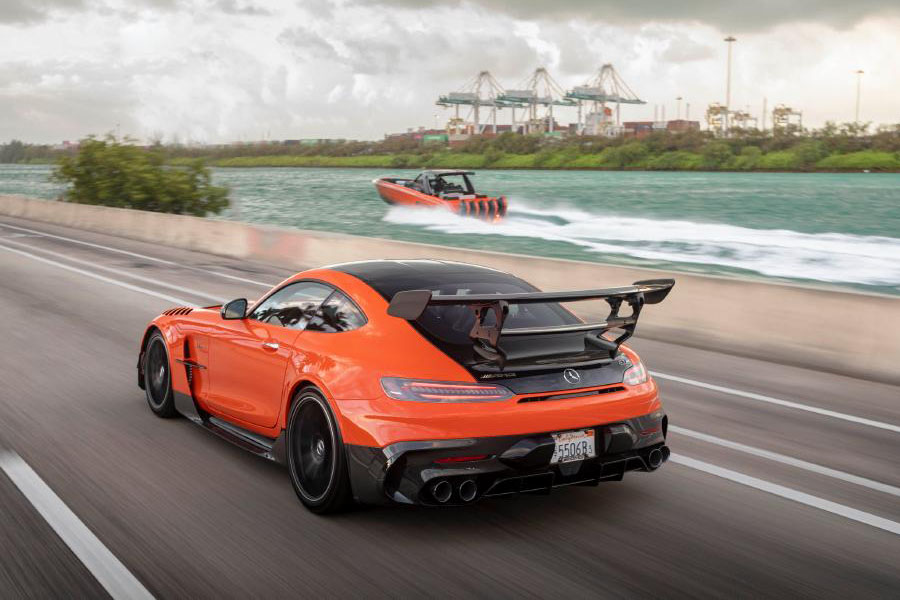 Porsche used a 'tuned' car for this record while the Mercedes is identical to the one you can buy straight from the factory, and I know, it's all about semantics here, and yes, you can order the Manthey Racing components through Porsche's Tequipment accessory lineup on the Porsche 911 GT2 RS … but it still doesn't feel the same now does it, the AMG GT Black Series is the fastest front-engined car in the world, which is an amazing feat nonetheless.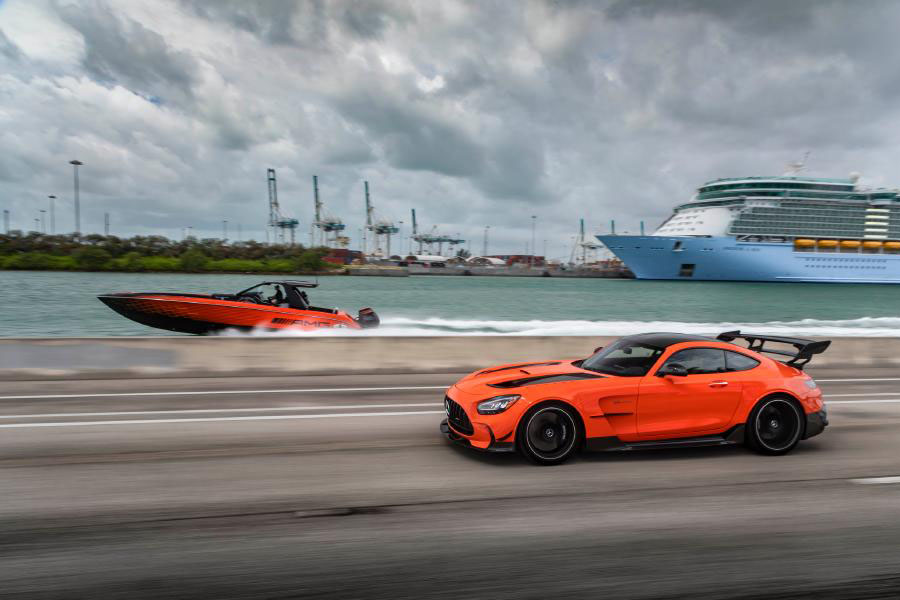 But let's take a look at this 41-foot Cigarette Nighthawk AMG Black Series, designed in close collaboration between the Cigarette Racing Team, the Mercedes-AMG design team, and Gorden Wagener, Chief Design Officer Mercedes-Benz AG, to create the same feeling of power and luxury of the road car on the water.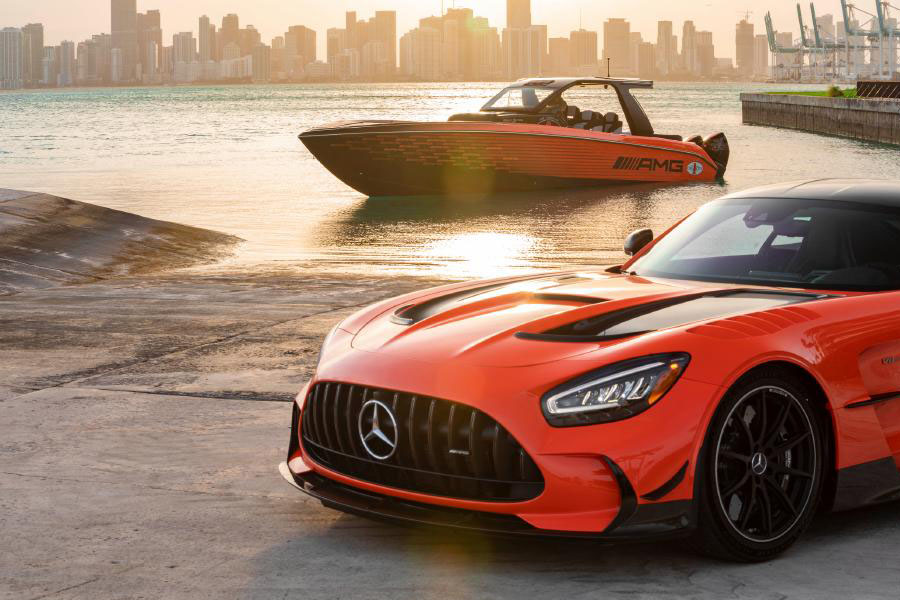 The AMG GT Black series road car is fitted with a handbuilt V8 engine with a power output of 720 hp, which is an impressive number … but this new Cigarette puts her to shame, courtesy of no less than five racing-grade outboard engines, the famous 4.6-liter V8 Mercury Racing 450R units, which as the name suggest, come with an industry-leading 450 peak propshaft horsepower … each!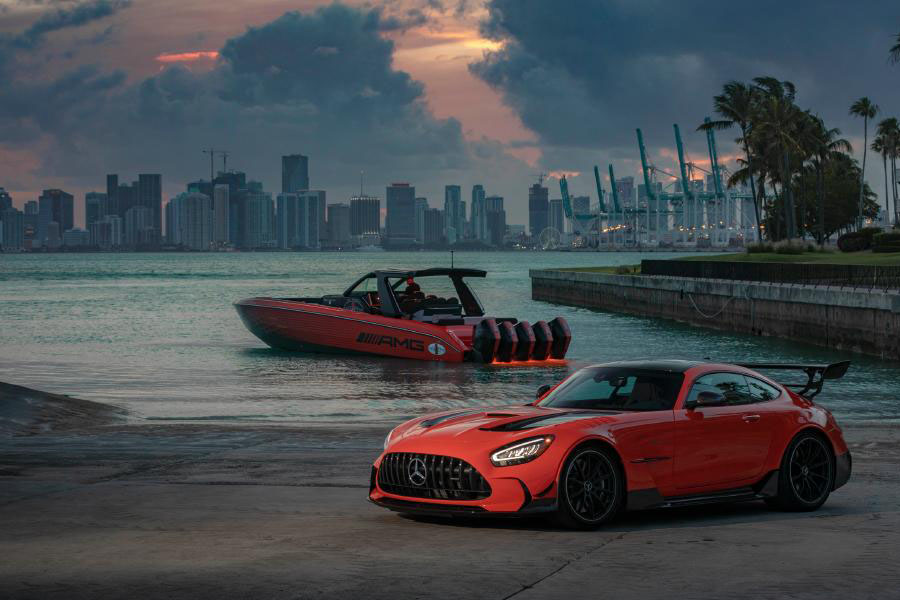 That's a total of 2,250 hp, capable of propelling this large center console boat that can hold up to ten passengers in full luxury up to speeds of 90 Mph, this truly is a remarkable special edition boat, the 13th one that has been jointly developed in a longstanding partnership between AMG and Cigarette, the 41′ Nighthawk AMG Black Series is the latest in an impressive line of highly exclusive special edition performance vessels.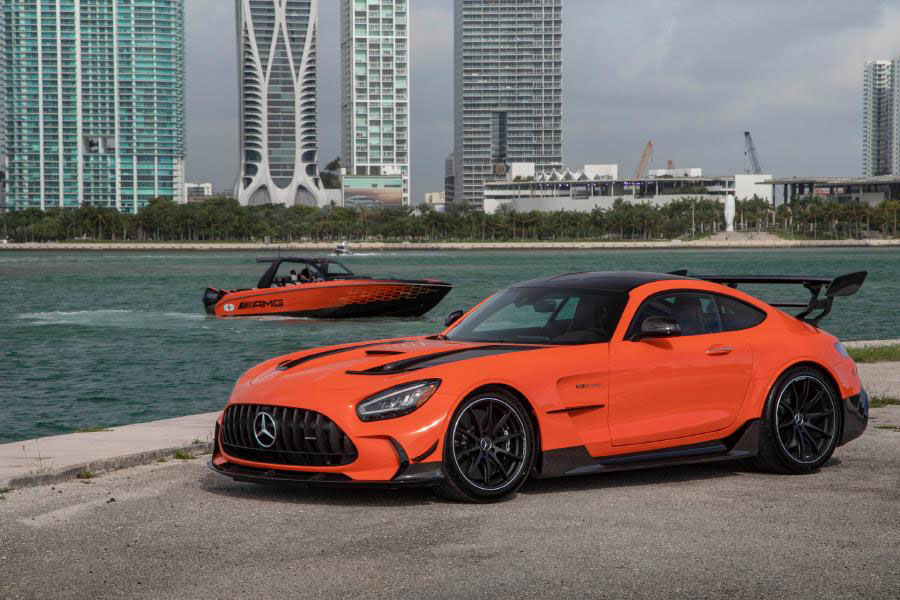 Just like the AMG GT Black Series, this Nighthawk AMG Black Series is finished in the bright Magmabeam orange and black exterior, a little detail, those AMG logos on the side of this Cigarette are painted, these aren't decals. On the inside, a combination of grey and black is used, with orange details to unite both inside and outside.
While the AMG GT Black Series will arrive in US dealerships during the Summer of 2021 at a price of $325,000, the Nighthawk AMG Black Series might be just a little bit more expensive …