Aston Martin is proud to introduce the new DB12 Volante. Companion to the recently introduced DB12 Coupe – the first in the marques' next generation of sports cars, this open-top model combines spectacular Super Tourer performance and handling with the irresistible sensory thrills of roof-down driving. A class-defining car of unmatched elegance and sporting character, the DB12 Volante is the latest addition to Aston Martin's illustrious tradition of high-performance convertibles. Timeless qualities of style and craftsmanship have been revitalized by advanced technologies and state-of-the-art engineering, while the driving experience has been honed to its keenest possible edge.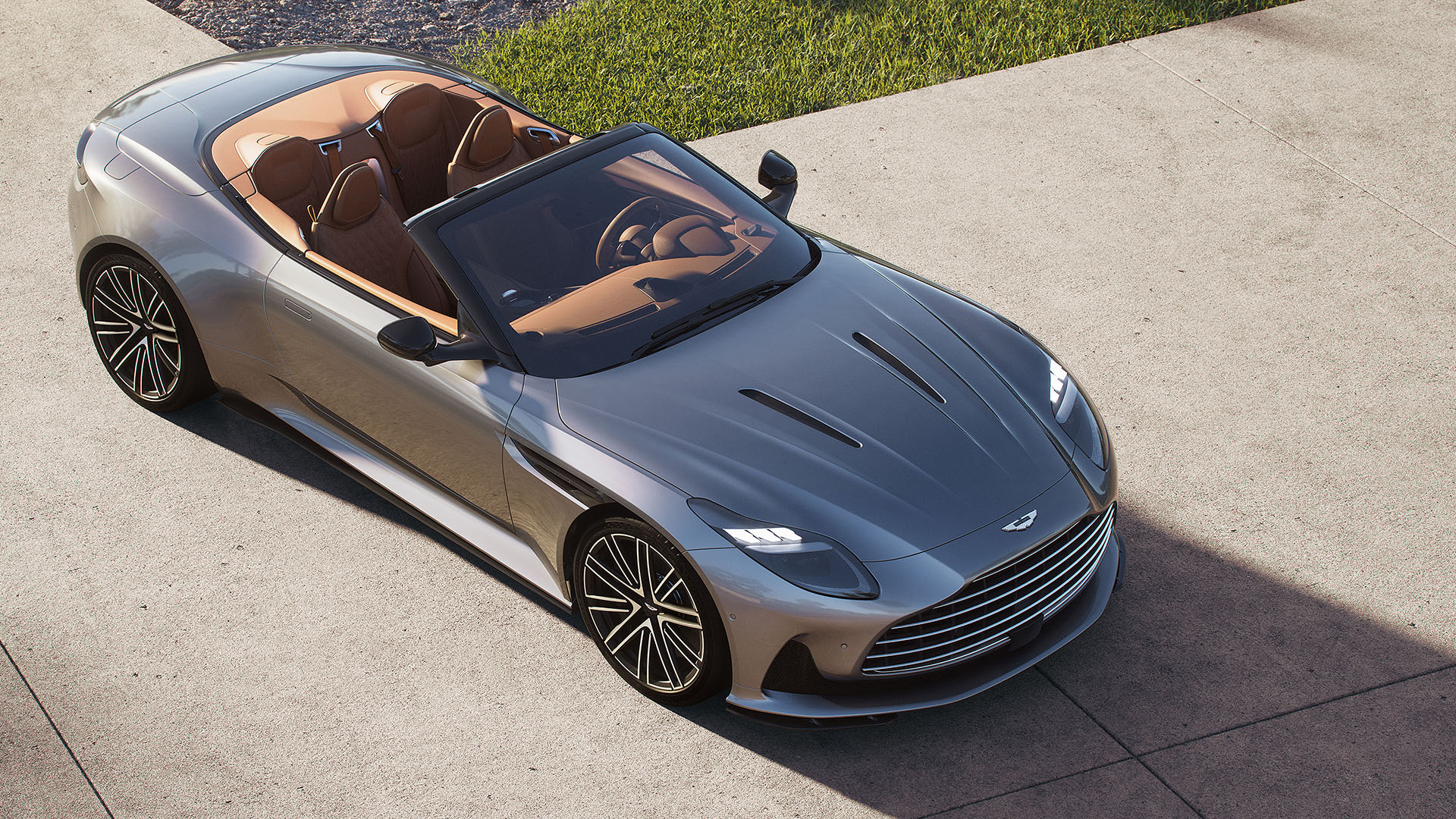 Aston Martin Chief Executive Officer, Amedeo Felisa, said: "For many of our customers, roof down driving is the greatest pleasure. Aston Martin Volantes have captured that emotion and expressed it in unique style for more than six decades. With the new DB12 Volante we have changed the rules, creating a car that intensifies those feelings by preserving all the purity and exceptional sporting capabilities of the DB12 Coupe. A rare and true sporting convertible in every respect, this is a car to challenge preconceptions and find a new generation of Volante customer".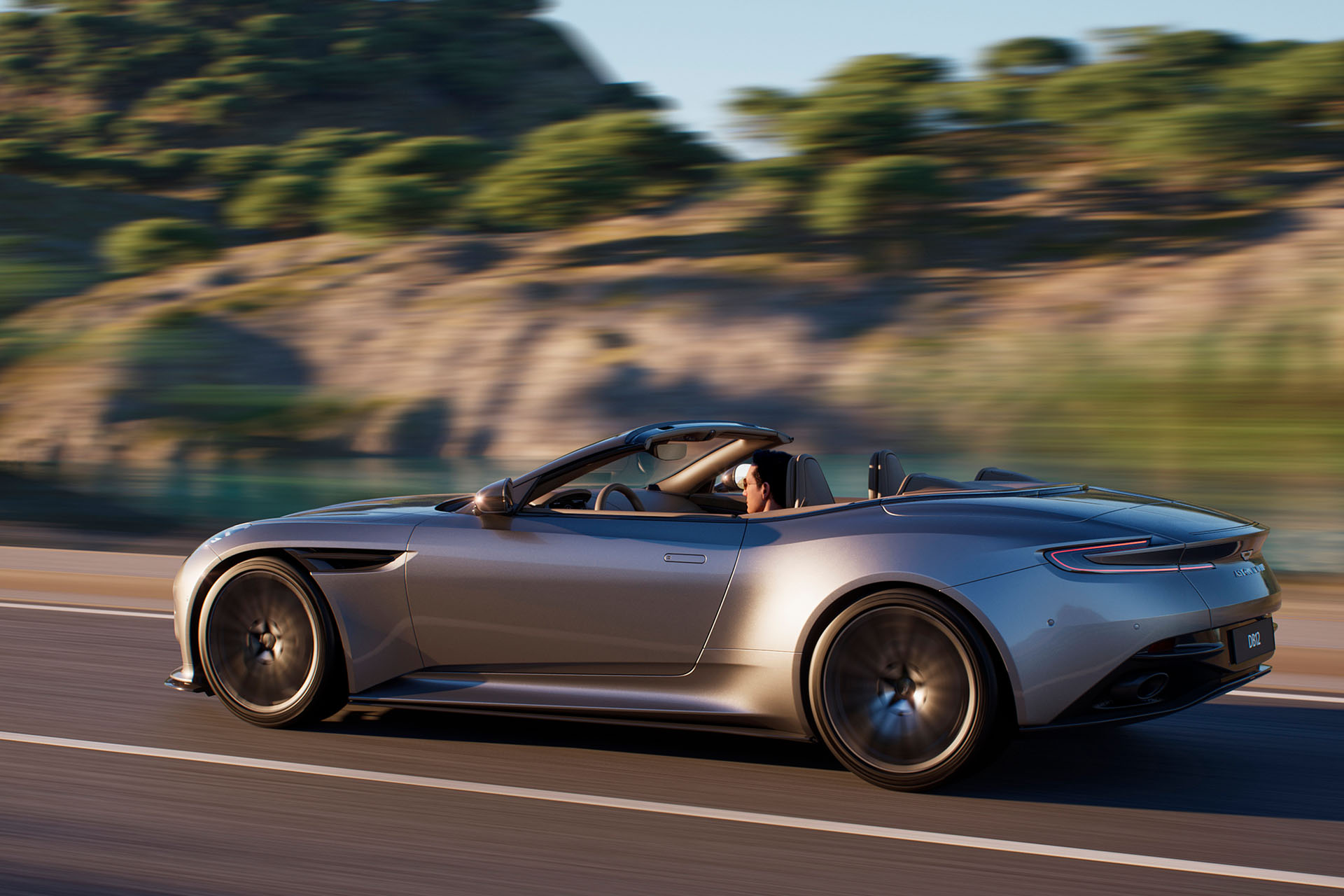 Thanks to changes to underbody components, including the engine cross brace, DB12 Volante sees a 3.7% increase in global torsional stiffness, along with focussed improvement in lateral stiffness and gains in suspension performance and refinement. A non-isolated steering column and a stiffer front axle (+140%) contribute to improvements in on and off-center steering feel and an overall sense of driver connection.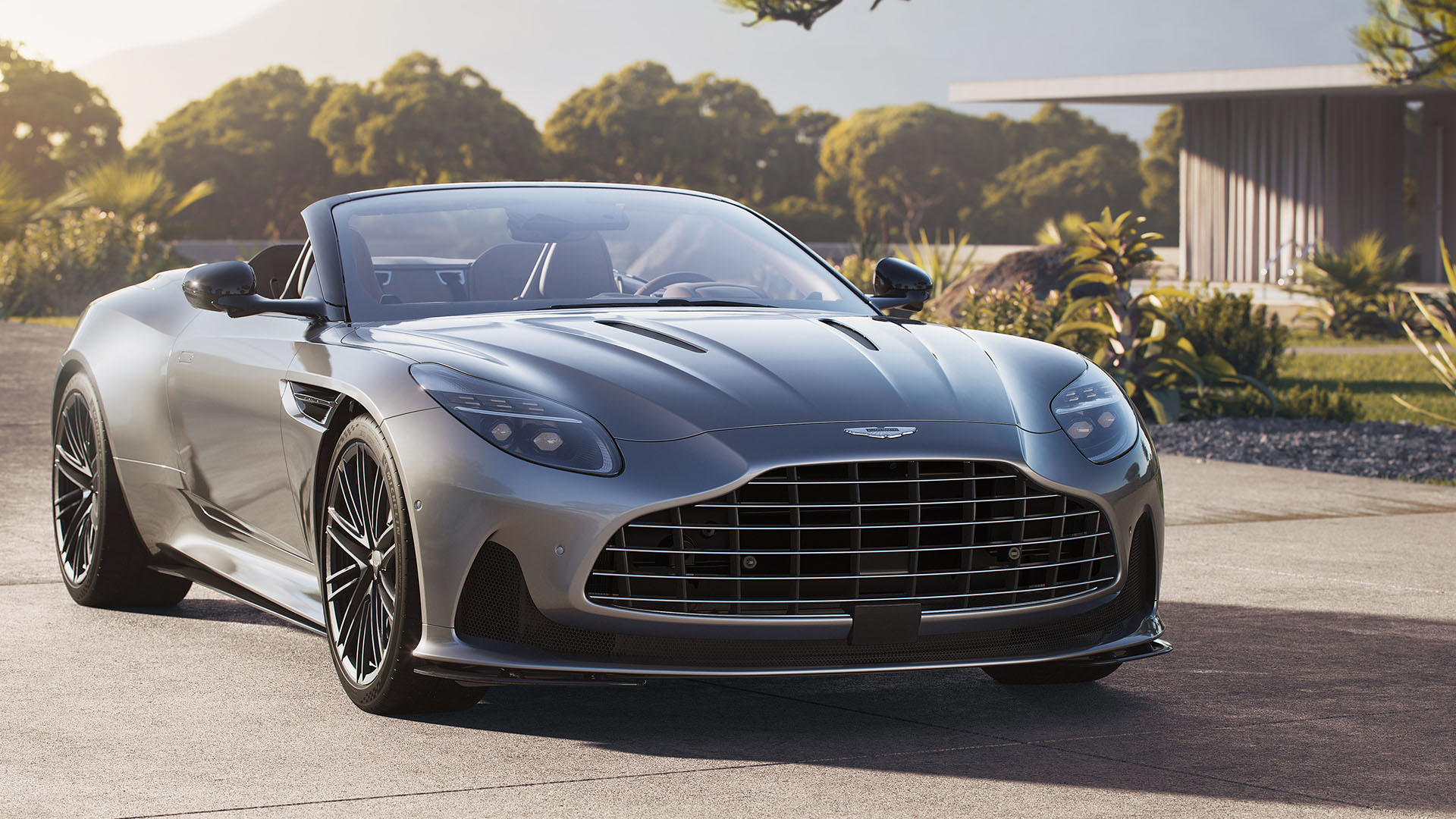 The Volante's performance credentials speak for themselves. Best-in-class potency from its 4.0 Twin-Turbo V8 engine endows DB12 Volante with formidable performance and a fabulous soundtrack. Tuned by Aston Martin engineers to deliver class-leading 680PS/671bhp at 6000rpm and 800Nm/590 lb-ft between 2750-6000rpm, this exceptional hand-built engine features modified cam profiles, optimized compression ratios, larger turbos, and increased cooling to achieve an increase in output of 34% compared with the DB11. Accelerating from 0-60mph in 3.6 or 0-62mph in 3.7sec and powering on to a top speed of 202mph, the DB12 Volante's performance is truly breathtaking.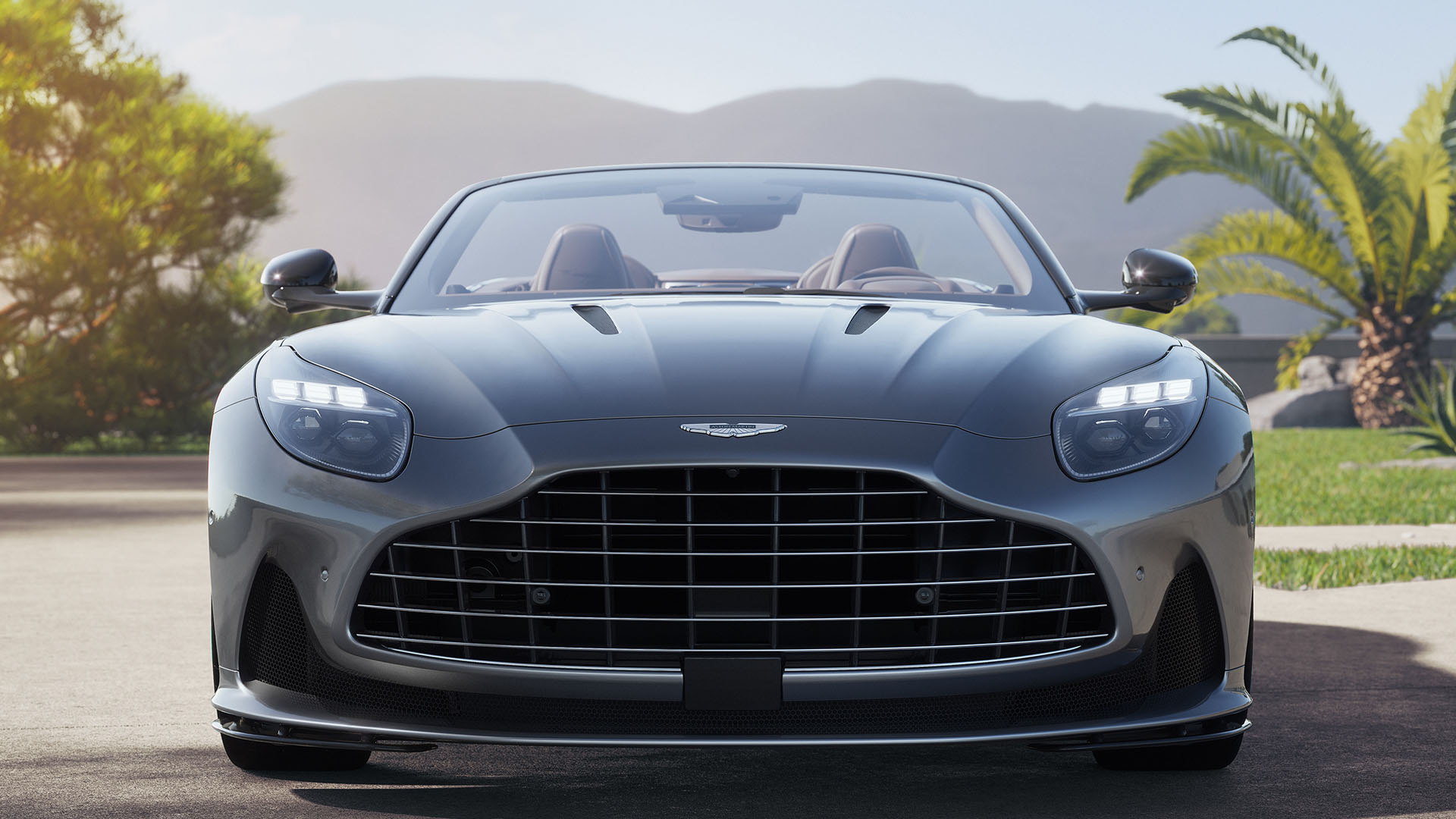 Power is fed through a ZF 8-speed automatic transmission, which like the DB12 Coupe, features a range of shift strategies complimenting each of the dynamic driving modes. The Volante also uses the same shortened Final Drive Ratio to maximize in-gear punch and Electronic Rear Differential (E-Diff) for the perfect mix of agility when you want it and stability when you need it. With a four-stage ESC and a choice of five pre-defined dynamic modes, the DB12 Volante allows the driver to precisely tailor its behavior.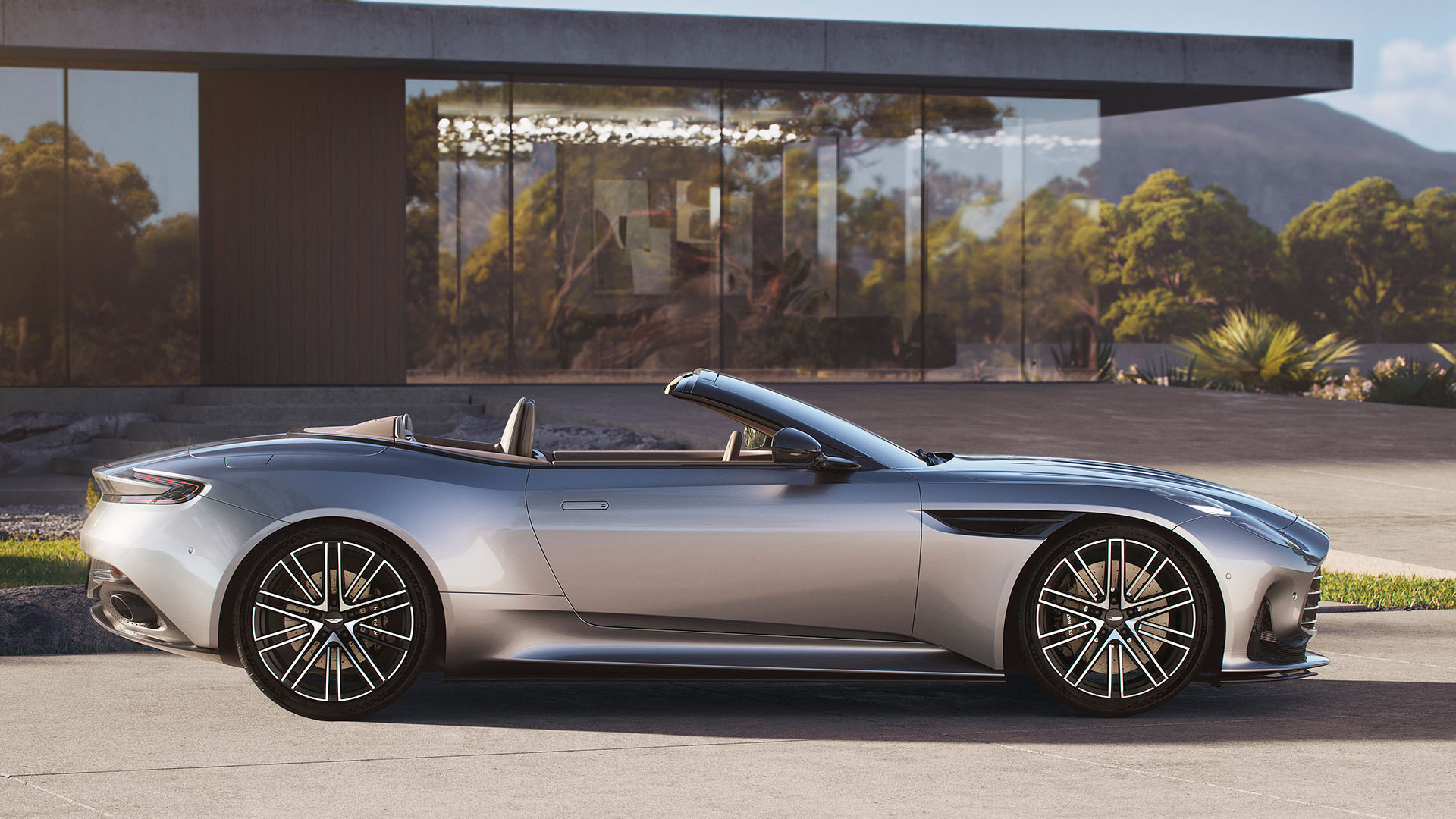 Aston Martin Chief Technical Officer, Roberto Fedeli said of the new DB12 Volante: "Volante possesses all the Super Tourer traits so successfully introduced in the DB12 Coupe. That we have preserved this class-leading performance and handling is testament to the underlying brilliance of the DB12 platform and the work we have done to maintain the advantage of its superb powertrain and chassis in an open-top version. No longer the 'softer' option, DB12 Volante offers the stimulation of a true sports car with the unique pleasure and satisfaction that only a convertible Aston Martin can deliver."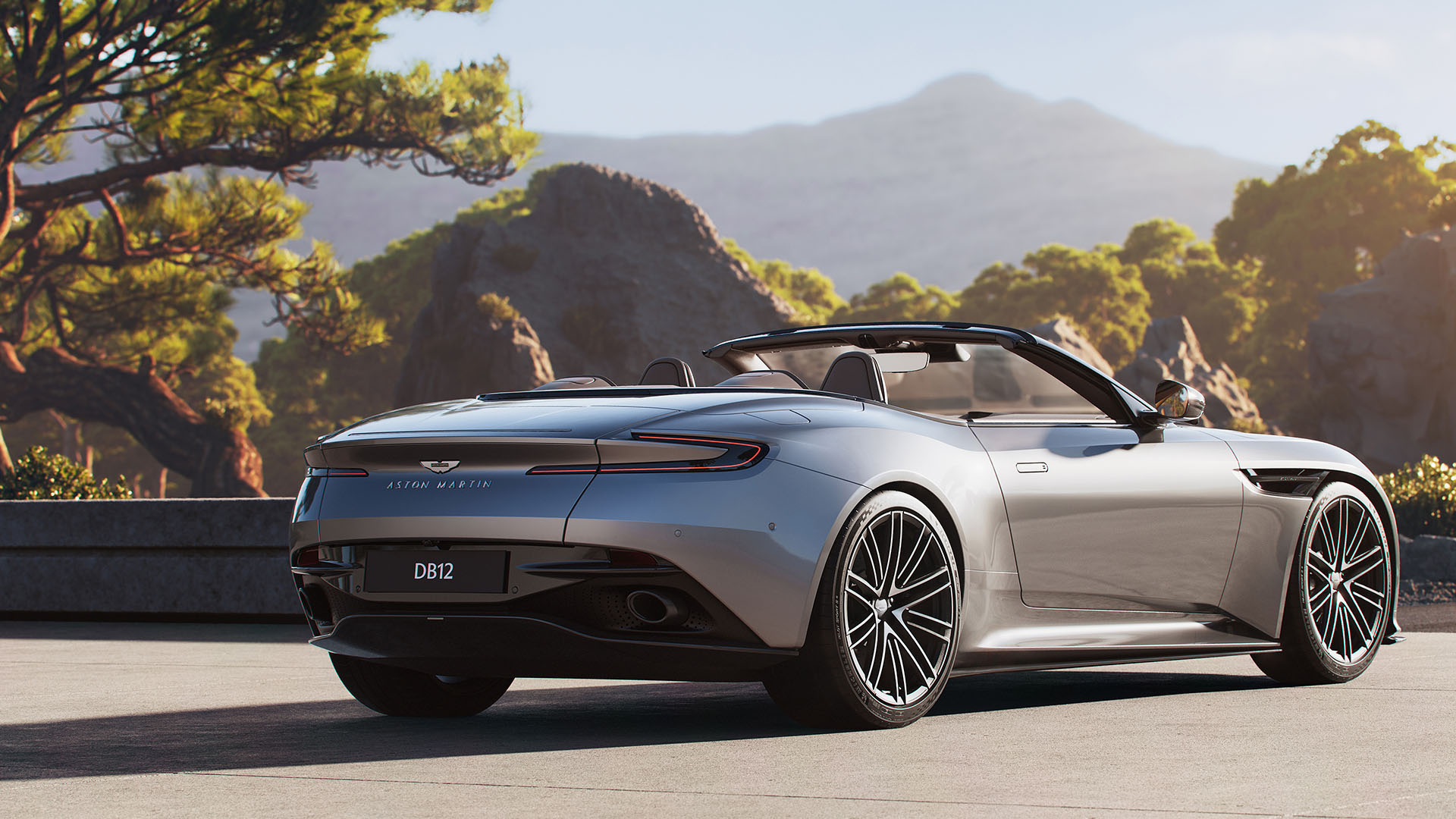 The result is a convertible car with an extraordinary breadth of capability. Intense performance and pinpoint handling to enthrall the most demanding driver, combined with the intoxicating pleasure of roof-down driving and supported by the very latest connected technology and spectacular surround sound audio system. Together they deliver a truly contemporary ownership experience. In providing the finest of all things, DB12 Volante exemplifies the new age of ultra-luxury. The roof operation takes 14 seconds to open and 16 seconds to close and can be used at speeds of up to 31mph and into a 31mph headwind. For additional convenience and pleasing theatre, the roof mechanism can be operated via the remote keys, as long as you are within a two-meter radius of the car.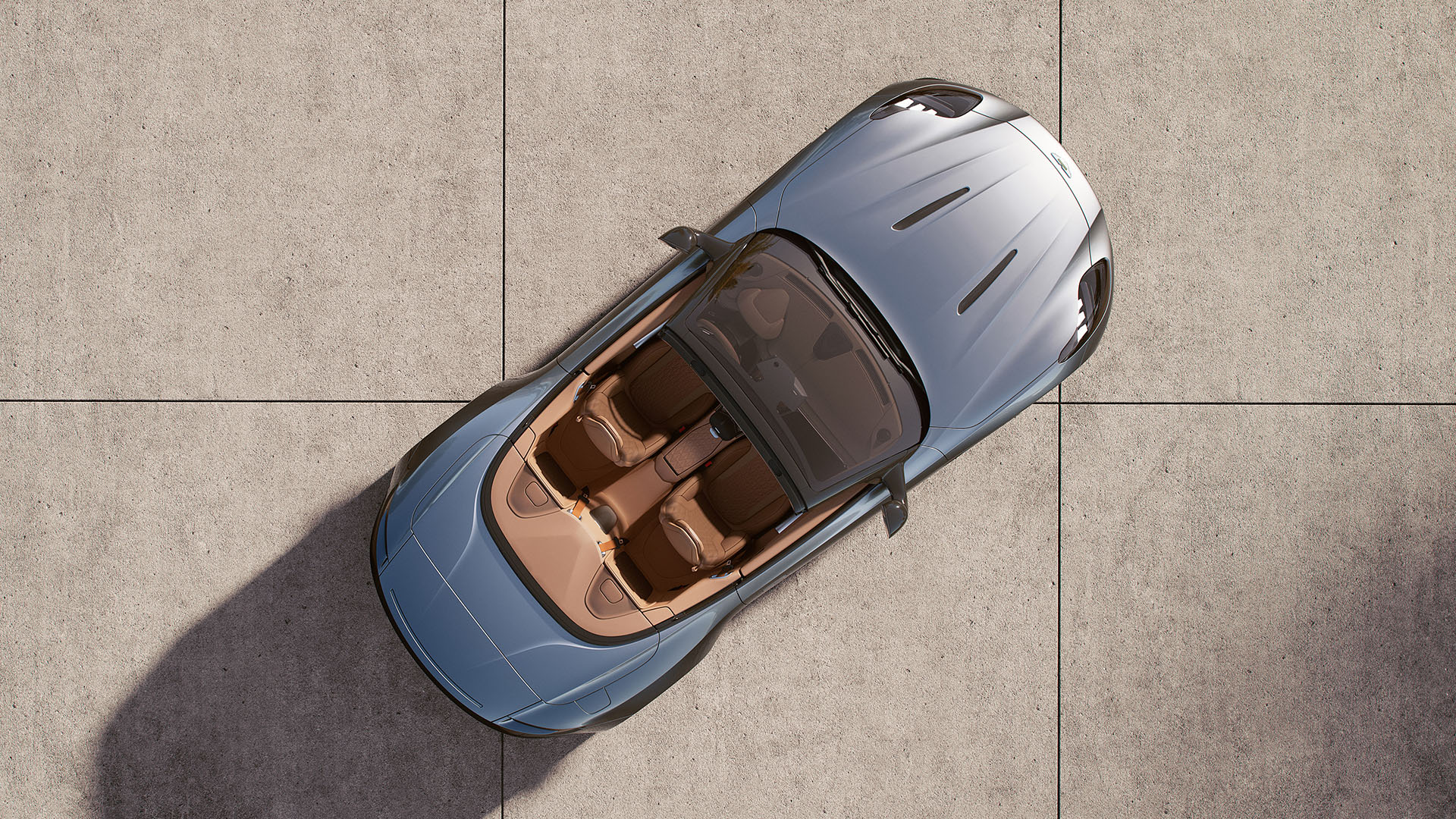 Marek Reichman, Aston Martin Chief Creative Officer, said: "Creating open-air performance machines for drivers has always held a special place in hearts across Aston Martin, dating back to 1965, with our introduction of the first Volante model, the legendary Short Chassis. It has been, and always will be, a design beacon for us.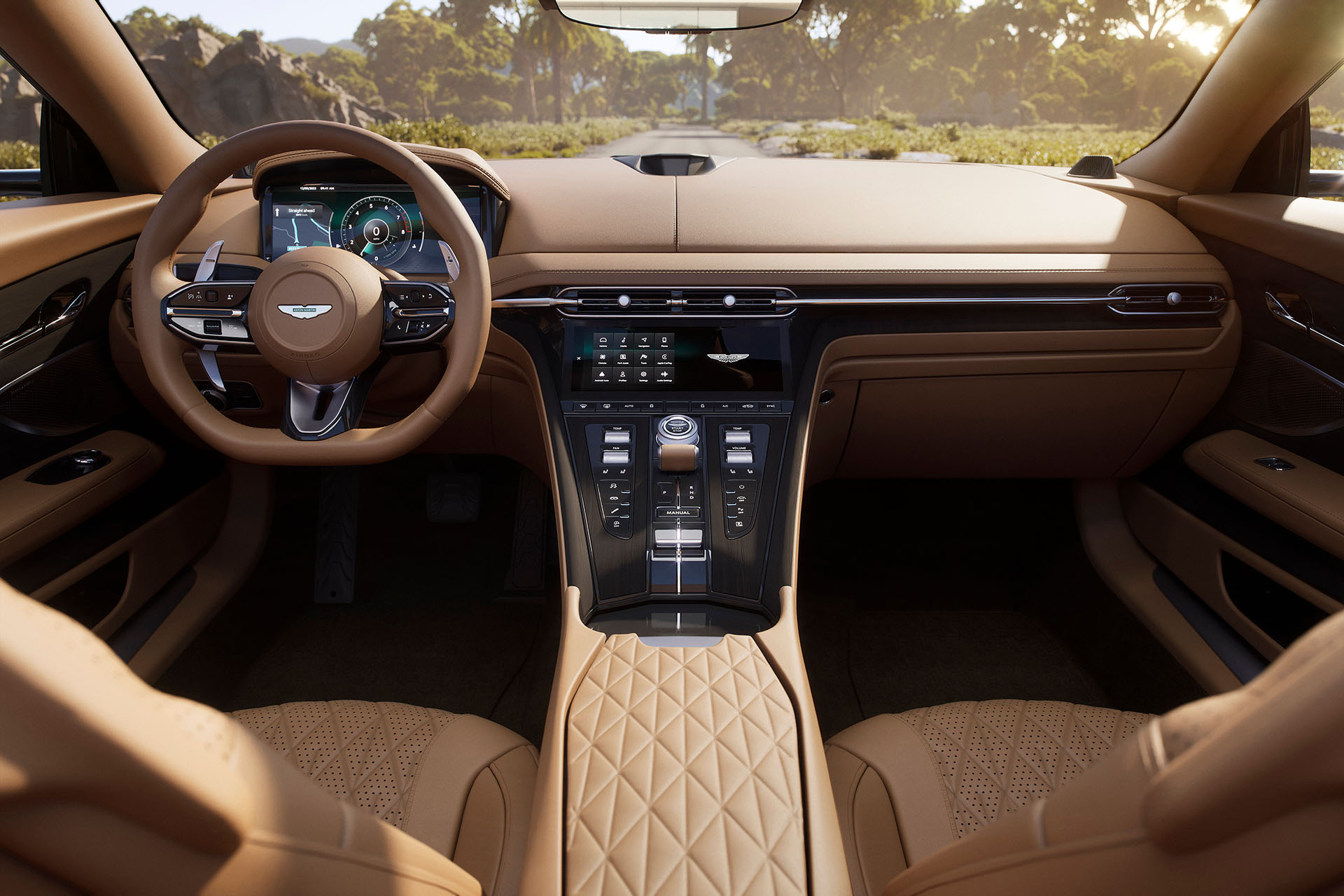 "The new DB12 Volante is again another emotional Aston Martin design form with a desire to be driven. We've sculpted a graceful, muscular exterior shape that reflects its immense capabilities, set atop very advanced structural elements, with a clean, contemporary interior. Crafted through performance design for those who share our joy and happiness for adventuring in cars in the open air, new DB12 Volante is certainly exhilarating to experience and one that adds to our distinctive history."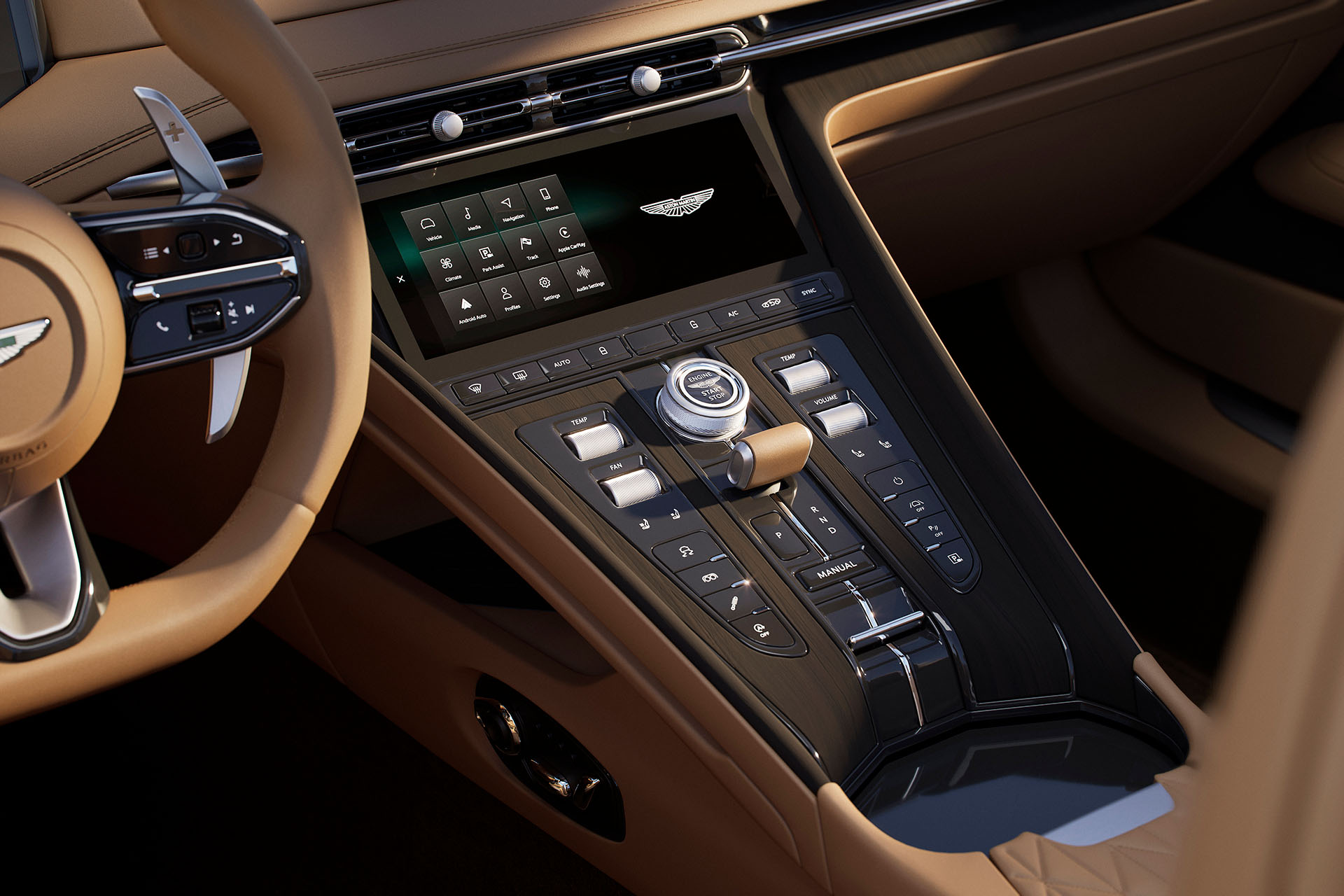 Q by Aston Martin; the ultra-luxury personalization service allows those who wish to put their own stamp on the DB12 Volante. By accessing the skills of Q's designers and craftspeople, customers enjoy a one-off personal commissioning journey that can encompass everything from a single small distinguishing detail to full-scale engineering and production of entirely bespoke components. With Q by Aston Martin on-hand to realize a customer's vision for their ultimate DB12 Volante, the sky really is the limit.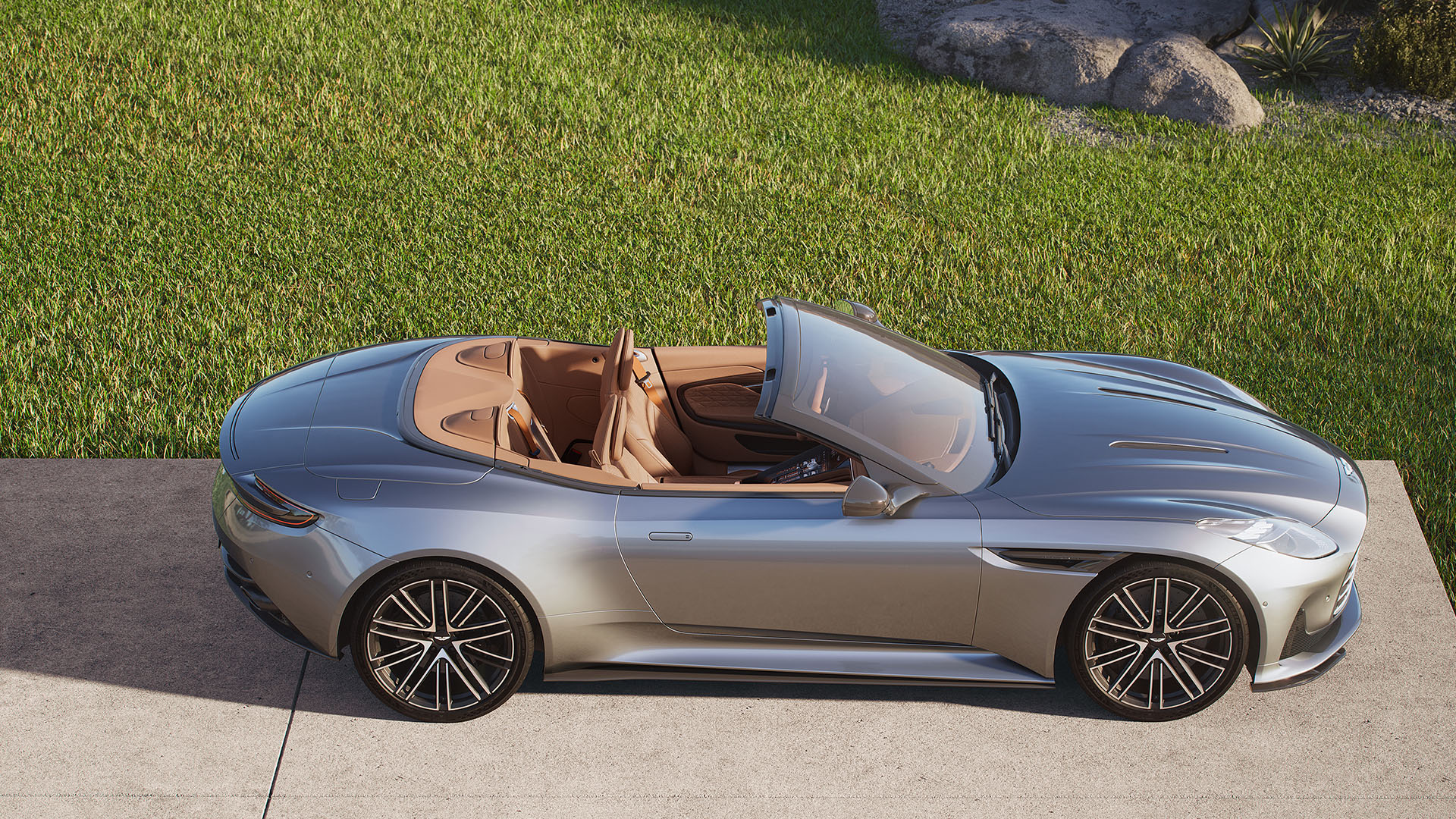 The new DB12 Volante will make its global debut at Monterey Car Week in California this week, first seen on display at The Quail: A Motorsports Gathering on Friday, and at the exclusive clubhouse Aston Martin Club 1913 at Pebble Beach Concours D'Elegance over the weekend, production is set to start during Q3 of 2023 already, with the first customer cars being delivered during the last quarter of 2023.