In Europe, the Mercedes-Maybach GLS 600 4MATIC is a large SUV, one of the largest Mercedes has to offer, and it's almost the more luxurious version of the G-series, but I guess for the United States of America this size of SUV is more widespread, still, Brabus can make it even more special than it is straight from the factory, how about 800 hp and 950 Nm of torque for this designer version of the Maybach SUV?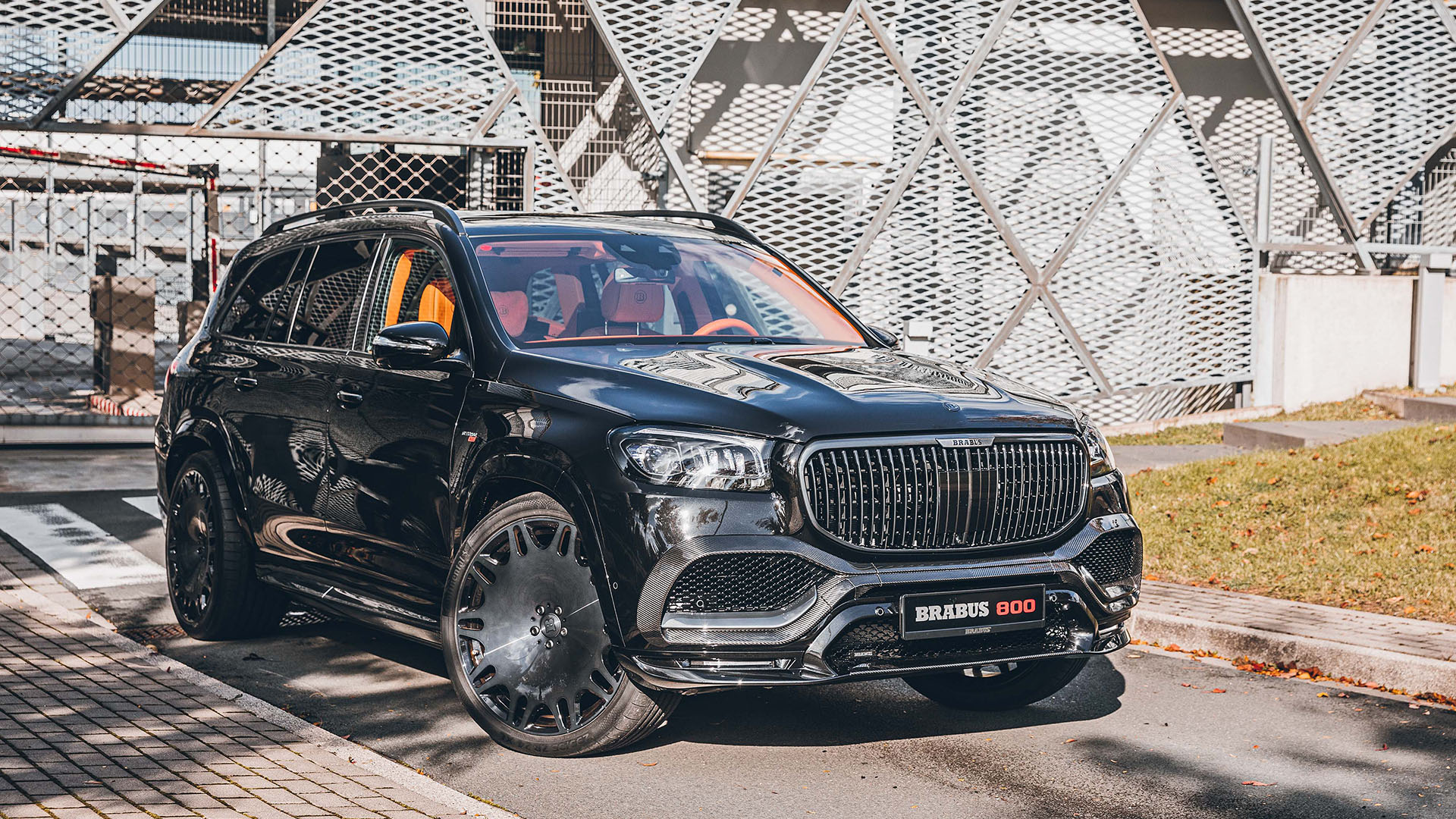 When you order a Mercedes-Maybach GLS 600 4MATIC, you are entering the roam of the ultra-luxurious SUV cars, you've probably have been looking at the Rolls Royce Cullinan and perhaps even the Bentley Bentayga as a bargain, but even in the companion of SUV like this Maybach and the Cullinan, there are always clients that want something more, more exclusive, even more luxurious … and that is where Brabus comes in with their latest Brabus 800 model.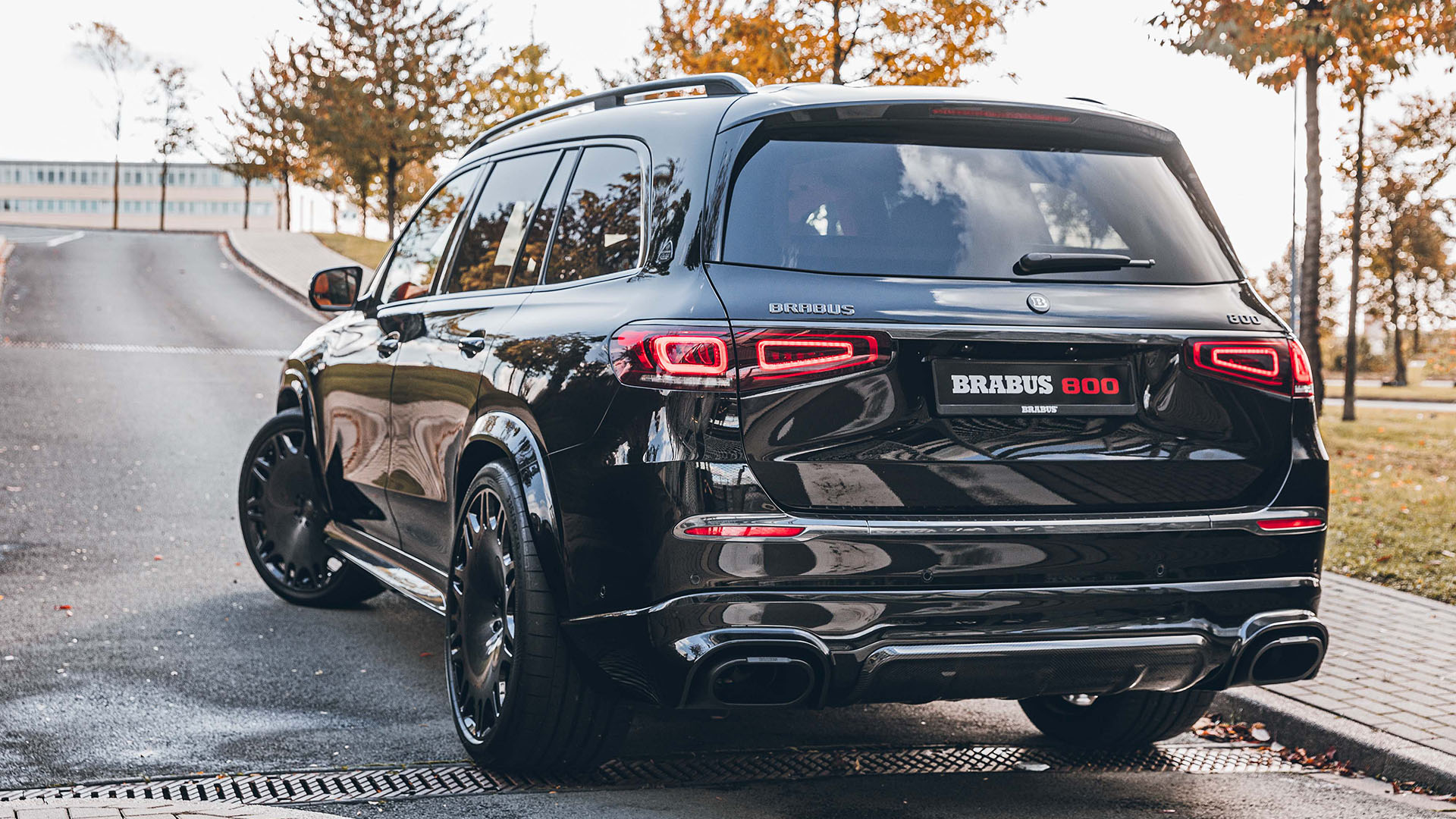 The already potent 4-Liter, Twin Turbo, V8 engine gets fitted with the Brabus PowerXtra B40 S-800 to make sure you can get out of any situation behind the wheel of this massive SUV, with a power output of 788 bhp, which converts into 800 hp or 588 kW, this gargantuan Brabus 800 has a peak torque of 701 lb-ft, or 950 Nm … with all that power, this Brabus 800 GLS will reach 100 km/h from standstill in just 4.5 seconds … to give the tires a little longer lifespan, Brabus limits the top speed to 300 km/h or 186 mph, very impressive for a car that puts down 2.8 metric tons on the scales.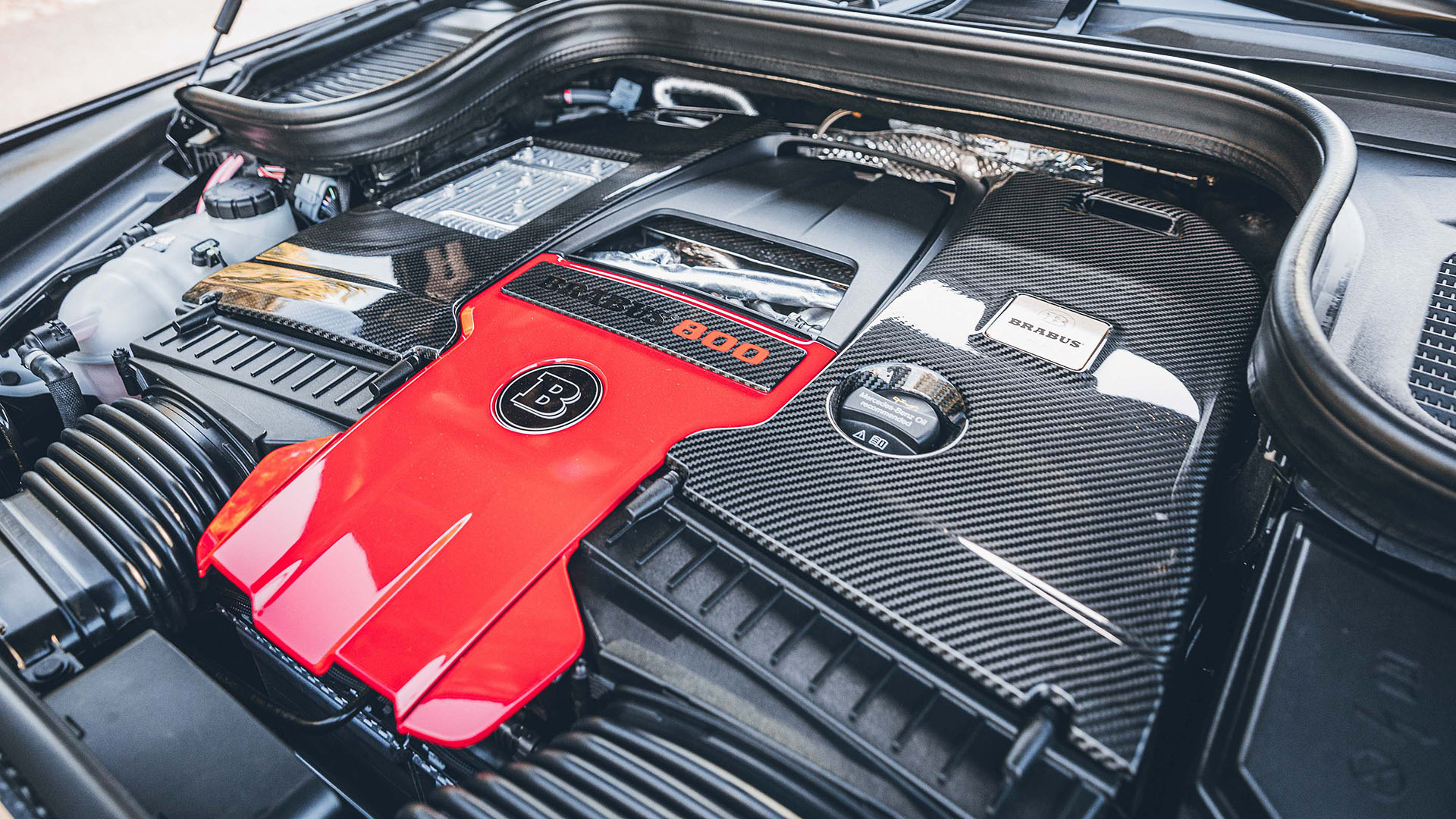 With the base car having 550 bhp and 730 Nm on tap, you just know the increase to 800 hp and 950 Nm will be noticeable when driving this large German-built SUV on the open road, the conversion into a Brabus 800 comes complete with new turbochargers that have a maximum boost pressure of 1.6 bar, all of this additional power is managed by the Brabus PowerXtra control module with bespoke mapping for both injection and ignition, and Brabus is one of the only tuning companies that deliver these highly tuned engines with a 3-year, 100,000 km warranty.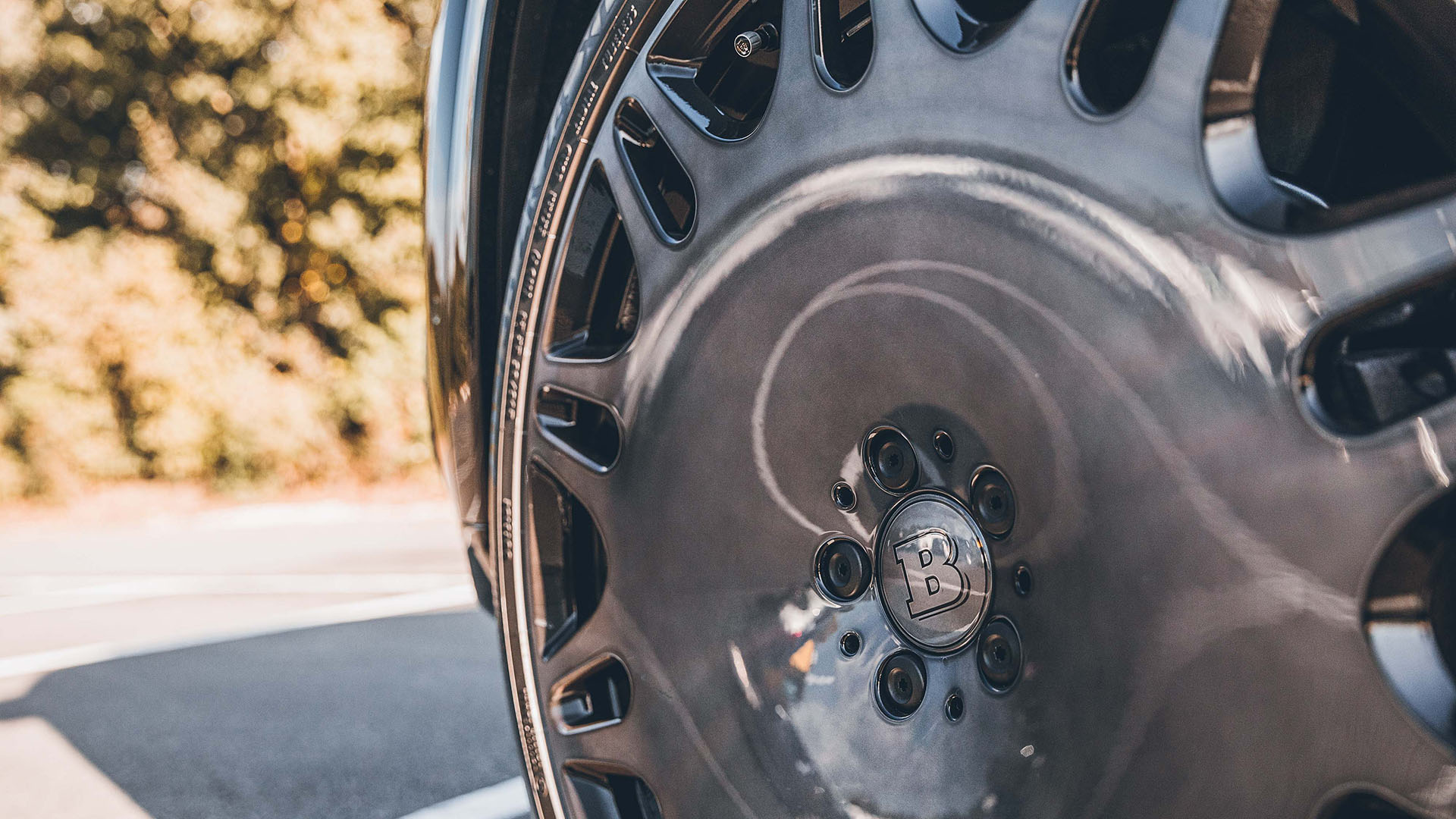 From the factory, the Mercedes-Maybach GLS600 4MATIC comes with a lot of chrome, personally, I'm not a big fan of that on a modern car, and Brabus has the same sentiment it seems, they've replaced all the chrome with their Shadow Grey finish on all bodywork components, and to complete the aggressive look, Brabus fits a set of absolutely stunning Monoblock M wheels in the Platinum Edition' version … in a massive 24-inch format, a big SUV needs some big shoes.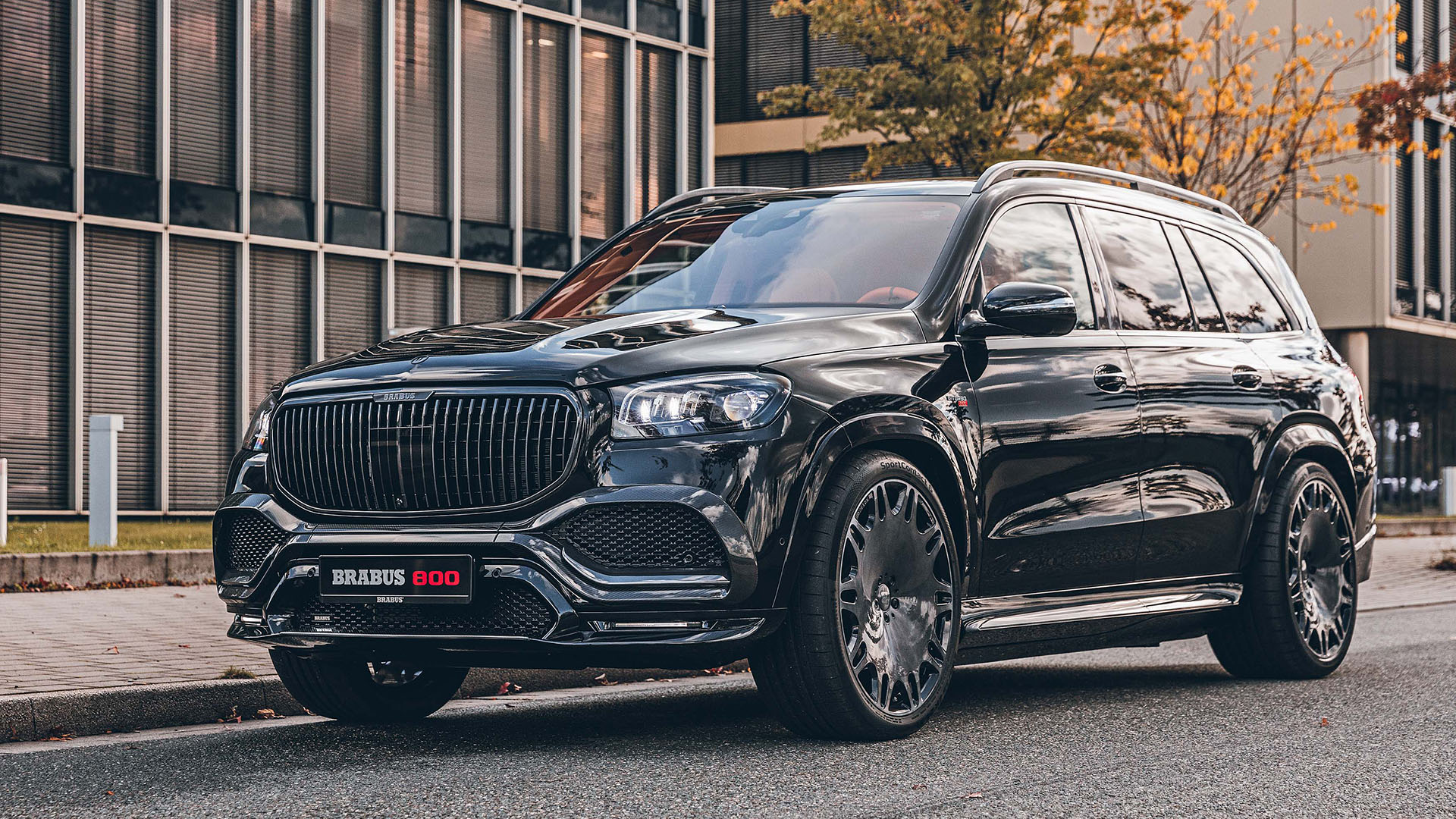 To make sure this Brabus 800 sounds as good as she looks, there is a stainless high-performance exhaust system fitted, naturally with active sound management so you can leave your house in the morning without waking up the neighborhood, but once on the open road, you can make her scream in sport mode to really unleash the sound of that V8 engine up front.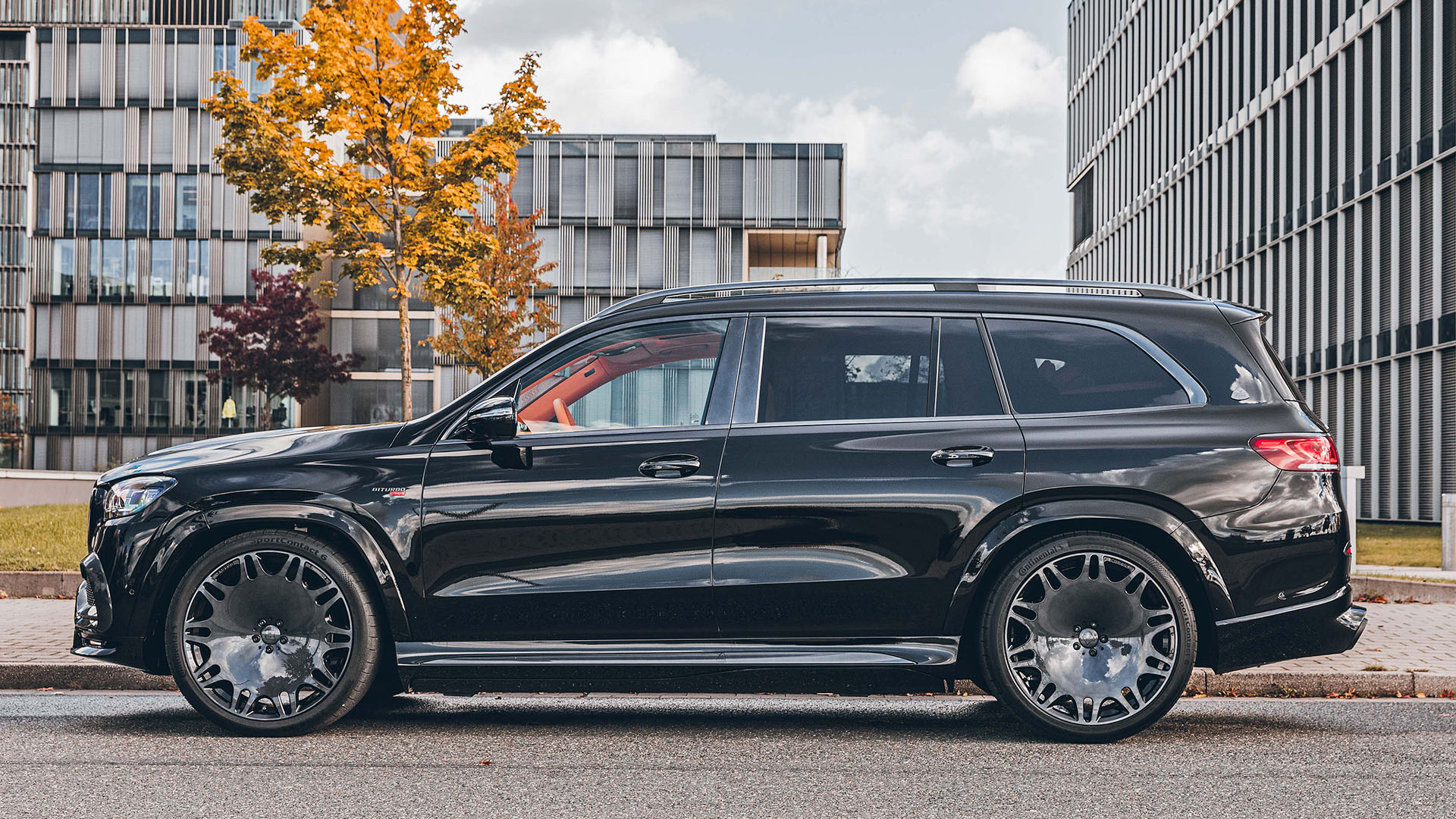 As usual, Brabus doesn't just fit a more powerful engine and massive wheels, the bodywork always gets some attention too, not too intrusive, but just enough the set their cars apart from the crowd, and this Brabus Maybach GLS is no different, with a new front spoiler boasting lots of visible carbon fiber on the lower part, this part is specifically designed to reduce lift at high speeds, remember this beast can travel at 300 km/h!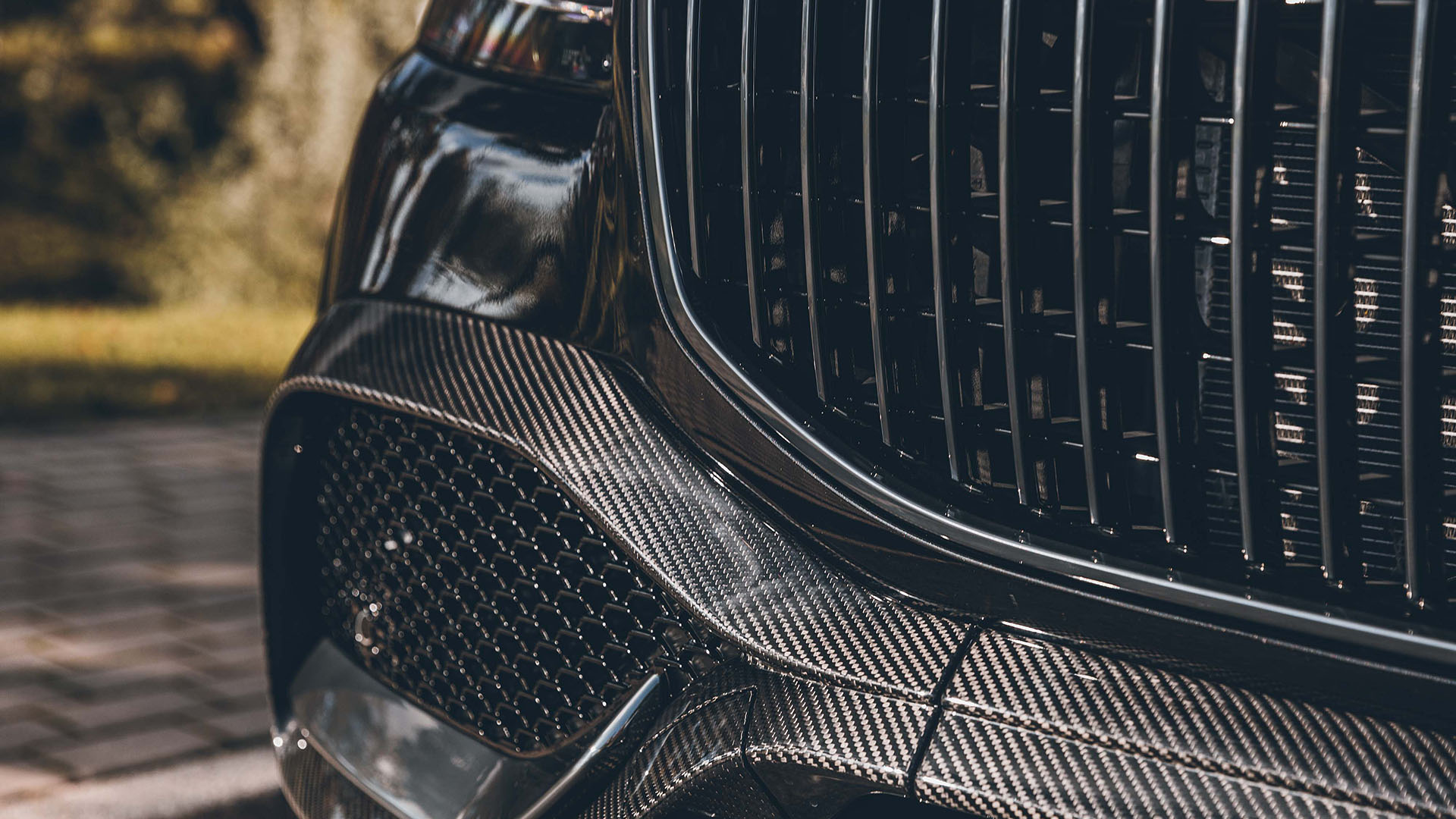 Similar to the front bumper, the rear bumper on this Brabus 800 get a new lower diffuser fitted, once again in visible carbon fiber, and perfectly shaped to allow the tailpipes of the custom Brabus exhaust system to come through the openings on either side and thanks to these parts and the special Brabus setup for the air suspension, this car sits 25 mm or 1 inch lower to the ground … but she can be raised again if needed.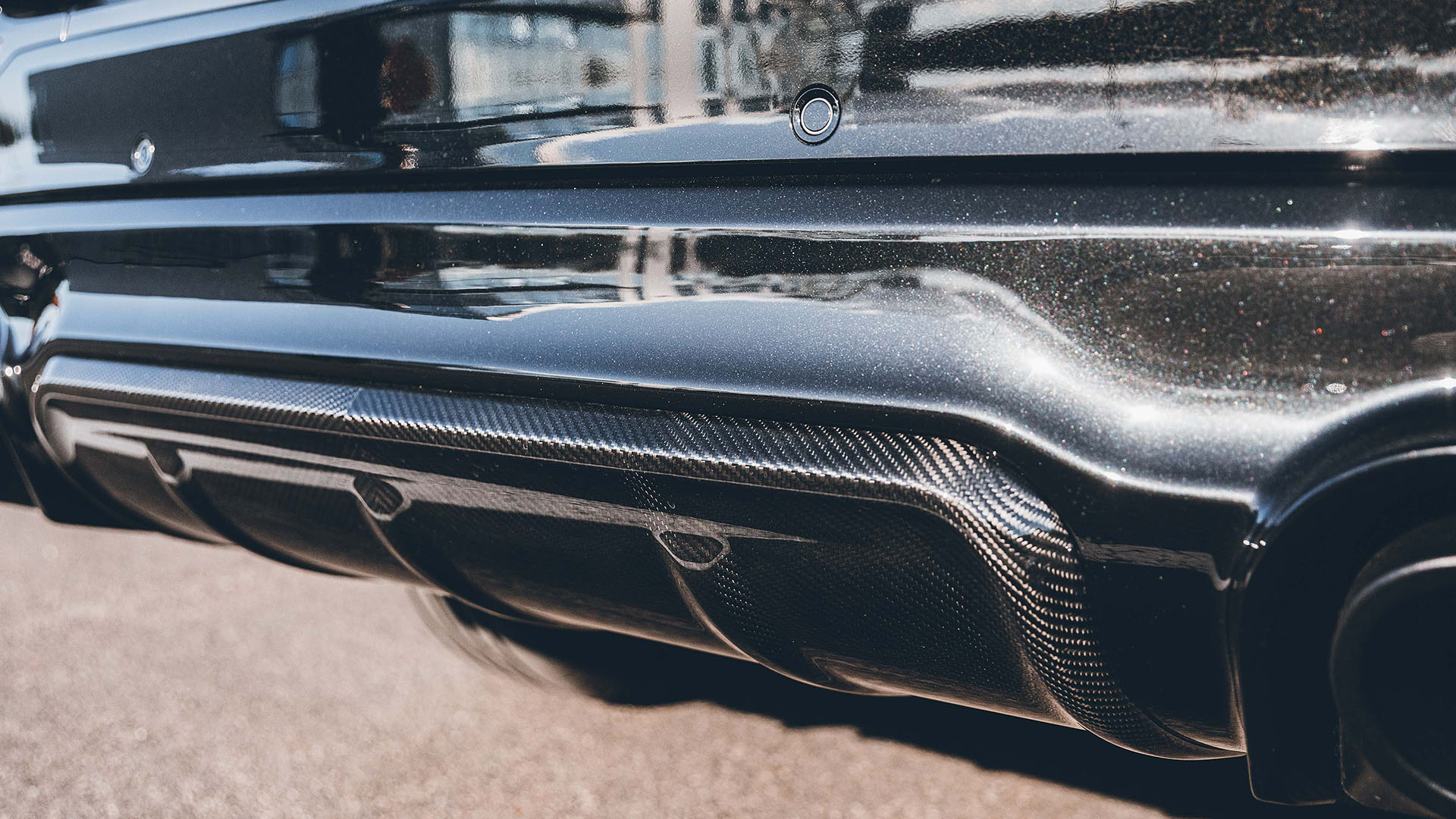 As already mentioned, the BRABUS Monoblock M "PLATINUM EDITION" wheels come in 24 inches to fill out the available space under the wheel arches with visible carbon flares, on the front axle you'll find 10Jx24 units fitted with Continental high-performance tires in a wide 295/35 R 24 size, but it really gets better on the rear axle, with massive 12jx24 wheels and even wider 335/30 R 24 street tires, that's a lot of rubber to keep you firmly planted on the road.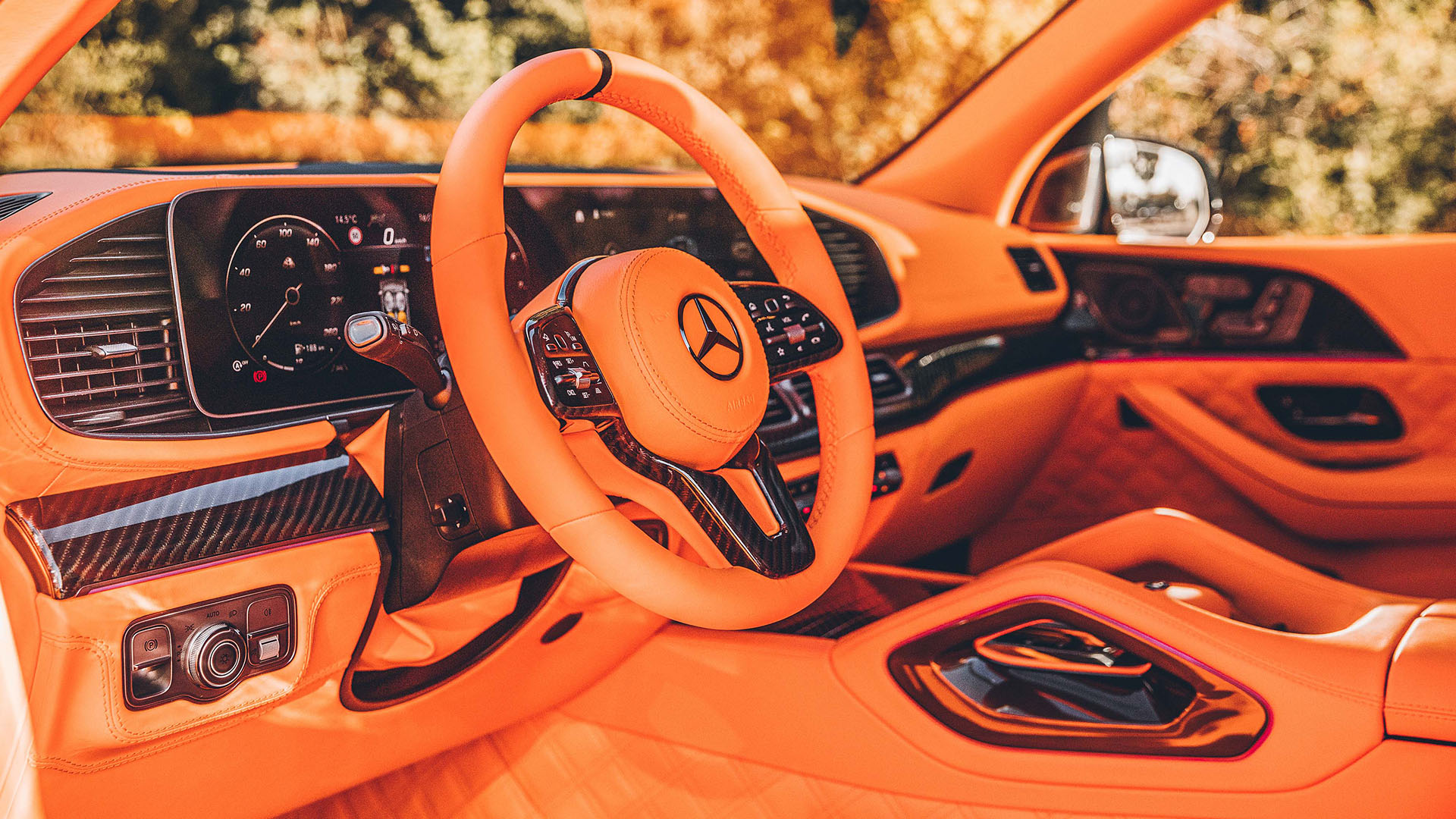 You might think there is no way to improve on the already very luxurious interior inside a factory Maybach GLS … think again, this wouldn't be a Brabus car if their artisans didn't completely gut the interior in the base car and created a tailor-made, individual interior from scratch, and while not every client would appreciate the bright orange leather, called Leonis Orange (remember Lamborghini offers Arancio Leonis for their interior), you have to admit it is an amazing contrast with the black exterior.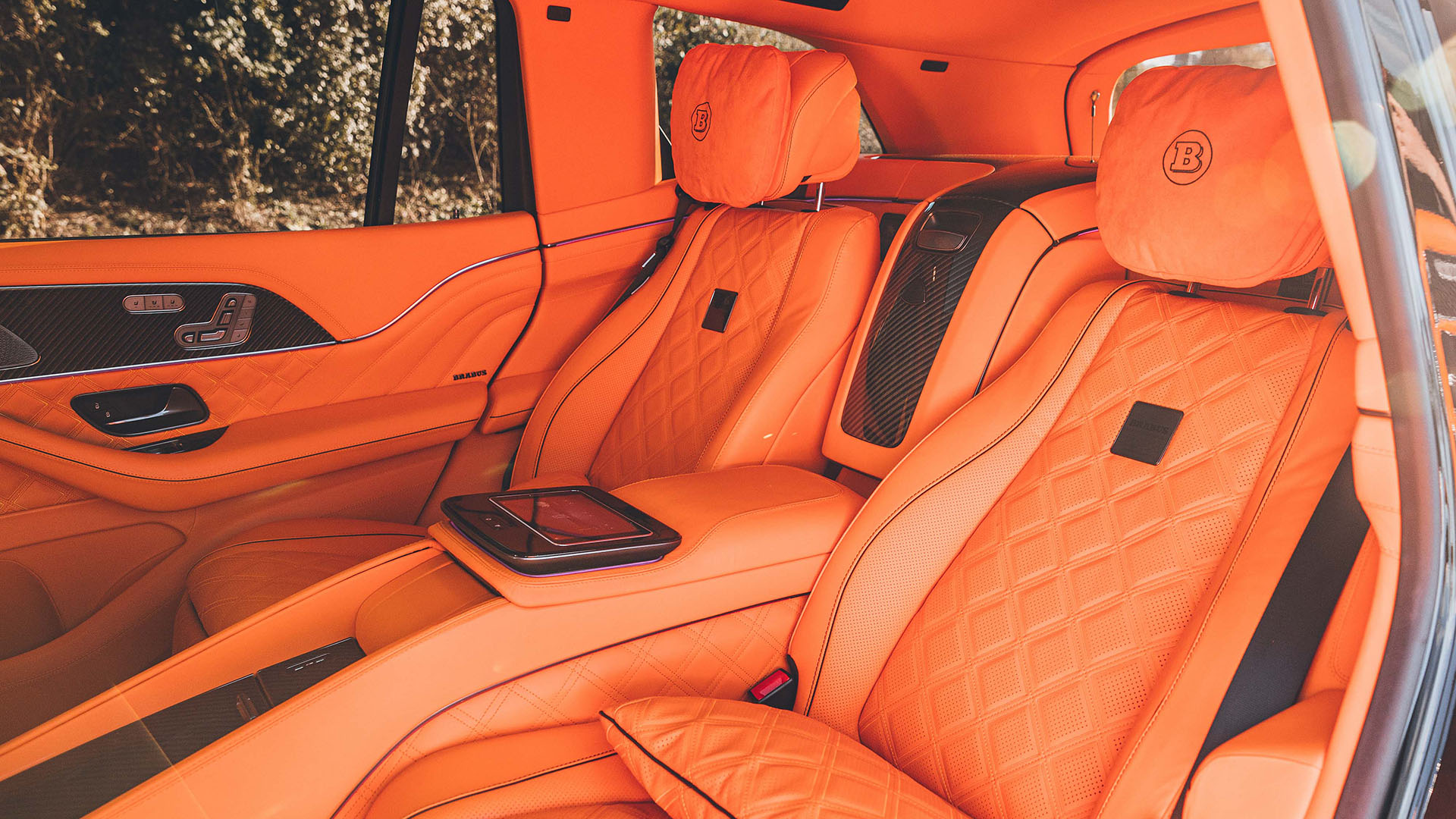 Before the Halloween jokes come into the picture, the use of orange leather on just about every surface inside this Brabus 800 Maybach GLS combined with the glossy finished clear carbon fiber just works, especially as Brabus didn't go as far as to fit orange seat belts, and paint all the hard surfaces in orange too, there is just enough gloss black and carbon fiber found on the interior to break things up.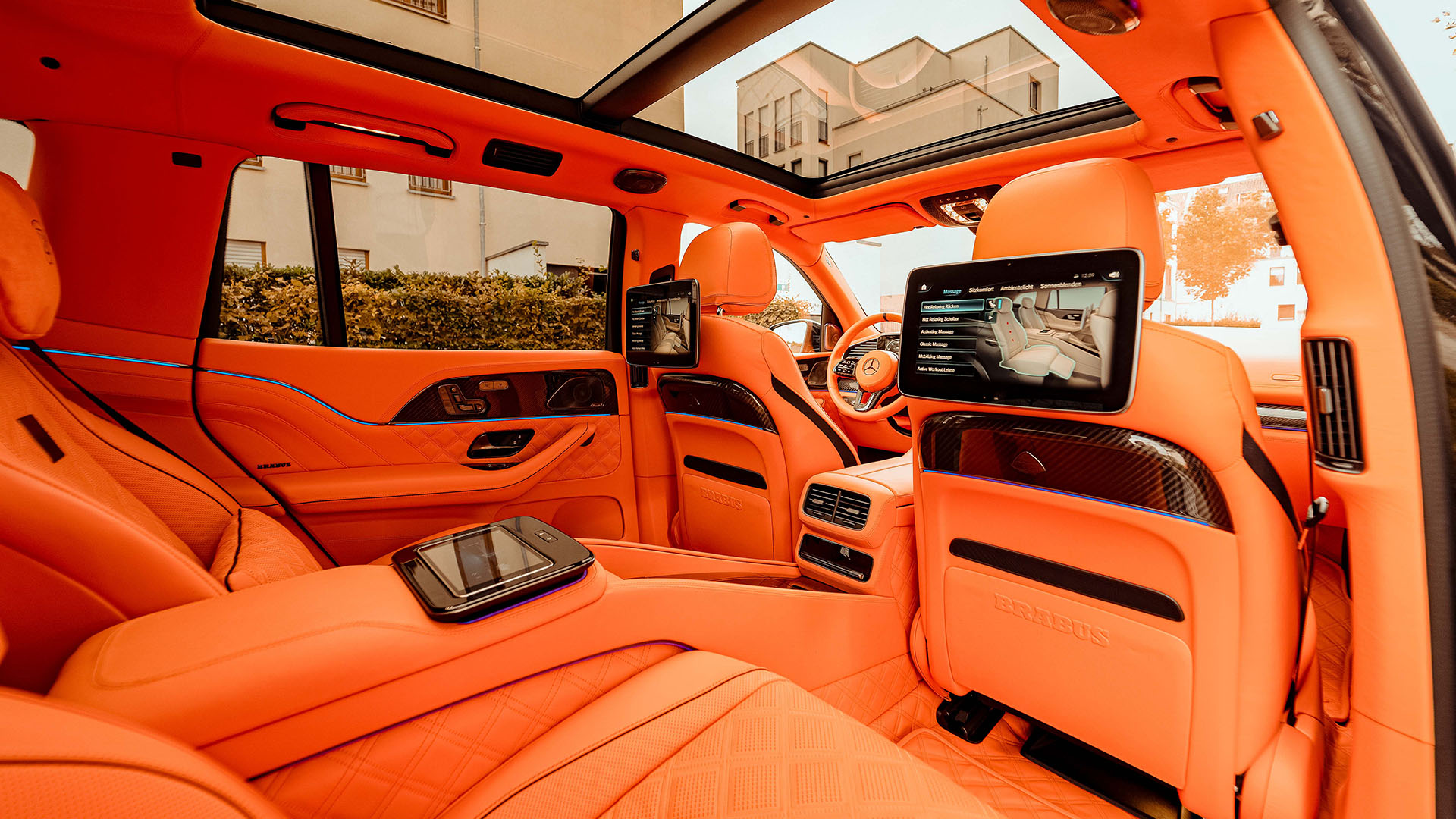 And that same black shade has been used for the contrast stitching on the seats and the impressive Brabus 'B' on the headrests, while they even fitted orange leather on the headliner, while all the switches and the trim elements come in Shadow Grey glazing to match the exterior. BRABUS Signature carbon elements on the instrument panel, center console, seatbacks, and on the door panels add a touch of racing in the luxurious interior, as are the aluminum pedals, door pins; and paddle shifters on the steering wheel in BRABUS RACE design.
Each Brabus 800 is built to order, totally bespoke for her specific client, and Brabus offers the option to upgrade any GLS 63 in stages to ultimately reach the level seen on this demo car, for pricing you might have to get in touch with Brabus in Germany.