There was a time when the Mercedes G-Wagon was built as a spartan utility vehicle, mainly used by fire departments and the military in Europe, it became an off-road vehicle for farmers too when it was built as a two-door model, and a longer, five-door model, but more recently the massive, angular styled Mercedes G-Wagon become somewhat of a status symbol among the rich and famous, and while the current model still boasts amazing off-road capabilities, not too many see muddy fields these days anymore, especially not the top of the line G63 AMG model, which comes with an MSRP of nearly $160,000 before adding options.
And while many would be over the moon being able to own a factory original Mercedes G63 AMG, that just won't do for some of the wealthy customers that get in touch with German-based BRABUS, to get more power from this massive SUV, and make it look stand out from the factory original model even further … and that is exactly what the customer can expect from this new BRABUS 800 BLACK & GOLD Edition.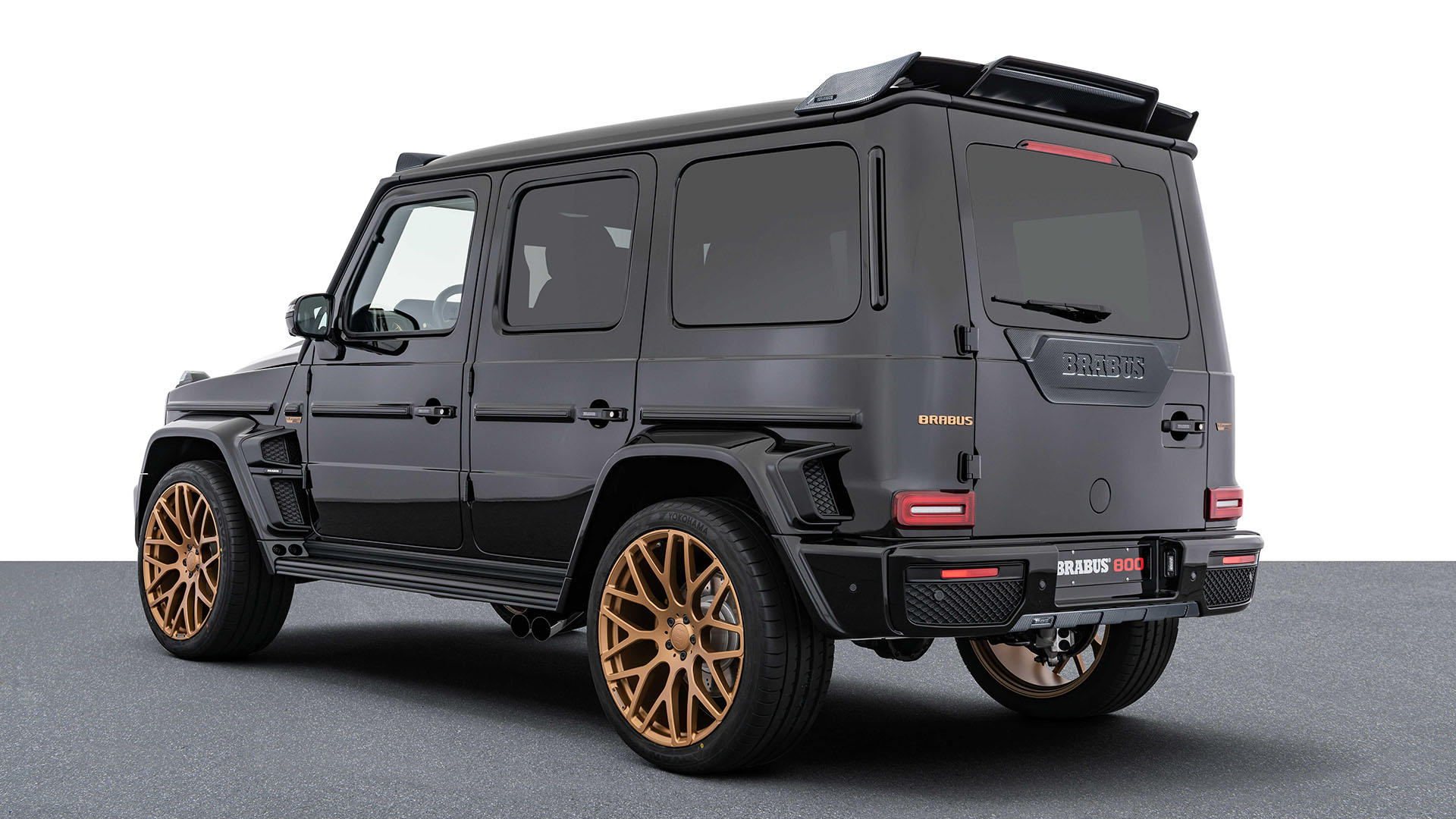 As you would expect, this limited edition of the BRABUS 800 will be finished in black paint with several gold-painted details, and from the name, you also should gather we're talking about 800 hp (588 kW) from the 4.0-Liter supercharged V8 engine, a monumental 1,000 Nm (737 lb-ft) of torque can propel this off-roader to 100 km/h from standing still in only 4.1 seconds … right up to an electronically limited top speed of 240 km/h (150 mph).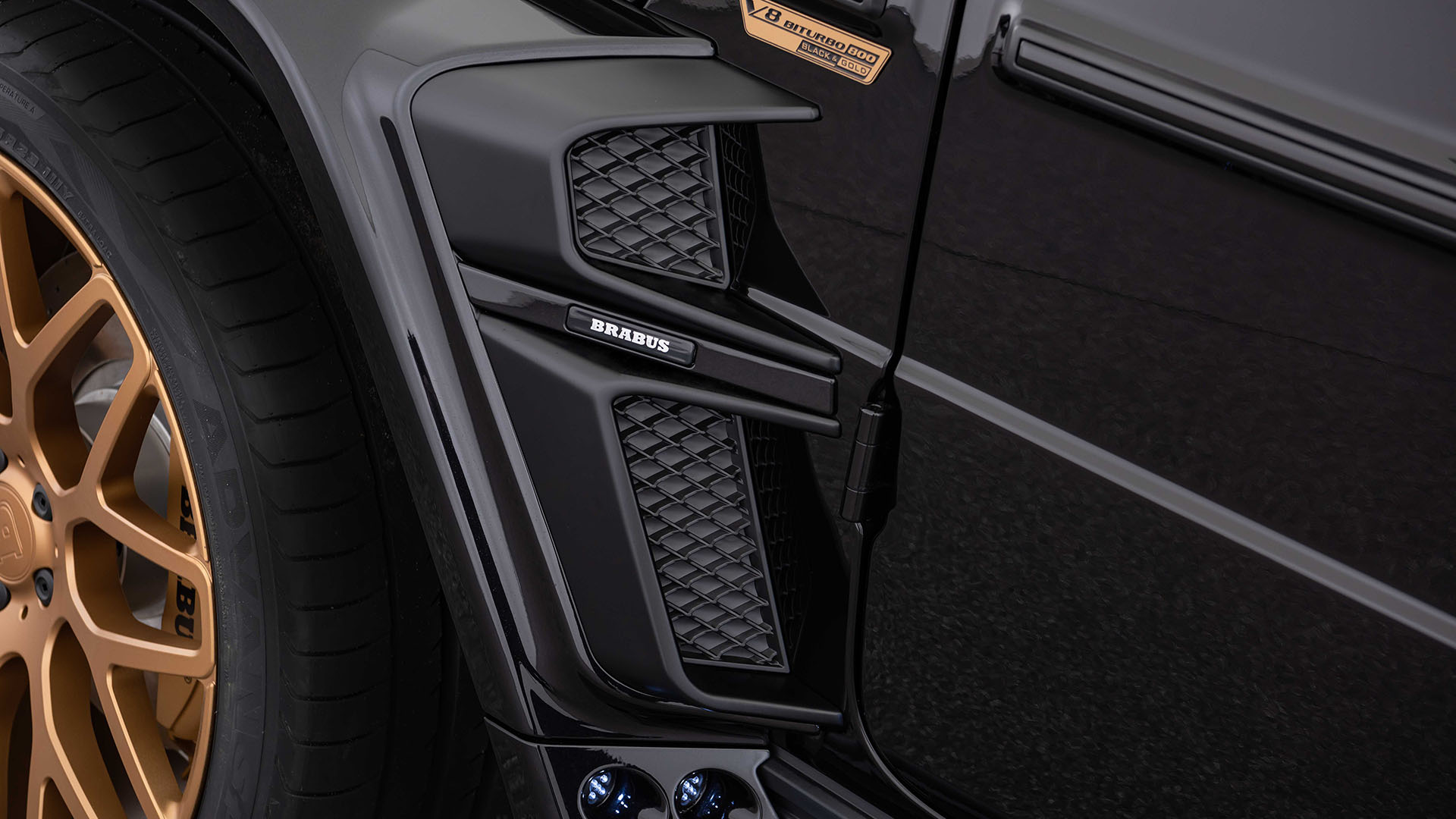 The looks of the G63 AMG base are enhanced by the famous BRABUS WIDESTAR body kit, which effectively widens the factory car by a full 10 cm (4 inches) with massive fender flares, but also comes with new front and rear bumpers to further distinguish the BRABUS from the standard Mercedes version, on this BLACK & GOLD edition we even find air vents behind the front wheels, and if you look closely at the front grille, you'll notice two of the vertical bars get a touch of gold paint. An even more aggressive-looking engine cover completes the looks of this BRABUS 800.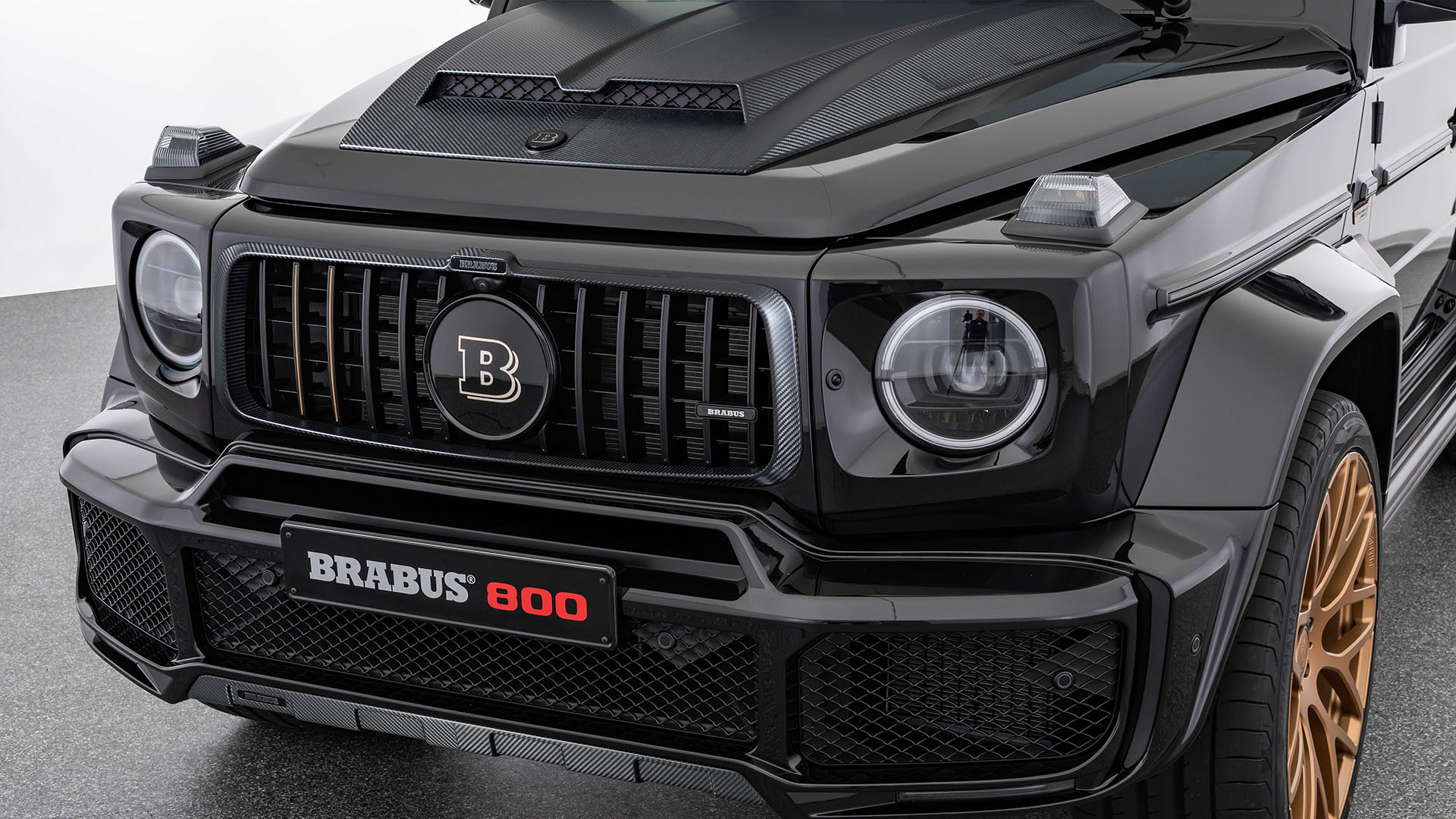 Such an impressive aerodynamic modification also requires a matching set of wheels and these gold-painted 23-inch BRABUS Monoblock Y "Platinum Edition" hi-tech forged wheels with Yokohama tires are just what this car needs to make a statement as if the actively controlled exhaust flaps inside the BRABUS stainless sport exhaust system wouldn't be enough to draw attention with their two black chromed side pipes on each side, offering a choice between a discreet "Coming Home" mode or a markedly sporty V8 sound.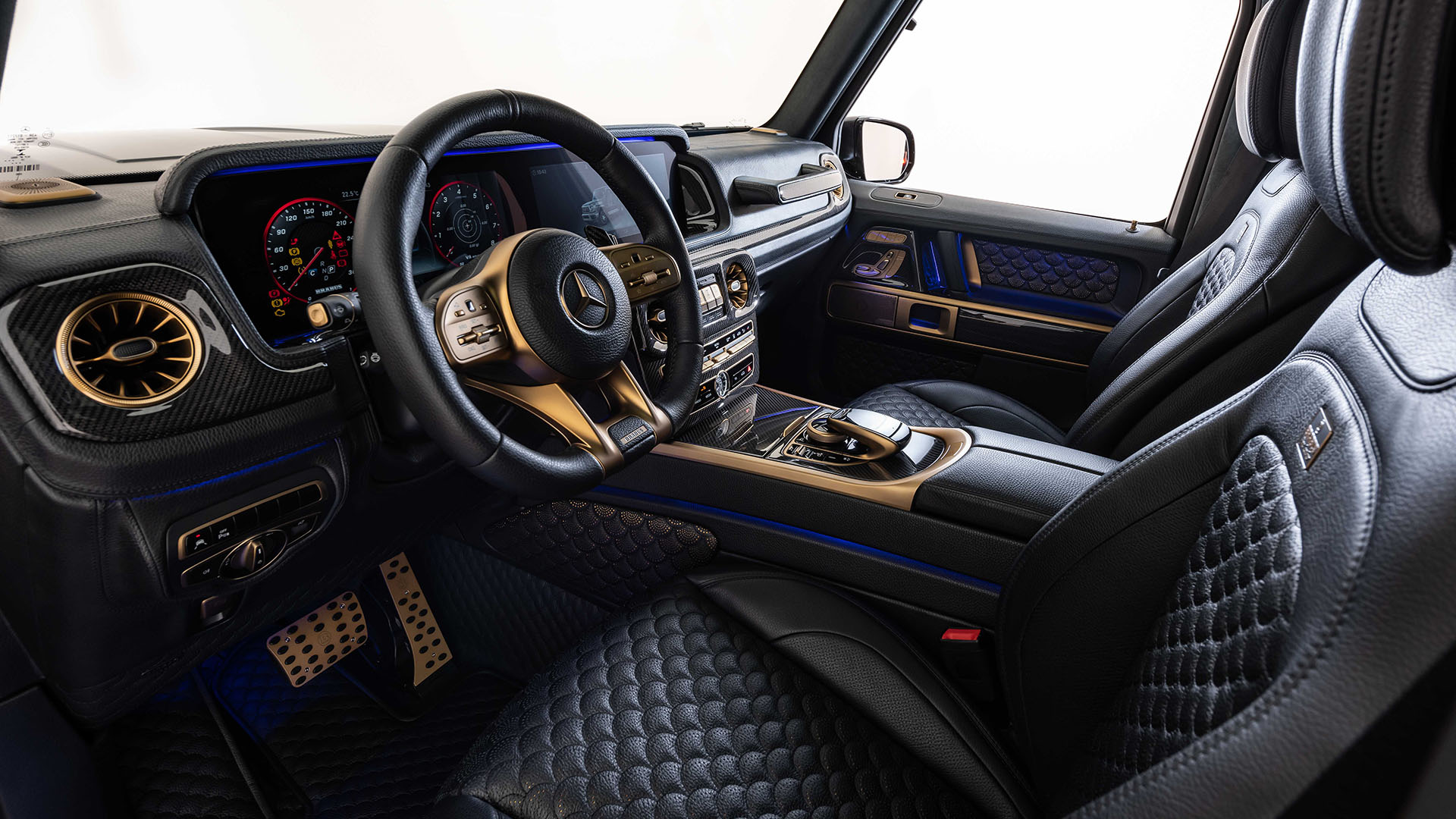 And the fun continues on the inside, being a BRABUS limited edition model, I don't think they've left anything on the interior of the base Mercedes G63 AMG untouched to create this BLACK & GOLD edition, everywhere you look, you'll notice the best fine-grain leather available, naturally in black, but with touches of gold paint everywhere on the dashboard, doors, central console, and even the steering wheel.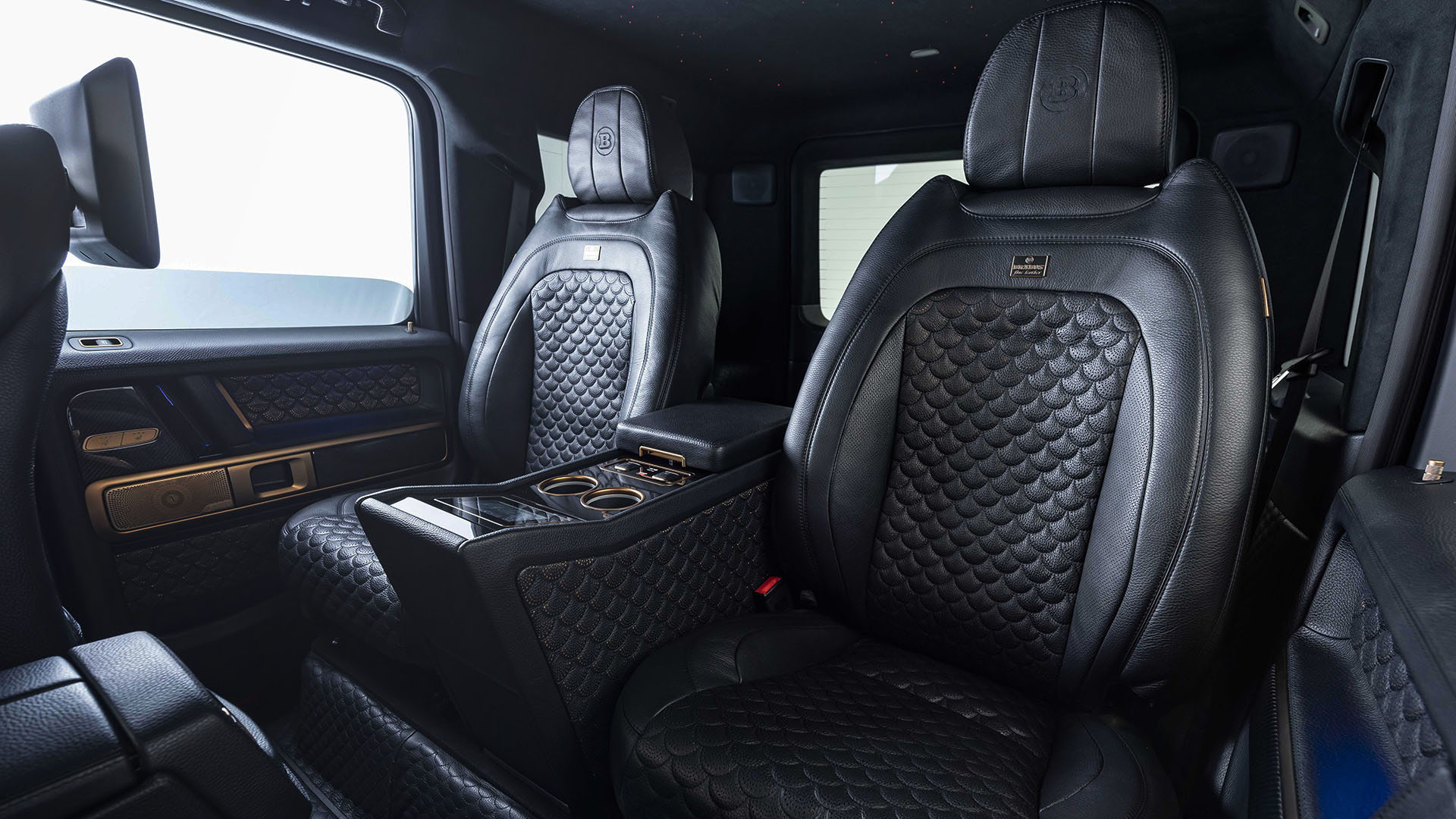 While we all know stitching patterns and quilted seats, BRABUS goes beyond that with their shell-shaped quilting on the seat surfaces and on parts of the door panels. In addition, all these leather-trimmed areas are perforated with pinpoint precision and additionally fascinate with the golden fabric that shimmers through the perforations and thereby brings the BRABUS 800 BLACK & GOLD EDITION motto to life.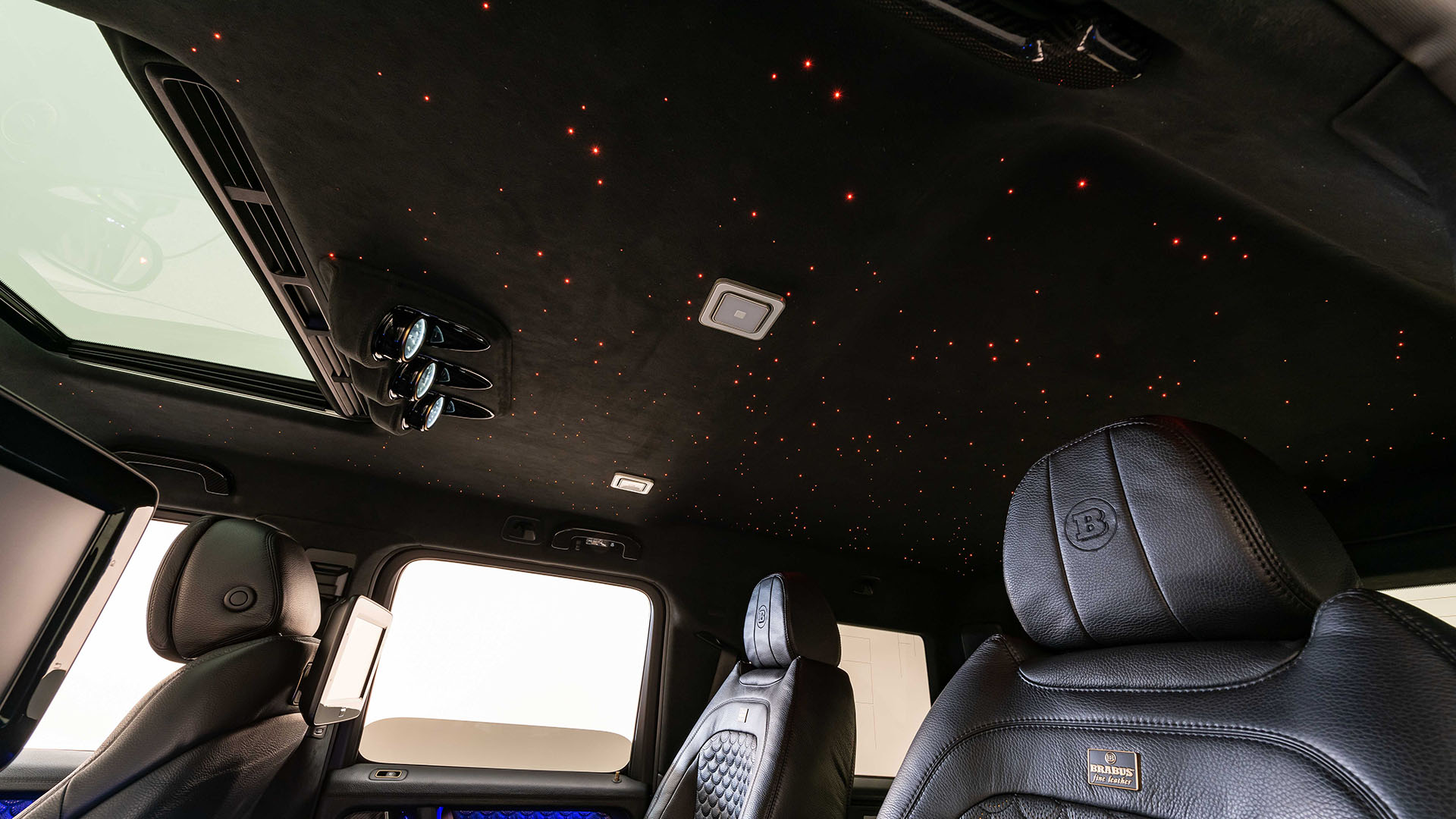 But what really sets the new BRABUS 800 BLACK & GOLD EDITION apart from the more 'normal' BRABUS 800 G-models can be found in the rear … no more bench seat like in the base G63 AMG, instead a pair of bucket seats take its place, complete with a central console in between them housing the 4.3-inch BRABUS Touch Control Panel which in 'standby mode' shows a clock with BRABUS 800 illustration while 'in use' you can control various seat functions in the rear, or move the front passenger seat to get more legroom. This panel also provides access to the standard COMAND system of the G-Class. For example, it allows turning the sound system up or down or even muting it from the rear in addition to controlling the reading lights and the starry sky in the headliner can also be controlled with it.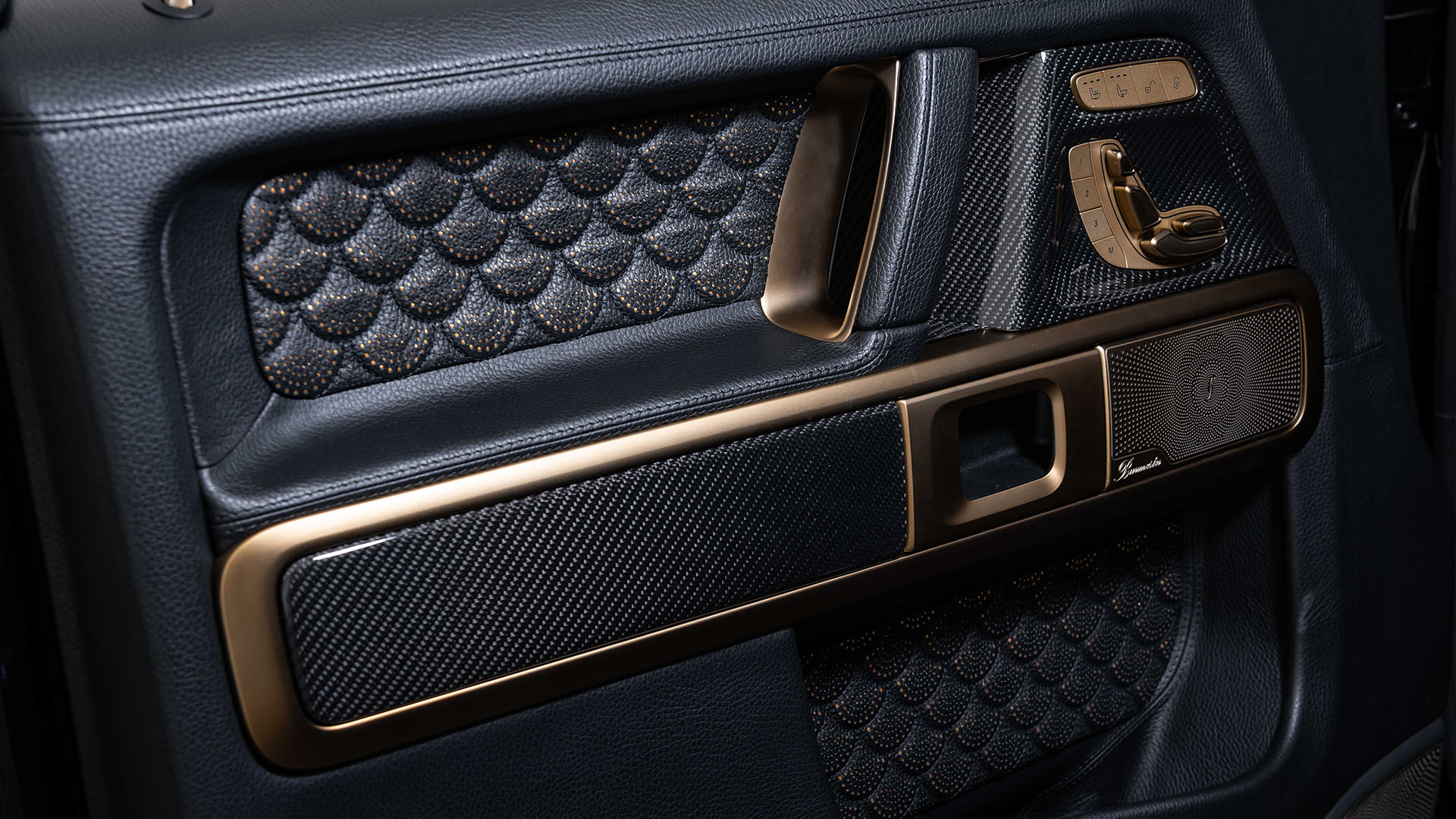 Just in case you might be wondering, the BRABUS 800 BLACK & GOLD EDITION starts at 380,672 euros MSRP (export price excluding VAT in Germany!).