Ghostbuster hit the movie theatres in 1984 to become a massive phenomenon, mixing a comedy with both science fiction and horror, all bundled into an action movie, and let's not forget the 1984 release grossed a total of $295,000,000 in her first run, making it the first movie blockbuster in history according to the Hagerty press release. In 1989 a sequel was released, while a new attempt was made in 2016 with a reboot … but now, 37 years later, Ghostbusters Afterlife is released.
And while we loved the actors in the 1984 release, you can't deny one of the stars was a massive car, the 1959 Cadillac with the famous license plate Ecto-1, one of those illustrious movie cars that would gain cult status over the years, and a slew of replicas have been built ever since, even today while sourcing the original base car is getting more and more difficult.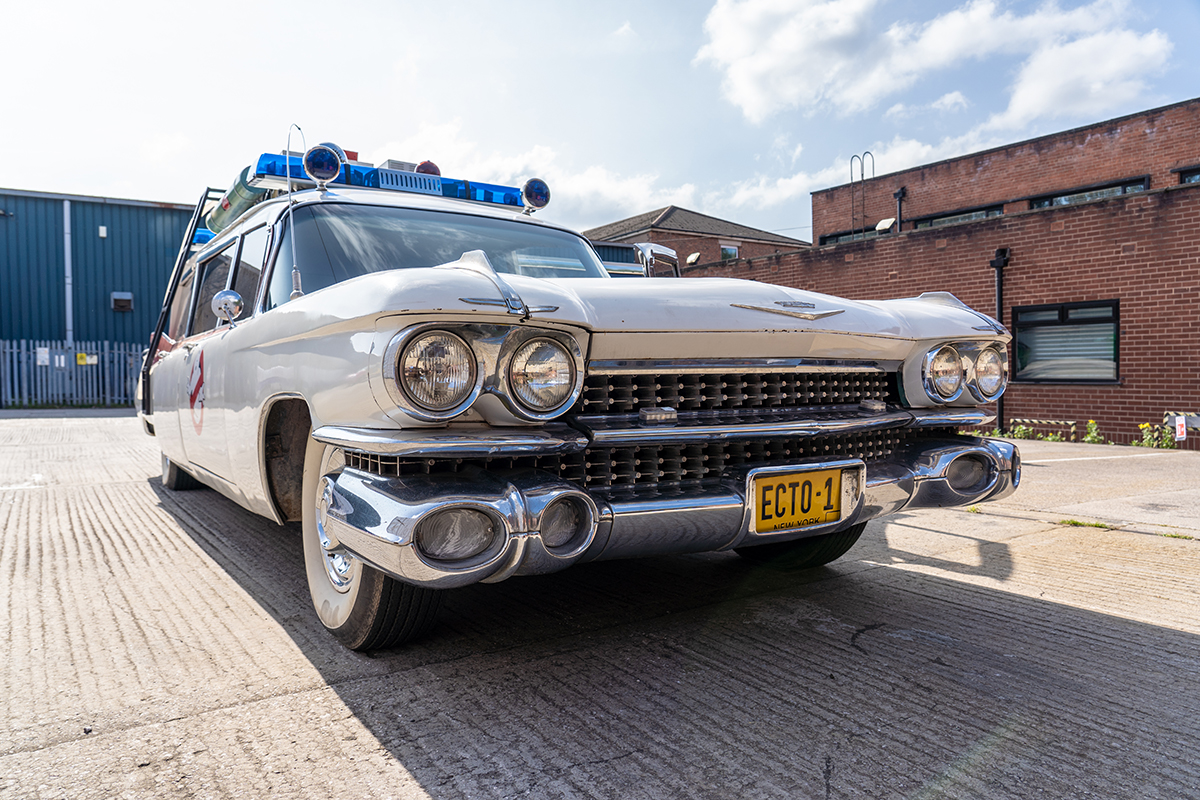 For the 1984 movie, the producers found a 1959 Miller-Meteor Futura, a custom-built using a Series 75 Commercial Chassis from Cadillac, usually destined to become either ambulances or a hearse, adding the large rear door that was hinged at the side, characterized by the big fins at the rear, a massively long, creased front bonnet and spats covering the rear wheels, design features taken from other famous Caddies of the time such as the Eldorado.
But make no mistake, as Murray and Aykroyd used to transport their ghostbusting kit around New York at speed, this massive car was 21 feet long (about 6.4 meters) and came with a large displacement 390 ci (6.4-litre) V8 engine that produced 325 hp at 4,800 rpm while guzzling gas at an alarming rate … archived mention at least two of these Miller-Meteor Futura were acquired by Sony for the movie.
With only two movie cars ever, it is no surprise the value of a real Ecto-1 is increasing all the time, experts from Hagerty state an original movie used Ecto-1 could be worth $500,000 or more, and that would make sense as the car itself is already rare, let alone with the Ghostbusters pedigree added.
Hagerty Editor, James Mills, said of the Ghostbusters star car "It's spooky just how well-known Ecto-1 is. Ghostbusters made it one of the most famous movie cars ever to emerge from a props department. Despite its place in pop culture, few film fans will be aware of the values of an Ectomobile; the real-deal could be worth up to half a million dollars, and even replica examples are valuable. Owners should make sure they're insured for the correct sum, or they could be in for a nasty fright."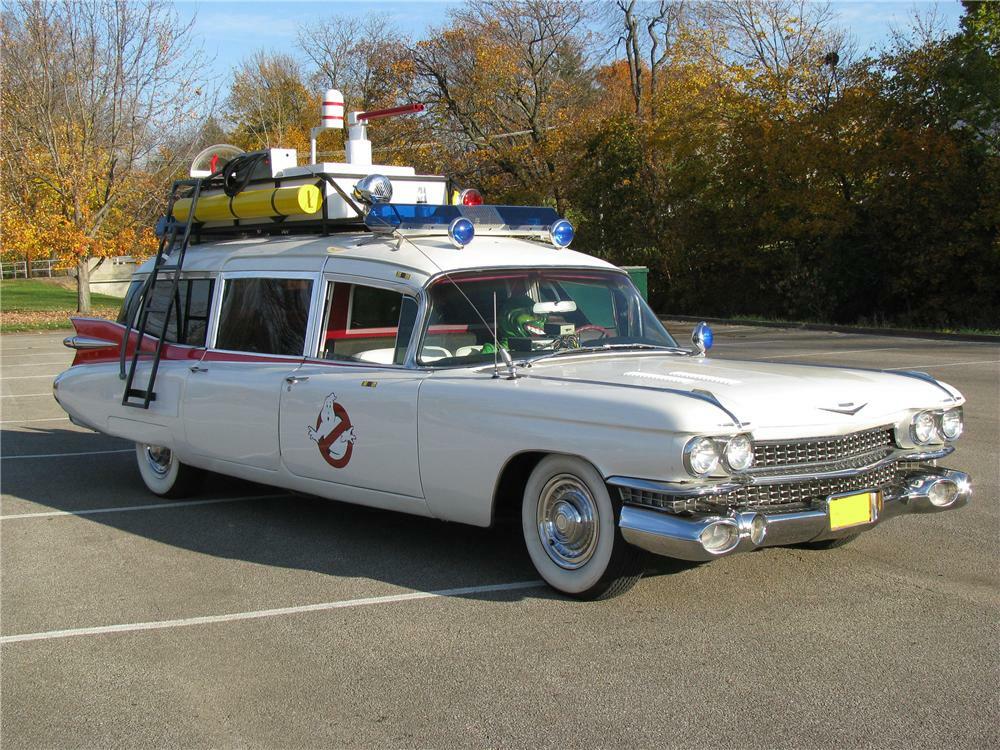 Rumor has it only 25 units of the original Miller-Meteor Futura were ever built, and Sony got two of those to be used in the movie and added a third one as a show car for promotional reasons … that's about 10% of the entire production already spoken for. When you look at the value of a standard 1959 Cadillac Series 75 Commercial Chassis at $52,000 right now, you might frown at the prices the movie-related Ecto-1 cars changed hands in the past.
A listing in the Hemmings magazine from 2007 had one of the movie cars for sale at $149,000, while a car built for the Universal Studio theme park in Florida got listed on eBay for just $45,000 in 2008, a Barrett-Jackson auction from 2020 offered one of these two cars … she changed hands for $88,000 … but don't start dreaming of adding a genuine Ecto-1.
Fast forward to 2021, and the estimated value of a genuine, certified movie-used Ecto-1 Miller-Meteor Futura is set at $500,000 … or more by Hagerty, but there is another, slightly cheaper option possible … a replica, last year the same Barrett-Jackson auction house sold a fan-made Ecto-1 replica for $220,000, not based on an ambulance but on an original 1959 Cadillac Superior hearse.
In the UK we find Peter Dale who bought an earlier conversion replica for only £70,000 … over time he spent another £80,000 to get this 1959 Cadillac to the glorious Ecto-1 replica we see here.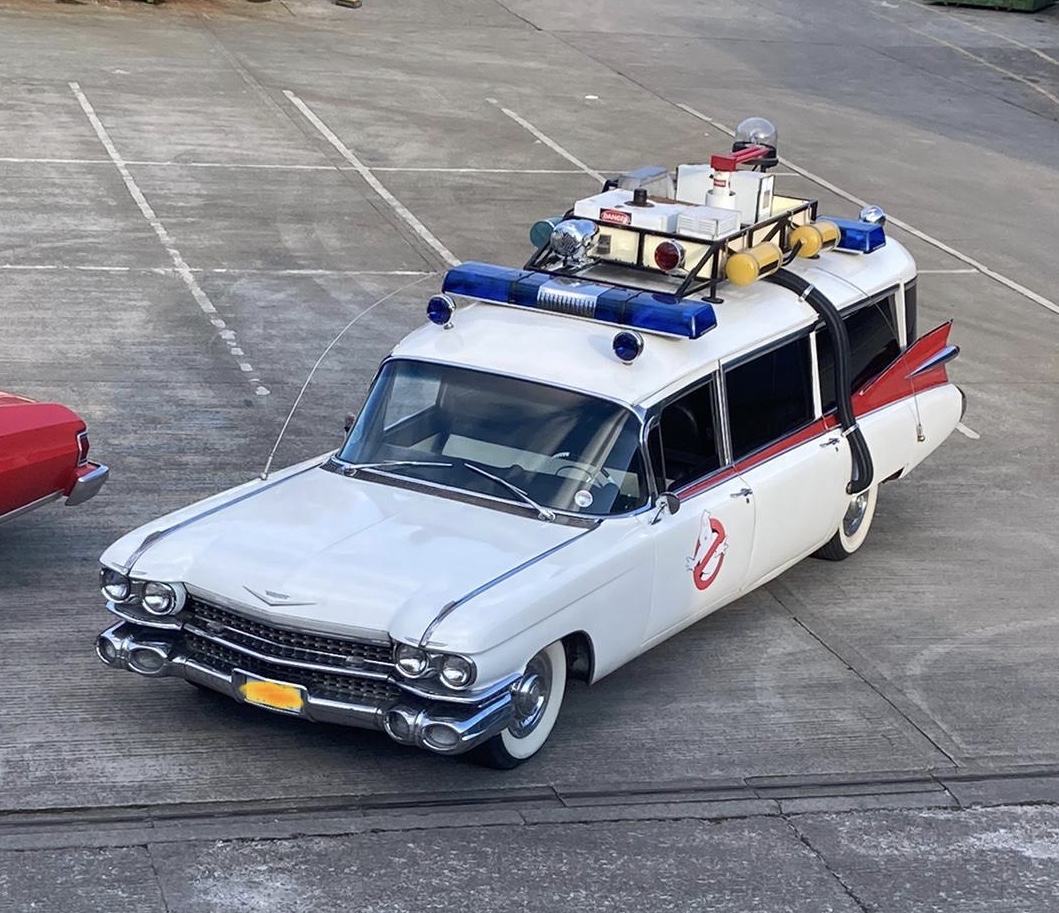 What's Ecto-1 like to drive? Peter said: "Although it's a very big car, it's easy to drive. Visibility is great through all the glass and it's got power steering and assisted brakes. Surprisingly for something so long, the turning circle is quite good. The biggest problem is that it attracts so much attention. You go to change lanes and there's someone alongside filming on a smartphone, so you have to have your wits about you."