I've always been a fan of the Eighties TV Series, Miami Vice, and while the black convertible from the early seasons was only a kit car, it was intended to look like the stunning Ferrari 365 GTS/4 Daytona Spider from the Seventies, in the end, when Miami Vice became too popular they had to swap out that car for a real Ferrari, and the Vice cop received an impounded Testarossa, that was black when the 'criminal' owned it, but it was repainted to white because the good guys don't drive black cars.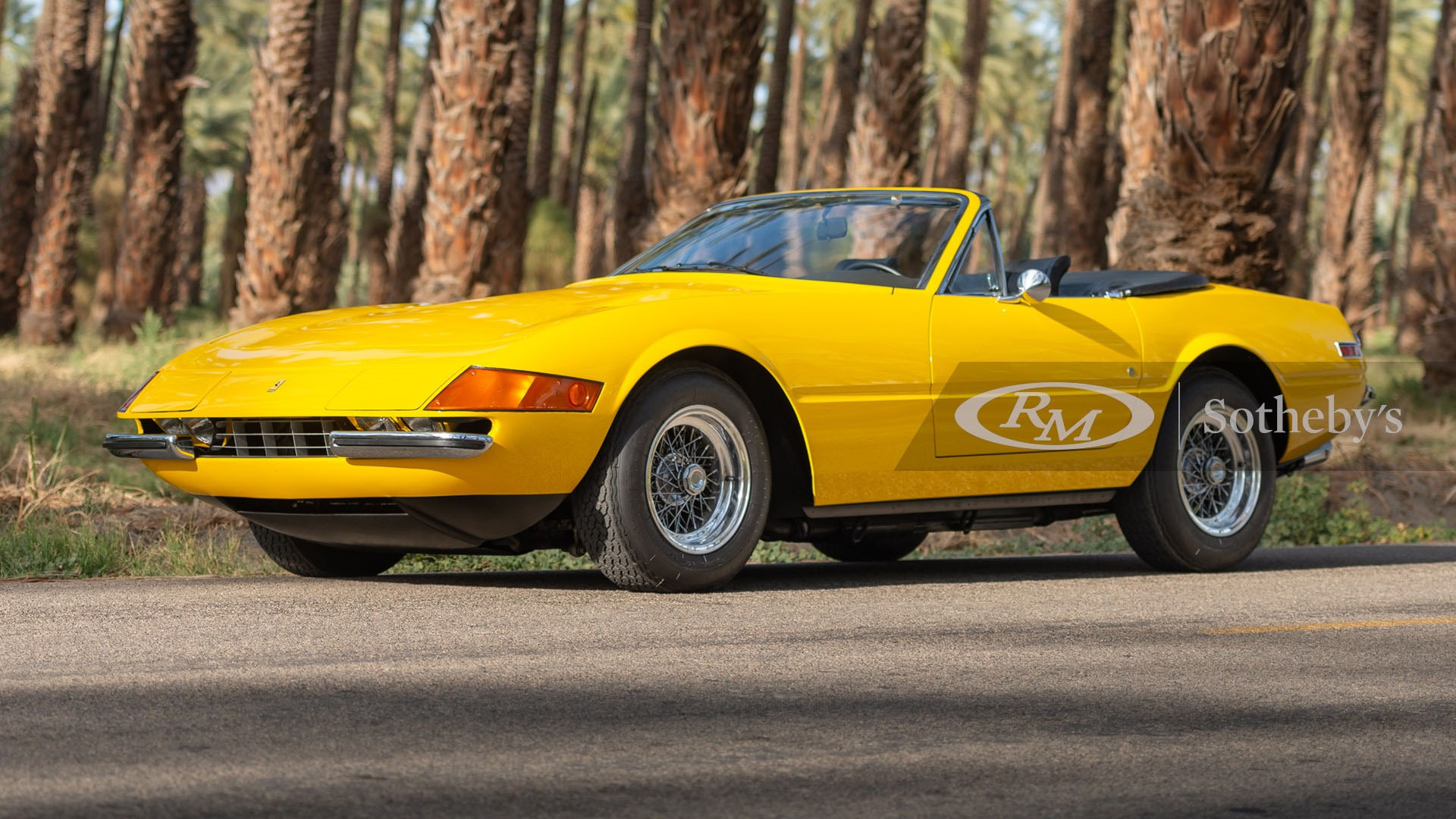 But back to the Ferrari 365 GTS/4 Daytona Spider, in the Seventies, the Spider was a Scaglietti build, and initially, only 121 of these Daytona spiders were built, many Coupe would later be converted into a convertible, which could make a Coupe the rarer car eventually, but this 1971, yellow Spider we're admiring here was the 36th built of the original 121 Ferrari 365 GTS/4 Daytona Spider by Scaglietti, and to make her even more interesting, chassis 14863 was the actual 1972 New York International Automobile Show car, and she's coming up for auction later this month.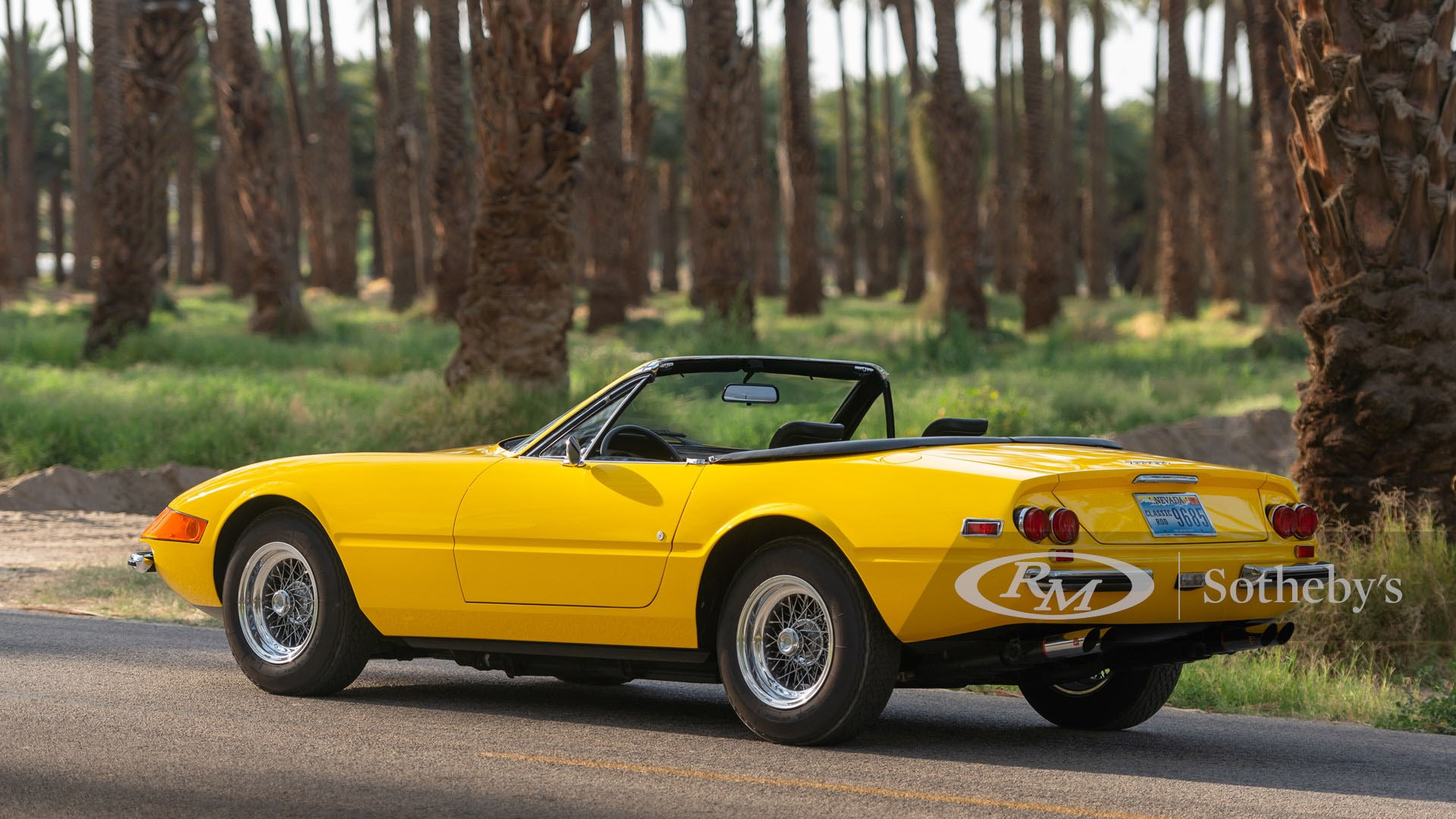 That's right, at the RM Sotheby's Amelia Island auction in Florida to be held on 22 May 2021, this yellow over black classic Ferrari will pass the block, with an estimate between $2,250,000 and $2,750,000, adding this Prancing Horse to your collection will not come cheap, to put this evaluation into perspective, there is a 1972 Ferrari 365 GTB/4 Daytona Berlinetta finished in the classic red over tan combination enlisted at the same auction, presented in her restored and carefully maintained condition, that's only estimated between $500,000 and $600,000!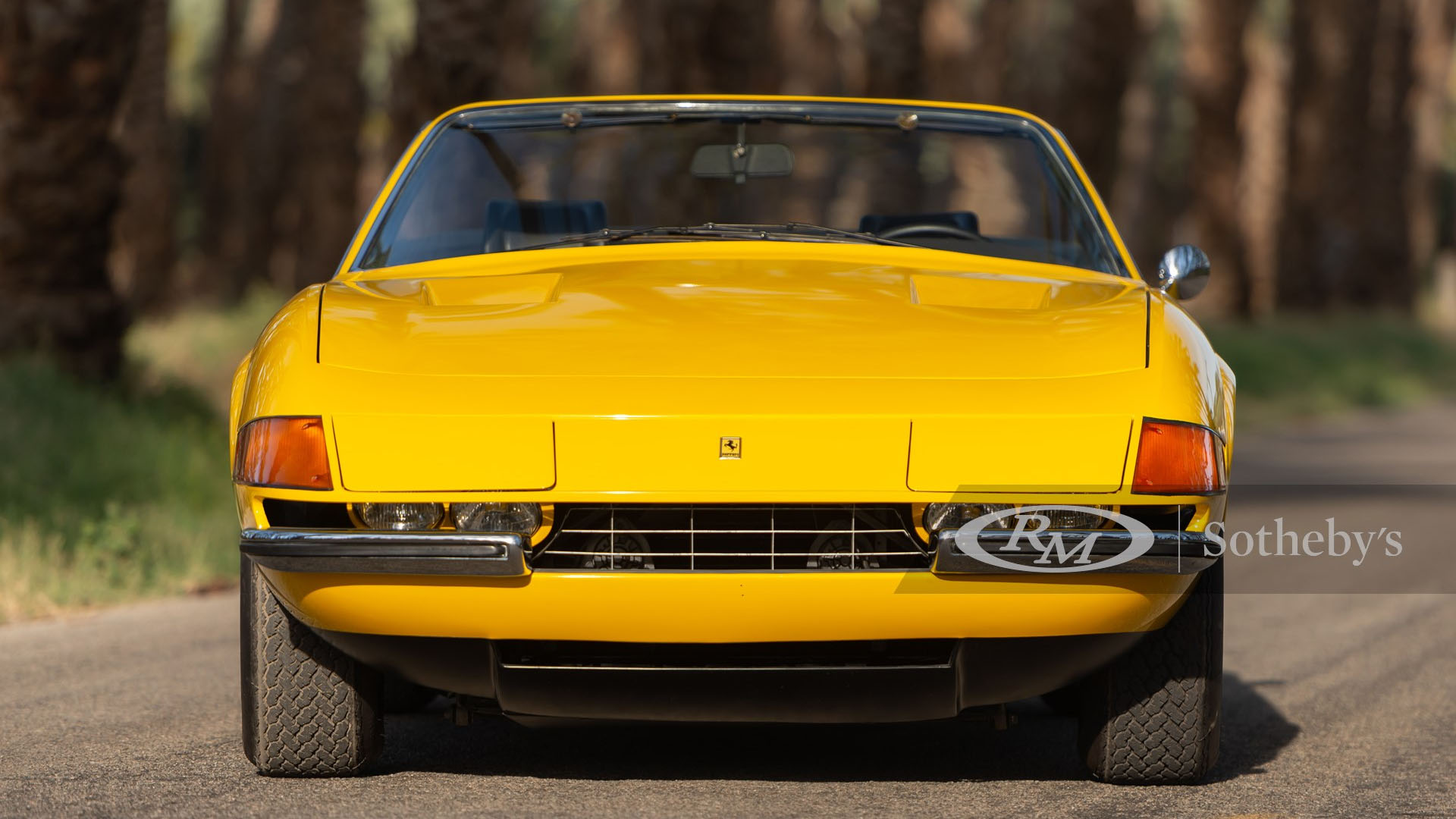 The Ferrari 365 GTB/4 was launched, and initially, there weren't any plans to create anything else than a closed coupe GT, but Scaglietti and Pininfarina put their minds together to create an open-top design, the prototype was approved by Ferrari and the 1969 Frankfurt Auto Show the official Ferrari 365 GTS/4 Daytona Spider production model was unveiled.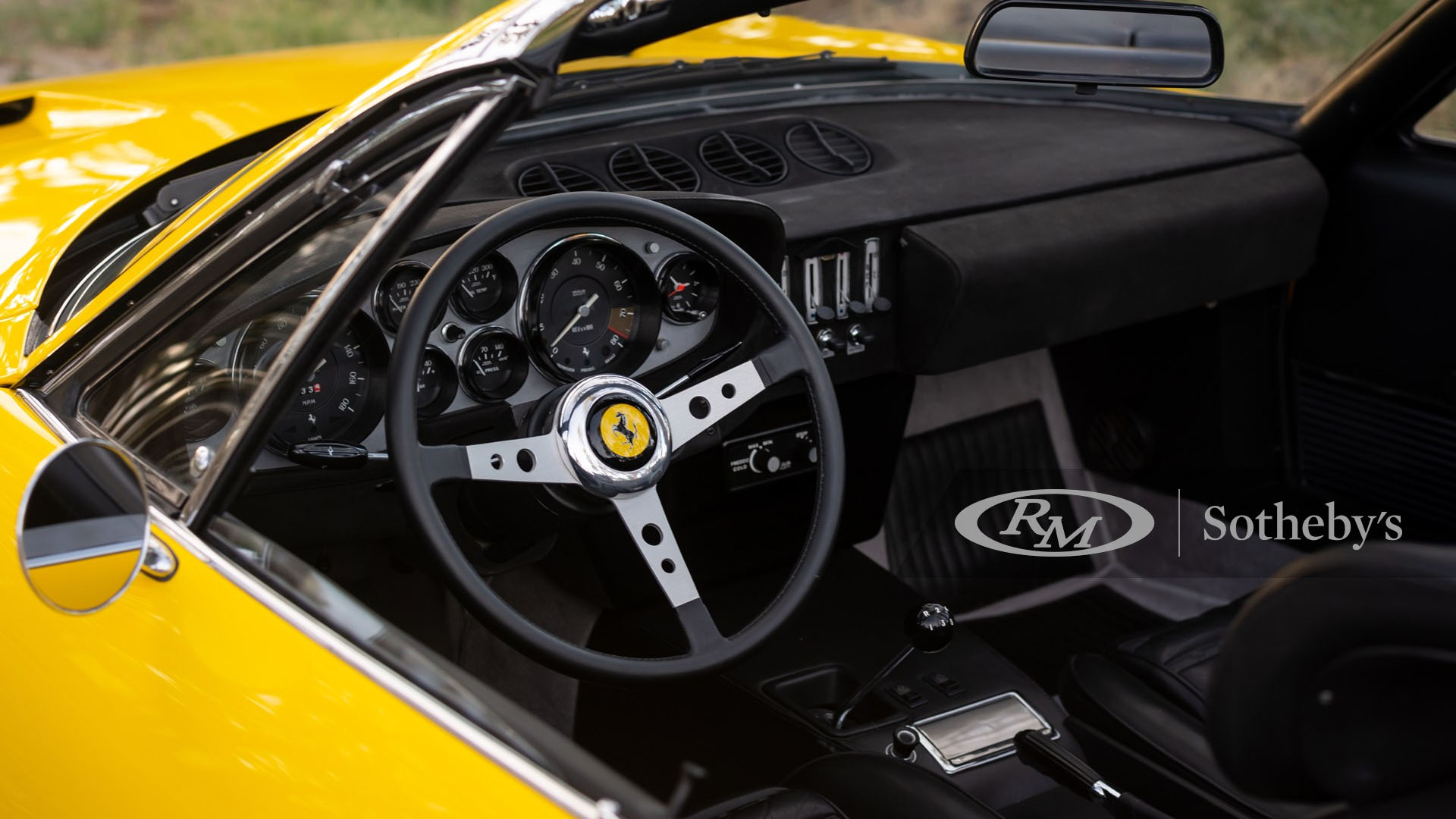 In December 1971 this Giallo Fly (20-Y-191) over Pelle Nera (VM 8500) finished Spider left the factory in Maranello, this car was built for the US market, complete with instrumentation in miles and air conditioning, and in early 1972 it would be shown at the New York International Automobile Show, after which the car was sold to a long-time Ferrari client, Alfredo Ducato of Hillsborough, California. By 1990 the car was sold to to Herb Boyer of Burlingame, California who had it repainted in the original shade in 1997, at the same time the black leather interior was redone too.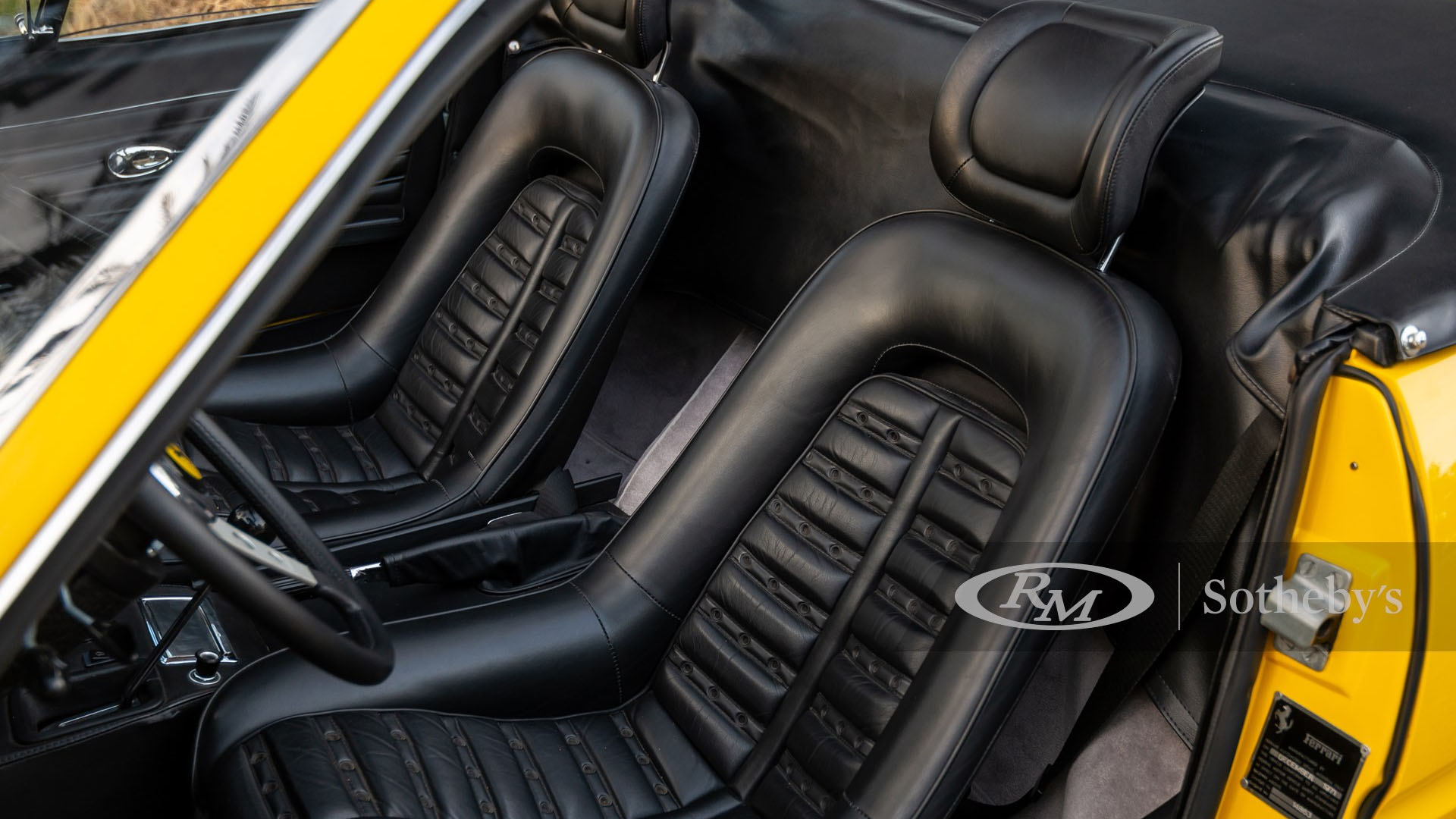 This rare Ferrari would change hands several times more over the next years, on 26 January 2008, when Mr. Yassky owned the car, he showed her at the Cavallino Classic Concours d'Elegance in Palm Beach, Florida where she received the coveted Platinum Award, today, the car shows just 13,442 miles from new, and such a low, original mileage Ferrari Daytona Spider, that is also Classiche Certified, and a Platinum award-winning example, will not go cheap when the hammer comes down at the end of this month, but this might be the chance of a lifetime to acquire such an amazing car from Maranello.