The new Ferrari Roma is arguably one of the most beautiful cars from Maranello at this time, she might 'only' be a twin-turbocharged V8 GT, but there is a massive market out there for a practical supercar like this, and straight from the factory floor in Maranello, this beauty comes with 612 hp from her 3.9-Liter engine, and thanks to the long swooping lines, thin headlights and relatively small front grille, the Ferrari Roma looks elegant, ready for a night out in the town without drawing too much attention to herself.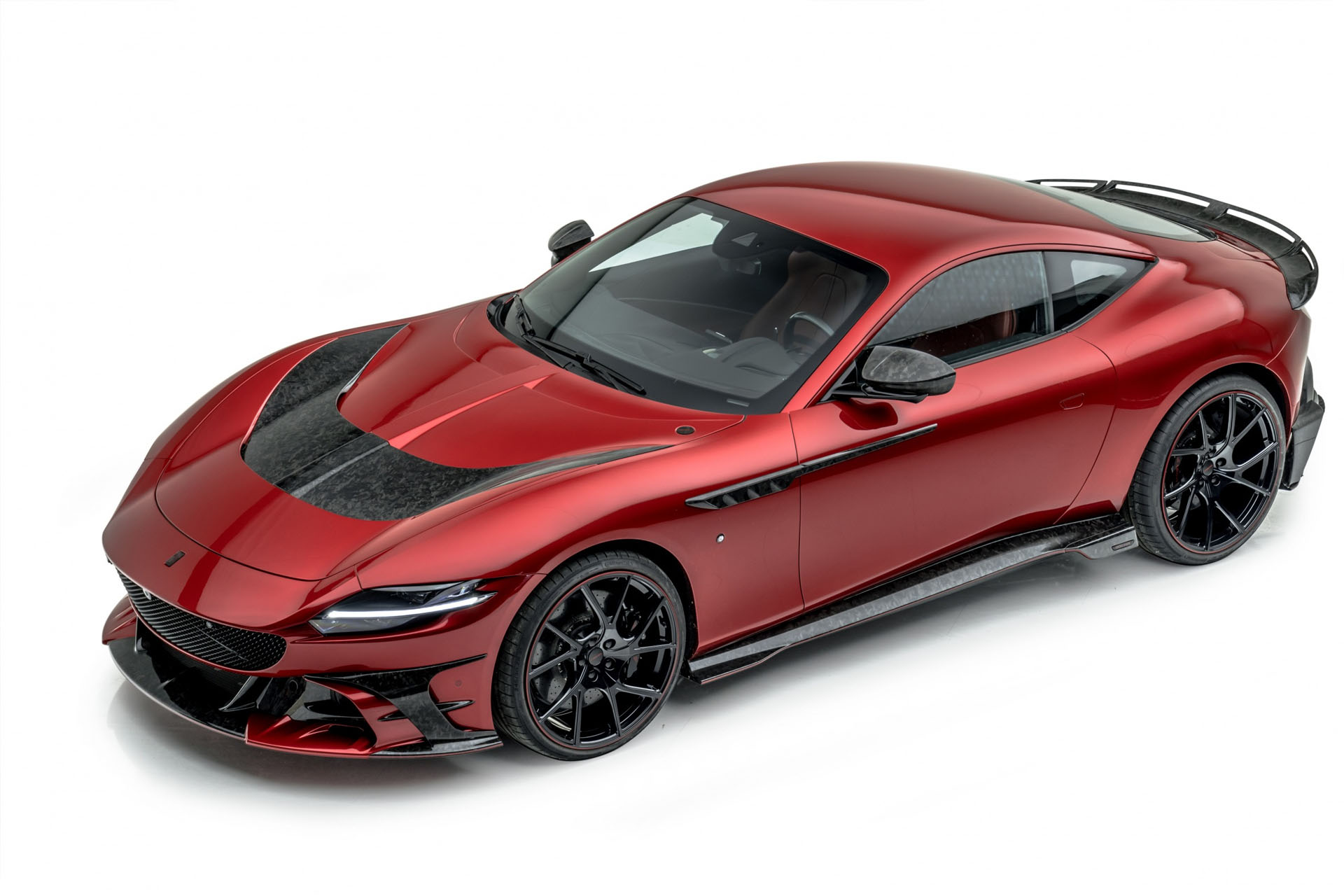 But all that changes after a short stay at Mansory, the well-known tuning and aftermarket company that specialized in supercar and hypercars, remember their Vincerò based on the Bugatti Veyron, or the Mansory Ferrari F8 Tributo to stay with the Prancing Horse make. But somehow we got to know Mansory for going a little crazy with their tuning, like a yellow Lamborghini Urus Venatus with a full-yellow interior for instance, so when news came around of Mansory unveiling a new package for the beautiful Ferrari Roma … some people got a little worried, to say the least, but it turned out that was unfounded this time.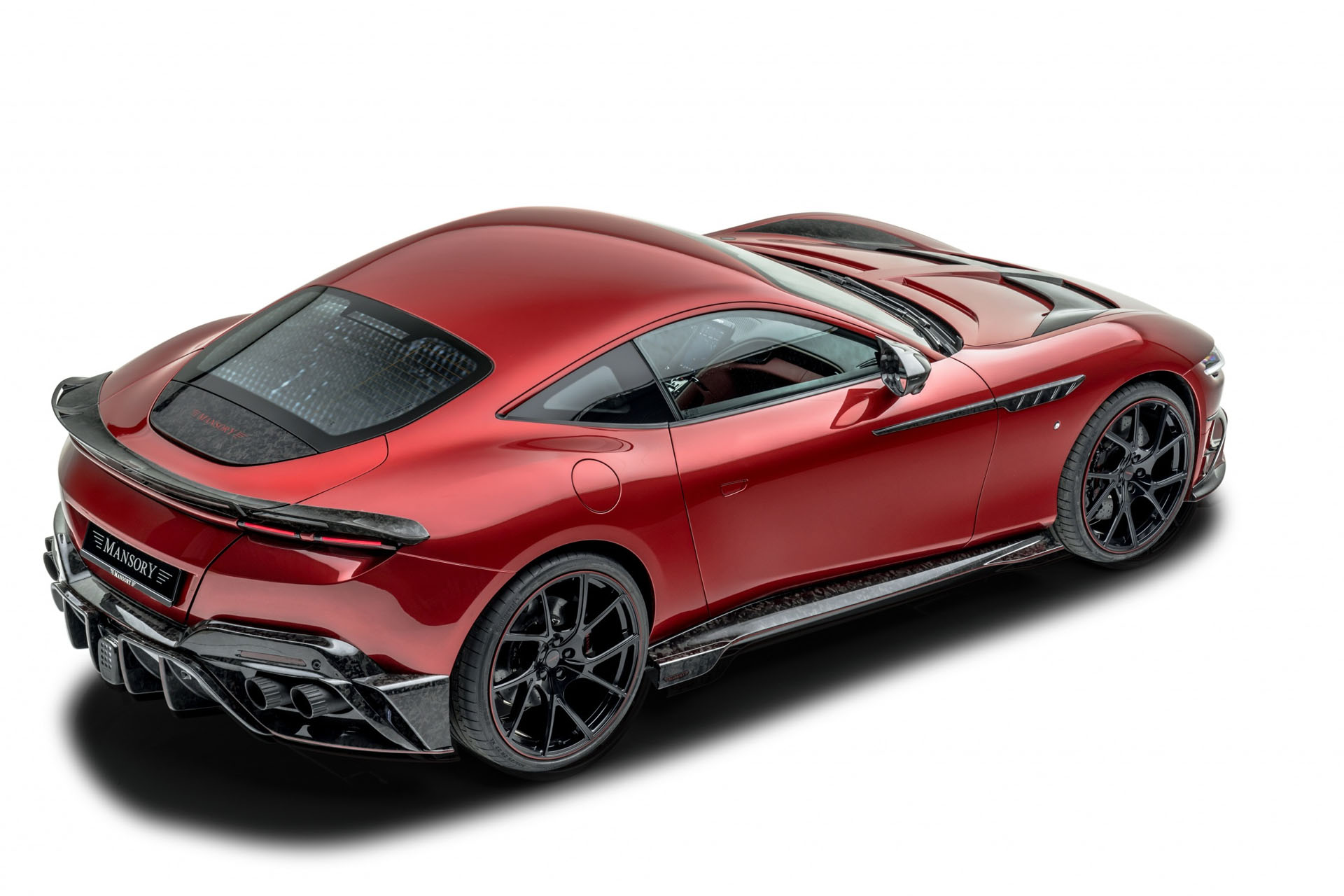 The days of the classic carbon fiber pattern are gone it seems when it comes to tuners, today the magic word is Forged Carbon, which is still lightweight carbon, but in a more cloud-like collage pattern which many like, but I'm old school, so I would prefer the original 2×2 carbon fiber pattern, but that's just me I guess, and while the original Ferrari Roma has a more minimalist look to her, once Mansory adds their complete conversion kit, she looks completely different, a lot more aggressive, and with the demo car being finished in a dark metallic red contrasted by the black Forged Carbon parts and black wheels, she looks stunning.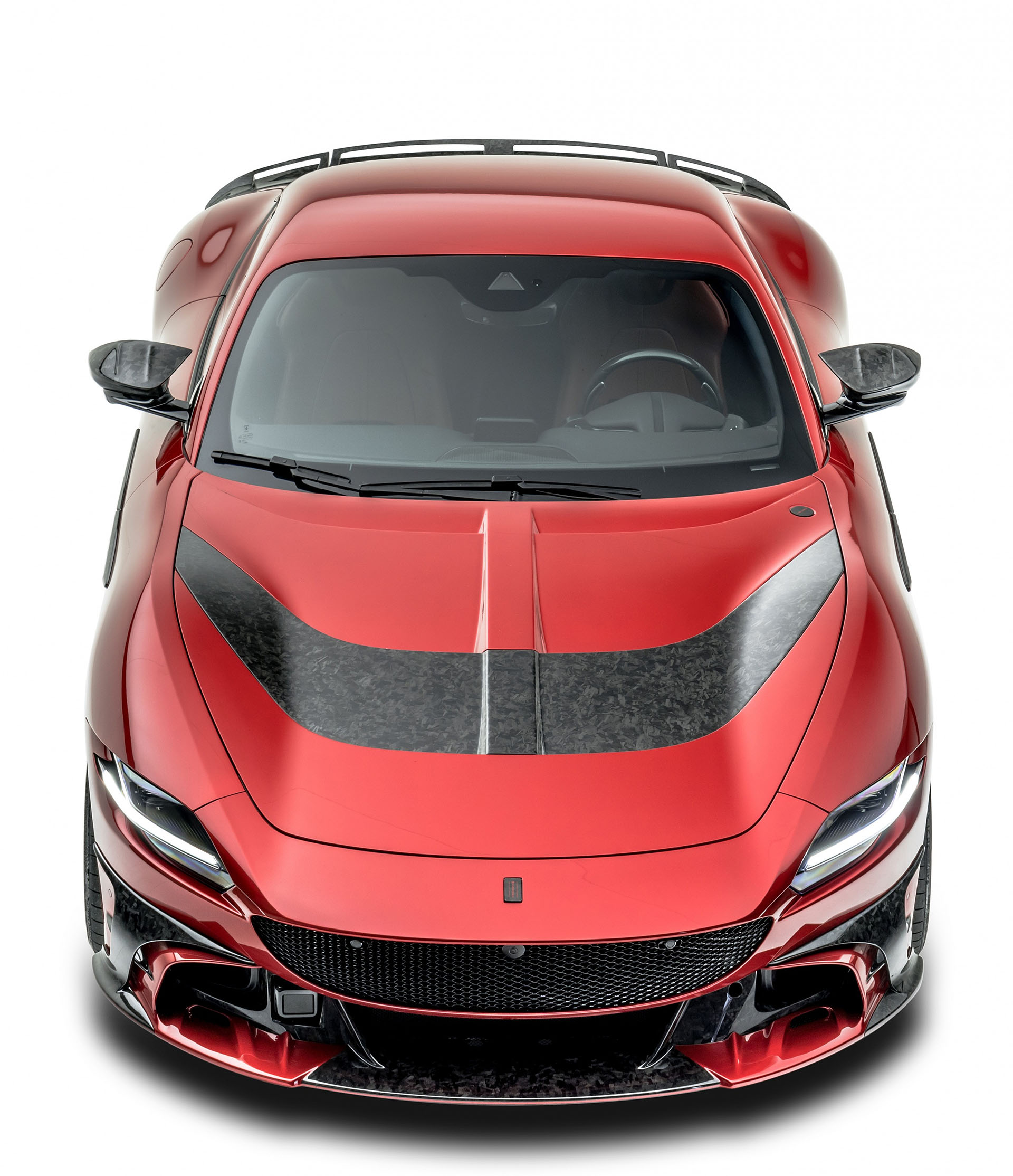 Sure, Mansory changed the overall looks of this Ferrari Roma, but while they went for more aggressive styling, somehow it seems restrained in Mansory terms, and I rather like it, to be honest, I especially like the inserts on the carbon fiber front hood, that touch of black really breaks up the lines, but still looks integrated at the same time, very nicely executed, and even if you're not a fan of Mansory's aero kits, you can't deny they do offer an amazing level of workmanship, which can be expected as they make all their carbon fiber parts in their own autoclave, just to make sure they deliver the quality of work they are known for.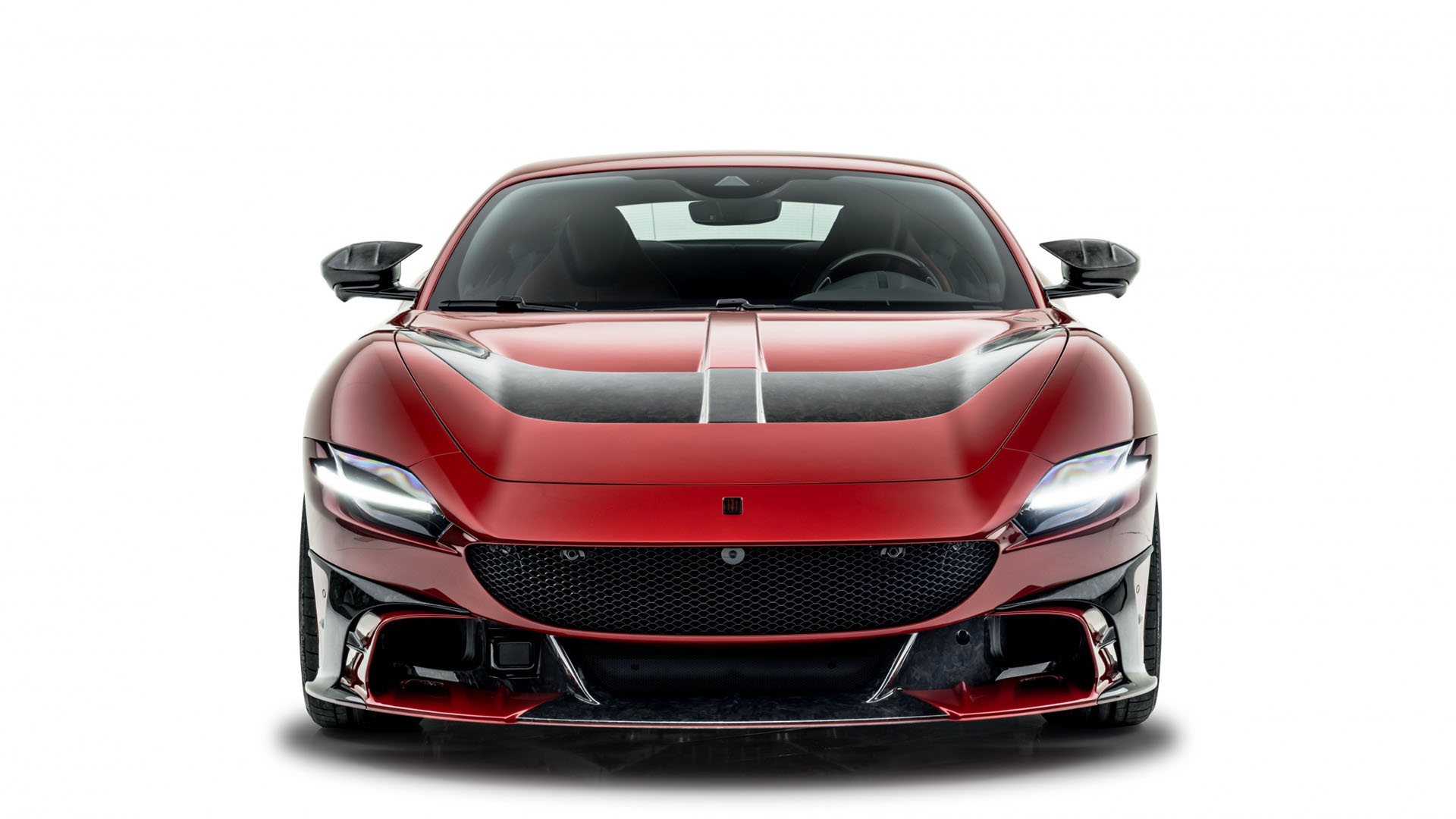 The same goes from the front bumper on this Mansory Ferrari Roma, an amazing combination of color-coded sections with clear Forged Carbon parts over a multitude of air intakes, vents, and insets, all beautifully integrated among each other, and the Forged Carbon symphony continues along the intricate side sills toward the absolutely impressive lower rear diffuser, complete with a very low, center-mounted light and a quartet of massive exhaust pipes that will make the ground tremble when you start this V8 beauty.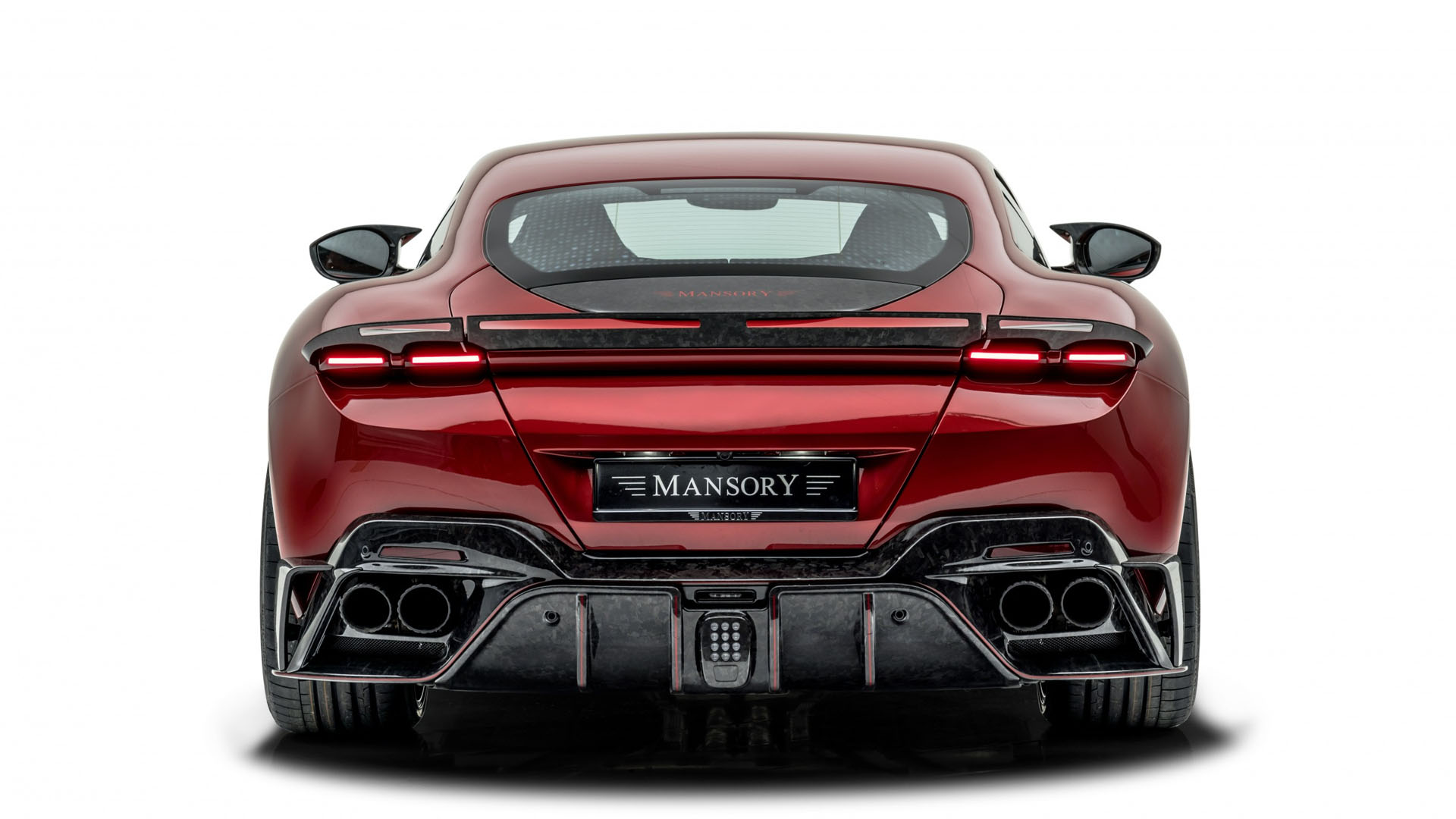 The outside conversion also includes a pair of aerodynamically shaped exterior mirror housings and a very innovative design for the multi-part rear wing, more of a ducktail version that sits low to the original bodywork, hugging the new taillights on the Ferrari Roma, but if you look closely, you'll notice the openings in the wing itself for even better downforce … and it looks stunning too. And to complete the exterior, Mansory fits a set of black painted, red-pinstripe YN.5 ultra-light Yavin forged wheels, with their dynamic design boasting angled spokes, these wheels look fast, even standing still.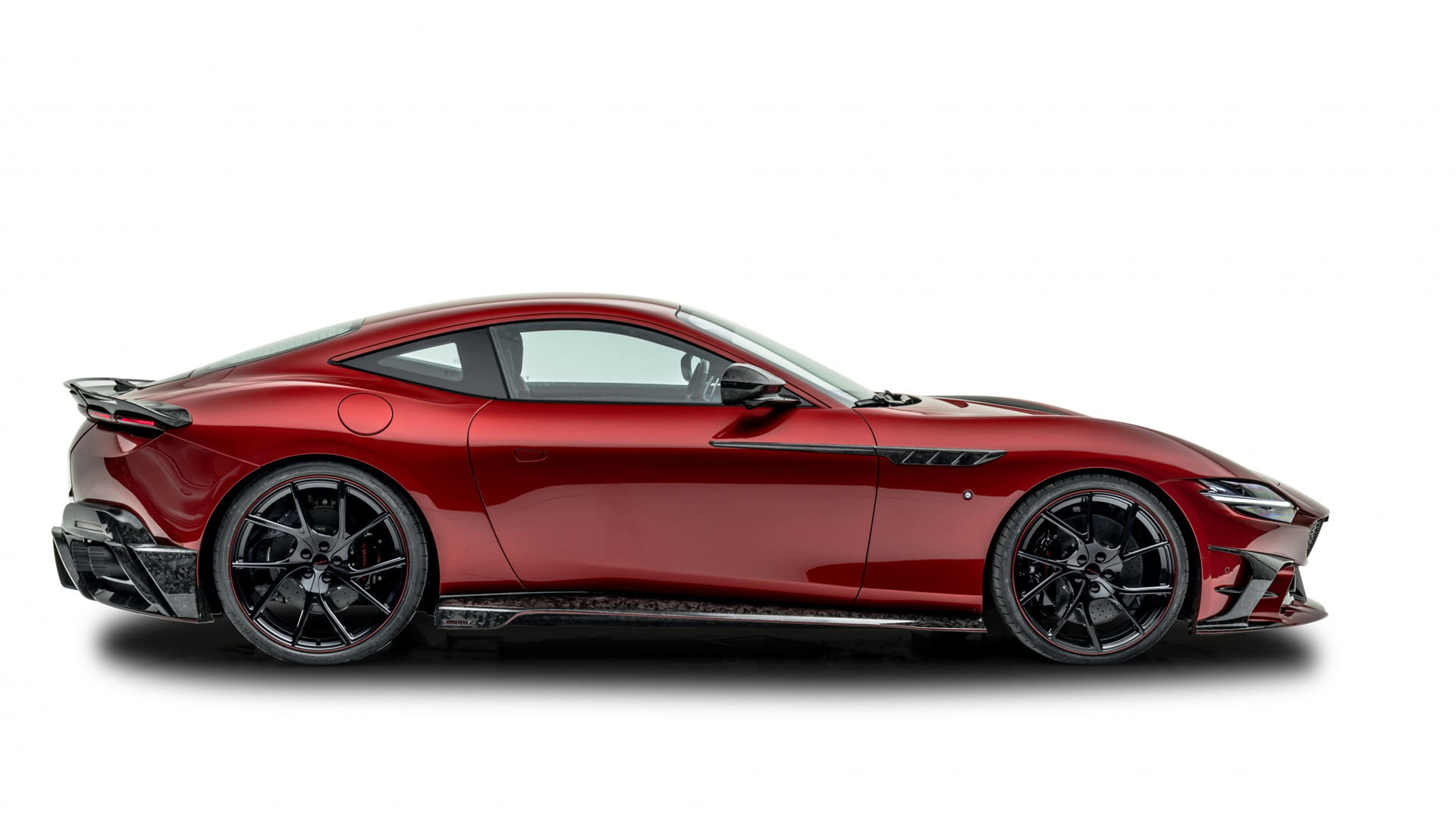 And that brings us to power, it would be a real Mansory full conversion without some tweaking underneath the hood, the original 612 hp and 760 Nm of torque have been increased to a healthy 710 hp and 865 Nm, this results in a top speed of 332 km/h and offers acceleration figures of just 3.1 seconds from a standstill to 100 km/h, and just to make sure Mansory really touched everything on your base Ferrari Roma, their artisans went to work on the factory original interior and created a red leather upholstery with black accents that perfectly complements the 'more masculine' exterior as Mansory puts it.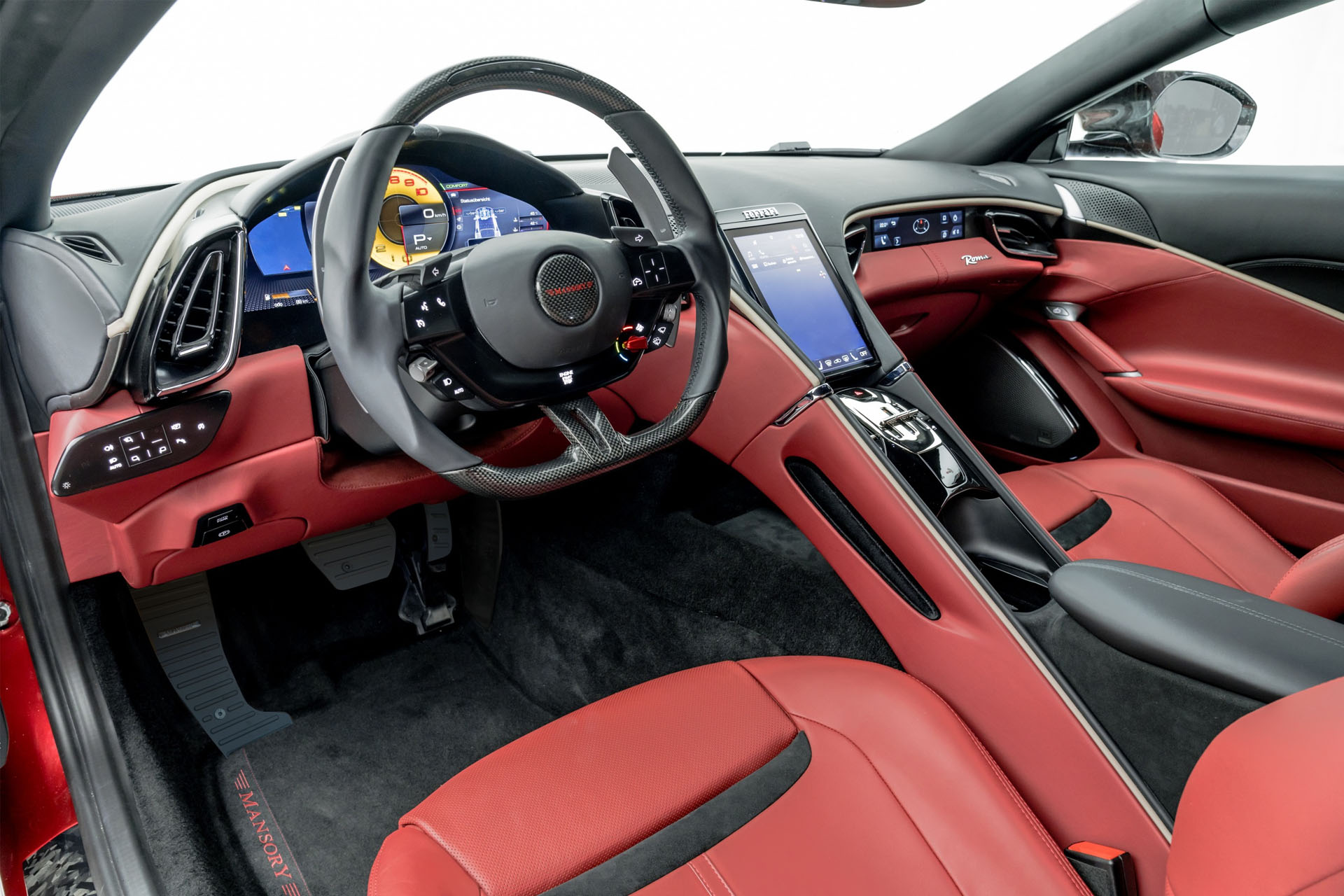 There is no official pricing released by Mansory for their conversion of the Ferrari Roma, but just in case you are interested, you can get in touch with them directly via their official website: Mansory – More than tradition, but for now, let's enjoy some more amazing photos of this beautiful dark red metallic over black Forged Carbon Mansory Ferrari Roma: