We've talked about the RML Short Wheel Base before, a car inspired by the best-of-the-best from the Fifties and Sixties, more specifically the Ferrari 250 GTB SWB from 1959, and while the RLM SWB might look like a car from the Fifties, it will come with all the 21st-century amenities we've come to expect from a modern GT, with a Ferrari engine at the front, the 5474cc V12 that puts down 485 hp and 568 Nm of torque at the rear axle, courtesy of a six-speed manual gearbox, no automatic paddle shifter for this modern-day classic GT, naturally the gearshift lever is mounted in an open-gated grid, just like in the good old days.
RML Group located in Wellingborough, UK, is close to completing the production prototype as you read this, Car Zero depicted in this article is not among the 30 units that will be available to clients worldwide, but it is a pre-production prototype used for the final testing, you can only do so much in the virtual world, now it's time to build the car in real life and see how it all comes together.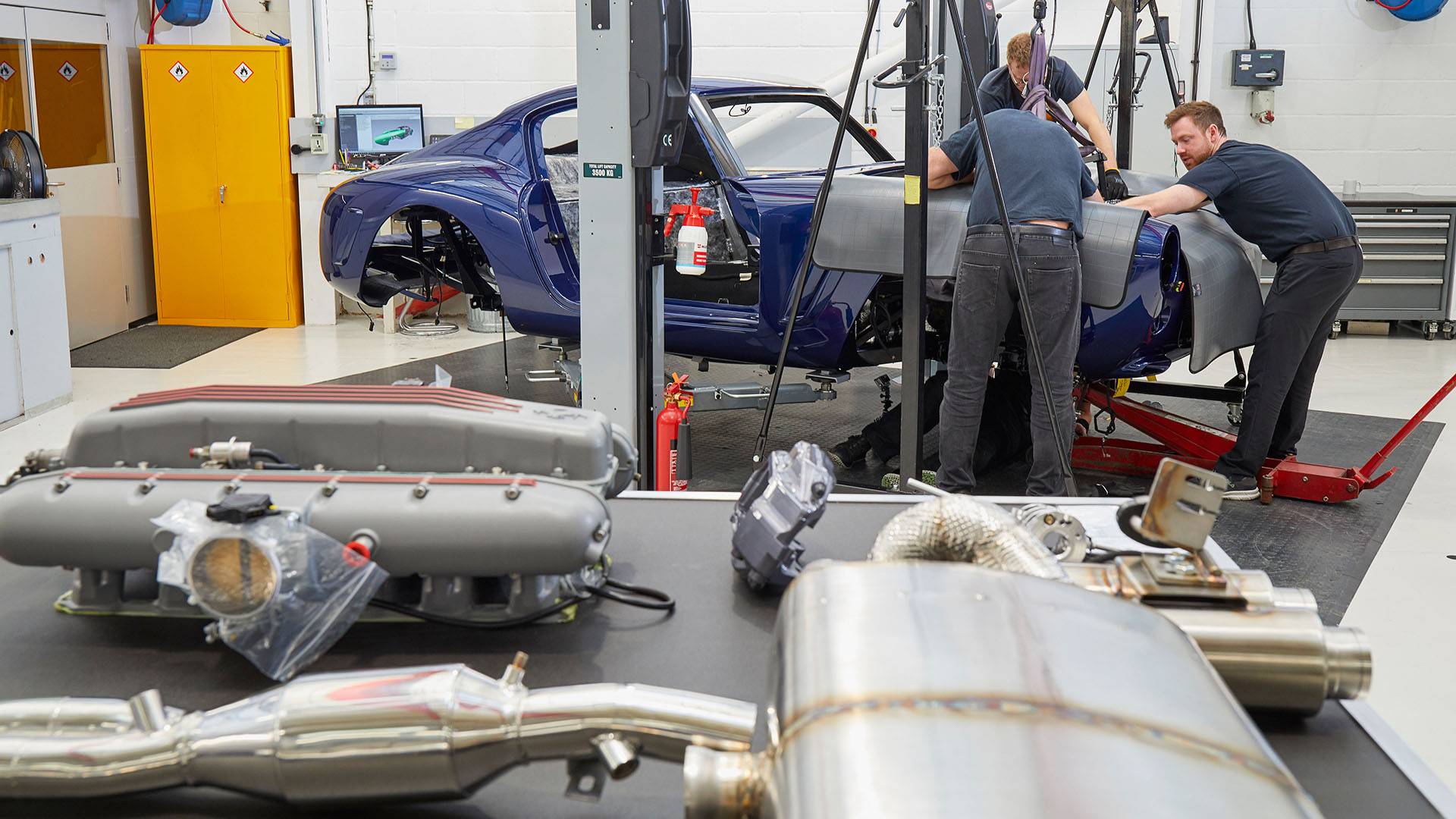 Finished in a gorgeous looking blue metallic paint on the carbon-composite body, the RML SWB does look like a classic Gran Turismo but is a very modern car at the same time, it might not convey in photos, but this blue paintwork comes with an incredible deep shine, involving layers of special carbon primer, regular primer and a silver base coat that gives Car Zero's yet un-named blue color an amazing finish, and this doesn't end with the exterior, the carbon-composite parts on this SWB that remain visible, like the area around the door shut, get finished in a clear carbon primer, flattened back and subsequently coated with a smoked-carbon lacquer to get the perfect shine.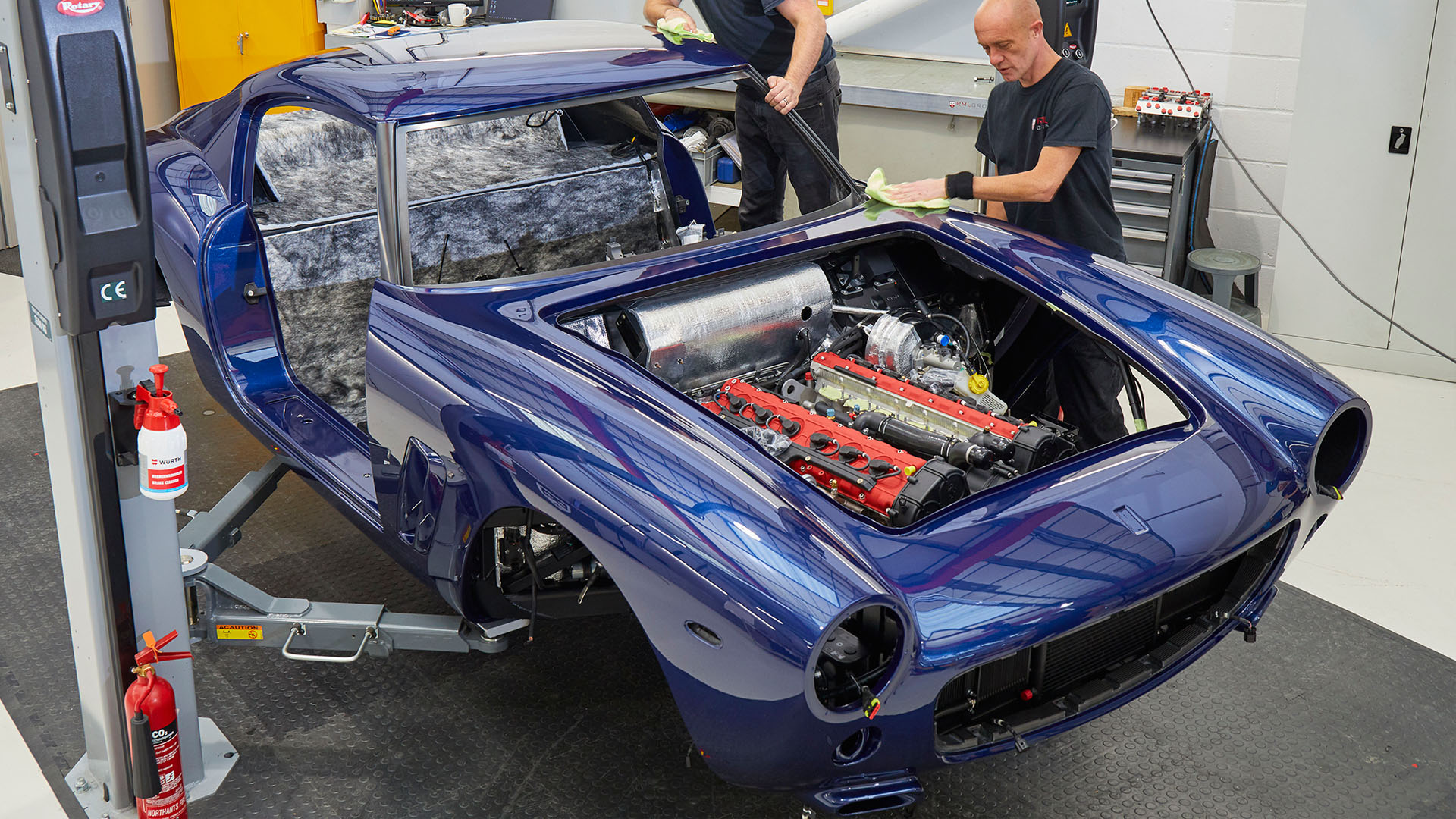 Before taking the RML Short Wheelbase onto her intense testing schedule one of the last stages is installing the legendary V12 engine, in about a month this car will be completed and ready to undergo final testing before actual production of customer cars can commence, and while Car Zero is undergoing rigorous testing to make sure everything is dialed-in perfectly, RML is already preparing the first two customer cars in their facility, it will take about six months to complete these, the first delivery is scheduled toward the end of Q2 2022 if not early Q3 2022.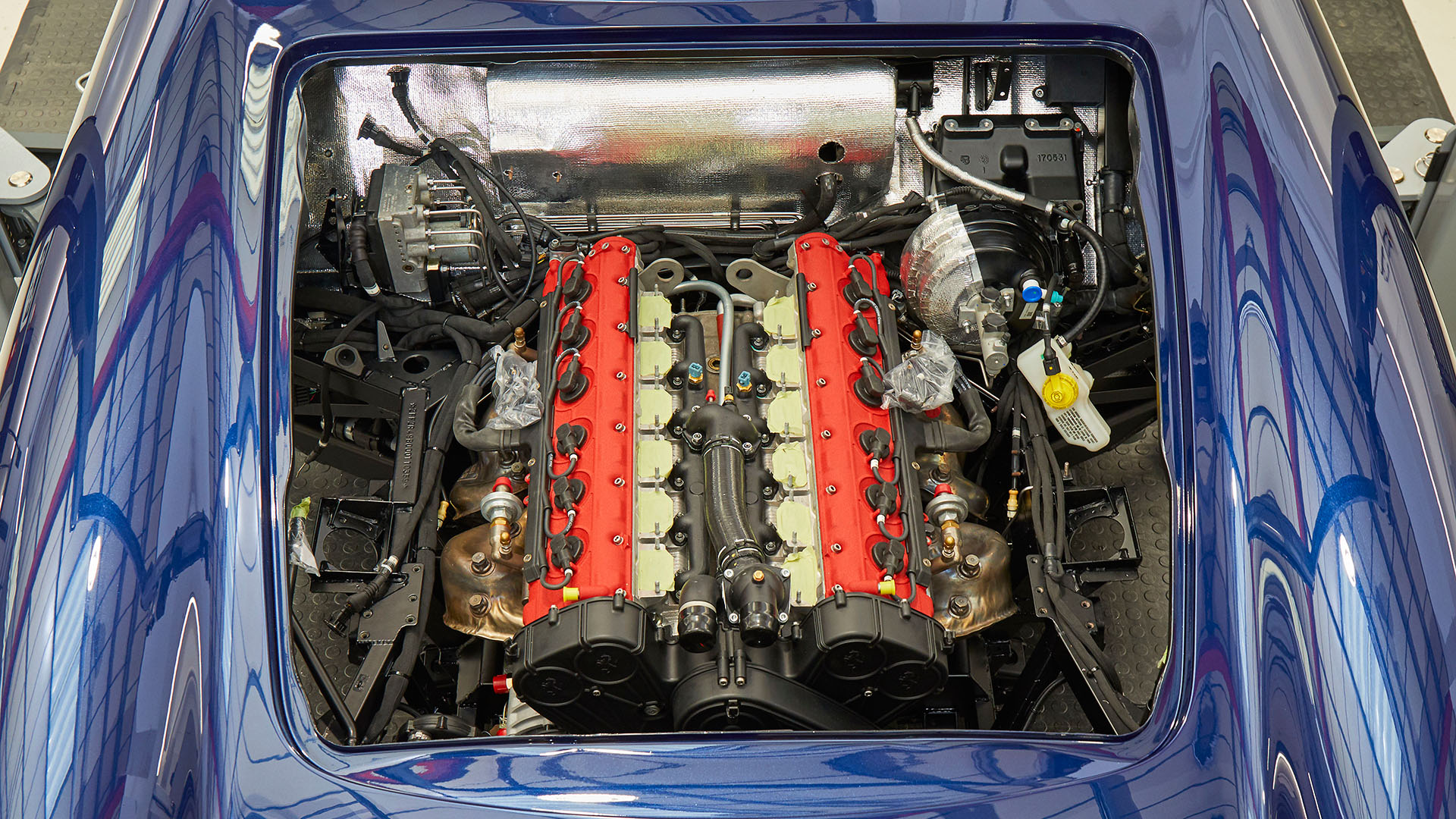 "Having a fully painted body-on-chassis with the engine installed is a real landmark in the Short Wheelbase's birth," said Michael Mallock, RML's CEO. "This first example will now be completed by next month, ready for the industry-standard test schedule we have planned. But it's also given us the green light to start the build of our customer cars, which makes the whole program very real all of a sudden!"
RML already has a configurator ready so customers can create their new Short Wheelbase virtually, and while I do like this very impressive blue metallic prototype, RML is able to paint your car in any shade imaginable, they can provide any bespoke color the client might request, and it doesn't end with the body paint either, RML will also offer period-correct graphics to be fitted, like track-inspired door roundels or double striping on the body to make sure each of the 30 units is unique.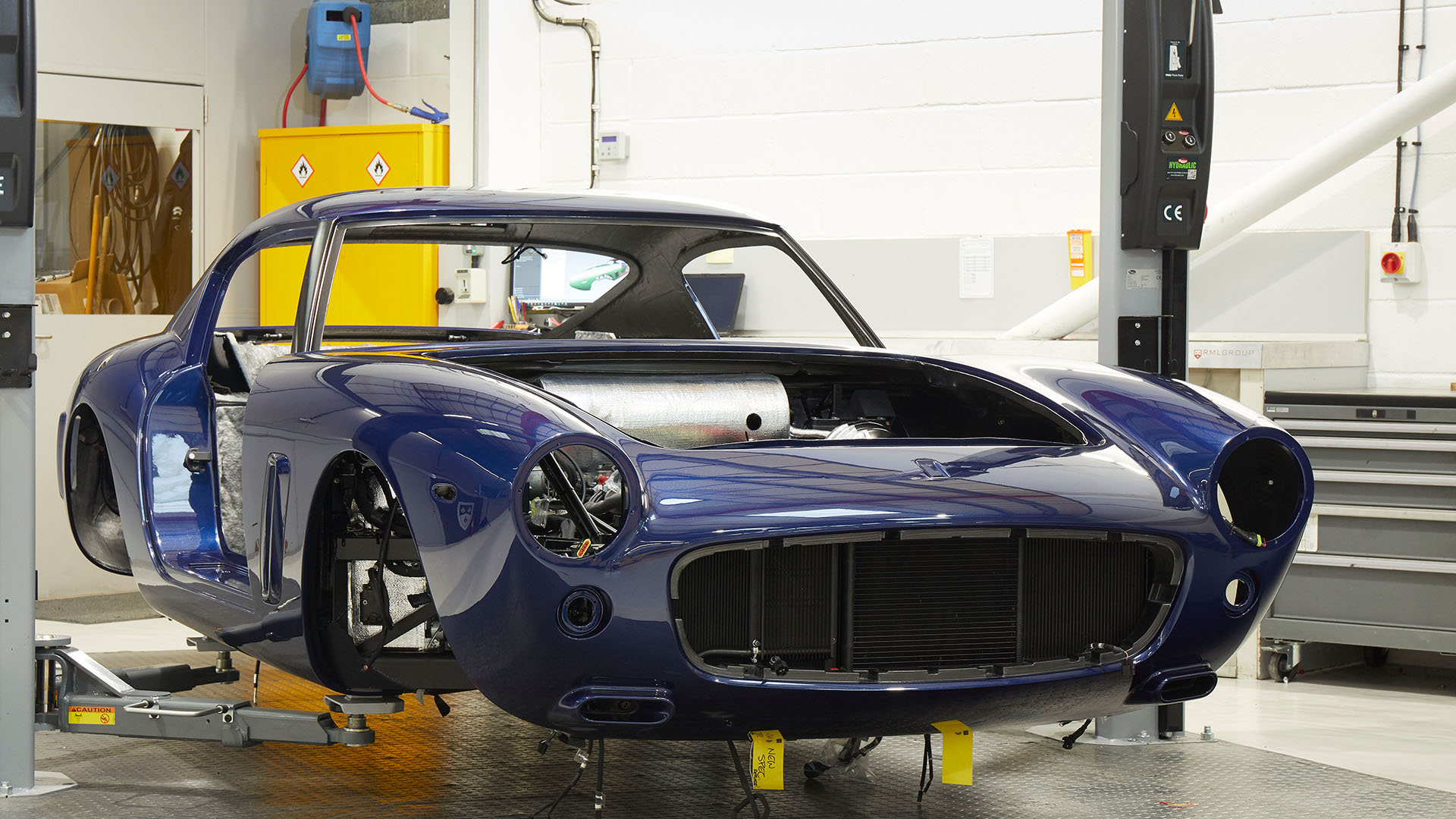 RML does use a donor car for the chassis, but thanks to their extensive expertise with vehicle dynamics, they were able to fine-tune the suspension by working closely together with Ohlin who created bespoke RML dampers, and while a V12 engine already sounds amazing, RML took the soundtrack to the next level by actually recording the sound of a 1959 250 GTB, both inside and outside, so they could recreate that immersive engine music on this 21st century GT, all while keeping in mind current legislation, a massive feat for sure.
"This has been a labor of love for us all in the Short Wheelbase's development team," said Michael Mallock. "To see the car finally on the road next month, and finished to such an exceptional standard, will be immensely rewarding for us all, but especially for our first customers, who now won't have to wait too long at all."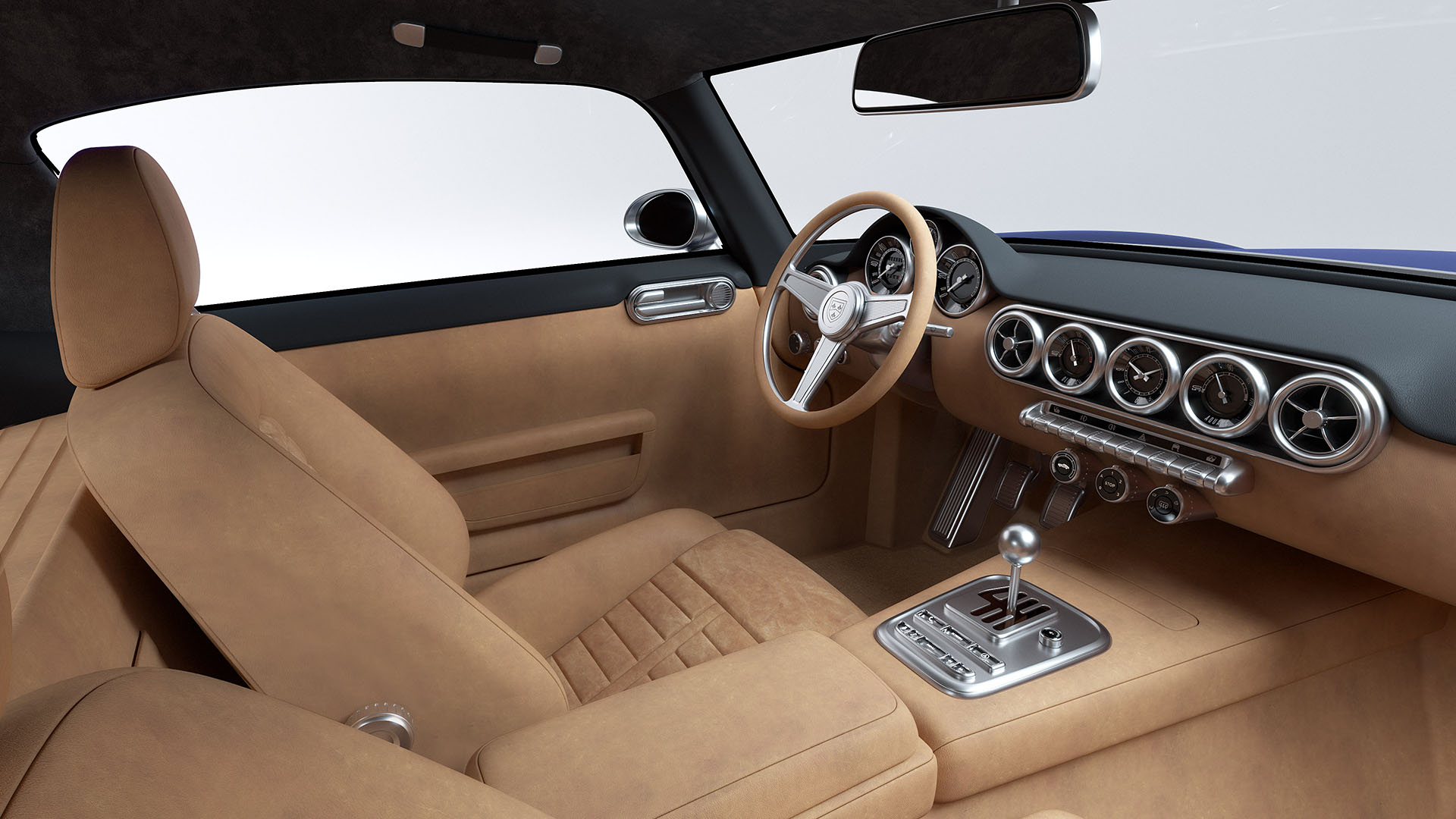 And while Car Zero doesn't have an interior yet, we've seen the above renders a while ago, and they look stunning, a very classic feeling but modern and equipped with all the mod-cons we expect from a bespoke GT like this, the RML SWB comes with a 'hidden' infotainment screen that only 'pops up' from the central console when needed. And it isn't just a small, limited system either, it incorporates everything a customer expects these days from a high-end modern vehicle: Apple Car Play, Android Auto, and mobile phone connectivity.
This is a modern-day GT, so it comes with an ice-cold airconditioning system to keep both the driver and passenger cool, no matter what the climate is on the outside, the RML Short Wheelbase will even boast cupholders, electric windows, electric seats, and electrically adjustable mirrors. And make no mistake, this is a high-end automobile, there is not a single plastic piece to be found inside the cabin, everything you can see and touch is made from Alcantara, Leather, aluminum, or even glass, the amazing-looking dials on the dashboard look like an expensive watch.
I hope to encounter one of the 30 units at an event in the near future, I'm sure this will be a very impressive, luxurious, yet classic beauty, a true Gran Turismo for sure.