After being in production for more than two decades, an era in the history of Lotus Cars is about to end … the iconic Elise production will end after 25 years, while the genre-creating Exige will fade out after 21 years. But the production of these important models will not end at a low, Lotus Cars created five special, lightweight,  more powerful, and better-equipped versions as their ultimate evolution.
Two new variants for the Elise and three more based on the Exige are developed for discerning customers that want to own a piece of history, these models will come with bespoke paint finish, new decals, new wheel finishes … and naturally 'Final Edition' badges, three of these five specials will also come with increased power.
Lotus Elise Sport 240 Final Edition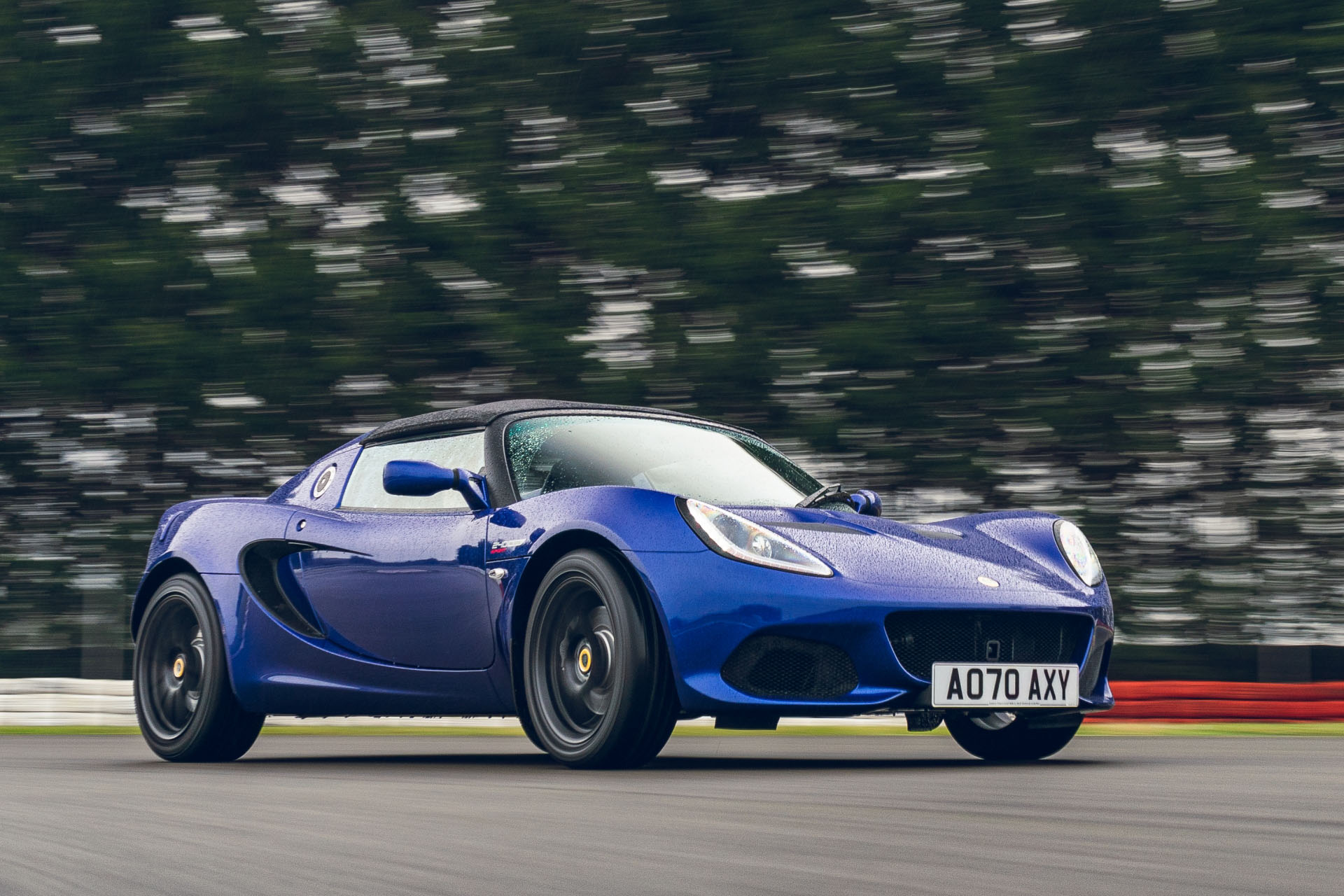 The Elise Sport 240 Final Edition gains an extra 23bhp from a revised calibration and so replaces the Sport 220. Delivering 240bhp and 244Nm of torque, the engine has been tuned to provide stunning real-world performance and class-leading efficiency. The 0-60mph sprint is completed in 4.1 seconds thanks to a power-to-weight ratio of 260bhp per tonne. CO2 emissions of 177 g/km are extremely low for the performance on offer.
The car comes with 10-spoke Anthracite lightweight forged alloy wheels as standard (6J x 16" front and 8J x 17" rear). They're 0.5kg lighter than the wheels on the Elise Sport 220 and shod with Yokohama V105 tires (195/50 R16 front and 225/45 R17 rear).
Further weight savings can be achieved with an extensive range of optional carbon fiber panels, including sill covers and engine cover, lithium-ion battery plus a lightweight polycarbonate rear window. With all the lightweight options chosen, the mass of the Elise Sport 240 reduces further from 922kg to 898kg.
Lotus Elise Cup 250 Final Edition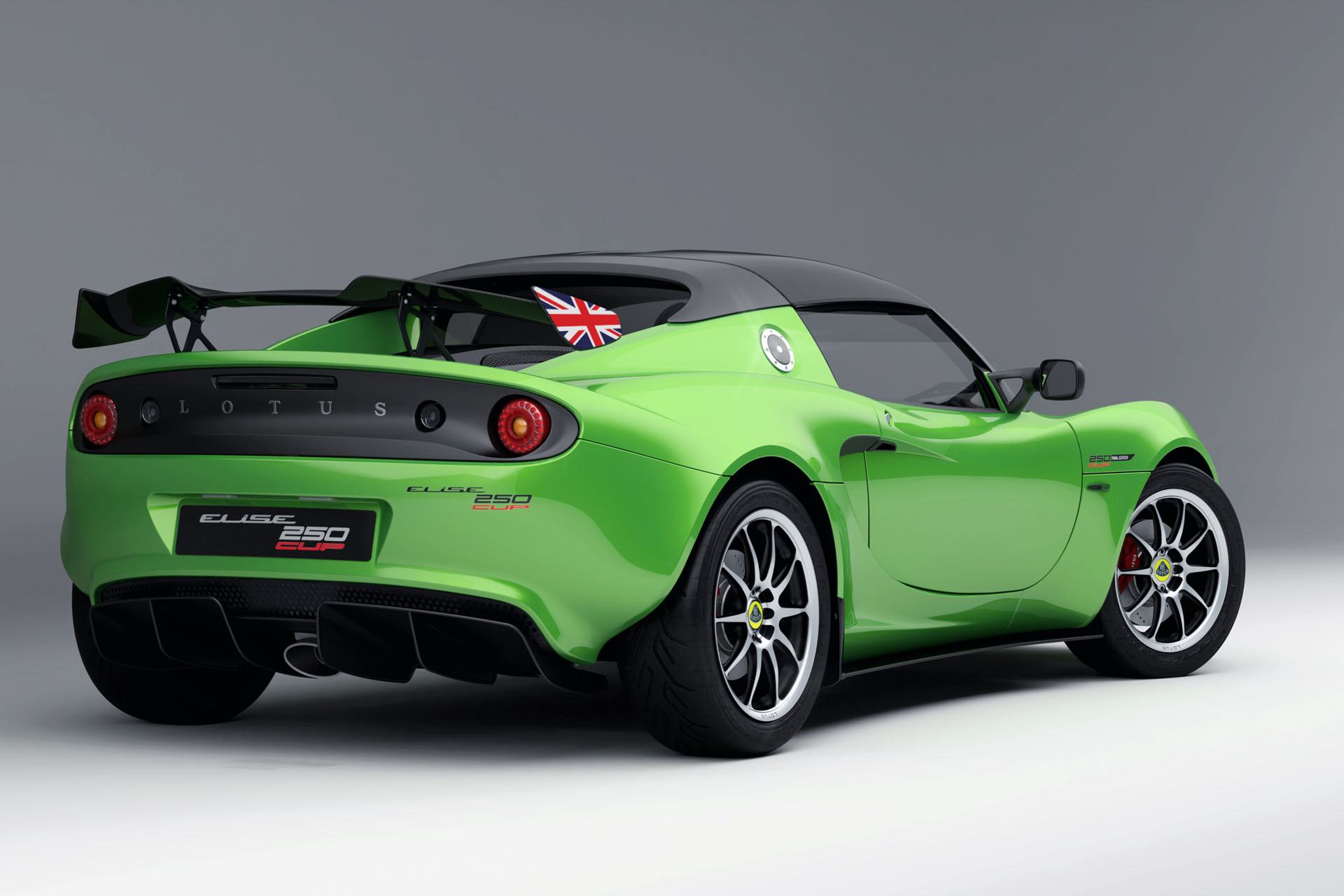 Key to the Elise Cup 250's performance is its aerodynamics and downforce linked to its power and lightweight. With aerodynamically optimized components such as the front splitter, rear wing, rear diffuser, and side floor extension, this Final Edition car produces 66kg of downforce at 100mph and 155kg of downforce at its maximum speed of 154mph.
The car is shod in new 10-spoke Diamond Cut ultra-lightweight M Sport forged wheels (7J x 16" front and 8J x 17" rear) with Yokohama A052 tires (195/50 R16 front and 225/45 R17 rear). The extensive list of standard equipment includes Bilstein sports dampers and adjustable anti-roll bars, to help maximize the aerodynamic downforce available and boost grip whilst maintaining the legendary Elise handling. Also fitted as standard is a lightweight lithium-ion battery and polycarbonate rear window.
Other lightweight carbon fiber options, as on the Elise Sport 240 Final Edition, are available reducing the mass to an unladen weight of just 931kg.
Lotus Exige Sport 390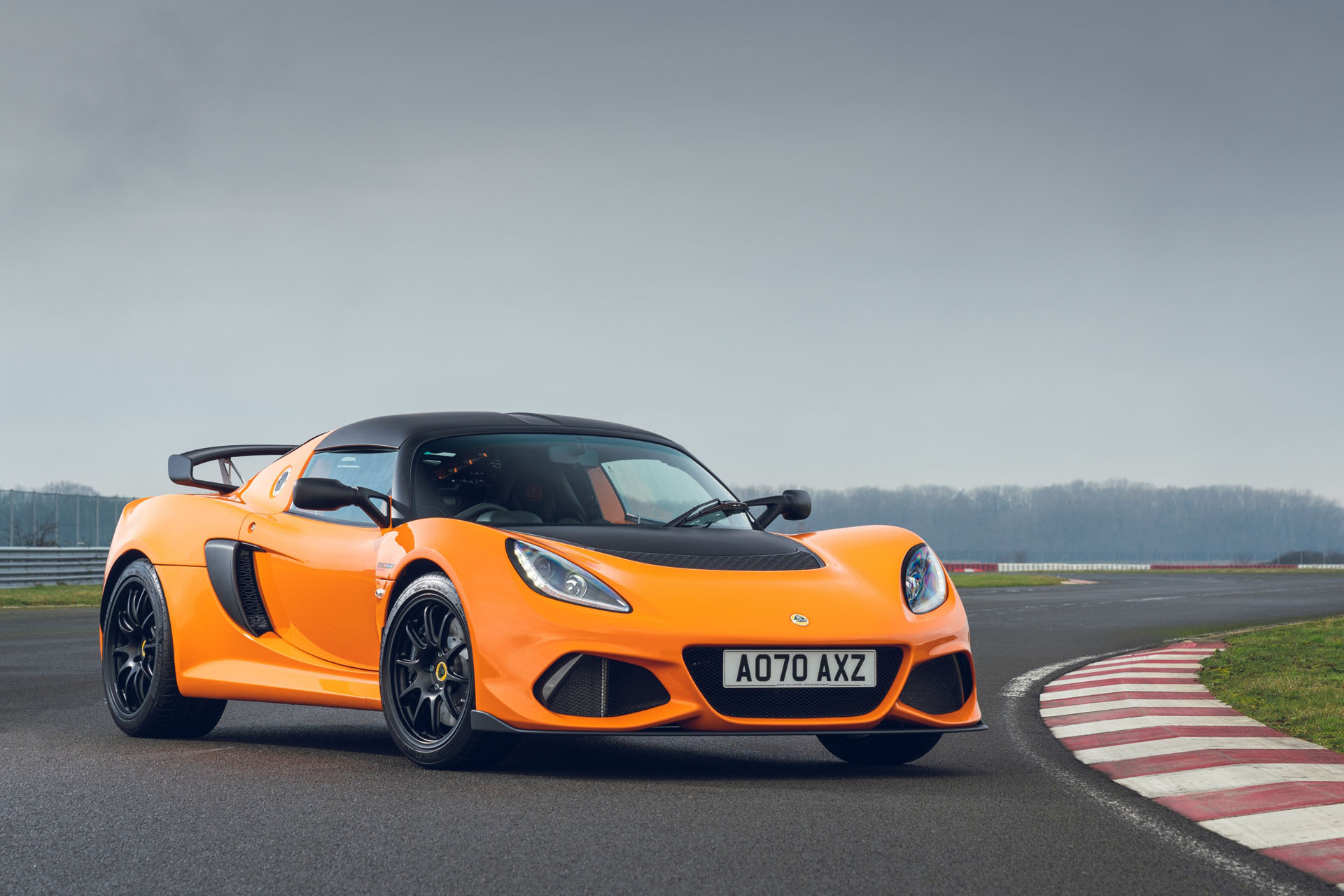 The new Exige Sport 390 replaces the outgoing Exige Sport 350. The power increase of 47bhp comes from a revised calibration linked to the Edelbrock supercharger with chargecooling, to produce 397bhp and 420Nm. Linked to a light weight of 1,138kg, the Exige Sport 390 accelerates to 60mph in just 3.7 seconds before reaching a top speed of 172mph.
The advanced aerodynamics are carefully balanced, generating 70kg of downforce at the rear and 45kg up front for a total of 115kg at top speed. To put this power on to the road, the Exige Sport 390 has 10-spoke silver lightweight forged alloy wheels (7.5J x 17" front and 10J x 18" rear) and Michelin PS4 tyres (205/45 ZR17 front and 265/35 ZR18 rear).
Lotus Exige Sport 420 Final Edition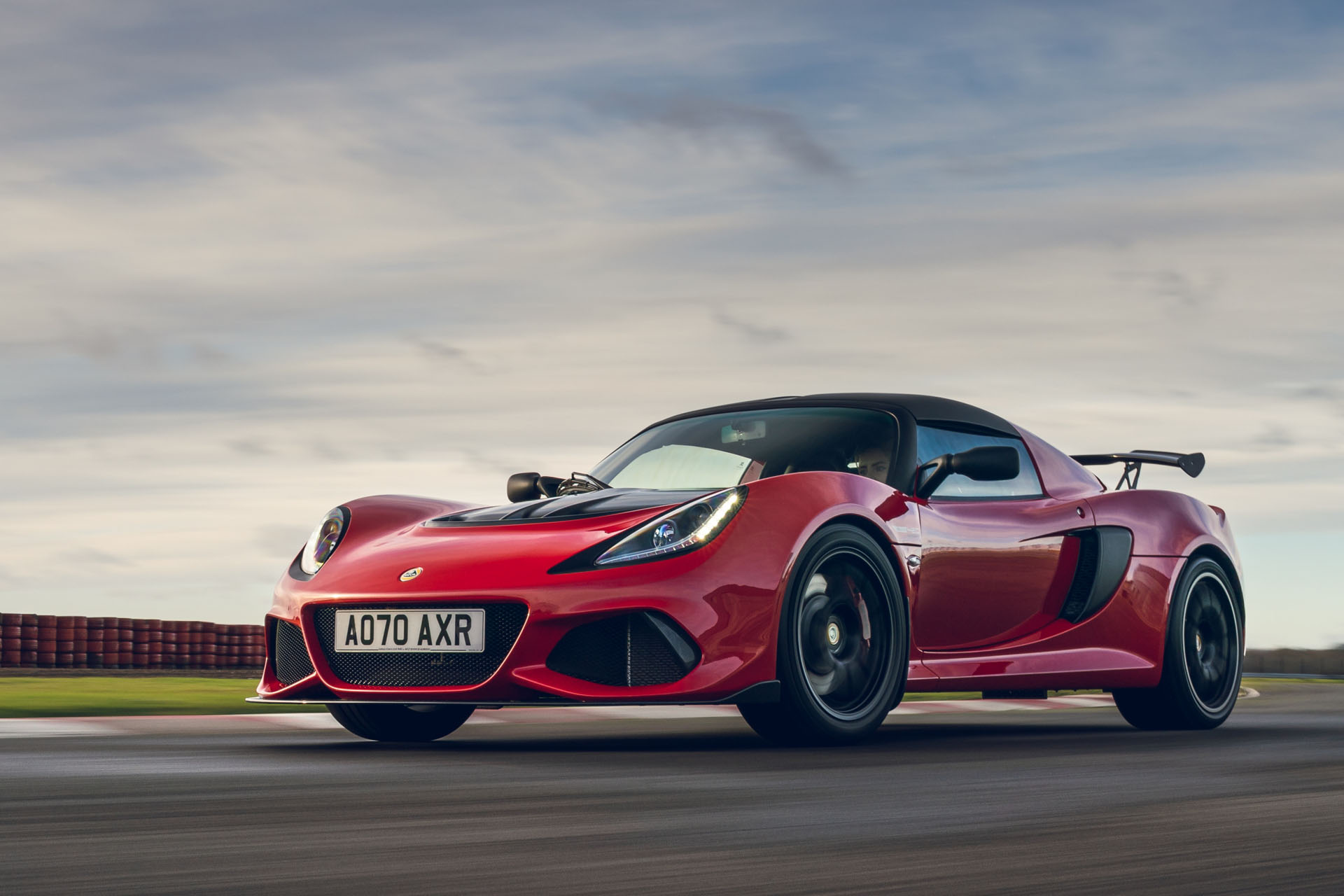 The Exige Sport 420 Final Edition gains an extra 10bhp and replaces the outgoing Sport 410. It is the fastest Exige available, topping out at 180mph, with 0-60mph completed in 3.3 seconds. With its light weight of 1,110kg and 420bhp (giving a power to weight of 378bhp per tonne) and 427Nm from the supercharged and chargecooled V6 engine, coupled with a flat torque curve and maximum power available to maximum revs, the Exige is regarded as the most complete driving car of its class.
The list of standard equipment is impressive. Front and rear Eibach anti-roll bars are adjustable and the three-way adjustable Nitron dampers allow for different high and low speed compression settings. The car rides on 10-spoke Anthracite lightweight forged alloy wheels (7.5J x 17" front, 10J x 18" rear) with Michelin Pilot Sport Cup 2 tyres (215/45 ZR17 front and 285/30 ZR18 rear). Stopping power comes from AP Racing brakes with forged, four-piston calipers and two-piece J-hook brake discs. With a higher thermal capacity and improved bite, these discs offer improved debris clearance and reduced vibration for more consistent pedal feel and greater, fade-free performance.
Lotus Exige Cup 430 Final Edition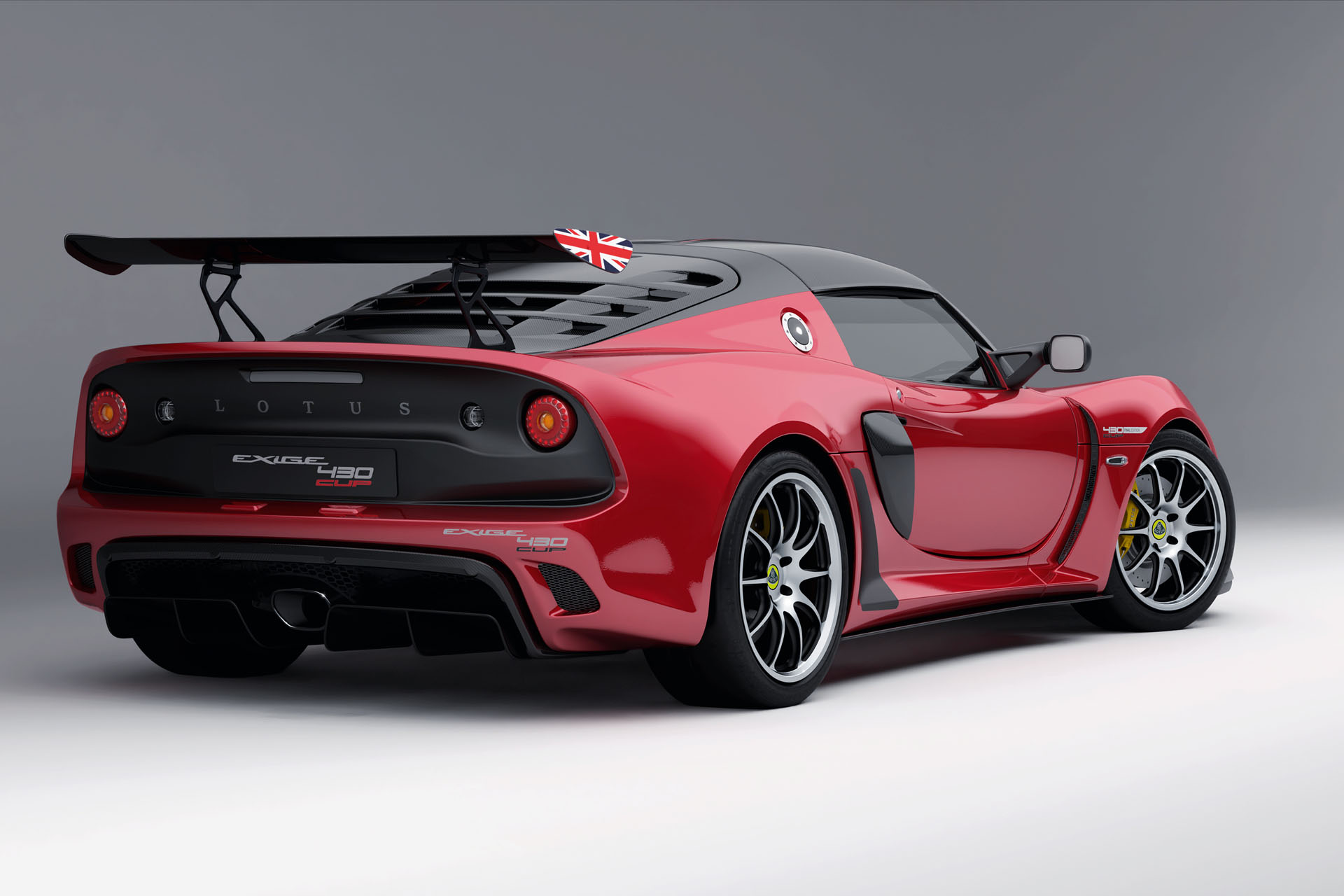 The Cup 430 remains the range-topping Exige. Already legendary in its short lifetime, it is regarded as being one of the world's quickest real-world sports car. It is not just suited to its driver's favourite road, but also at home on a challenging circuit.
Chargecooled for a consistent 430bhp and capable of generating 171kg of downforce, this is the road and track car to rule them all. The radical aero package is not for show; the Exige Cup 430 generates as much downforce at 100mph as the Exige Sport 390 does at 170mph. Weighing just 1,110kg the power-to-weight ratio hits a staggering 387bhp per tonne. With 440Nm of torque from 2,600rpm, 0-60mph is completed in 3.2 seconds on the way to a top speed of 174mph. Downforce is balanced at all speeds, with the car generating 76kg at the front and a further 95kg at the rear, giving a total of 171kg.
Everything about the Exige Cup 430 is focused upon performance whether that's driving on the road or track. Every car comes with motorsport-grade carbon fibre panels include the front splitter, front access panel, roof, diffuser surround, enlarged air-intake side pods, one-piece tailgate and race-derived rear wing. In addition to revised steering arm geometry to increase bump steer, handling characteristics can be altered via the Nitron three-way adjustable dampers (high and low speed compression plus rebound adjustment) and Eibach adjustable front and rear anti-roll bars, both as standard. Michelin Pilot Sport Cup 2 tyres (215/45 ZR17 front and 285/30 ZR18 rear) are fitted to ultra-lightweight 10 spoke diamond cut lightweight forged alloy wheels (7.5J x 17" front, 10J x 18" rear).
Braking comes via forged, four-piston AP Racing brake calipers and higher thermal capacity two-piece J-hook brake discs front and rear. The system is designed to give improved bite and reduced vibration, delivering consistent pedal feel and fade-free stopping power lap after lap.
With a high-flow titanium exhaust system as standard, the Cup 430 sounds like no other supercar at speed. Motorsport-derived variable traction control linked directly to the ECU helps maximise traction on corner exit by managing the giant surge of torque. It's controlled via a six-position rotary switch located on the steering column. Only active with the ESP stability control switched off, the five pre-set traction levels are displayed on the instrument cluster.
When production of the Lotus Elise, Exige and Evora end later this year, the final combined production total will be in the region of 55,000 cars. Together they account for more than half of Lotus' total road car production since the first Lotus in 1948.