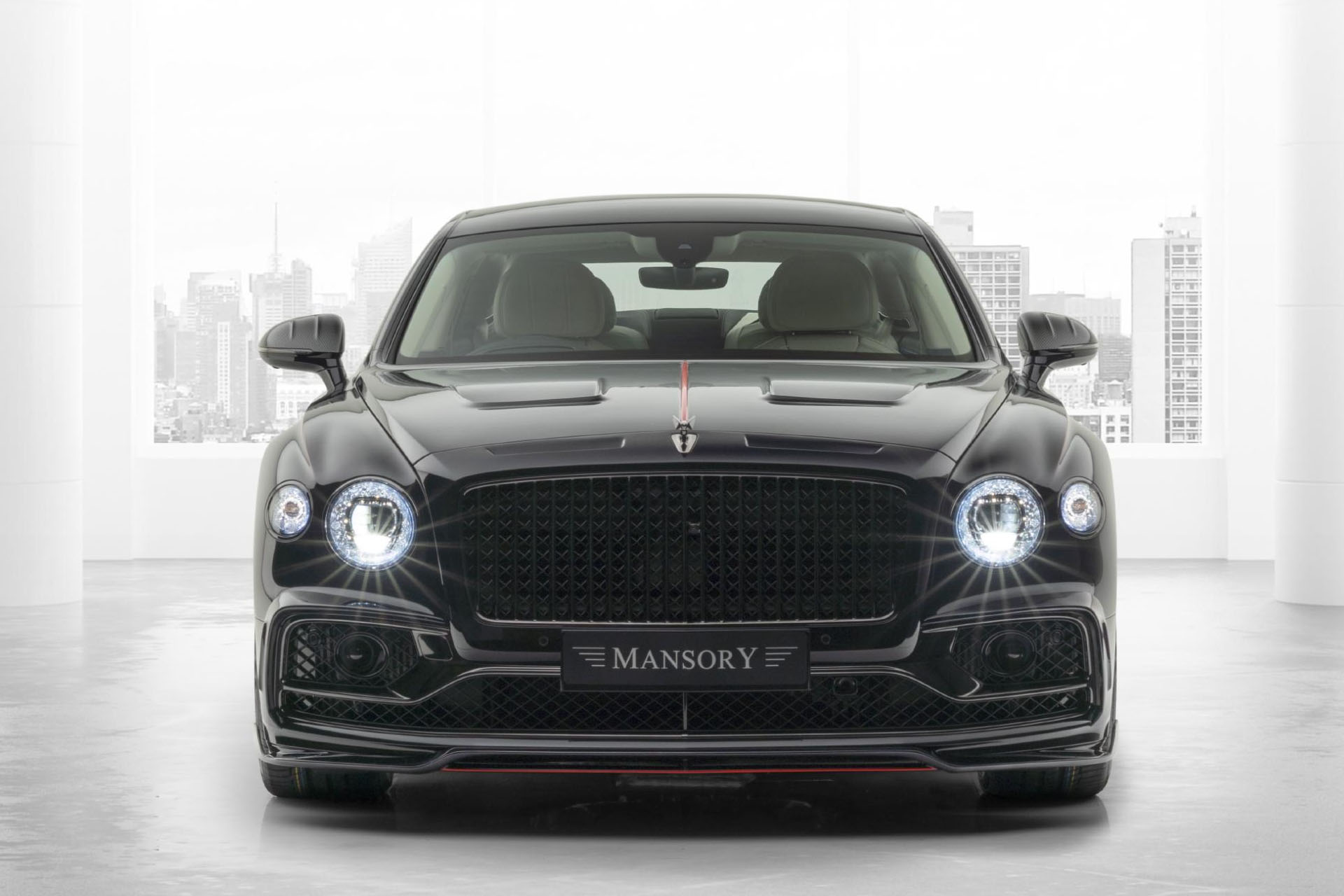 Kourosh Mansory always had a soft spot for premium British cars, he turned his passion into a business when he started MANSORY in 1989 with special attention to Rolls-Royce, Bentley, and Aston Martin. Today MANSORY takes that same high-end attention to detail to makes like Porsche, Lotus, BMW, Mercedes-Benz, McLaren, Lamborghini, and Ferrari … MANSORY is at the top of the 'individualization' car market.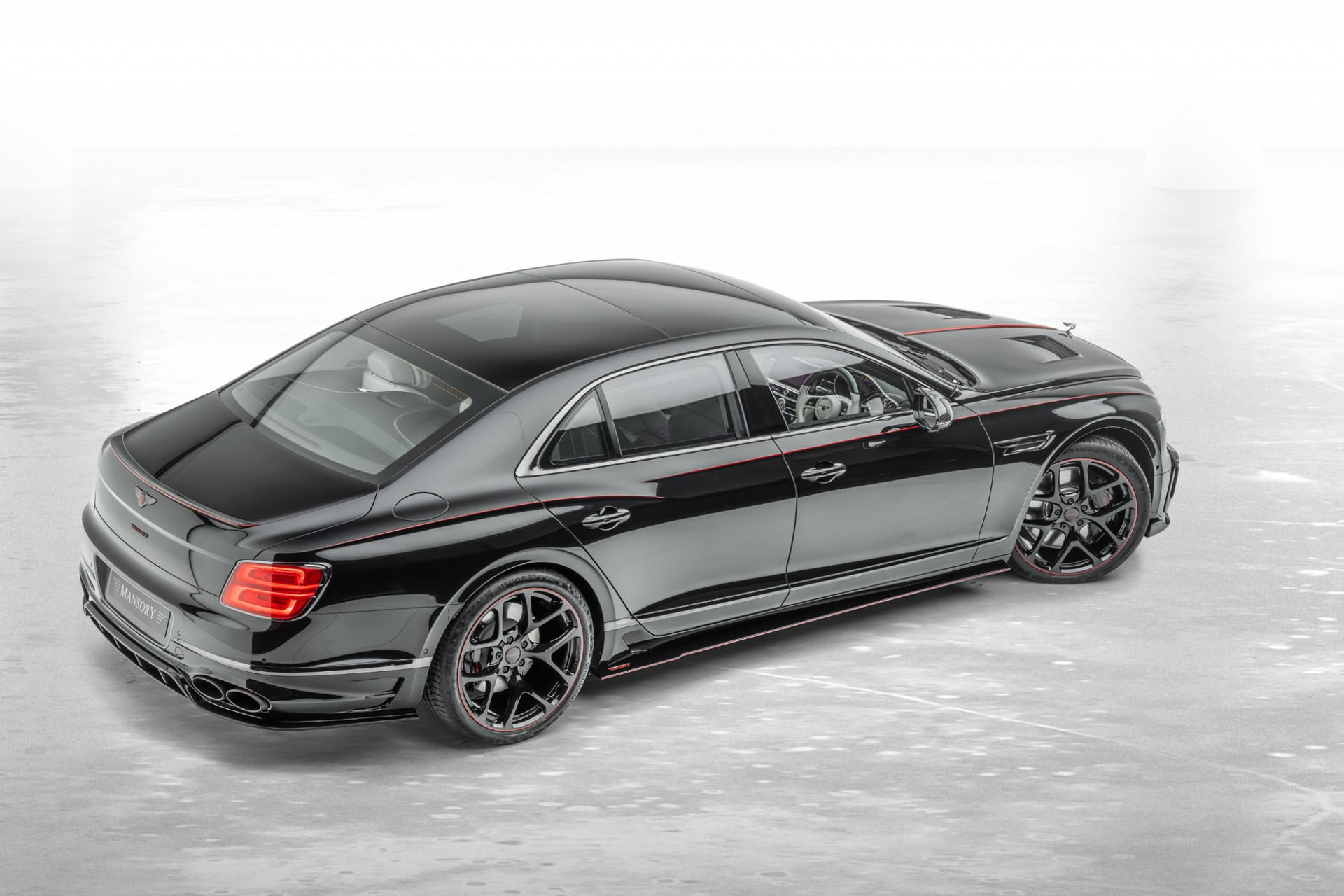 Many of us will regard a Bentley Flying Spur W12 as a top-of-the-line luxury car with performance in mind, while a Rolls-Royce is usually enjoyed from the rear seat with a 'chauffeur', a Bentley is mostly driven by the owner being regarded as the more sporty alternative to a Rolls … and if the standard car from Crewe just isn't exclusive enough … just have MANSORY to create a bespoke one just for you.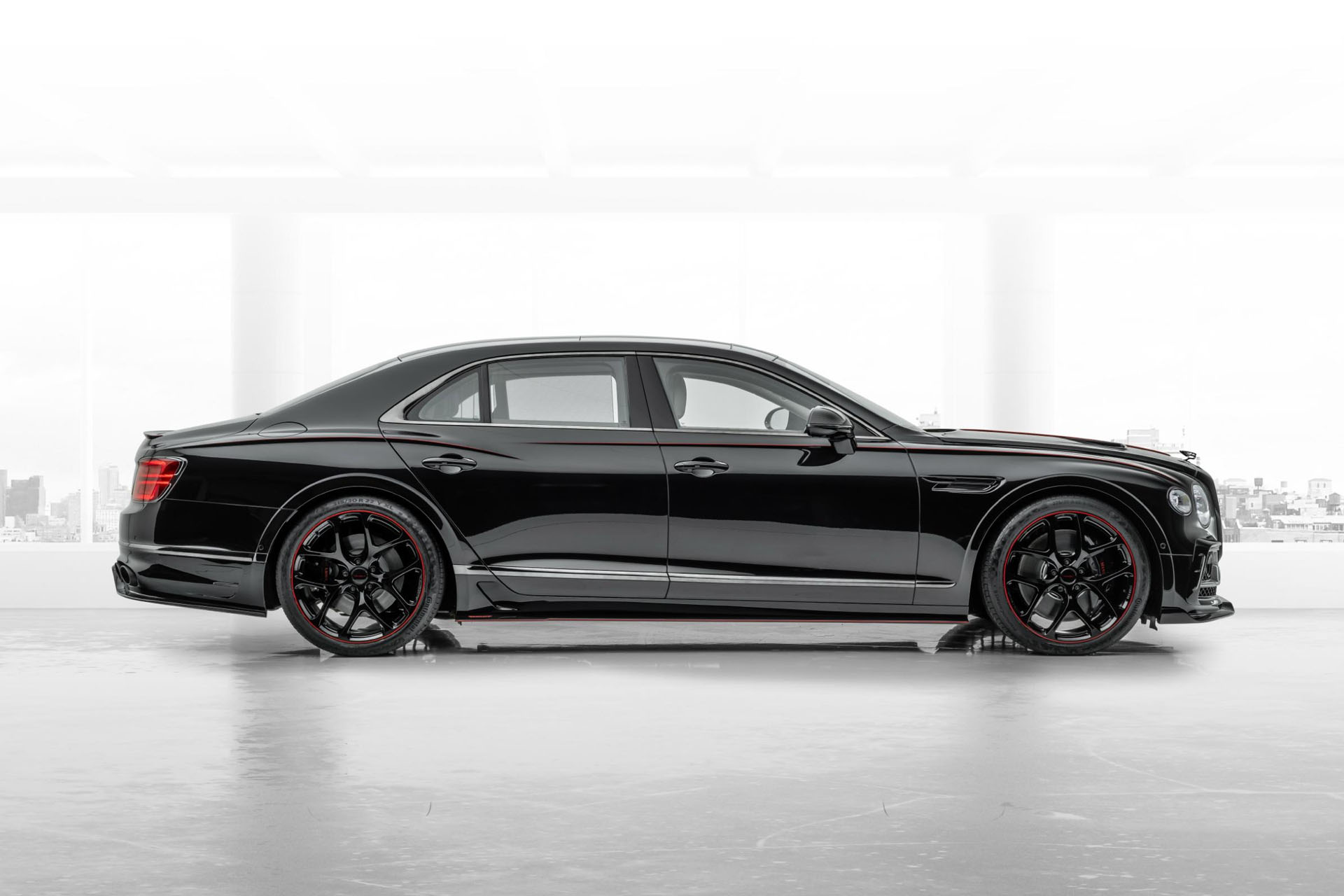 MANSORY brings clear carbon fiber to the front, side, and rear of the Bentley Flying Spur, there is a distinctive lip that's added to the front bumper, naturally, the air intakes on that bumper get some carbon fiber add-ons too while the grille surround is also replaced by MANSORY. A four-part set of side skirts are available, while not one, but two different rear diffuser options are listed, one with four massive, oval exhaust tips, while the second comes with split-oval tips.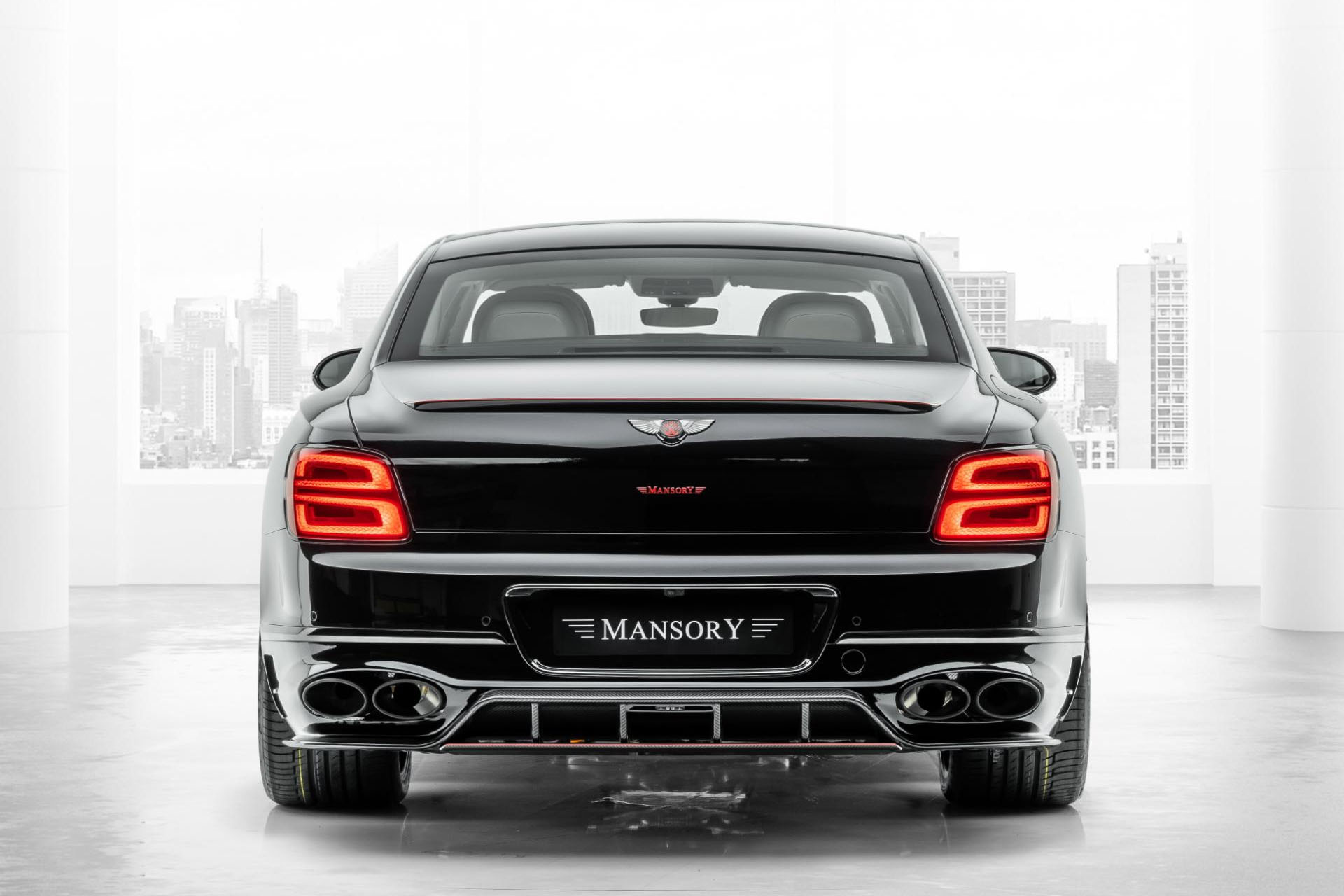 MANSORY offers a replacement engine cover for the Bentley Flying Spur, with integrated air vents, and the option for a carbon fiber 'bonnet bar' as they call it. We wouldn't be looking at a MANSORY car if the exterior rearview mirrors didn't get a carbon fiber cover too, and just like a small, but tasteful front lip, there is a nice little rear wing available too … and as a finishing touch, you can replace the Bentley logo on the trunk lid with a MANSORY 'M' logo.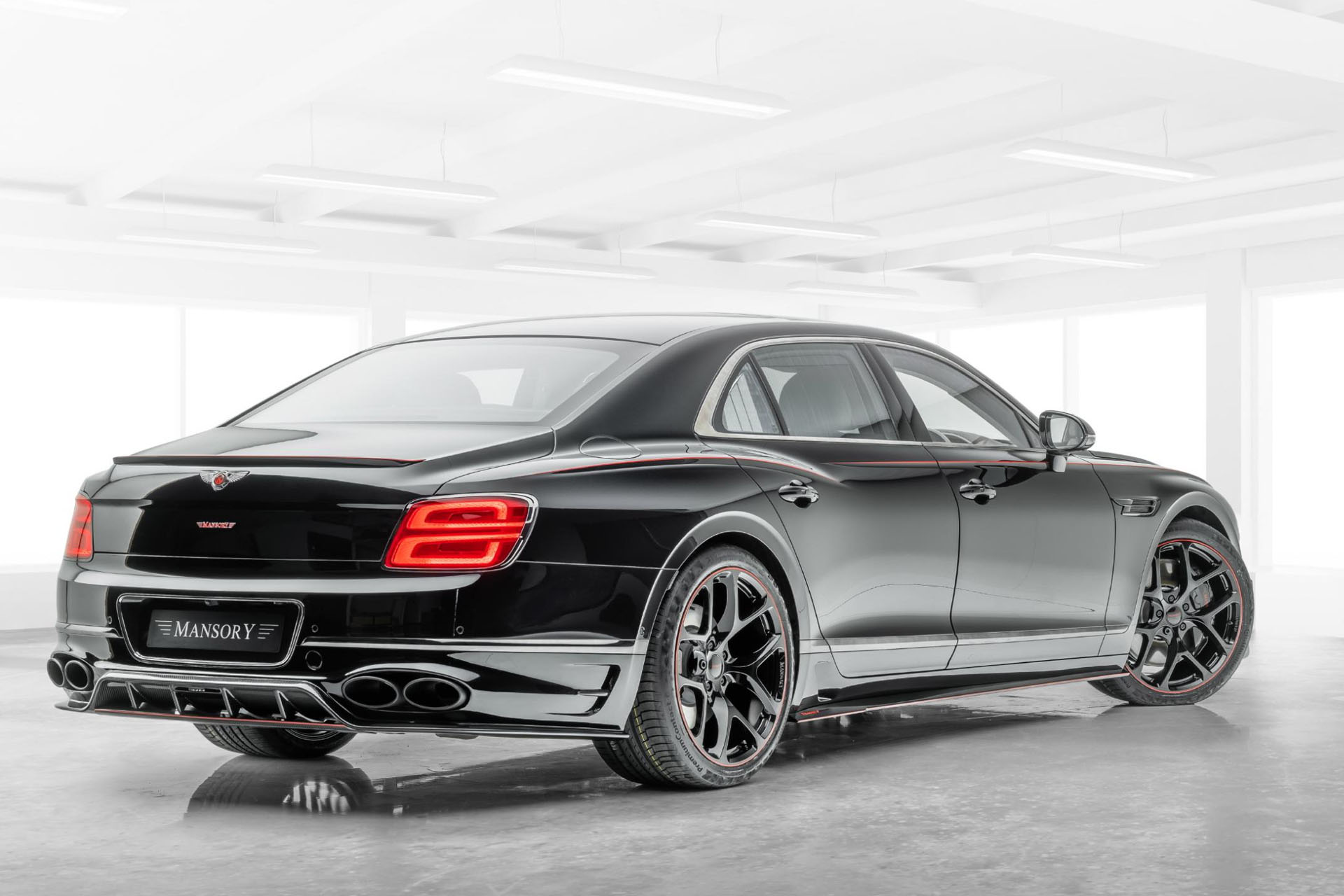 Some might call it blasphemy, but MANSORY can replace the Bentley exhaust system with twin sport mufflers, there's even an X-Pipe on the options list, while a 20 to 30mm lowering suspension kit is also possible, to make those custom MANSORY forged wheels come out even better, all in a 22-inch size, 10×22 for the front with 275/35 22 tires, and 11.5×22 at the rear with massive 335/25 22 … personally I love the glossy black FS.23 wheel the best.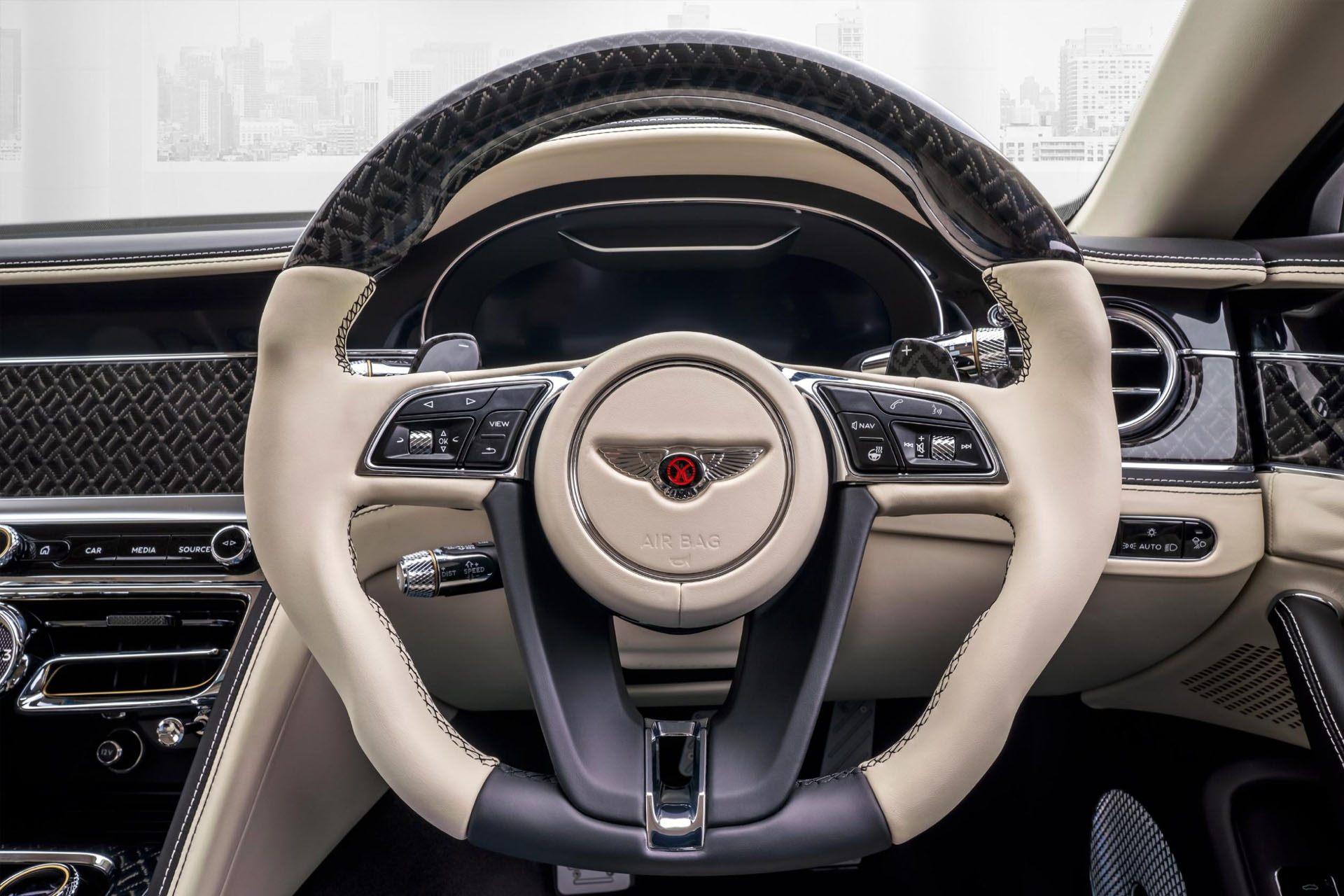 While the interior of a factory standard Bentley Flying Spur W12 is already at an extremely high level, MANSORY still adds some personal touches nonetheless, like a bespoke sports steering wheel combining leather and carbon fiber that matches the new shift paddles, and the new door sills, with lighted MANSORY logo naturally, and a new gearshift lever, with the 'M' proudly on the top.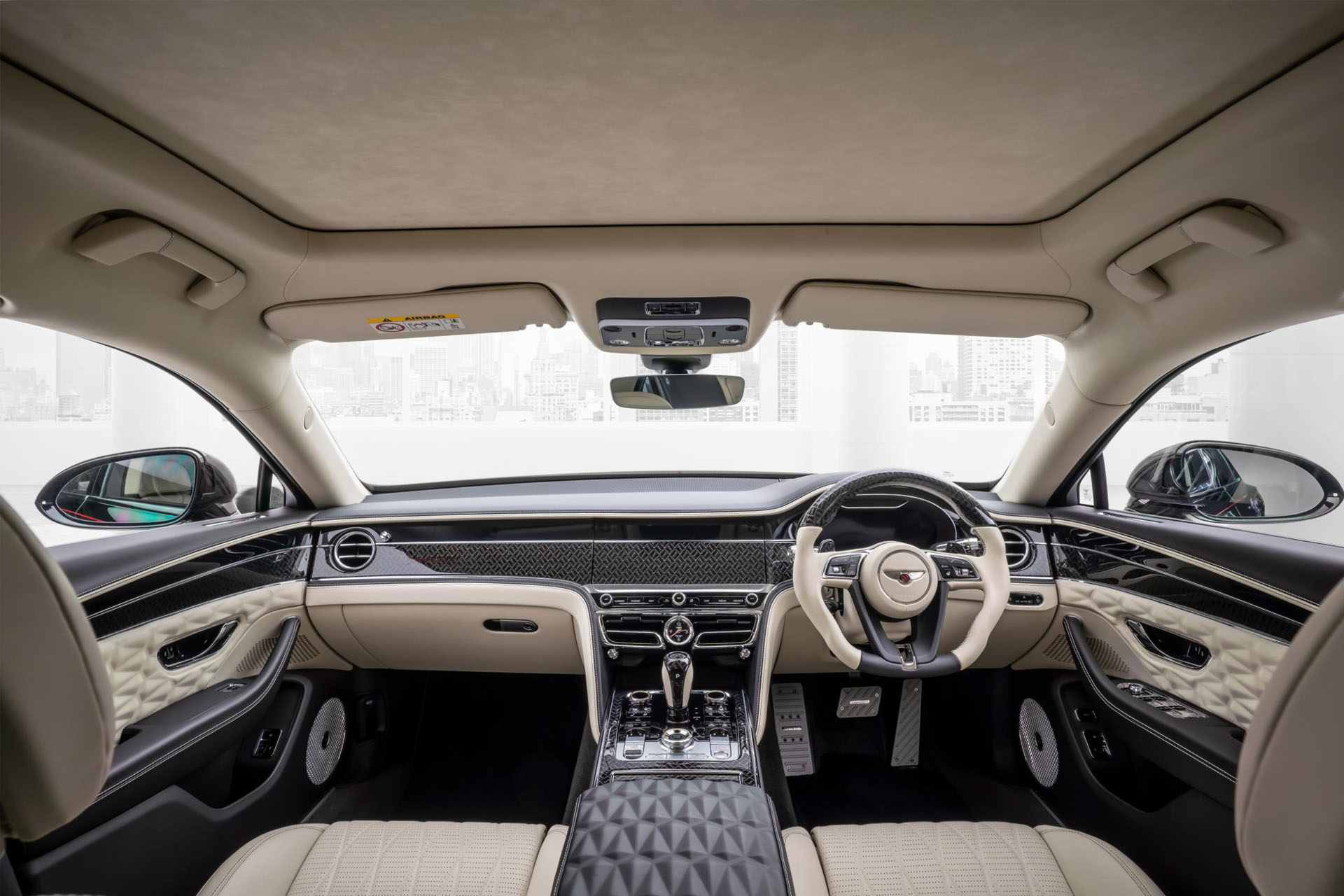 But MANSORY also offers a bespoke interior conversion to their customers, using exclusive leather in combination with carbon fiber or wood, whichever the client prefers, MANSORY offers 3D-embossed leather, there is even a multi-piece conversion set for the instrument panel, co-driver board, middle console front 2-parts, middle console rear 2-parts, ashtray, cover front and rear, jalousie front and behind, cover for light system front, 4-parts door panels available with carbon and wood.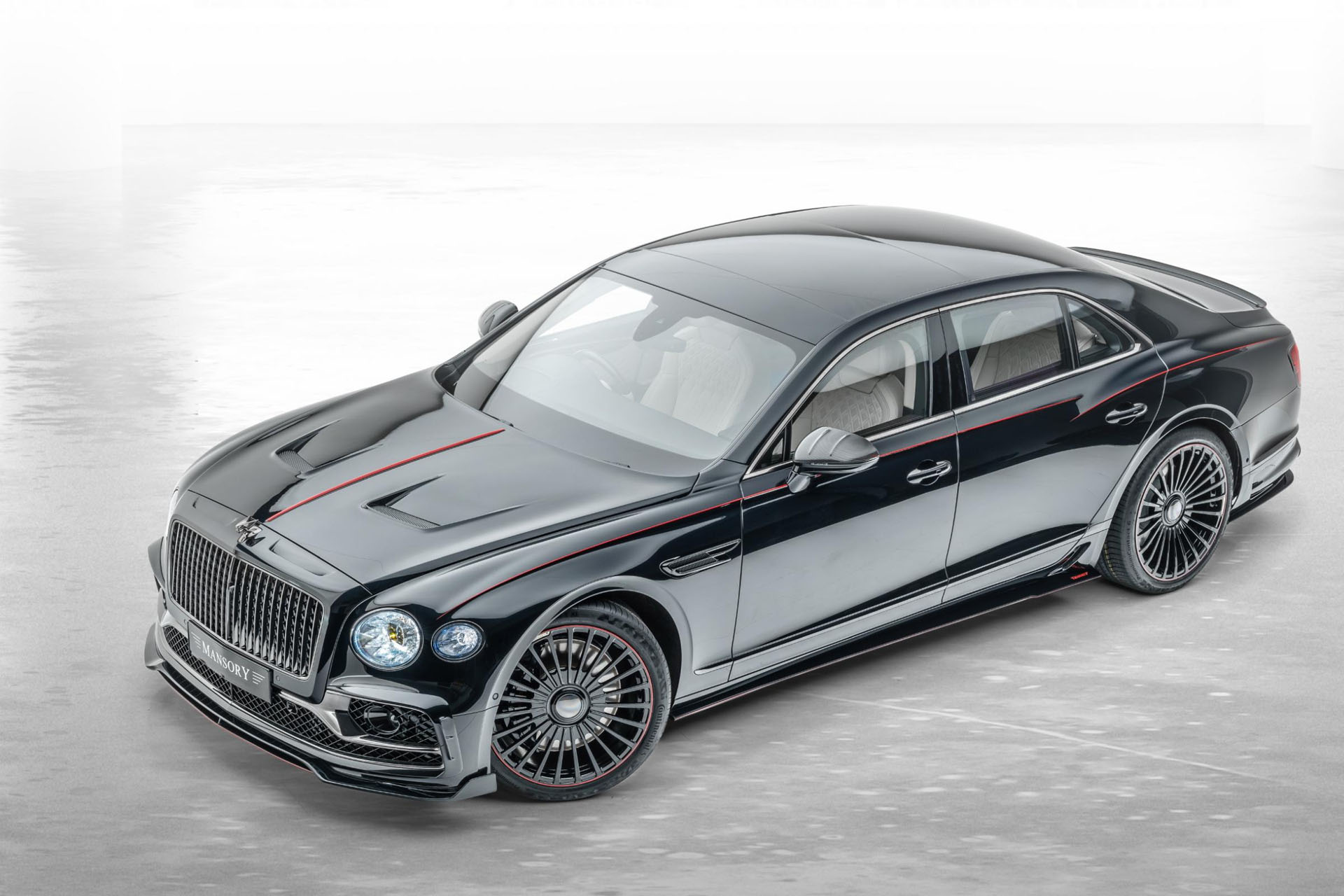 Finished in a deep black paint with dark carbon fiber touches, the MANSORY Flying Spur W12 gets a power increase to 710 hp (522 kW) while torque goes to 1,000 Nm … as a result, the top speed goes up to 340 km/h and acceleration from 0 to 100 km/h takes only 3.6 seconds in this behemoth.