Just imagine how much fun you could have behind the wheel of a 570 PS topless Audi R8 … with rear-wheel drive only? A lot, if you know what you are doing, having a car like this that only propels the rear wheels is the most fun possible behind a steering wheel, but it does demand a level of expertise and some respect for the boundaries, with the Lamborghini Huracán EVO RWD as a counterpart, the Audi R8 V10 just had to have an RWD version too, and right from the start buyers were lining up for this special model, today Audi launched the 'Performance' edition, adding 30 PS onto the power output, available as a Coupe from €149,000 with the Spyder demanding a mere €13,000 premium.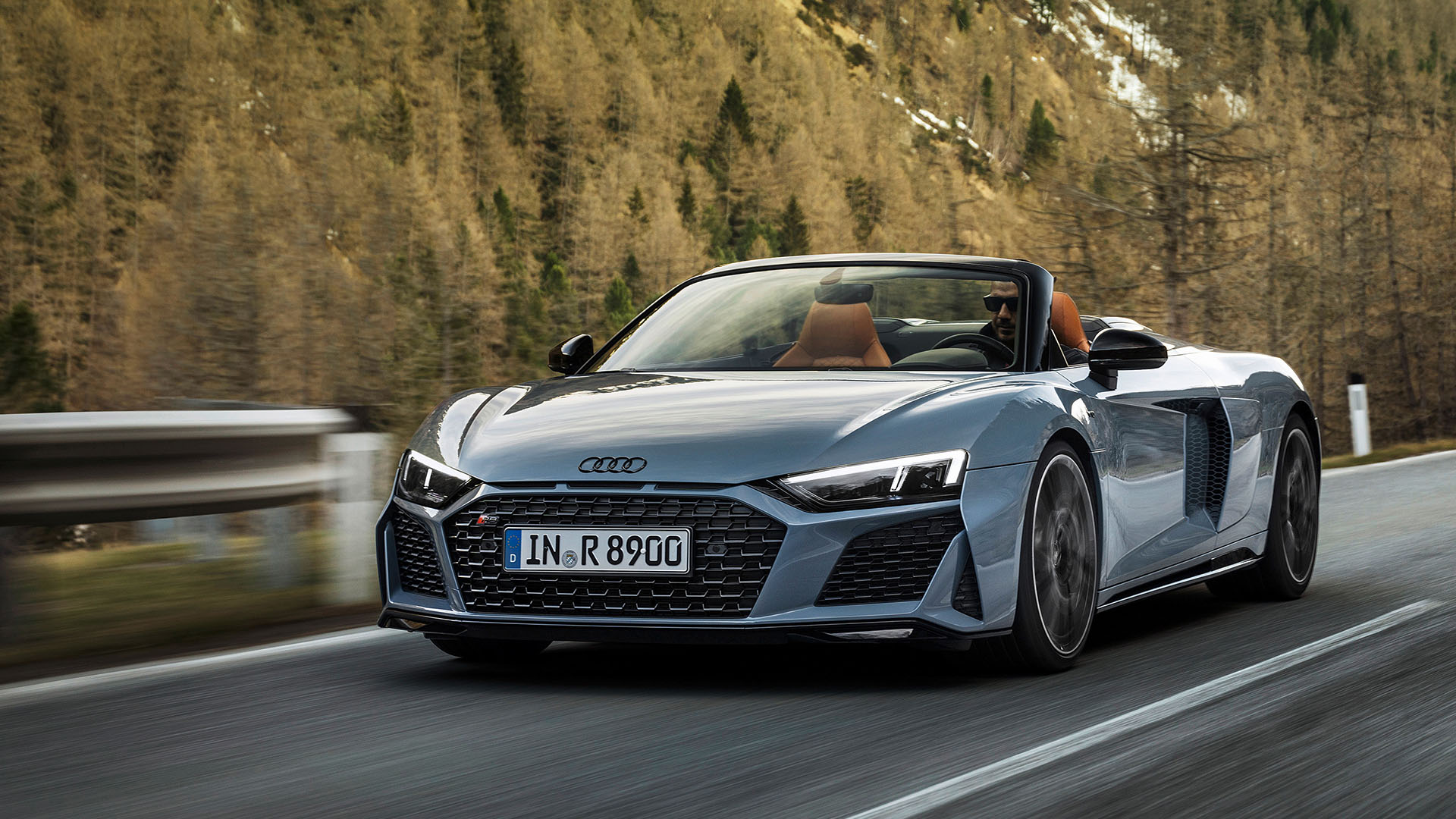 The new Audi R8 V10 Performance RWD will be available to order starting October 21st, and all units will be built mainly by hand at the Böllinger Höfe plant in Neckarsulm, Germany, the exact same place where the famous LMS GT4 racecar is assembled from roughly 60% the same parts as these streetcars, the front radiator grille with her large air intakes on either side, the front splitter, the rear vents, and even the oval tailpipes on these R8 V10 Performance RWD are inspired by said GT4 racer.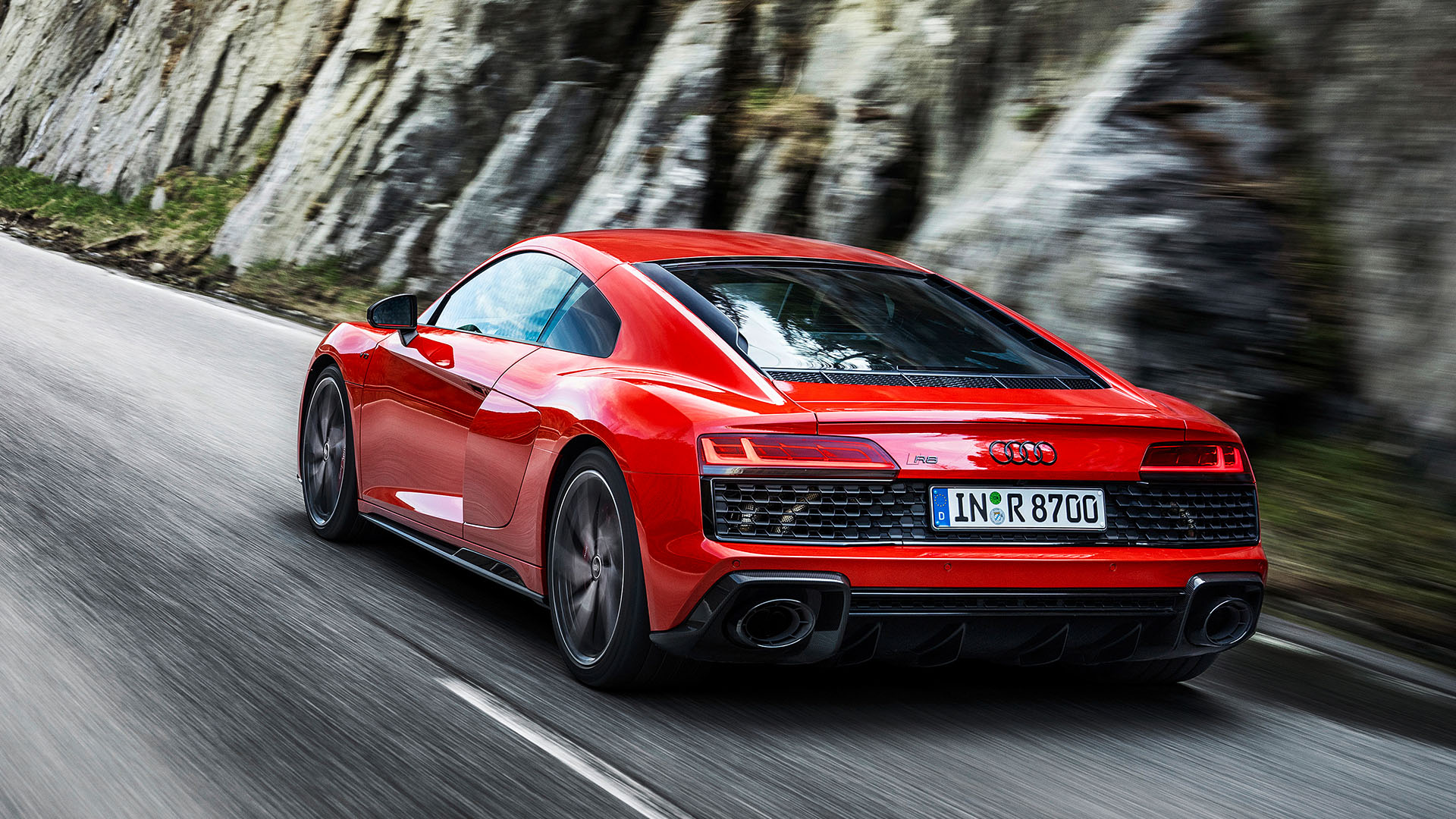 The new Audi R8 V10 Performance V10 can be ordered in ten different colors, even Ascari Blue Metallic that was previously only available for the R8 V10 performance quattro, as standard with the "R8 performance" design package, the interior boasts beautiful black Alcantara leather, with contrast stitching in Mercato Blue and carbon inlays. The Multifunction plus steering wheel comes with four control satellites in these Peformance versions, each for using Audi drive select, to start the engine, to activate Performance Mode and control the engine sound as well as to pilot the Audi virtual cockpit.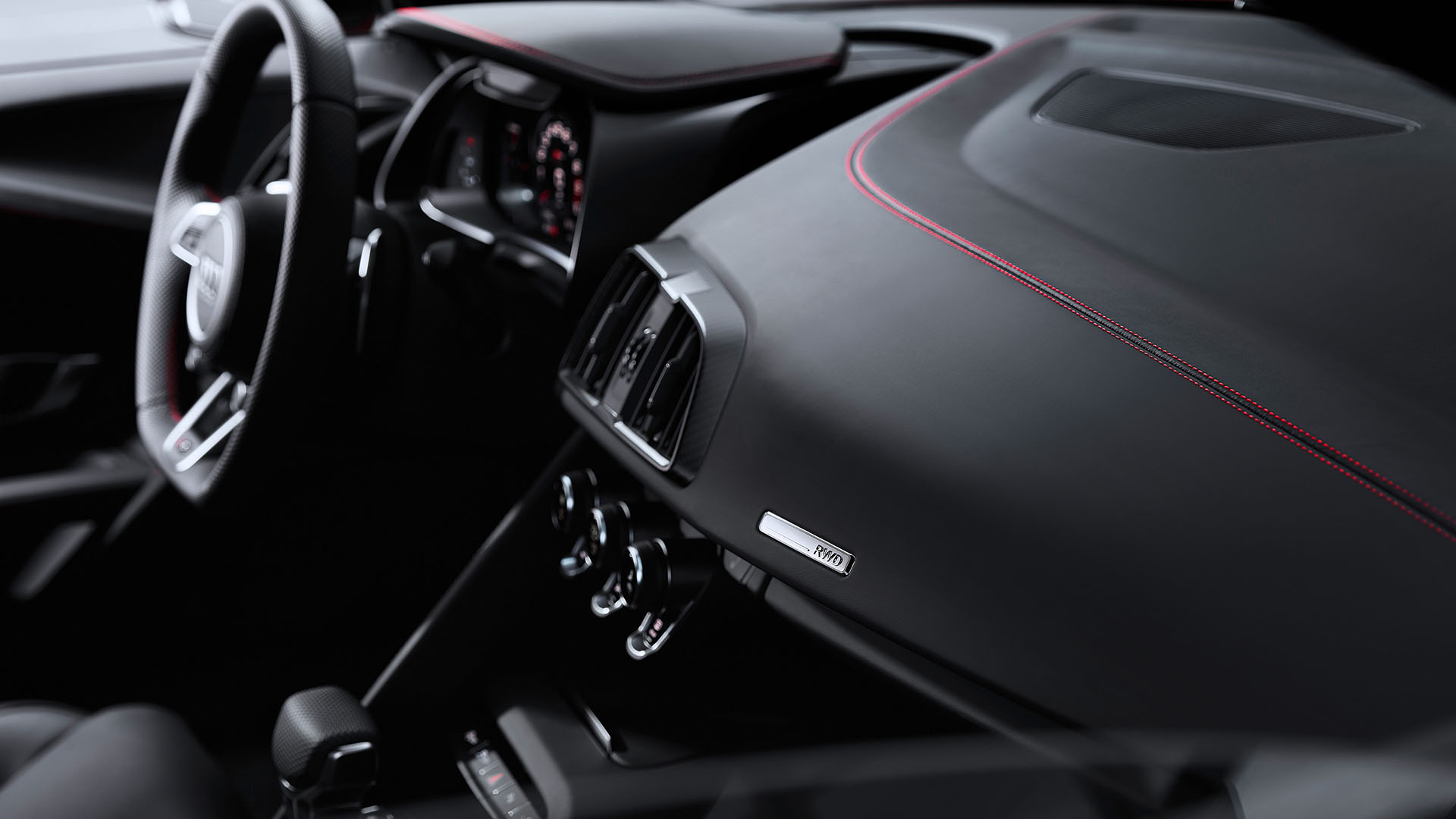 Both pilot and co-pilot can be seated in new R8 bucket or sports seats that are available now, either upholstered in luxurious leather or track-inspired Alcantara while a bespoke RWD badge is mounted on the fascia in front of the passenger, just to remind you are being seated in a supercar that has been specifically tuned for 'controlled drifts' in Sport mode.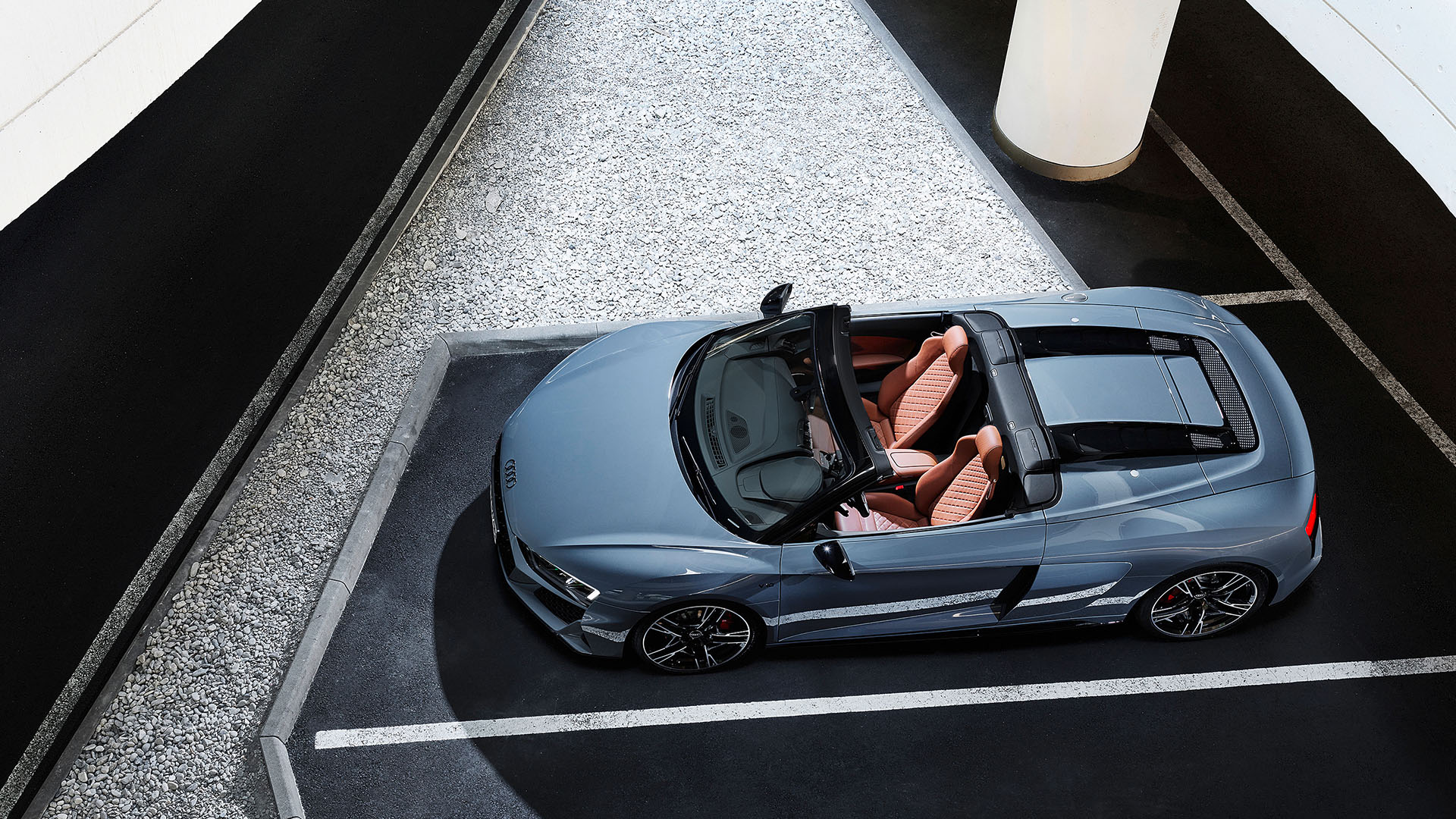 This new Performance model can reach 100 km/h in just 3.7 seconds (the Spyder takes 0.1 seconds more due to her increased weight) while the top speed is a staggering 329 km/h (327 km/h for the Spyder) powered by that magnificent 5.2-Liter V10 FSI engine, as already mentioned power has been increased to a total of 570 PS with torque now at 550 Nm, all being driven to the rear wheels only through Audi's 7-Speed S tronic automatic gearbox.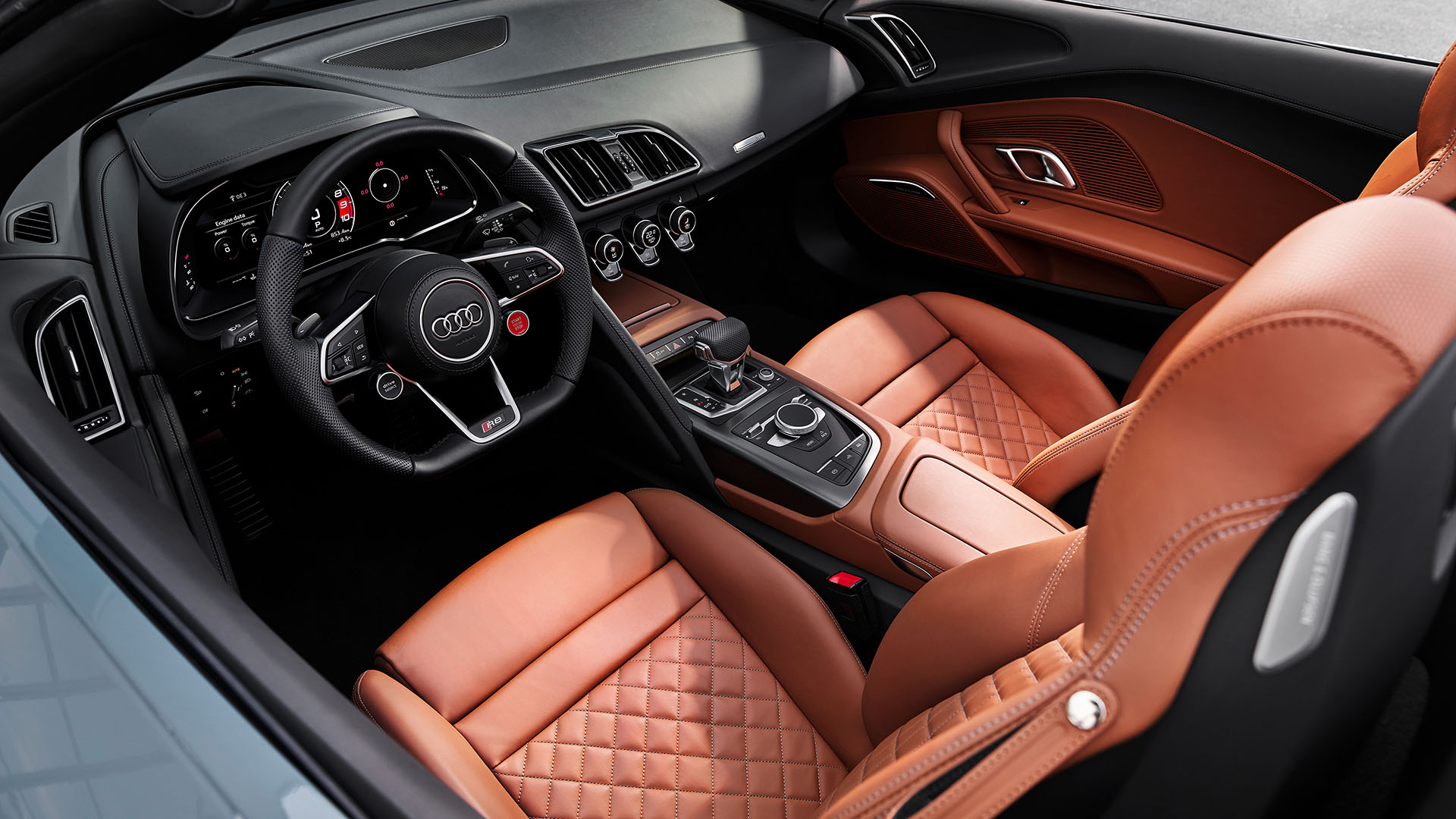 The Audi R8 is still a lightweight aluminum body built over a spaceframe chassis, but large parts are made from CFRP, carbon fiber reinforced plastic to keep the weight down, the R8 V10 Performance Coupe puts down 1,590 kg while the Spyder version adds another 105 kg to reach a total of 1,695 kg, but despite the weight penalty, I would go for the Spyder all the way, I love convertible cars, and with that impressive V10 just inches behind your head, the sound going through a tunnel with the roof down must be mindboggling.