A new Ferrari F8 Tributo would be a dream car for many already, but as always, there is a market for upgrading even the most precious supercars, companies like Mansory take that to the extreme with complete overhauls of expensive high-end luxury cars and sports cars, but there is a market in between for customers that like to personalize their prized possession without going all-out, and for those, a company like NOVITEC is perfectly suited, with their aerodynamic package for some of the world's most popular supercars from Lamborghini or Ferrari.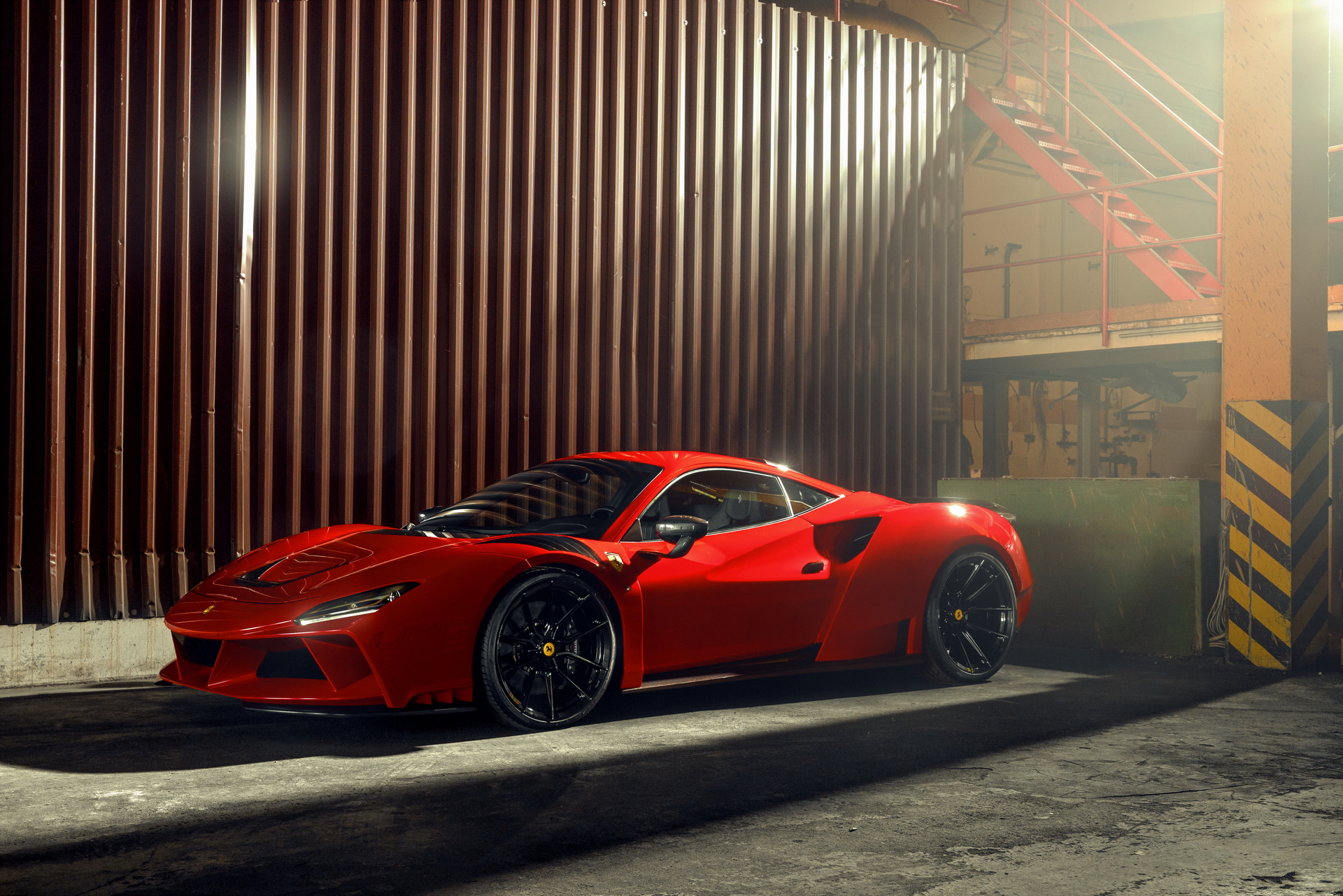 We've covered the Ferrari F8 Tributo by NOVITEC a while ago, the Novitec N-Tronic upgrades the twin-turbo V8 together with a high-performance exhaust system from the factory original 720 hp to 802 hp, while a complete body kit available in clear carbon fiber transforms Maranello's F8 into an aggressive looking Formula One-inspired road car, as for the rear wing, NOVITEC offers multiple options, either a large version that offers massive downforce or a more subtle styled version that draws less attention.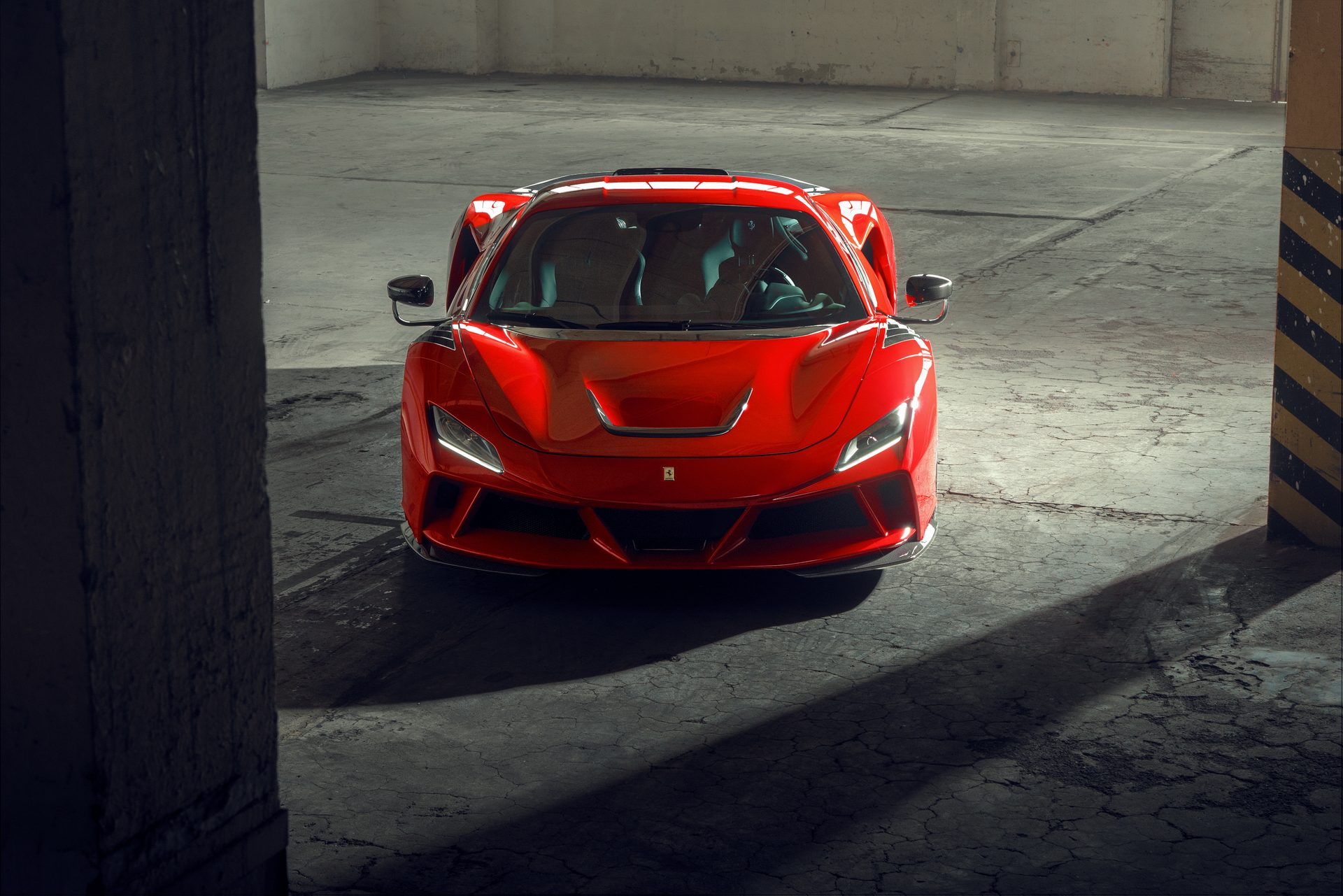 But things change considerably when you go for the famous N-LARGO version from NOVITEC, usually only available in a limited edition, and a lot wider than the factory original model, hence the N-LARGO name, and now we can finally show you what NOVITEC did to the Ferrari F8 Tributo to create their N-LARGO edition on this V8 powered red beauty, only 15 units of the NOVITEC N-LARGO F8T will be available, and for the incredible styling on this two-seater from Italy we have to thank the famous German designer Vittorio Strosek.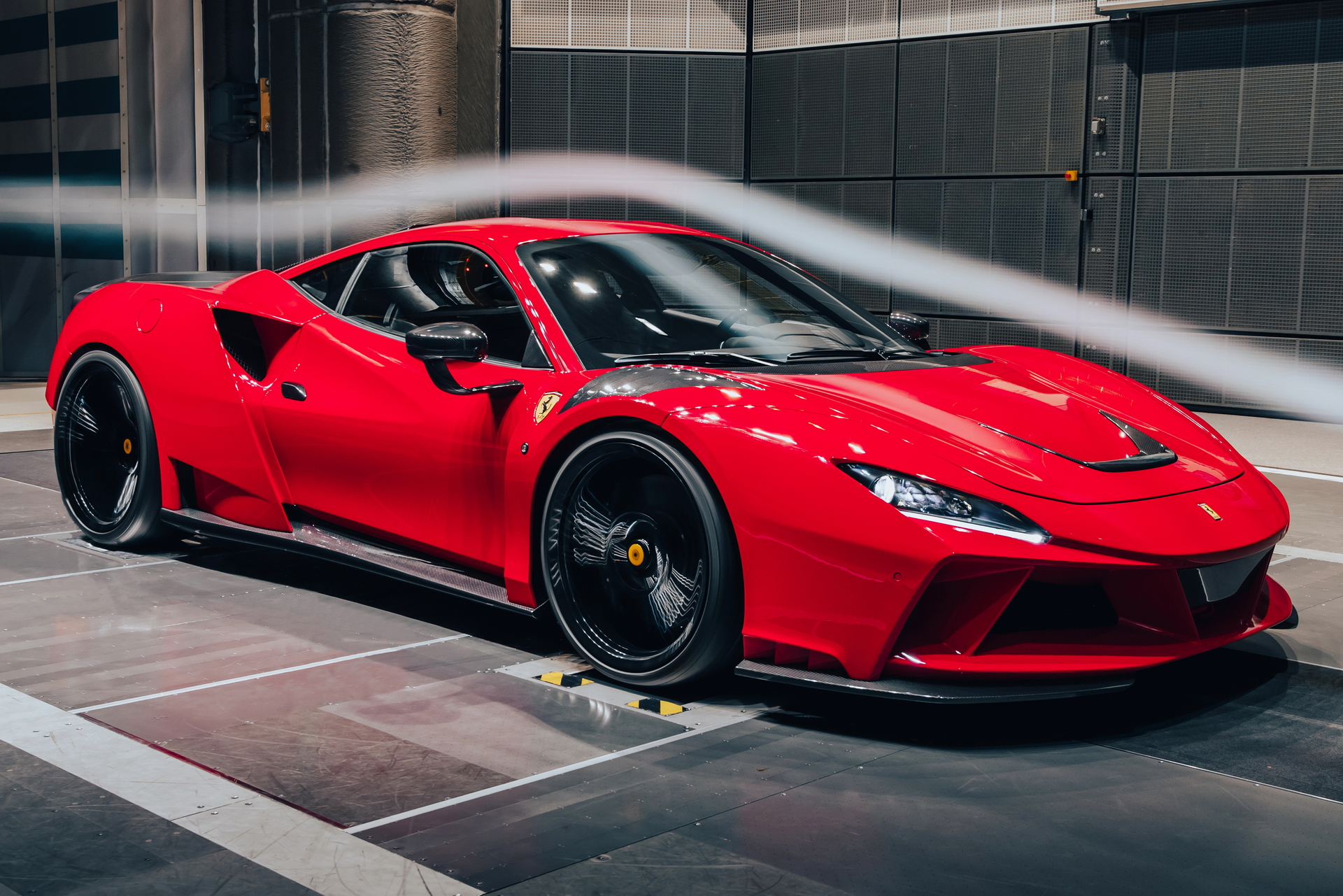 To the casual onlooker, this latest N-LARGO might look like any other red Ferrari, but she is far from a factory standard V8 from Maranello, for instance, the rear has been enlarged by 13 cm to a total of 211 cm width, thanks to wider rear fenders that create a stunning hourglass shape with the added bonus of larger air intakes to feed both the V8 engine and the rear disk brakes of fresh air, an additional plus the fact you can now fit 12-inch wide wheels at the rear.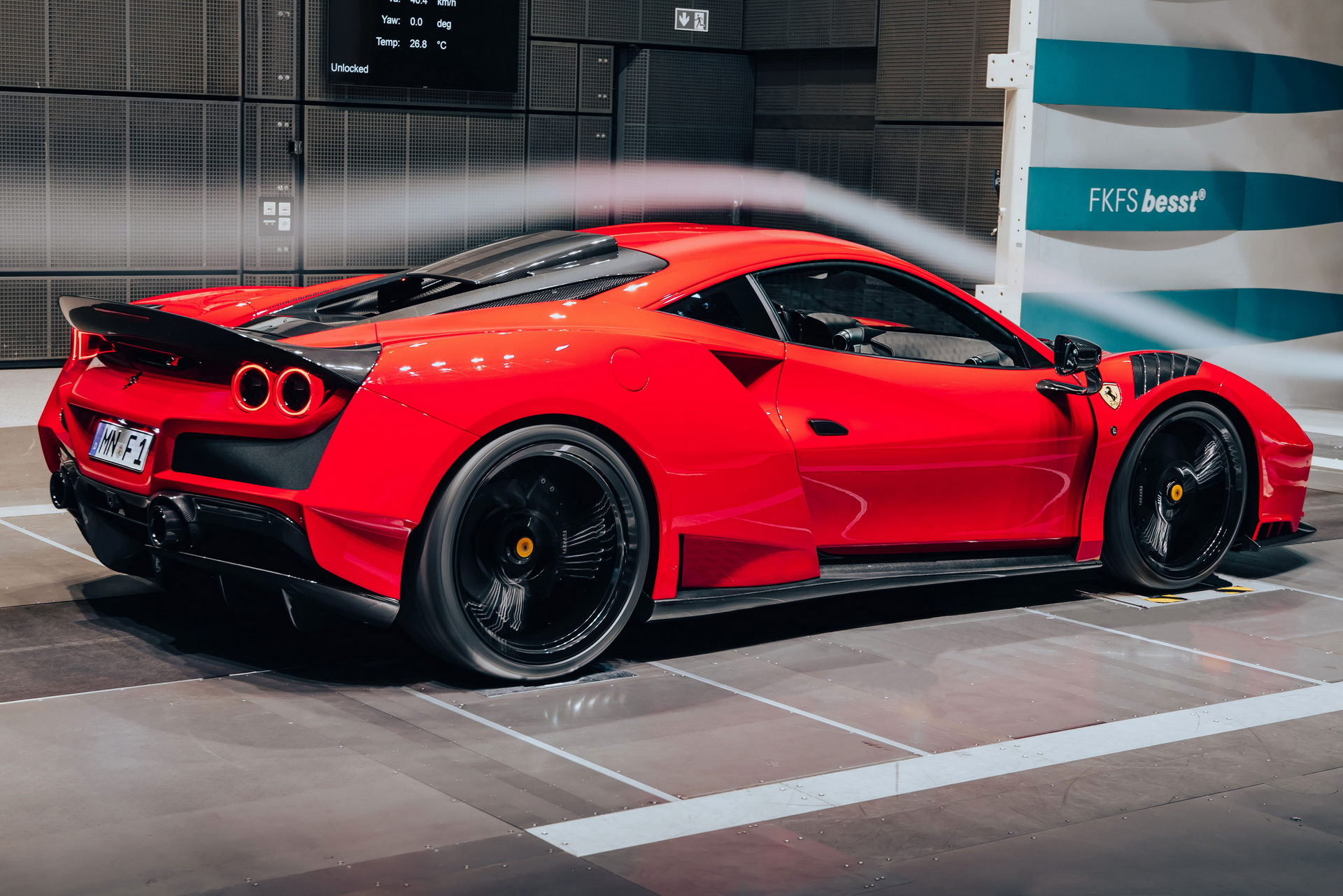 Same for the front fenders, the NOVITEC N-LARGO replacement units widen the standard Ferrari F8 Tributo by 7 cm and come with some stunning, clear carbon fiber vents above the wheels, in this case, massive 9.5×21-inch NOVITEC NF10 NL hi-tech forged wheels made in cooperation with Vossen in the United States, mind you the rear axle gets a staggered 12×22-inch wheel with five, extremely concave delicate twin spokes, tires are 255/30 ZR 21 and 25 ZR 22 respectively.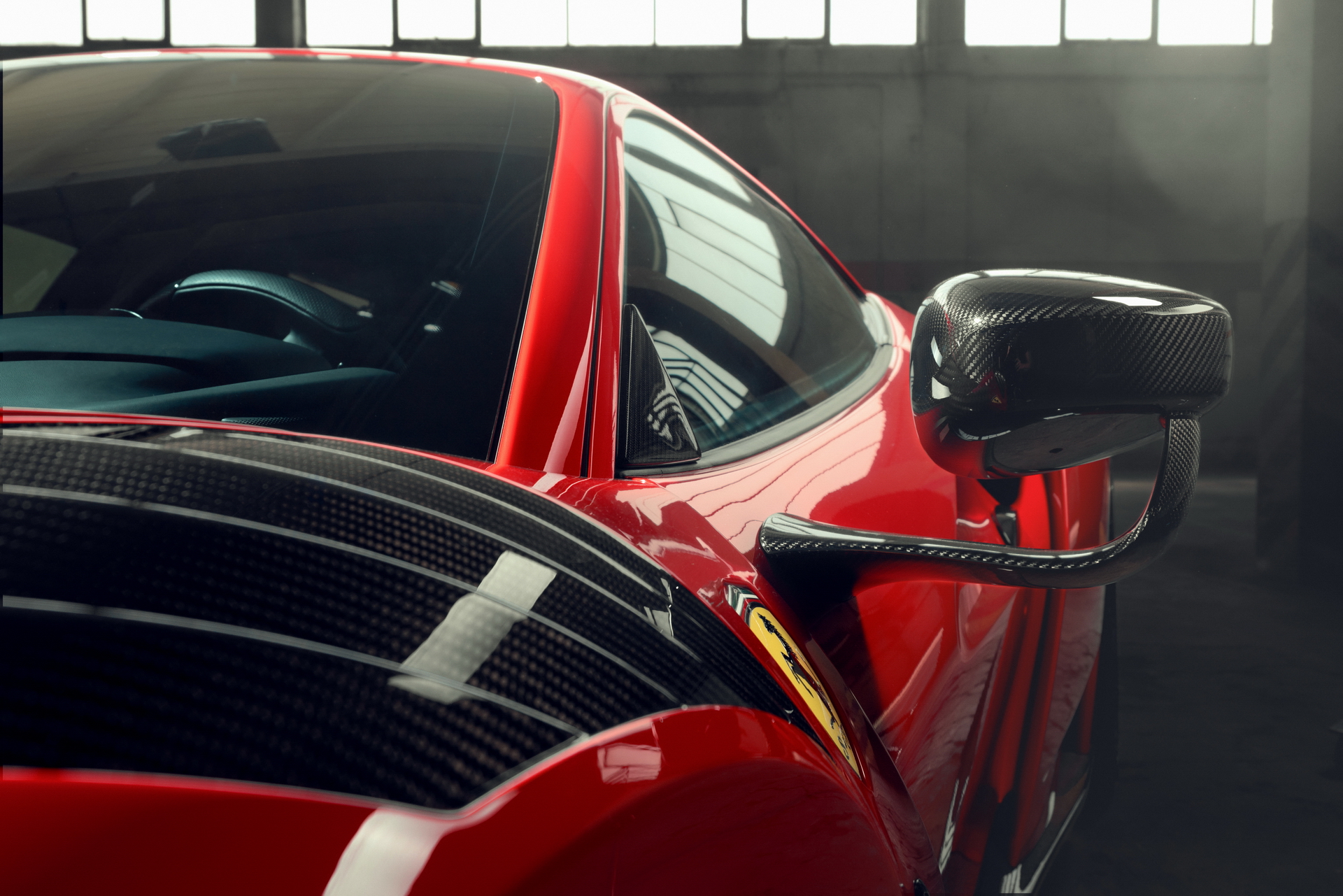 Because of the wider fenders both front and rear, NOVITEC had to create a bespoke set of side sills to match the increment, and as always the entire aerodynamic package has been extensively tested in the wind-tunnel for optimum performance in channeling air, but also to make sure they look good, which brings us the front and rear design of this new N-LARGO. The front spoiler receives a pair of side fins for that aggressive look, while the rear comes with its own styling … both are completely replacing the factory original parts to make sure they match the wider fenders perfectly.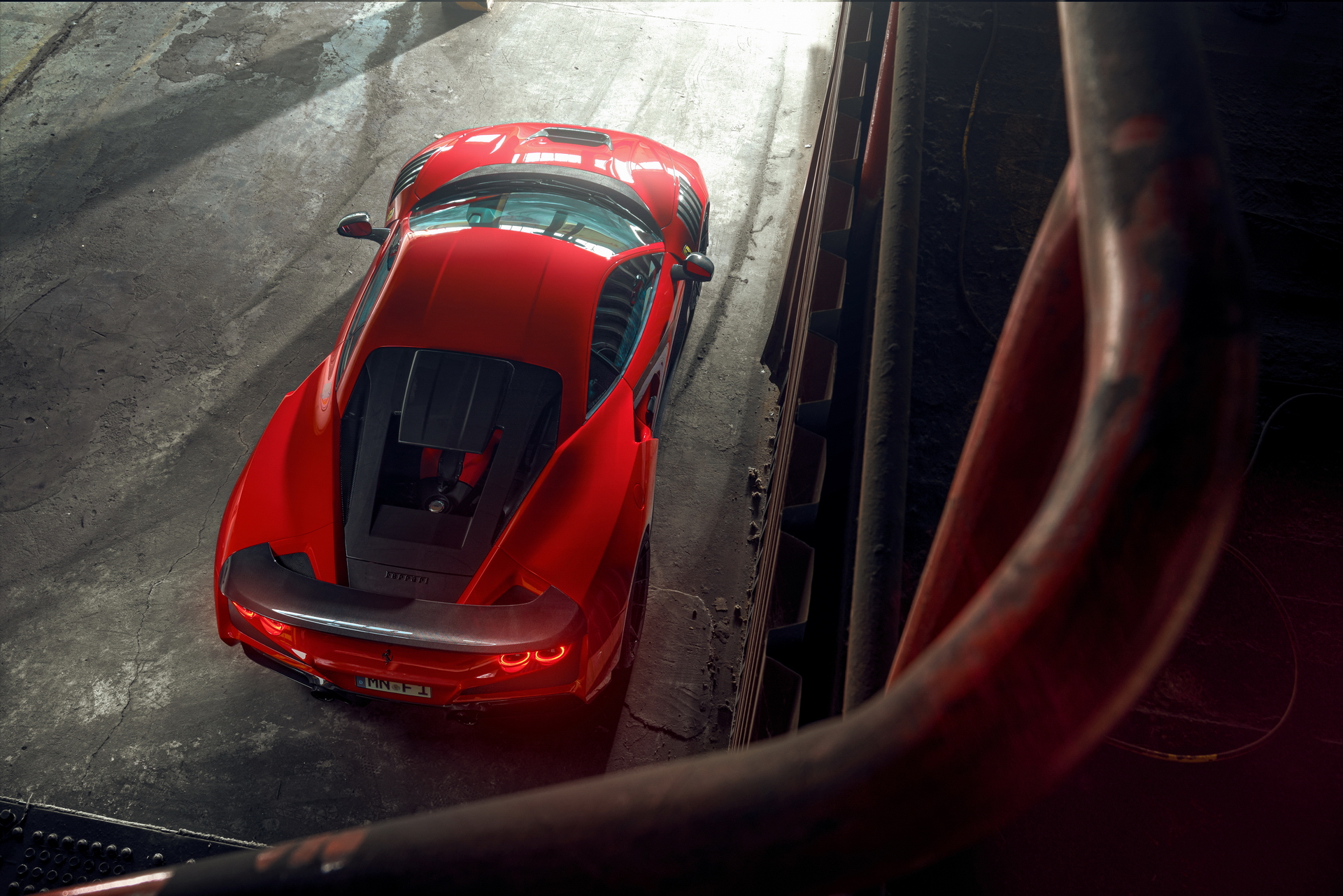 The rear comes with a  so-called 'Ducktail' spoiler, still rather large, but more integrated into the design than a high rear wing on tall struts, add the NOVITEC rear diffuser for optimum downforce on this new N-LARGO, and just to really finish the aggressive styling on the exterior, NOVITEC offers a new engine cover, available in clear carbon fiber, and with an integrated air intake that boasts a scoop mounted just above the roofline, and it effectively optimizes air circulation in the engine bay.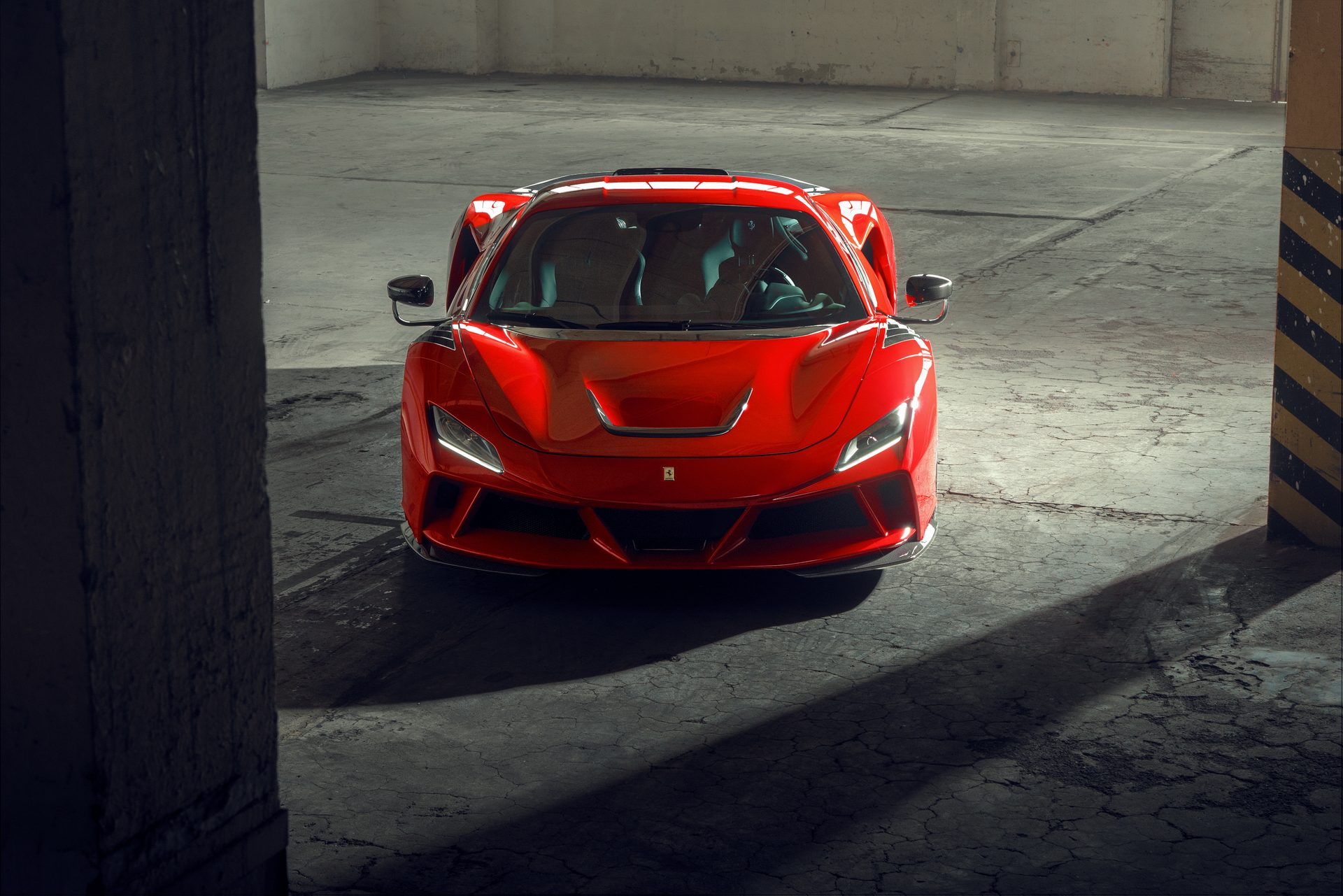 And while you can opt for all these NOVITEC N-LARGO parts to be painted to match the car, I would go for this clear carbon fiber finish, and even get the optional cowl for the front hood in the same lightweight material, you can also get carbon fiber covers for the factory mirrors, however, NOVITEC also lists N-LARGO bespoke side mirrors and quarter lights … all made from lightweight carbon fiber naturally.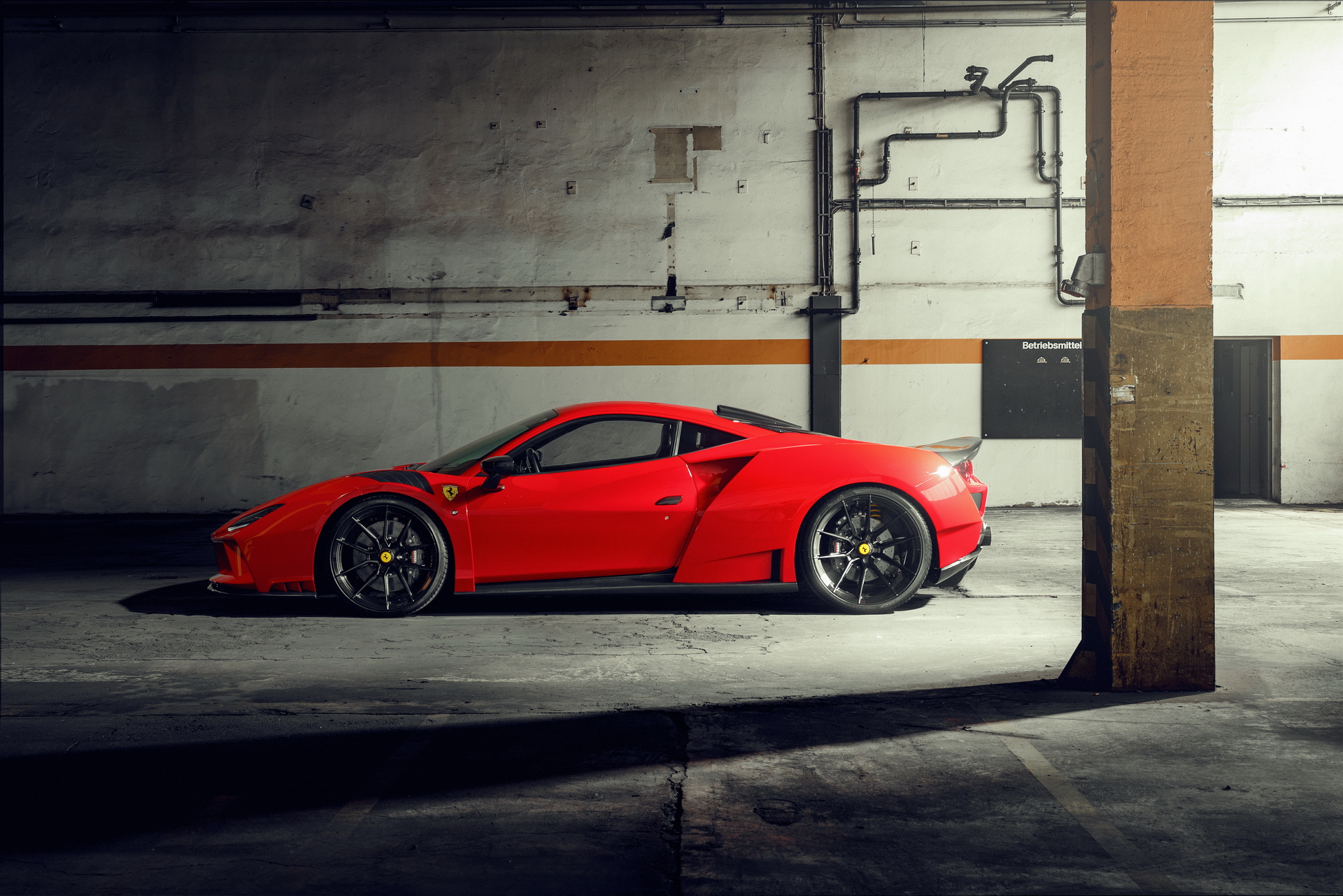 The NOVITEC N-LARGO rides about 35 mm lower to the street than the original Ferrari F8 Tributo, which could cause problems getting into your garage, or drive onto a speed bump, but fear not, NOVITEC has you covered here too, raising the car by about 40 mm at the touch of a button … just press the button again to go back to a more ground-hugging stance, or speed up to 80 km/h after which the car lowers itself automatically.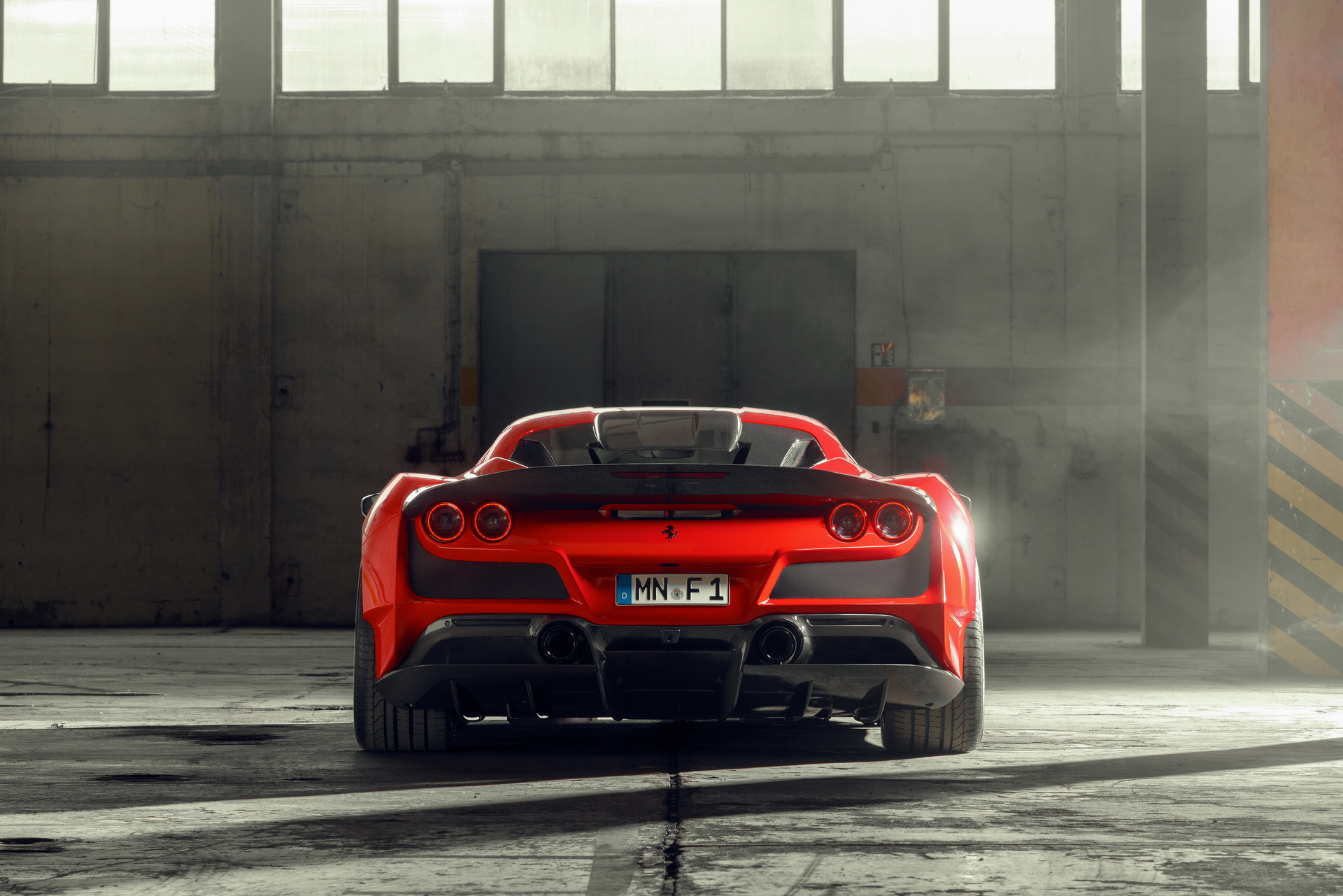 With looks like this new N-LARGO, you just need the power to match, so NOVITEC can increase the original power output by 98 hp to an impressive 818 hp at 7,960 rpm, with 903Nm of torque at 3,100 rpm, not only by fitting a NOVITEC N-TRONIC control module to the engine but also by installing a bespoke exhaust system with carbon fiber and stainless steel exhaust tips, while the rest of the exhaust system can be made from extremely light INCONEL.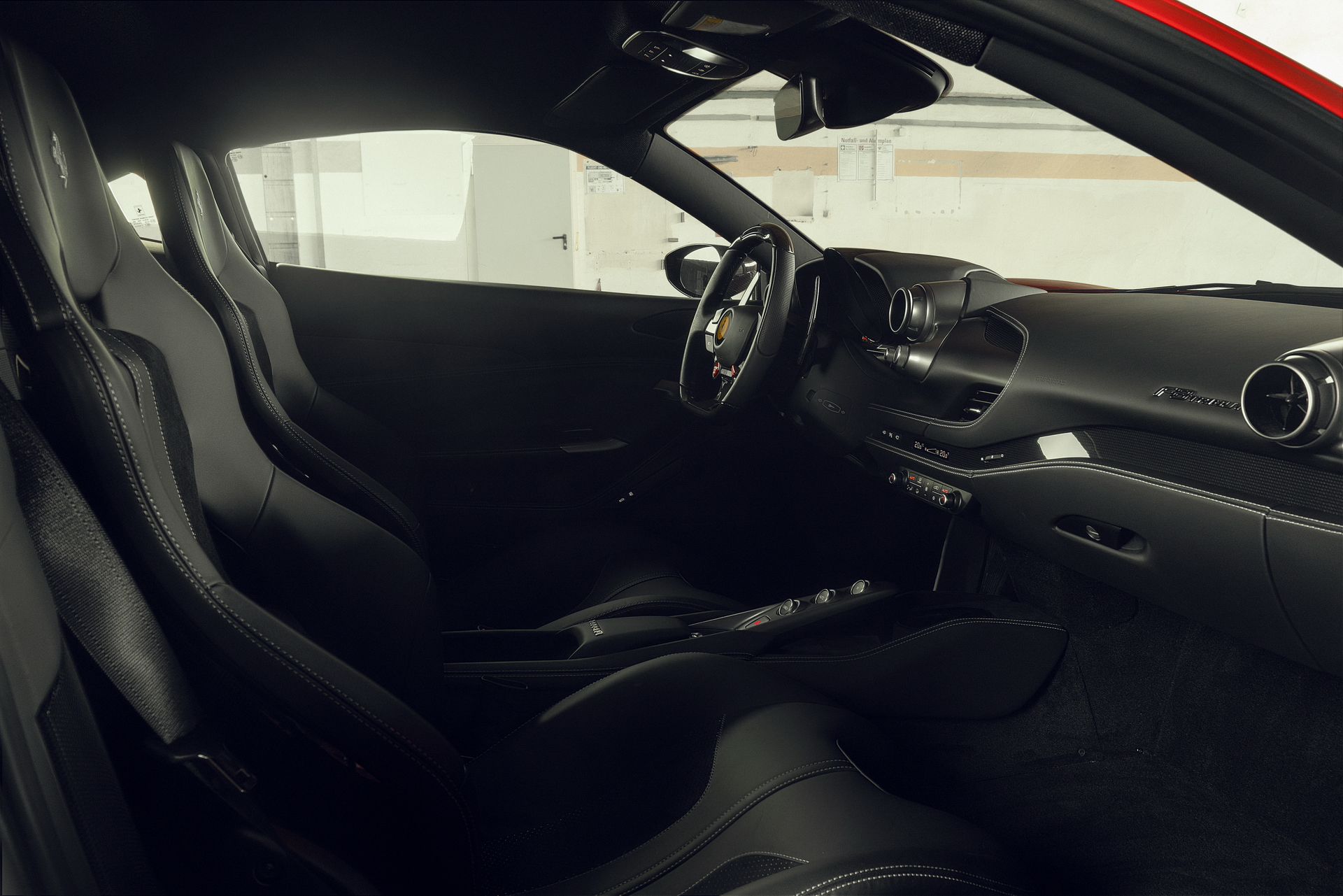 Even with the additional width of the car and the massively wide wheels and tires that also create additional drag, this NOVITEC N-LARGO can still accelerate from 0 to 100 km/h in a mere 2.6 seconds, getting to 200 km/h takes 7.4 seconds … the impressive top speed is above 340 km/h, with only 15 units to be made you might want to get in touch with NOVITEC quickly if this N-LARGO is something that might interest you.