Friedrich Performance is a new tuning brand from Friedrich Motorsport, located in the Bavarian town of Lichtenfels in Germany, Dirk Friedrich founded the company back in 1992 and became a well-known developer of sport exhaust systems and carbon fiber parts, today a total of 44 employees are creating automotive art at two different locations.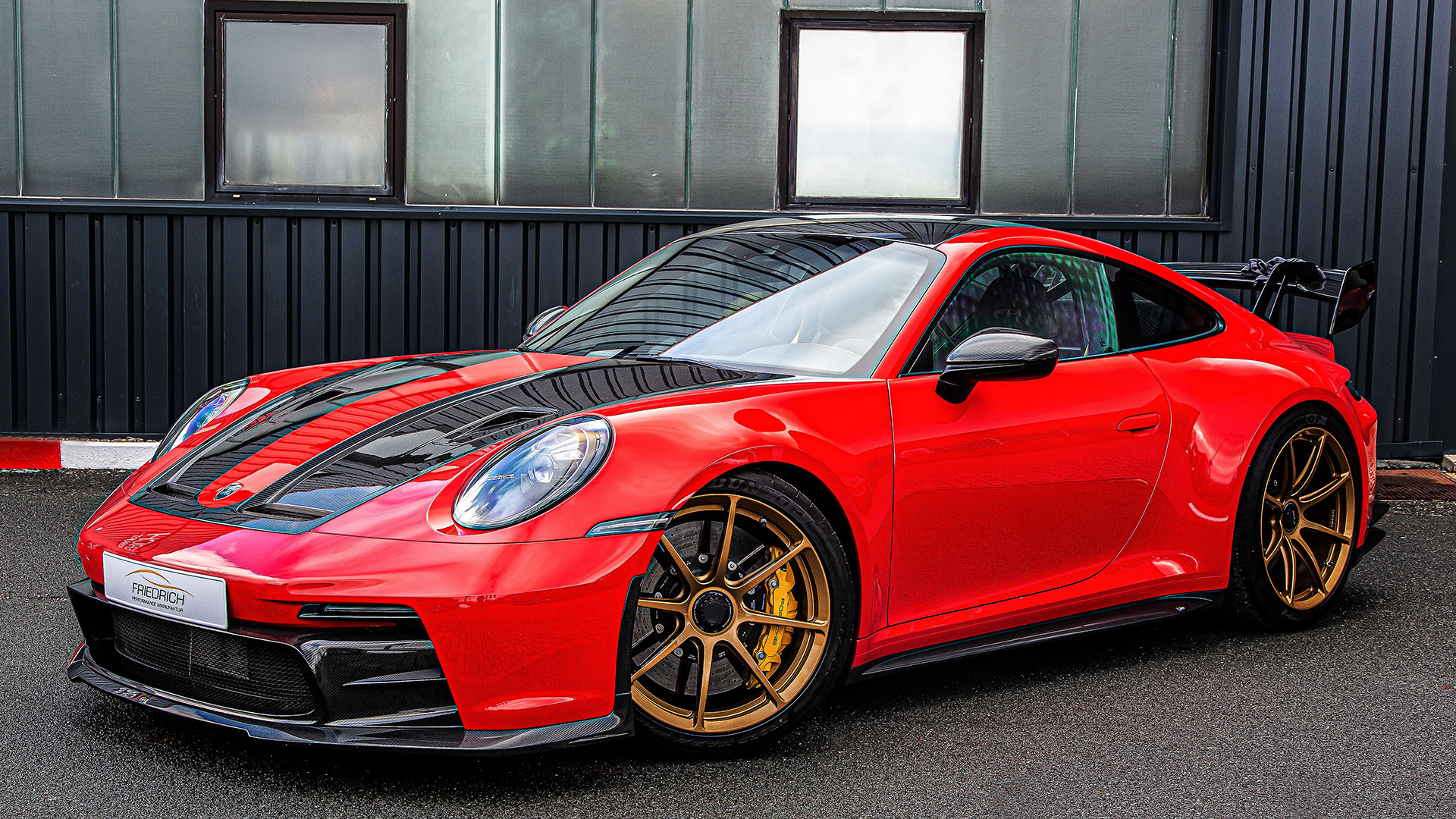 Friedrich Performance sets the foundation for a tuning range to refine the current Porsche 911 GT3 version, naturally with a valve-controlled stainless-steel high-performance exhaust system that effectively adds 31 hp of power to the already potent base car, at the same time this exhaust comes with a weight reduction of 9 kgs from the factory unit.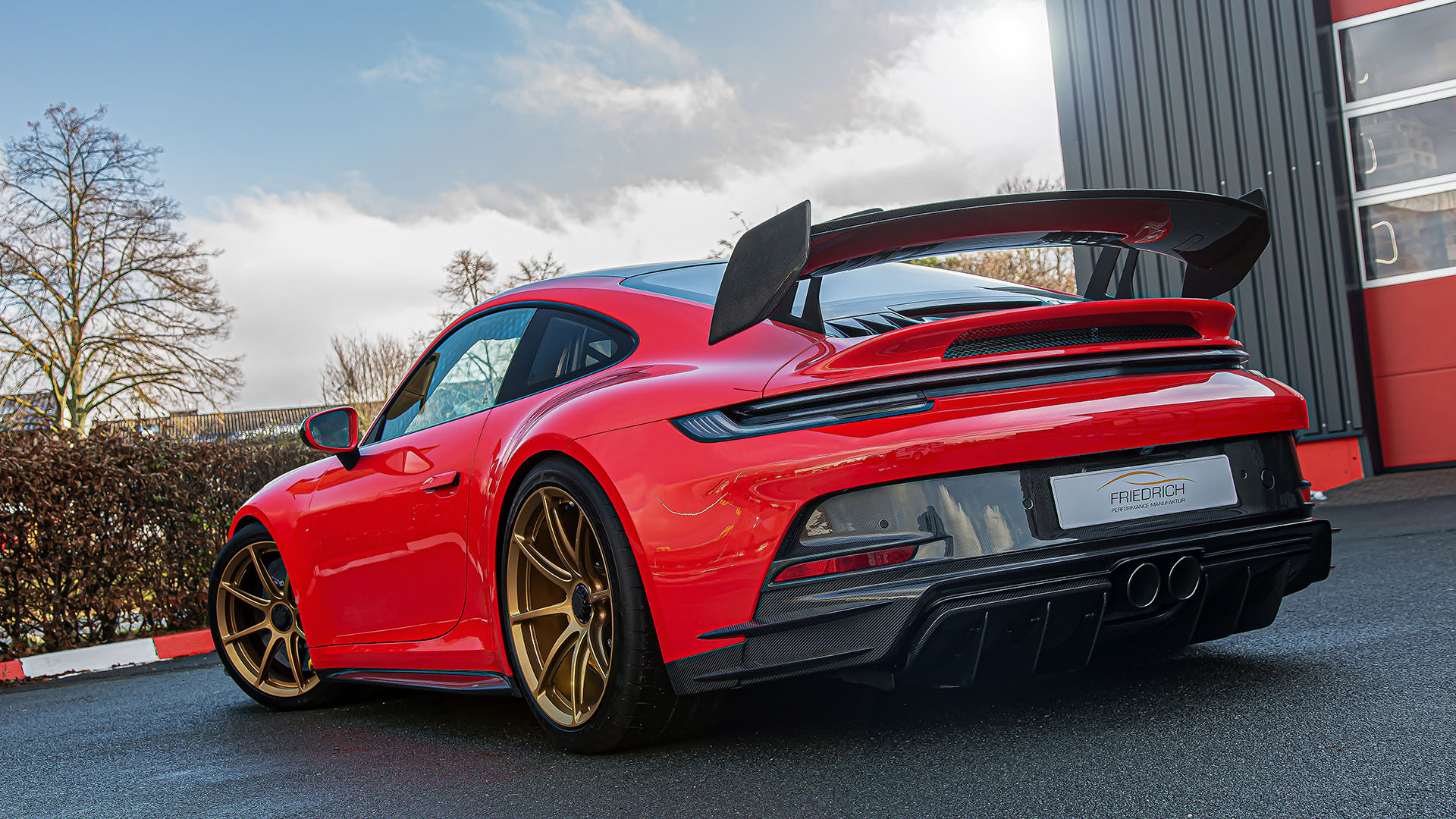 To get the perfect sound and performance from the four-valve, six-cylinder engine in the Porsche 911 GT3, Friedrich Performance developed an exhaust system in multiple variants, starting at €3,998 with a stainless sports rear muffler, which can be combined with four different 100-millimeter tailpipe variants and a carbon cover. Customers can also go for a 999 hard gold plating version, which is not only very efficient but also looks amazing.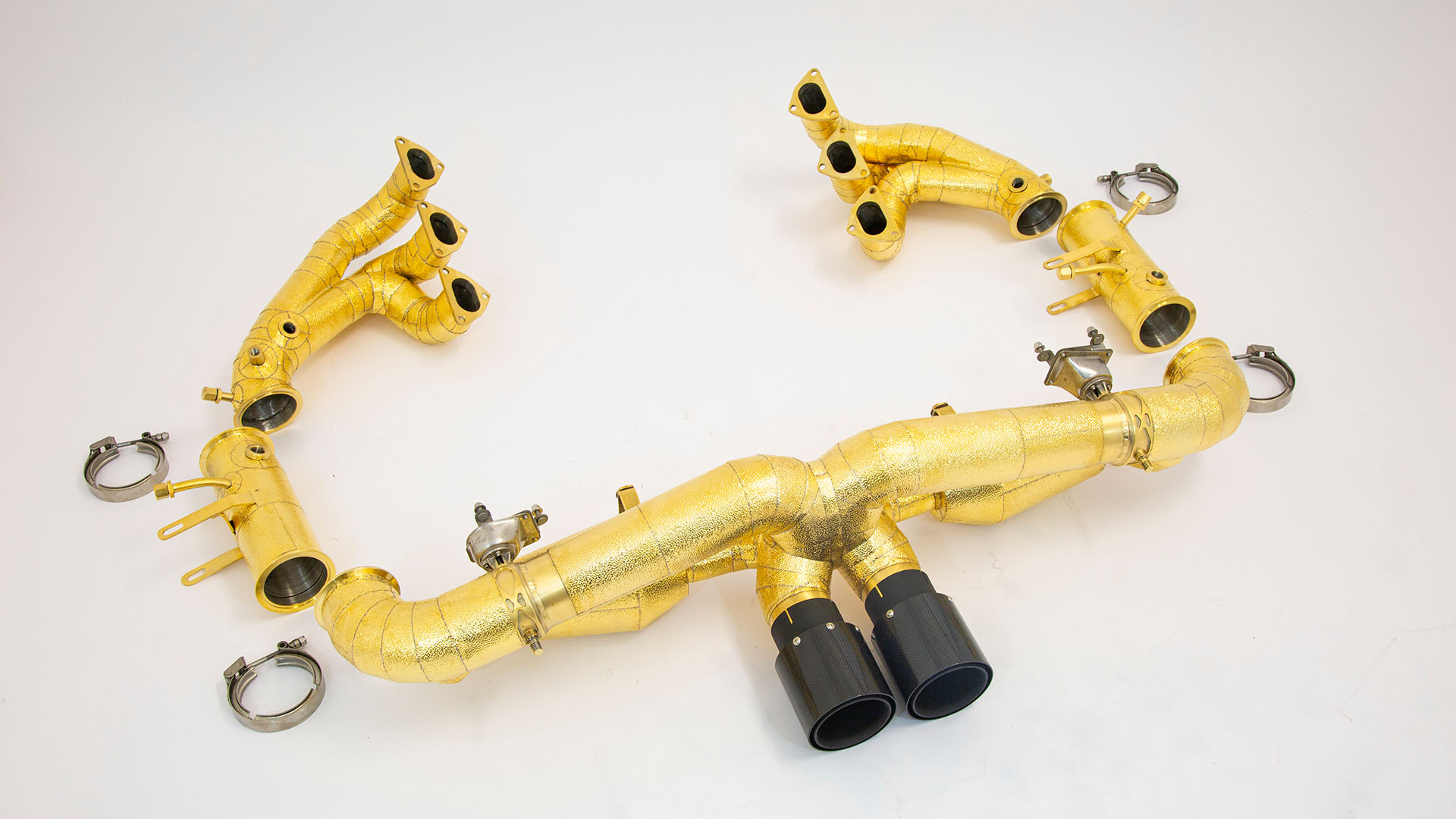 But at the top of the line, you get the Friedrich Performance racing system that was specifically developed for GT3 owners to take their Porsche to track days and club races, not only does it shave 9 kgs of weight, but it also offers the aforementioned increase in power, and it also includes elaborately calibrated racing headers that optimize the exhaust flow while special 200-cell elements replace the production catalysts.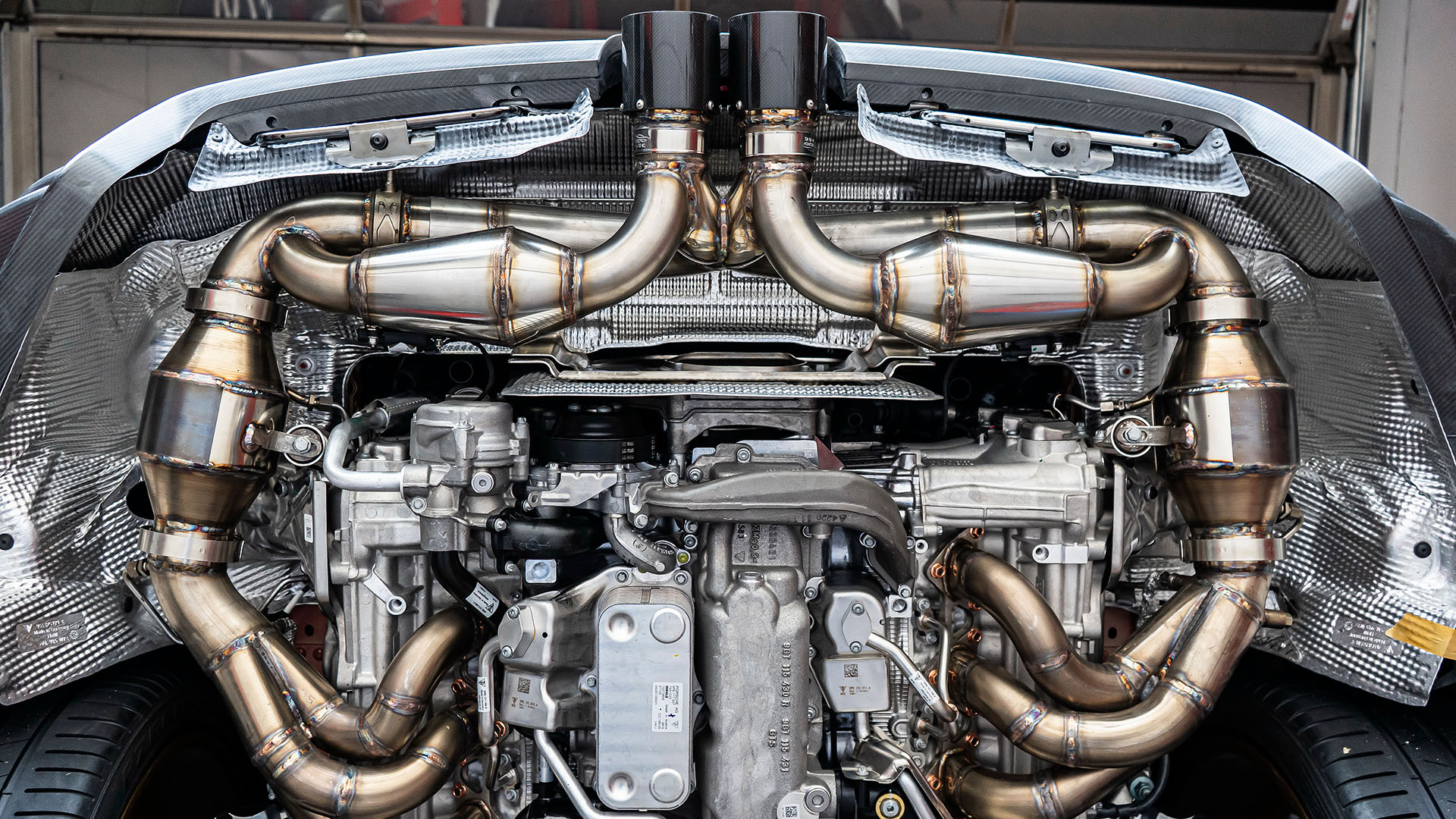 Total power output with this high-end exhaust comes in at 541 hp at 8,500 rpm and boasts a torque increase to 482 Nm, now the Porsche 911 GT3 with her seven-speed dual-clutch transmission can go from zero to 100 km/h in a mere 3.3 seconds, while the 200 km/h mark is reached after just 10.3 seconds, the top speed is in excess of 320 km/h in this Freidrich Performance GT3.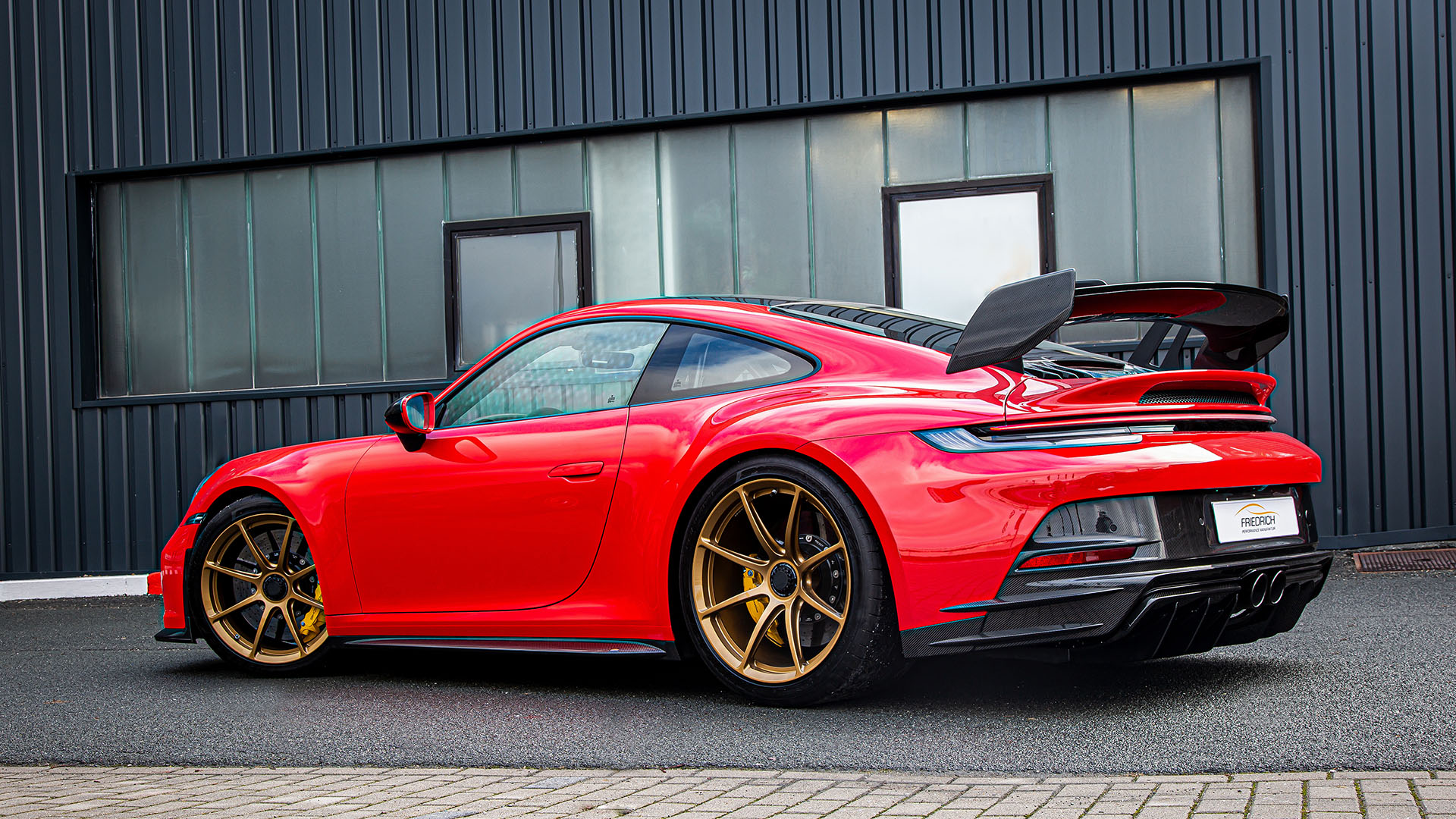 But the car seen in these photos isn't just fast, she's also beautiful thanks to the Friedrich Performance upgrades to the bodywork, laminated from carbon fiber and baked in an autoclave under pressure for maximum strength despite the lightweight construction which saves several kilograms in weight compared to the plastic production parts, the client can spec these parts in either high-gloss finish or with a stylish matt coating.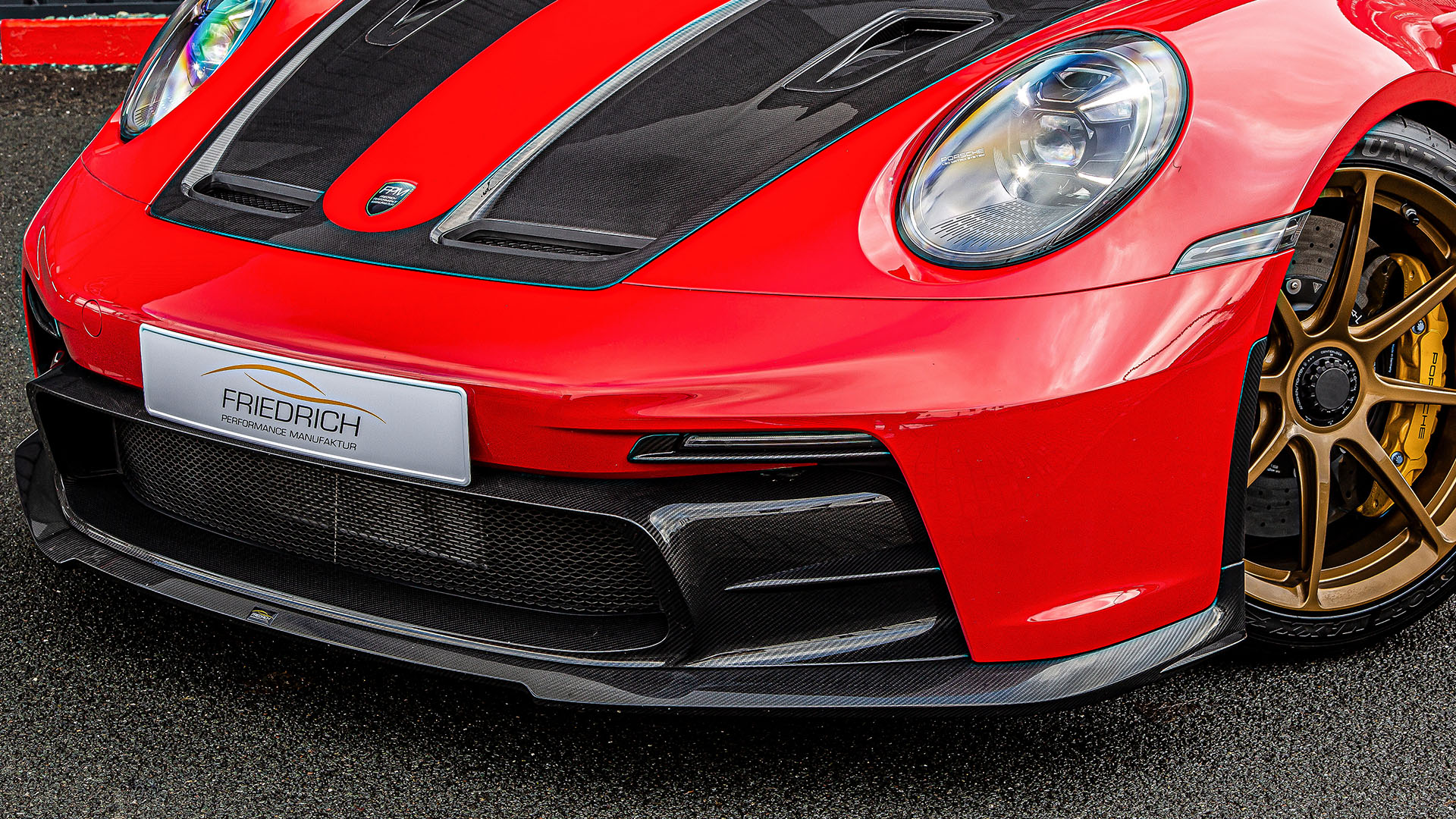 There is a new carbon center section with a large, mesh-covered intake supplying cold air to the radiators together with a bespoke airflow for the brakes, additional downforce for the front axle is achieved with a horizontal fin in each of the side cooling ducts, while a new carbon lip spoiler at the front further amplifies this effect and consequently further increases the handling stability at high speeds.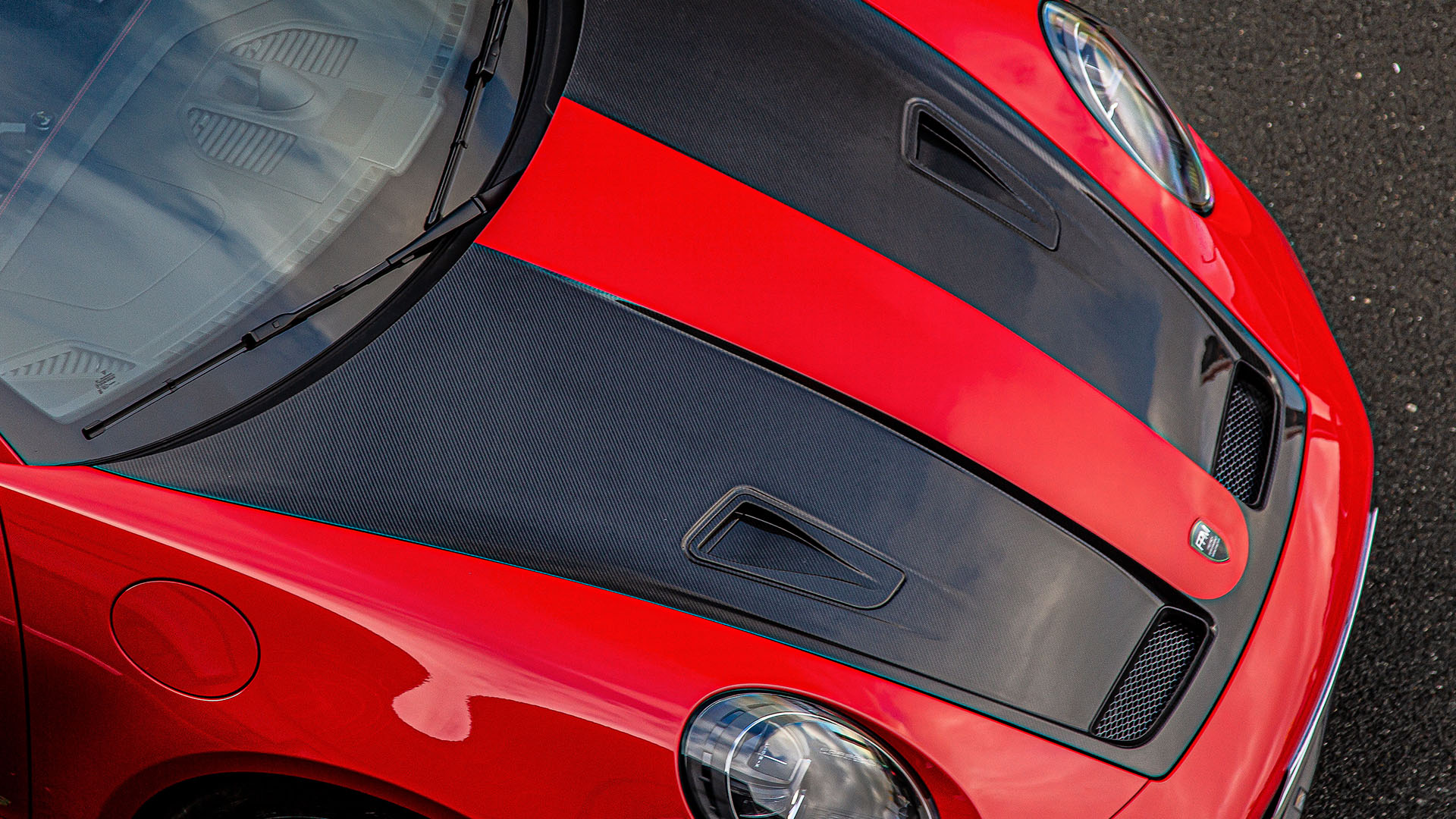 Friedrich Performance also offers a replacement front trunk lid made entirely from visible carbon featuring exhaust vents for the front radiators and two NACA intakes for that track-inspired look, which is further emphasized by the carbon fiber side sills and covers for the exterior rearview mirrors made from the same lightweight material.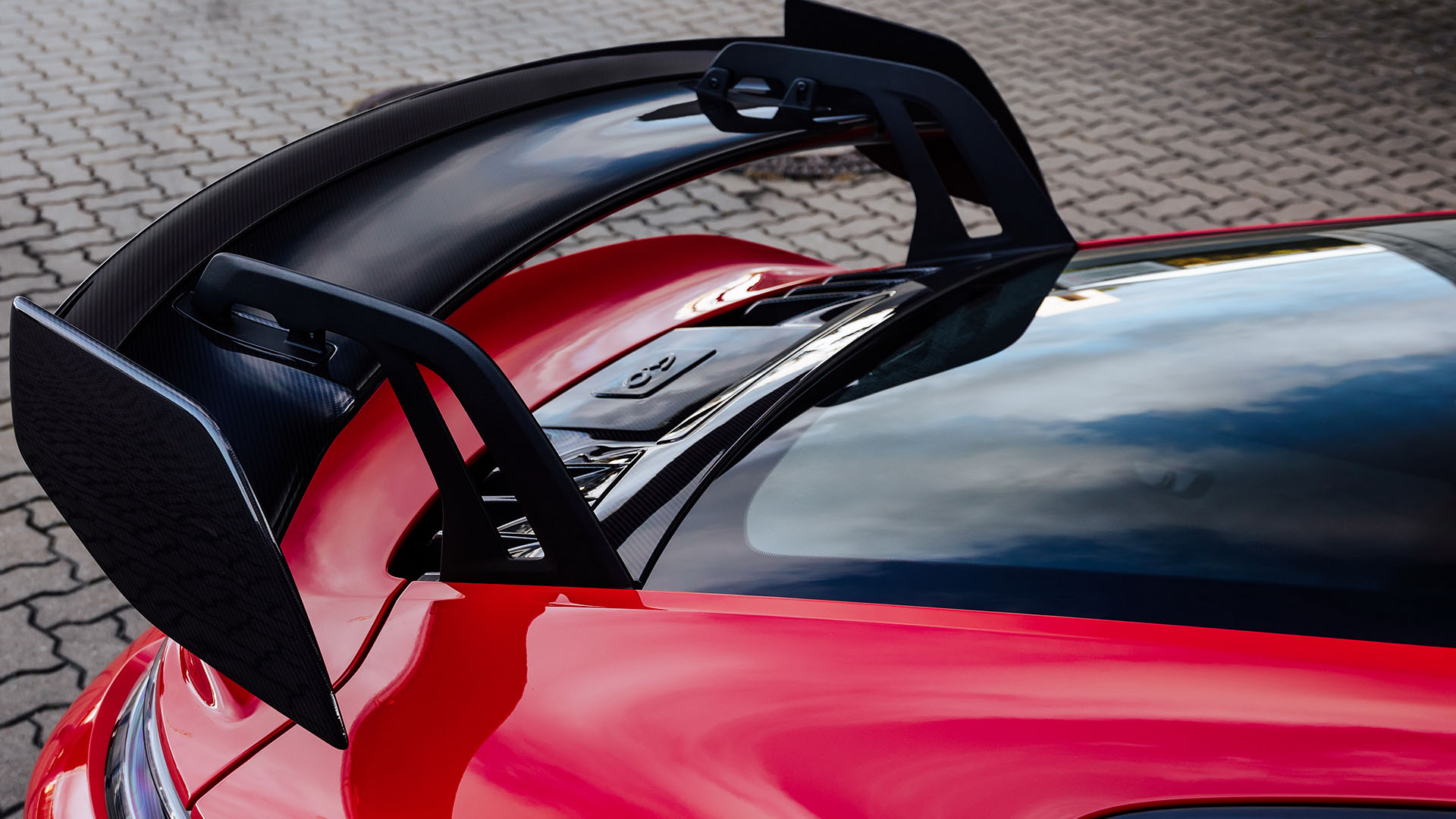 At the rear, we find the factory original 'hanging' rear wing, also known as a swan-neck-mounted wing, but Friedrich Performance just had to add a carbon fiber part to replace the original black spoiler while the two endplates on either side are enlarged on this car, adding a new rear diffuser with vertical fins for added stability at high speeds to perfectly surround those new 100mm exhaust tips … just in case you are wondering, the entire kit adds up to €35,000.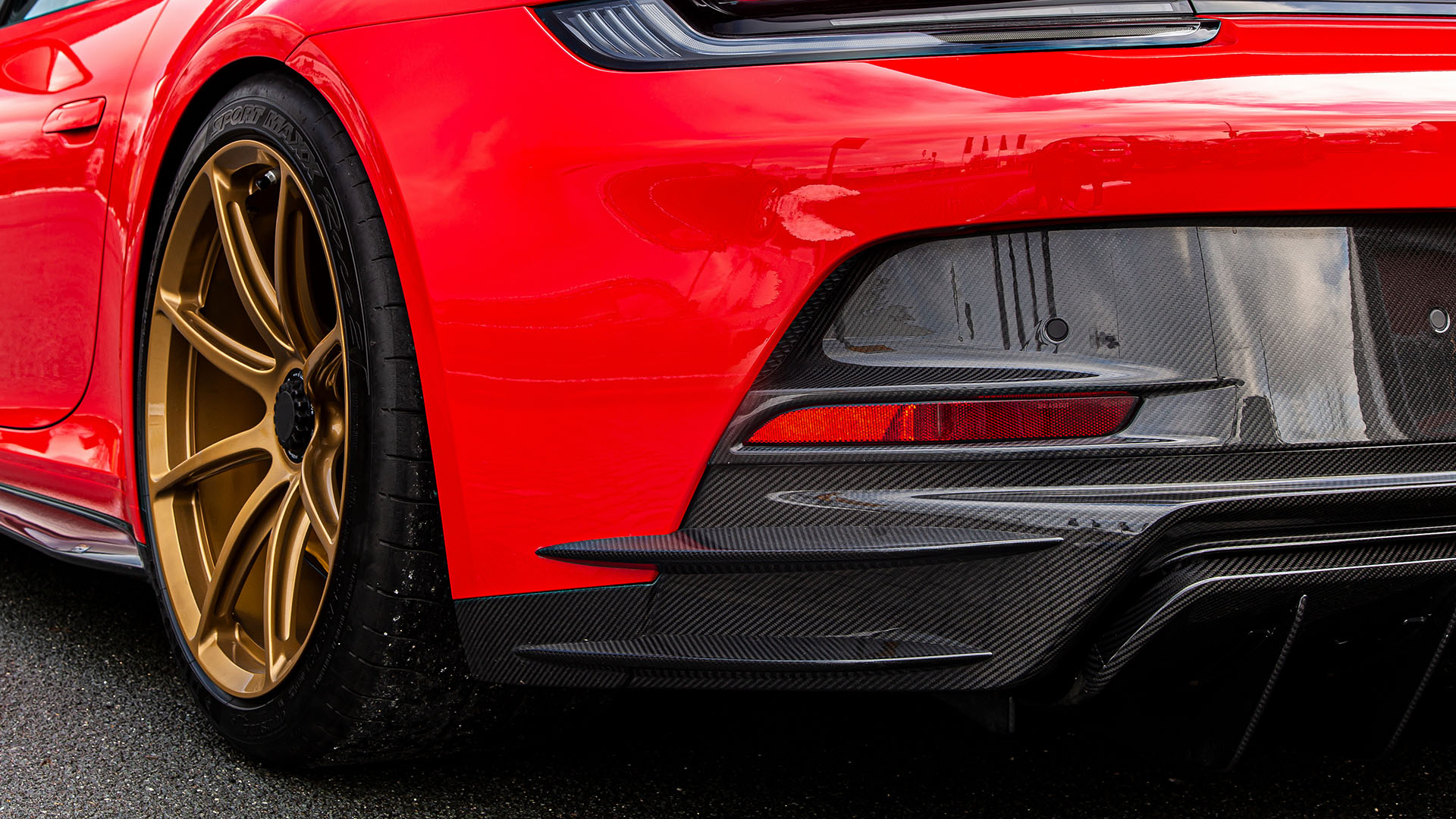 The wheels on this demo car from Friedrich Performance are forged units in an impressive 12.5 inch width for the rear, at the front we find 9.5 inch wide units, in a staggered 20 and 21 inch side front to back, with 265/35 ZR 20 for the front ones and 325/30 ZR 21 for the rear … priced at €14,500 if you want to know.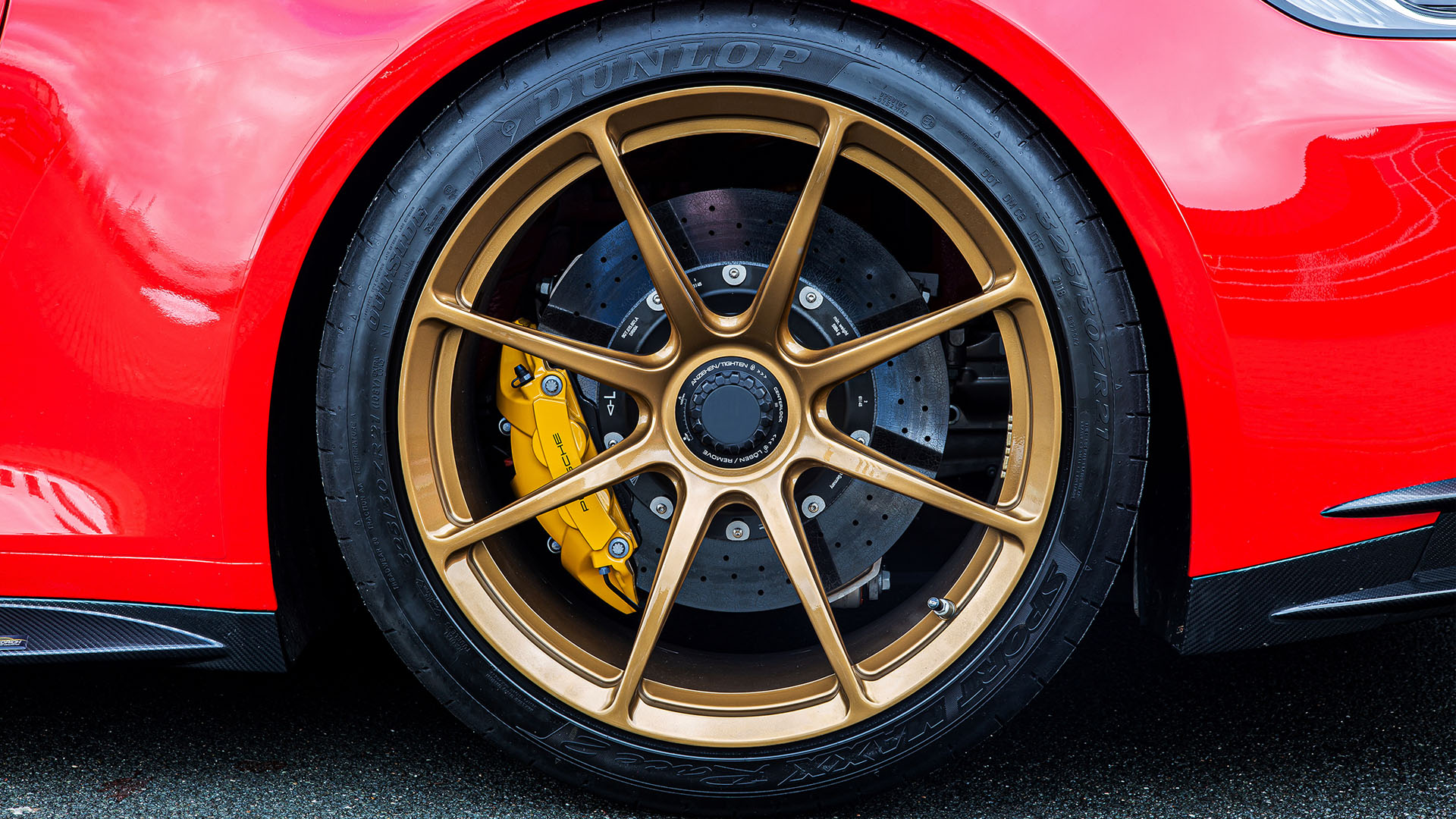 We all know a car with a body kit as impressive as this one, and a set of amazing wheels, just needs a lowered suspension too, and in this case, Friedrich Performance created a custom height-adjustable stainless coil-over suspension that can be set to the exact requirements of the driver, damping for the front and rear can be set individually, and they even managed to retain the factory original front axle lift system.