Gordon Murray Automotive T.50s Niki Lauda
Gordon Murray Automotive has just unveiled the T.50s Niki Lauda, a track-focused car that was developed in parallel with their T.50, the most driver-centric supercar ever built, the T.50s Niki Lauda has been conceived, designed, and engineered to offer the ultimate on-track driving experience.
T T.50s Niki Lauda weighs just 852kg and will be powered by a substantially redesigned version of the T.50's Cosworth-engineered 3.9-litre V12, producing 725bhp, revving to 12,100rpm, coupled to a newly-designed Xtrac six-speed paddle-shift gearbox. And yes, the 400mm fan at the rear is still present, together with advanced aerodynamics to produce up to 1500kg of downforce for the best track experience yet.
Production has been limited to 25 units of the special T.50s Niki Lauda, each with an MSRP of £3,100,000 before taxes (about $4,400,000), and you'll have some time left to come up with that kind of money as production only starts in January 2023, after the run of 100 T.50 supercars is completed.
Professor Gordon Murray CBE: "The T.50 is the ultimate road-going supercar, but I always dreamed of taking it one step further… to build a version that will deliver an on-track driving experience like no other car in history."
With the T.50s Niki Lauda they had no interest in achieving the ultimate lap time or creating an over-engineered spaceship looking vehicle at the expense of the driver, the T.50s Niki Lauda can be driven by someone who isn't a professional F1 driver, and still be able to get the best out of the car.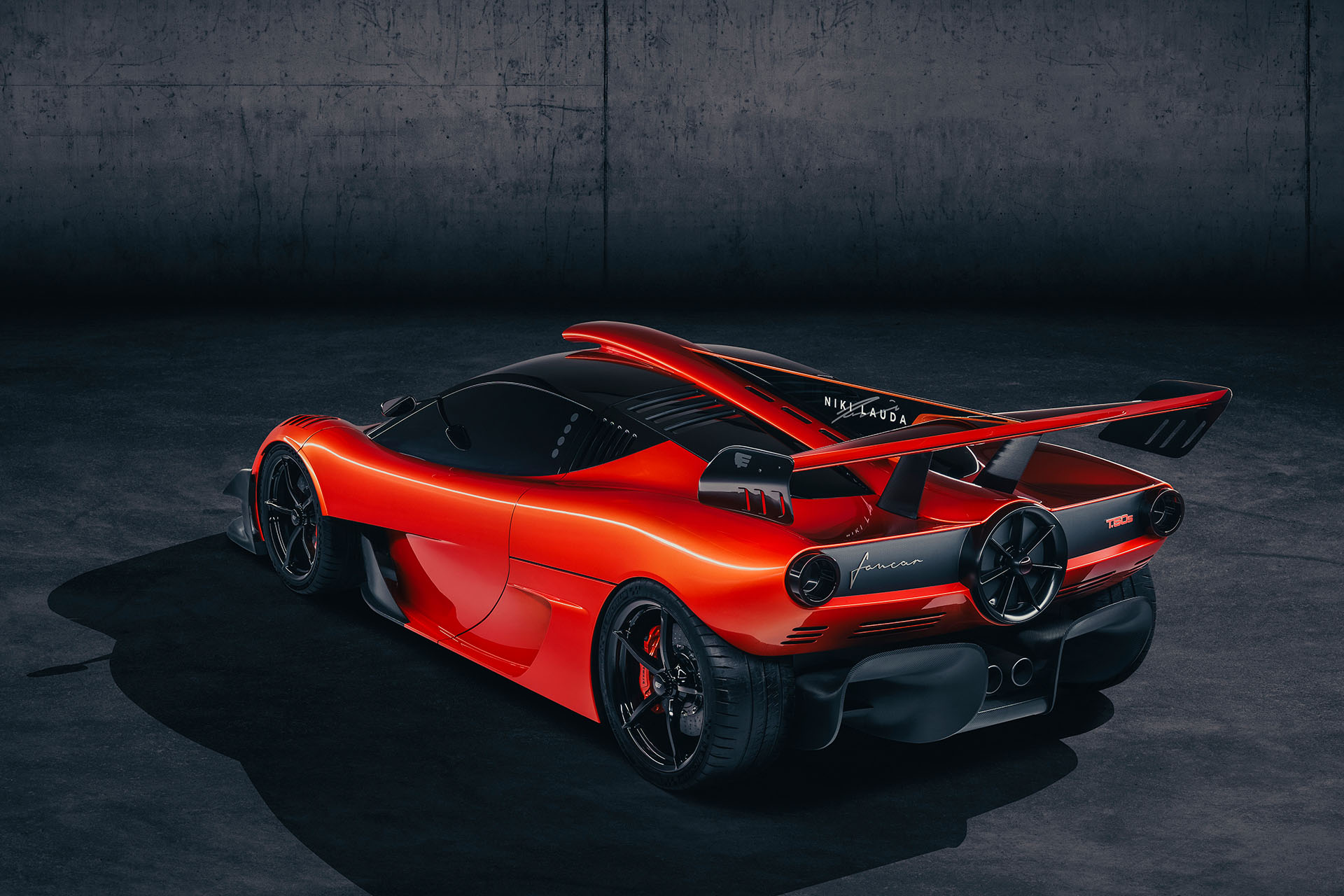 Just like an F1 car, and the legendary McLaren F1 road car, the T.50s Niki Lauda comes with a central driving position, and a high-revving V12 engine just inches behind the driver, delivering more than 700 hp. Maximum downforce has been set at 1,500 kg for a car that itself weighs less than 900 kg …this is a track-day beauty you can drive without an entire support team, just show up, and drive!
With 725 hp in a car that puts only 852 kg on the scales, you are looking at a power to weight ratio that's better than a naturally aspirated LMP1 car, and it drives like an F1 car too … and with a 12,000 rpm engine and next to no silencers, it will scream like an F1 car too.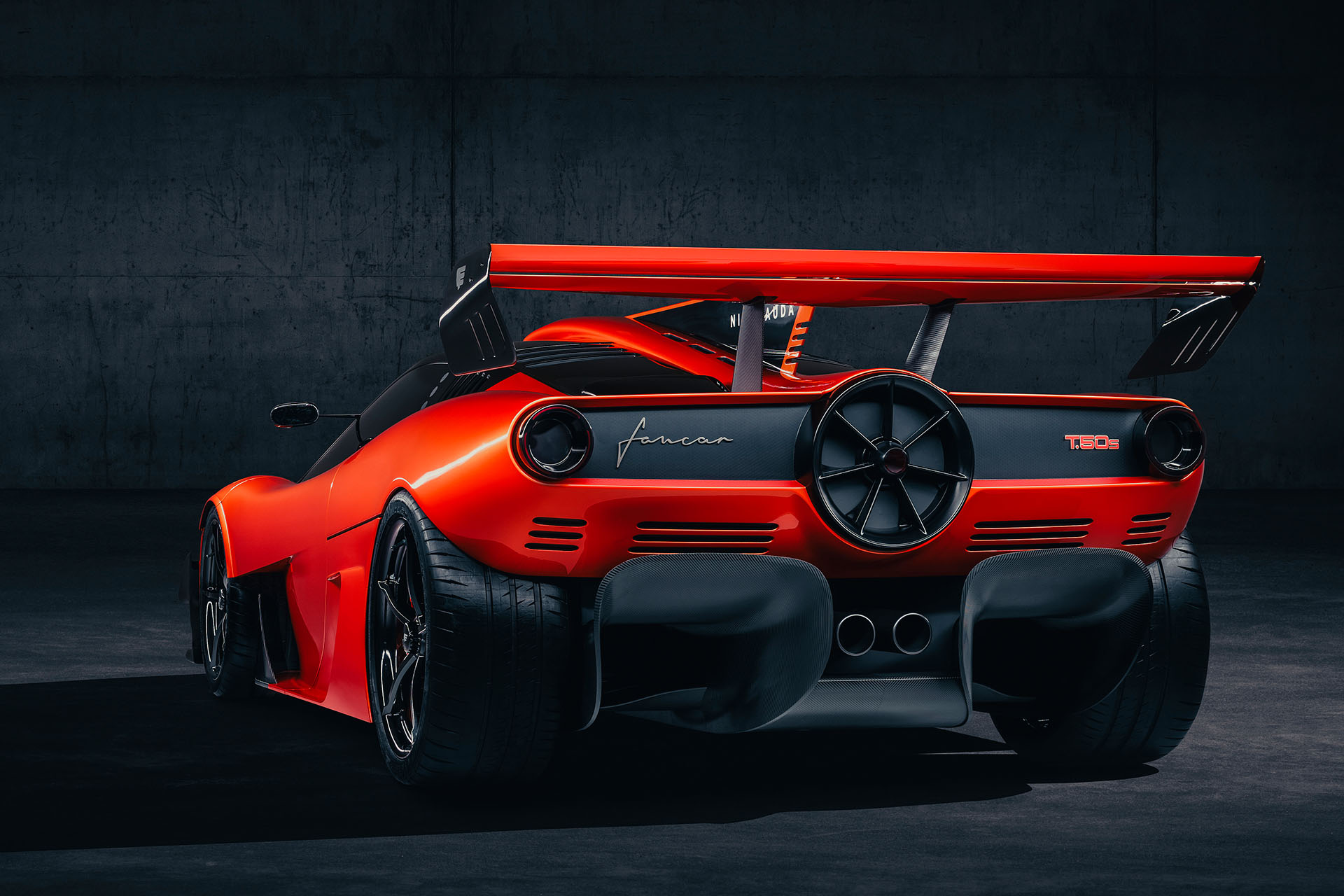 Starting with a car like the T.50 and making it even more impressive might not be a simple task, but Gordon Murray and his team managed just that when they created the T.50s Niki Lauda, and they still kept it classic. A massive central fin stretching from the top of the roof to the rear lip of the car, not only adds vertical stability at speed, but it also allows to show the Niki Lauda logo, a bigger rear diffuser, and a new rear wing, inspired by the front wing on Murray's 1983 Brabham BT52 Formula One car, changes the looks even further from the road car.
Naturally at the front things were modified for the T.50s Niki Lauda too, improved airflow into the side intakes, but also a special splitter, all inspired by aerodynamics, in fact, not a single body panel from the T.50 road car has been used on this track-only version, the intention is to create 25 individual car by offering a plethora of choices for both paint and liveries.
While the T.50 also uses a Cosworth-designed V12 engine, the one for the T.50s Niki Lauda is almost completely different, capable of hitting the rev-limiter at 12,100 rpm, the use of a roof-mounted, RAM induction airbox can increase the maximum power output to 725 hp with a compression ratio of 15:1, maximum torque of 485 Nm is achieved at 9,000 rpm … and with a 'straight-through' exhaust you might want to consider earplugs.
At this point, the lightest V12 road-going engine weighs 178 kg, this new Cosworth GMA V12 puts only 162 kg in the car, this is achieved by using titanium valves, and no, there isn't a variable valve timing system here because that would be too heavy, instead, there are 12 individual throttle bodies on top, fed by a race-inspired airbox. No catalytic converters, thin Inconel tubing, and small silencers … the T.50s Niki Lauda isn't intended to be silent.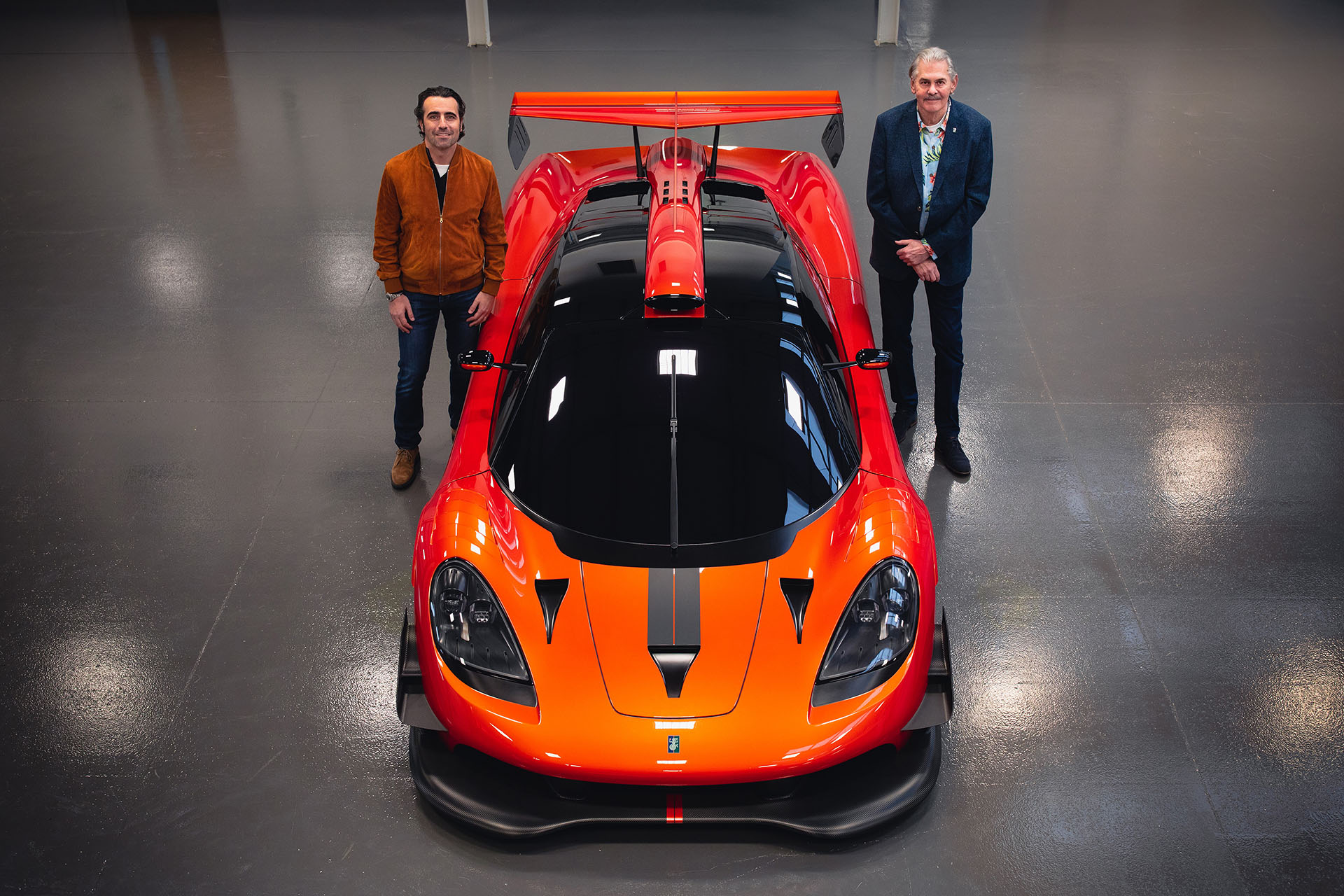 A bespoke Xtrac IGS (Instantaneous Gearshift) six-speed paddle-shift gearbox is fitted, designed to fit the exacting packaging and weight demands of the T.50s Niki Lauda. As part of Xtrac's efforts to minimize weight wherever possible, even the gears are lighter, contributing to a 5kg total weight reduction. Both the gearbox and the clutch are electronically actuated.
Ratios have been chosen to optimize on-track performance and driver enjoyment and engagement, delivering a top speed of approximately 200-210mph. A set of closer ratios optimized for shorter circuits will also be offered, allowing owners to make the most of all six gears via the steering column-mounted paddles. In this configuration, the T.50s Niki Lauda will reach around 170mph flat-out.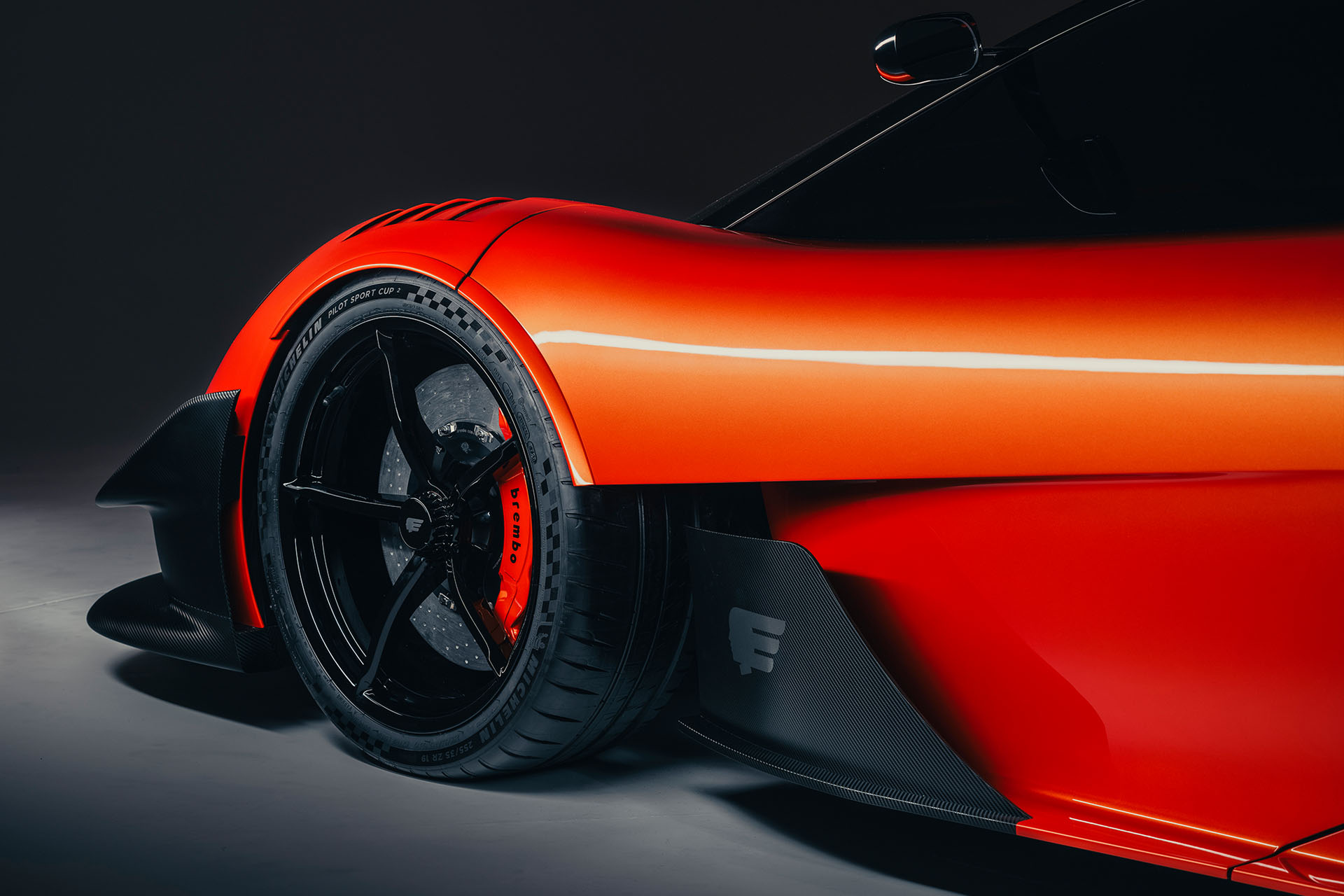 Just about the entire T.50s Niki Lauda is made from carbon fiber, from the lightweight carbon fiber monocoque to the bespoke body panels. The chassis is actually carbon fiber wrapped around a honeycomb aluminum center, there is even an F1-style 'passenger safety cell', while all the glass has been made thinner compared to the T.50 road car, to make this car as lightweight as possible, without compromising on safety.
The T.50 already comes with Brembo sourced carbon ceramic disk brakes (six-piston 370mm x 34mm front/ four-piston 340mm x 34mm rear), and with their 3.5G deceleration, they were deemed enough for the T.50s Niki Lauda, for the latter they did add modified ducts for better cooling. Covering these impressive brakes are bespoke, 18-inch forged magnesium, center-lock wheels that wear Michelin slicks, 250 mm at the front and 300 mm at the rear (25/64 18" and 30/68 18" respectively) … naturally 'wet track' tires are also possible.
Both the chassis and the aero parts on the T.50s Niki Lauda can be adjusted for a perfect balance on whichever track you want to tackle, by adjusting the fins at the front, and the rear wing, you can raise or lower the downforce, lowering the car's ride height further increases it's performance.
Professor Gordon Murray CBE: "When we first ran the CFD we were already ahead of our downforce target. At one point we were achieving 1,900kg of downforce, but we backed it off to 1,500kg to make the car more manageable for the owners."
The T.50s Niki Lauda comes with a central seating position, the 'pilot' has a full racing carbon fiber seat with minimal adjustment, secured by a six-point harness. But the T.50s is a two-seater only, there is a fixed passenger seat to the left of the driver, which also comes with a four-point harness, but on the right side of the driver, you'll find a fire extinguisher system and a vertical switchgear panel inspired by the McLaren F1 GTR. You can even order the T.50s Niki Lauda without a passenger seat to really turn it into a lightweight race car.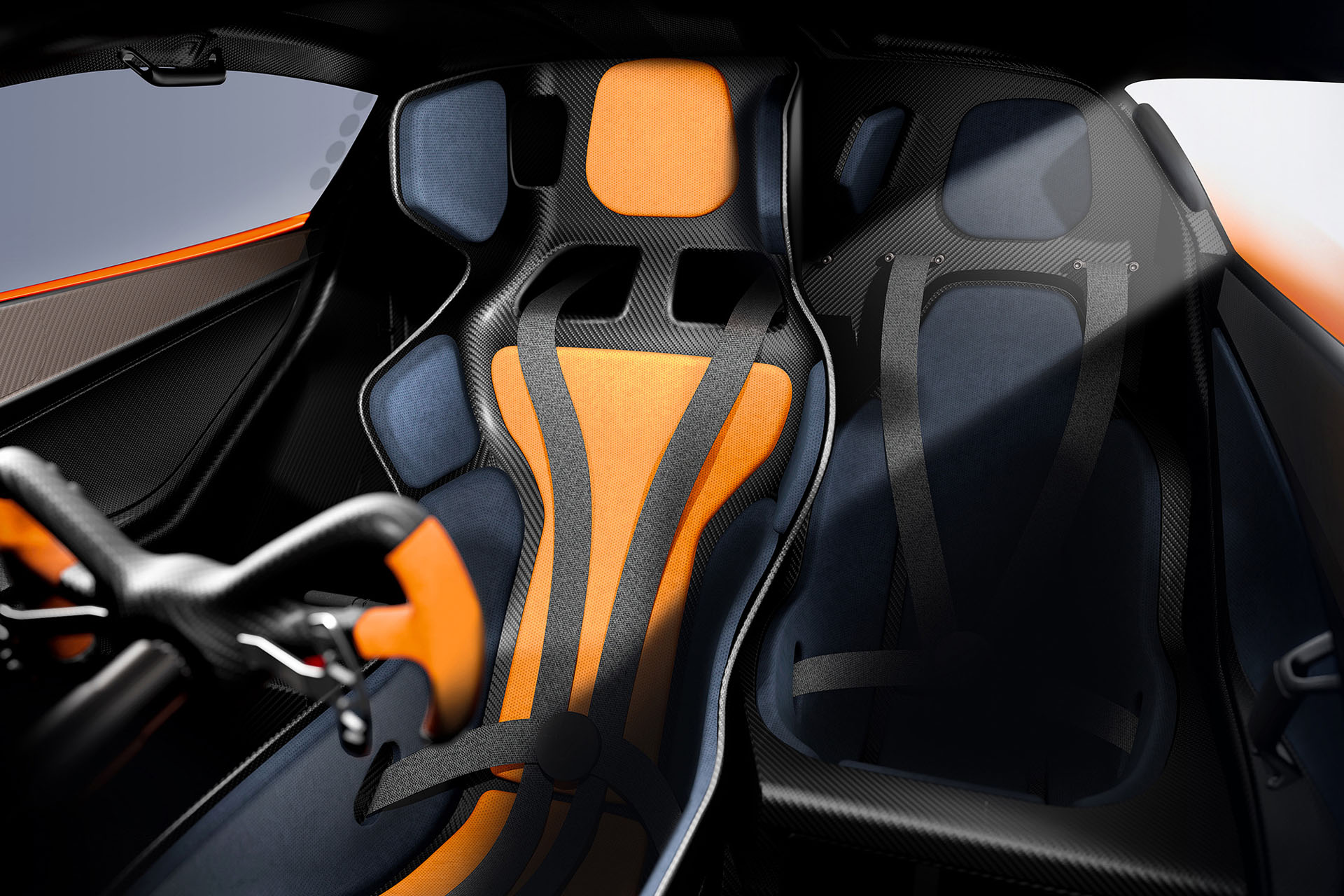 The dashboard inside the T.50s Niki Lauda consists of a single digital screen showing essential data on the car itself and the high-revving V12 engine, added with aero info, the gearchange indicator, telemetry, lap time, tire pressures/temperatures, g-forces, and a camera video feed.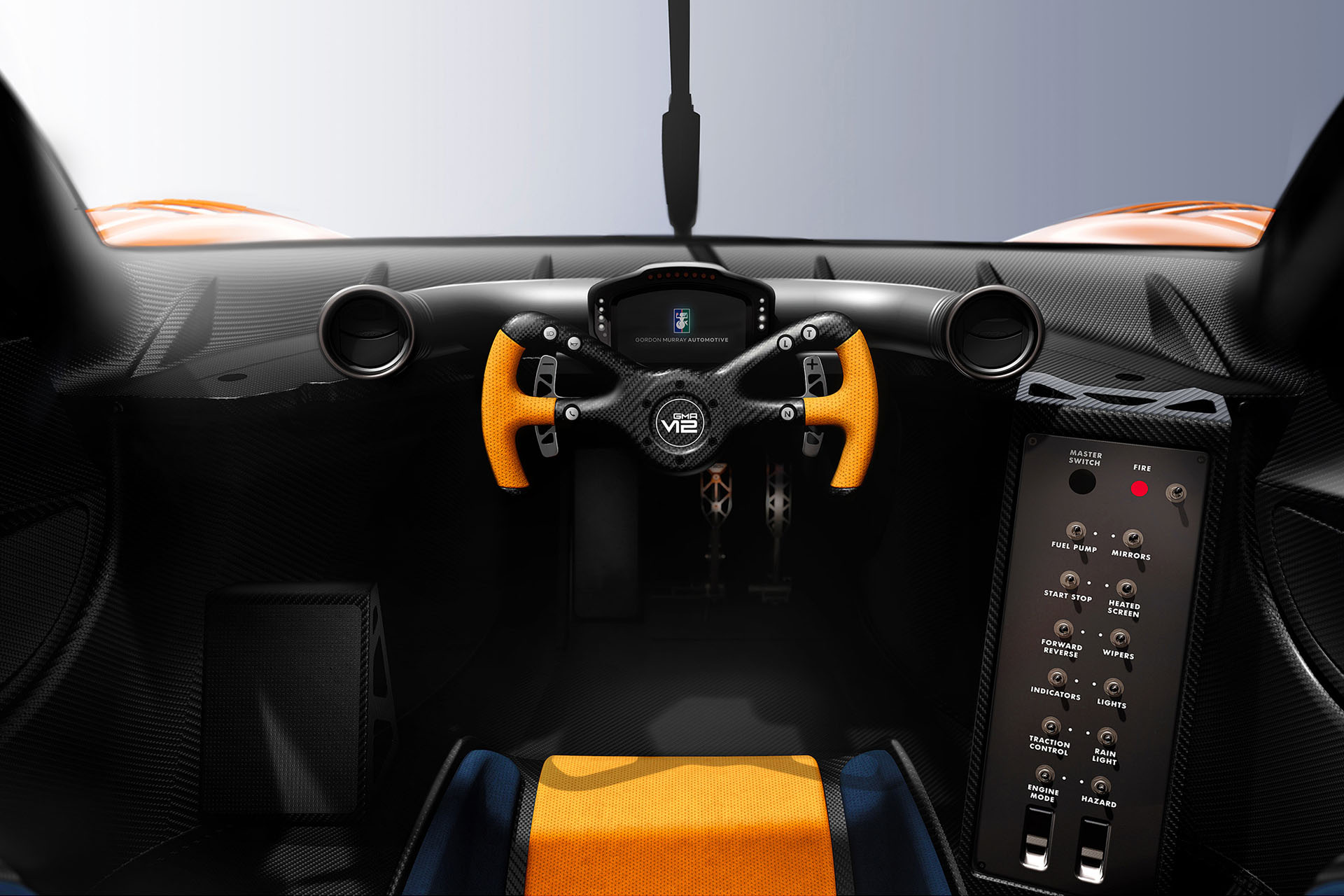 Professor Gordon Murray CBE: "Engineering the ultimate track-focused supercar has to start with the driver. It was essential that we retained a central driving position, with every control arranged within easy reach and with no distractions or unnecessary information on display. And in my opinion, you don't get a better view than that from the central driving position, one which allows you to place the T.50s Niki Lauda with millimeter precision on any circuit. You are left with nothing to take away the pure pleasure of pushing this car as hard as you can on your favorite race circuit."
By now you probably gathered this new T.50s was named after a Formula One legend, none other than three-time world champion Niki Lauda, but it doesn't end there, each individual car will be named after one of Gordon Murray's Grand Prix wins on different circuits. The first car will be designated Kyalami 1974 and further cars will be named after the 24 subsequent wins in chronological order. Each car will also come with a specially commissioned book about the race that it is named after, with Murray's view and memories of the victory.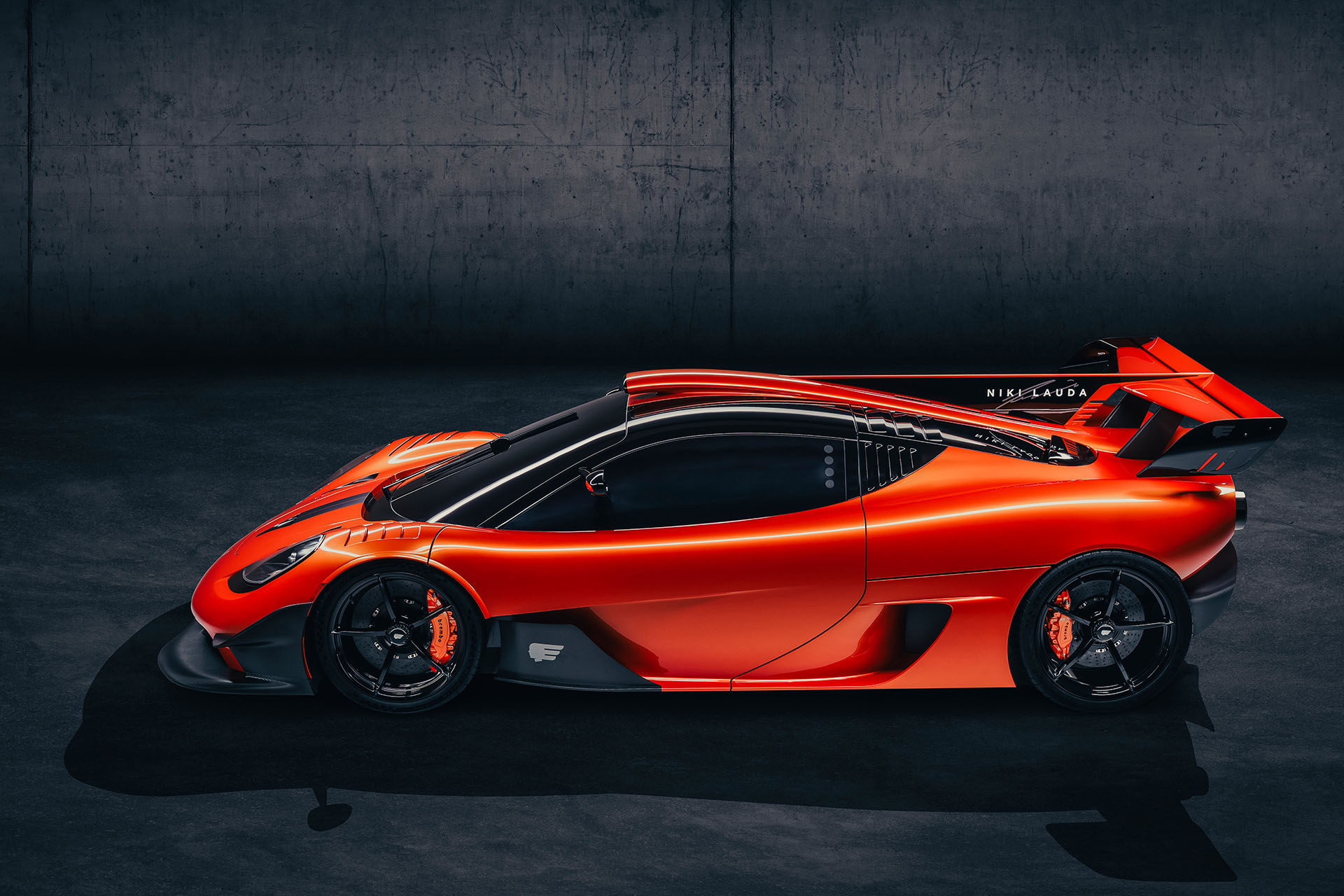 Each of the 25 individually specified cars will be bespoke, both in setup and in the choice of colors and liveries, a Trackspeed package will also be included which comprises both engineering support and all the equipment needed to run the car at a track, including a full set of pit tools and refueling equipment. Each customer will receive a track day so that 'his' car is configured perfectly to their driving style and capabilities.