Back in the early 90s, the Bugatti EB110 was the supercar to get, debuted specifically on September 15th, 1991 which happens to be company founder Ettore Bugatti's 110th birthday, but it would take until the 1992 Geneva Motor Show to get the complete view of what this car was all about:  a quad-turbocharged 3.5-liter V12 with 603 hp (449-kilowatt) called the EB110 Super Sport (or, SS) was unveiled.
Compared to the Bugatti EB110 GT the Super Sport evolution was 150 kg lighter and packed 60 more horsepower which resulted in a top speed of 216 mph in 1992, one of the most famous cars ever was a yellow Bugatti EB110 SS purchased by Formula One legend Michael Schumacher in 1992, and while only 39 EB110 SS were built (of a rumored 150 total EB110), it isn't the rarest version in the world of this Nineties supercar.
That honor goes to a blue EB110S LM and a silver EB110S SC GTS-1 … two bespoke race cars built by Bugatti and based on the EB110 SS, only one of each was ever made, making each one unique on her own because they were built with a different purpose in mind. The blue car was specifically built for Le Mans, hence the EB110 LM naming, and she did enter the 1994 edition of the 24h of Le Mans, with a rumored power output of more than 700 Ps.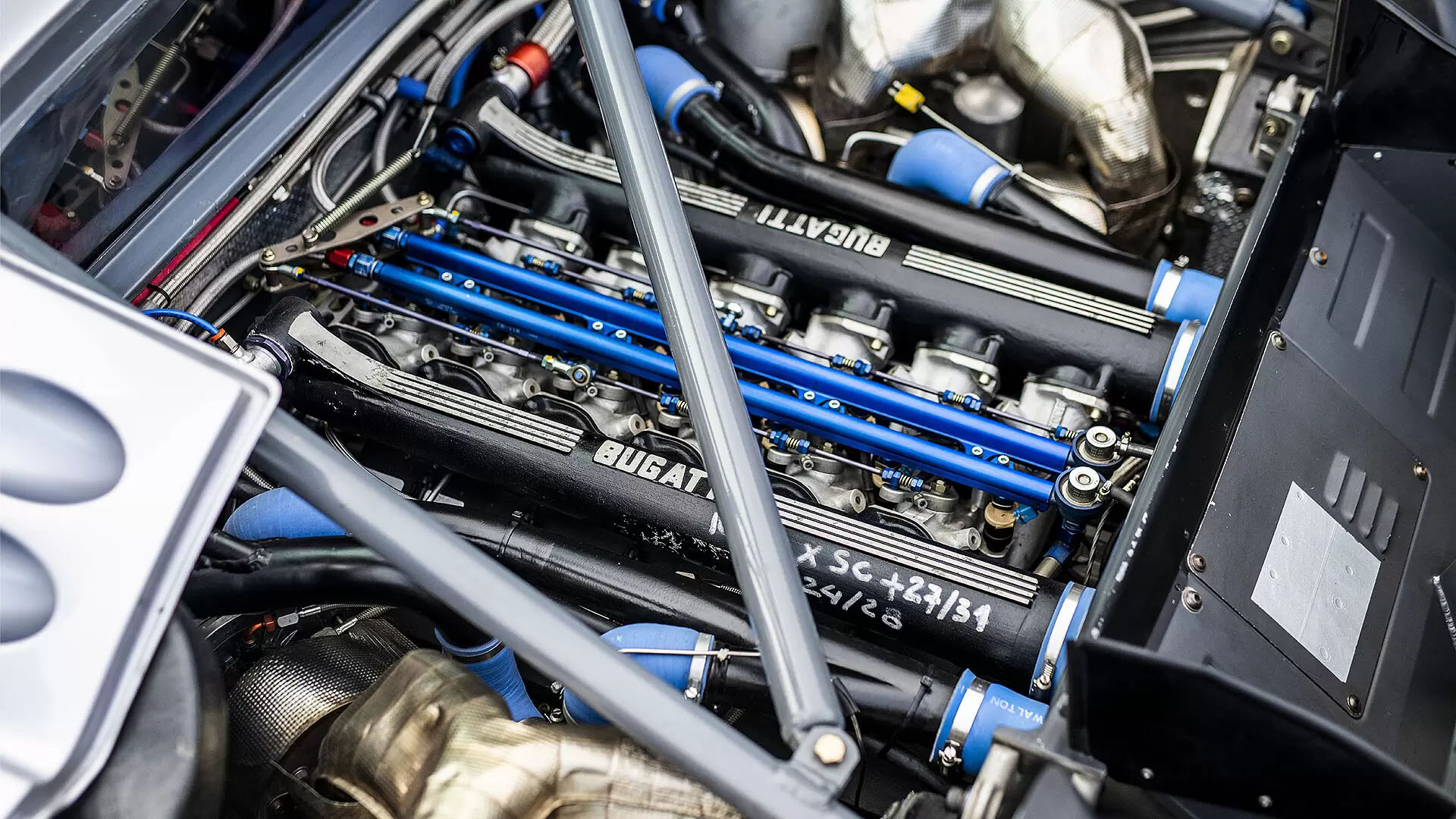 The EB110S LM was a strong competitor during the 1994 24h of Le Mans, which happened to mark the 55th anniversary of the last time Bugatti took the win at this famous endurance race, it wasn't an effortless race, a total of five turbos had to be replaced, and they even had to cope with a fuel leak, but towards the end of the 24 hours it looked like this traditional Bugatti Blue race car would reach a top-five spot … until 4 minutes before the chequered flag a blown tire decided otherwise and the EB110S LM had to retire.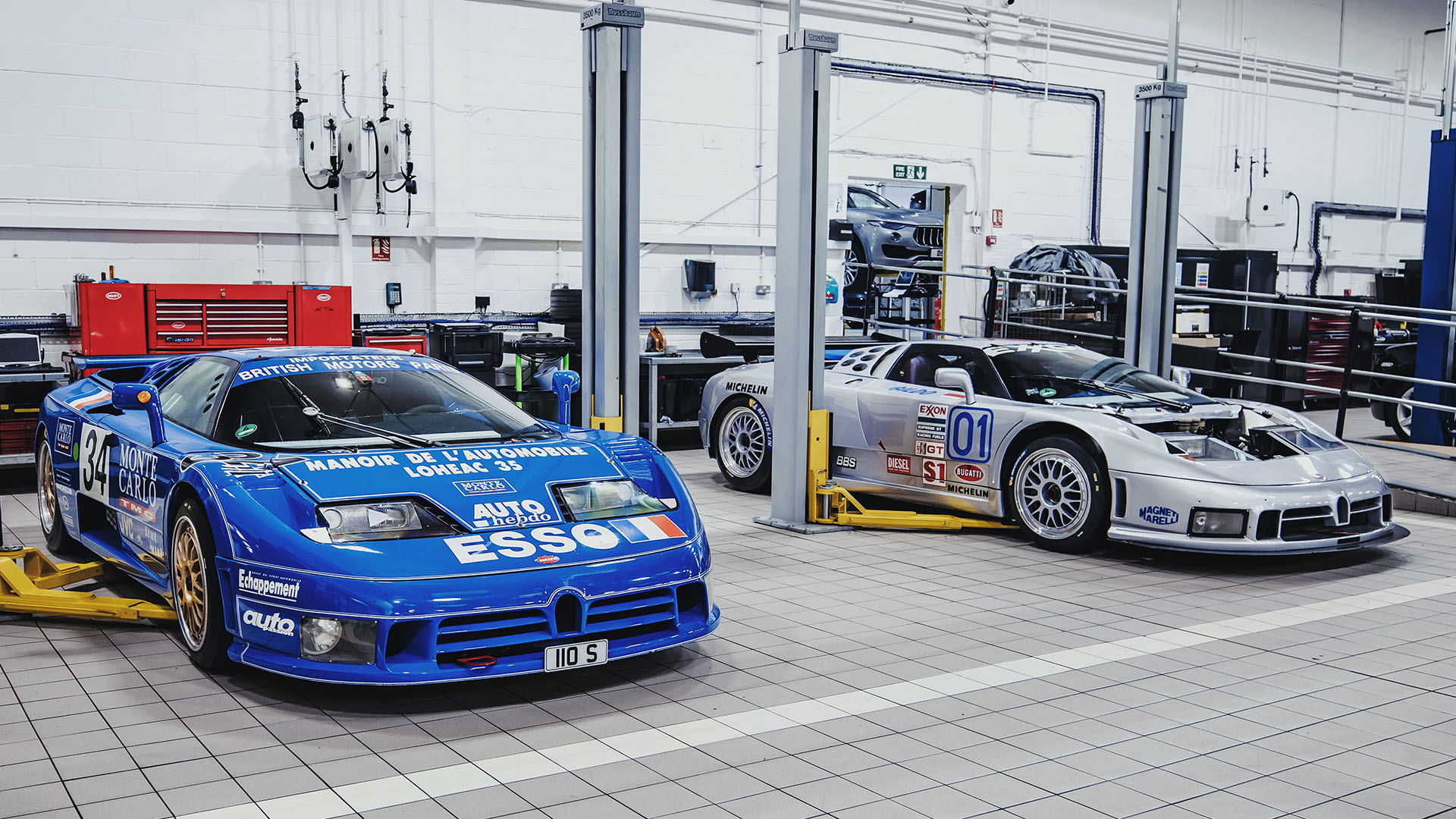 Still, the car drew the attention of Gildo Pallanca-Pastor who ordered three race cars from Bugatti for his Monaco Racing Team,  this became the Bugatti EB110 Sport Competizione, or EB110S SC GTS-1 as it was officially called, the race car was built over a period of six months in 1995, initial plans were to build three units, but due to financial difficulties and supplier issues only one of these lightweight, reconceptualized, and stupendously fast EB110 race cars was built for entry into IMSA racing and the BPR Global GT Series on special order by Gildo Pallanca-Pastor.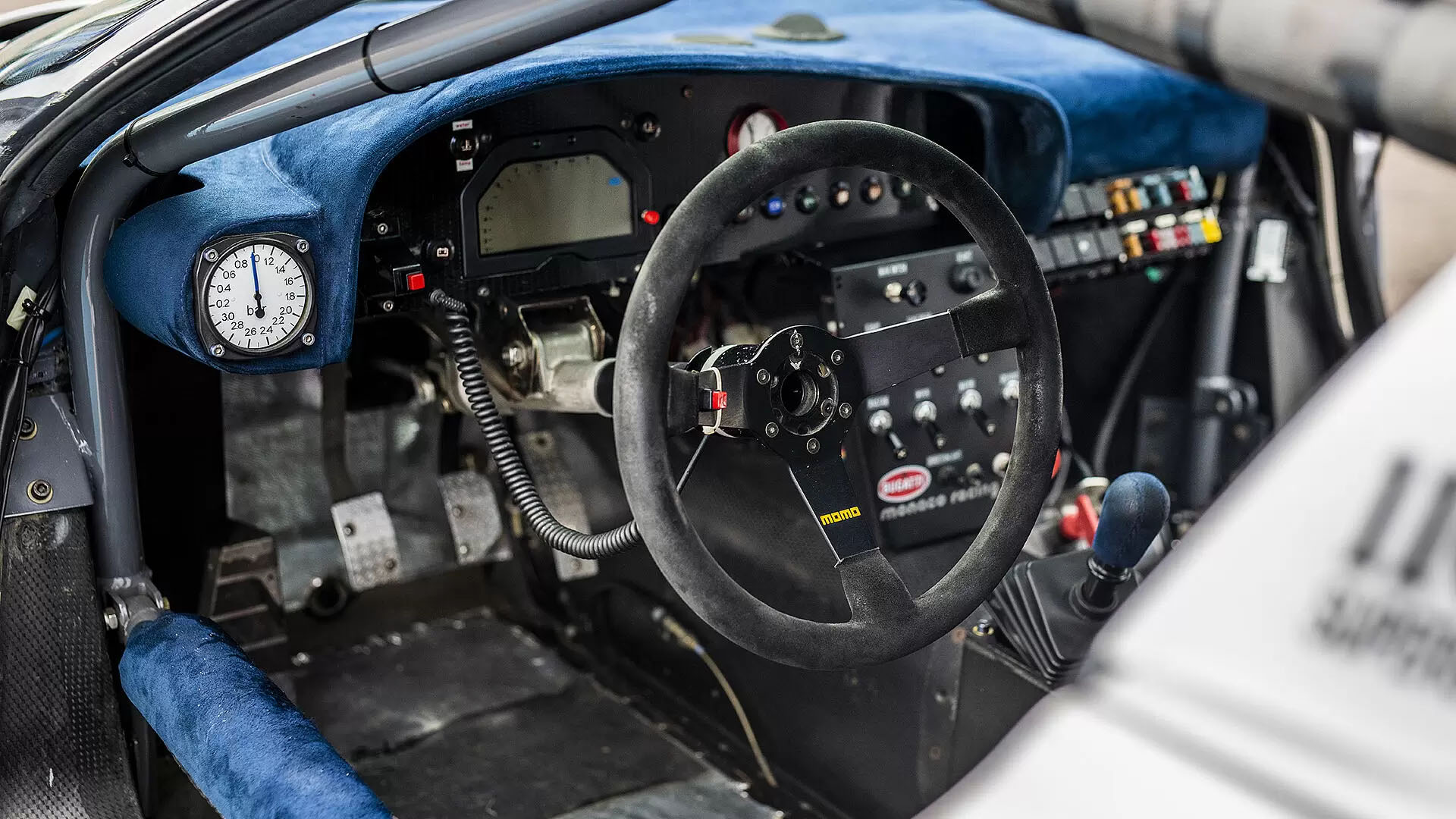 From mid-1995 Gildo Pallanca-Pastor entered official races with his bespoke EB110 SC, and the car performed well, fifth-place at Watkins Glen and sixth-in-class at Sears Point before a promising Daytona 24 Hours race turned into a nightmare due to transmission issues, then an issue with spare parts started to creep up, the supercar market started falling apart in 1995, and demand for new Bugatti EB110 GT or SS swindled, eventually to such a degree, Artioli could no longer sustain the losses and Bugatti was declared bankrupt in September 1995, at that time this silver EB110 SC was located at the factory for service, and it got confiscated as an asset by the curators handling the bankruptcy.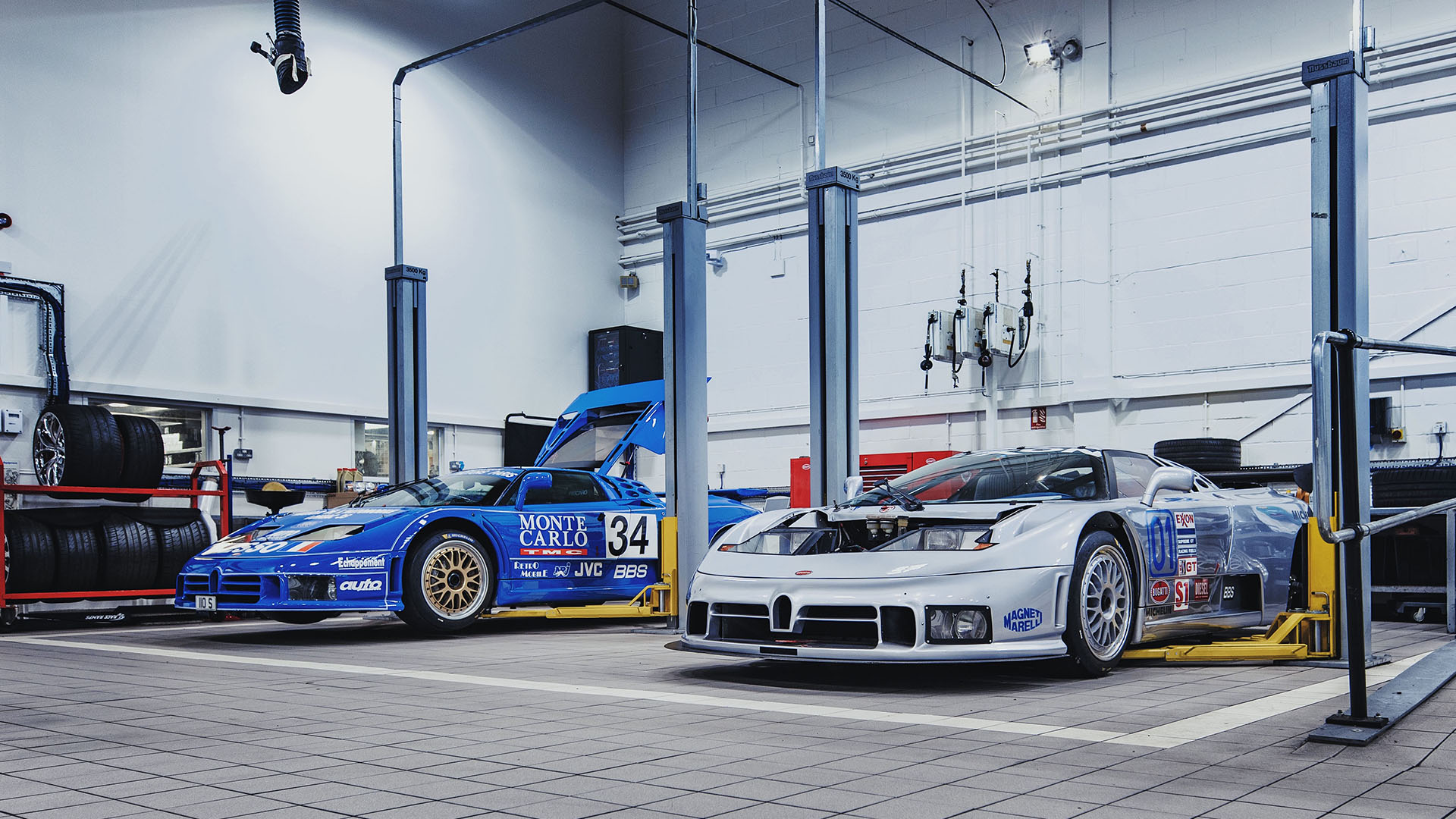 Fortunately, Gildo Pallanca-Pastor managed to get his car back and took it to Daytona in January 1996, but his intention was Le Mans, so prepared by entering a race in Dijon, France, on June 8 and 9 where he managed an impressive fourth place during training while for his first race in the EB110 SC, Pallanca-Pastor reached third place overall. But his luck ran out in the second race, a crash meant the Bugatti EB110 SC had to retire the race, they didn't have enough spare parts to repair the car, even to the point he couldn't qualify for the 1995 24h of Le Mans a week later, supply of Bugatti parts simply dried up completely at that point.
The last official, factory-built EB110 race car wouldn't compete again for the next 25 years, but the car was maintained all the time, and when Gildo Pallanca-Pastor sold her a few years after her retirement to a Bugatti enthusiast, the latter kept the car in good condition, but away from the race track … only to return to Dyon in 2021 for a photo shoot of this unique Sport Competizione version of the Bugatti EB110.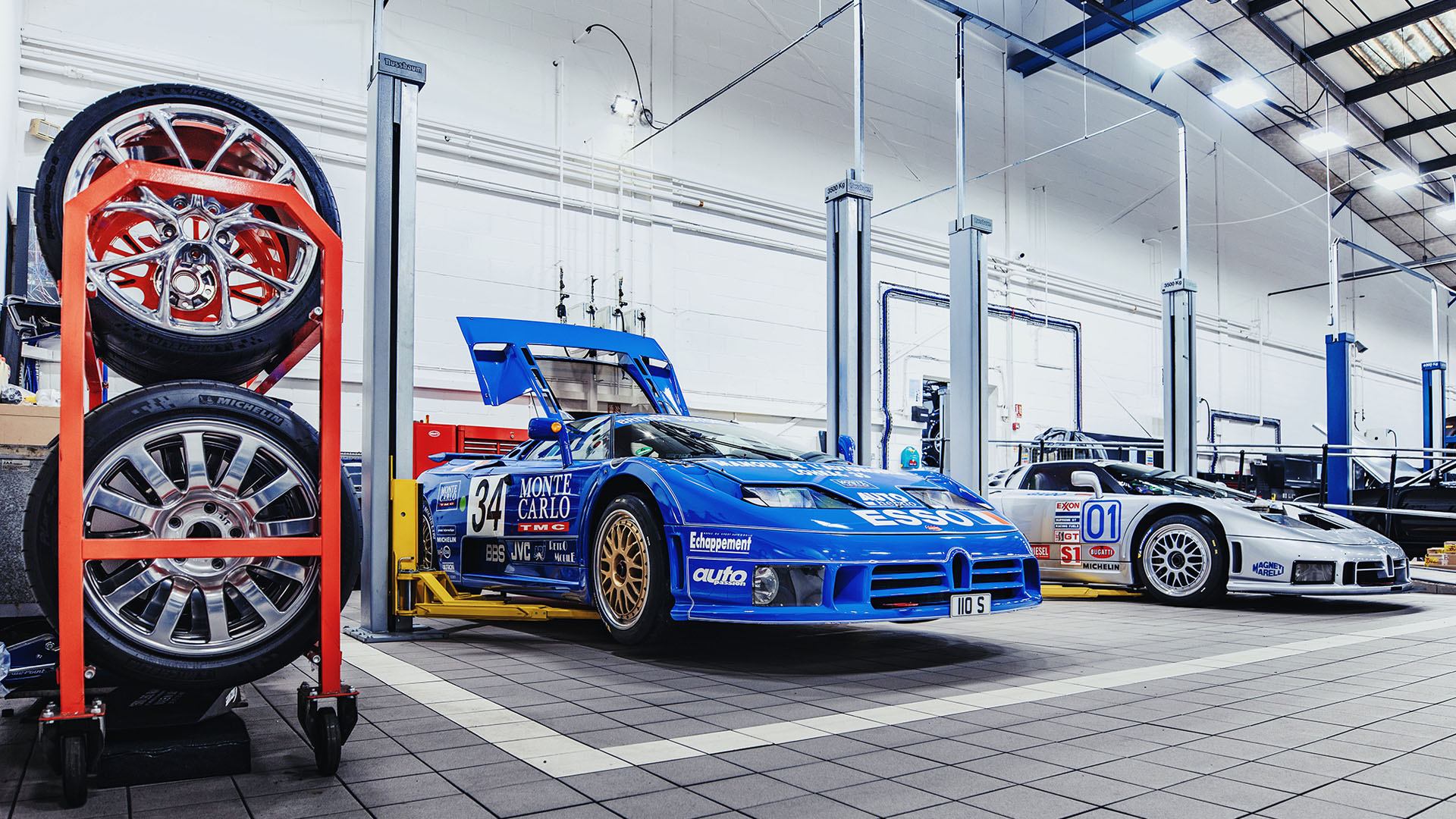 Recently these two legendary Bugatti race cars were side by side for the first time in many years, both were taken to H.R.Owen Bugatti for their annual maintenance, the EB110S LM still in her 1994 Le Mans 24 Hours livery sits alongside the silver EB110S SC GTS-1 that competed in the North American WSC GT races … these are the only factory official Bugatti EB110 race cars that competed in 1994, 1995 and 1996, truly a piece of automotive history, both of which are priceless collection items today.