As the last incarnation of the naturally aspirated V8, the Tri-Star from Stuttgart got the recipe right for the luxury mid-size sedan segment in 2010, and packed technology, revolutionary years ago, that are common today. Over 350 horsepower can be yours for the price of a new car but without proper care, prepare to pay the piper if something breaks.
Every Person Loves Risky Business
There are two sides in every person: the sensible and the irresponsible. Most people have control over their irresponsible side and let their sensible side shine: families buy a minivan because of the sliding doors, and a sensible young person would buy a new car with warranty for peace of mind and fuel efficiency.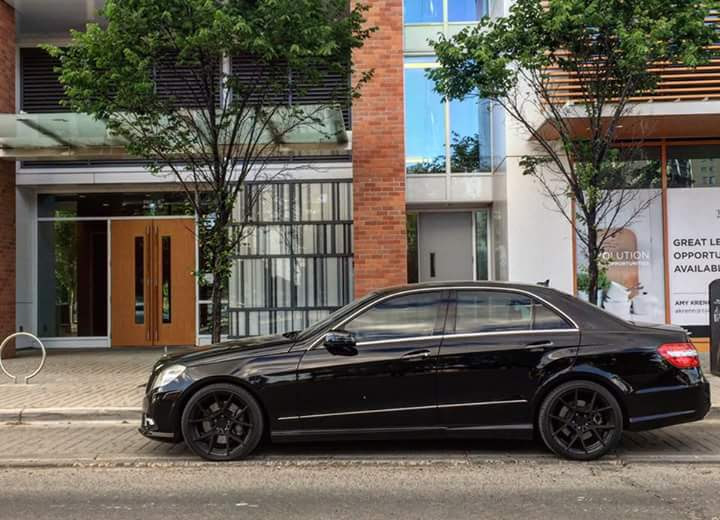 A new car will give you awesome gas mileage, adequate power, and relative comfort as you drive through the interstate to start your day. It'll give you time contemplating on whether to try out that new Japanese fusion restaurant that opened and got rave reviews, rather than worrying if your camshaft suddenly quit doing their purpose in life to pursue their dreams of being a clown.
Meanwhile, there are a few of us that lets our irresponsible side have their way once in a while: play hooky to see a baseball game, or skydive on a Friday then go hiking on Saturday. For the few of us who enjoy life on the edge just a little bit, who seek thrills and fun wherever we can get it, the used car market is your world.
You love rolling the dice to get maximum satisfaction and I get you.  Because for the same budget as a new 2017 Honda Accord, you can have a smorgasbord of luxury cars at your disposal.
Now who has two hands and is crazy enough to buy a seven-year old luxury car for the price of a new mid-size sedan? This guy. And I'll walk you through the madness.
Get to Know Your New Companion
The E-Class is Mercedes' answer to the mid-size segment to compete with the BMW 5-series, Audi A6, Jaguar XF, etc. You can get the E-class in two engine configurations in North America: A V6 E350 and a V8 E550.
The '550' designation is relevant to this model year, featuring a 5.5 liter naturally aspirated V8 engine, pushing out 382hp @ 6,000 and 391 lb-ft of torque. 4Matic is Mercedes' version of all-wheel-drive system, and coupled with a 7-speed automatic, it can push this German beast from 0-60 in 5.3 seconds. This was the last year where they kept the naturally aspirated V8 before going down the turbocharged route, putting a twin-turbo 4.7 liter V8 to extract more power with fuel efficiency in mind.
Thrill seekers love forced induction: nothing beats spooling turbos or a whining supercharger to get you out of problems without the gas attendant knowing you on a first-name basis. For the people who loves straight oomph with no turbo lag, there's no replacement for displacement.
The E550 is a Big Boy and It Shows Both on the Road and Parking Lots
On the road, everyone notices that you're driving nothing else on the road. The Tri-Star sticks out of the long hood, signifying Mercedes Benz and their quest of "universal motorization with its engines dominating the land, sea, and air (three points)"[1]. People know you're on the road, and doesn't really help the cause when the sedan has tint and black wheels on it.
The air suspension just handles roadways well as if the asphalt became custard. The E550 sedan is a great cruiser to the ski hill as this is my daily driver in winter. The heated seats and steering wheels keeps me toasty in -30c weather and brings me to the slopes in style, with 4MATIC keeping me planted over high speeds.
That V8 motor gives you endless torque that makes any highway overtake an ease. Even with a full 5-passenger car on 18-inch Michelin X-Ice winter tires, a loaded cargo box, and trunk to accommodate a long weekend ski trip was a cakewalk for the V8 E550. Gas mileage is adequate, average 11-12L/100kms on the highway with 15L/100kms in the city.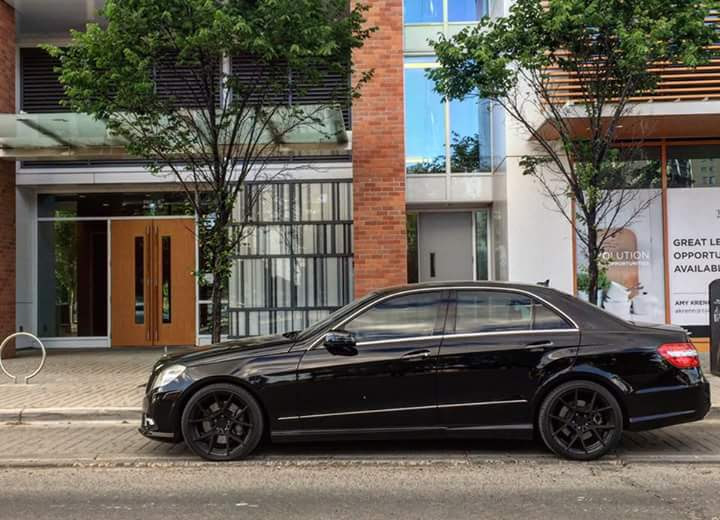 The 7-Speed transmission can be adjusted between Comfort and Sport (right), independent of the suspension, which means the car can go from lazy, sluggish start, to overly frantic, hold-on-to-your hat launch. The automatic transmission also lacks the finesse and responsiveness that new dual-clutch transmissions, but adequate for daily driving.
The AIRMATIC suspension makes no difference on twisty roads, as you can't beat simple physics and you can feel the length and the heft of this car. If you can't think how much material and sound deadening is in the E550, go on a horseshoe turn and you'll feel it.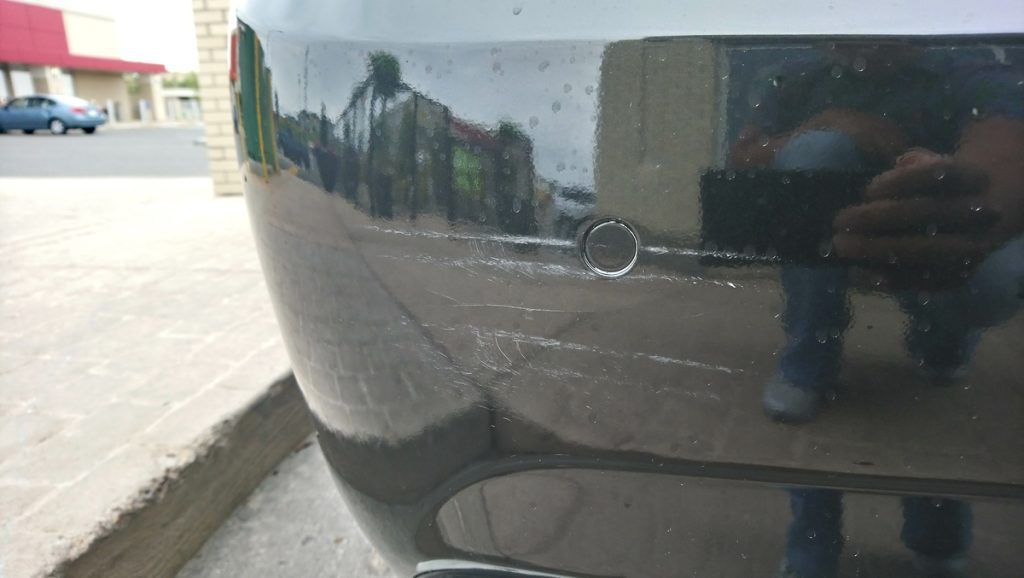 Parking lots are interesting for the E550 sedan as the width and length will give you slight challenge, but nothing that the parking sensors can't save you from. Unfortunately, shopping carts are still enemies of the E550 bumper.
An Interior Better Than Most Bachelor Pads
Inside a Mercedes Benz is like being in a different world. There's just something about the fit and finish of German cars that can't be beat: the selection of wood trim, positioning of instrument cluster, the switch ergonomics are some of the aspects that Japanese automakers now recently following suit. I'm glad that Subaru has a decent interior nowadays, but this Mercedes came out in 2010 and only now is the competition catching up.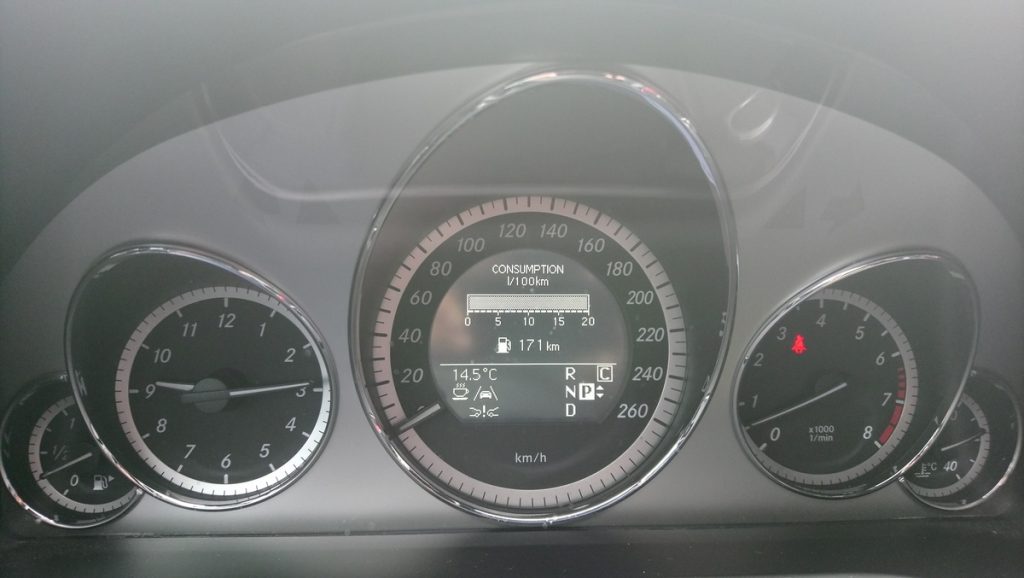 When you slam the doors, it gives you a resounding, solid sound and not a tinny, hollow closure. Inside gives you church-like refinement with no noise from the outside coming into the cabin. Tire selection makes a difference as low-profile 19s will be noisier than smaller 18-inch tires with thicker sidewalls.
The seats are nicely bolstered, covered in material that's soft to the touch. The interior is fully loaded and looks more conservative than new vehicles that are on showroom floors. Certain interiors age well, and the Mercedes Benz is no exception.
Within the real competition, every automaker has their mantra on interior:
–          Mercedes Benz loves putting number pads and many buttons in their console
–          The COMAND system is a combination of clickable 4-way joystick with a dial, and the screen is broken down to three sections
–          BMW is all about minimalism and a clean console
–          The iDrive system has all the selections within the software and is built more like a tree-menu system
–          Audi is focused on grouping and dials
–          The MultiMedia Interface (MMI) is focused on a control and back buttons to go through the menu system
Check out these YouTube videos to see the stark differences between each manufacturer:
BMW iDrive
Mercedes COMAND
Audi MMI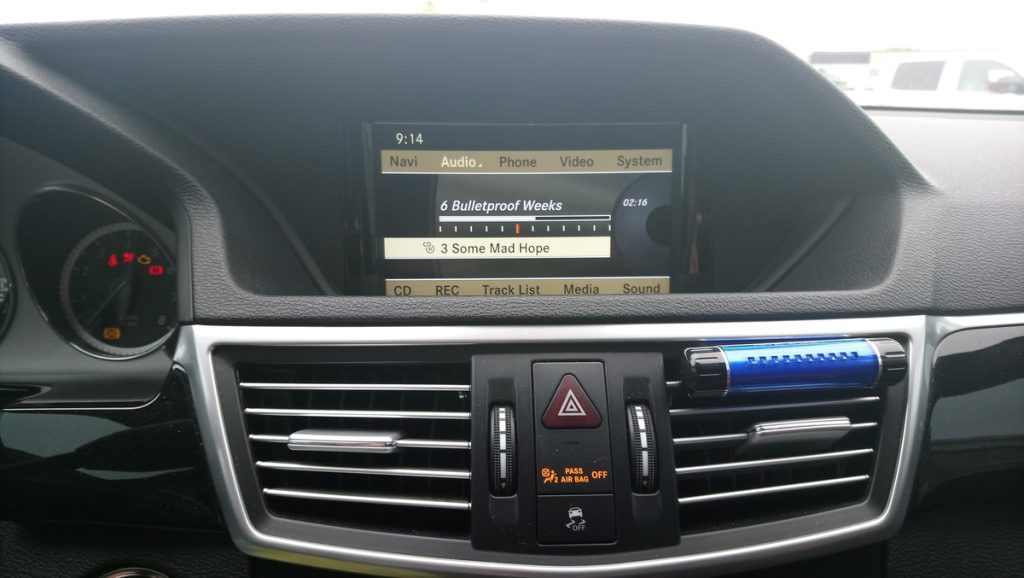 If you're ever on the fence with used cars, you can easily decide by trying to simple tasks with the center console without reading the instructions. Whichever system makes sense for you the first time is the vehicle that you can live with.
For 2010-2011, the E550 shows their age when you use the center console. There's no Apple CarPlay, navigation destinations are outdated, and selecting a destination using the COMAND system is archaic. The voice command is the biggest gripe of this car, forcing you to vocalize a destination into chunks rather than a fluent phrase. For example, you can talk to a 2017 car or your smartphone to say,
"One Two Three Fake Street, Los Angeles, California"
In the 2010 COMAND system, you're forced to go:
City? "Los Angeles"
Street? "Fake Street"
Number? "One Two Three"
Bluetooth audio does work in the 2010 E550 but requires a software update to enable it. The outdated center console makes up for it in the interior space, the other technological features included in the vehicle, and the ride.
The Navigation Might Annoy You, but the Other Features Won't
Depending on the trim model that was selected in the 2010 E550 sedan, you can get tech goodies such as:
–          Triple-zone climate control
–          Heated steering wheel
–          Front and rear heated seats
–          Front ventilated cooled seats
–          Radar-guided cruise control
–          Night vision front camera
–          Back up camera
–          Front and rear parking sensors
–          Blind spot monitor
–          Lane departure warning
–          Parallel park assist
–          Brake assist
–          450W Harman Kardon surround sound system
–          6 CD changer with built-in hard drive
–          SIRIUS Radio (requires subscription)
–          Telescopic adjustable steering wheel
–          3-setting front seat memory
–          Auto-dimming rearview mirror
Maintenance is a Scary Thing with Inadequate Research
There's a lot of technological options that's available in the 2010 E550 that you can get in a new 2017 Honda Accord. The fit and finish won't be the same, but there are two things that I can guarantee the Accord won't have. They are:
–          Drive-Dynamic Multi-Contour Driver Seat with Massage(!)
–          Adjustable air suspension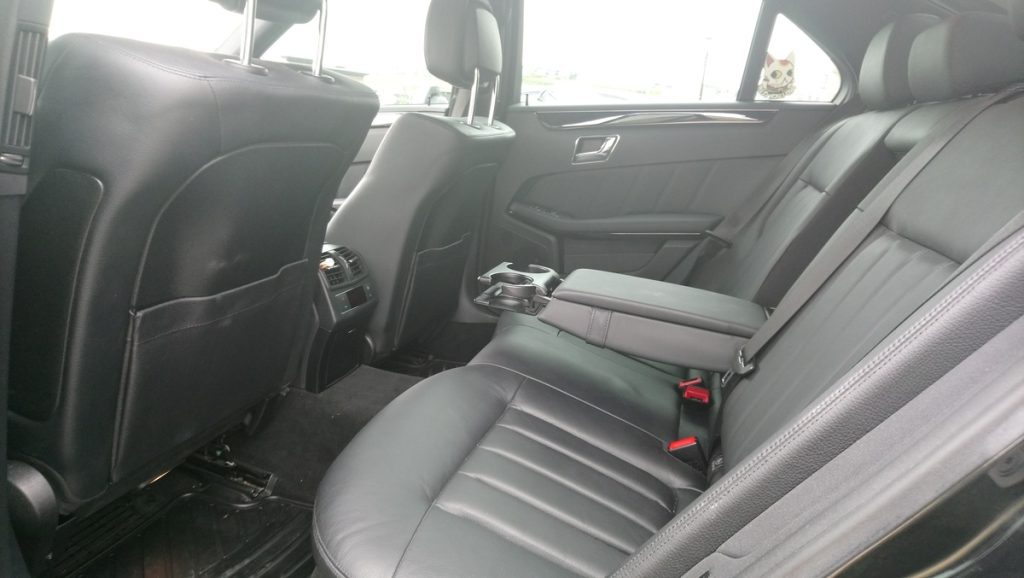 This is both plus and minus for the owner-to-be. The drive-dynamic seat can be adjusted to any body type to get the right lumbar, thigh, and side support any person can ever ask for. For the sporty side in you, you can adjust the dynamics of how sensitive you want the seat to 'hug' your sides on every turn by inflating/deflating the side air bladders to hold you within the seat. It's nice on long trips, but gets annoying when you're turning into a parking spot.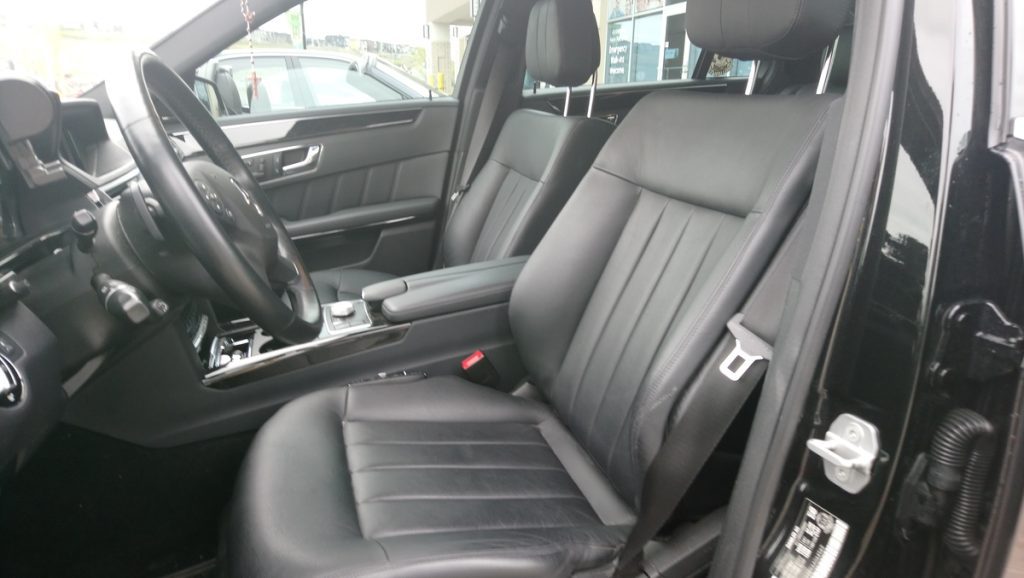 Air suspension is standard on the E550 sedan and can be adjusted into two modes: Comfort and Sport. Comfort will absorb all bumps on the road and will provide a stable, sublime ride that spring suspension can't beat. The only system that trumps air suspension is hydraulic suspension and unless you plan on buying a Citroen DS anytime soon, air suspension is a good compromise.
Turn it into 'Sport' mode and the suspension slightly lowers a bit and firms up to give you more feeling on the road.
The biggest gripe about used luxury cars are reliability and maintenance. Regardless of brand, luxury cars right off the bat have a higher sticker price on parts alone than your non-luxury counterparts. My brake pads and rotors cost more than your typical Honda Accord, and that's just fact.
The key to owning a used luxury car is adequate car knowledge and like I said earlier, not being afraid to get down and dirty. Doing your own maintenance will save you tons on labor, which is majority of any service bill. My oil change for parts was roughly $100 for two jugs of Mobil1 0W-40 synthetic oil and an oil filter but it would have been $250 if I got it done at a service shop.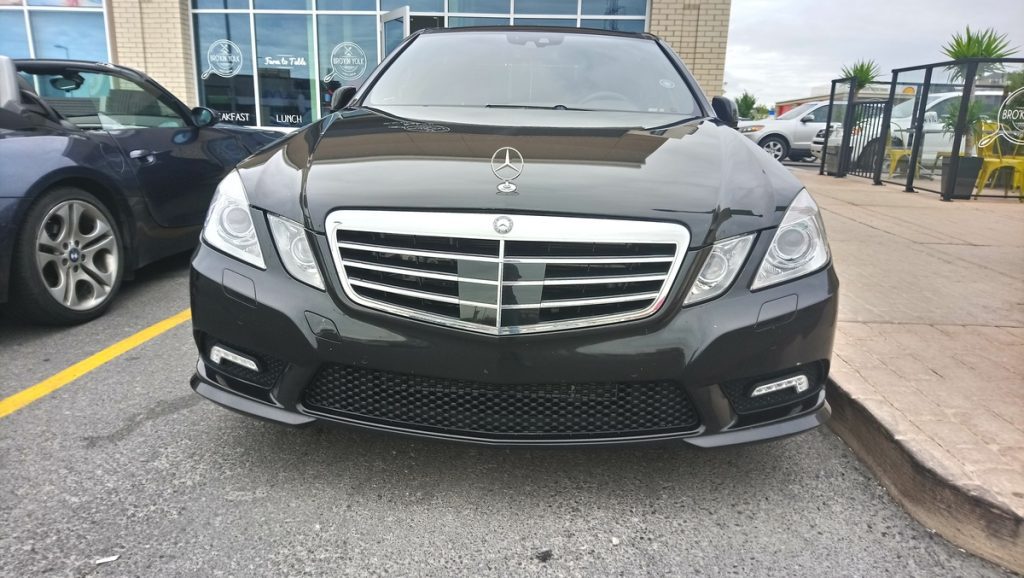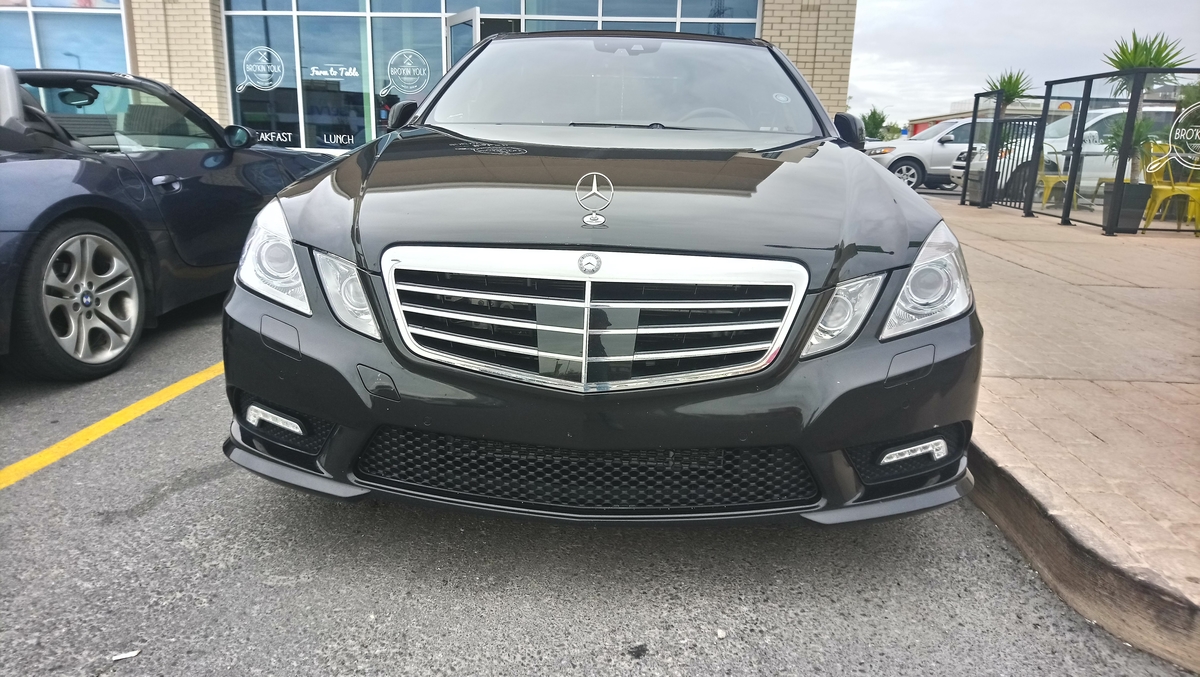 Doing the basic maintenance like brake pads and oil changes go a long way to get ready for the big ticket items that you'll have to pay a service shop, regardless of what car you buy. Let the adventurous side take you in the madness of learning that the brake system in the E550 have an easy clip to make brake pad replacement a cinch and doesn't require caliper removal. That's amazing.
The W212 chassis as well, with the non-turbo V8, has been relatively solid based on consumer output,
http://www.mercedesmedic.com/overview-w212-e-class-reliability-common-problems/
The only gripe I have is when the air suspension fails, because the air bladder has a tendency of leaking due to the wear and tear of the rubber rubbing through decompression and compression. It's just the nature of the beast and the biggest accepted risk you'll have with the E550 sedan.
Should You Enter the Used Car Market Abyss?
The 2010 E550 sedan is a great bargain and provides a lot of value for the money. The vast list of features available, the smooth V8 at your disposal to get you of any messy situation, and a cabin that other drivers will die of envy is easily available to any car buyer who's willing to take risks in the used car market.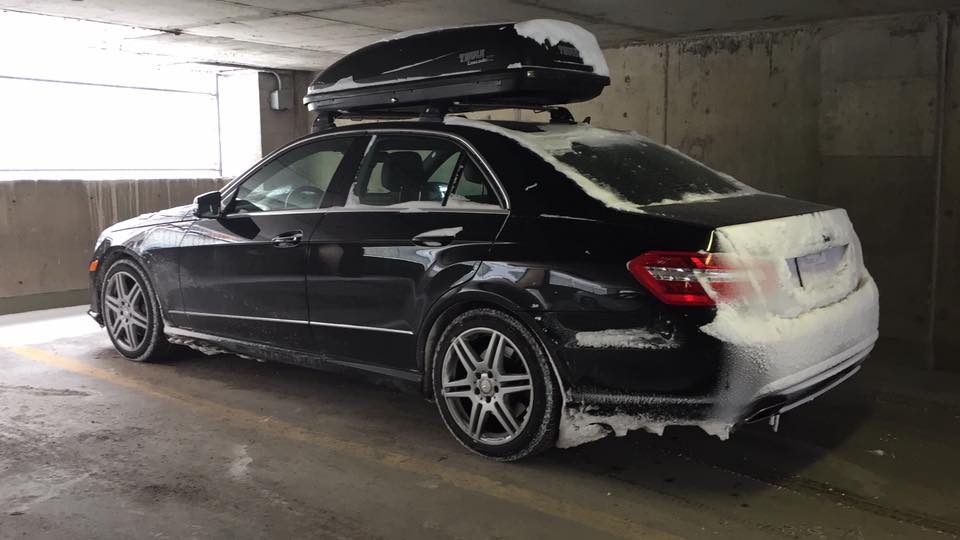 The smooth ride will bring you to your destination refreshed and relaxed, thanks to the pulsating massage function on the driver's seat. Your passengers will also thank the air suspension giving them a sensation rarely felt in other cars, unmatched by the competition.
If you have the resources and the determination to do your own maintenance, don't let this get away from you.
Your date/significant other will appreciate a neighborhood burger joint than the posh new restaurant in town, especially since they saw you trying to figure out that the oil filter is on top of the engine bay and you don't need to go underneath to change one.