1905 Panhard et Levassor 50HP Type Q
At the turn of the century, Panhard et Levassor was at the top of their game. They practically invented the front engine/RWD layout in the 1890s which was pioneered by Emile Levassor. By 1904, the company had won the Circuit des Ardennes and Vanderbilt Cup races. Their cars were among best in the world and the model '50HP' represented the top of the range.
The highlight of the 50HP was a massive 10.6-liter engine that had four independent cast iron cylinders displacing 145x160mm or 2.6 liters each! These were surrounded by copper water jackets and joined together through a common aluminum crankcase. This engine sent power to a 4-speed type KI transmission and a cone clutch similar to Panhard's racing cars. From there the power went to rear wheels through twin chains. This driveline was supported by a chassis made of wood, but reinforced with steel plates.
Following a succession of two and three-cylinder cars that went from 18, 25 to 35HP, the substantial 50HP Type Q debuted in December at the 1904 Paris Salon. It mimicked the even larger 13.5-liter and 15.5-liter race cars, but with a thoroughly modern and stylish body.
At the show, it was compared as a rival to the Mercedes 60HP and 70HP. Journalist Filson Young described the car: "If you are a millionaire… you simply get the best and most expensive car on the market… The Mercedes and the Panhard cars still remain the ideal cars of the man to whom money is no object. They represent in that sense of the word the best that has yet been both achieved and proved in the building of motor-cars."
By February of 1905, the Model had been registered with the French Service des Mines and it was shown in Britain at the Olympia Show for £1750—£250 less than the competing 70-hp Mercedes.
Many distinguished customers purchased this model type, including racing driver Chevalier René de Knyff and King Alfonso XIII of Spain who was photographed in 1907 speeding through the streets of Madrid to witness the birth of his son and heir, the Prince of the Asturias.
Panhard's own records show that 79 examples of the 50-hp were built, but only few remain in existence today.
Bonham's Sale of Chassis 12020 at Retromobile
At their Automobiles d'Exception on Feb 9th, 2008 Bonhams failed to sell Chassis no. 12020 with a pre-auction estimate of €500,000 – 600,000. Reported as one of the two surviving 50HP models by the Veteran Car Club of Great Britain, this was a very exclusive opportunity. Below is a excerpt from Bonhams about the chassis:
"The ledgers also confirm that this car, chassis number 12020, is a four cylinder 50hp Model Q fitted with four-speed type KI transmission that was supplied new to British "concessionaire exclusif" Harvey du Cros of 14 Regent Street, London, on 22 May 1905. Just who its first owner might have been is unknown, though when found as a virtually-complete chassis in 1966 – apparently "rotting in a shed… [with] a skull and crossbones on the radiator" –by one D. Foster of Chertsey, Surrey, it was wearing the London registration plate "A-4505", which contemporary photographs show to have also been worn by an earlier Panhard belonging to a Mr E.A.C. Lister, so it may be conjectured that he was the first owner and had transferred that registration to the newer car.
With restoration under way, the Panhard was submitted for dating to the Veteran Car Club of Great Britain. It was noted that its matching chassis and engine numbers were in accord with the 1905 series, but that a Claudel Hobson carburettor and non-standard manifolding were fitted. A dating of 1905 manufacture was confirmed.
Mr Foster restored the car and is known to have taken part in the Veteran Car Club's Crystal Palace Rally in July 1967. The Panhard was subsequently offered for sale at a Sotheby's auction at Earl's Court on 15 May 1969, when it was bought for £3800 by noted veteran car sleuth Colin Crabbe. Crabbe fitted a limousine body that he had retrieved from a Scottish estate
In the early 1990s the decision was taken to carry out a total restoration of the car, during which it was also decided to endow it with a faithful copy of a period Henri Labourdette double phaeton body, since it is known that a number of Type Q Panhards were bodied by that most stylish of coachbuilders for distinguished customers.
Contemporary photographs and extensive research provided the necessary information to make this recreation of the finest 1905 coachwork as authentic as possible, while period hardware and accessories were carefully sourced to ensure accuracy down to the minutest detail. This exacting work was carried out by the renowned company Laidlaw Restoration of Murphys, California, USA and included the location and fitting of the correct Krebs carburettor and minor controls. A Victoria hood and windscreen for the rear seats and a majestic full set of nickel Ducellier acetylene lamps provided the finishing touch.
Without doubt the high point of these remarkable successes was the award of the French Cup, presented to the most significant French car at the annual Pebble Beach Concours d'Elegance. Just over 10 years ago this magnificent automobile was acquired by that most discerning of collectors the late Otis Chandler for his growing collection of pre-Great War cars; it remained with him until his death in 2006, when it passed to the present owner. Since then, the car returned to Pebble Beach in 2007 where it was honoured in the special "10-plus Club" class for cars with engines displacing 10 litres or more."
Story by Supercars.net & Bonhams 1793 Ltd.,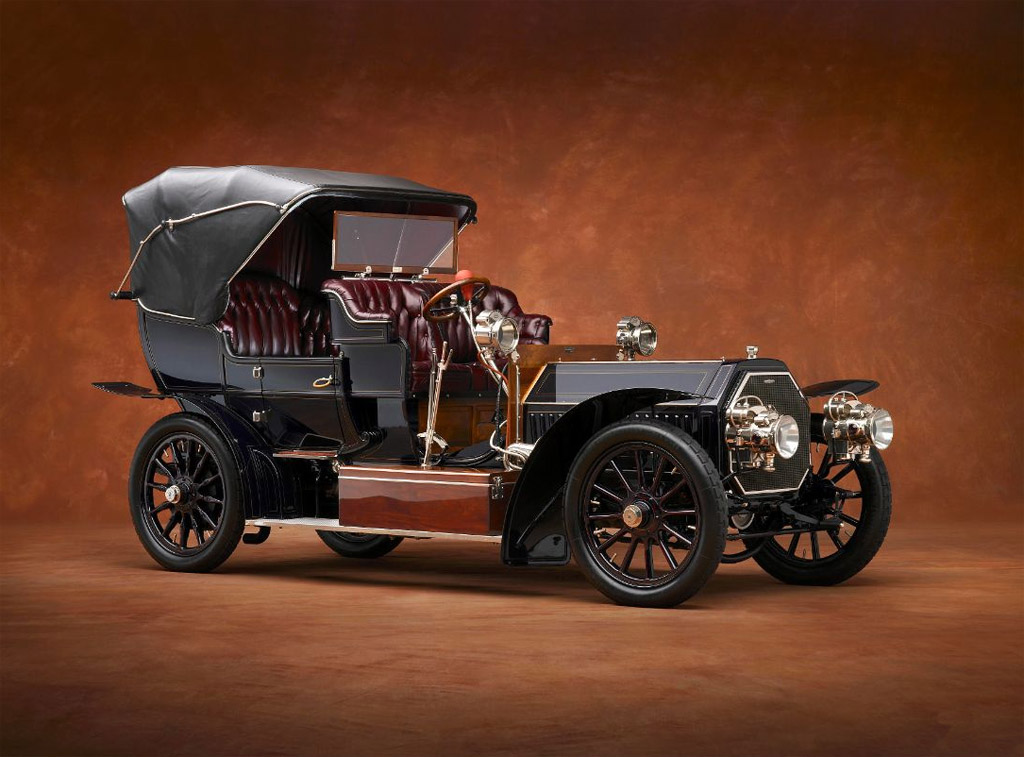 In Detail
| | |
| --- | --- |
| submitted by | Richard Owen |
| production | 79 |
| price $ | $ ₣25,000 |
| engine | 4 Cylinder w/T-Head |
| position | Front Longitudinal |
| aspiration | Natural |
| displacement | 10570 cc / 645.0 in³ |
| bore | 145 mm / 5.71 in |
| stroke | 160 mm / 6.3 in |
| power | 37.3 kw / 50 bhp |
| specific output | 4.73 bhp per litre |
| body / frame | Steel-Reinforced Wooden Frame |
| driven wheels | RWD w/Chain Drive |
| front tires | 920 x 120 |
| rear tires | 935 x 135 |
| f brake size | mm / in |
| r brake size | mm / in |
| f suspension | Rigid Axle w/Semi-Elliptic Leaf Springs |
| r suspension | Rigid Axle w/Semi-Elliptic Leaf Springs |
| height | mm / Not Available in |
| transmission | 4-Speed Ki Transmission w/Cone Clutch |
| gear ratios | :1 |