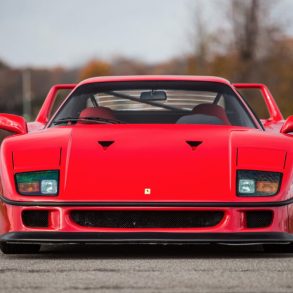 2003 Bentley Continental GT Diamond Series Bentley's most radical car to date has to be the newly named Continental GT....
2009 Bentley Continental Supersports Coupé (Bentley Motors, Crewe. 25 February 2009) The Continental Supersports is the fastest and most powerful...
2012 Bentley Continental GTC V8 The new Bentley Continental GTC V8 convertible will make its official public debut at the...
2009 Bentley Continental GTC Speed 6 January 2009 – Since its debut in 2006, the Continental GTC has enjoyed sales...
Hello there, my name is Michelle Jakelj and I am a 20 years old self taught artist from Slovenia. I...
Alfa romeo 105 91 (prototipo)...
The Greatest Supercars And Sports Cars Of The 2000s At the turn of the millennium, the supercar was in a...
1990s Supercars: The Golden Era – Homologation, The Big Mac and the Rise of the Everyday Supercar. Your Ultimate Guide...
Top 10 Supercars Of 2018 – The Coolest, Best & Most Exciting Cars In The World This Year The supercar...
1970 Dodge Coronet Super Bee Legendary muscle car • Chrysler 440cid "6-Pack" (3x2bbl) V8 @ 390HP • HD Torque-flite 727...
While you're planning your next road trip, there's probably a long list of things you'd like to have along. But...
There are times when repairing your vehicle on your own is a good way to save money while learning a...
This is the original Cizeta-Moroder V16T Prototype that has been out of the public eye for about 25 years. It...
Back in 2012 I found a car in Tuscon Arizona, it was a 1958 Porsche 356A T2 coupe. It was...
1978 Lotus Esprit JPS Colin Chapman (owner and founder of Lotus Cars) had a long-term sponsorship relationship with the John...
1. Subaru BRZ It's a formula that is often glossed over and underrated. When a car manufacturer creates a car...
Like Audi of late, BMW just doesn't seem to understand that their cars need to be designed differently to each...
This unique Aston Martin is accompanied by its 1989 purchase invoice, original order correspondence, MoTs back to 1992 (when first...
One of 58 US-Specification Models. One of 11 Equipped with a Manual Gearbox. Desirable European-Style Conversions. Low-Mileage, Black on Black...
This particular V8 550 has been sold by Auto Performance, the French official dealer to a member of the Royal...
2000 Aston Martin V12 Vanquish Gallery ...
1 of 645 Aston Martin Lagondas built total from 1978-89. 1 of 56 built for 1986. Believed to be 17,927...
1962 Aston Martin DP212 Gallery ...
1957 Aston Martin DBR4 Gallery ...
This exceptional Vantage Volante has covered just 23,229 kms (14,433 miles). Delivered new via Royal Motors in Monaco, it was...
his right-hand drive DB7 Vantage has covered only some 53,000 miles from new and comes with full main dealer service...
Offered from single-family ownership. One of four Radford-bodied DB6 "wagons". Numerous factory options and accessories. Largely original; complete factory-original specifications....
One of the 21 examples manufactured to left hand drive specification. Delivered new to France and in present ownership since...
This special DB4 has been restored to a very high standard, with the body virtually flawless and looking magnificent in...
The Zagato cars were built on a DB4GT chassis with an aluI minum body. This car was called a "race...
0137 features arguably one of the most comprehensive and successful competition histories of any DB4GT produced and has been a...
2007 Chevrolet Camaro Convertible Concept Gallery...
2012 Chevrolet Camaro ZL1 Carbon Concept Gallery...
2012 Bisimoto Engineering Elantra GT Gallery...
1961 Chevrolet Corvette Gallery...
2009 Chevrolet Corvette C6.R GT2 Gallery...
1966 Chevrolet Corvette Sting Ray L72 427/425HP Gallery...
2008 Chrysler ecoVoyager Concept Gallery...
1929 Delage D8 Gallery ...
2012 Dodge Dart RallyCross Gallery...
1966 Maserati Mexico Gallery ...
2006 Fiat Suagnà The Bertone Suagna is a concept car that interprets the theme of the coupe-cabriolet with aggressive elegance,...
2005 Ford GTX1 Gallery...
2006 Bentley Continental GTC Gallery...
2008 Doran Ford GT Gallery...
2015 Bentley Continental GT Speed Convertible Gallery...
1953 Maserati A6GCS/53 Spyder Gallery ...
2009 Bugatti 16/4 Veyron Bleu Centenaire Gallery ...
2009 Bugatti 16/4 Veyron Centenaire Edition Gallery  ...
1936 Alfa Romeo 8C 2900A Spyder Gallery...
1930→1938 Panhard et Levassor X72 The X72 chassis used a Knight-licensed sleeve valve engine of 2.5-liters and is officially known...
1966 Aston Martin DB6 Gallery...
2012 Peugeot Onyx Quasar, Proxima, Oxia, 907 … Peugeot's supercars have always made the eyes of both children and adults...
1960 Aston Martin DB6 Vantage Gallery...
1961 Aston Martin DB4 Series V Vantage Gallery...
2011 Peugeot 207 S2000 Evolution Thanks to its new Spec-3 300hp engine, modified front-end layout, optimised gearbox and transmission, lighter...
1951 Aston Martin DB2 Vantage Gallery...