1910→1918 Pierce-Arrow Model 66
Produced from 1910 to 1918, the Model 66 Pierce Arrow was one of the greatest Nickel-era American cars. At the center of this 66 was an enormous engine that had grown to 825 cubic inches in 1913 and became the largest engine offered in a passenger car.
The model was born in 1910 when Pierce enlarged their flagship model to include a 825 in³ version of their 6-cylinder engine. This was initially made for the Model 65-Q of 1907 and was one of the largest fitted to a motorcar in the Nickel-era. It was also one of the most expensive at around $7,200 USD.
Weighing around 4000 lbs, the 1910 Model 66-QQ was built in either 133 or 140-inch wheelbases and were generally fitted with factory bodywork. Open options included the Runabout or Four, Six, and Seven-Passenger Touring bodies. Closed designs included the Brougham, Landaulette, Suburban, and Landau.
The Model 66 got its name from the rated output of the engine which was calculated from the bore and cylinder number. The actual brake horsepower is somewhere north of 125 bhp. The cylinder blocks were cast in pairs.
In 1918 Pierce made the ultimate Model 66 with a highly upgraded 825 cubic-inch engine. This included a new cylinder head with four valves per cylinder which increased overall horsepower. Additional upgrades included fitting of four-wheel brakes.
In 1918 Pierce only produced four cars with the 'Dual Valve' engine and of these only one is known to survive. Owned by the Nethercutt Collection, it is our feature car which was displayed at the 2010 Pebble Beach Concours d'Elegance as part of the Pierce Arrow showcase.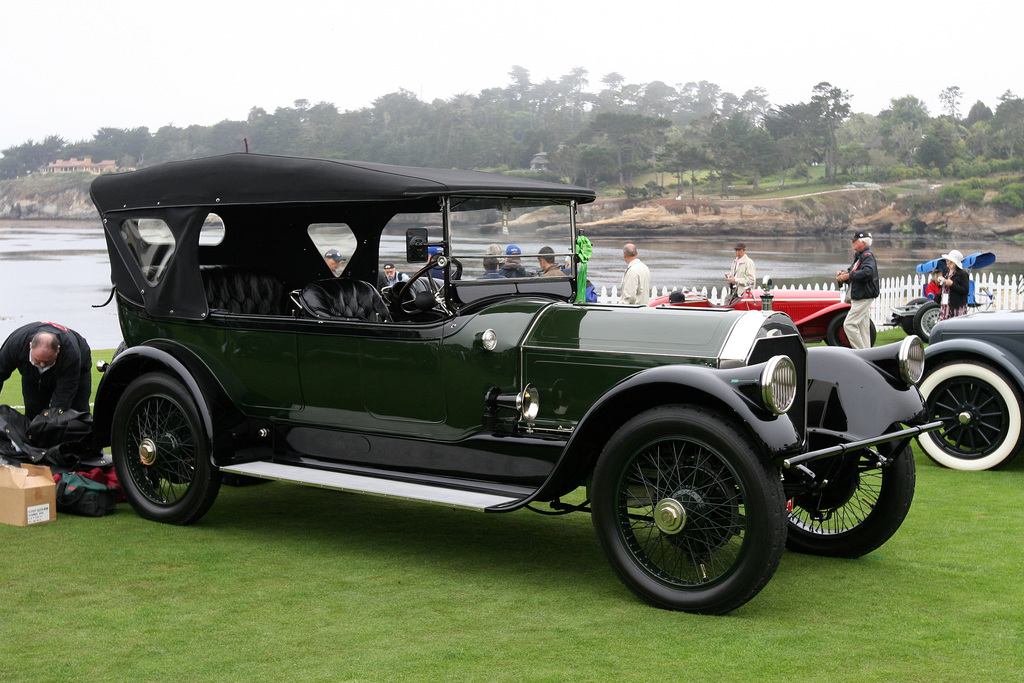 In Detail
| | |
| --- | --- |
| | |
| type | Series Production Car |
| production years | 1910 – 1918 |
| built at | Buffalo, New York, USA |
| predeccesor | 1907 Pierce Model 65 Great Arrow |
| engine | Inline-6 |
| position | Front, Longitudinal |
| block material | Cast Iron |
| displacement | 13519 cc / 825 in³ |
| power | 104.4 kw / 140 bhp @ 1800 rpm |
| specific output | 10.36 bhp per litre |
| transmission | 4-Speed Manual |
Auction Sales History
1917 Pierce-Arrow Model 66-A-4 Seven-Passenger Touring 67571. A two-time Pebble Beach class award winner. Impeccably finished in two tones of blue with a black leather interior and a black Panasote top, this immaculate Pierce-Arrow Model 66 A-4 Seven-Passenger Tourer is considered by many marque enthusiasts to be the finest example of its kind in the world. Like all Pierce-Arrows, it is lavishly equipped and includes 27-inch Johnson wheels, a luggage trunk and full side curtains with "gypsy" windows providing protection to the occupants of the rear-compartment.  Auction Source: RM Auctions' 2010 Sports & Classics of Monterey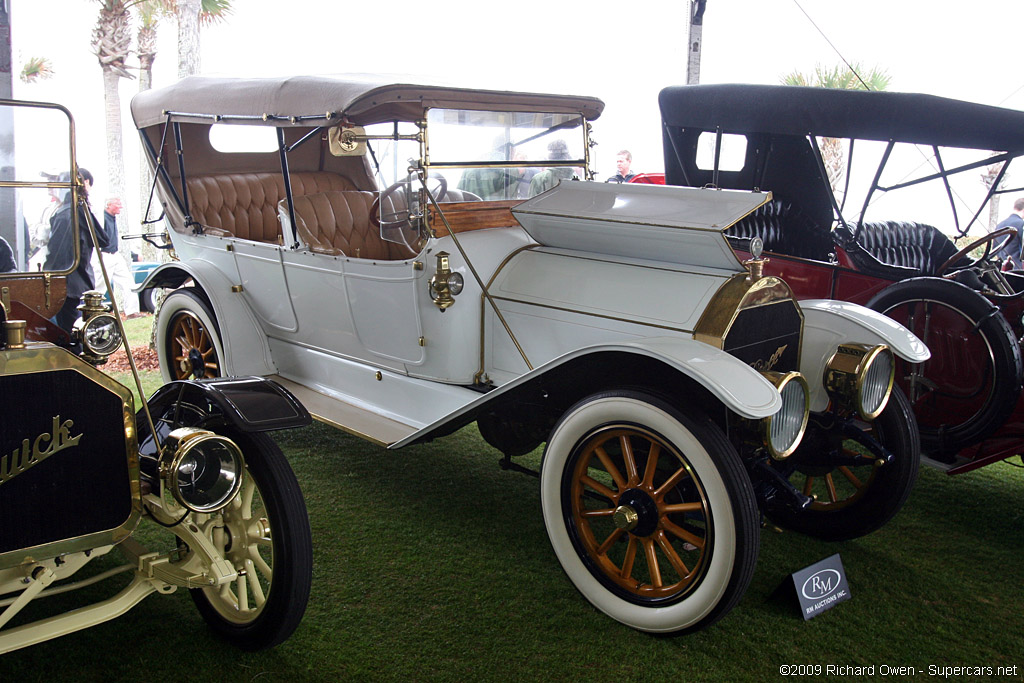 1912 Pierce-Arrow Model 66-QQ – sold for $308,000. A well-built composite car, this Pierce-Arrow 66 is well-equipped for modern touring. Constructed on a lengthened Pierce Model 48 chassis, it is powered by an authentic 1912 66 horsepower engine. The body is carefully built to the pattern of period Pierce touring cars, and outfitted with appropriate fenders, aprons, hood, top and ancillary items: windshield, coil box, glove boxes and rear-mounted tool box.
The car has been fitted with a 12-volt electrical system, including alternator and starter motor, for touring convenience, and a Zenith carburetor and modern distributor for drivability. The brakes have been converted to four-wheel hydraulic discs for safety. It rides on new 27-inch rims with wood wheels and 37 x 5 Lester whitewall tires. Period brass accessories include head and tail lamps, Klaxon horn, Pierce cowl lamps and a Warner Auto Meter with clock. Auction Source: 2009 Automobiles of Amelia Island RM Auction