1911 Bugatti Type 19 Bebe Concept
The Bebe was Ettore Bugatti's conceptual design that was not intended for the Bugatti name, more for a larger manufacturer. The car itself was kept a bare minimum with no wasted space or weight. As usual, the car was made with the highest level of Bugatti craftsmanship and materials.
Peugeot bought the car from Bugatti in 1911 and made small changes to the design. With a revised grille, Peugeot was able to sell the car with little revisions to the Bugatti drivetrain. Over 3000 Peugeot BBs were sold which makes this car the best selling Bugatti design ever. With production so high for the period, the BB could be aptly titled the 'European Model T'.
While this little Bugatti seems insignificant, it played an important role for the Bugatti marquee during its early stages. The Bebe may actually be the first car that was made in the Molsheim workshops. Surprisingly, it possibly precedes the Bugatti marque itself, as exact dates on the construction and design are unknown.
Of particular note is the rear suspension which featured reversed quarter-Elliptic springs. This was the first time a car had such a suspension which was adopted by many Bugatti models thereafter.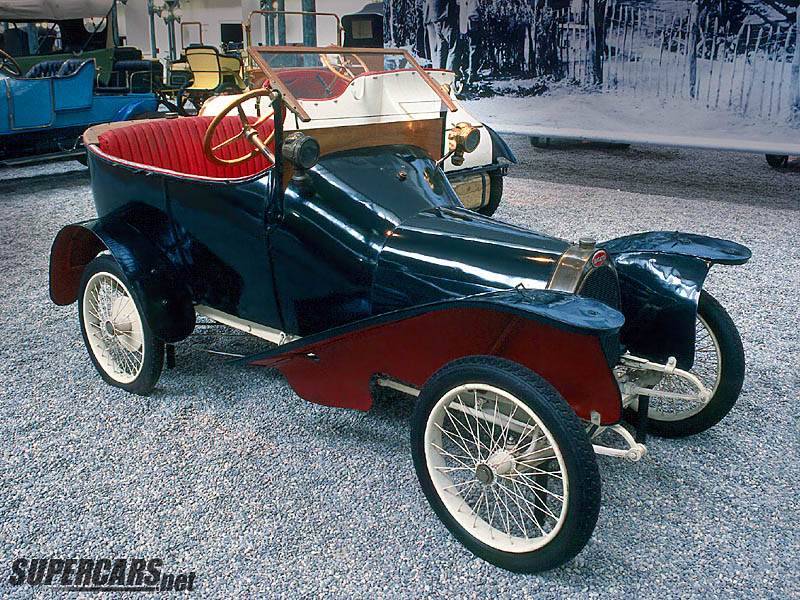 Specs & Performance
| | |
| --- | --- |
| | |
| engine | Inline-4 |
| position | Front Longitudinal |
| aspiration | Natural |
| valvetrain | 2 Side Valves per Cyl |
| displacement | 855 cc / 52.2 in³ |
| bore | 55 mm / 2.17 in |
| stroke | 90 mm / 3.54 in |
| power | 7.5 kw / 10.1 bhp |
| specific output | 11.81 bhp per litre |
| bhp/weight | bhp per tonne |
| body / frame | Steel on Steel Frame |
| driven wheels | RWD |
| front brakes | None |
| f brake size | mm / in |
| rear brakes | Drums |
| r brake size | mm / in |
| f suspension | None |
| r suspension | Reversed Quarter-Elliptic Springs |
| wheelbase | 2100 mm / 82.7 in |
| transmission | 2-Speed Manual w/Cone Clutch |
| gear ratios | :1 |
| top speed | ~59.5 kph / 37.0 mph |