1912 Delaunay-Belleville HB6
At the beginning of the century, the Delaunay-Belleville HB6 was one of the most desirable and expensive French cars that rivaled Daimler and Rolls-Royce. Emphasis during construction was placed on fine materials and craftsmanship which attracted the pillars of society. Customers to Delaunay-Belleville included King Alphonso XIII of Spain, King George I of Greece and Czar Nicholas II of Russia.
S.A. des Automobiles Delaunay-Belleville was formed by Marius Barbarou and Louis Delaunay in 1903. Delaunay married into the Belleville family who owned the boiler making company of St. Denis. This relationship was reflected on the styling of Delaunay-Belleville cars with the engine surrounds on many examples capturing the character of the boiler company.
Marius Barbarou was responsible for much of the styling and design of the cars. He had previous experience working for Clement, Lorraine-Dietrich and Benz and was directly responsible for the 1904 Paris show car. He helped adopt the Belleville patented system of lubrication to internal combustion engines. This systems was one of the first to use a pressurized system of pumps and oil ways instead of the common drip system used during the period.
The 25HP type HB6 model included a 6-cylinder engine having two blocks of three cylinders. This was attached to a four speed manual transmission and used the Belleville patented system of lubrication.
See full 1912 Delaunay-Belleville HB6 Gallery here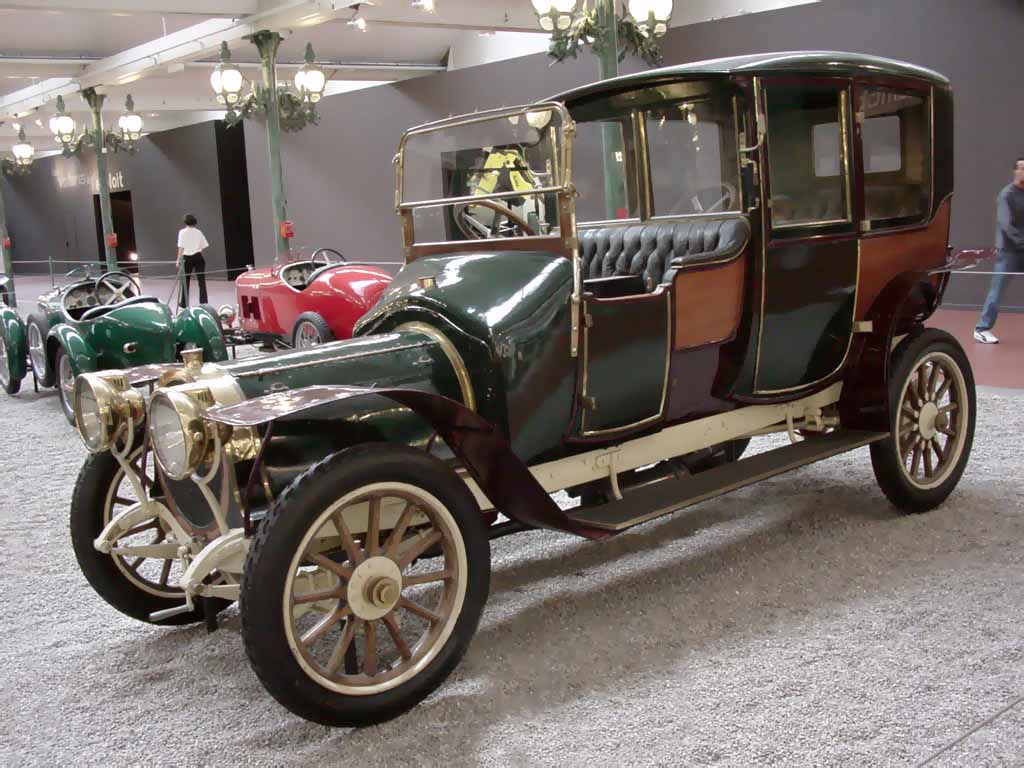 In Detail
| | |
| --- | --- |
| type | Series Production Car |
| built at | France |
| engine | Water Cooled Inline-6 |
| position | Front Longitudinal |
| aspiration | Natural |
| displacement | 4423 cc / 269.9 in³ |
| bore | 85 mm / 3.35 in |
| stroke | 130 mm / 5.12 in |
| power | 15.7 kw / 21.1 bhp |
| specific output | 4.77 bhp per litre |
| bhp/weight | 10.55 bhp per tonne |
| body / frame | Wooden Body over Steel Frame |
| driven wheels | RWD |
| front tires | 880×120 |
| rear tires | 880×120 |
| f suspension | Rigid Axle w/Semi-Elliptic Leaf Springs |
| r suspension | Live Axle w/Transverse Leaf Springs |
| curb weight | 2000 kg / 4409 lbs |
| wheelbase | 3220 mm / 126.8 in |
| transmission | 4-Speed Manual |
| top speed | ~112.7 kph / 70.0 mph |
Auction Sales History
1911 Delaunay-Belleville 25hp HB6 Rothschild et Fils Landaulette – sold for €287,500 The car was discovered in dilapidated condition: minus its bonnet, fuel tank, instruments and carburettor, and with a broken front axle and modified radiator. Restoration commenced in 1982 and was finished 17 years later in 1999 when the Delaunay was presented at the Concours d'Élégance Paleis het Loo, receiving a 100-point, 'Best in Class' award. Noteworthy features of this magnificent car include matching headlamps and side lamps by Rothschild, a full set of original instruments, detachable wheels by Michelin, two spare tyres, speedometer and drive by OS, Bosch magneto and coil, and occasional seats in the rear. Netherlands registered, the car comes with a large quantity of restoration photographs, sundry invoices, chassis drawings and copies of catalogues.
Auction Source: 2011 Automobiles d'exception au Grand Palais by Bonhams