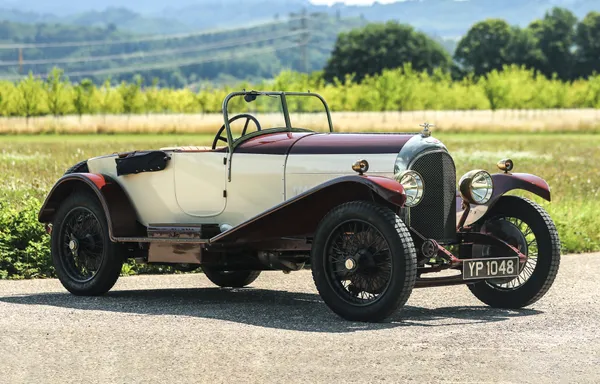 Bentley 3 Litre (1921→1929)
Overview
Fitted with Vanden Plas bodywork, the Bentley 3 Litre was the quintessential British sports car. It won Le Mans in 1924 and again in 1927 with Super Sports trim. The model was first seen at the 1919 London Motor Show where its advanced engine took center stage. This overhead-cam design was one of the first to feature 4 valves per cylinder. Furthermore the block and cylinderhead were cast in one piece with provisions for two spark plugs per cylinder. It took Bentley two additional years to sort out the engine, but in 1921, the 3 Litre put Bentley on the automotive map. Due to its size Ettore Bugatti reported called it "the fastest lorry in the world." The 3 Litre experienced a long production run from 1921 until 1929. During this period 1622 examples were produced which includes 513 short-chassis Speed models and 18 Super Sports.
Overview
Specifications & Performance
| | |
| --- | --- |
| type | Concept / Prototype Car |
| production years | 1921 – 1929 |
| released at | 11919 London Motor Show |
| built at | England |
| production | 1088 |
| engine | Inline-4 |
| position | Front, Longitudinal |
| aspiration | Natural |
| ignition | Twin-Spark |
| valvetrain | 4 Valves per Cyl |
| fuel feed | Carburetors |
| displacement | 2996 cc / 182.83 in³ |
| bore | 80 mm / 3.1 in |
| stroke | 149 mm / 5.9 in |
| power | 52.2 kw / 70 bhp |
| specific output | 23.36 bhp per litre |
| top speed | ~128.72 kph / 80 mph |
Original bodied sporting Speed Model Vintage Bentley. Delivered new in November 1923 to T. Bennett. As delivered it was fitted with the very coachwork that it still wears today, a skimpy touring body by Chalmer and Hoyer Ltd. a London based coachbuilder operational in the early to mid 1920s only. In all they would provide coachwork for a mere 6 Bentleys in this time, all of which were 3 liters, not all were touring cars such as this, and this may well be the sole surviving example in this form. Long term American ownership, offered from a Private Collection. Benefited from a freshening at D.L. George coachworks
Rare original matching numbers car with original Vanden Plas Sports Coachwork. Offered from long term ownership. Meticulously researched history. Great looking Vintage Bentley, eligible for many road touring events.
New Bentley 3-Litre buyers included Prince George, the Duke of Kent, and the actresses Beatrice Lillie and Gertrude Lawrence. The example offered here was delivered in February 1925 to John McMeekin, of Southampton, England, and it remains today largely as it was when new, a rarity among this marque. Engine and body swaps on vintage Bentley chassis were common, often to resemble the 3-Litre Tourers that won Le Mans in 1924 and 1927. Fortunately, this car's body, by noted coachbuilder J. Gurney Nutting, has remained with the chassis and is in remarkably well-preserved condition.
Multiple-award-winning, street-legal, race-ready, vintage Bentley. Original three-liter "Red Label" Speed Model with alloy two-seater body. Fitted with 6½-liter Speed Six engine; built to eight-liter specifications. Built by John Guppy and Hawkeye "The Flying Swede" Wijkander.
This faithful and handsome recreation is built on chassis 911, originally a 3-litre Bentley with Freestone and Webb drophead coupé bodywork, which was delivered new to Melbourne, Australia in January 1925. When eventually acquired by the prior owner in 2003 as a restoration project, it was running, but the original body was beyond repair. Rather than attempt a full restoration to original form, the decision was made to perform an exacting conversion to the Le Mans specification of "Old Mother Gun" instead.
Continuously maintained, though never fully restored at any one time, the car is one of the nicest Red Label Bentleys to be found. Mechanical systems have been renewed as necessary, and cosmetic issues dealt with as they arose. The body is covered with black fabric, nicely contrasting with burgundy leather seats. A full tonneau cover is included with the car. Although not used recently by the current owner, it was correctly laid up and is presently being recommissioned for the road.
On a recent test drive by a Gooding & Company specialist, this lovely Bentley started quickly and ran very well. The engine pulls smoothly, the gearbox shifts quickly and quietly, the steering is light and accurate, the brakes stop evenly and well, and the body rides tightly over road irregularities. Contributing to its smooth ride are all-new Blockley tires on correct 21″ wheels. Overall, the car impressed as a fine performing 4 1/2 litre that appears ready to tour with the reliability and satisfying performance for which vintage Bentleys are renowned.