1924 Miller 122 FWD
Built for Indianapolis and the board tracks of America, the front-wheel drive (FWD) concept was a new to everyone in 1924. Miller was the first to produce a FWD Indianapolis car which was possible with a de Dion Tube axle front suspension. This setup let drivers power sooner out of the corners and put most of the weight over the front wheels. Furthermore, the bodywork was much lower due to lack of a drive shaft below the driver.
Jimmy Murphy was the first person to order a FWD race car and Harry A. Miller probably loved the idea. He specialized in complex design with the help of draftsman Leo Goossen and expert fabricator Fred Offenhauser. Jimmy was enthusiastic enough to order two FWD cars, one for Indianapolis called #1 and another with concealed brakes for land speed records. Unfortunately, Jimmy died before these spectacular cars were finished, but Miller had the motivation to finish both cars. They were only two FWD cars built until the model 91 was launched in 1926.
Car #2
At the 1925 Indianapolis, both Bennett Hill and Ora Haibe tried car #2 in qualifying but neither could sort out the cars handling and be fast enough for the event. It was subsequently bought by the Packard Motor Car Company to study the feasibility of the design in passenger cars.
In 1927, #2 returned to circuit and continued an extensive 20 year career in motorsports. With little sucess it was raced at Indianapolis in 1927 and 1928, then the cars attractive disc wheels were replaced with wire units.
By 1930, riding mechanics (aka guinea pigs) became part of the regulations and #2 got a new body which could accommodate a passenger. In this configuration it raced Indianapolis and finished sixth overall with Driver Dave Evans and mechanic Thane Houser. This was the car's best result. It appeared at the 1931, 1932, and 1933 Indianapolis where it crashed.
#2 was fully repaired in 1937 and fitted with a custom six-cylinder engine. With this setup the car retired with no oil pressure at the '37 Indy. For 1938 the regulations dropped the riding mechanics and the body was subsequently modified. It again failed with no oil pressure with a broken supply line. Finally in 1940, #2 was able to complete its race with the six-cylinder engine and finished ninth overall.
In the postwar period, #2 again tried Indianapolis with little success in 1946 as the Boxar Tool Special. It eventually was included in Ed Trager's collection. It then passed to the famous collection of David Uihlein who discovered it was FWD #2. In the 1990s it was fully restored with an original Miller engine.
RM auctions offered Miller #2 at their Sports & Classics of Monterey Auction in 2008 and it sold for $495,000 USD. It was described as "one of the great racing cars of all time, renowned from the bullrings of middle America to the legendary tracks of Europe."
In Detail
| | |
| --- | --- |
| tags | indianapolis |
| submitted by | admin |
| type | Racing Car |
| built at | Los Angeles, California, USA |
| engineers | Harry A. Miller |
| production | 2 |
| engine | Inline-8 |
| valvetrain | DOHC 2 Valves per Cyl |
| power | 149.1 kw / 200 bhp |
| body / frame | Aluminum over Steel Chassis |
| driven wheels | FWD |
| front brakes | Drums |
| rear brakes | Drums |
| f suspension | De Dion Tube w/Twin Reverse Quater-Elliptic Leaf Springs |
| r suspension | Solid Axle |
| wheelbase | 2641.6001 mm / 104 in |
| transmission | 3-Speed Manual |
Auction Sales History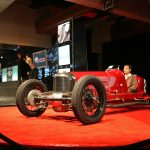 1925 Miller 122 Front Drive Race Car – sold for $495,000 This is one of the great racing cars of all time, renowned from the bullrings of middle America to the legendary tracks of Europe. The greatest drivers of the 20s and 30s earned some of their most epic victories behind the wheel of a front wheel drive Miller. Each was individually conceived, built, assembled and finished with a particular driver or team in mind. In total, from 1924 to 1929 only eleven or twelve were built. They are universally recognized as a watershed in American racing car design and construction.
Chances to own a supercharged 122 cubic inch Miller eight powered Miller front drive chassis come along only very rarely, no more than once or twice in a lifetime. Miss the opportunity to succeed David Uihlein as the custodian of this unique, irreplaceable piece of American racing history and there won't be another one for a long, long time.
Auction Source: 2007 Monterey Preview