1925 Bugatti Type 35
Propelling the marque further than any other car, the Type 35 was the most successful Bugatti product. It combined impressive styling with a racing package that ruled motorsport.
Type 35s were the cars that established Bugatti as a successful race car manufacturer. In 1926, Type 35 Bugattis took 12 major Grand Prix victories. Furthermore, privateer Type 35s were raced in almost every event at the time. This helped Bugatti take over 2000 victories in 1927 alone.
Good aerodynamics, reliability and handling combined in a lightweight package made the Type 35 very desirable. It was these qualities in which the Type 35 was a large improvement over the previous Type 30-based grand prix cars.
Building upon previous designs, the Type 35 featured an all new chassis and running gear. The engine remained largely the same as the Type 30, although two additional main bearings were added to support the crankshaft.
The brakes were largely improved on the Type 35. New light-alloy, one pices rims were made for the Type 35. What was unique about the rim was its biult in brake drums. This meant that whenever a rim was removed from the car it took the brake drum with it. This setup allowed easy access to the brakes during pits and also reduced the total weight of the braking system
One of the most important changes included with the Type 35 was its new bodywork. The bullet-like shape of the car was leaps and bounds more refined than the Tank-like cars that came before it.
First produced in 1924, Type 35s had an unblown, two-liter configuration. In 1925 a smaller 1.5-liter unblown engine was used and three special supercharged cars were made for the Alsatian GP. Despite having different engines, these cars were all shared the Type 35 designation.
The Type 35 represented the pinnacle of Ettore Bugatti's engineering. The car is outstanding in both form and function. No other Bugatti after the Type 35 would achieve its widespread racing success. For the Bugatti enthusiast, the Type 35 is King.
Pictures & Gallery
See full 1925 Bugatti Type 35 Gallery here
Specs & Performance
| | |
| --- | --- |
| submitted by | Richard Owen |
| engine | Water Cooled, Inline-8 |
| position | Front Longitudinal |
| aspiration | Natural |
| valvetrain | SOHC, 3 Valves per Cyl |
| fuel feed | Twin Solex Carbs |
| displacement | 1991 cc / 121.5 in³ |
| bore | 60 mm / 2.36 in |
| stroke | 88 mm / 3.46 in |
| power | 70.8 kw / 95 bhp @ 5000 rpm |
| specific output | 47.71 bhp per litre |
| bhp/weight | 127.01 bhp per tonne |
| redline | 5500 |
| driven wheels | RWD |
| f brake size | mm / in |
| r brake size | mm / in |
| steering | Worm & Wheel |
| f suspension | Rigid Axle w/ Semi-Elliptic Leaf Springs, Friction Dampers |
| r suspension | Live Axle w/In-Swept, Reversed Quarter-Elliptic Leaf Springs, Friction Dampers |
| curb weight | 748 kg / 1650 lbs |
| wheelbase | 2400 mm / 94.5 in |
| front track | 1200 mm / 47.2 in |
| rear track | 1200 mm / 47.2 in |
| transmission | 4-Speed Manual |
| gear ratios | :1 |
| final drive | 3.6, 3.86 or 4.15:1 |
| top speed | ~189.9 kph / 118.0 mph |
Auction Sales History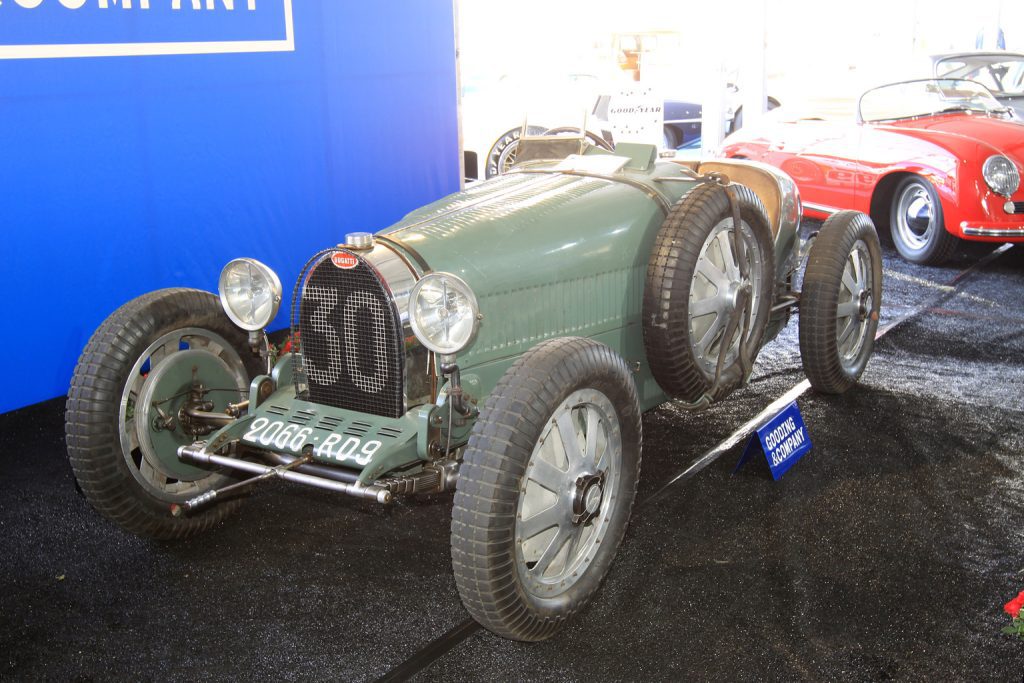 1927 Bugatti Type 35 Grand Prix 4863 – sold for $2,970,000 One of the Most Recognizable Type 35 Bugattis. Owned and Raced by "Bugatti Queen" Hellé Nice. Genuine Example with Desirable Period Upgrades. Offered with an Exceptional Historical File. Recent Mechanical Restoration by Sargent Metalworks.
Auction Source: 2014 Pebble Beach Auctions by Gooding & Company