1929 Bugatti Type 46
Bridging the gap between the opulent Royale and 3-litre Type 44, the Type 46 was Bugatti's standard luxury model. It was first launched at the 1929 Paris Motor Show and production began in the same year.
A large, one piece engine was the main feature of the Type 46. Its casting contained everything from the combustion chambers down to the main crankshaft bearings, including the cylinder walls. This setup eliminated the need for head studs and therefore the engine could be very narrow and perfectly rectangular. The flywheel was flexibly mounted to reduce vibrations in the cabin. A five-jet Smith-Bariquand carburetor was fitted.
Chassis arrangements were similar to the Type 41, having three speed gearbox in unit with the rear axle. Rudge wire wheels were fitted and the spectacular cast aluminum type as seen the Royale were eventually offered as an option. Braking was handled by large diameter drums.
Main competition for the Type 46 came from Delage's D8, which sold in much greater numbers, but with less performance and at half the price.
Eventually , a supercharged version of the Type 46 was offered known as the 46S. The model was completely replaced by the Type 50, with its twin-overhead cam design which was a copy of the American Miller unit.
Even though Bugatti was known for its noisy race cars, the luxurious Type 46 was a successful project that sold over 460 units.
Body Styles for the Type 46 were diverse, but many used the same radiator and hood that came provided. One of the most distinct and dramatic bodies fitted to the Type 46 was the Semi-Profilee which used a raked windscreen and sweeping two tone paint job to great effect. The theme was continued on the Type 50 Coupe Profile which featured a completely sloping fastback rear end.
Pictures & Gallery
See full 1929 Bugatti Type 46 Gallery here
Specs & Performance
| | |
| --- | --- |
| | |
| engine | Inline-8 |
| position | Front Longitudinal |
| aspiration | Natural |
| valvetrain | SOHC, 3 Valves per Cyl |
| fuel feed | Five-Jet Smith-Barquand Carburettor |
| displacement | 5360 cc / 327.1 in³ |
| bore | 81 mm / 3.19 in |
| stroke | 130 mm / 5.12 in |
| driven wheels | RWD |
| wheel type | Rudge Wire Wheels |
| front tires | 32×6.00 |
| rear tires | 32×6.00 |
| front brakes | Cable Operated Drums |
| f brake size | mm / in |
| rear brakes | Cable Operated Drums |
| r brake size | mm / in |
| wheelbase | 3505 mm / 138 in |
| front track | 1397 mm / 55 in |
| rear track | 1397 mm / 55 in |
| length | 4572 mm / 180 in |
| transmission | 3-Speed Transaxle |
| gear ratios | 9.8:1, 5.45:1, 3.9:1, :1 |
Auction Sales History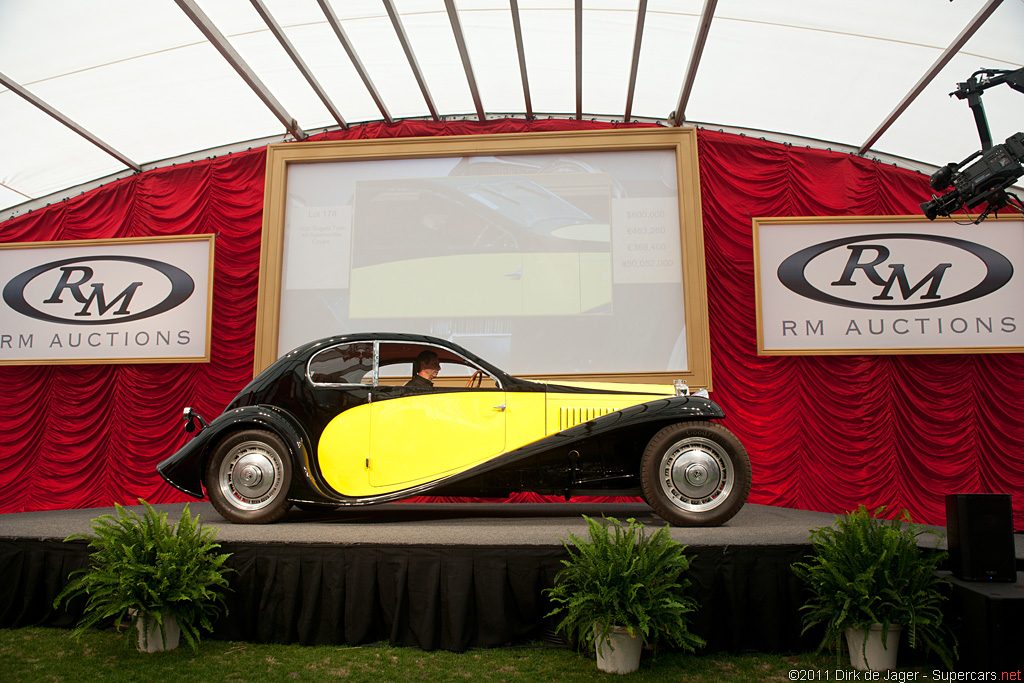 1930 Bugatti Type 46 Coupé Profilée Recreation 46208 – sold for $1,017,500 The present owner opted to have the drab sedan coachwork replaced with a faithful recreation of the "Superprofile" coupe penned by Jean Bugatti, which some argue is the finest of all of his designs. The coachwork was produced by Mr. Ken Haywood of New South Wales, Australia, who has been responsible for many award-winning cars. This photo-documented restoration and coachbuilding effort is regarded as one of his finest results. Auction Source: Amelia Island 2012 by RM Auctions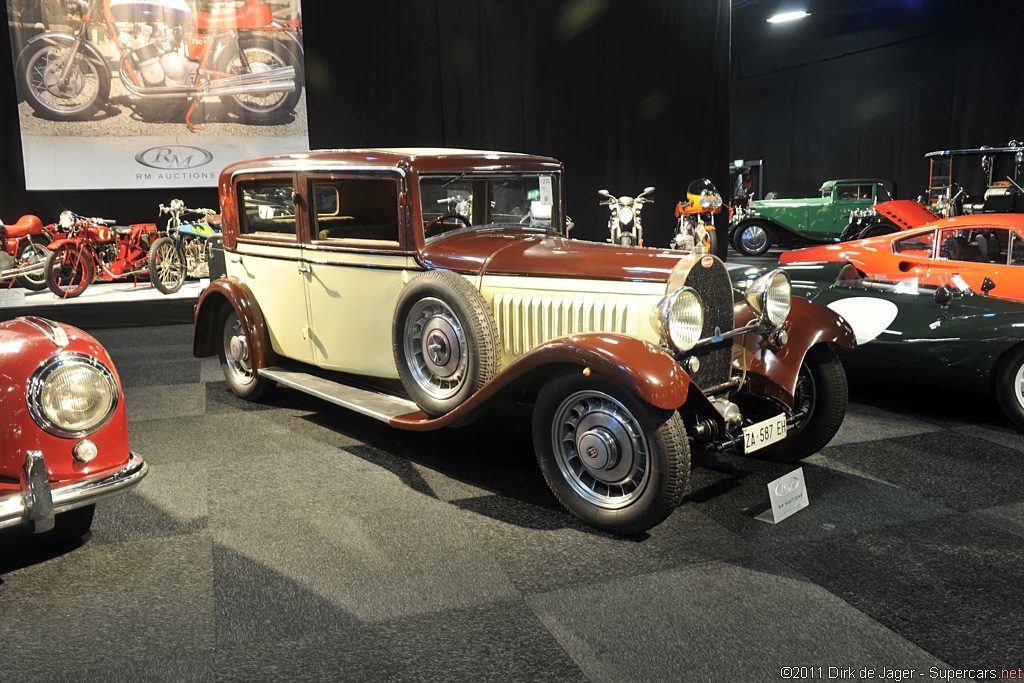 1930 Bugatti T46 Freestone & Webb Sports Saloon 46533 – did not sell for €487,200
An exceptional, older restoration with original English coachwork. One of only about 450 examples built and few survivors. A smaller "companion" model to the T41 Royale. One of the most elegant T46s in existence. Formerly in the Dr. Peter Williamson Collection.
A fabulous older restoration, it notably features interior appointments that are far richer in contrast to its French-bodied T46 counterparts. It is finished in green with tan upholstery, a particularly attractive colour combination that highlights the car's attractive overall proportions. With known ownership history from new, this T46 "Petit Royale" in short represents an unparalleled opportunity to acquire an exceptional example of one of Bugatti's most influential designs, complete with its original and elegant, yet sporting, Freestone & Webb custom coachwork. Auction Source: 2011 London Auction by RM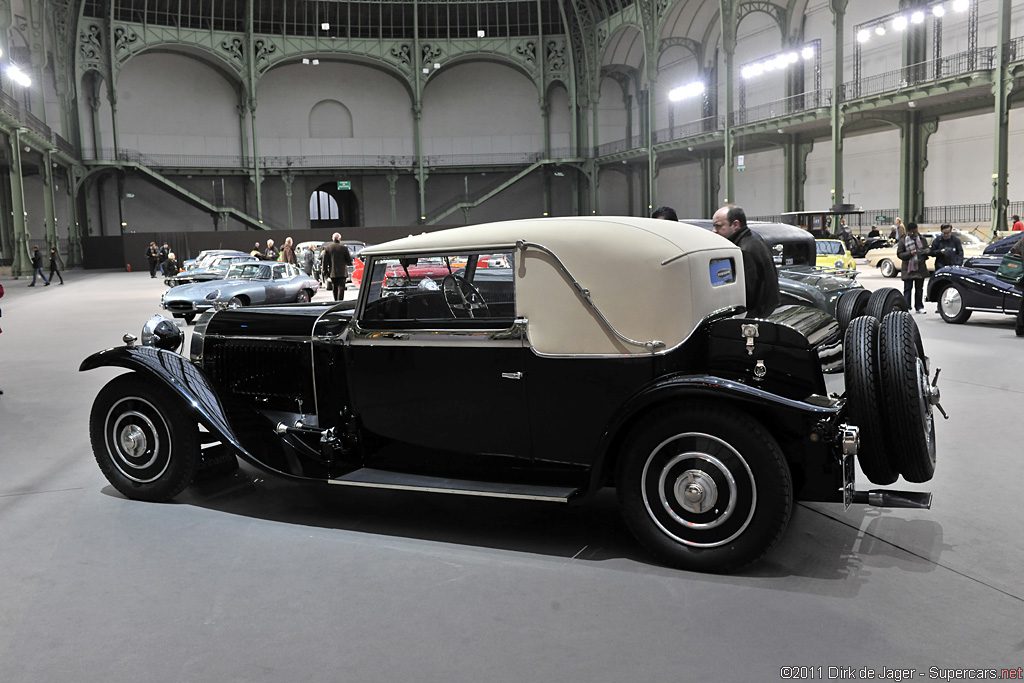 1930 Bugatti Type 46 Veth & Zoon Faux Cabriolet 46293 – sold for €632,500
This supremely elegant car is bodied in the popular two-door Faux Cabriolet style of many original Type 46s and is finished entirely in black with contrasting beige mohair hood and nickel plated side mouldings, emphasising the design's long horizontal lines. The interior is upholstered in brown leather with a crocodile skin pattern, typical of the Art Deco period, which perfectly complements the original inlaid wood door cappings.
Chassis number '46293' has covered only some 300 miles (approximately 480 kilometres) since the completion of its restoration and is presented in excellent condition throughout. Right-hand drive, like most quality French cars of the period, it represents a rare opportunity to acquire a unique, coachbuilt Type 46 exemplifying the crème de la crème of Bugatti touring cars, being one of only some 60 surviving Type 46s and certainly the best example to come to the market in recent years. Auction Source: 2011 Automobiles d'exception au Grand Palais by Bonhams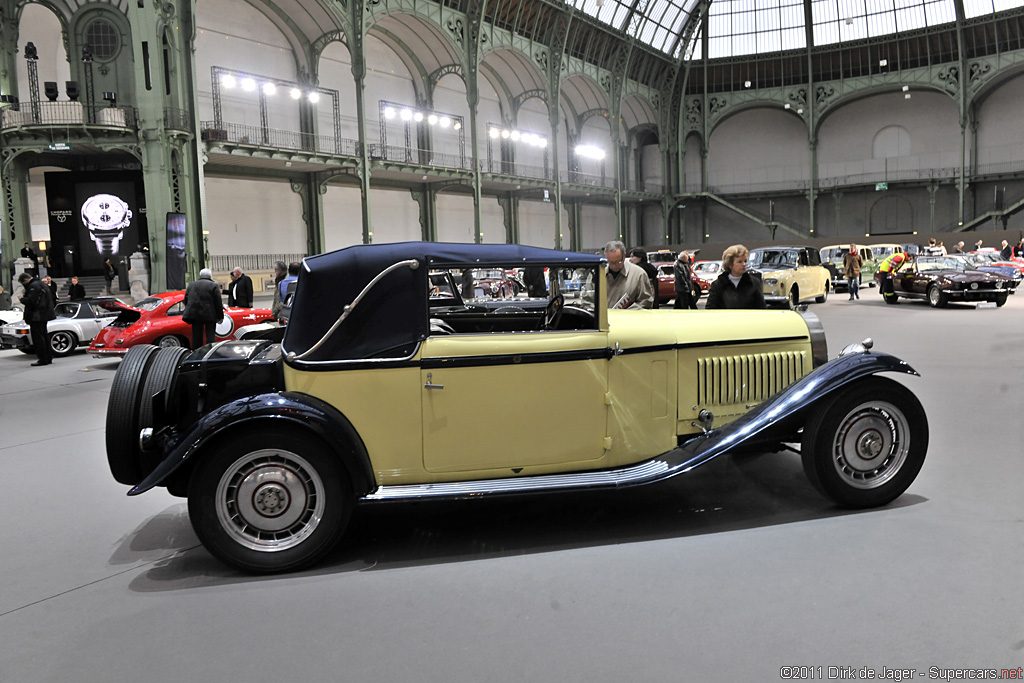 1930 Bugatti Type 46 Figoni Cabriolet 46331 – sold for €333,500