1929 Cord L-29
Of all the bodies to adorn the L29 chassis, the Hayes Coupe is probably the most striking. It benefited from the L29's unique chassis and $20,000 budget, making it one of the most expensive cars, rivaling the '20 Grand' Duesenberg and Fatty Arbuckle's Pierce.
The car was made to promote the Hayes Body Corporation which operated out of Grand Rapids, Michigan. Stylist Alexis de Sakhnoffsky worked with the car's unique chassis to execute his design. With it's front-wheel drive chassis, the L29 could be made lower than other cars. Infact, it was America's first FWD car, beating Ruxton by just a few months.
Sakhnoffsky took advantage of the L-29's low chassis height by dropping the beltline at the door and keeping it below the hood. This gave the car a strong sense of robustness, especially with its long hood that was further accentuated by prominent front fenders and oversize hubcaps.
Intricate detail was used throughout the body and interior which complement the car's sweeping grace. Interior appointments included an external sun visor, a padded headliner, chromed rear window, sill lights and plush wooden accents.
Made for the show curcuit, the Hayes coupe was shipped to Paris to compete in the 1930 concours d'elegance. Remarkably, this import fetched a first prize before wining the Grand Prix award at the Cote a'Azur concours. Eventually it was returned to America and retained by a Hayes company director.
Eventually the car was restored and invited to the 1987 Pebble Beach Concours to participate in the custom-bodied Cord class. It took a first place in class and two other special awards. Since then, it was sold to the Blackhawk Collection in 1991 and has been seen at the 1994 Amelia Island Concours and 2008 Meadowbrook Concours.
The car has been authenticated by the ACD club as an original L29 with a body style described as the Special DeSakhnoffsky Coupe.
At their Pebble Beach Auction, Gooding & Company offered the sole Hayes coupe, chassis number 2927005 and received a record $1,078,000 USD. They described the car as "one of the most beautiful coupes ever built" and a "singular custom design."
See full 1929 Cord L-29 Gallery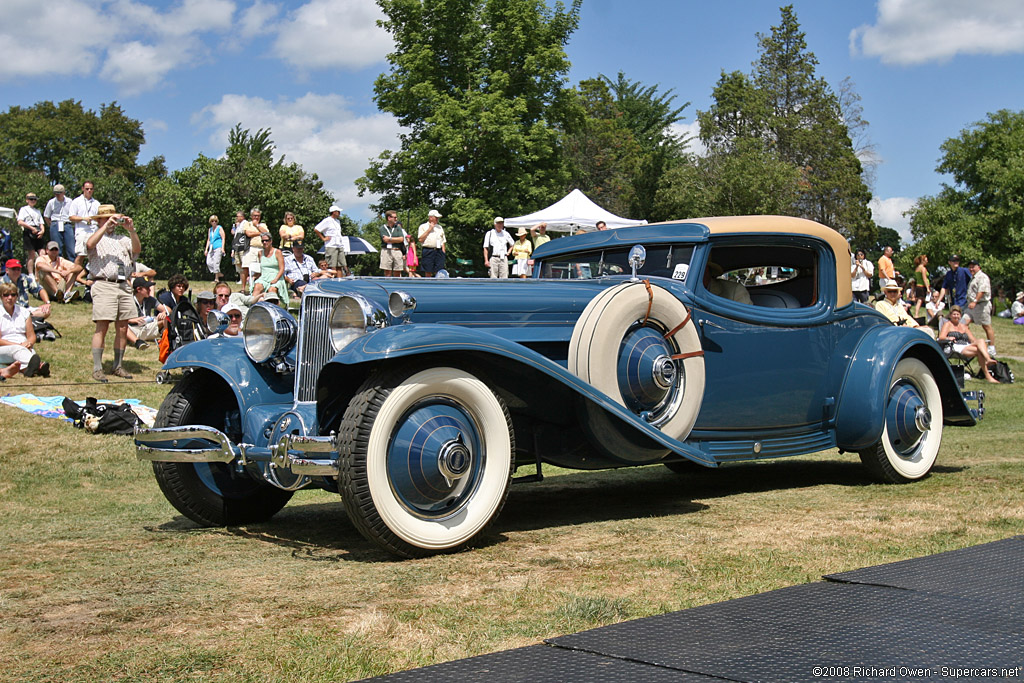 In Detail
| | |
| --- | --- |
| type | Series Production Car |
| coachbuilder | Hayes Body Corporation |
| engineers | C.W. Van Rast |
| engine | Inline-8 w/L-Head |
| displacement | 4883 cc / 298 in³ |
| bore | 94.7 mm / 3.73 in |
| stroke | 114.3 mm / 4.5 in |
| compression | 5.3:1 |
| power | 93.2 kw / 125 bhp |
| specific output | 25.6 bhp per litre |
| bhp/weight | 61.18 bhp per tonne |
| body / frame | Steel Chassis |
| driven wheels | FWD |
| curb weight | 2043 kg / 4500 lbs |
| transmission | 3-Speed Selective Sliding |
| final drive | 4.08:1 |
| top speed | ~125 kph / 77.63 mph |