1930→1932 Alfa Romeo 6C 1750 Gran Sport
In 1930, the Gran Sport was Alfa Romeo's fourth series 6C and their most capable sports-racing car. Fitted with competition bodywork, Tazio Nuvolari drove one to overall victory at the IV Coppa delle Mille Miglia and Giuseppe Campari repeated the feat in 1931 with his.
Like all of the 6C series, the Gran Sport benefited from Vittorio Jano's excellent engineering and design principles. It was an updated version of the 6C 1750 Super Sport from 1929 which had similar specification. New to the Gran Sport was shorter wheelbase that was reduced 50mm with shorter rear leaf springs. The slightly smaller fuel tank was repositioned behind the rear wheels and the battery box was moved from the fender to inside the cockpit behind the front seats.
One of the largest changes introduced with the 4th series Gran Sport was a modified Roots-type supercharger that operated at engine speed and with larger rotors. With no step gear, it ran slower and therefore spun the opposite direction which relocated the carburetor from the left to the right side of the manifold.1
With its supercharger, the 1750 Gran Sport was an invincible race car, one with ample torque for its small chassis. The supercharger was a necessary ingredient that allowed the 1750 to be light, yet powerful, a characteristic that contributed to less driver fatigue and less stress on individual components. It was somewhat rare on sports cars of the period but was proven effective with the 1929 Super Sport. For the Gran Sport the engines main bearings also increased in size.1
The highly developed engine produced by Vittorio Jano sat in a chassis "similar to Ansaldo, Bianchi, Diatto and OM." These cars embodied the functional simplicity of sports cars in the period which used pressed steel frames, wire wheels, mechanical brakes and solid axles.1
At the 1930 Mille Miglia, Tazio Nuvolari 1750 would become known for an epic duel between Nuvolari and Varzi. In the last 600km, Nuvolari overtook Varzi in the early morning with his 1750's headlights switched off and continued on to win the race by finishing over 7 minutes ahead. After 16 hours of racing, they both had outpaced sole Mercedes-Benz SSK of Rudolf Caracciola and the three-liter OM.2
Later victories included the 1930 24 Hours of Spa, 1930 Tourist Trophy and numerous other Road Races and Hillclimbs.
The 1750 was produced in six series and became more sophisticated from 1929 to 1933. In total, about 2500 cars were completed and they became the quintessential model for both the amateur and professional drivers. Available in several configurations, most cars were sold as rolling chassis and bodied by coachbuilders such as Zagato, Touring and James Young.
In total, over 250 Gran Sports were made and they provided launch points for several firms, including Zagato who bodied most of them, and Scuderia Ferrari, who bought and raced them. Several cars were fitted with experimental engines from the factory: some used a full eight main bearings instead of five and others were cast in aluminum with pressed-in steel cylinder liners.1
By 1931, the Gran Sport was replaced by the eight cylinder 8C 2300. Engines aside, both cars shard common design elements.
Sources & Further Reading
1.Fusi, Luigi & Royt Slater. The 6C 1750 Alfa Romeo. Macdonald: 1968.
2. Curami, Andrea. Alfa Romeo & Mille Miglia.Giorgio Nada Editore Srl: 2010.
See full 1930 Alfa Romeo 6C 1750 Gran Sport Gallery here.
In Detail
| | |
| --- | --- |
| type | Racing Car |
| production years | 1930 – 1932 |
| released at | 1929 Rome Automobile Show |
| built at | Italy |
| engineers | Vittorio Jano |
| production | 257 |
| engine | Inline-6 |
| position | Front Longitudinal |
| aspiration | Roots-Type Supercharger |
| block material | Cast Iron |
| valvetrain | DOHC, 2 Valves / Cyl |
| fuel feed | Memini Horizontal Carburetor |
| displacement | 1752 cc / 106.91 in³ |
| bore | 65 mm / 2.6 in |
| stroke | 88 mm / 3.5 in |
| compression | 5.0:1 |
| power | 76.1 kw / 102 bhp @ 5000 rpm |
| specific output | 58.22 bhp per litre |
| bhp/weight | 108.51 bhp per tonne |
| torque | 171 nm / 126.1 ft lbs @ 2000 rpm |
| redline | 4500 |
| body / frame | Aluminum over Pressed Steel Frame |
| driven wheels | RWD |
| wheel type | Rudge Whitworth Center-Lock, Wire-Spoked |
| front tires | 28×5.25 |
| rear tires | 28×5.25 |
| front brakes | Drums |
| rear brakes | Drums |
| steering | Worm & Helical Gear |
| f suspension | Solid Axle w/Semi Elliptic Leaf Springs, Friction Dampers |
| r suspension | Live Axle w/Semi Elliptic Leaf Springs, Friction Dampers |
| curb weight | 940 kg / 2072 lbs |
| front track | 1379 mm / 54.3 in |
| rear track | 1379 mm / 54.3 in |
| length | 2743 mm / 108.0 in |
| transmission | 4-Speed Manual |
| tran clutch | 6inch Multiplate |
| top speed | ~144.8 kph / 90 mph |
| 0 – 60 mph | ~14.0 seconds |
| fuel capacity | 85 litres or 22.44 gal. |
Auction Sales History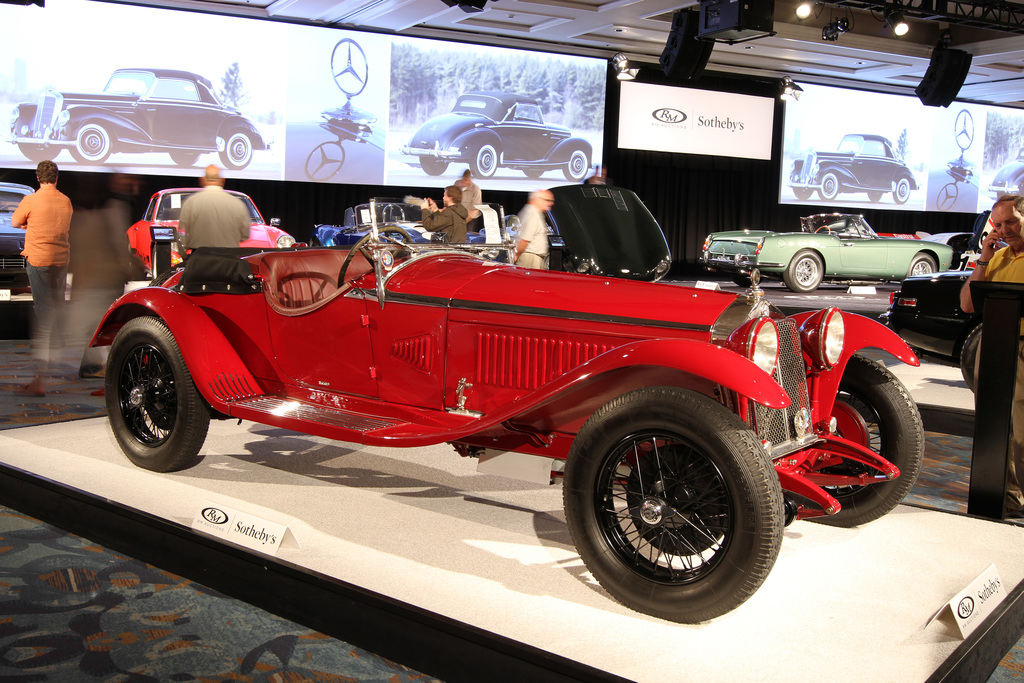 1931 Alfa Romeo 6C 1750 Gran Sport Spider Zagato – sold for $2,420,000
The 13th of approximately 106 fifth-series Gran Sports produced. One of 76 examples built for 1931. Comprehensive restoration completed in 2009. Exhibited at the 2012 Pebble Beach Concours d'Elegance. Overwhelmingly original example with numerous matching body stamps and parts numbers. A racing legend built on the triumphs of such Alfa greats as Tazio Nuvolari and Achille Varzi.
Auction Source:
2015 Amelia Island by RM Sotheby's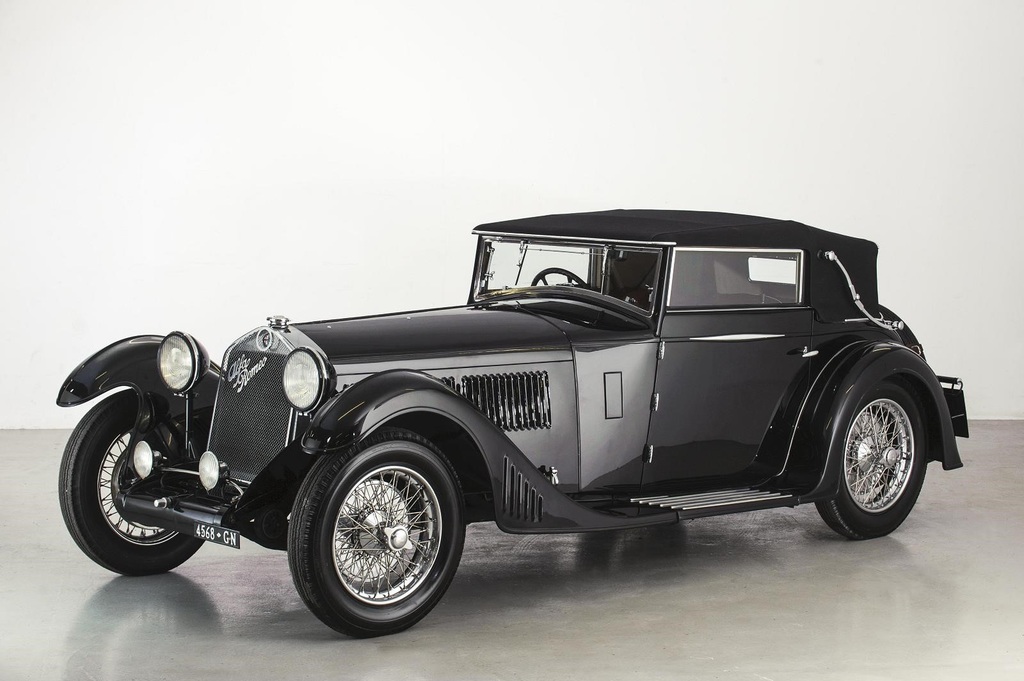 1930 Alfa Romeo 6C 1750 Grand Sport James Young 8513030/28 – sold for €1,184,500
1930 ex-Boris Ivanowski Brooklands Double Twelve class winner.Following the racing season chassis number 8513028 features in the Alfa Romeo British sales Ltd. records as having been bodied for the Motor Show 'mounted with Young Coupe, black coachwork and chrome wire wheels'. In January 1931 the 6c1750 was sold by Stiles under a new registration number GN 4568 and tagged as chassis 8513030.It was delivered to its first owner Lionel G. Maller on February 6, 1931, as a new car.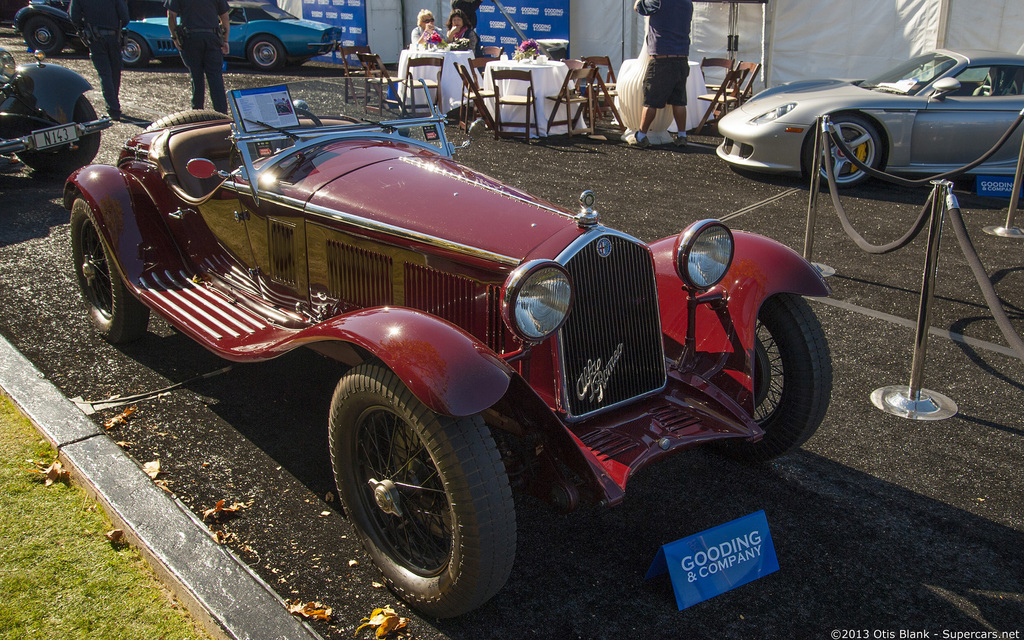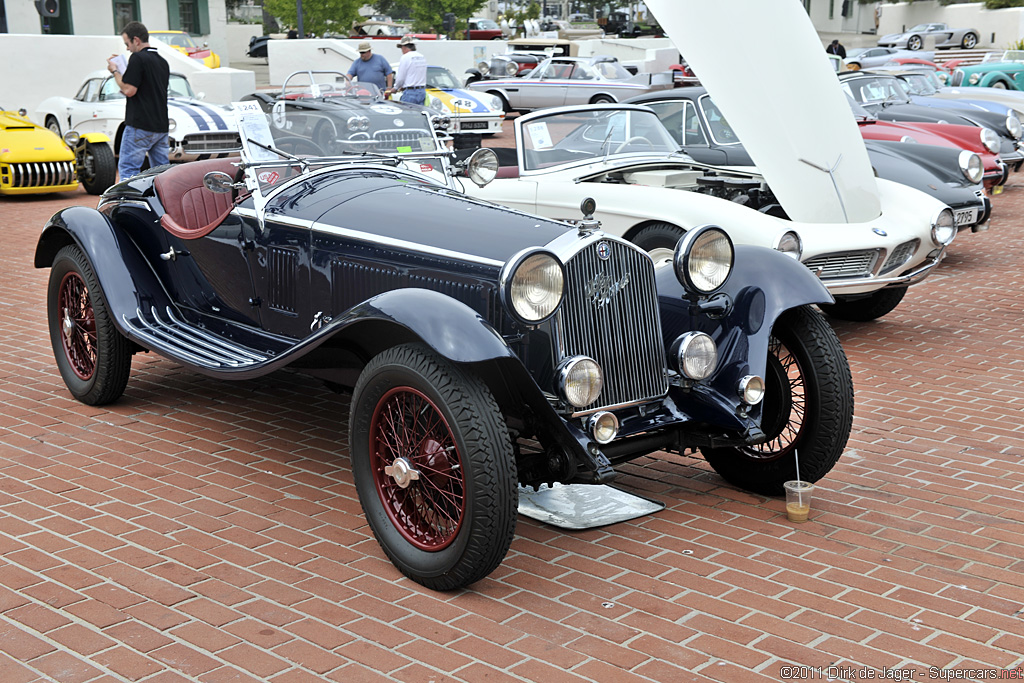 1932 Alfa Romeo 6C 1750 GS 5th Series 10814402 – sold for $935,000
Very attractive, original 5th Series Zagato aluminum coachwork. Desirable and rare body-style produced with a fully-disappearing top and larger tail compartment. Well documented history.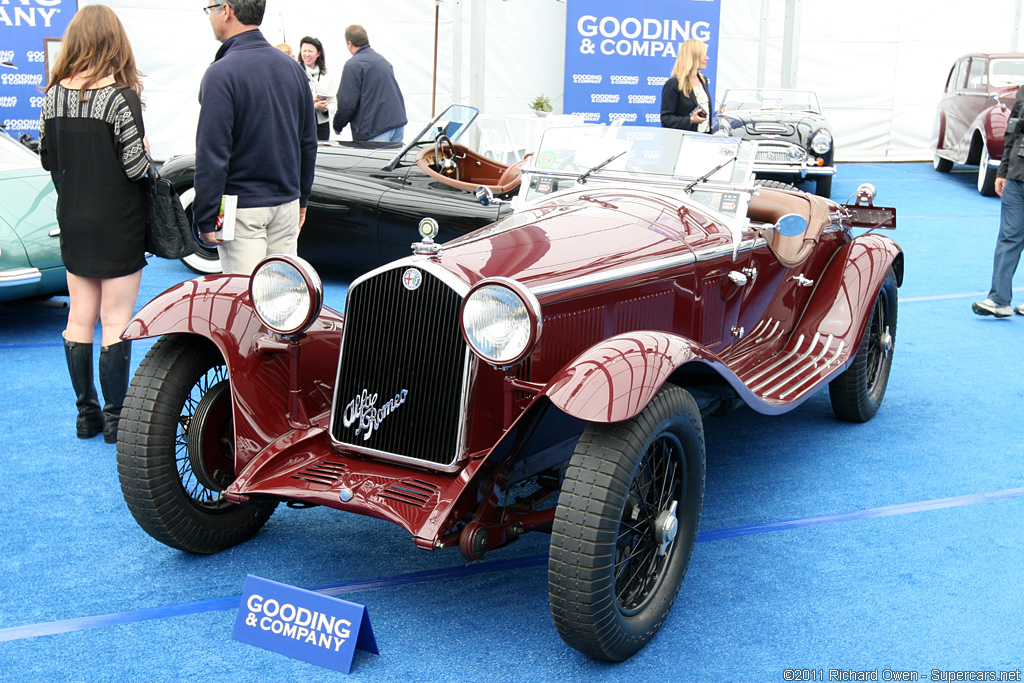 1932 Alfa Romeo 6C 1750 Series V Gran Sport 10814400 – sold for $1,540,000
Formerly the Property of Oscar Davis and Brian Brunkhorst. Highly Developed Fifth-Series Gran Sport. Exceptionally Beautiful Zagato Coachwork. Distinguished Chain of Ownership. Twice Displayed at the Pebble Beach Concours d'Elegance. Comprehensive Mechanical Restoration by Marque Specialist Jim Stokes. Successful Participant in the Mille Miglia Storica and 1000 Millas Sport.
Auction Source:
2011 Pebble Beach Auctions by Gooding & Company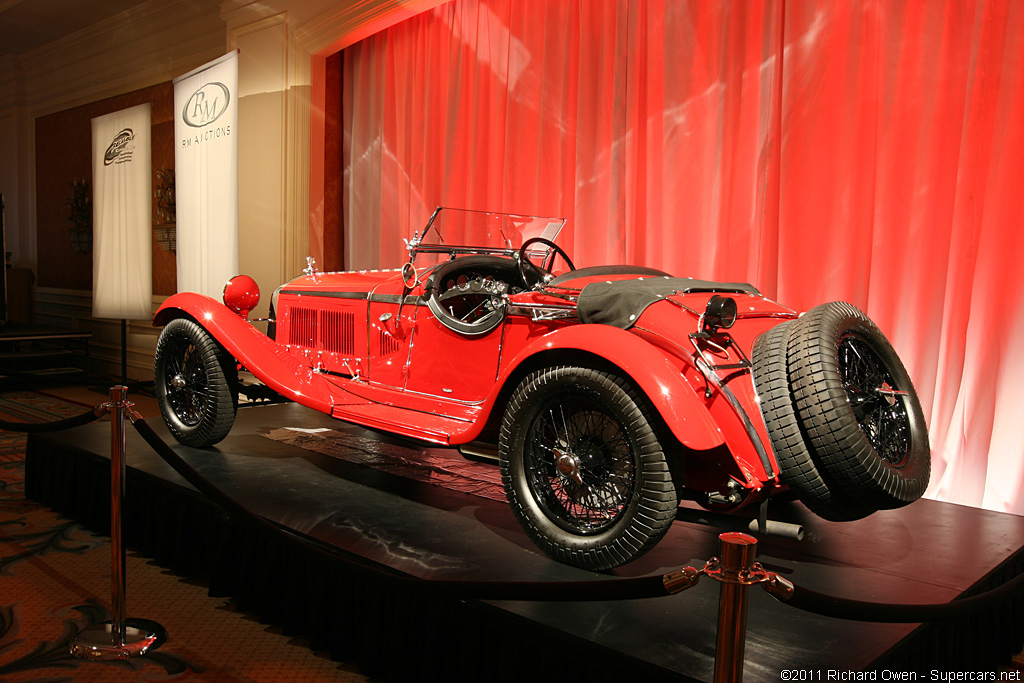 1930 Alfa Romeo 6C 1750 GS Spider 8513064 – sold for $990,000
Lightweight Zagato bodywork; sublime driving dynamics, supercharged DOHC "six". Three Mille Miglia Storicas and the Colorado Grand completed without issue. Wonderful history since the late 1960s; extensively detailed in two books. Raced at the 1985 Monterey Historic Races by the late Phil Hill.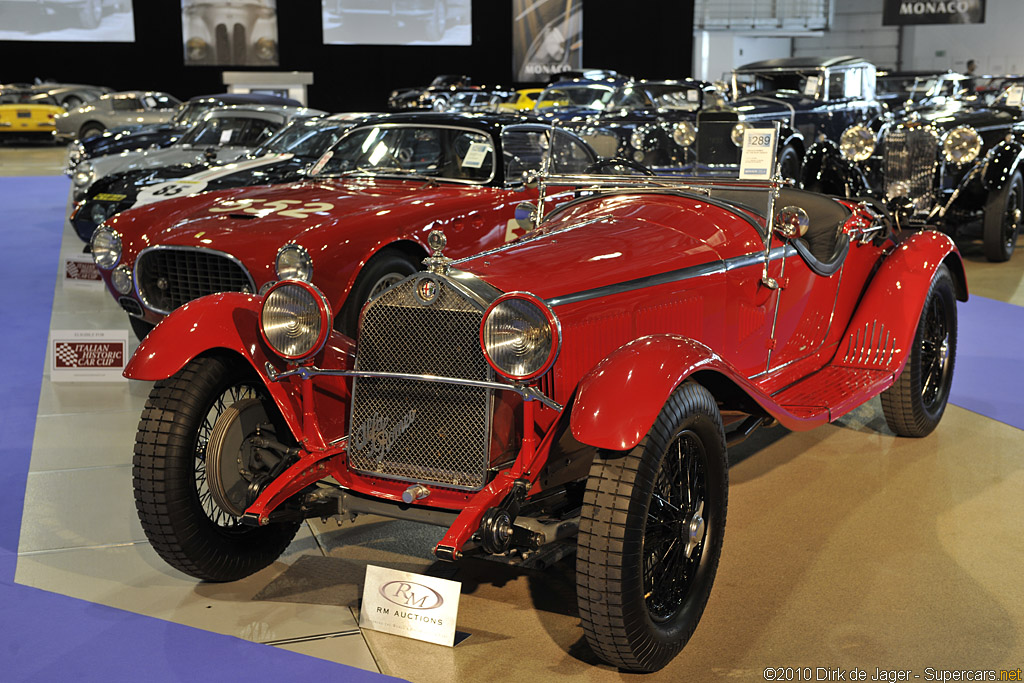 1930 Alfa Romeo 6C 1750 GS by Zagato 8513064 – sold for €879,200
Chassis 8513064 is no exception. Not only is it a rare 6C 1750 Gran Sport example, but it also carries superb lightweight aluminium Zagato bodywork. The current owner proved its readiness for a gruelling 1000-mile driving event by participating in the Colorado Grand, wherein the car performed superbly, going the entire distance without any issues whatsoever. Since that time, the car has been pampered in the vendor's garage and is perfectly sorted.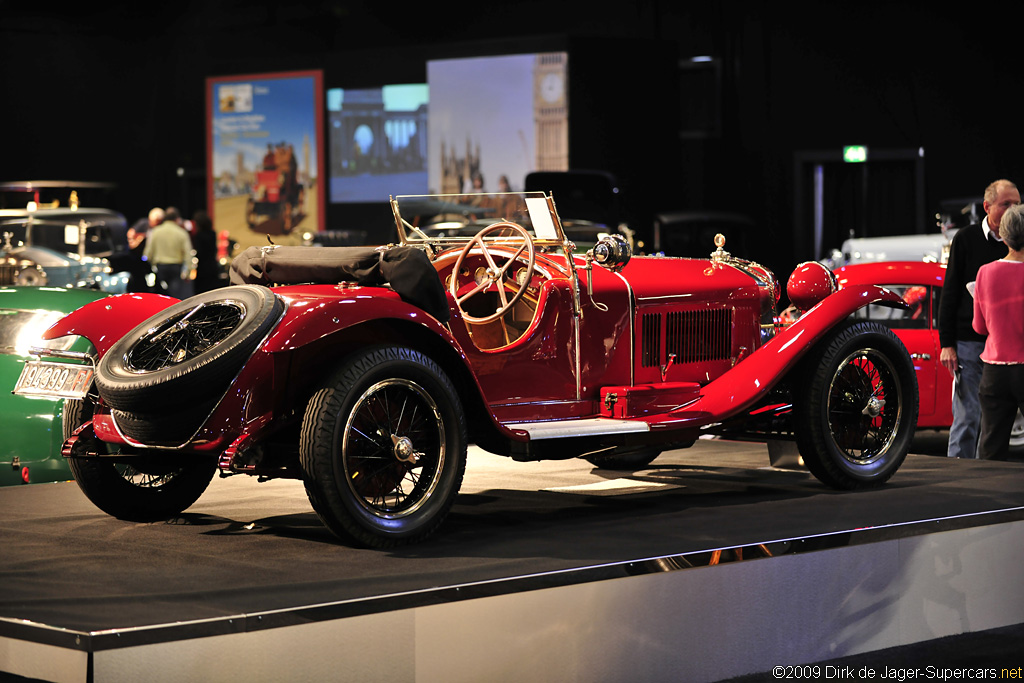 1929 Alfa Romeo 6C 1750 GS 0312940 – sold for €587,813
This spectacular Alfa has a well-known, documented history. A supercharged GS example, it was sold new to Mr. Di Brigatti of Milan, Italy on 28 June, 1929. Its second owner, also a Milanese citizen, was Mr. Giuseppe Fantacci who later took the car with him to the United States as a duty-free entry. Rather than exporting it back to Italy, he sold the car to well-known author and collector Ralph Stein. During the 1950s the car came under the ownership of Alec Ullman, who is of course also remembered for organising the 12 Hours of Sebring and the United States Grand Prix. It would then become the property of various collectors in New York and has since been restored by David Pruitt of Alfa Workshops, sensitive to its original condition. It has reportedly won many concours events since completion. The Alfa still wears its old Florentine registration plate and includes its full restoration file along with a certificate of the Automobile Club Italia showing its old Italian registration.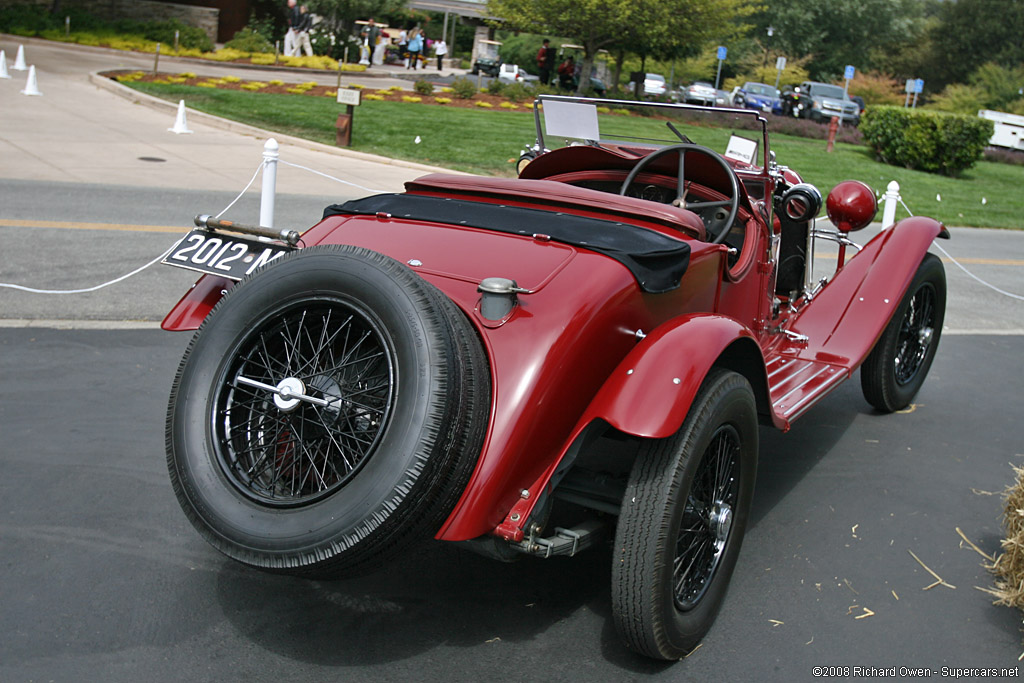 1933 Alfa Romeo 6C 1750 Gran Sport 121215037 – sold for $1,107,000
Supplied by Enzo Ferrari's agency, Luigi Scarfiotti's car – first registered on 1 April 1930 with the local Macerata provincial index "MC 2012" – still carries the "Concessionaria Emilia Romagna-Marche – Cav. Enzo Ferrari – Scuderia Ferrari" plaque on its dashboard. Its declared value at registration was the significant sum of Lire 70,000 – approximately $4200 at the then rate of exchange – and its two-seater body was built by Zagato.
Auction Source:
2008 Monterey Preview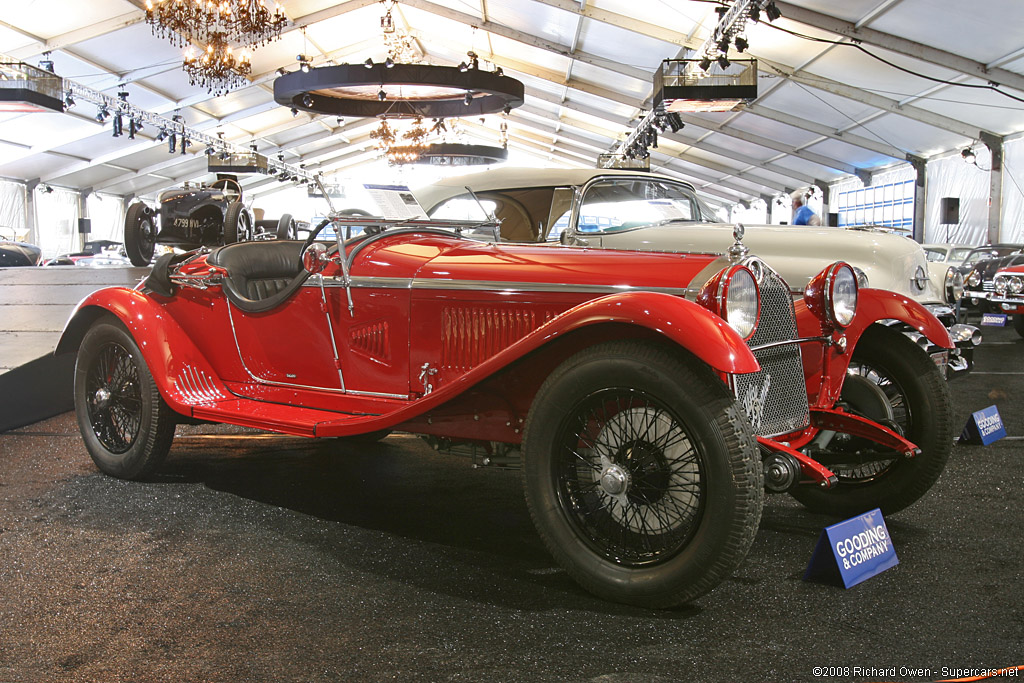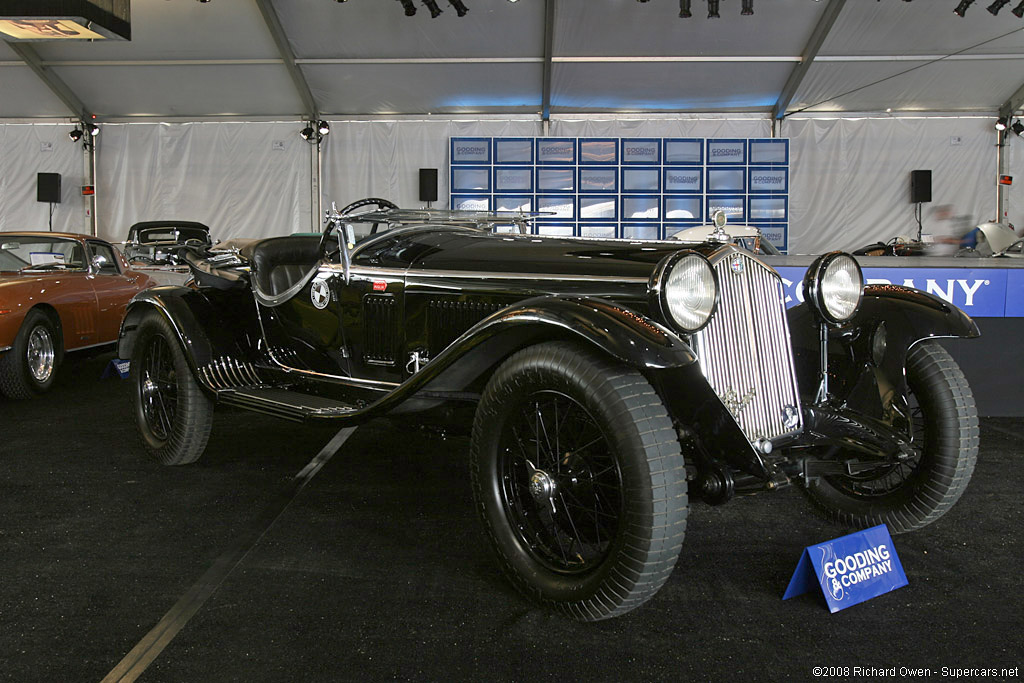 1931 Alfa Romeo 6C 1750 5th Series Zagato Spyder 10814368 – sold for $1,320,000
As one of the most successful models of its period, the Alfa Romeo 6C 1750, along with its predecessor the 19500, embodied the functional simplicity typical of the 1930s Italian sports car. With its supercharged performance and elegant coachwork, the 1750 could be described as the ancestor of every GT car ever made. This late Series V model is one of the few 1750s still retaining its original Zagato coachwork. It was driven in competition by several British owners during the first half of its life. It arrived in the United States in the 1950s, and L. Scott Bailey, founder of Automobile Quarterly, owned the car for a number of years. Now carefully preserved, it has been driven on many rallies in recent years.
Auction Source:
2008 Monterey Preview