1930→1932 Bentley 8 Litre
After Bentley had won the 24 Hours of Le Mans and retired from racing, they released their largest model called simply the 8 Litre. Around 100 examples were made and they all featured custom coachwork, mainly from the firms in England. In the 1920s it was competition for the Duesenberg Model J, supercharged Bugatti Type 57, supercharged Mercedes-Benz and the Rolls-Royce Phantom II.
The centerpiece of the 8 Litre was its six-cylinder engine based of the preceeding 6½ Litre. Displacing 7982 cc, the available 220 bhp could power even the heaviest bodies to 100 mph. To reduce weight the engine's crankcase was made from electron.
Built on the foundations of the successful Speed 6, the 8 Litre received a new lower chassis. It was built with either a 144″ short wheel base model or had the optional 156″ wheel base. This rather large chassis had a steel ladder-type frame with seven cross members. To keep weight down, many of the drive train components were mast from aluminum castings.
Bentley Sales Manager Arthur describes the car: "Eight litres! Nearly three times the cubic capacity of the never-to-be-forgotten 3! And what a motor it was! Having a six-cylinder engine with a bore and stroke of 110 mm by 140 mm respectively, and a top-gear speed range (with a ratio of 3.5 to 1) of a minimum of 6 mph and a maximum of 104 mph – what more could man ask for? Yes, indeed; and add to that an acceleration capacity of 10 mph to 100 mph in 50 seconds with a fully equipped saloon body, and surely we had the answer to the sporting motorist's prayer? The sporting motorist! Speed cum refinement in its highest form! A creation evolved from years of racing experience!"
A 1930 edition of Autocar described how smooth the 8 Litre was: "this car can be driven really softly on its high top gear, as slowly as a man walks, and can accelerate from that without snatch and without difficulty, and the whole time the engine, being well within its power, is silent and smooth. In fact, it is only rarely apparent that there is a big engine working under the bonnet at all, and that so high a top ratio is used, when the machine is accelerated from a crawl. For all practical purposes, therefore, the machine does its work on the one gear…"
All the great English coachbuilders got a chance to body the 8 Litre including Corsica, Vanden Plas, Barker and Gurney Nutting. Of the 100 or so chassis that were built less than 20 were convertibles.
Unfortunately the released of the 8 Litre at the 1930 London Motor Show was bad timing. The Great Depression was taking its toll on luxury cars and Bentley was in a very tight financial situation. Remarkably they managed to produce 100 example of the 8 Litre before reality sunk in. Verging on bankruptcy and were bought out by rival Rolls-Royce. Afterward, the new owners had Bentley focus on entry level luxury.
Chassis & Sales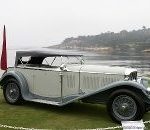 YR5095-1931 Bentley 8 Litre Short Chassis Vanden Plas 4-Seat Tourer. Commissioned by Bentley Motors chairman Woolf Barnato for his honeymoon in the USA. Unique features include fold down windscreen, dual rear mounted spares, complete tool set, fitted luggage and a French pillar-swivel spotlight. At the request of Barnato, all the brightwork was done in copper. Invited by Autocar to the 1936 Festival of Speed at Brooklands and it reach over 100 mph. Recently sold by Charles Crail Automobiles who described it as "undoubtedly the finest original example of a W.O. Bentley" and "A chance of a lifetime to own one of the world's great Bentleys." Subsequently restored for Peter G. Livanos and displayed at the 2009 Pebble Beach Concours.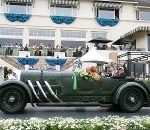 YX5119. 1931 8 Litre Vanden Plas Tourer. Built as a one-of racecar for its first owner Capt Vivian Hewitt. Unique features include an oversize fuel tank and an external exhaust. Captain Hewitt passed away before the car was finished and it never raced. Displayed by Henry & Gale Petronis at the 2009 Pebble Beach Concours.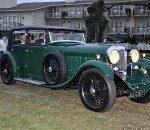 YX5115-1931 Bentley 8 Litre Short Chassis H.J. Mulliner Weymann Paneled Salon. Owned for 56 years by the Collinson-Cooper family. Won Best of Show at the 1967 Bentley Driver's Club meeting. Displayed by Stephen Brauer at the 1999 Louis Vuitton Concours in New York and the 2009 Pebble Beach Concours.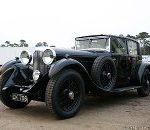 YF5002-1930 Bentley 8 Litre H.J. Mulliner Saloon. This model is based on a real 8-litre that was owned by W.O. Bentley himself. The car is now owned by Bentley Motors. Displayed at the 2009 Pebble Beach Concours.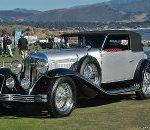 YR5085-1931 Bentley 8 Litre Murphy Convertible Victoria. Specially ordered for its first owner in Santa Barbara, California. Bodied designed by Franklin Hershey for W.M. Murphy Company of Pasadena, California. Sold by the Auto Collections in Reno Nevada and displayed at the 2003 Pebble Beach Concours.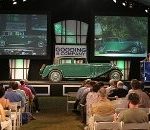 YX5105-1932 Bentley 8 Litre. Completed in April of 1932 for Major C. Cooper. Registered 'GX38', the body is made entirely from aluminum. Sold at Gooding & Co's Palm Beach Sale.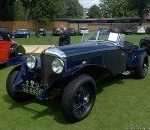 YR5092-1931 Bentley 8-Litre Hoffman & Burton Speedster. Originally an H.J. Mulliner Saloon, YR5092 was converted into a unique Speedster after it was found derelict. It was built for a Mr. Cook who wanted to mimic the lines of the Forrest-Lycett 8 Litre. Fred Hoffman carried out the work which required shortening the chassis.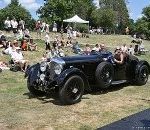 YM5050-1931 Bentley 8 Litre 'Bertha' Corsica Tourer. Registered UL7 and nicknamed Bertha. According to Michael Hay, YM5050 was first a Barker Sedanca de Ville and then it was rebodied into a four seat roadster by Corsica. Owned by Stanley Sedgwick who used the car extensively and included it in his book. Not sold at the 2001 Bonhams & Brooks Auction with an estimate of $700,000 to $1,000,00 USD.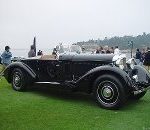 YR5099-1931 Bentley 8 Litre Barker Boattail Convertible. Registered GN82, this 8 Litre features a striking Boattail design by Barker. Was at some point converted into a Drop Head Coupe. Offered by the Blackhawk collection in the 2000s and displayed at the 2000 Pebble Beach Concours and 2005 Villa d'Este Concours d'Elegance.
YM5044-1931 Bentley 8 Litre Lancefield Tourer YM5044. Ordered new by Edward Clifford Prescott then sold to David Roberts who had it for nearly 50 years. Sold in completely original condition at Christies 2004 auction. Afterward it was restored with new hubcaps and a better-fitting top. Displayed at the 2007 Amelia Island Concours and 2008 Meadowbrook Concours.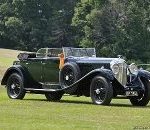 YR5076-1931 Bentley 8 Litre Harrison Open Tourer. Bodied by R. Harrison and Son in Velvet Green with green leather interior. Delivered new to Mr. W.B. Henderson, of Somerset, England on January 3, 1931. In the postwar period it was shipped to America and joined Bill Klein's large Bentley collection. It was shown at the 1989 Pebble Beach Concours by David Van Schaick. With just 43,000 miles on the odometer it was restored in the 1990s.
At their 2008 Automobiles of Amelia Island sale, RM Auctions sold YR5076 for $2,200,000 USD. They described the car as "This car, chassis number, YR5076 has always been maintained to a very high standard and represents an exceptional opportunity to own one of these elegant, rare, high-speed touring cars. It is ready to be enjoyed at important events around the world." It was subsequently displayed at the 2009 Meadowbrook Concours.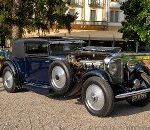 YR5088-1931 Bentley 8-Liter Gurney Nutting Sportsman's Coupé. Won Best Coachwork award at the RAC Rally of 1932. First ordered by Captain John Moller. It was restored in 1981. Won Best Vintage Bentley at the 1997 Bentley Driver's Club meeting. Later, it appeared at the 1999 Louis Vuitton Classic and 2001 Pebble Beach Concours d'Elegance. Sold at RM's 2008 Vintage Motor Cars
at Amelia Island sale for $1,485,000 USD. Described as "cosmetically impressive. It has been driven by its owners, gone on several long distance tours and yet has somehow stood the test of time expertly. While no longer in 100 point condition, it is a site to see. The interior, which is trimmed in blue leather, shows quite well and though some fading has become evident, all leather is devoid of any rips or tears. The woodwork remains excellent, as do the gauges and headliner. The engine and bay show signs of use and road wear however it is equally indicative of a well-maintained car in every respect.
The Bentley's exterior brightwork is very impressive and shows only minor flaws while the paintwork is also impressive and though there is wear in the higher stress areas of the car such as the fenders, door jambs and seams, it is far from requiring any attention. Lastly, the Fixed Head Roof and large sliding sunroof are in excellent condition and the sunroof operates as expected with results one would not anticipate. When fully opened, the results are quite unique as it is provides for a large window to the sky offering both driver and passenger the benefits of open air motoring with a much more convenient manner of closed comfort with a simple operation. It is a truly unique feature to this Bentley and indeed one of its award worthy features."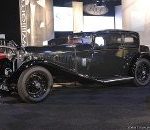 YX5124-1932 Bentley 8-Litre Short Chassis Mayfair Fixed Head Coupé. Bodied by the Mayfair Carriage Company for Mr. C.G. Hayward, director of the Bristol Aeroplane Company. He modified the car with smaller 19 inch wheels and modified the fenders to fit toolboxes. Bought in 1957 by Captain G.C. Blundell and he commissioned a comprehensive restoration. At their 2008 Automobiles of London sale, RM Auctions failed to sell YX5124 with a high bid of £500,000. They described the car "mechanically and cosmetically impressive. Whilst it may no longer a 100-point restoration, it remains in outstanding condition. The interior, which is trimmed in the appropriate green leather, shows only minimal wear from use since the rebuild. The woodwork remains in excellent condition, as do the gauges and headliner. The engine and bay do show some signs of use, but are beautifully presented and indicative of a well-maintained car in every respect. The car recently received a complete service, as well as upgrades to the charging system, ensuring reliable and trouble-free operation. We understand that the car runs and drives superbly and it is fully sorted and ready for continued enjoyment.
The Bentley's exterior brightwork is very impressive and shows only minor flaws, while the paintwork is also striking, finished in handsome British Racing Green and black. When fully opened, the sliding sunroof provides remarkable visibility, offering both driver and passenger the benefits of open air motoring with the convenient option of closed car comfort, with simple operation. It is a delightful feature, one of many that add to the appeal of YX 5124.
With its exceptional rarity, outstanding provenance and lovely restored condition, this 8-Litre Short Chassis Fixed Head Coupé is a handsome representative of Bentley's imposing masterpiece. Beautifully presented, YX 5124 will capably anchor any collection of important motor cars."
In Detail
| | |
| --- | --- |
| type | Series Production Car |
| production years | 1930 – 1932 |
| released at | 1930 London Motor Show |
| built at | England |
| engineers | Walter Owen Bentley |
| production | 100 |
| price £/td> | £3,700 |
| engine | Inline-6 |
| position | Front, Longitudinal |
| valvetrain | SOHC, 4 Valves per Cyl |
| fuel feed | Twin SU Carburetors |
| displacement | 7982 cc / 487.09 in³ |
| bore | 110 mm / 3.9 in |
| stroke | 140 mm / 5.5 in |
| power | 164.1 kw / 220 bhp @ 3500 rpm |
| specific output | 27.56 bhp per litre |
| body / frame | Body over Steel Ladder-Type Chassis |
| driven wheels | RWD |
| wheel type | Wire Wheels |
| front brakes | Drums w/Servo Assist |
| rear brakes | Drums w/Servo Assist |
| f suspension | Solid Axle w/Half-Elliptic Leaf Springs |
| r suspension | Live Axle w/Half-Elliptic Leaf Springs |
| wheelbase | 3962.4 mm / 156 in |
| transmission | 4-Speed Sliding Pinion Manual |
| top speed | ~167.34 kph / 104 mph |
| 0 – 100 mph | ~50 seconds |
Auction Sales History
1931 Bentley 8-Litre Barker Sports Coupe Cabriolet YR5099 – did not sell for $3,325,000 The only original two-passenger roadster built on an 8-Litre chassis. A one-off, bespoke "boattail" design by Barker. Matching-numbers chassis, engine, and gearbox. Authenticity verified by vintage Bentley authority Clare Hay. Powerful, beautiful, and absolutely unique—the ultimate 8-Litre.
Auction Source: 2014 Monterey by RM Auctions
1932 Bentley 8-Litre Mulliner Saloon YX5105 – sold for $825,000 A pure example, retaining its original chassis, engine, and body. The ninety-ninth of one hundred 8-Litre Bentleys constructed. A wonderful closed example for show or comfortable touring.
Auction Source: 2013 Monterey Auction by RM Auctions
1931 Bentley 8 Litre James Pearce Tourer YX 5109 – sold for €483,000
YX 5109 was restored in the 1970s by Hoffman and Mountford, at which point it was rebodied in the guise of the earlier 4½ and Speed Six 'Le Mans' fabric touring bodies, a style which was famously only fitted to one 8 Litre car. James Pearce's eye for a good looking sports tourer was arguably second to none and the bodywork fitted to this car is extremely well designed, in that despite retaining its original 13 ft chassis, the length of the car is hidden in its good proportions.
Auction Source: 2013 Les Grandes Marques du Monde au Grand Palais
1931 Bentley 8-Litre Tourer YR5086 – sold for €422,489
The car presented here, an 8-Litre Bentley, chassis number YR 5086 was delivered new to Mr. A.V. Bustard of Antrim, Northern Ireland on 1 April, 1931. It was built on the 13-foot wheelbase chassis, with engine number YR 5086 and an 'F'-type gearbox, numbered 8083. The chassis left the Cricklewood works on 7 January, 1931 to be bodied by Thrupp and Maberly, also of Cricklewood, with an enclosed limousine body.
Little is known of YR 5086's subsequent history, but it is known to have been owned by one Mr. Dale in the late 1950s. During Mr. Dale's ownership, the engine was rebuilt, and it is then believed to have had a succession of UK-based owners, until it was re-bodied in the mid-1960s with a Vanden Plas-style, dual-cowl touring body by Wallis. The car is pictured in Johnnie Green's book, Bentley: Fifty Years of the Marque, on pages 111 and 113. Here, it states that the car is owned by Scott Appleby, Esq. The book was first published in 1969, so it can be assumed that it was Mr. Appleby who commissioned the new coachwork. YR 5086 has been in the United States since 1966, and it was last recorded with the Bentley Driver's Club in 1976, until registered with them by the previous owner in 2008.
Auction Source: 2010 Automobiles of London by RM Auctions
1931 Bentley 8 Litre Sportsman's Coupe YM5043 – did not sell for $525,000
Spectacular Reconstruction of the Lost 1930 Gurney Nutting Olympia Motor Show Car. Originally delivered as a formal Sedanca de Ville. It is said that nearly a million pounds sterling was spent on the construction of this marvelous one-off Bentley and the level of workmanship and passion that went into this project is apparent. For the Bentley enthusiast who has always admired the striking design and character of the Gurney Nutting Olympia Motor Show car, here is an 8 Litre that captures this landmark design and combines it with the best qualities of Bentley motoring. A perfect car for BDC tours, concours and vintage rallies, this spectacular 8 Litre Coupe is a marvelous driver's car and a lasting testament to one man's passion and dream – to return one of the most enigmatic British automobiles ever produced to the road.
Auction Source: 2010 Gooding & Company Pebble Beach Auction
1931 Bentley 8 Litre Tourer Wallis Tourer YR5086 – sold for $605,000
he first owner of this Bentley was Mr. A.V. Bustard of Antrim, North Ireland, who took possession on April 1st of 1931. The car was powered by engine number YR 5086 and fitted with an F-Type gearbox, number 8083. The chassis left the Cricklewood works factory on January 7th of 1931 and sent to Thrupp & Mayberly for enclosed limousine body coachwork.
In the 1950s, the car was in the possession of Mr. Dale, who at some point had the engine rebuilt. A few UK owners followed and in the mid-1960s it was given a Vanden Plas style dual cowl tourer body by Wallis.
This Bentley has been in the United States since 1966. In 2008, the car was treated to a mechanical rebuild.
Auction Source: Gooding & Company 2010 Amelia Island Auction