1930 Bugatti Type 45 Bi Motor
With an interest in gaining more displacement without retooling, Bugatti started manufacturing uncommon U-engines. These used two separate straight engine engines joined by gears. Despite the heavier weight, and power lost to joining gears, the main advantage of the U engine was its ability to share common parts.
In the case of the Type 45, Bugatti was able to achieve 250 bhp, through a union of two supercharged Type 35 Grand Prix engines. The bulky engine sat in a conventional Bugatti chassis which was renowned for its light weight and nimble handling. Most likely, the heft of the U16 contributed to the Type 45's lack of success. Bugatti only made this single car, and another rolling chassis.
For a long time, the sole Type 45 was part of the famous Schlumpf collection in Mulhouse, France. It was recently removed from the collection and received a comprehensive restoration by Leydon Restorations before appearing at the 2003 Pebble Beach Concours.
Pictures & Gallery
See full 1930 Bugatti Type 45 Bi Motor Gallery here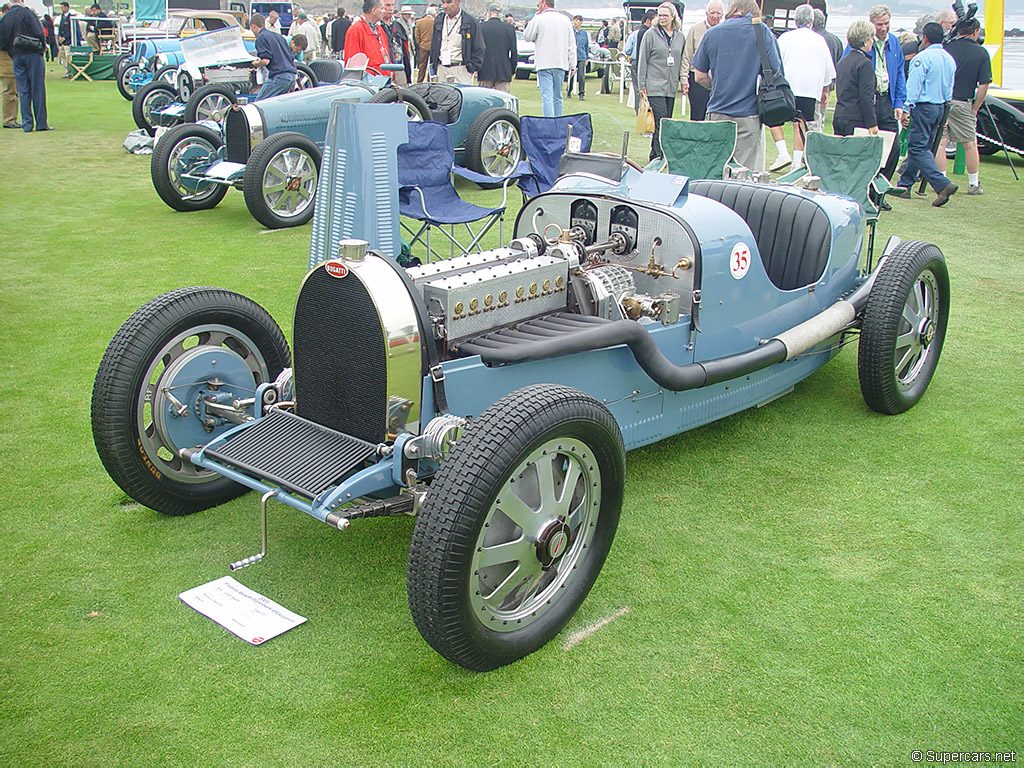 Specs & Performance
| | |
| --- | --- |
| | |
| engine | U16 |
| position | Front Longitudinal |
| aspiration | Twin Roots Superchargers |
| valvetrain | SOHC, 3 Valves per Cyl |
| fuel feed | Twin Zenith Carburettors |
| displacement | 3801 cc / 232.0 in³ |
| bore | 60 mm / 2.36 in |
| stroke | 84 mm / 3.31 in |
| power | 186.4 kw / 250 bhp |
| specific output | 62.78 bhp per litre |
| bhp/weight | 277.78 bhp per tonne |
| redline | 5000 |
| driven wheels | Spur Driven RWD |
| wheel type | Cast Aluminum GP |
| front tires | 5.00 x 19 |
| rear tires | 5.00 x 19 |
| front brakes | Drums, Cable Operated |
| f brake size | mm / in |
| rear brakes | Drums, Cable Operated |
| r brake size | mm / in |
| curb weight | 900 kg / 1984 lbs |
| wheelbase | 2596 mm / 102.2 in |
| front track | 1250 mm / 49.2 in |
| rear track | 1250 mm / 49.2 in |
| transmission | 4-Speed Manual |
| gear ratios | :1 |
| final drive | 2.80:1 |