1931→1939 Lancia Astura
Astura is a river south of Rome where the last battle happened between the Romans and Latins. It was later occupied by Roman aristocracy, the type that would fancy the best things that Italian life had to offer.
In the 1930s there was little transportation more prestigious than the Lancia Astura. Unlike the Alfa Romeo 2.9 which was Italy's premier pre-war sports car, the Lancia Astura was more luxurious and featured formal bodywork. Lancia paid close attention to luxury by including a smooth running engine, hydraulic brakes and a centralized lubrication system.
Both the Astura and 2.9 came in short or long versions to suit the premier design houses that custom-crafted bodies and interiors. While the 2.9 was typically bodied by Touring, the Lancia was made in much larger numbers and had a much more wide-ranging scope of bodies.
The Astura was built alongside the Artena. Both used a similar chassis, with a body-over-steel design, but the Astura had an all new narrow-angle V8 engine. At an acute angle of just 19º, the block was very compact and could fit in the same space as the Artena's V4. For the first series spanning from 1931 to 1933, this V8 initially produced 73 bhp from 2.6 liters. Second series cars called the Astura 233 increased displacement to 2.9-liters and horsepower to 82 bhp. In both sizes, the engine was meant for smooth power delivery and could propel any body a customer required. Furthermore, it had a flat torque curve unlike the Alfa Romeo 2.9's high strung 8C which wound up to 5300 rpm.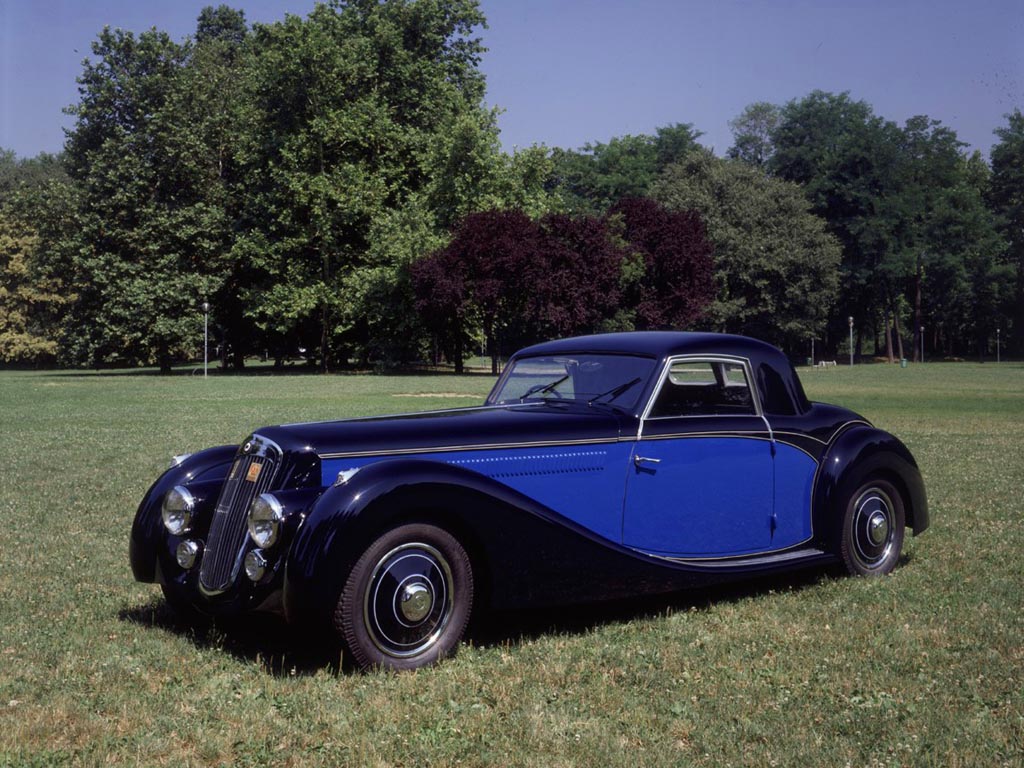 From its onset, the Astura was designed to receive the best custom coachwork available. It came with no specific floor-plan and gave designers freedom to create any body type desired. Pinin Farina was one of the first companies to body the chassis and made a distinct design called Tipo Bocca for a dealer in Biella, Italy. These impressionable cars gained even more notoriety after the Mussolini regime made them official government transportation.
Produced from 1931 to 1939, the Astura was made in four distinct series. By 1933, the 3rd series debuted and introduced the Longo and Corto chassis lengths. In 1937, the final 4th series was made with distinctive Fergat-type steel wheels and was only offered with a long-wheel base. Throughout these years of production around 2900 Asturas left the factory.
The Astura wasn't really replaced by any successor which left the model type somewhat orphaned. However, due to the elaborate and decorative bodies by Boneschi, Castagna, Pinin Farina, Stabilimenti Farina, Touring the Astura became the greatest pre-war Lancia.
Bonham's Sale of #3162 – The Pourtout Sports Coupe.
At their Les Grandes Marques a Monaco in 2005, Bonhams sold #3162, the blue and black sports coupe featured above. The top bid was 290 000 EU or 365 000 USD.
This car was commissioned by the then Duke of Montaigu, whose title was established in the 11th Century. His choice of chassis was interesting for he bought the latest (Series 4) version of the Lancia Astura.
For the coachwork, the Duke turned to Carrosserie Pourtout on the outskirts of Paris. Marcel Pourtout had established his concern in 1925 and had first made unexceptional bodies until the arrival of Georges Paulin, a man who understood both engineering and aerodynamics even though he had trained as a dentist. Together, they had space to play with, gave the car three very desirable features: a large boot, wide doors and a very long bonnet.
In the late 1930s, there was also the clash of political ideologies not far beneath the surface. Pourtout could take an Italian car and make it a Franco-Italian car which was a more ambiguous statement. Pourtout fitted bodies to 326 Lancia Augusta chassis, 36 Aprilia chassis and this single Astura chassis #3162, a unique creation.
As befitted a Duke with an ancient title, this body is more subtle than some of Pourtout's contemporary bespoke styles. The headlights set low between the front wings and radiator was a Pourtout trademark, as was the second pair of lights. A particular feature is the semi-razor edge styling of the roof which both contrasts with, and complements, the easy sweep of the wing-line. It also suggests that the Duke looked more to London than to Berlin, such nuances were important at the time.
In Detail
| | |
| --- | --- |
| submitted by | Richard Owen |
| production years | 1931 – 1939 |
| engine | Tipo 91, 19º V8 |
| position | Front Longitudinal |
| aspiration | Natural |
| valvetrain | DOHC 2 Valves per Cyl |
| fuel feed | Zenith 30 DVI Downdraught Carburetor |
| displacement | 2972 cc / 181.4 in³ |
| bore | 74.6 mm / 2.9 in |
| stroke | 85 mm / 3.3 in |
| compression | 5.3:1 |
| power | 61.1 kw / 82 bhp @ 4000 rpm |
| specific output | 27.59 bhp per litre |
| bhp/weight | 45.56 bhp per tonne |
| body / frame | Aluminum Body over Steel Ladder Frame |
| driven wheels | RWD |
| wheel type | Fergat Steel Wheels |
| front tires | 16×45 |
| rear tires | 16×45 |
| front brakes | Drums |
| rear brakes | Drums |
| f suspension | Double Wishbones, Coil Springs, Dampers |
| r suspension | Live Axle w/Semi-Elliptic Leaf Springs |
| curb weight | 1800 kg / 3968 lbs |
| wheelbase | 3475 mm / 136.8 in |
| front track | 1400 mm / 55.1 in |
| rear track | 1420 mm / 55.9 in |
| length | 4840 mm / 190.6 in |
| width | 1620 mm / 63.8 in |
| transmission | 4-Speed Manual |
| tran clutch | Single Dry Plate |
| top speed | ~128 kph / 79.49 mph |
| 0 – 60 mph | ~20.0 seconds |
| fuel econ epa | 16.5 L/100 km or 14 mpg-us |
Lancia Astura Prices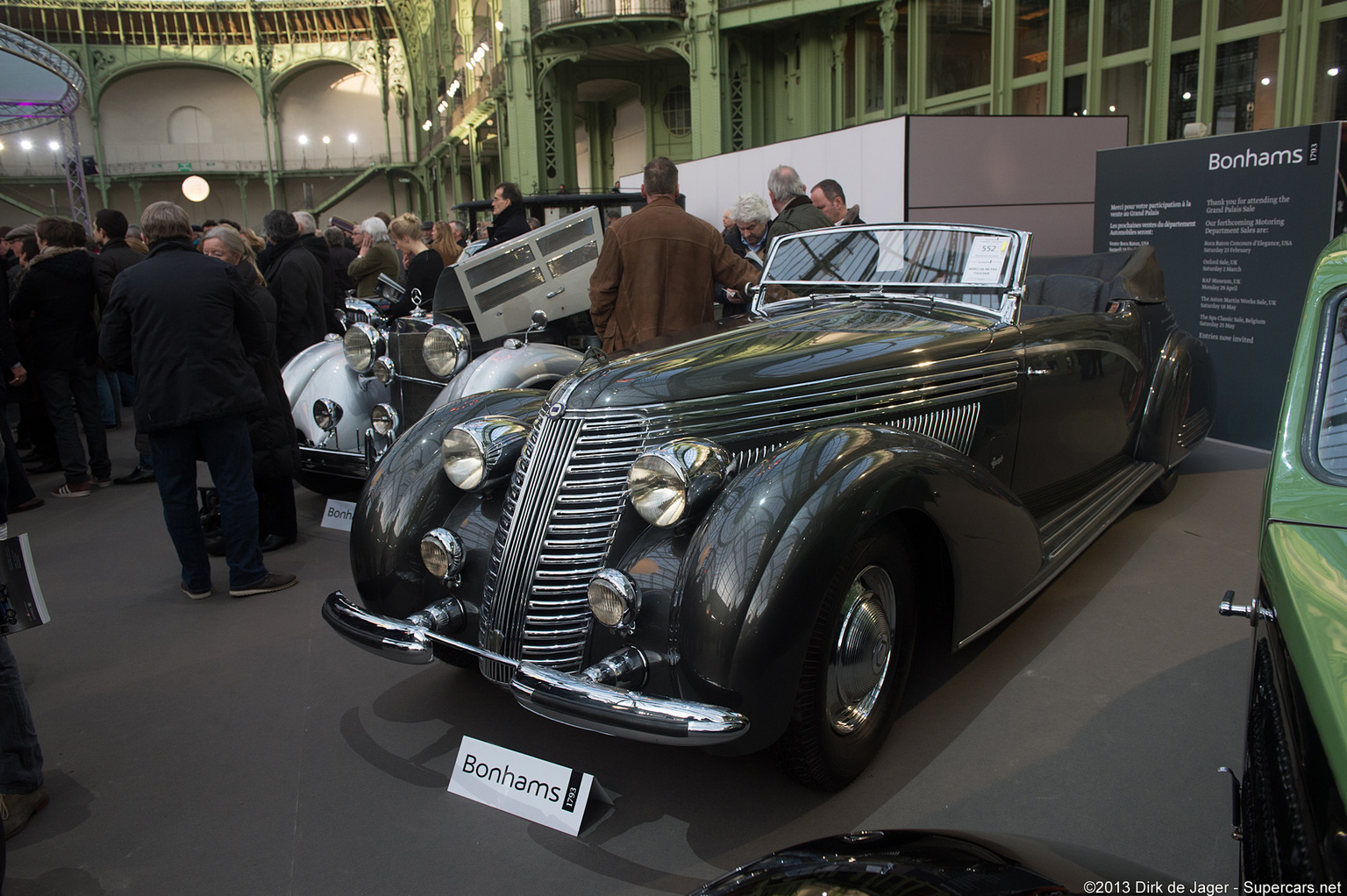 1938 Lancia Astura 4th Series Boneschi Cabriolet 41-3125 – sold for €667,000. This particular car is the sole survivor of only three 4th-Series Asturas bodied in this style by Carrozzeria Boneschi of Milan, a company that had enjoyed close links with Lancia since its foundation by Giovanni Boneschi immediately after WWI. Chassis number '41-3215′ features spectacular, aerodynamic cabriolet coachwork, which is complemented by an avant-garde radiator grille design, fold flat windscreen and rear wheel spats. The result is a beautiful motor car that looks like it is in graceful motion even when parked.
Originally owned by a Belgium coal-mining magnate, the Lancia was laid up throughout WW2 and kept in safe long-term storage by the owner's widow during the 1950s. Apart from a repaint in the original dark grey colour, the Astura is still totally original, including the wonderful black leather upholstery and grey convertible hood. It is presented in running order and is described as in generally very good condition. The car is offered with FIVA passport and old Belgian registration document. Auction Source: 2013 Les Grandes Marques du Monde au Grand Palais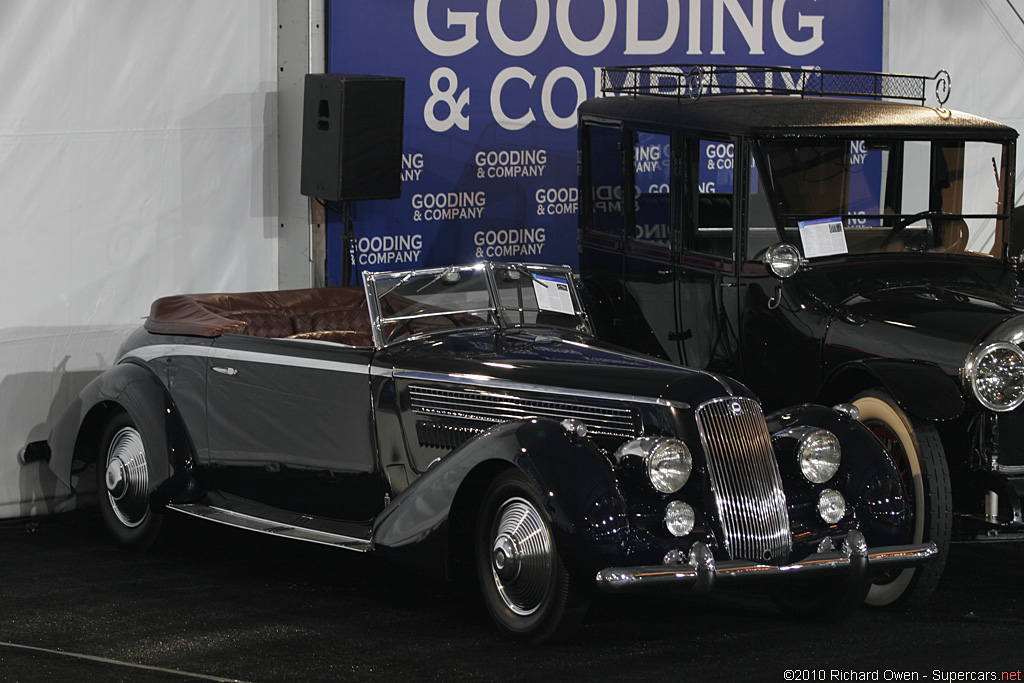 1936 Lancia Astura Pininfarina Cabriolet 33-3277 – did not sell for $370,000. The restoration done by Pininfarina in the 1960s was well-maintained and periodically freshened during their ownership and is still quite impressive. It retains the correct Marchal head and fog lights, and all correct trim and lenses. When the Astura came into its current ownership, it only required a mechanical service and a thorough detailing to bring it back to glorious life. Rarely does the opportunity come along to own a car so special that Battista "Pinin" Farina himself offered to restore it free of charge. With a car as lovely as this Lancia Astura, it is easy to see what inspired the master to make such a generous offer. Auction Source: 2010 Gooding & Company Pebble Beach Auction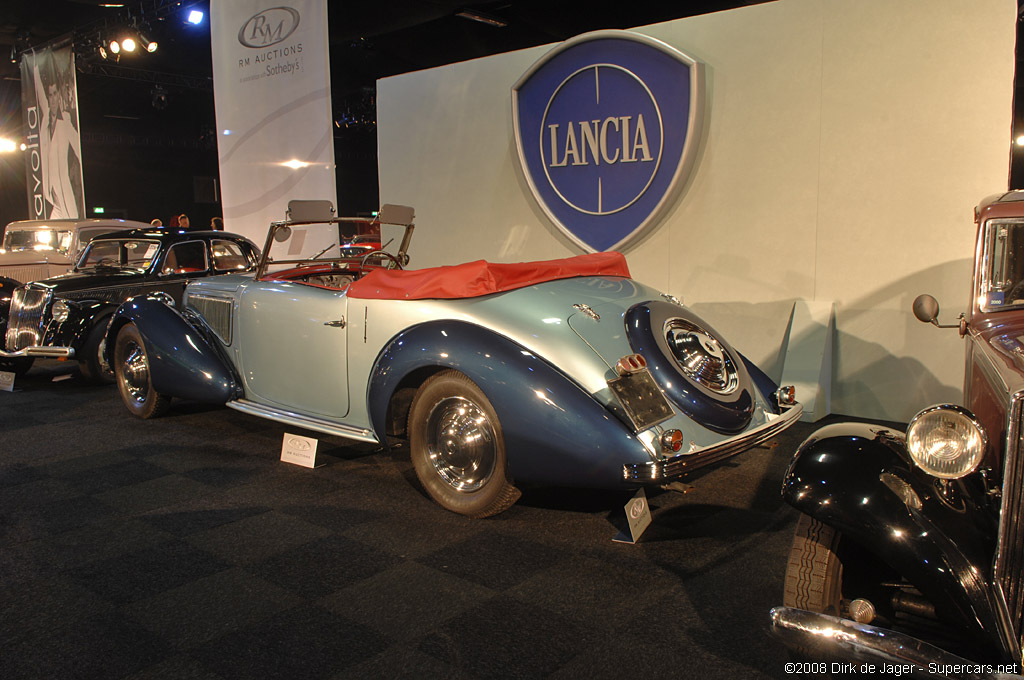 1938 Lancia Astura Cabriolet 41-2945 – did not sell for €192,750. A stunningly swept-back and aerodynamic cabriolet, the Astura retains its breathtaking Pinin Farina two-door coachwork. Painted in a near flawless exterior finish of dark blue and a shimmering silver-blue, the Astura also features exceptional brightwork throughout. The interior has been professionally restored with dark burgundy leather hides, as well as a beautifully finished dash with cream-coloured gauge faces. The thoroughness of the restoration is evident in places such as the meticulously stitched door panels, as well as the fine alloy trim surrounding the gauges. The crowning touch is an electric power-operated folding roof, which is expertly fitted, and precise in operation.
Having travelled just 50 test kilometres since the completion of its restoration, the Astura has been carefully maintained, stored, and sparingly enjoyed. The mechanicals were thoroughly restored and sorted as well, and accordingly, the vendor reports that its three-litre V8 engine starts easily, and runs smoothly.
Complete photographic documentation of the restoration is included with the sale of this lovely and important automobile. In addition, this particular Lancia Astura was recently featured in a book detailing the many masterpieces of Pinin Farina. With its superb coachwork and excellent provenance, this 1938 Lancia Astura Cabriolet will undoubtedly be a feature attraction at any gathering of fine automobiles. Thoroughly restored, it awaits the opportunity to provide driving and showing pleasure for its next owner. Auction Source: 2008 RM Automobiles of London